Words: Kirsten Durward        Photos: Monica Tindall
I'm pleasantly surprised on entering the fresh and vibrant space that is Hugos by Modesto in Damansara. On the second floor of the Hotel Qliq, accessible from Empire Damansara, servicing both hotel guests and discerning public visitors, the high ceilings and full plate glass walls promote a light and airy feeling. The subtle colours in the funky modern style design are both refreshing and inviting. The concept is upbeat and approachable, very inviting to young and more mature alike.
Private Room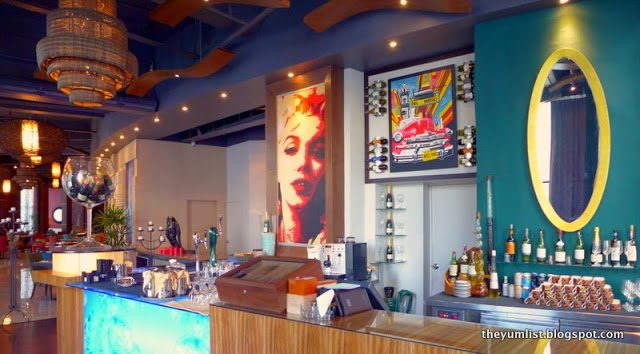 The Bar
The menu is extensive, pan European in flavour with a heavy Italian slant. There are several choices of delicious local favourites also. Set menus are offered at lunchtimes only. We taste a selection from both sides of the menu.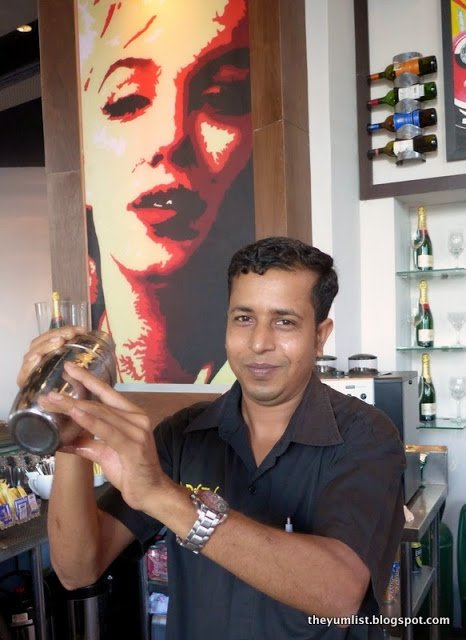 Bartender making the secret recipe Mojito
What decent tasting though starts without a sip of something to salivate over. Tonight it is Modestos' 'secret' recipe Mojito (RM23). We taste with skepticism, but no, there is for sure something unknown in there. We all pronounce it a delightful refreshing aperitif. I find it to be very fresh and limey, not at all on the too-sweet side as so often found here, and with a mysterious, apple-y undertone. I like it.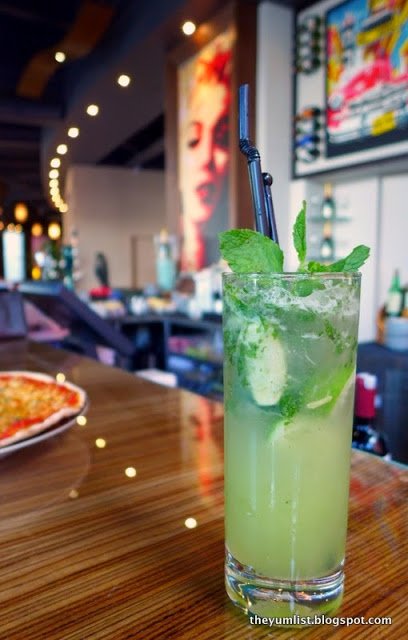 Mojito
Our first bite is from the Italian side. Napoletana with Anchovy Pizza (RM 27) impresses with a good balance of nice thin crust, savoury tomato and molten cheese topped with subtly salty anchovies. We find it very more-ish and it goes down well paired with the slightly peppery Jacob's Creek Shiraz Vintage 2011 (RM28 glass,  RM98 bottle). This medium bodied wine flows well over the tongue and I find it good drinking for the price.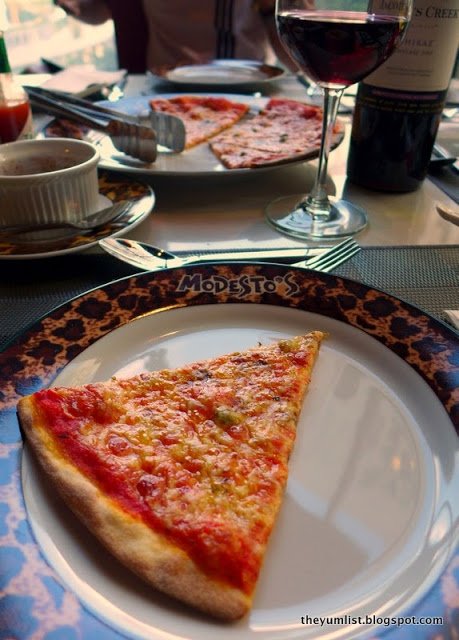 Napoletana with Anchovy Pizza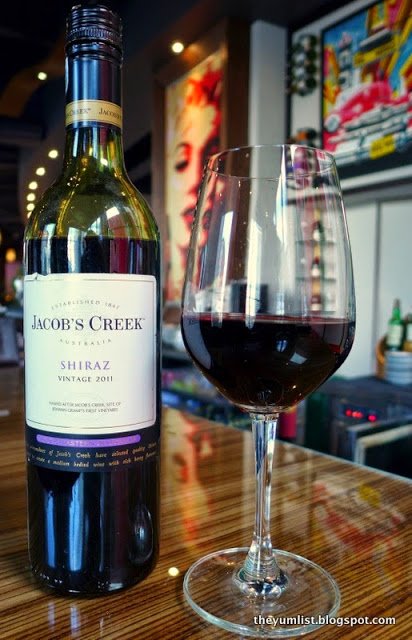 Jacob's Creek Shiraz Vintage 2011
Our mouths are watering at the sight of Glass Noodles with Seafood (RM18++). And soon there is silence apart from a few murmurs of appreciation as this tasty light and flavourful concoction slips down. Fat prawns, slender beef and light fluffy egg slither around with, bean sprouts, peppers, feathered carrots. Am very happy with the taste of this dish, and it's a bargain for the price. (The picture shows a 3 person portion)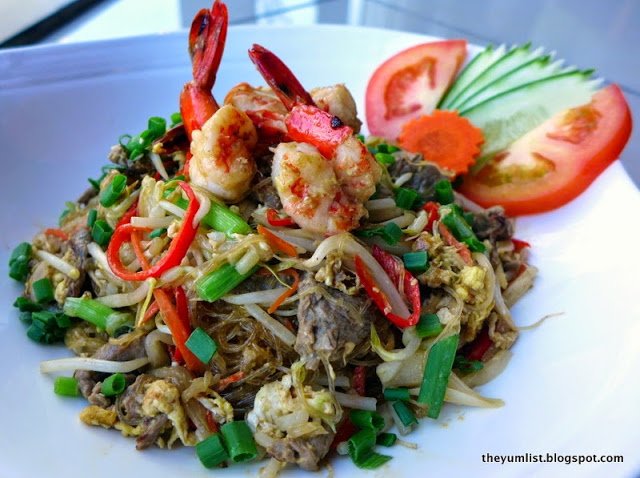 Glass Noodles with Seafood
Linguini Modestos (RM45, RM79 2 persons) comes impressively presented, steamed in a silver foil packet, again, the picture shows a three person portion.  A decent amount of seafood, featuring clams, large prawns, mussels, and squid rings, combines in a slightly zingy tomato sauce with a hint of capers. The pasta is well cooked al dente, and the soft rings of squid are just right.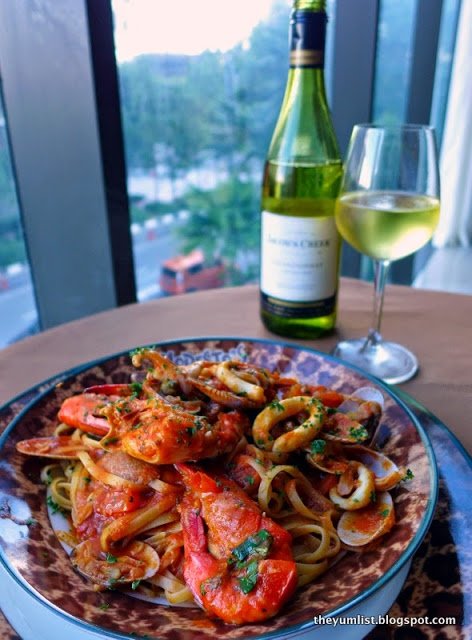 Linguini Modestos
Our seafood is finely accompanied by a house pouring of Jacob's Creek Chardonnay 2011 (RM28 glass, RM98 bottle). It's an easy drinking glassful of mellow, buttery and round Australian wine. Who could ask for more on a leisurely afternoon?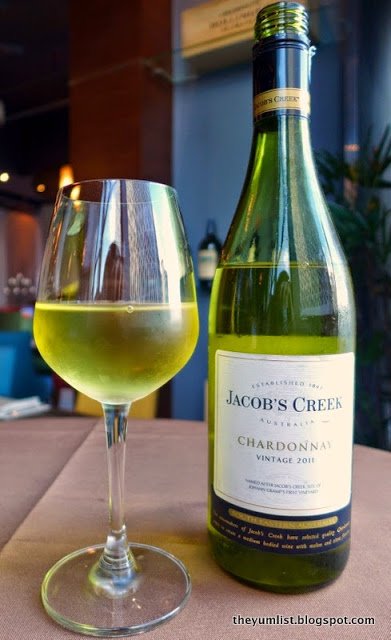 Jacob's Creek Chardonnay 2011
Our last dish is a delicious Carre D'Angello Alle Erbe (RM65). Mmm! The lamb has been judiciously cooked with rosemary and garlic, and the fat little chops are moist and tender. Accompanied by plenty of crunchy vegetables and oodles of soft mash, this is very good eating for the price.  We hear that older diners prefer their veggies overcooked, but the preparation was just right tonight for our munching team! And a cook who knows what medium rare is too. Washed down well with another glass of house red. Happiness is ours.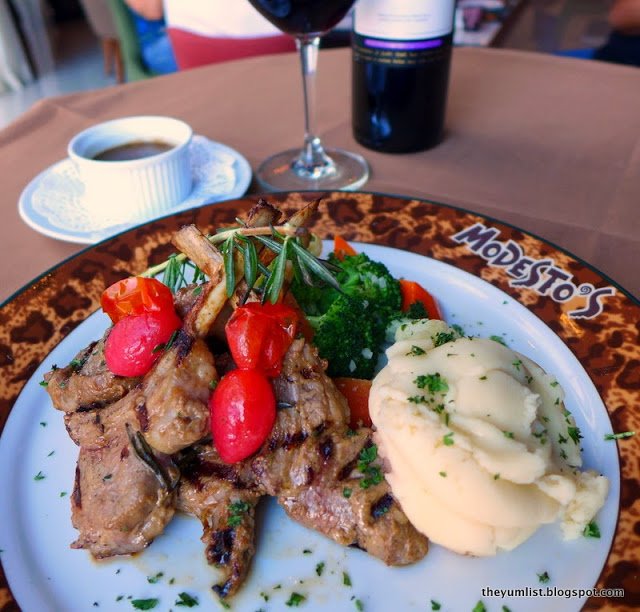 Carre D'Angello Alle Erbe
Monica and I tussle over a choice of desserts, but eventually settle on three. I held out for the home made apple pie 'Crostato Di Miele (RM18) served with Vanilla Ice Cream. It's a substantial serving, with plenty of well cooked slightly spiced apple. The open top presents more of a tart than a pie per se.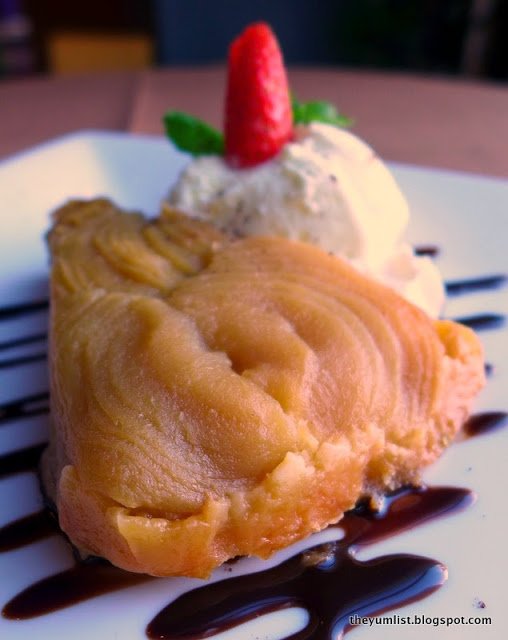 Crostato Di Miele
Monica's choice of 'Tartufo Ciocolato E Vaniglia'  (RM16) is appreciated by all four spoons. A delicate combination of vanilla and chocolate ice cream coated with toasted almonds and cocoa powder is served in pretty quenelles. I enjoy the slight crunch of the almonds with the smooth ice-cream.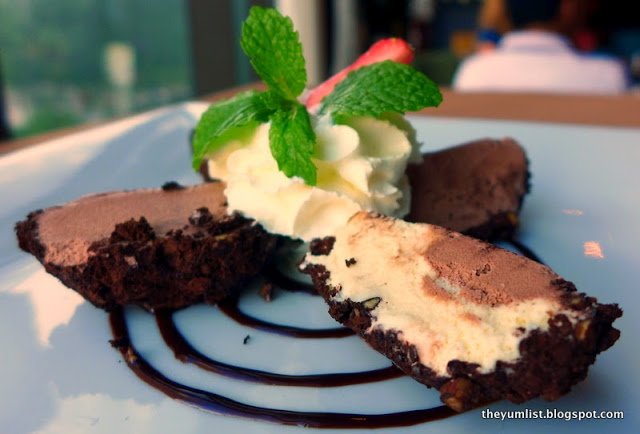 Tartufo Ciocolato E Vaniglia
Crepe Suzette Flambe (RM18)  turns out to be my favourite of the night. So glad we didn't leave that off!  The light crepe is stuffed surprisingly with oozing vanilla ice cream. But the best bit is the caramelised thick zesty sauce. It's so viscous it is almost marmalade-y in texture and taste. But yummy!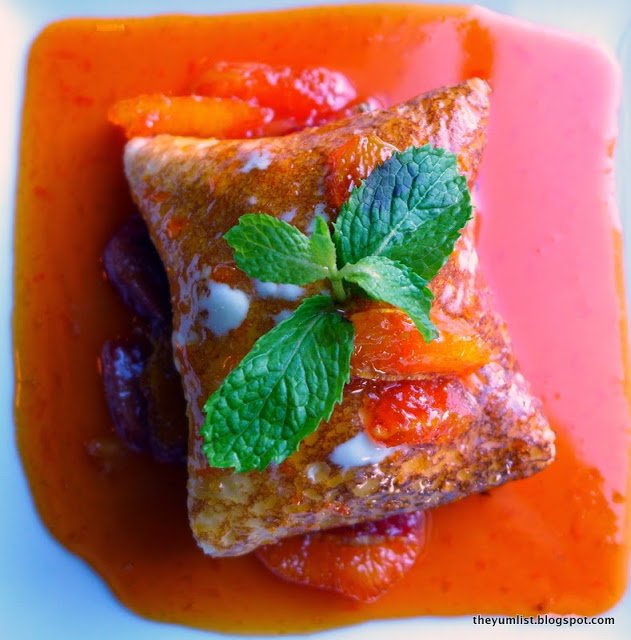 Crepe Suzette Flambe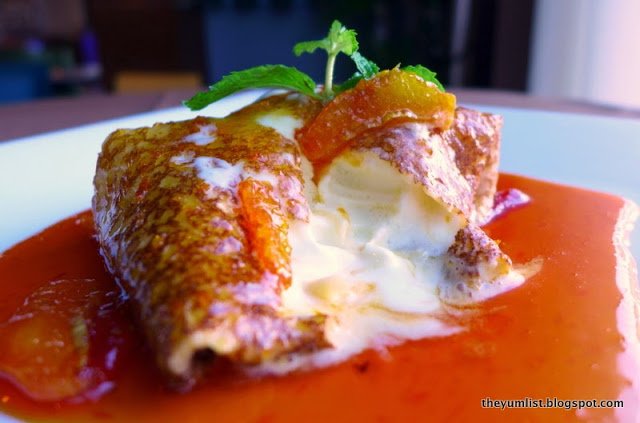 Crepe Suzette Flambe
Reasons to visit: A fresh and vibrant dining space. Tasty, well presented and well priced food. Magical Mojito.
Hugos by Modestos
Unit A -G – 01 Ground Floor
Qliq Damansara
Empire Damansara
Jalan PJU 8/8A
Damansara Perdana
Malaysia
017 799 2334