Patricia Podorsek and Monica Tindall
Just steps off the train at KL Sentral lies the artsy and cosmopolitan Le Meridien hotel, icon of chic accommodations around the world. Simmered in style and sass, the splashy color and mixed seating of the arrival area known as the HUB welcomes patrons with lingering scents of coffee and chocolate from their lobby cafe, Latitude 03, and its partner in indulgence, Art Cacao. Any well-spent afternoon deserves a stop here.
A casual afternoon could withstand the press of a gorgeous cinnamon latte at Latitude 03, but the smart casual afternoon will hold out for the Gula Melaka Latte, a creamy coffee rounded out by local palm sugar. The dressy casual afternoon would definitely toss in one of Latitude's signature eclairs, especially if you arrive between 3:00 and 5:00 for Latte Hour. The chocolate cream interior will make the afternoon sing.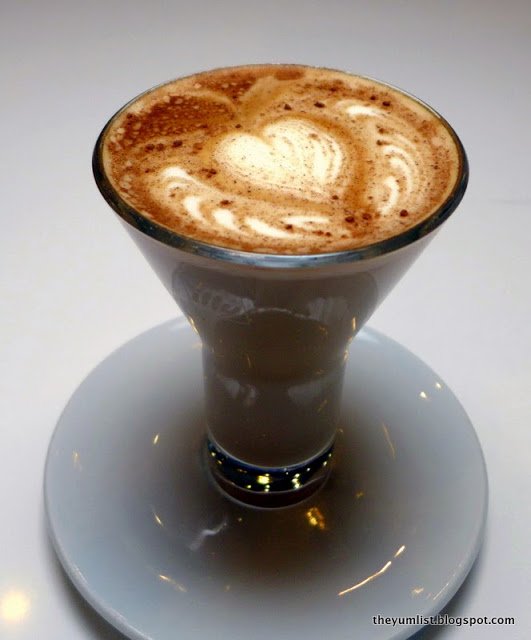 Cinnamon Latte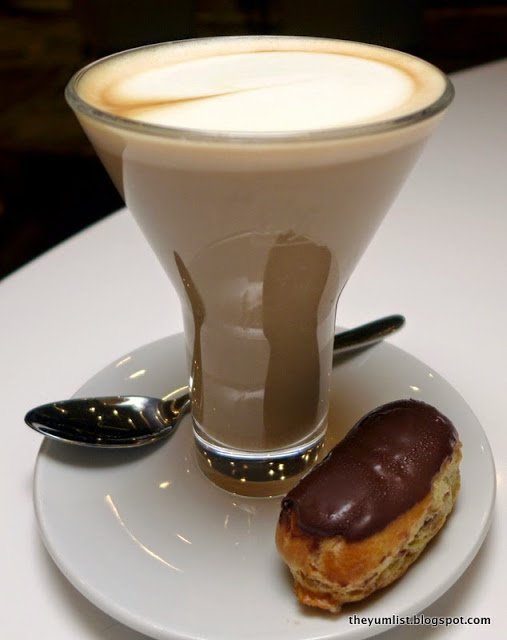 Gula Melaka & Coconut Café Latte
Other delectables at Latitude 03 will entice the whimsical afternoon. Art Cacao delivers expertise in chocolate fantasy: Chocolate lollipops, chocolate dragees, chocolate cookies, and chocolate eclairs in flavors like pistachio orange. Nirvana had reached my tastebuds! Our hosts recommended the Passion Caramel Chocolate Cake (RM13), an enchanting mix of passion fruit gelatina and caramel cream atop chocolate cake encrusted with cinnamon biscuits. This bit of lusciousness contained a magic spell – it took several bites to even get my head around all the flavors. Before I knew it, it had disappeared!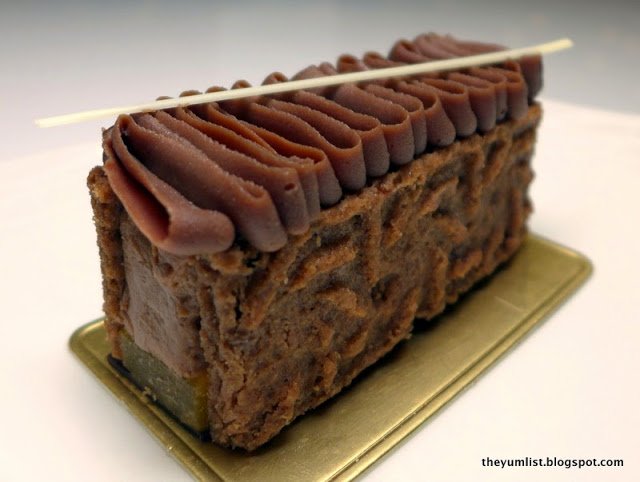 Passion Caramel Chocolate
The serious afternoon, however, should be reserved for Latitude's formidable hi-tea set menu, stylishly arranged on a three-tiered art deco platter, and reasonably priced for sharing at RM52.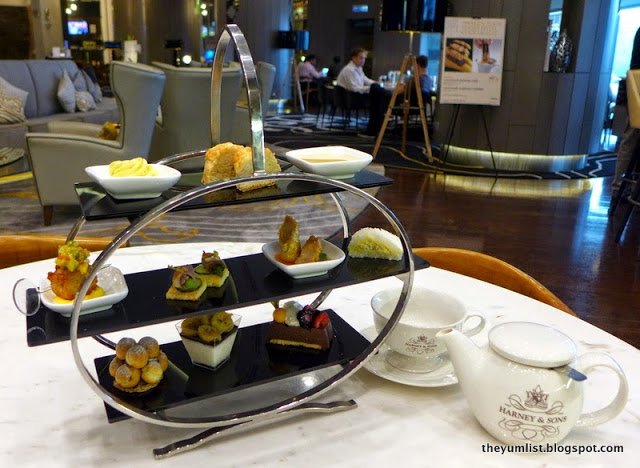 Afternoon Tea Set
We started at the top with the delicious density of the Parmesan scone, where edgy emmental melted into sweet herbed butter and fresh honey.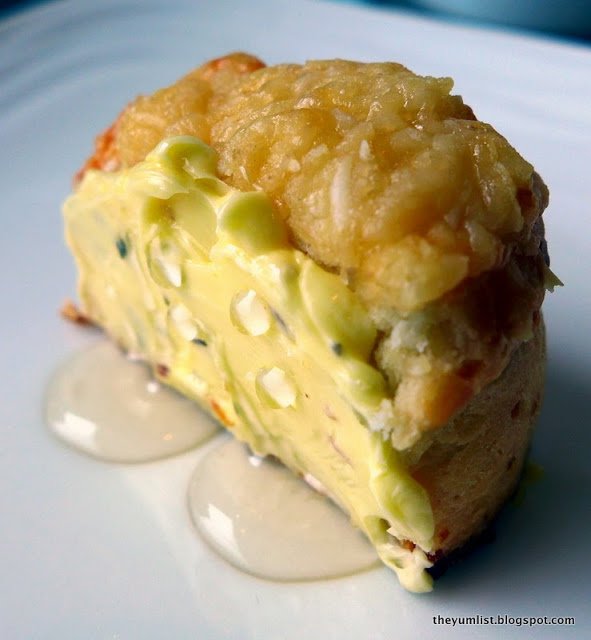 Parmesan Cheese Scone with Herb Butter and Honey
Working down, we found thinly sliced beef wrapped around asparagus on brioche, savory with a horseradish bite at the end. The potato hash brown balanced a crispy exterior with the sweet heat of mango salsa. The spring roll was a little odd served cold but the bit of heat offered by the Thai chili sauce helped to warm my palate to it. The egg salad dressed with drops of truffle oil won my heart, however. It was the tuxedo version of my grandmother's old tea standby.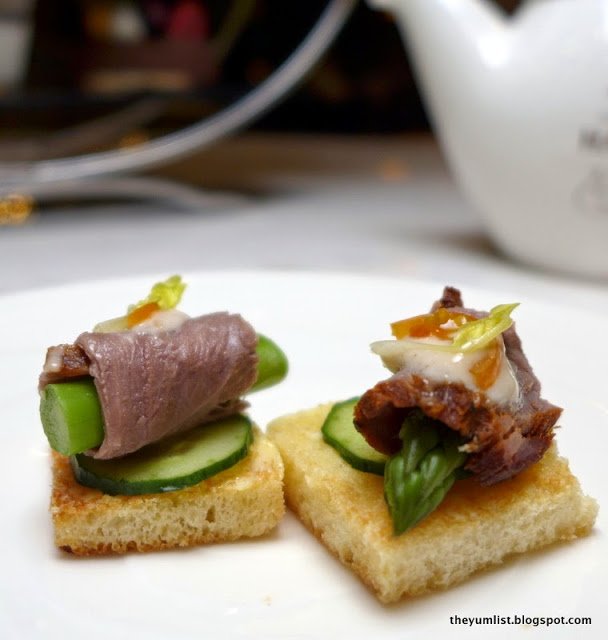 Rolled Beef on Mini Brioche served with Gherkin and Honey Mustard Dressing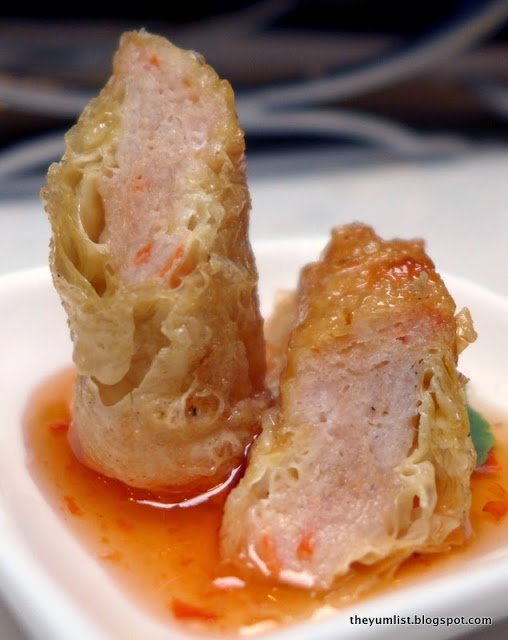 Seafood Bean Curd Roll, Thai Chili Sauce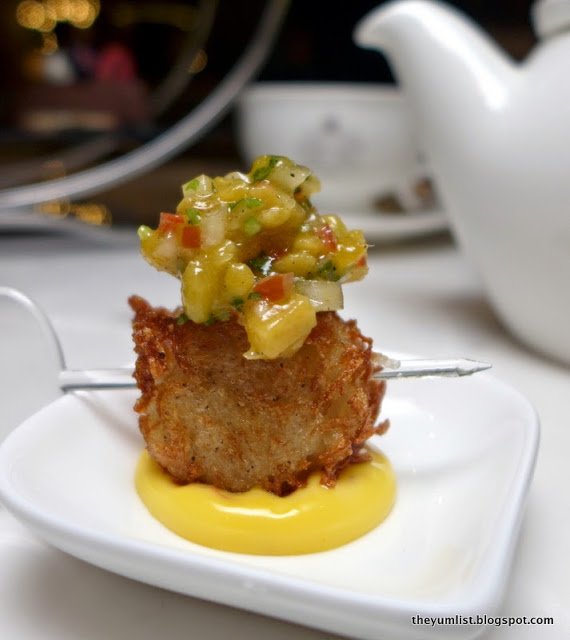 Hash Brown Potato Ball, Mango Salsa, Saffron Mayo
The final level of the hi-tea set showcases the real prowess of Latitude 03: Dessert. I loved the touch of salt and mix of textures in the sweet and creamy panna cotta rice pudding, blanketed in semi-sweet chocolate and topped with carmelised bananas. Chocolate lovers will be seduced by the dark density of the cremeux pastry, served within a buttery crust and topped with fresh cream. Most fun were the mini-chocolate profiteroles, puffs of airy pastry mortared with signature chocolate and an almond crust. Just plain yummy!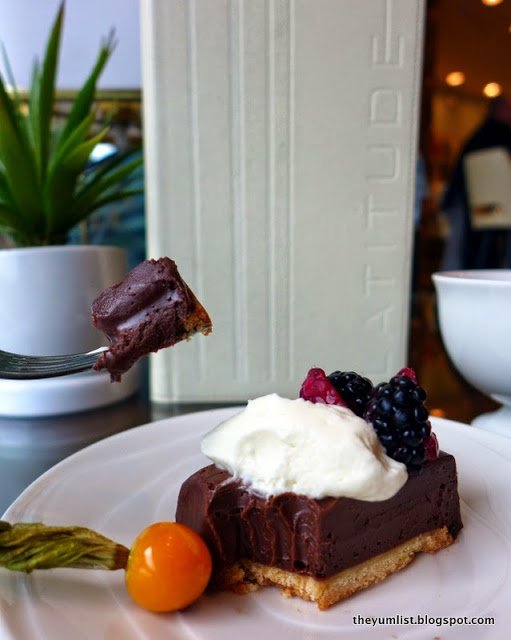 Milky Cremeux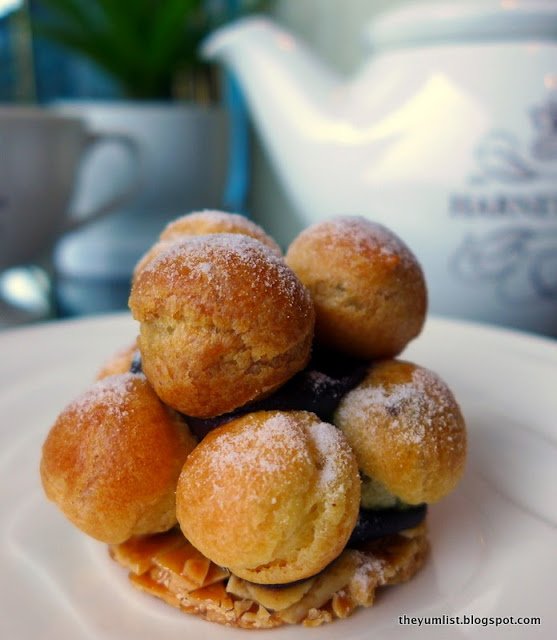 Mini Chocolate Profiteroles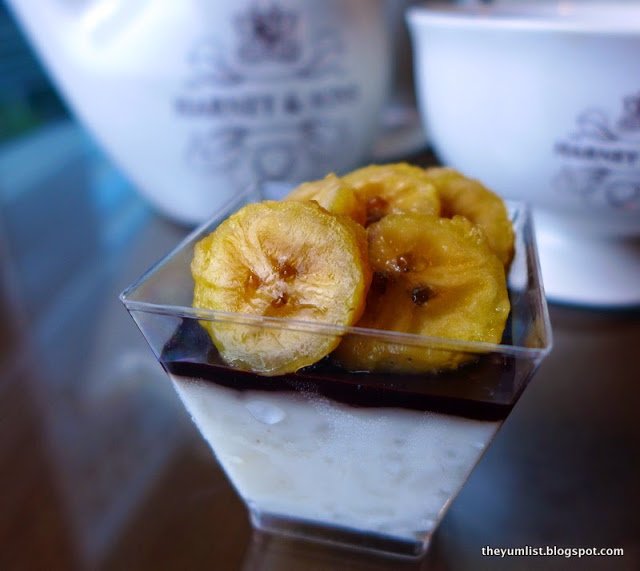 Coconut Rice pudding, Banana Salad
Finally, the professional afternoon – for executive chocolate lover's only – begins with a cup of Vero Dark Hot Chocolate, a 70% liquid cocoa so thick a spoon would nearly stand up straight in the cup! This is the closest you can get to drinking truly pure chocolate: nothing but bittersweet velvet embossed with only a tiny spot of gold leaf. The same professionals will retire with a box of Art Cacao's signature chocolates in bewitching flavors like Caramelia Orange and Milk Chocolate Gianduja.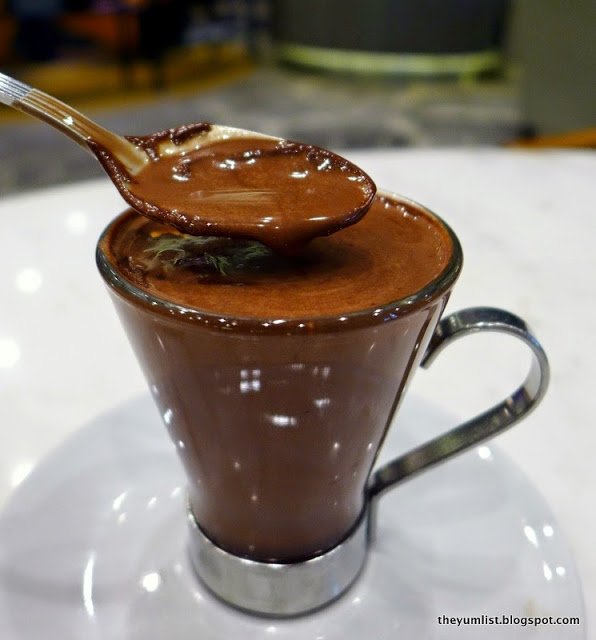 Vero Dark Hot Chocolate
Art Cacao Chocolate Box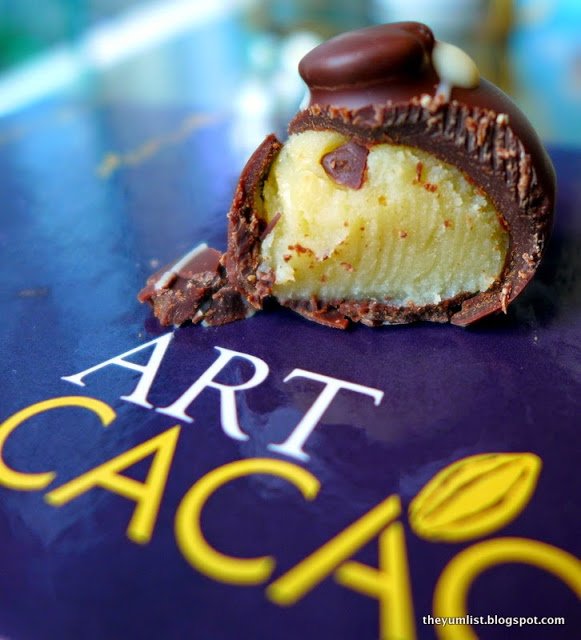 Art Cacao Chocolate
Without question, an indulgent afternoon awaits anyone with a taste for chocolate or coffee in the artsy HUB of Le Meridien. Enjoy palate pampering in the heart of the city!
Reasons to visit: Specialty lattes such as the Gula Melaka, elegant and well-crafted desserts like the Passion Caramel Chocolate Cake, and an indulgent afternoon sharing the hi-tea set with a friend.
Latitude 03 and Art Cacao
Le Meridien Kuala Lumpur
2 Jalan Stesen Sentral, Kuala Lumpur Sentral
Kuala Lumpur, 50470 · Malaysia
Phone: 60 3 2263 7888