On the top floor of Shangri-La Hotel Sydney resides one of the most chic bars in the city. Walled with glass and offering dazzling views over magical Sydney Harbour, it's a happening spot every night of the week and should be on your "must visit" list on any trip to the city.
Blu Bar breathes a lively energy, with a well-justified waiting list for window seats. Overlooking Luna Park, the Harbour Bridge, Opera House, wharfs and action on the harbour its lends itself to hours of diversion.
Sunset
Even though the crowd produces a vibrant buzz, and there's an encouraging drum of upbeat techno music in the background, we can still have a comfortable conversion without having to strain our voices.
We're here for a cocktail before dinner in the adjoining Altitude restaurant and begin with a beverage from the Signature menu. Named after Sydney's original notorious gang member, Madame Divine ($24) combines Hendricks Gin, apple and peach liqueurs, lemon juice, egg white and rose syrup. Decorated as a classic lady with a long slice of cucumber, ivory white foam and two deep red rose petals, it sits pretty in its martini glass home, but goes down even more elegantly with a beautiful perfume-like savour.
The Road Less Travelled… section of the menu lists concoctions for those with adventurous spirits. Coco-Jello Loco's ($21) mix of 42 Below Vodka, watermelon liqueur, coconut syrup and lemon juice leaves us daydreaming of tropical beaches on this nippy winter evening. Cubes of coconut jelly and a duo of melon balls float in the icy top along with a sprig of mint. Sweet and refreshing – turn up the heat, close your eyes and sip your way to dreams on the beach.
The page of Classics with a Twist presents "a modern spin on timeless favourites." In the Rosemary Old Fashion ($28), Rittenhouse Rye Whiskey, cherry herring and Noccelo are stirred up with rhubarb bitters. A distinctive smokiness first tickles the nose and we wonder if they've torched the rosemary sprig to achieve this aroma. We declare it a bold, manly drink with a mild bitter walnut flavour in the finish. Whereas the previous drink went down way too quickly, this is one to savour slowly.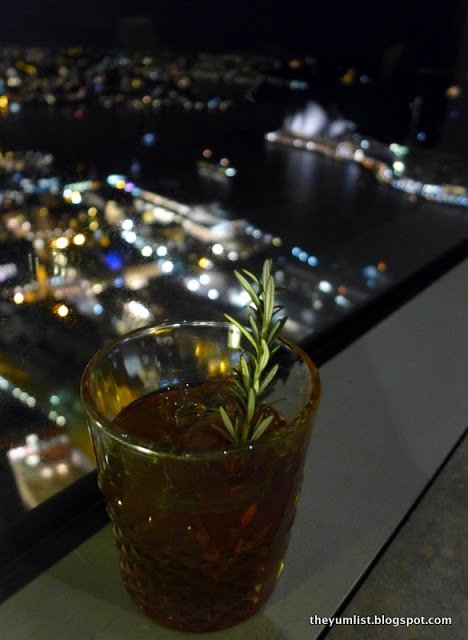 Rosemary Old Fashion
El Presidente gets a lesson from the teacher with this classic twist. El Professor features ($19) Bacardi white rum, Martini Bianco, Galway Pipe Port and orange bitters. The narrow-nosed brandy glass sends citrus from the orange peel to the nostrils so the nose samples before the tongue. Entering the mouth it's smooth, powerful and leaves you with a warm afterglow.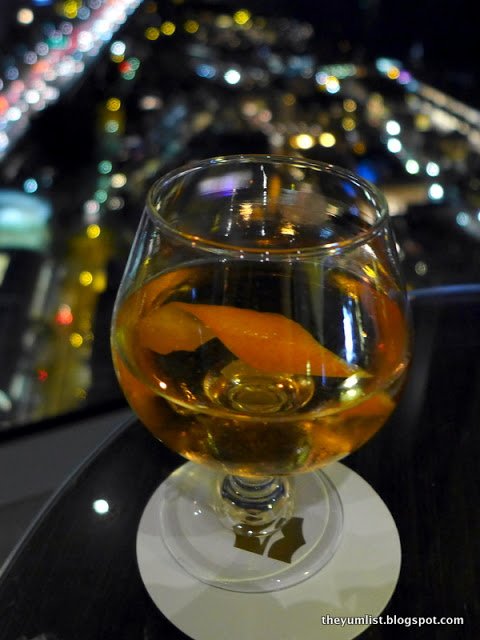 El Professor
Staff have been attentive, taking time to describe and recommend drinks that might match our preferences. Cocktails are well executed, the ambience is full of positive chic vibes, and the views are nothing less than spectacular. Blu Bar: be sure to pay a visit.
Reasons to visit: incredible views, well-executed cocktails, Madame Divine, come early and reserve a seat by the window.
Blu bar
Shangri-La Hotel Sydney
176 Cumberland Street
The Rocks
Sydney
NSW 2000
Australia
+61 (0)2 9250 6000