Apericena, Italy's Latest Trend at Neroteca
(Aperitivo + cena = predinner drinks + dinner)
  Kirsten Durward and Monica Tindall
Like wine? Well for sure you know I do! Like mixing and meeting different people in a friendly lively atmosphere? Let's hope so, as a recent craze seems to have invaded KL for midweek and weekends alike for restaurants to host wine and tapas mixers. Now there is a wave I could really get carried along on. Like to get really,really great value for your money? If so you are sure to love Neroteca's new monthly initiative. A mid week wine tasting is always going to be a fun event, but what makes these special are the insanely delicious, freshly made and abundant food tasting options that accompany your sipping or guzzling.
Ready to Serve the Crowd
Each month the focus is on a regional wine maker, which is a fantastic opportunity; you have the chance to try tastes that you never thought you would try. We hear the monthly event will rotate between restaurants, this month's being in the cosy confines of Neroteca Bukit Bintang, where the bottles fill the walls and the tastes fill your mouth happily. My eyes are goggling at the groaning platters covering Neroteca's bar style servery. Assorted bruschetta vie for space with vegetable frittata, oven-fresh bubbling pizza, eggplant with mozzarella and speck. I'm already raving over the bruschetta tastes; fennel with bresaola, orange and pine nuts? Caponata and artichoke? It's no exaggeration to say we are blown away by the flavours and quality of the food served at this event. It was unexpected for the all inclusive price of RM72 nett, and all the more appreciated for that!
The wine maker of the night, Alberto Orengia, hails from Verona, House of Satori is a well known family winemaker in the region (at least according to my Veronese friend who was green with envy).  Alberto is oh so happy to tell us about his wines and exchange wine drinking stories as the evening winds on.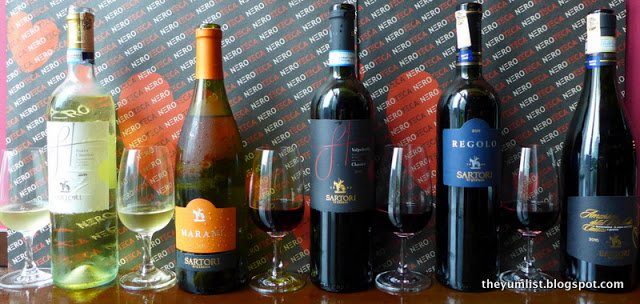 Five Wines from Verona
Our first sip of white is a light Soave Classico DOC from the hills of the Classico area north-east of Verona. The pale-straw colour signals its light dryness, very subtle fruit flavours rise from the aroma, confirmed on tasting, this slender wine which glides over the tongue with a tinge of bitter-almond on the finish. My wine education is continuing as I learn that the wine is made from 90% Garganega and 10% Trebbiano di Soave grapes. Well, it's all Italian to me. It slips down easily with the tasty appetisers.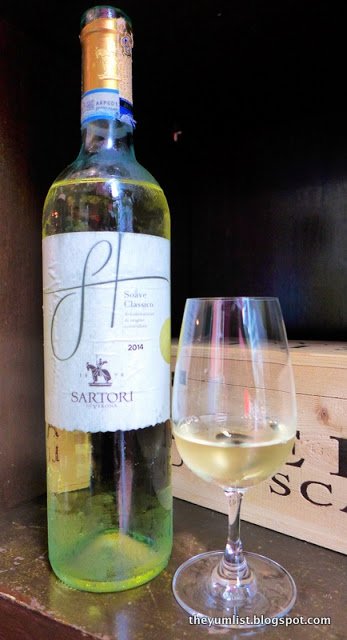 Soave Classico
The second white is the deep golden coloured Bianco Veronese "Marani." Not something I've ever tried before, it's apparently quite appealing to my taste buds as it tops up quite regularly during the evening. The ripe aromas of soft fruit and honey rise up on the nose, the texture of the first mouthful is voluptuous, lingering into the typical Soave mineral finish provided by the volcanic soils in the hillside vineyards where the Garganega grapes are harvested by hand before being carefully selected and left to dry for at least 40 days in order to reduce water – and concentrate sugar content. But this is not the end of the labour intensive wine making process. The pressing is followed by a short skin maceration at low temperature. A part of the must is fermented in oak casks before the wine is left to mature on its lees for 6 to 7 months for added texture, flavour and intensity. Wow – no wonder it tastes so good!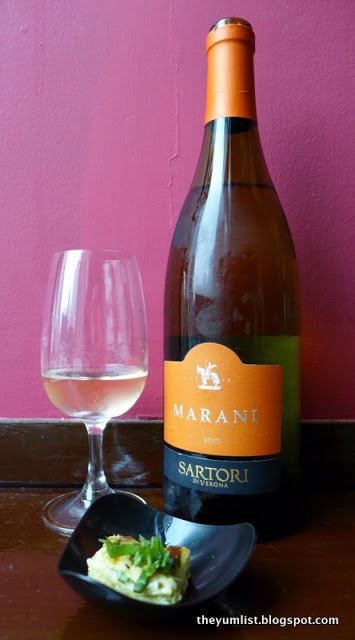 Marani
Meantime I've just found a fabulous aubergine and bacon concoction with a fresh tomato sauce that tastes absolutely delicious with the wine, and I'm wondering if it would be greedy to take another two. Mind you, the man with half a pizza on his plate doesn't seem to be bothered about portion control. Well maybe just one…
In the kitchen whipping up a wonderful spread of Italian goodness
Monica has spotted a glorious cheeseboard and tasty cold cuts selection which is perfect as  we are now sipping from red wine choices and the conversation starts to filter to which cheese goes best with which wine. Don't say we don't have fun, dear readers! The 'Regolo' Rosso Veronese IGT twinkles with garnet tones in the evening light. Aged for 18 – 25 months in oak casks to produce a dry velvety texture, the cherry fruit notes of this easy drinking wine do linger on the tongue. I am loving it with some Prosciutto Cotto, and a little Fontina. Mmmhm.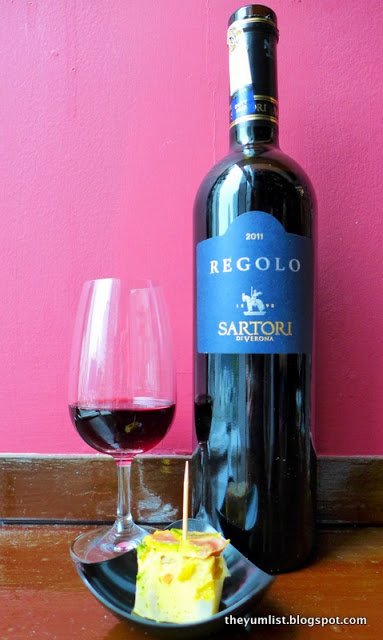 'Regolo' Rosso Veronese IGT
The ruby red hued Valpolicella Classico DOC is a wine my mother would have loved. In her day she was very fond of a glass of this northern Veronese classic. Deriving a lot of flavour from the calcareous clay soil of the region, the well balanced wine with its black fruit flavours and slightly dry notes is a definite must for accompanying pasta dishes. It's going down a treat with this scrummy Pesto and Gorgonzola baked Lasagne. We are so impressed with the quality and amount of food and cannot quite comprehend the price point of the event, as the wine appears to be flowing extremely freely too. I'm sorry I can't get over the price – RM 72 nett for all of this deliciousness. I feel like I will wake up with my alarm soon, I must be dreaming!
Valpolicella Classico DOC
Monica has been waiting for another glass of the showcase wine of the night, the "Reius"Amarone della Valpolicella Classico DOC. A three month drying before pressing, brings an intensity of flavour to this wine which also is matured in large oak casks to produce a velvety full wine with intense fruit jam flavours and a hint of spiciness to the back of the throat. And I see Monica accepting a top up of this one with a big smile into her big glass, the better to enjoy the bouquet. We spend a fair few minutes trying out different cheese tastes with the wine, and settle that the best combination is for sure the Gorgonzola with this dryly robust tipple.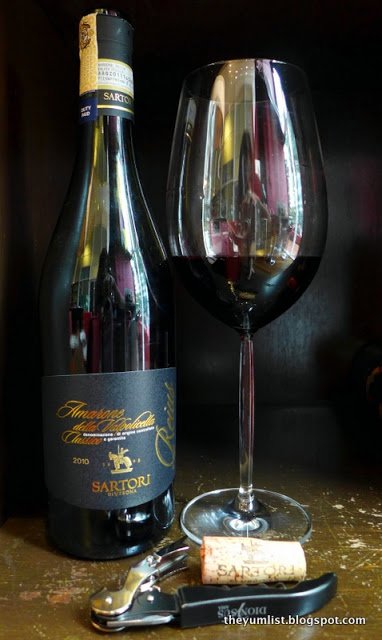 Amarone
Around us happy tasters, including a wine tasting group, are comparing notes and settling in with their preferences of the five wines. It seems that once the wines have been tested, topping up is not a problem. Neroteca will be offering monthly wine treats, so watch the website or get on the mailing list for next month's event. In the meantime, why not check out some of their Aperitivo Happy Hour which offers 2 for 1 on Prosecco, wine, and beer, with accompanying bar bites. Daily from 5pm 'til 8pm.
Reasons to visit: insanely good value for a midweek treat; wine by the glass; fantastic apericena spread.
NEROTECA Bukit Ceylon
Unit G-1, Seri Bukit Ceylon,
No. 8, Lorong Ceylon,
50250 Kuala Lumpur.
+603 2070 0530
Twitter – @nerotecakl
Instagram- @nerotecakl
Mon-Thurs: 9am to 11:30pm
Fri-Sat: 9am to 11:45
SUN: 9am to 11:30pm