Kristin Cosgrove and Monica Tindall
Don't you just love it when the best gets better? Long considered a favorite on the Italian food scene in KL and an expat favorite when it comes to Sunday brunch, Neroteca is now offering bubbly brunch in the newly opened Plaza Damansara outlet on both Saturdays AND Sundays from 11am – 3pm.
Bubbly Brunch
I've enjoyed the Neroteca's brunch on several occasions at the Jalan Ceylon location, and didn't hesitate when given the opportunity to try their buffet-style brunch at the Damansara Plaza location. We arrive on a quiet Saturday morning and find easy parking right in front of the restaurant, located on the ground floor. A Saturday bubbly brunch is a rare find in Malaysia, and given we are the only patrons for the first hour of the brunch, clearly the word is not out yet that a this option exists. That won't last for long!
Neroteca, Damansara Plaza
The al fresco seating seems pleasant and calming, but we opt for the air-conditioned indoor scene. Elegant and chicly designed, Neroteca Damansara's dining room is spacious yet cozy. Large chalkboard style panels decorate one wall, with planter boxes interspersed to add some life. A mirrored back wall makes for a feeling of infinite space and dark wood grids on the ceiling dangle bare light bulbs, which cast a warm yellow glow. The brown leather-style dining chairs and heavy wood tables invite hours of lingering over good food and company – isn't that what brunch is all about?
For those looking for a more intimate dining experience, semi-private booths hold three people, a nice option for smaller parties. This is where we choose to settle in.  Bring on the free-flow, we've got all day and another to recover! We are waited on promptly and partake of their free flow wines on offer: A Querceto Chianti, Baglio del Sole Bianco and Valdobbiadene Prosecco. All were easy drinking, paired well with food, and not too overpowering – allowing multiple refills.
Free Flow Beverages
Making our way to the closely adjoining bar area we are impressed to watch our coffees being brewed on a gorgeous gold vertical espresso machine. A piece of art in and of itself, the machine produces a robust and quality latte – expected from a quality Italian restaurant!
Cappuccino
At Neroteca Damansara the buffet menu changes weekly, but one can always rely on quality meats and cheeses, salad bar, mains (meat and veggies both), pasta, pizza and desserts.
Laid out on the bar is a modest yet quality spread of antipasti. A small plate of imported cheeses tempts us, paired with fruit, honey and walnuts. A mouthwatering platter of Italian cuts such as prosciutto, salami and other cured meats promise a wine and herb-infused blend of salty splendor. Other appetizers include pasta salad, mixed grilled vegetables and seafood salad. Monica relishes the muscles while I savor a poached egg with hollandaise sauce cupped in a lettuce leaf.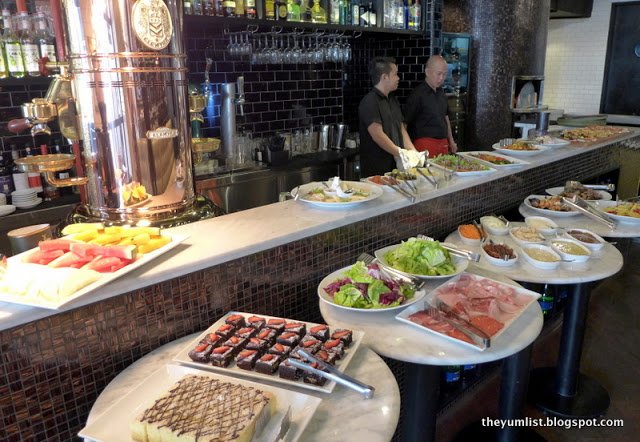 Antipasto Spread
Cheeses
Mussel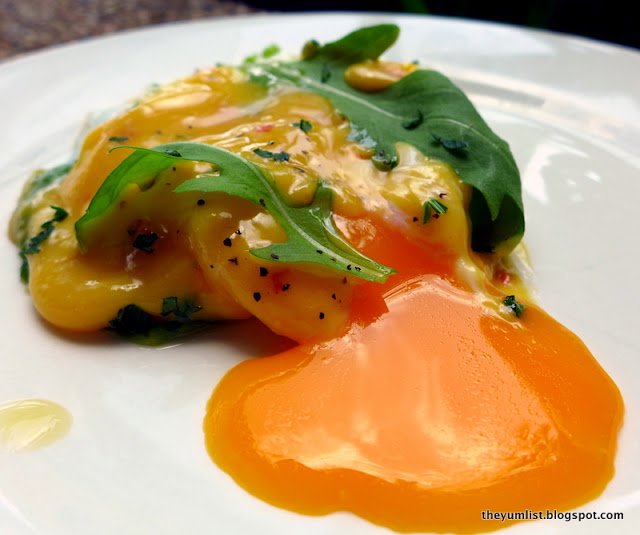 Eggs
Several enticing mains are on offer today; among them is the stewed lamb – an immediate favorite with tender chunks of meat engulfed in a viscous broth that tempts us to go back for more. Spaghetti aglio olio radiates porky goodness with bountiful amounts of crispy pork cubes, and the sea bass with lemon butter is flaky and moist.
Pizza from the wood-fired oven counts (to me) as both appetizer and main, and I make no apologies for including it on both plates. Heaps of grilled veggies top one, while the other sports cheese and a creamy white sauce. Crispy, flaky thin crusts don't overfill, and I love the wood flavor from the fire oven.
Pizza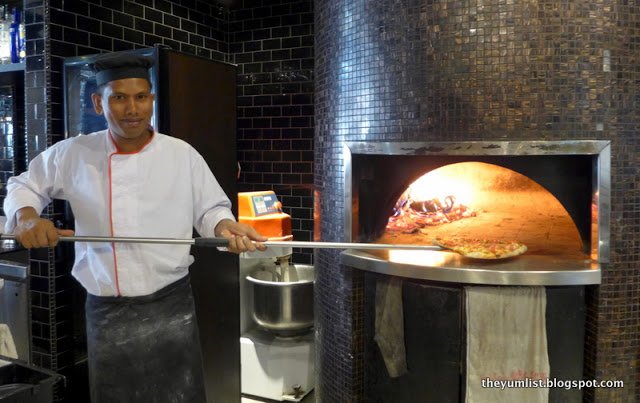 Wood Fired Oven
Dessert consists of a pleasant – if a bit dry – sponge cake which pairs perfectly with coffee, and a dense and chewy brownie with walnuts as well as a platter of fruit including watermelon and pineapple.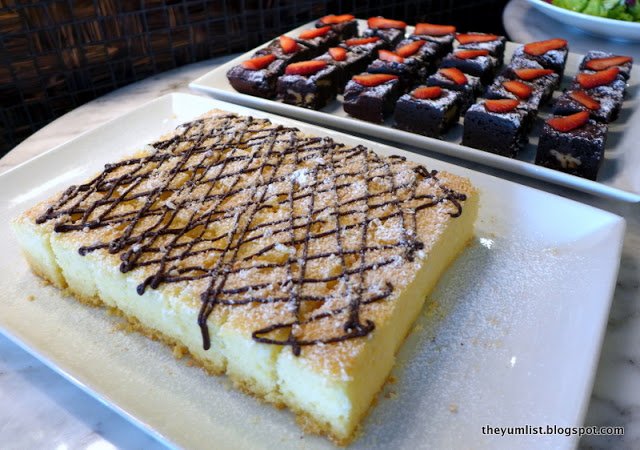 Desserts
It's easy to while away an afternoon at Neroteca's bubbly brunch, but even after several hours of lingering I never felt bloated or miserably full, a hallmark of carefully prepared dishes with quality, fresh ingredients.
Nerotecca Damansara's buffet bubbly brunch is served Saturday and Sunday from 11-3pm; cost is RM88 (no alcohol) and RM188 (inclusive of free flow house wine and Prosecco) – a very good value for money!
Reasons to visit: Cozy ambiance suitable for a dressy affair or casual get-together with family and friends; authentic and quality Italian cuisine; plenty of pork options; live acoustic music with a different performer every week.
NEROTECA PLAZA DAMANSARA
17 & 15 Plaza Damansara
Medan Setia 1, Bukit Damansara
50490 Kuala Lumpur, Malaysia.
603-2011 5725
www.neroteca.net