Louise Miller and Monica Tindall
If, like me, you'd assumed that Starhill Gallery was a venue exclusively reserved for the post designer handbag purchase, bubbly brunch or fancy high tea, it's most definitely time for you to forray further down the labyrinthine stone-pathed passageways to discover some of the hidden treasures of its Feast Village.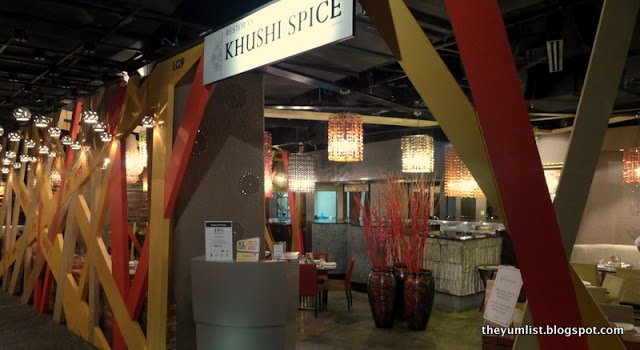 Khushi Spice is one of this culinary treasure trove's precious gems. In addition to the visual  warmth of the rich autumnal tones of the decor and the shimmer of glass lanterns that meet you on arrival, a soothing waft of unmistakably Indian spices embraces you as soon as you set foot in the restaurant: we knew immediately that an authentic Tandoor was at work here and started to salivate in anticipation.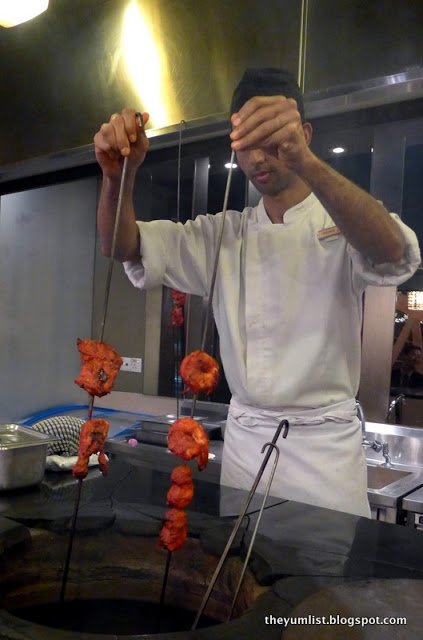 Hot Out of the Tandoor Oven
 To whet our appetites further, a plate of Onion Bhaji (RM14) was served to start our meal. The fritters were simply perfect: sweet, tender onion coated in the lightest, crispest batter made from besan or chickpea flour seasoned and flecked with coriander and green chilli that provided a delightfully slow and gentle burn on the palate. Accompanied by a mint sauce for those who need a little cooling contrast, this was a very pleasing opener.
Equally delicious were the Lamb Samosas (RM16). moist and gently spiced lamb mince was studded with tender chunks of potato and encased in a delicious buttery and flaky pastry. Our meal was off to an excellent start!
Lamb Samosa
We slurped down two different Lassis: The Mango Lassi (RM18) and the Mixed Berry Lassi (RM18) were both excellent and struck the right balance of fruity tang and creaminess: not too sweet and very refreshing, they were an ideal pairing with our spicy food.
Mixed Berry Lassi and Mango Lassi
One of Khushi Spice's signature dishes and the one which had seduced our olfactory senses with its smoky, spicy aromas on arrival was to follow: The Mixed Tandoori Ka Khazanaa (RM120) was a platter of sumptuous tandoori treats: succulent chicken, mutton, fish and prawns all marinated in garlic laden Khushi Spice sauces and cooked on skewers in the tandoor on full view in the restaurant's open kitchen. I quizzed Chef Surbeer Singh on the spices used in the marinades as the flavours were so rich, complex and well-balanced. He kept his cards close to his chest revealing only that the house garam masala contains a blend of over fifteen different spices. Everything on this platter was so tasty, it would be hard to pick a favourite but Malai Kabab (plump pieces of chicken breast in a delicate yoghurt marinade) and the Machli Tikka (boneless mackerel in a rich spicy marinade) were both highlights for me.
The main dishes were set before us in a glimmering array of metal dishes. We savoured the aromatic vegetarian dishes, Paneer Tikka Masala (RM30): generous pieces of Indian cottage cheese served in a spicy gravy; and Dal Tadka (RM24): a thick, golden lentil stew, slightly nutty in texture and flavoured with tomato, onion and what must have been oodles of garlic and cumin seed.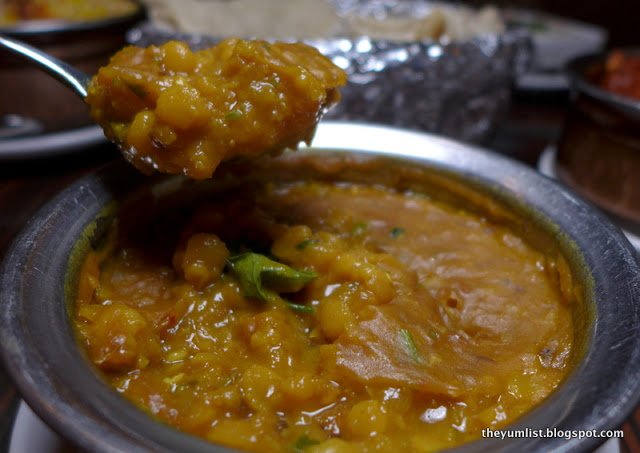 Dal Tadka
 The Palak Mutton (RM35) consisted of tender cubes of meat cooked with tomato, onion, spinach and a rich gravy, and the Murgh Biryani (RM39) featured boneless chicken meat with onion, tomato, mint, yoghurt and spices in the fluffy, turmeric stained long-grained mughal rice from Pakistan.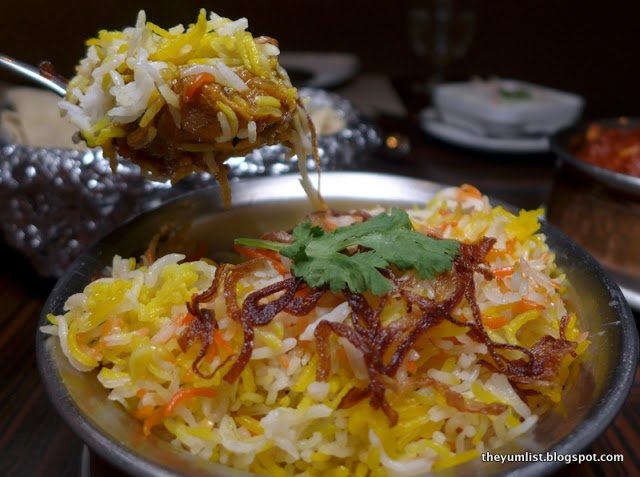 Murgh Biryani
My favourite dish of this course was the Machli Chilli Masala (RM38). Featuring juicy and meaty boneless mackerel pieces with green pepper, tomato and onion all smothered in an intensely flavoursome spicy sauce, this dish won my heart (and stomach).
The mains were accompanied by Romali Roti and a tangy raita. The roti had come highly recommended by the chef: made with fresh milk, egg, banana, sugar, salt and ghee (or clarified butter), it was light, elastic and perfect for mopping up the various curries with a dollop of cool and crunchy raita.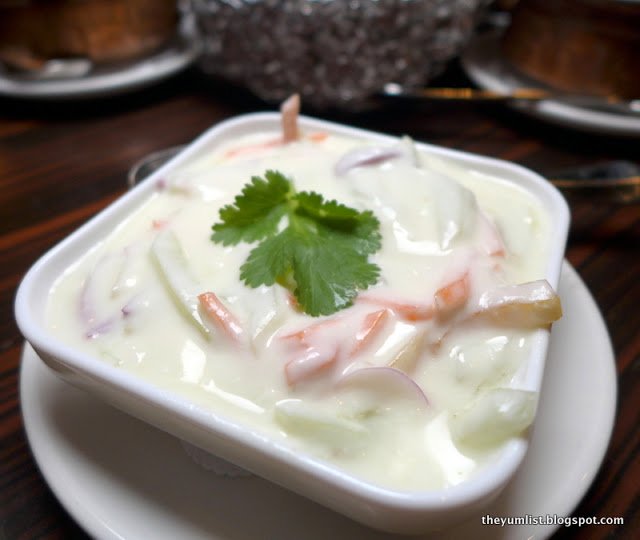 Raita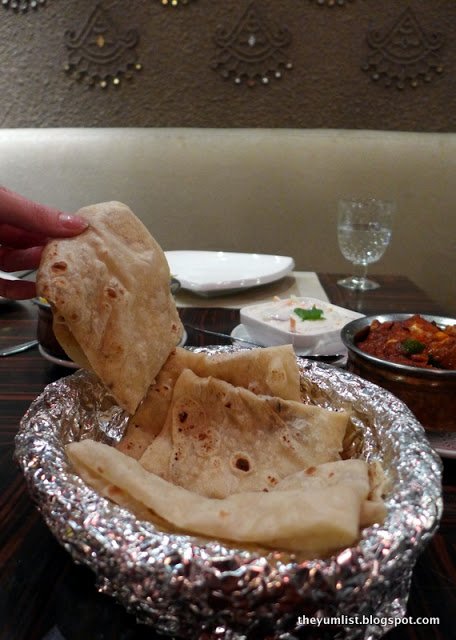 Romali Roti
What seemed a little unusual after having consumed a considerable amount of this delicious Northern Indian fare, was that we didn't feel like we had over-indulged. Don't get me wrong, we certainly felt like we'd partaken in a substantial feast but the onset of a 'food coma' did not seem imminent as is so often the way after this kind of rich food. What seemed to have made the difference was that everything was so very fresh – there was no nasty MSG, no film of oil on anything, just great, beautifully flavoured food that left us feeling satisfied but able to handle desserts.
There are only three desserts on Khushi Spice's menu so we tried all of them (it would have been rude not to – right?) The Mango Kulphi (RM12), Gajar Ka Halwa (RM12) and the Gulab Jamun (RM12) were all delicious in their own right but really special when combined as they provided a complementary variety of flavours, textures and heat. We started with the cold, dense and creamy Kulphi, progressed to comforting warmth and sweet carrot flavours of the Halwa and ended with the Gulab Jamnun – a hot doughnut like delicacy bathed in a sweet, cardamom flavoured syrup. A perfect combination that we washed down with a tasty and soothing Masala Tea.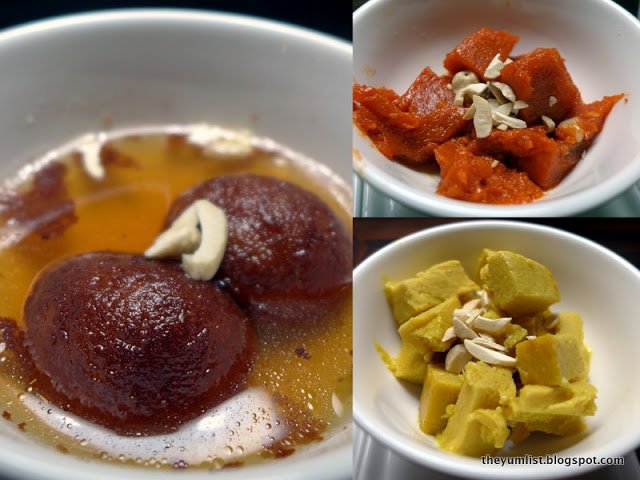 Desserts – There's only three – try them all!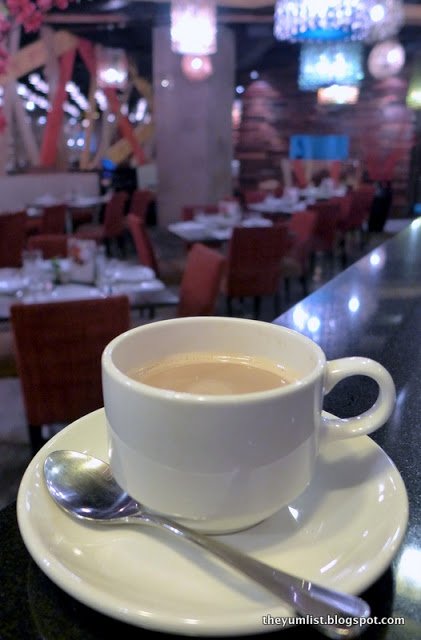 Masala Tea
Reasons to visit: Fresh, tasty and authentic Northern Indian food, especially Onion Bhaji Mixed Tandoori Ka Khazanaa, Machli Chilli Masala, Dal Tadka and Romali Roti, all three desserts!
Khushi Spice
Starhill Gallery
181 Jalan Bukit Bintang
55100 Kuala Lumpur
Malaysia
+6 03 2782 3872
Khushi Spice is open every day from 11:30am to 11:00pm