Following the booming success of Mikey's Original New York Pizza in Bangsar, and a second flourishing outlet in Publika, owner Michael Helfman and fellow New Yorker and partner in crime Andrew Bellucci opened a third outlet in Mid Valley Megamall. Capturing the mall traffic and movie crowd, this third shop brings with it a sweet addition, Mikey's Frozen Custard. Now people wanting an authentic taste of New York can satisfy both their sweet and savoury cravings at one location.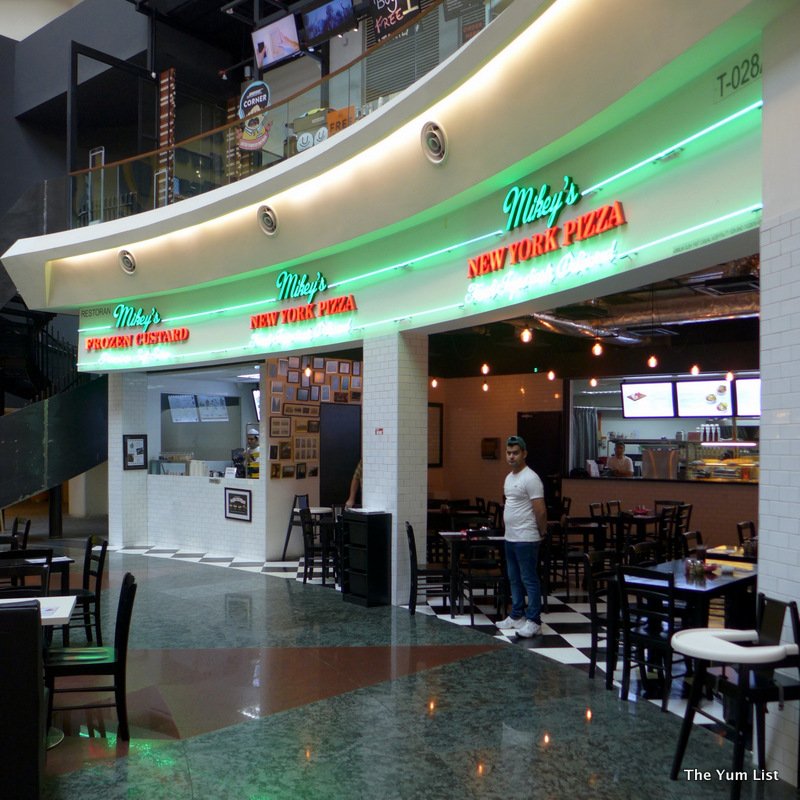 And, you can't get much more bona fide than head pizza man, Andrew Bellucci. Producing pizza in the Big Apple for a good couple of decades, this chef has developed such a significant reputation that film crews have been following him around for the past 20 years. In fact, mere days before he meets again with The Yum List, a noteworthy documentary producer has just left after a week of filming Andrew behind the scenes. Pizza expert? We think so!
With Mikey's Original New York Pizza well established, Michael and Andrew wanted to continue to share with Malaysians a taste of their childhood, and hence the development of Mikey's Frozen Custard. For Michael frozen custard triggers memories of post Little League game treats and summers in New York, while Andrew fondly recalls chilled times on the Jersey Shore boardwalk.
Mikey's Frozen Custard has been a labour of love. It took nine months of research and development, including a stint in the Wisconsin Frozen Dessert Institute to get it just right. Partnering with a with a local milk supplier, Bright Cow, they created everything from scratch. Although the initial appearance of the frozen treat resembles soft serve, it is distinctly different. Commercial blends are highly aerated almost doubling in size after processing. Mikey's blend however is dense and creamy with the flavours of its core ingredients – milk, cream, sugar and egg – clearly present. It's a premium hand crafted product, and we can taste the difference.
With 24 different toppings and a quartet of base flavours: chocolate pudding; vanilla dream; au natural; and a rotating flavour, this month espresso – choosing can be a delightful challenge. First we start by selecting either cup (RM6.88), or the Mikey Bun (their take on the classic ice cream sandwich RM8.88). Next we decide on the custard flavour, and lastly the toppings (three toppings RM9.88 cup, RM11.88 bun). I appreciate some of their suggested creations however, showcasing both Classics & Crazies – tried and tested combos.
Starting simple, we sample a cup (RM6.88) with a twist of chocolate pudding and au natural. It is indeed agreeably dense and creamy. Hubby appreciates the straightforwardness of the au natural, and my smile couldn't be bigger with the rich temptation of chocolate.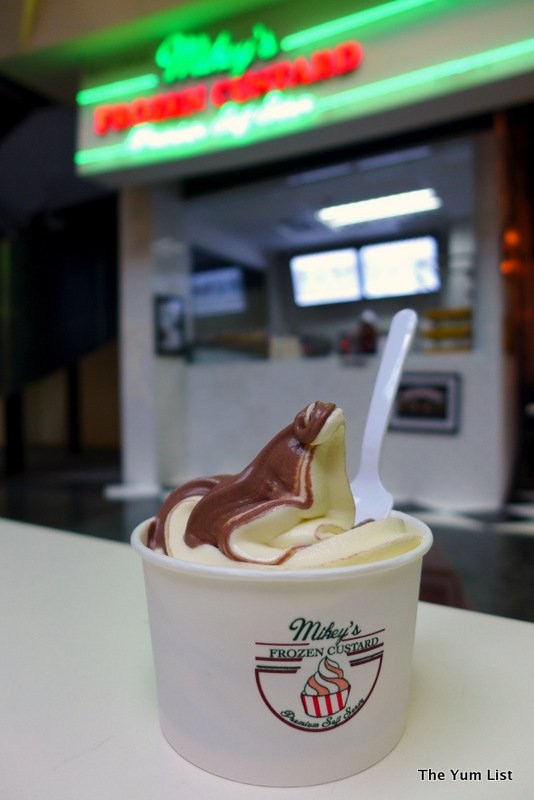 Taking a suggestion from the Crazies Creations menu, the Strawberry Short Stack (RM9.88) proves an opulent contrast of sweet and savoury, chewy and buttery, with smoky billionaire's beef bacon, pancake syrup, and strawberry compote covering vanilla frozen custard.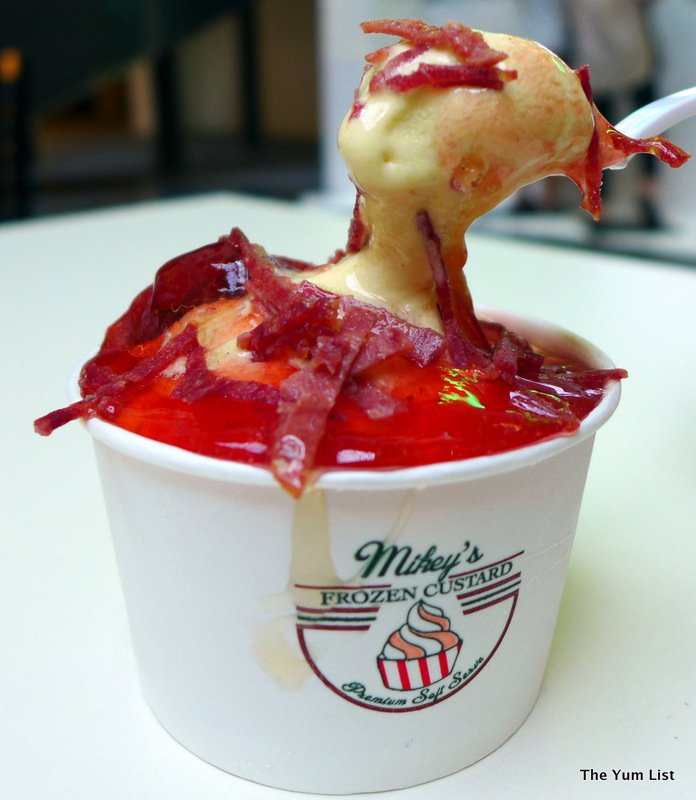 We find the Classic Creation, the Turtle in the signature Mikey Bun (RM11.88), a sweet sandwich of wickedness, best shared. Caramel sauce, crushed peanuts, chocolate sauce and frozen vanilla custard are sealed between a bronut (a hybrid of a brioche bun and a donut). It's toasted so that it's hot on the outside and cold within.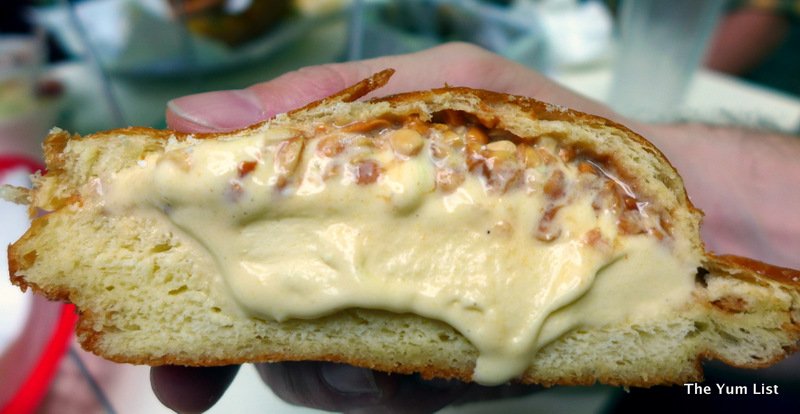 We think the prices are already good value for the portion (even the basic cup is sufficient for sharing) and quality of ingredients, however if you show your Mikey's pizza receipt you receive a 20% discount.
So… we slide on over to Mikey's Original New York Pizza. Much has happened since our first visit (two years ago). Not only do they now have three branches, a delivery service and triple the staff, pasta and some new pizza toppings have been added.
Mikey claims the Spicy Bolognese (RM15.88) is up to par with what his own mother makes. It's of generous size and even our two well-trained stomachs have difficulty finishing a shared single portion. The pasta is chockfull with the meaty sauce, and soft garlic bread slices protrude from the top.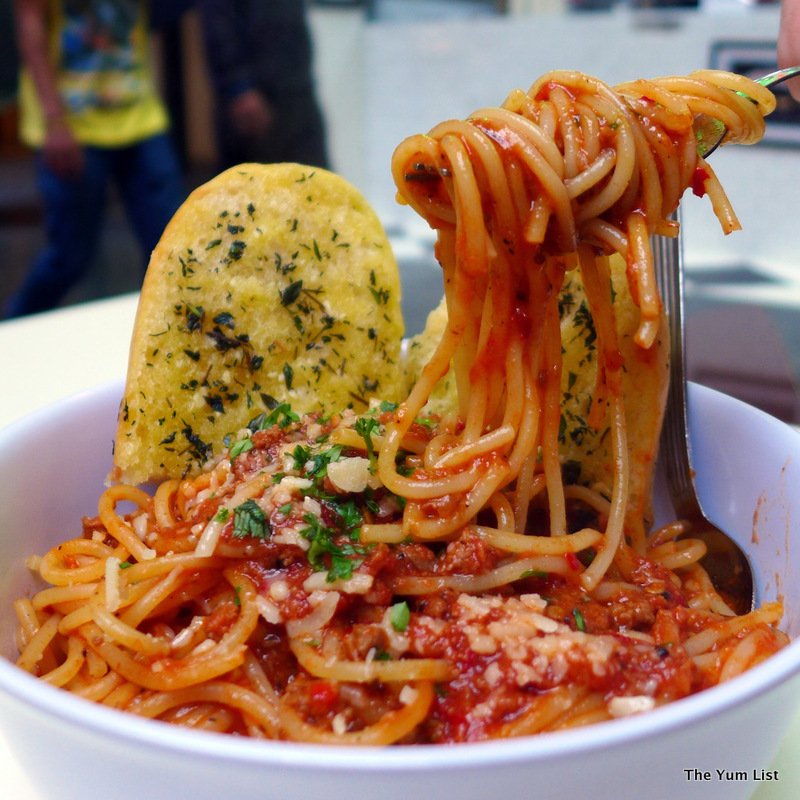 We uncover a secret item on the menu: the Boneless Barbecue Chicken (RM12.88). The menu shows Boneless Buffalo Chicken (but you can get it with the sweeter, less spicy barbecue sauce if you ask). Eight pieces of breaded, boneless chicken breast are deep-fried, coated with sauce, and served with a blue cheese dipping and celery and carrot sticks. These are easy pickings – washed down well with an icy cold beer.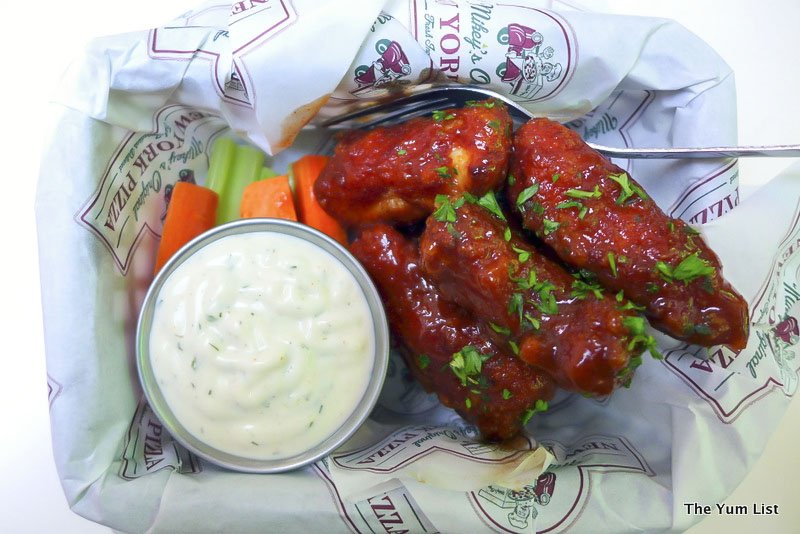 Andrew is tight-lipped as to the secret of his famed pizza dough. We suspect it has something to do with lashings of butter, but he quietly lets us in on a detail, "a long fermentation is what separates really good dough from the so so ones. You can't rush yeast."
Two additional flavours are available only at Mid Valley. The Spicy Loco Mexicano (RM15.88 slice, RM88.88) according to Andrew has, "some kick, but is not crazy spicy," and in Mikey's words is, "Just like a taco on a pizza. I love it. If we want Mexican I have that. We pickle our own jalapeños." The Pepperoni Pizza (RM11.88 slice RM69.88) is a classic with the number one topping in the US. "We have a nice pepperoni. It cups, curls up nicely in the oven," discloses Andrew. Pizzas here are an enormous 18 inches, so we ask for four flavours atop the one pie.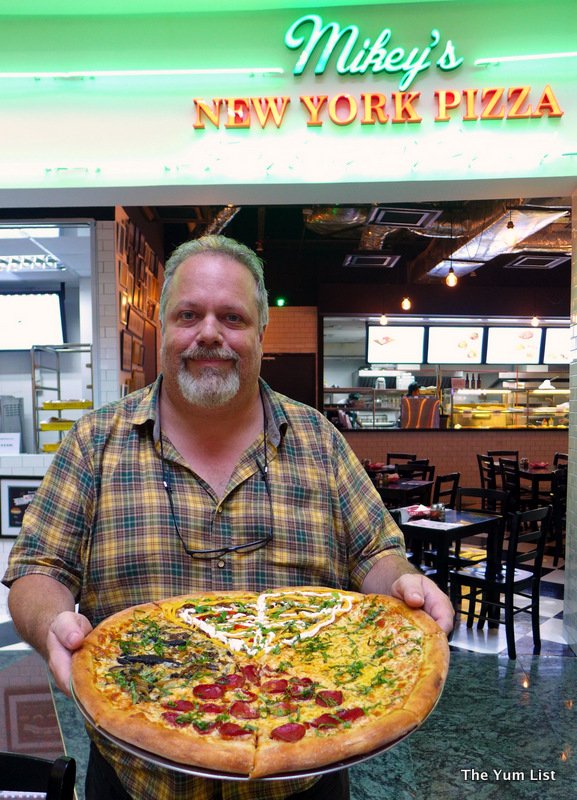 My vegetarian tendencies are satisfied by Mama's Wild Mushroom Pizza (RM13.88, RM79.88) featuring shitake, Portobello, oyster mushrooms, and sometimes enoki if in season. The mushrooms are all sautéed in Mike's mother's recipe of basil, garlic and olive oil before hitting the top. Another meatless option is the Classic New York Pizza (RM8.88, RM59.88) spread with their house made red sauce and topped with a thick layer of Mozarella. Toppings are plentiful – so much so that a single slice could easily satisfy as an entire meal. Hubby's tastes are traditional and Pepperoni panders to his fancies. I adore the mushroom and am tempted to take a slice away for lunch for the following day.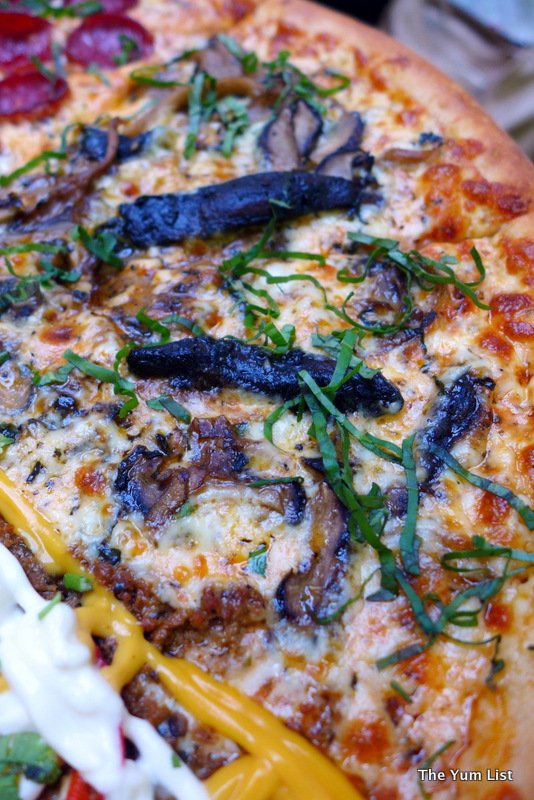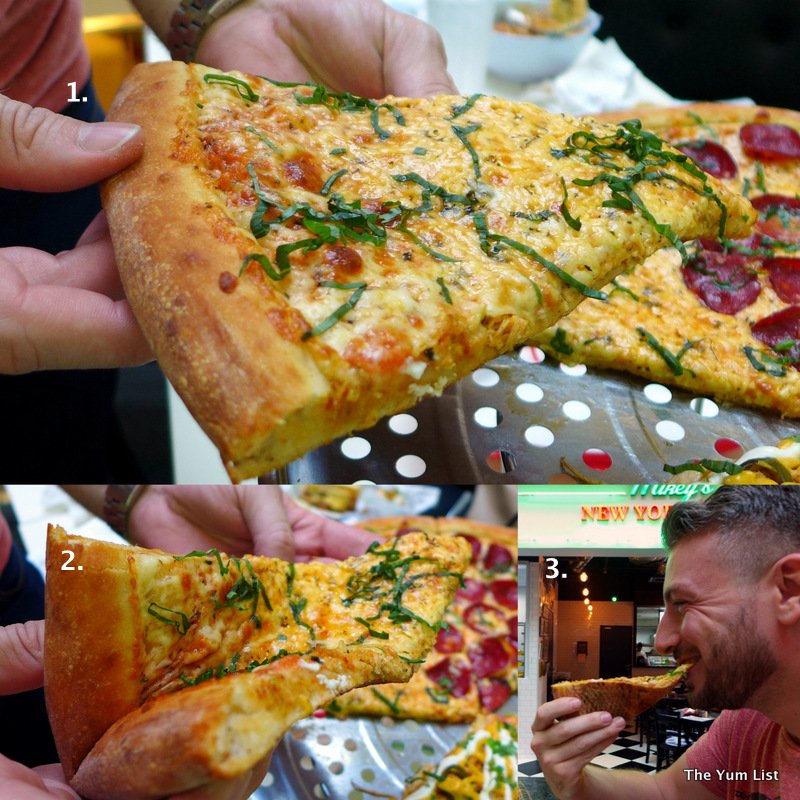 Our final indulgence is Cliff's Philly Cheese Steak (RM19.88). Named after a friend who passed away last year and who insisted they get a high quality version of it on the menu, Mikey claims, "It's the best in Malaysia, probably South East Asia. Cliff told us not to worry about the price, just do justice to how the sandwich should be." Rib eye steak is sliced, grilled and chopped up directly on the hot plate. "I subscribe to the chop method. We sauté some diced onions and capsicum. Mix it all together. Form it in a line on the grill. Put two slices of cheese on the bottom of a bun, filling on top, finish with three layers of cheese. Cut in half and serve," says Andrew. The soft bun, warm full-flavoured filling and melty cheese certainly pay a fine homage to its inspiration.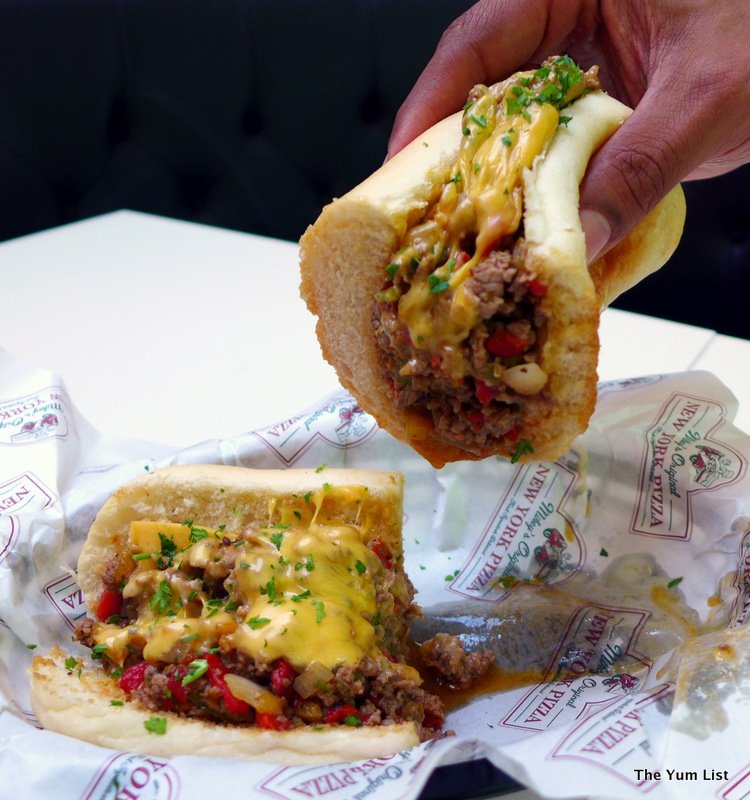 We've had a delicious taste of New York and thank Andrew and Michael for passionately sharing a taste of their home with us.
Reasons to visit: chocolate pudding frozen custard; Mikey's Bun (but remember it's large enough to share!); Spicy Bolognese; Cliff's Philly Cheese Steak; enormous New York style pizzas – my pick, Mama's Wild Mushroom, and hubby's, the Pepperoni.
Mikey's Original New York Pizza
Mikey's Frozen Custard
Lot T-028A, South Court, 3rd Floor
Mid Valley Megamall
www.facebook.com/Mikeysoriginal/
http://mikeyspizza.com.my/
* Prices are nett at Mid Valley
** The restaurant itself isn't certified Halal but ingredient suppliers all are.
*** The What's App delivery service was just implemented last month and has proved a huge hit. Delivery is free to just about anywhere in the Klang Valley with a minimum order of RM50, and riders are equipped to ride no matter what the weather – rain, haze or heat wave!