Words: Heather Onderick     Photos: Monica Tindall
Theodor Falser is no stranger to the international world. His extensive experience abroad will definitely perk the eyebrow of a well traveled foodie. He is renowned for sharing his native Northern Italian cuisine in many international destinations, to name a few, Bermuda, Oman and Ecuador.
This week in honor of the Trader Hotel's 10th anniversary, Theodor, one of Gobo Upstairs' first chefs, has returned, to share his fruit of the earth, Michelin star culinary artistry with Kuala Lumpur one more time. One can go all out on Thursday, April 21 with the Tuscany Wine Dinner, (RM 350) which pairs sophisticated Ruffino wines with a seven course feast, which we had a preview of Monday evening.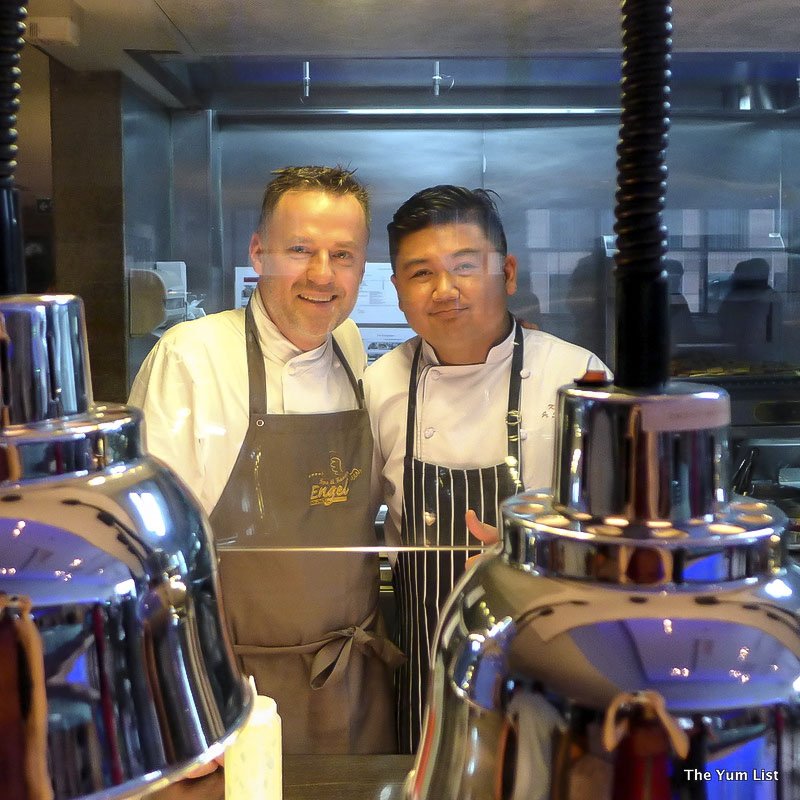 Theodor and his team started off our evening by offering us a splash of Ruffino Prosecco NV. This was our portal into his idyllic world of forests, plentiful gardens and sustainable agriculture in which he would educate us for the evening. The Prosecco NV was a crisp simple sparkler with a green apple spritz to get our palates warmed up.
We sat down to a glowing table, out of a villa in Orbitello, with wild flowers on the table and crystal glasses lined up poised for a night of fine food and wines. Within minutes, our first plate had arrived, Grilled Potato Focaccia and Whole Wheat Bread with Walnut Pesto. This golden flatbread presented tasted of a toasted butter glaze; matched with the soft and simple nutty pesto, it balanced the fruity dry edges of the Prosecco pairing.
Eagerness was upon us, the Jerusalem Artichoke, served two ways, both poached and pureed, appeared before us next, adorned with raindrops of a salty peach puree. This plate captured the essence of some of Theodor's food. It was light, natural and pure in poached form but also stated in its taste that it was pulled from the earth to give us energy. Accompanied by Ruffino Lumina, Pinot Grigio, Venezie, 2014, the lingering taste of meadow flowers and hint of sage reminded me of aromatic summer fields.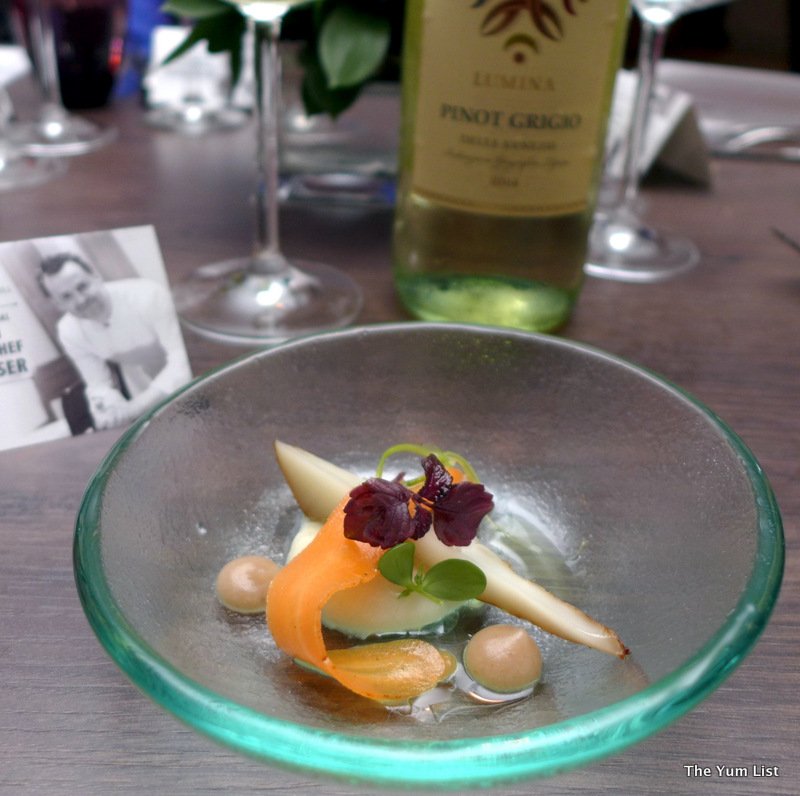 From summer fields to tropical, temperate seas, a plate resembling pieces of pretty jewelry arrived: Mackerel lemon and onions, salmon caviar and confit grosny. One of my favorite plates of the evening, I let the pearl colored mackerel sit in my mouth. I added the neon-pink salmon caviar in my mouth which alongside the mackerel popped a hint of fruitiness.  All of these intense flavors were softened by the confit grosny, a type of Chinese artichoke. Meanwhile, I enjoyed small sips of the Ruffino Verdello Blend, Orvieto Classico 2014 which let out a whisper of sweet almond at the end.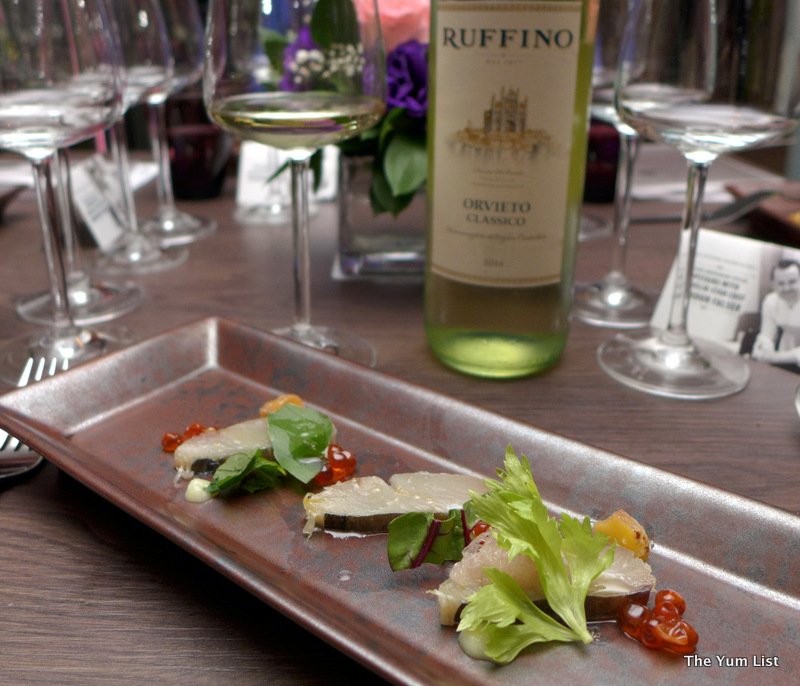 The nuttiness of the wine foreshadowed the following course, a Risotto Rocket Salad, drowned in a warm peanut cream sauce, swirls of fresh mint in olive oil and stunning pink grapefruit colored lamb. It was refreshing to see a hint of Asiatic influences, peanuts, accompanying an authentic Italian dish like risotto. The addition of lamb lent itself well towards our transition to red wines. The Ruffino, Sangiovese Blend, Chianti 2014 was flooded with tastes of sweet red berries, cherries and cranberries. Combined with the risotto, this wine teased out memories of fall harvests and the power of warmth.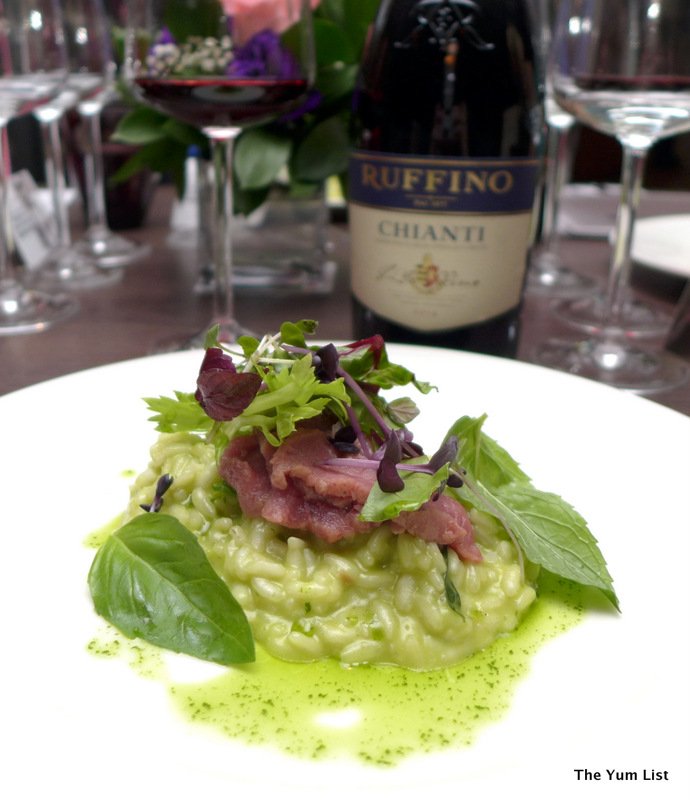 Keeping with the warmth and fusion movement, we moved on to the next plate, Italian Pasta "Wonton" Bundle with beef cheek ravioli and truffle in a pine-celery root stop. The soup fast-forwarded me, this time into Christmas, with scents of coniferous trees and sweet celery broth. Christmas is a time where we indulge in special wines and the next pairing, Ruffino, Riserva Ducale, Sangiovese Blend, Chianti Classico, 2011 blended the reds of violets, tobacco and pepper accents rejuvenating the pallet for the evening and preparing for the last two courses.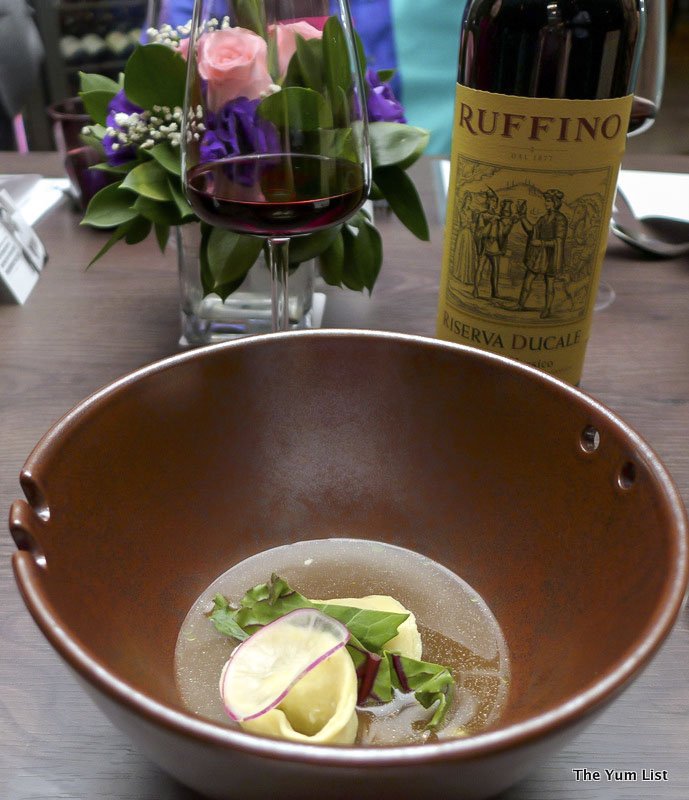 You might ask how on earth we could fit anything else in at this point? But, Theodor is purposeful with his portions. He explained to us that he never wants eating to be a "slumpy experience where you aren't sure you can eat what you want next."  Each course was well paced and the portions left the diner feeling nourished and inspired.
When the ruby red Chianti dwindled down, the roaring full-bodied Ruffino Modus IGT 2011, moved in sharply, took its place and showed persistence with its rich layers of blackberry, cherry, plum and even spicy tastes. The Dry-aged Entrecote Steak with a blueberry Worchestire Sauce, root vegetables and fermented garlic, tangoed with the wine romantically allowing the diner to come away challenged by the fierce flavor combinations.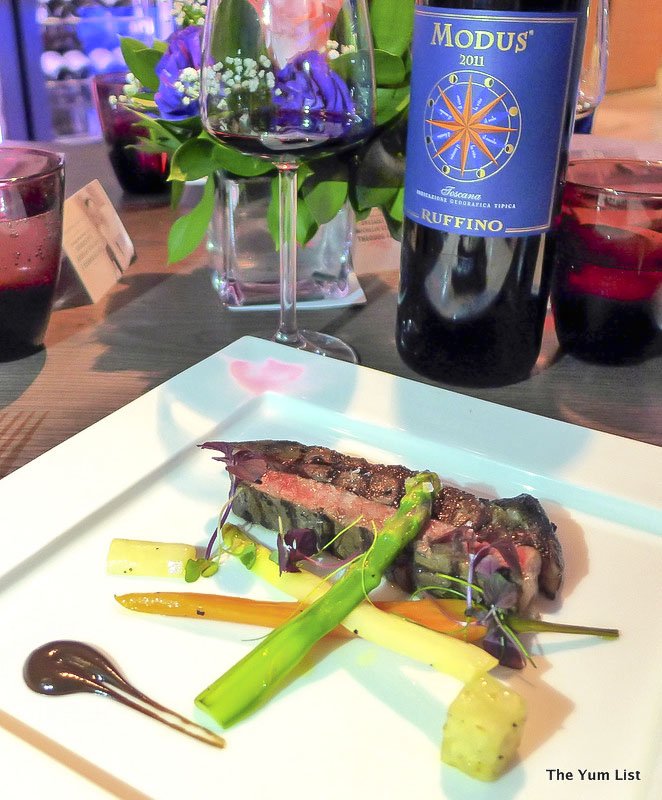 All said and done, I wasn't sure I was ready for this meal to be over. It had been already going on for three and a half hours and sadly, the dessert was en route to our tables.  A traditional Mascarpone Crumble, accompanied by slices of tart Rhubard and a slightly aromatic Chamomile essence was a wholesome, classic finish to the evening. The Ruffino Serelle Vino Santo, Malvasia Blend, Chianti 2010 was the accompanying dessert wine adding a melange of dried fruit, nutmeg, cinnamon and creme brulee tones to end this culinary journey.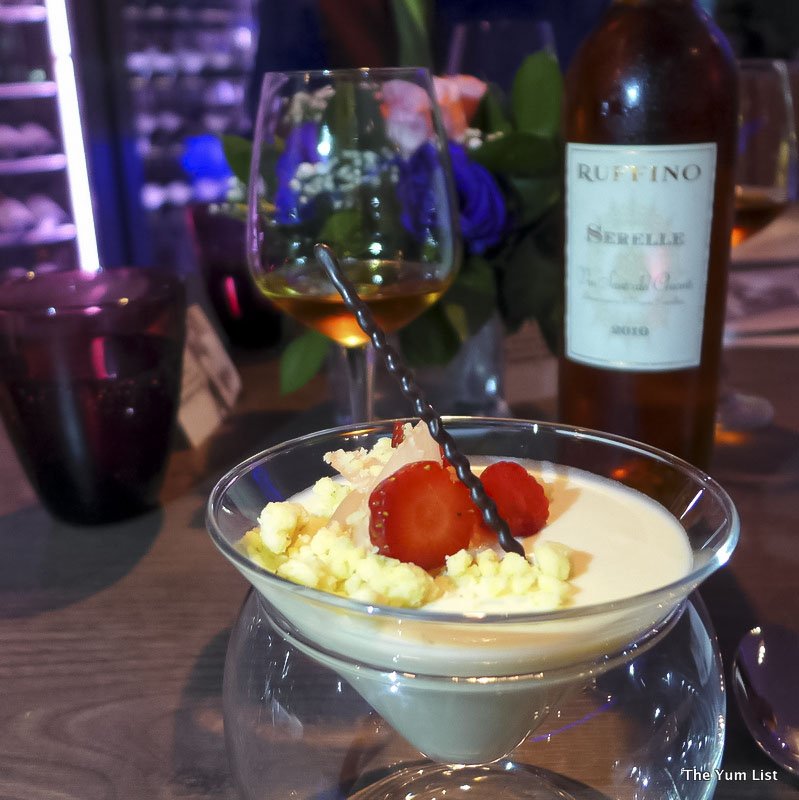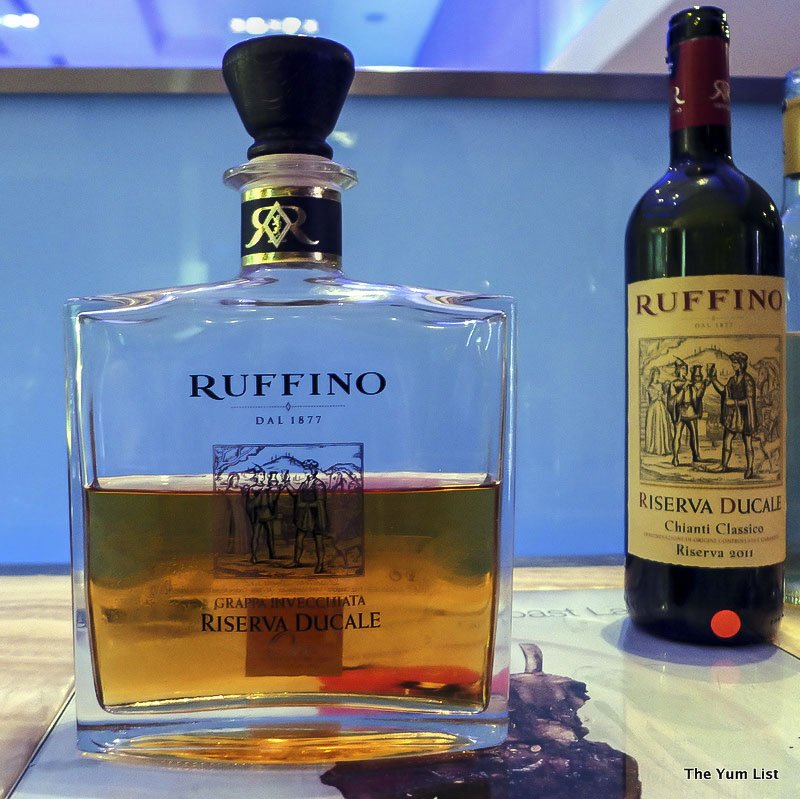 Reasons to visit: If you have a love affair with Northern Italian food and/ or farm and cook regularly from your garden, this wine paired menu with wild herbs and garden fresh produce is a special dining opportunity that you will not find often in Kuala Lumpur.
Readers, you should know: the Traders Hotel is offering a spread of events, around Theodor's visit, for every kind of food lover. If you are interested in learning a few new cooking tricks, you are invited to attend a Cooking Class, (RM 200), on April 23, 2016, where you will enjoy a lunch and free-flowing white and red wines by Ruffino. Finally, if you are looking for a more casual affair, a hearty lunch menu (RM 78) is being offered or a four course set dinner menu (RM 225). You may also order a number of the options within the set menus independently in the a la carte menu.
Gobo Upstairs
Level 6 Traders Hotel
Wilayah Persekutuan
50088 Kuala Lumpur, Malaysia
+60 3-2332 9888
When & What:
April 18-24: 2-course lunch menu (RM 78)
April 18-24: 4-course dinner menu (RM 225)
A la carte menu available during dinner
April 21: Wine paired 7 course dinner (RM 350)
April 23: Cooking class, including lunch and free flow wine (RM 200)