Words:  Kristin Cosgrove      Photos: Monica Tindall
The TTDI area is brimming with happening eateries these days, from fine dining to secret watering holes. In a quest to hit them all, The Yum List recently managed a trip to Bowery Petit, where Malaysians can get a bite of the Big Apple right here in KL.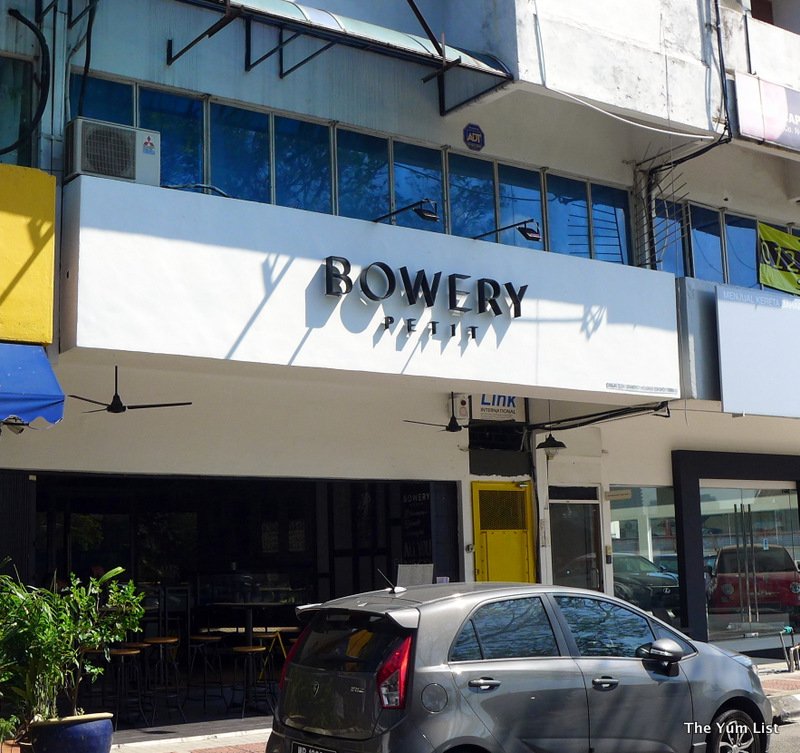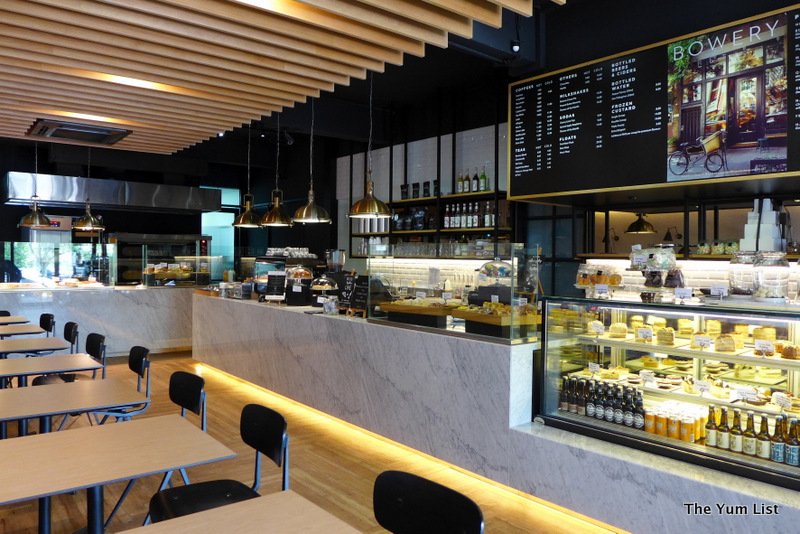 Bowery Petit, taking its name from the Lower East Side Manhattan neighborhood, offers quintessential New York fare like pizzas, bagels, lox, and even frozen custard. Bowery Petit practices a "slow food fast" sensibility, taking pride in making everything from scratch.
The atmosphere inside captures a NYC deli vibe; jazz is playing on the sound system, a row of simple tables and chairs line the wall on which is a silhouette of the NYC skyline. With the pizza oven in the back, coffee machines whirring and smell of fresh bagels in the air, I can almost trick myself into believing I'm in the city that never sleeps.
Stepping up to the counter to order, one is confronted by a veritable smorgasbord of baked goods: savory muffins perfect for breakfast, macarons, pies, tarts, even black and white cookies (have you seen that Seinfeld episode?). Standing out among all the lovely baked goods is a bright blue, pink and orange psychedelically colored bagel perched on a tiny pedestal. This, apparently, is the Rainbow Bagel, a plain egg bagel infused with food coloring before baking to give it its color. 
Of course, we have to try it. The bagel has a chewy outside and slightly moist inside, definitely one of the best I've had in KL. Served with a fabulous puffy-thick layer of cream cheese "fun-fetti" frosting, the rainbow bagel is as delicious as it is Instagram-tastic! I immediately place a take-away order for my kids.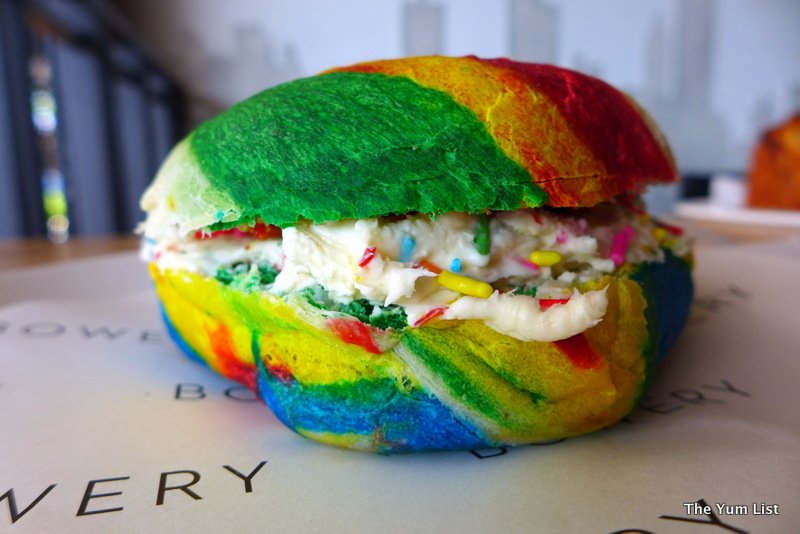 In KL there are only a handful of places with pizza good enough to make a trip across town for, and I would say Bowery Petit is among them (although you don't have to because luckily, they offer all day delivery!). The pizza bar at the back of the café holds several varieties ready for takeaway including a veggie, pepperoni and the house special, the Bowery Torch. This pizza proves a must-try, with its pliant but thin crust which manages to hold a generous amount of toppings: slow roasted barbeque short rib meat, capsicum, olives and mushrooms, all drizzled with a semi-sweet sauce. Divine! Slices of the Torch are RM15.80+, a fairly good value considering the giant size. Whole pizzas are a whopping 22-inches and start at RM78.80++ depending on the toppings.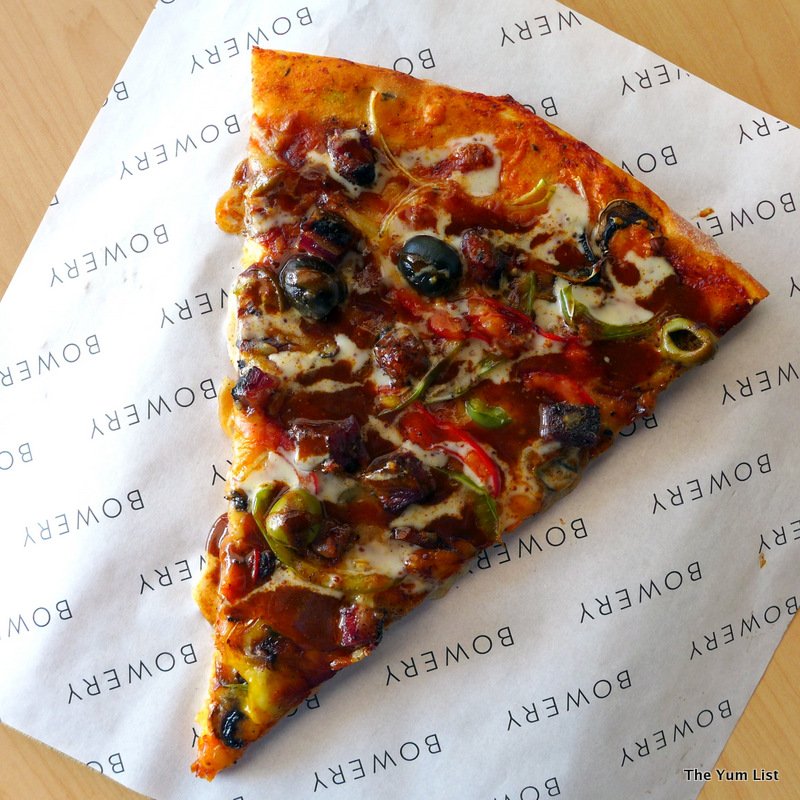 "Sammies" and "Sallies" (Sandwiches and Salads) are also available on the menu, and we feel we would be remiss if we didn't try the Reuben Bagel (RM28.80+) – as NYC as it gets! What arrives is a mountain-size bagel sandwich piled high with thick cuts of house-cured beef pastrami – which is excellent – sauerkraut, Swiss cheese and greens. Each bite teases the taste buds with a hint of clove and pepper from the pastrami, and just a whiff of truffle oil. What seems like an expensive sandwich has just proved its worth – it's delicious and big enough to share or take leftovers home for another meal!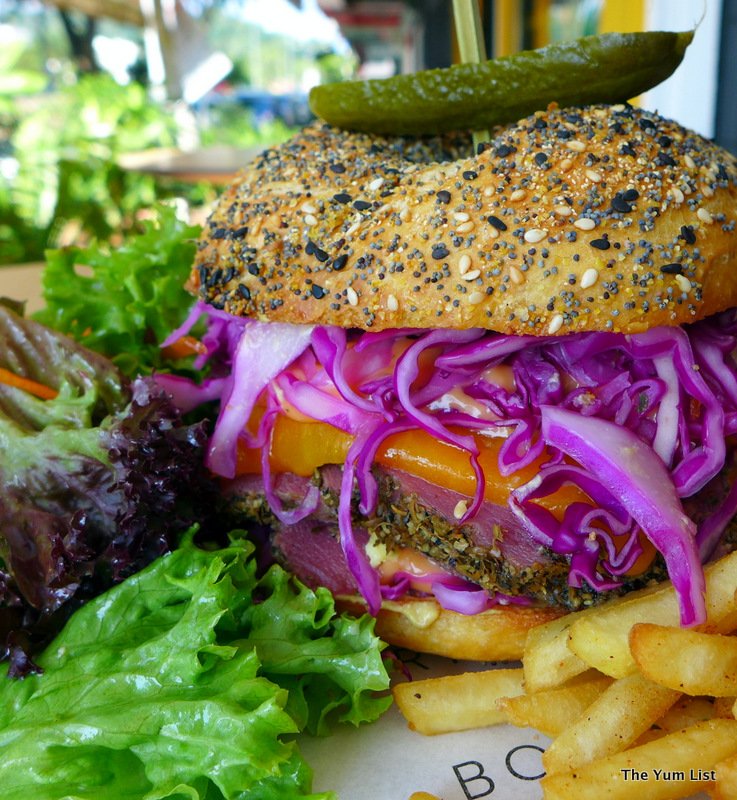 Since I'm a breakfast fanatic, I'm keen to try Bowery Petit's breakfast menu, which is replete with egg dishes like Frittata and Huevos Rancheros as well as pancakes and brioche French toast. But since our visit is well past breakfast hours we ask the kitchen for a breakfast pizza, and they oblige. Apparently combining two of my favorite things, breakfast and pizza, is an easy task for Bowery Petit. Egg yolks jiggle on top, begging to be broken, then ooze across the cheese and beef pepperoni. This is how I'd love to start my morning!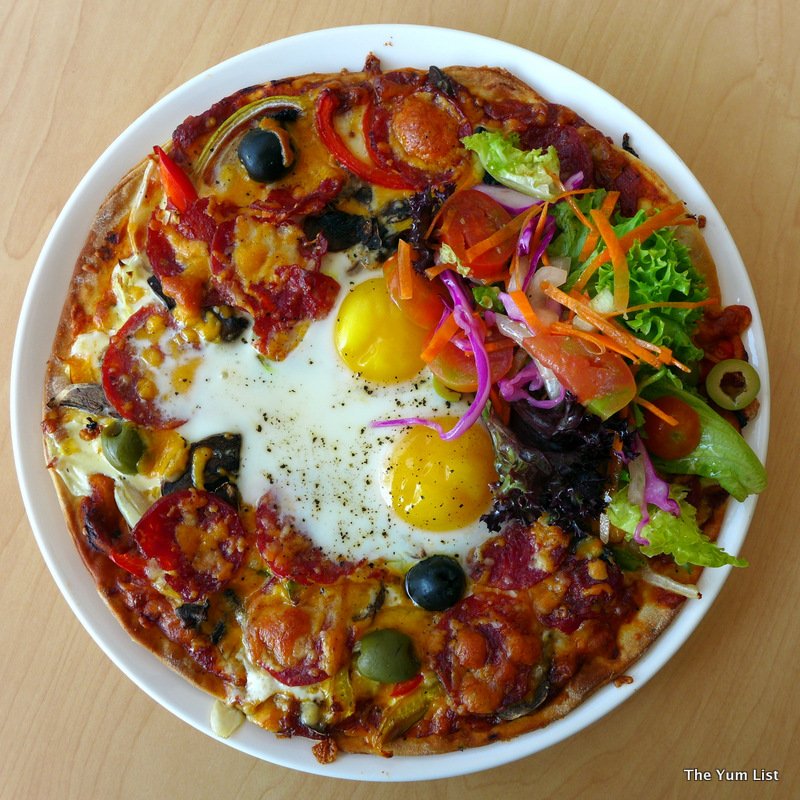 For a healthier start to your day, the smoothies at the Bowery are a good value at RM13.80+. The Bowery Green Yogurt Smoothie is packed with green goodness, making it a nourishing meal in a glass, and a tasty one at that.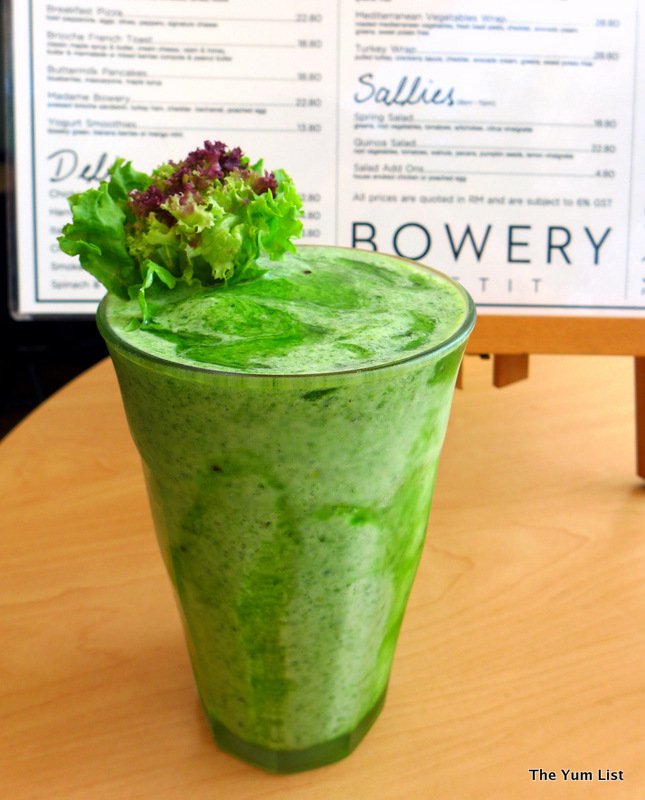 If you're wanting a little nosh during tea time, I recommend a latte (Bowery currently uses Blacklist Coffee from Perth) and a babka, a sweet yeast cake that is the perfect size to share with a friend.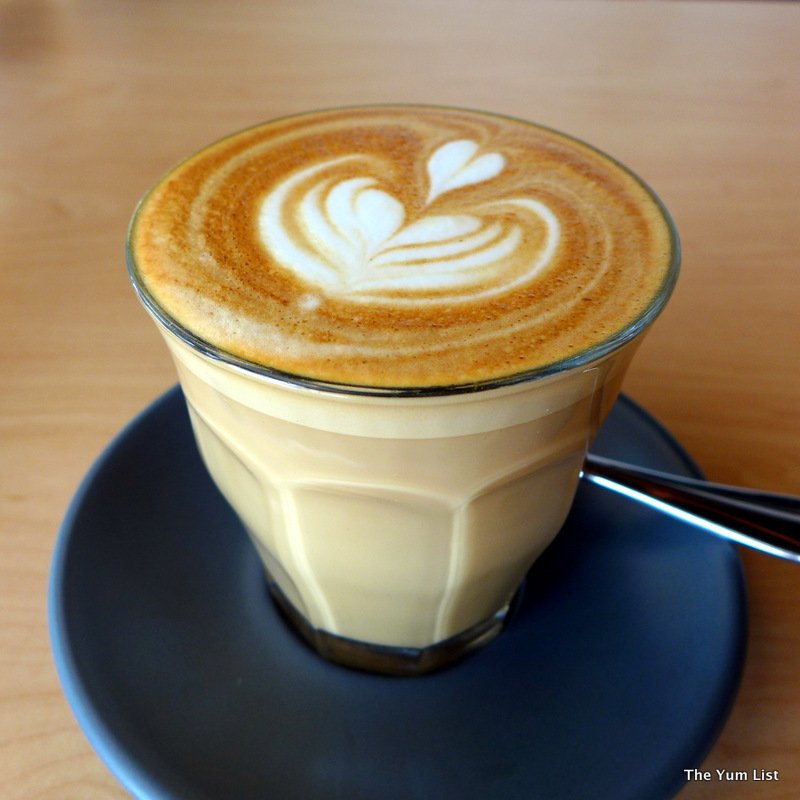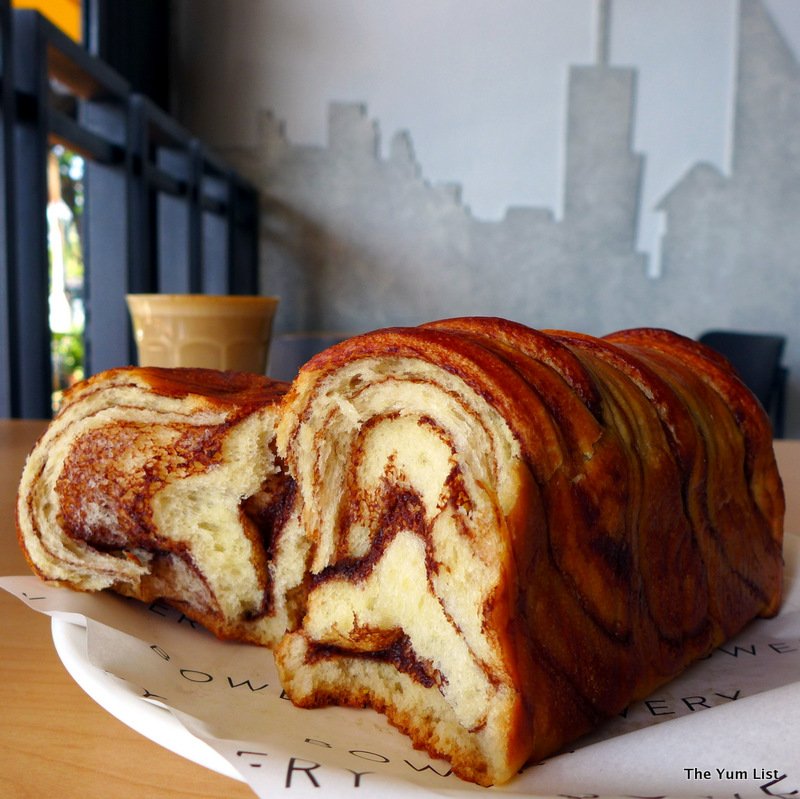 Though we didn't try any on this visit, Bowery also offers mains like BBQ Beef Ribs, Cajun Blackened Chicken and Mac N Cheese. Vegetarians and even those who eat gluten free have a few options here too, including a wide spread of (salads).
As we finish our meal and exit, we are stuffed, but have just enough room to sample several of the enticing and original flavors of frozen custard on offer in the case out front. All the custard recipes are exclusive to Bowery Petit, developed by the owners and using only natural ingredients. The proof is in the taste, the custard was creamy and well balanced. We sample most of the 10 or so on offer; including the Earl Grey, Lavender White Chocolate (heaven!) and dark chocolate. I especially loved the boozy Rum Raisin, while Monica raved about the tart Strawberry Balsamic.
With the current success of its first launch, we look forward to new Bowery brand concepts, which are currently in the works, including gourmet retail and The Bowery restaurant.
Reason to visit: New York favorites made from scratch with a "slow food fast" sensibility, family friendly vibe, house cured pastrami, pliable and chewy bagels, huge range of baked goods.
Bowery Petit
48 Persiaran Zaaba
Taman Tun Dr Ismail
60000 Kuala Lumpur
Malaysia
+60 (3) 7710 0295
[email protected]
www.thebowerygroup.co/brands/bowery-petit/
Open Daily, 8am-11pm,
Breakfast until 11am on weekdays, weekend brunch 8am-1pm