Words: Monica Clear     Photos: Monica Tindall
Full disclosure:  I am still learning about wines. Like anything else in life, it is a balance of knowledge and confidence – understanding what I am looking for in the balance, length, depth, complexity and finish of a wine, and believing in my tastings once I recognize them.
A recent wine paired dinner at Graze, the modern European restaurant at the Hilton Kuala Lumpur Hotel, was a rich lesson on quality wines from the renowned Italian wine maker, Ornellaia, and thoughtful pairing with dishes from the new spring menu at Graze.
Ornellaia wine producer of the DOC Bolgheri in Toscana, is known for its "Super Tuscan" reds, with a leading Bordeaux-style red and the Merlot blends, Le Serre Nuove and Le Volte. The term, 'Super Tuscan' has an interesting history that, like the soul of Italy, is about non-conformity and higher quality – taking international varieties and putting a 'Toscana' touch on them. The result is a great quality red that is best enjoyed with food.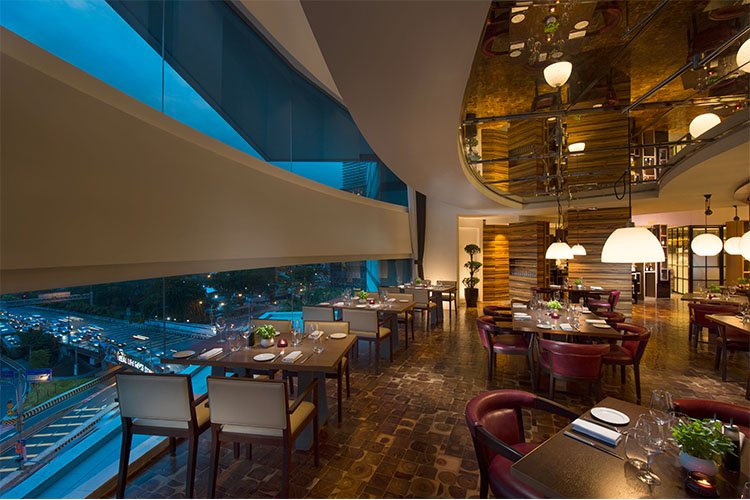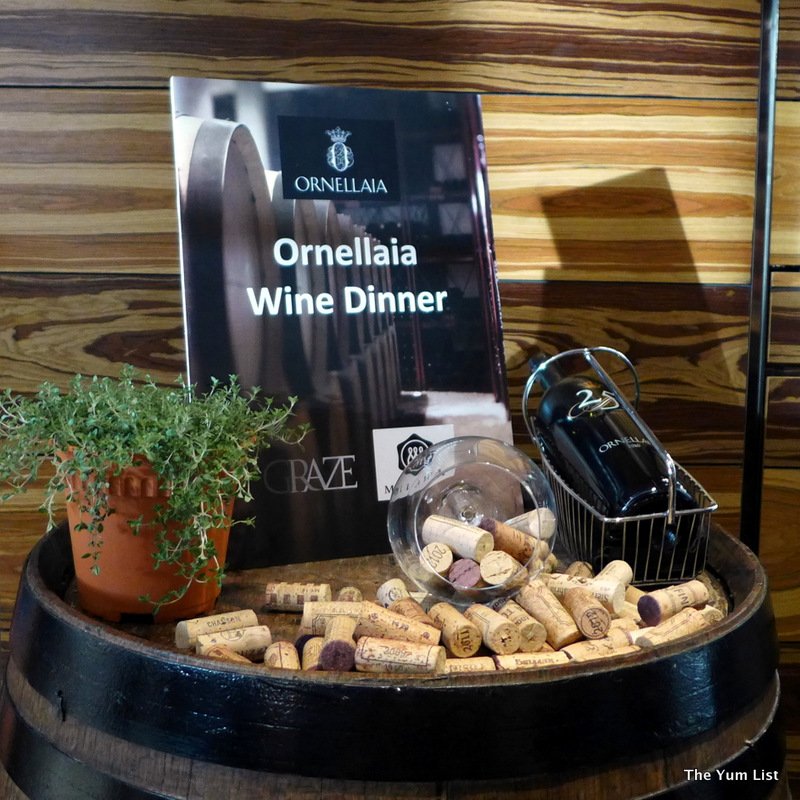 We welcomed the evening with a toast of Champagne Pol Roger Brut Rosé 2006 and the starter Scottish Loch Fyne Salmon Rillettes, sundried cherry tomatoes, French baguette croutons, baby mesclun leaves, yuzu caviar and extra virgin olive oil. One of the night's favorites, the salmon was a flavorful spread that grew in complexity with the complements of tomatoes and caviar; a mouthwatering appetite for salmon lovers and a good introduction to the talents of Chef Marc at Graze.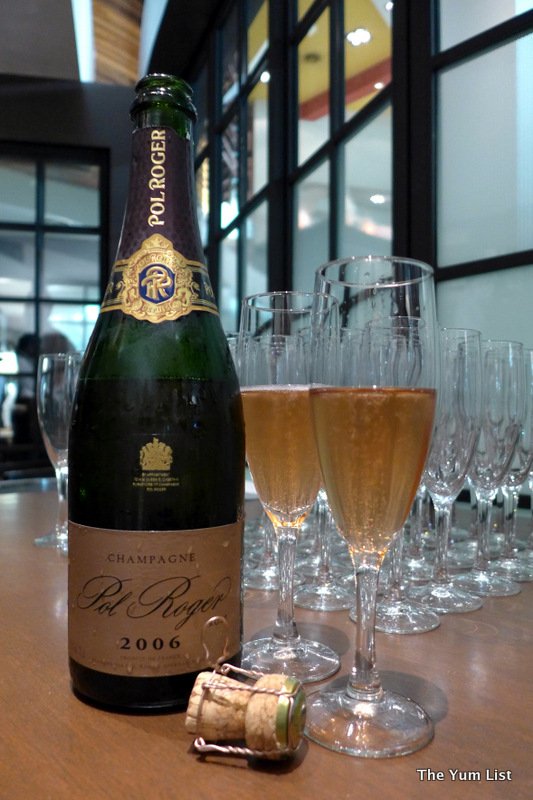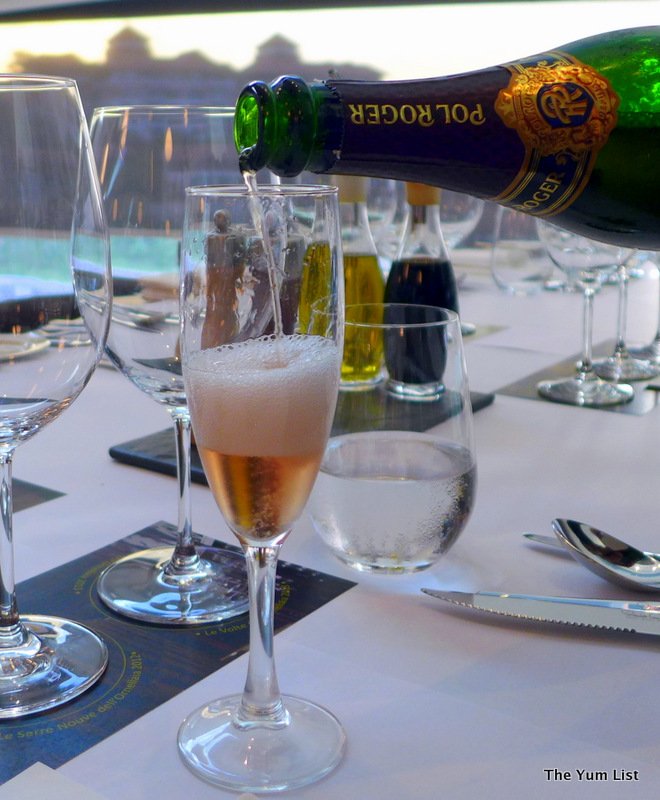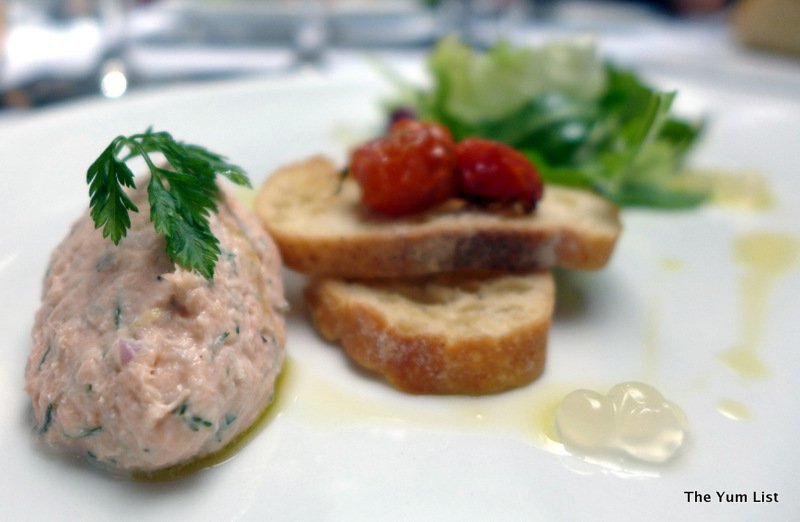 Graduating to the Sherry and Madeira Infused Double Clarified Dutch Veal Consommé with crispy pulled beef praline, vegetable paysanne and chives, we were served our first wine of the evening – Le Volte dell'Ornellaia 2013. The pairing worked well together, as the consommé was light in texture yet rich in flavor, with the lightly crispy beef praline bursting with smoky tastiness inside. The blend of Le Volte made for an easy pairing wine that fell well within the medium range of balance, complexity, and finish. With this wine, I found myself onto a second glass before even noticing I had finished the first.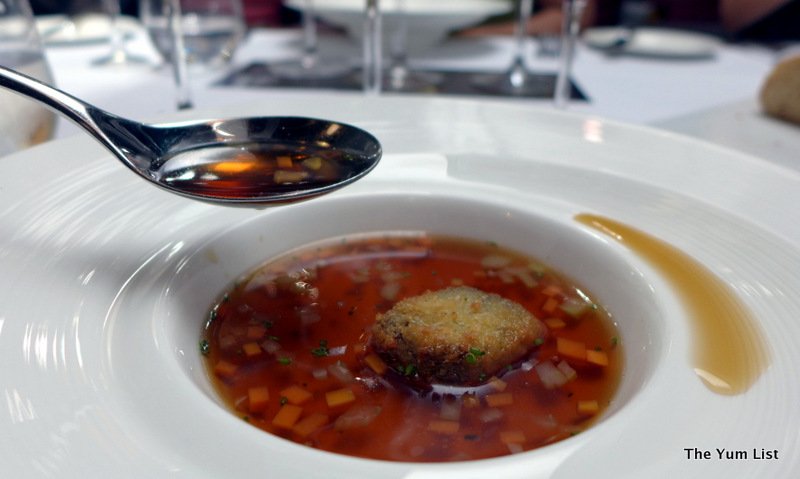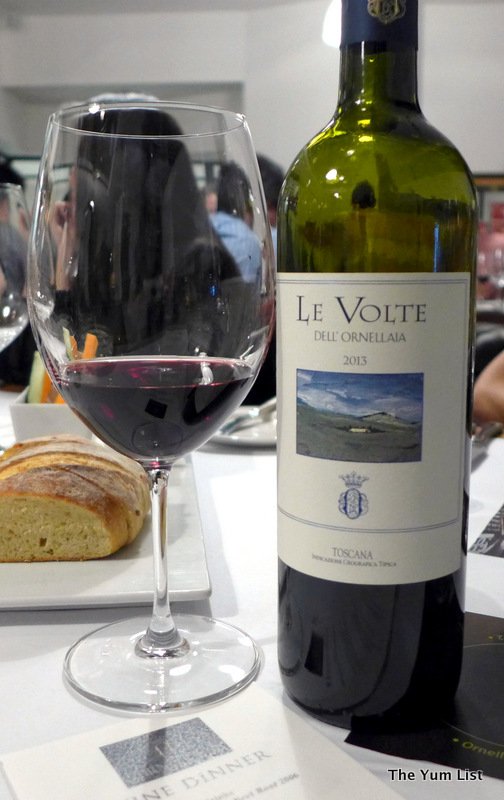 To clear the palette, icy flakes of Cranberry Granita were served and appreciated for not being overly sweet, yet very refreshing.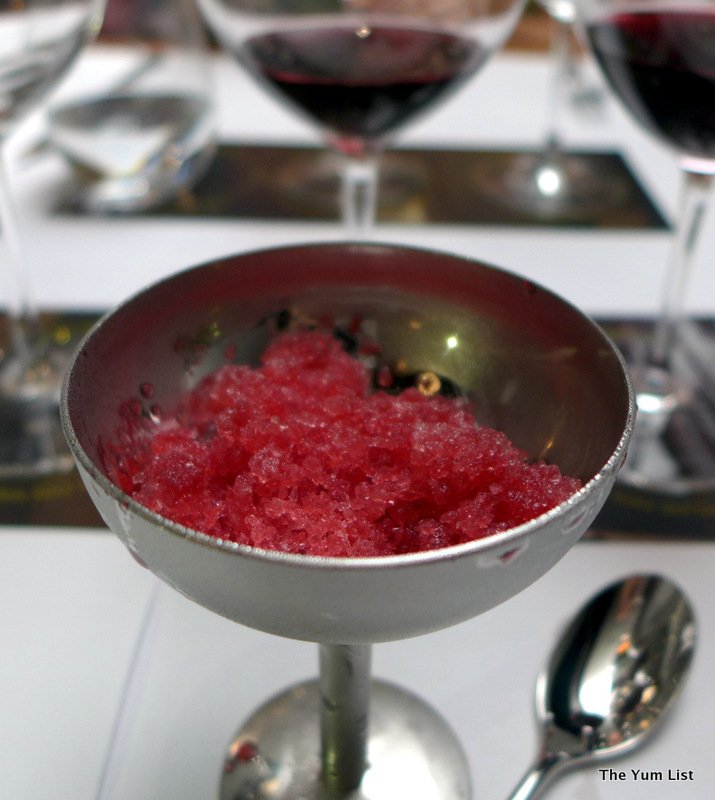 Moving onto our second pairing of the evening, we delighted in the 55% Merlot, 45% Cabernet blend of Le Serre Nuove dell'Ornellaia 2012, with Grilled French Quail, stuffed with foie gras, a sweet potato mash, baby spinach, and truffle jus.  This second wine concept of Ornellaia uses slightly younger grapes and is ideal for buying two bottles – one for the cellar and the other for the table. Meant to be served slightly warmer than Le Volle, this wine had noticeably more opulence and acidity, with a few more layers of taste and a warmer finish. With the rich quail and foie gras, mild sweetness of the potatoes and the savory jus, the wine grew in complexity, and provided an equal match for this delightful main course of indulgence and taste.  (I rarely order chicken when out for a meal, but I will often order quail. This dish reminded me why.)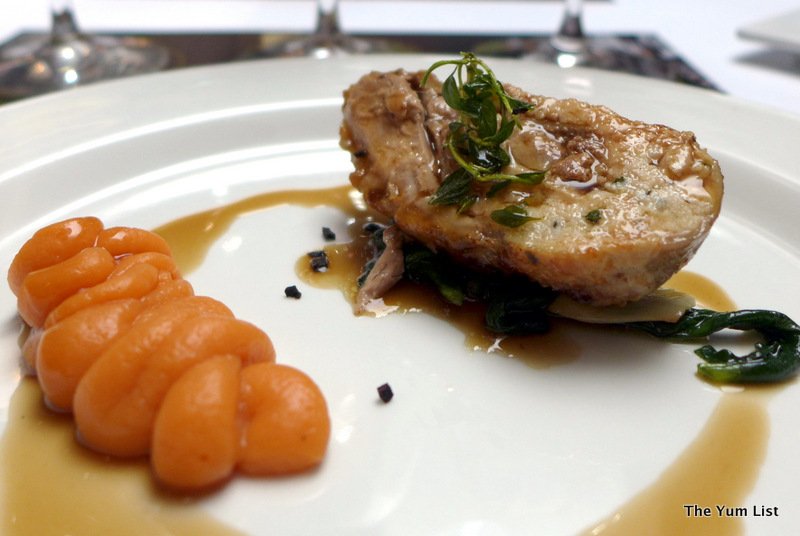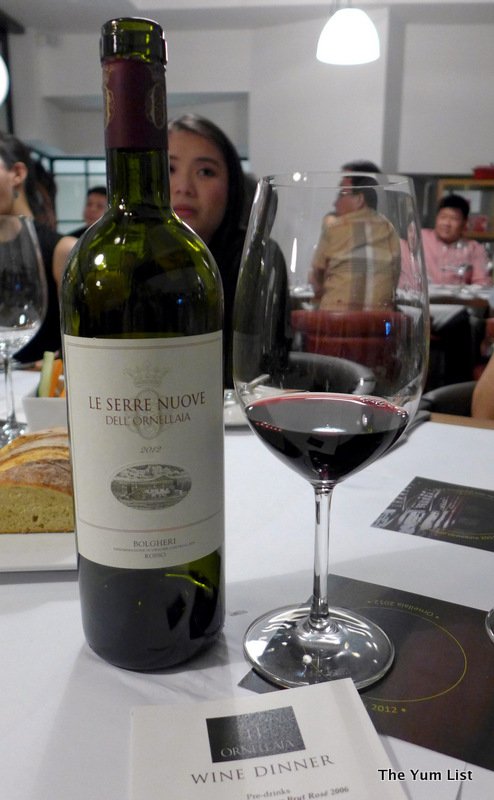 Building up in gastronomical intensity, the final pairing was the Ornellaia 2012 with the Herb Crusted Australian Dorper Lamb Rack. Three colored bean stew, sautéed kale, cabbage, polenta cake, porcini mushrooms, cipollini onion and thyme jus provided delicious accompaniment. This was my favorite wine of the evening, with more structure and elegance than the others, and an even warmer finish. The pairing with the robust lamb rack seemed spot on, as the flavors grew stronger with the wine. I was equally delighted by the melt-in-your-mouth cipollini onions and crispy polenta cakes of this dish.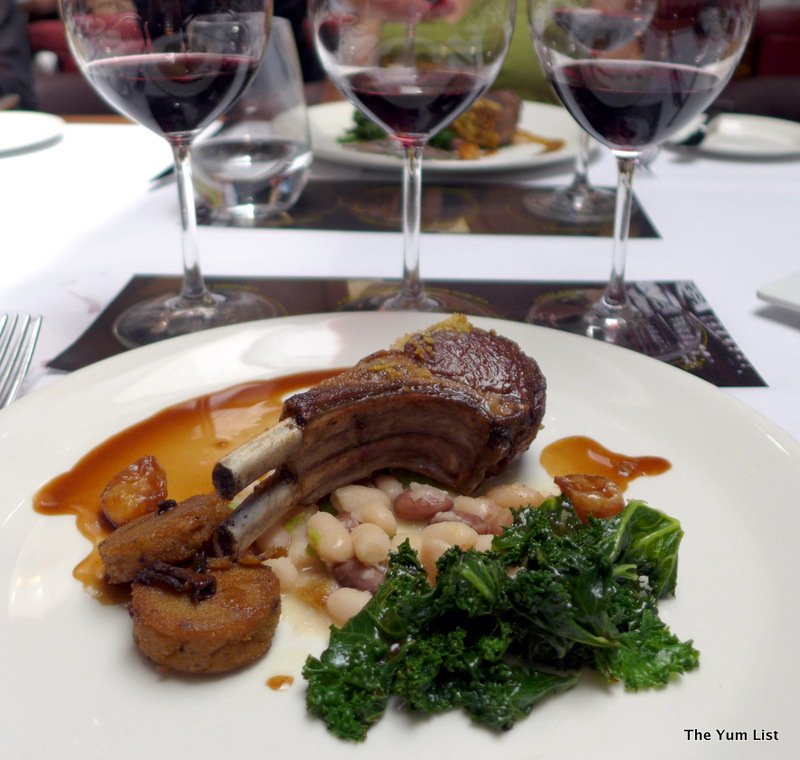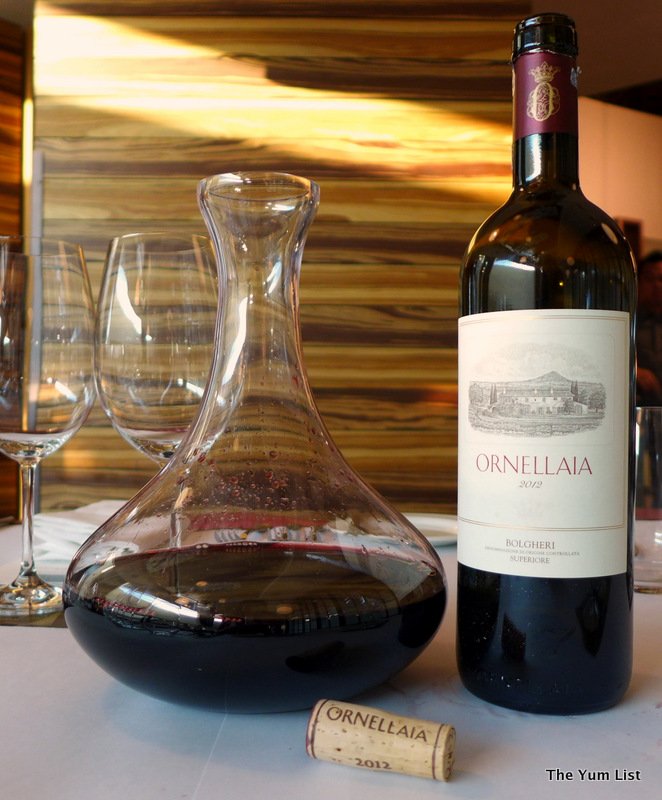 With little room to spare, we ended the evening with the decadent French Valrhona chocolate tart, passion fruit mousse, clotted cream, candied macadamia nuts, Cointreau marinated raspberries, forest berry coulis and crispy yogurt.  Like a sampler of my own, this dessert was fun to eat – moving from small bites of rich, dense chocolate to light, fruity mousse and back, gabbing a raspberry or yogurt bite along the way. It didn't hurt that I haven't tasted chocolate that thick and creamy in a long time.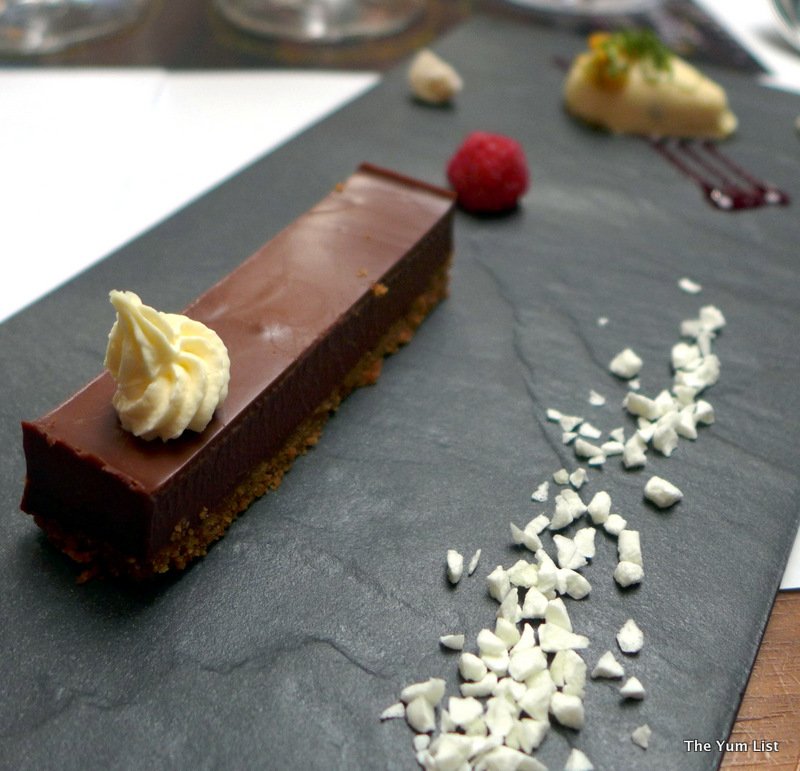 This event was a set menu priced at RM380 per person, but the same dishes can be found à la carte on the current spring menu.
Reasons to visit:  consistently fresh and creative menu choices; wine pairing expertise, including new selections of Super Tuscany reds.
Graze
Hilton Kuala Lumpur Hotel
Level 5 (Mezzanine)
50470 Wilayah Persekutuan
Kuala Lumpur, Malaysia
+6 03 2264 2264
Website
Open Daily: Lunch 12:00 – 2:30pm, Dinner 6:30 – 10:30pm