Words: Patricia Podorsek   Photos: Monica Tindall
Many will tell you that beauty is in the eye of the beholder, but the food at Maison Francaise reaches beyond such a subjective viewpoint. Artistically-presented arrays of color and form grace every plate. And if you are someone who might fall prey to that other adage about beauty only being skin deep, you'll be comforted in knowing that these same arrays move beyond eye candy and reach deep into the palate as well.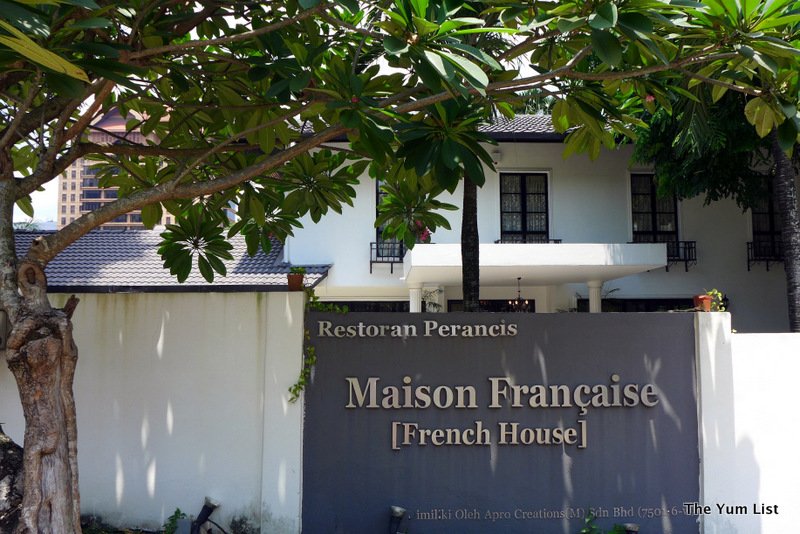 Chef Thierry Le Baut has created a menu that features both the classic and the nouveau. He wraps continental favorites with a bow from Asia that showcases beautiful, delicious food items.
We began with a Smoked Salmon and Beetroot salad, one of the chef's daily specials. Thin slices of tender fish blossom above petals of yellow and red beetroot curls. A light entree, the subtle smoke of the salmon comes dressed in a simple oil dressing to allow the flavors of the vegetables to emerge. With warm ciabatta and crusty house-made rolls, this was a great start to our meal.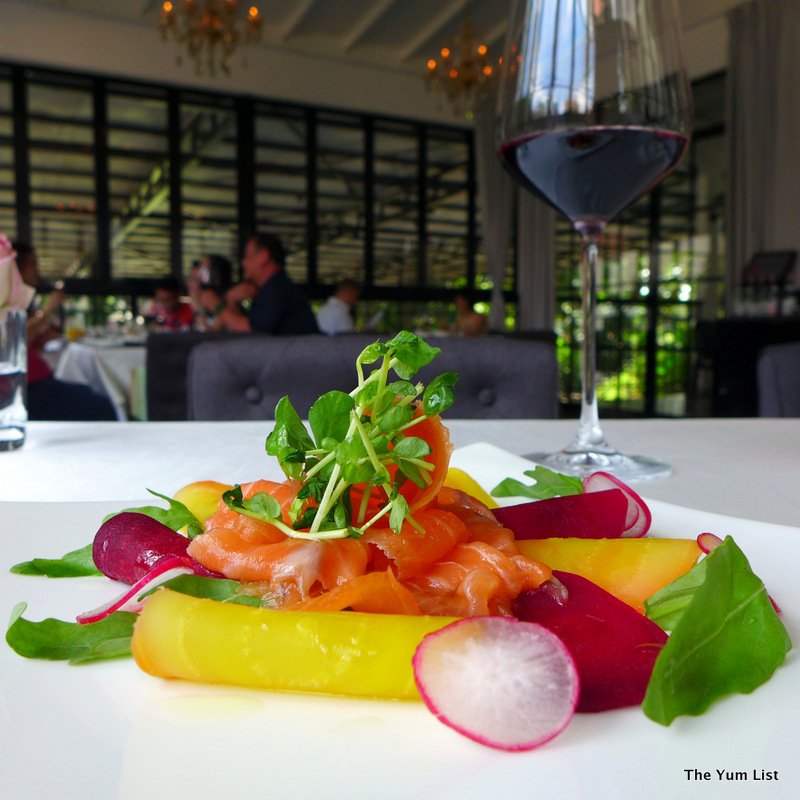 A favorite warm entree at Maison Francaise is the Sauteed Burgundy Snails (RM70). Meaty morsels are prepared with lots of garlic and baby spinach in this modern twist on an old standard. Vegetable-lover that I am, I enjoyed the extra green-flavor enhanced by diced tomatoes. The crispy shoestrings on top provide balance in both flavor and texture.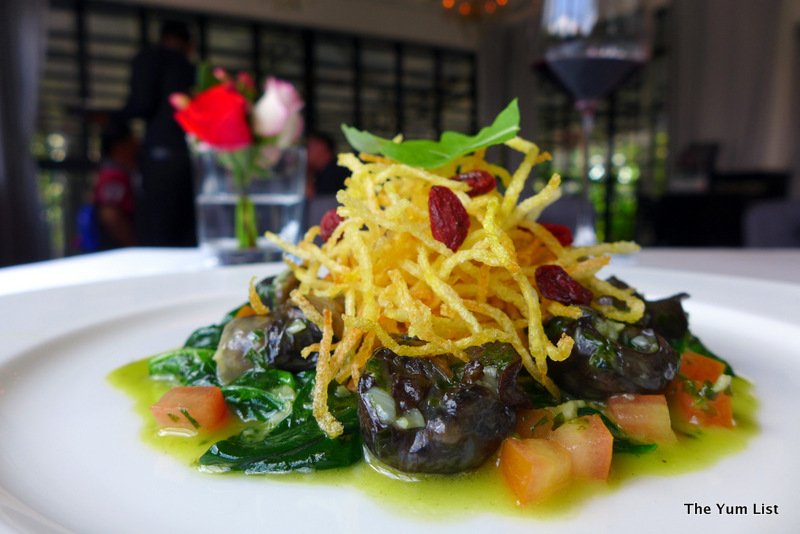 Further entree decadence can be found in the Pan-Seared Foie Gras (RM125). Rich liver is thin-sliced and served with a bright splash of persimmon puree. Tangy and sweet, undertones of cinnamon and nutmeg bring a little spice to this plate, a fine match to the heavier flavors of the meat.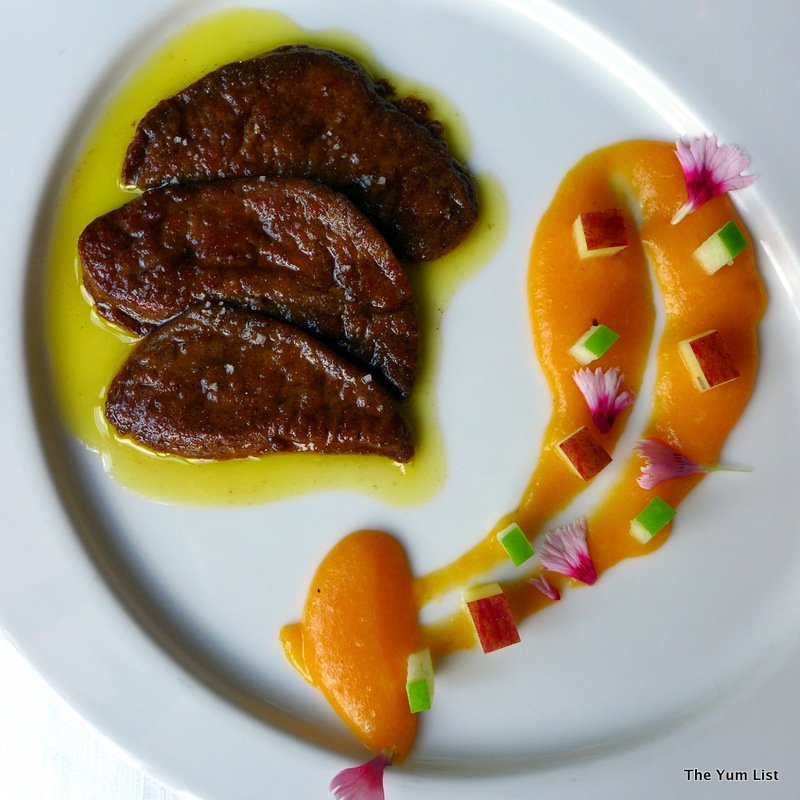 For the truly extravagant starter, however, nothing can top the Aquitaine Caviar Oscietra (RM230). An adorable petit brioche comes sliced and ready for adornment with creamy potato puree and tiny spheres of precious roe. Both buttery and salty, rich and humble, I found this luxurious undertaking a nice match to the wine.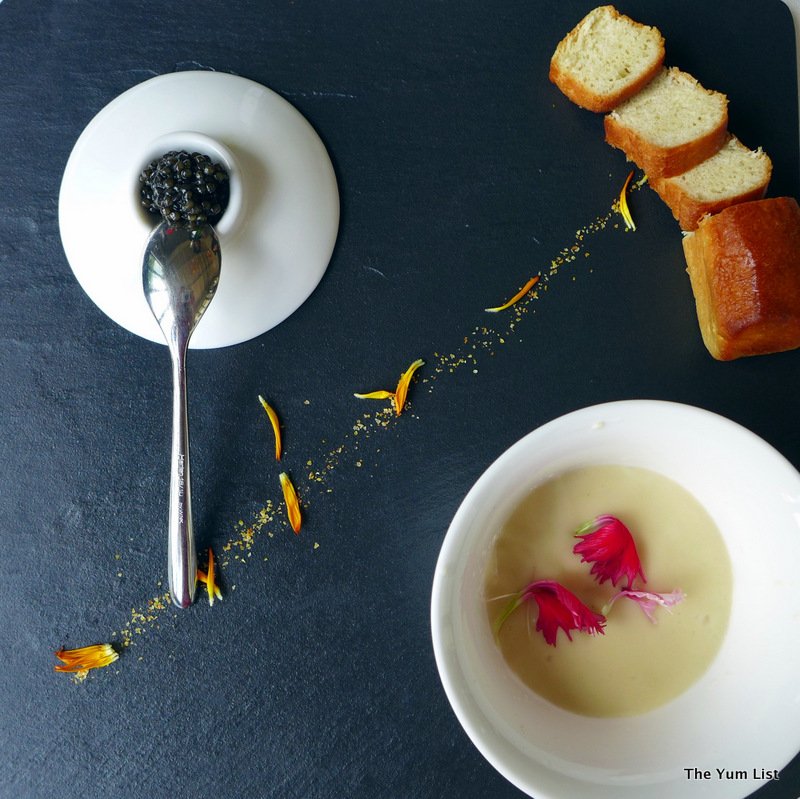 Oh, yes, the wine. What French meal is complete without it? The light-spirited Legende Bordeaux Rouge 2014 was a fine accompaniment for all the courses. With bright ruby color and hints of vanilla and cocoa on the nose, the silky tannins and spicy finish enhanced the fruity notes on the palate.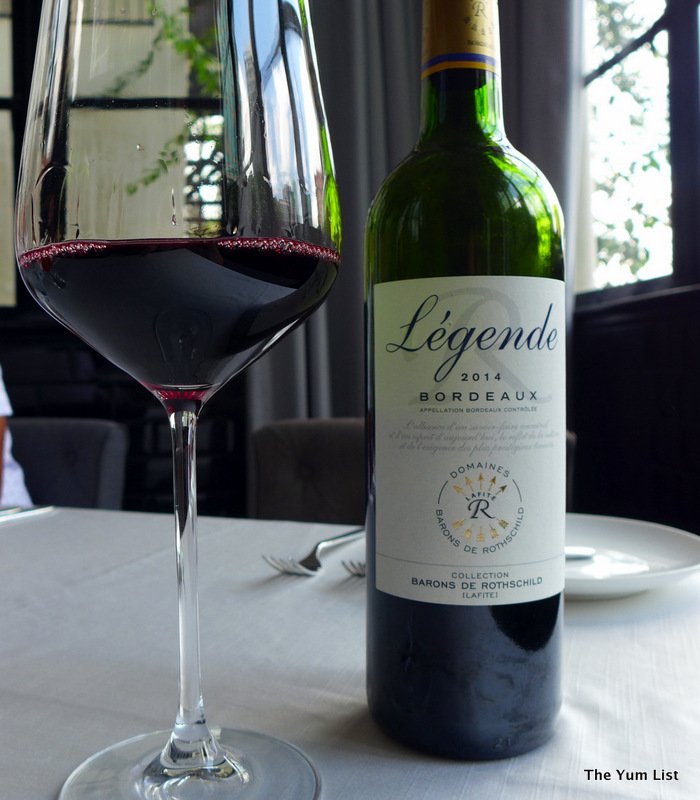 The first of the mains ushered in a sexy cut of Pan-Seared Codfish (RM125) festooned with cress and parsley foam. The fish arrived perfectly cooked, with a crispy exterior and flaky midsection. Grape pulp macerated with champagne added a bright splash of tart contrast and color to the plate.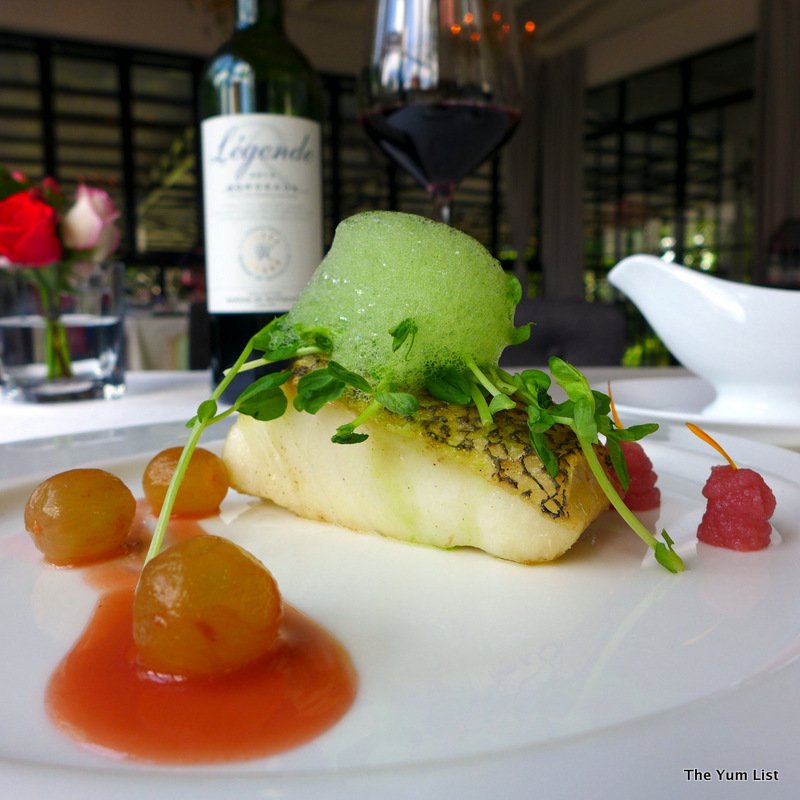 The most artistic plate arrived with the Roasted Coral Trout (RM120). Tempura-fried enoki mushrooms provide an undersea motif to match the food. The bed of smooth clam-and-shallot puree and a pomegranate spine articulate the theme even more, both in display and delectability.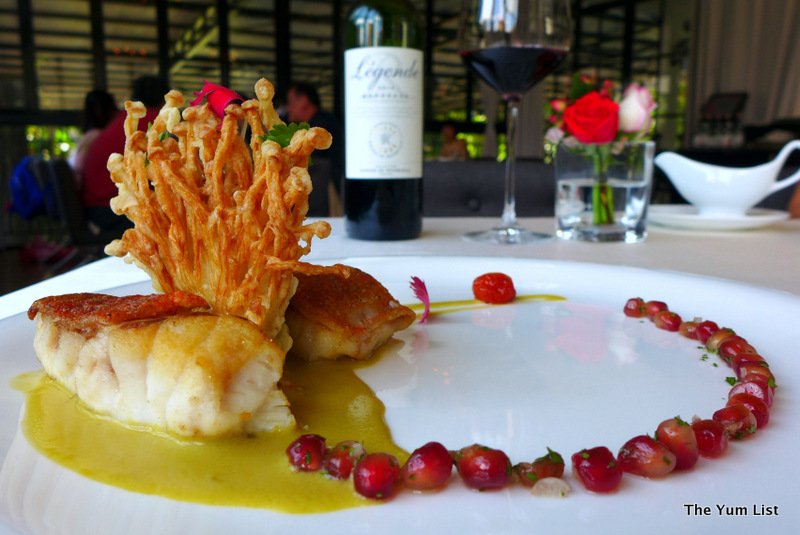 A final main off the sea side came wrapped as a single coiled octopus tentacle, intriguing if not so intimidating. The Grilled Octopus (RM110) is flown in from Spain's Galicia region then pan-seared to tender depths with olive oil, paprika, and sea salt. Even more curious is the black croquette, a potato bundle seasoned with smoky paprika, chile, and loads of garlic before fried in a crispy bamboo charcoal breading. I had never seen anything quite like it before, and I was hooked like the fish it came with!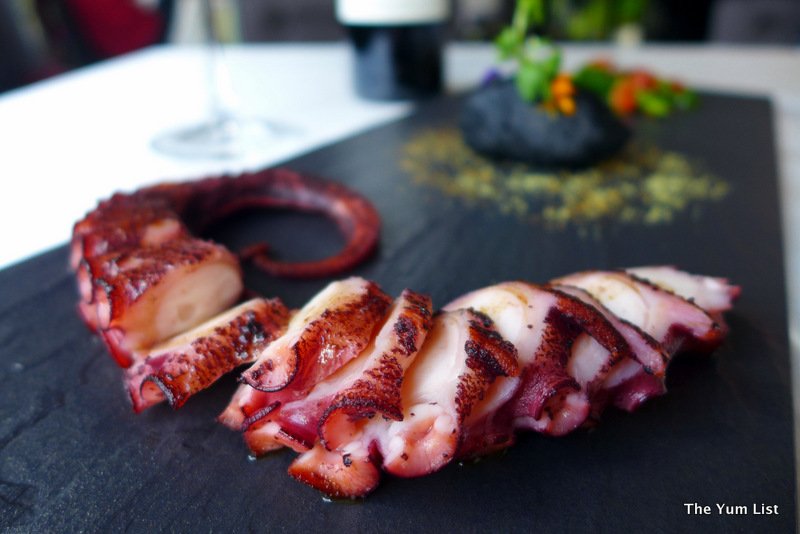 No classy menu is complete without the iconic Grilled Beef Tenderloin (RM168). Here Black Angus beef is served with tangy Bordelaise, where shadows of shallot surface within the red wine. Mixed vegetables provide a crown to the meat, with spring peas popping out their fresh flavor. Garlic and thyme underline the roasted potatoes topped with pea sprouts and breaded sweetbreads to complete the plate.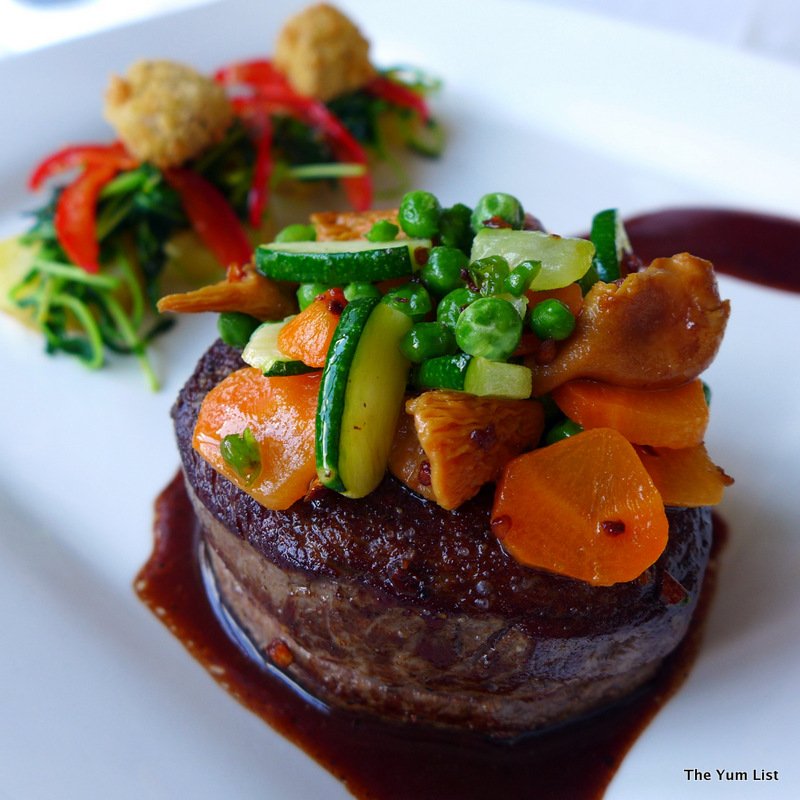 Like all the mains at Maison Francaise, the Roasted Lamb (RM128) arrived in a beautifully presented display of color and form. Marinated in garlic, rosemary and thyme and then roasted rare with an herbed crust, this rib-eye cut from Australia is melt-in-your-mouth tender and deeply flavorful. Citrusy Belgian endive complements the herbs of the roast. Sweet roasted turnip and gratinated zucchini complete a picture perfect meal.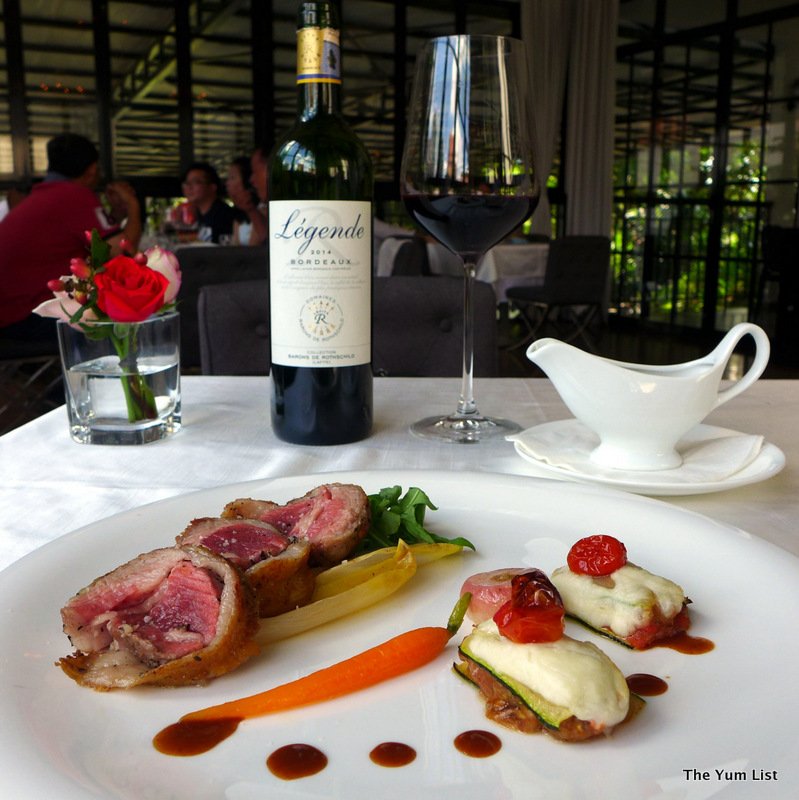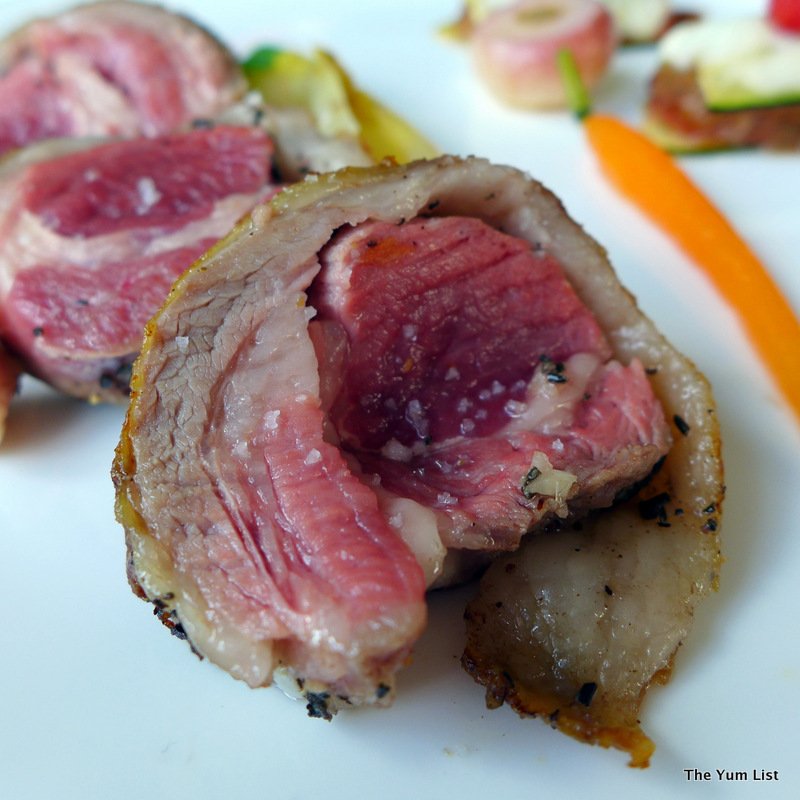 The artistry continues into dessert. The geometric layout of the Sauteed Pears (RM40) may resemble abstract art, but the concrete reality is a luscious combination of pistachio sponge cake, praline mousse, caramelized pears and chocolate. Now I remember why we call this site The Yum List.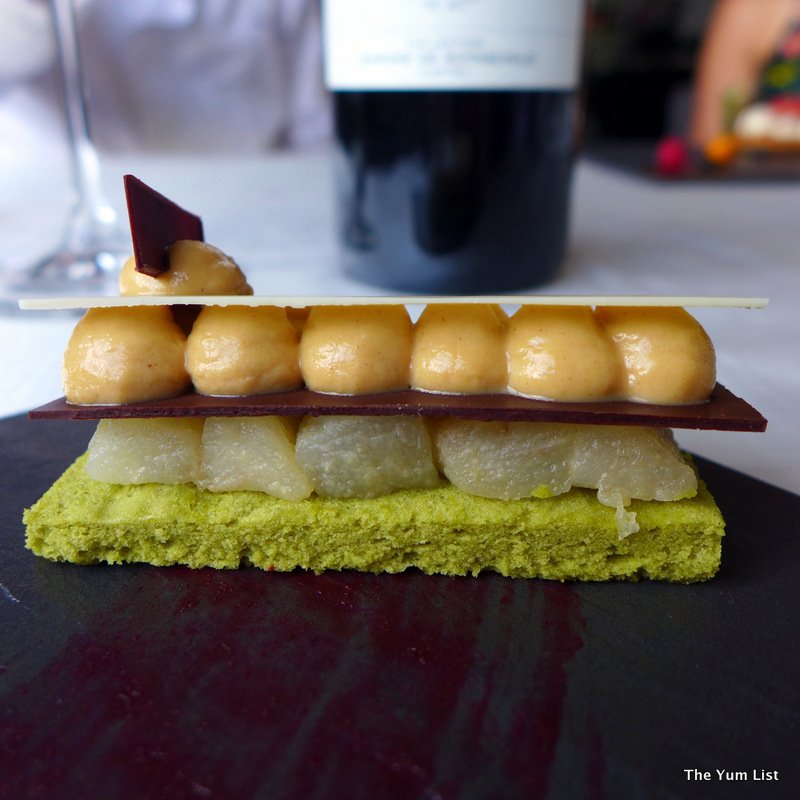 Chocolate-lover that I am, few desserts are more beautiful than Chocolate Volcano Cake (RM36). Warm cocoa meets cool pistachio gelato in an intense burst of yummy gooeyness in this old-time favorite.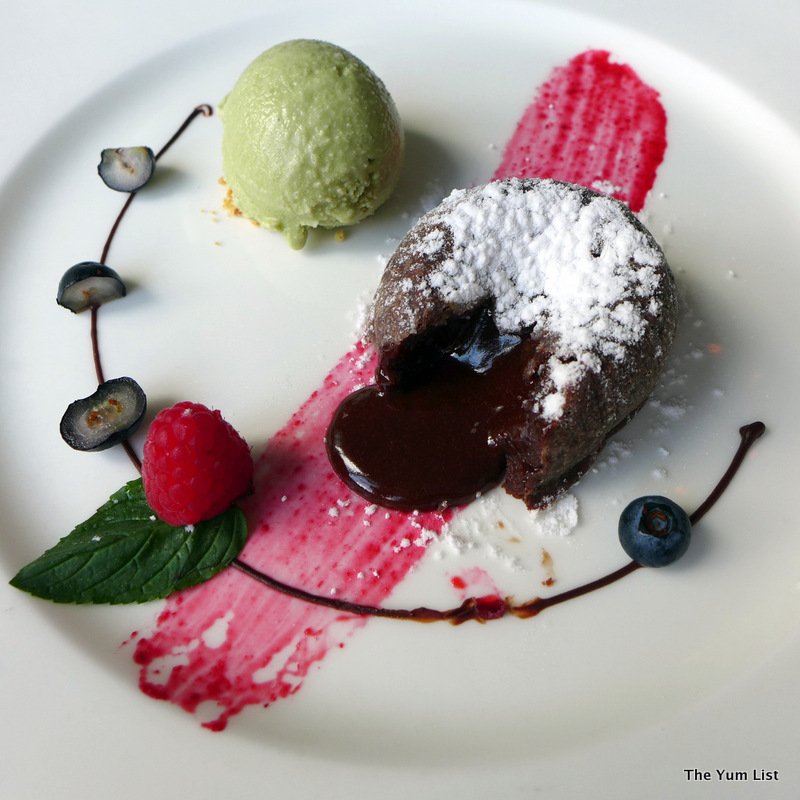 Leaving a wake of fruit slices and chocolate behind its dash across the plate, the Brittanny Biscuit (RM32) layers buttery shortcake with mascarpone mousse and fresh berries. With raspberry sorbet on the side, this wave of summer warms the soul like a mellow sun.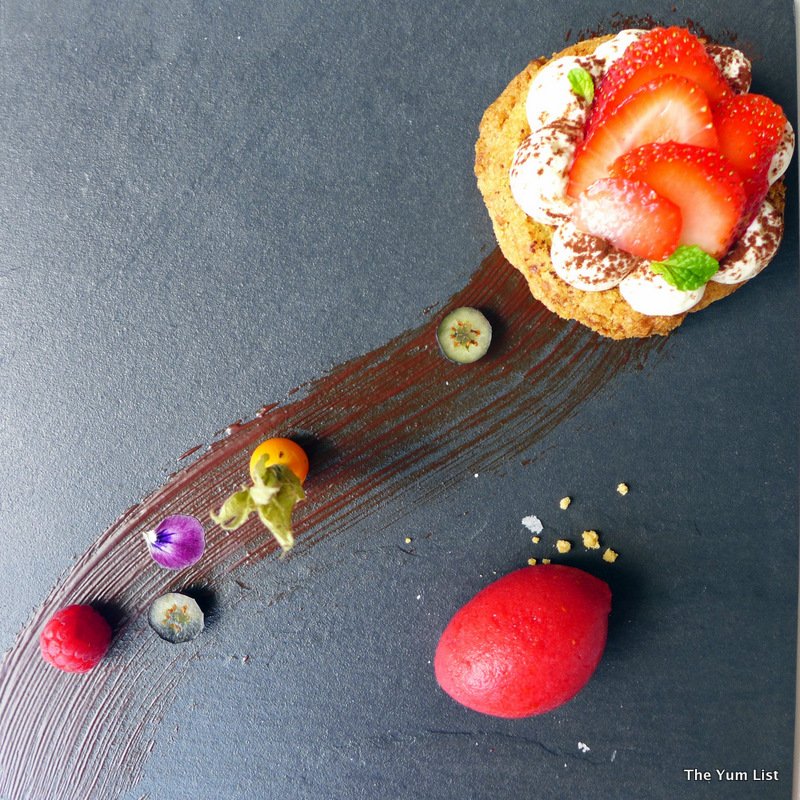 I hope my descriptions convince you of the amazing creativity and quality of the menu at Maison Francaise. And you can see from the photos that all of it is artfully presented. The wise Confucius claimed, "Everything has beauty, but not everyone sees it." The food at Maison Francaise is BEAUTIFUL: Don't be the person who never sees it.
Maison Francaise is open daily for lunch (12:00 – 3:00) and dinner (6:00 – 11:00), with a special tea menu on Saturdays from 2:00 – 5:00 and brunch menu on Sundays from 11:30 – 3:30.
Reasons to visit: French favorites like Sauteed Escargots and Pan-Seared Foie Gras, and new twists on the classics like Roasted Coral Trout with Enoki Tempura. And don't skip dessert.
Maison Francaise
5 Jalan Changkat Kia Peng
50450 Kuala Lumpur, Malaysia
+6 03 21441474
+6 019 2431200
www.maisonfrancaise.com.my