Friends of mine have had a Friday night tradition of pizza at the same restaurant for years. There is good pizza and friendly service, yes, but the key to this long-standing tradition is a small outdoor area with a patch of grass for their children to enjoy. Often other families join them, and the adults languish over a leisurely dinner with friends while the kids have a blast of their own, within earshot.
Ask any parent of school-age children what makes for a successful family meal out, and the answers won't vary too much: a safe play area close-by, other playmates, and child-friendly staff and food.
Enter "Super Weekend Party" at the Makan Kitchen, located in the DoubleTree by Hilton Kuala Lumpur, The Intermark, – a lunch event for families held every Saturday and Sunday from now until 31 December 2016, 12:30pm – 4:00pm. Priced at RM91 nett per adult (kids under 12 eat free with every paying adult), the "Super Weekend Party" offers a variety of quality cuisine and decadent desserts, with the huge bonus of indoor and outdoor activities for children. With promises of Wii competitions (with prizes!), craft and games, movie screenings, and a saltwater pool swim, my two children were excited to come along and add their two cents to this family event review. There's a trio of themes, which change weekly: Carnival, Chocolate and Safari.
Makan Kitchen offers a diverse display of six local cuisines – Malay, Chinese, Indian, Peranakan, Kristang and Iban delights, with specialty chefs preparing the food in live and interactive kitchens on the floor – a special teat for the Master Chef Juniors in my party!
We admired the mountainous display of Indian papadum bread and steamy dipping sauces, and filled our plates with freshly made dishes such as Lamb Masala, Kaveri Fish Curry with eggplant and ladies fingers, Cabbage Poriyal with mustard seeds and curry leaves and Banana Bonda (fritters).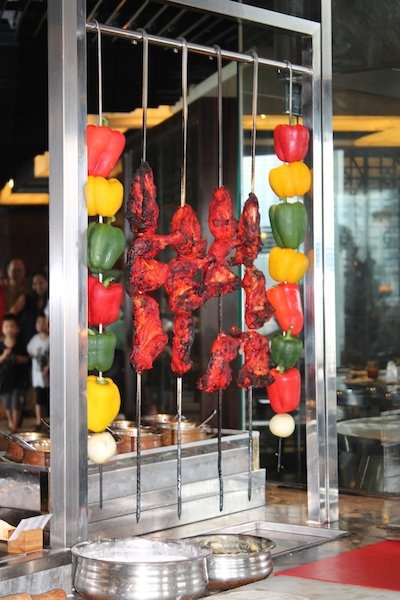 My children gave a hearty thumbs-up to the chicken and beef satay and also gobbled down a chicken shawarma, before retreating to the kids' play area. I sampled the Malay and Chinese cuisines, with choices such as Sotong Masak Kicap (squid), Taugeh Goreng (fried bean sprouts), Kambing Kerutub (braised lamb cooked in cumin coconut gravy) and Kepah Masak Sambal (mussels and chili paste), and was pleased with the freshness and savory variety of the dishes. The Chinese dishes were more mainstream, with a BBQ-roasted duck and chicken, Fried Beef Szechuan Style, Braised Beancurd with Green Vegetables, and Deep Fried Fish Fillet, and equally high quality.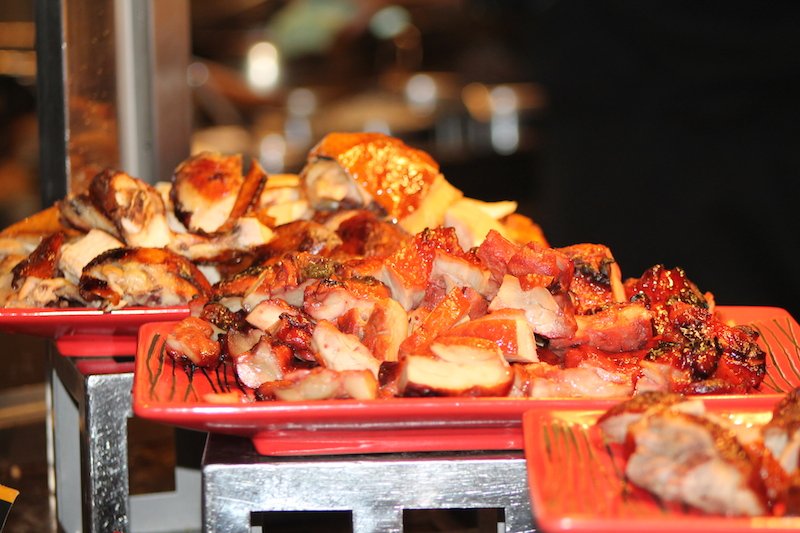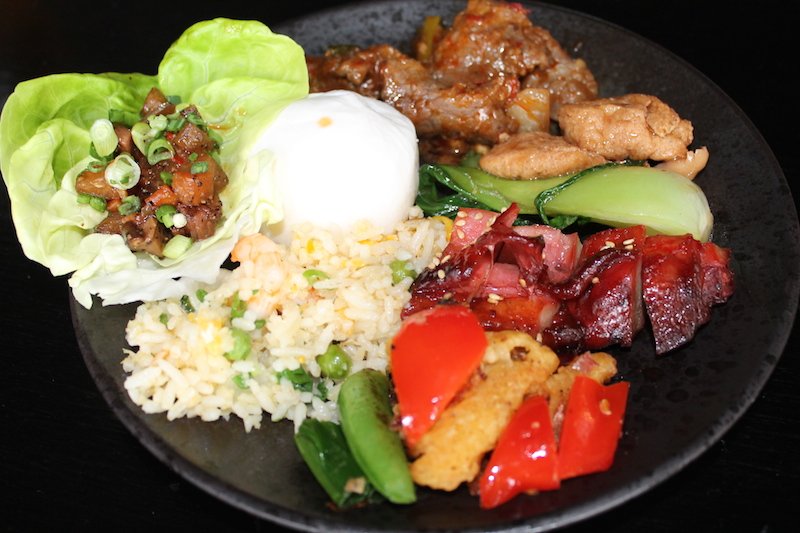 Other highlights included a noodle station, Rojak Buah, and a salad station.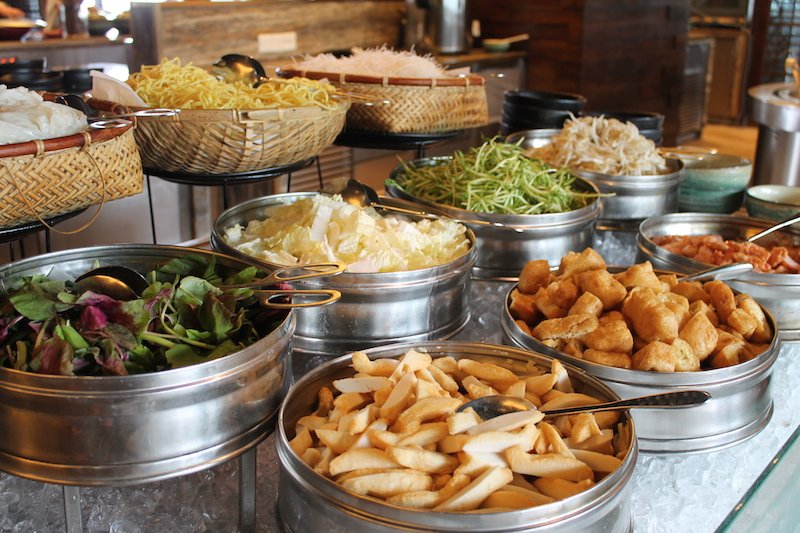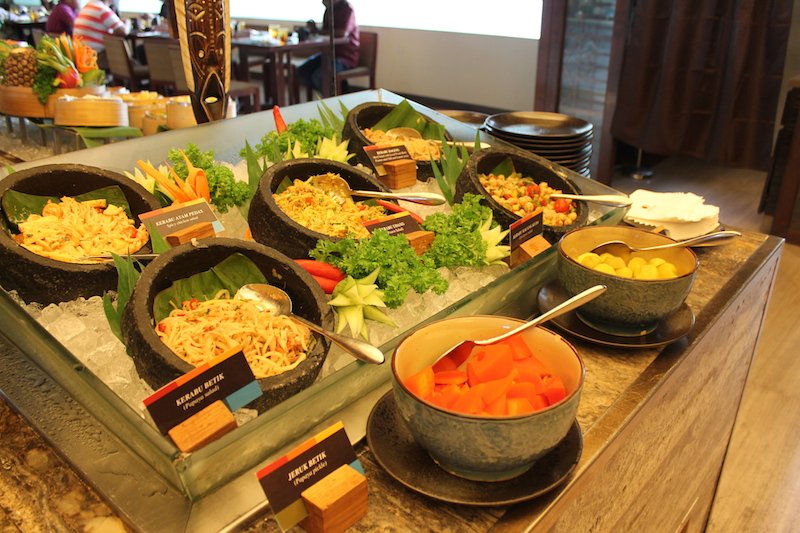 After indulging in the multitude of tastes available, I sought out my children who had disappeared into the kids' space. I found my son engaged in a Wii bowling battle with another young boy, and my daughter helping some younger kids with sand art.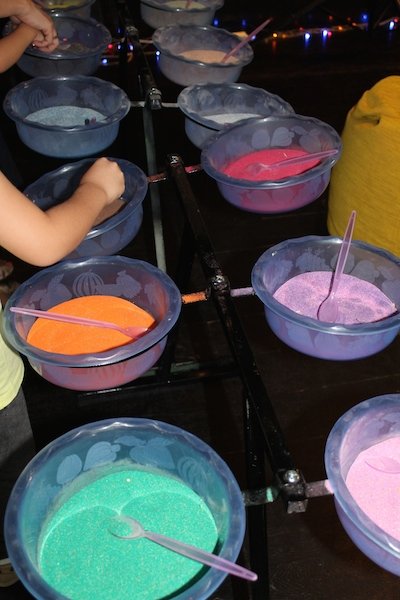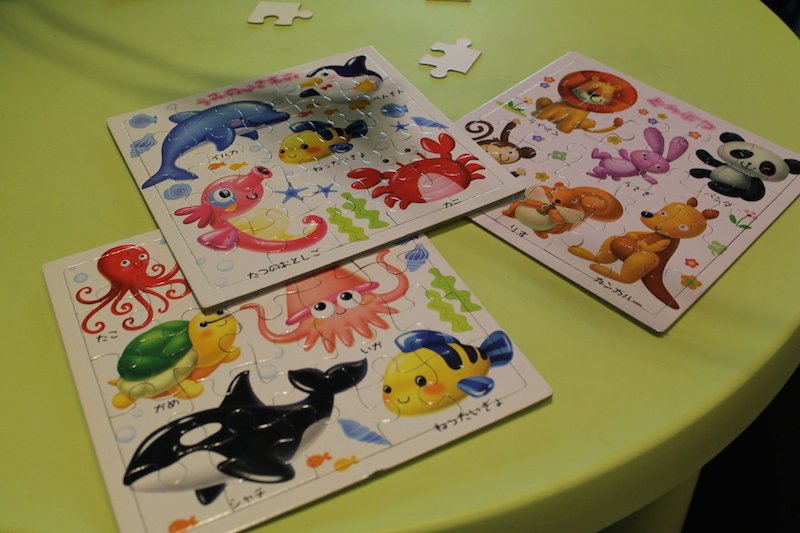 Filled with colorful streamers and balloons, the play area seemed to have something for all ages, including a pastry table that seemed almost too good to be real (to small eyes).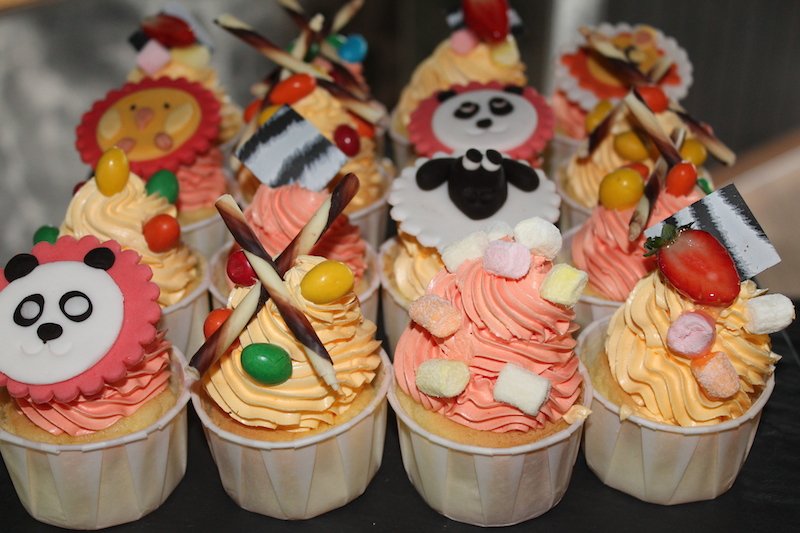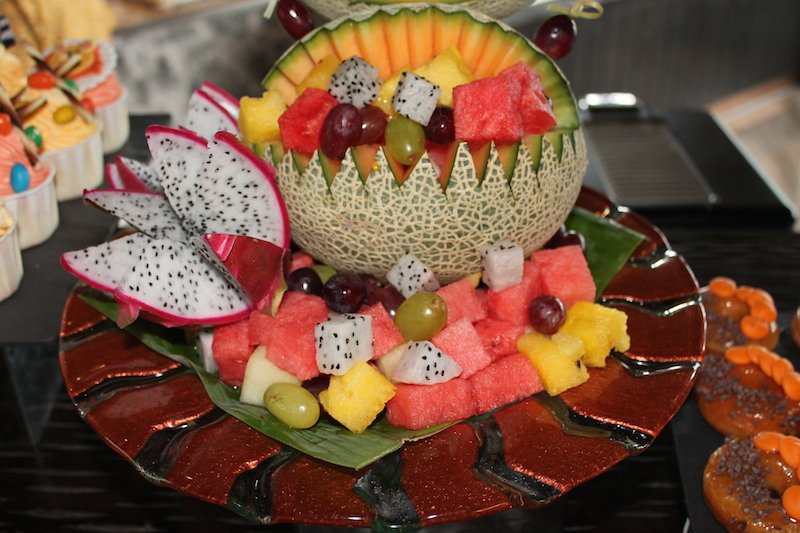 Although the cupcakes were very tempting, the main dessert offerings for everyone were plenty. There was an ice cream station, a cendol station, local favorites, a variety of pastries, and a dark chocolate fondue station.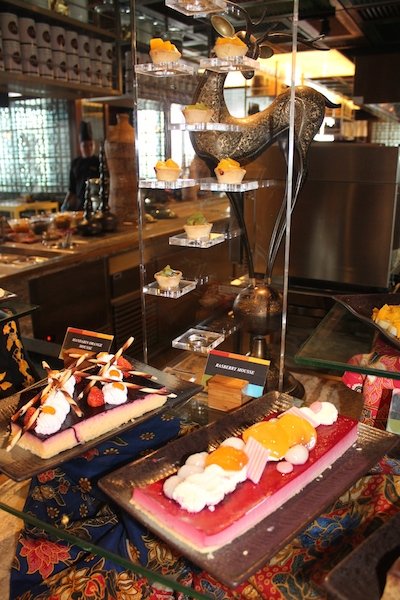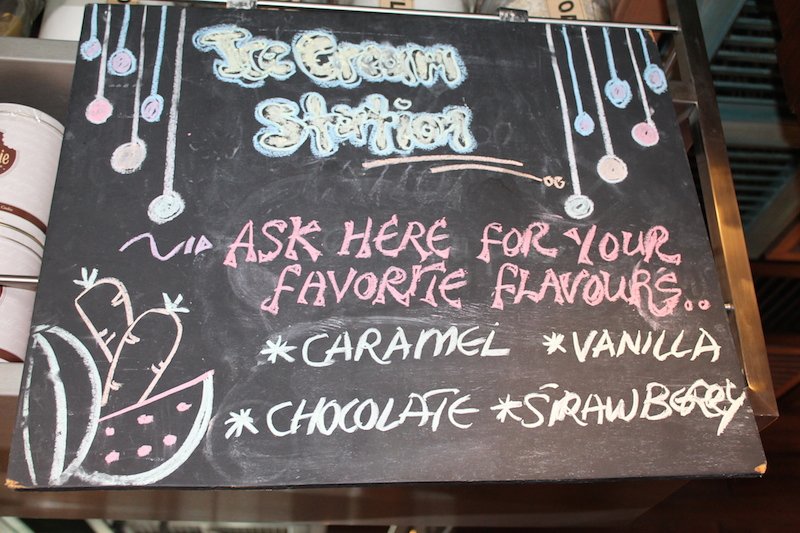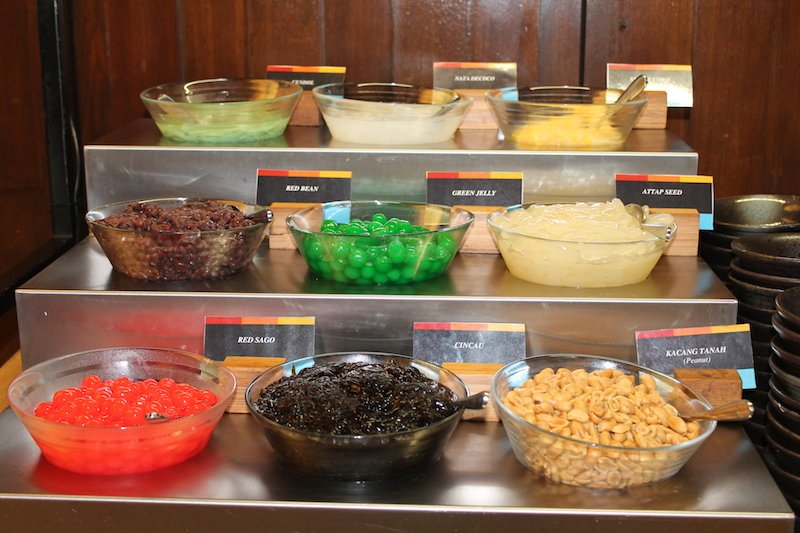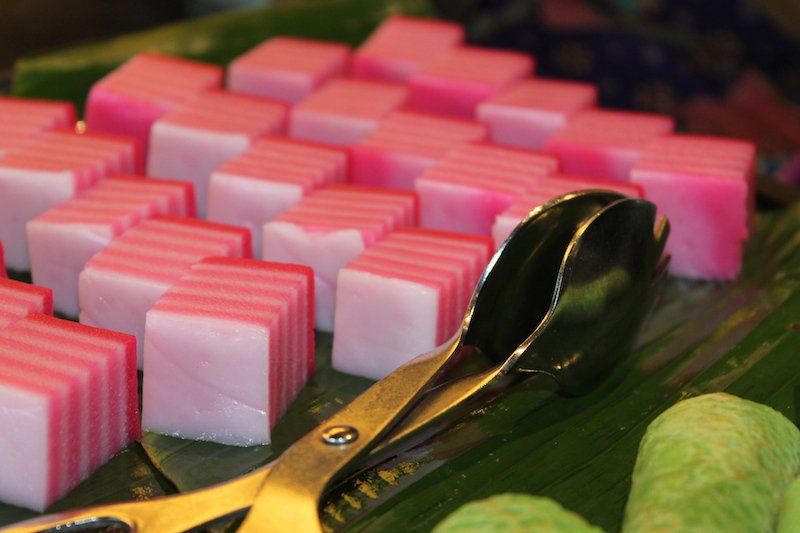 After eating my share of main courses, it was hard to pick and choose what desserts to try. But not too hard.
As I finished off the lunch with coffee, I watched the friendly and accommodating staff help my children enter a Wii contest (the winner received RM100 gift certificate for Kinokuniya bookstore—given away every Saturday and Sunday—and the chance to compete for Legoland passes for a family of four, and a 3D/2N stay at DoubleTree by Hilton Johor Bahru!), and knew it would be hard to get them to leave. I looked around at the large family parties, lingering leisurely over their meal and taking turns playing with their children in the kids' area, and I thought Makan Kitchen was onto something – just like my friends and their Friday night pizza place.
As a finale, we stopped off to enjoy the free access to the hotel's saltwater pool, with views of the Petronas Towers – a Super End to a Super Weekend Party.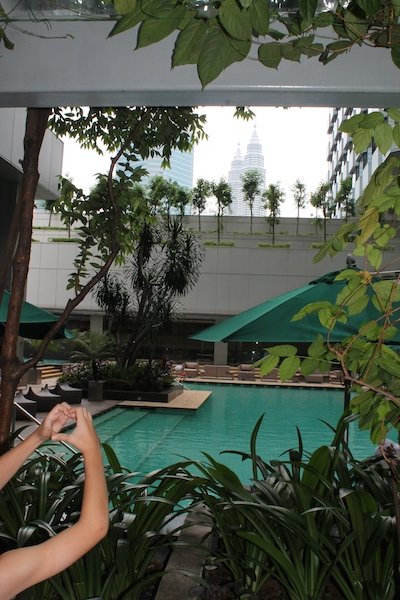 Makan Kitchen
Doubletree by Hilton Kuala Lumpur
The Intermark
348 Jalan Tun Razak
50400 Kuala Lumpur
Malaysia
+6 03 2172 7272
www.flavoursbydoubletreekl.com