A good handful of years ago, upon discovering Indulgence Restaurant in Ipoh, I recall being so delighted with the food and setting that I'd happily take on the two-hour journey from KL on frequent occasions just for a lunch date.
The things that kept me coming back were the creative menu, quality ingredients and quirky environment. I recall owner, Julie Song, once telling me that there are no mistakes in cooking – if the chocolate cake doesn't rise, then it's not a chocolate cake, it's a base for a cheesecake and so on. With an open mind and ability to see the world and all of its kinks in a favourable light, Julie's invented recipes and eye for design leave me inspired on every visit.
And so it is, we return on a little getaway to Ipoh and our first stop is Indulgence Restaurant. It's a long weekend and full of (I assume) locals taking advantage of the extra downtime to relish a leisurely mealtime. Soft jazz tunes hum in the background and although the dining space is ample, it feels intimate with loose curtains cordoning off the main room and a variety of smaller rooms around its edges too.
In constant desire to improve, explore and invent, Julie is continually traveling, creating and learning new cooking techniques. She's recently mastered Korean and Japanese cuisines and highlights dishes from her new skill set four times a year, showcasing fine dining interpretations of these styles in a casual environment.
Tonight we're in for a treat as Julie promises to take us around the world with bits and pieces she's been experimenting with over the last five years. Regular guests know never to expect sameness, but delight in the fact that they can return week after week and always find something new. Julie's need for excitement and challenge, and love of colour is reflected in an evolving menu – staying true to the core principals of fine food in a casual setting, but morphing in various directions with new knowledge gained.
Korean begins our international line-up with traditional kimchi accompanied by sticky rice sticks and mozzarella cheese on a skewer. The rice is smooth and oleaginous with the cheese and the sharp kimchi balances it out by cutting through its richness. A sweet onion sauce adds another dimension and I have to guard my plate as I'm taking notes as hubby has tried (twice now!) to swipe my remaining bite from the skewer.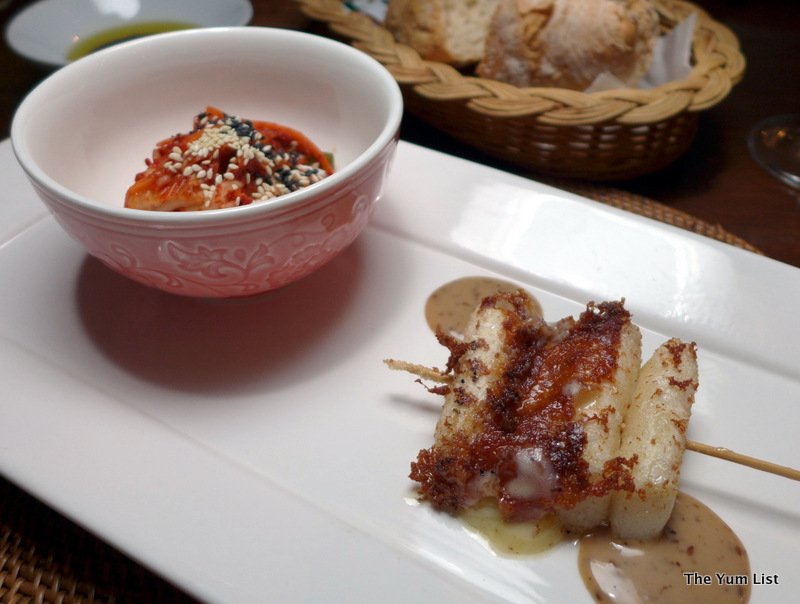 Pan seared foie gras, topped with a crepe of caramelized onion is sided with a petite mound of fresh avocado. We can smell the sweet and fatty combo as it's set down before us and I swear I can see saliva welling in the corners of hubby's mouth. "Very nice. She's good babe," declares hubby as he takes the first slice. "That's delicious. You have to eat it hot. Yeah, she's very good," he continues with the charade of compliments. Yep. It's good stuff.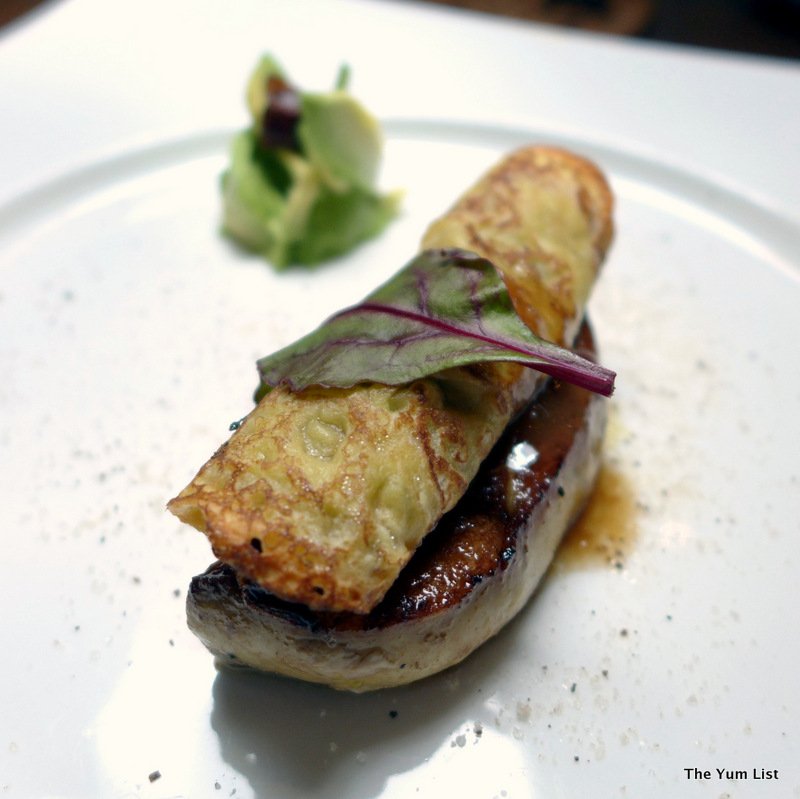 Mu-shu chicken has been marinated for many hours and then slow cooked to produce full flavoured and tender chicken pieces (similar in characteristics to char siew). Served in a steamed bun and drizzled with house made barbecue sauce, it's topped with pickled kyuri (Japanese cucumber), which freshens the palate. There's no chance a knife and fork will do here. This one is made for the hands and we both pick it up and devour our portions with enthusiasm.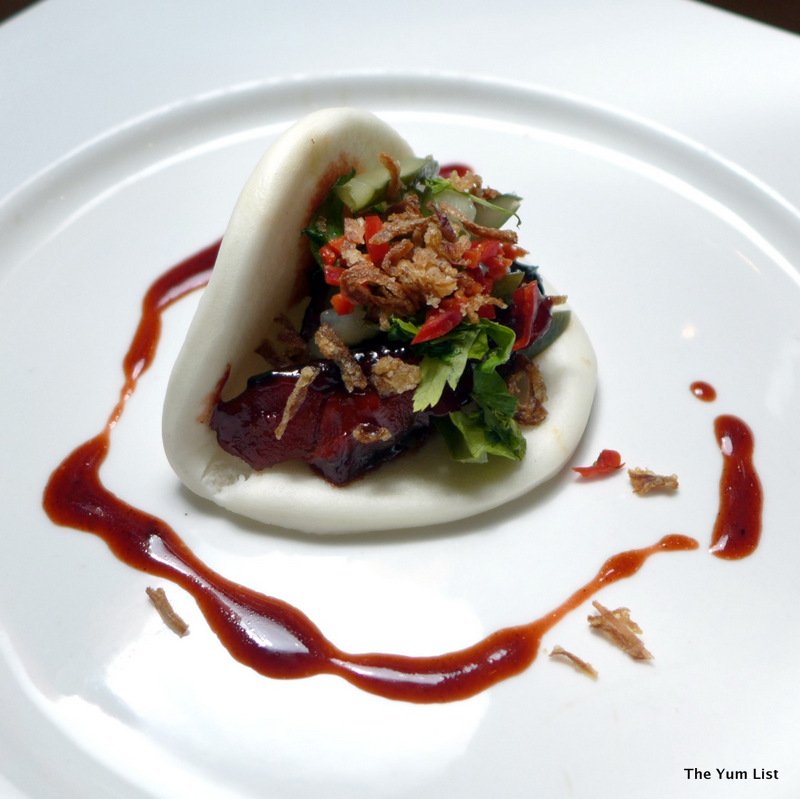 Giant curls of fusilli pasta are crowned with prawns hot off the grill in the next dish. The smell of the seafood incites memories of beach barbecues and general summertime fun. Onions, tomatoes, red capsicum, dill, garlic and black olives mix with a light cream sauce that we happily scoop both on its own and with the pasta. Yum.
Moist pink ocean trout is wedged between a creamy mash of green peas, and half of a grilled beef tomato. There's a hint of horseradish in the green base elegantly harmonizing the natural fish oils. I'm loving the colours on the plate, and the beetroot frites garnished with mixed leaves adds both pigment and crunch.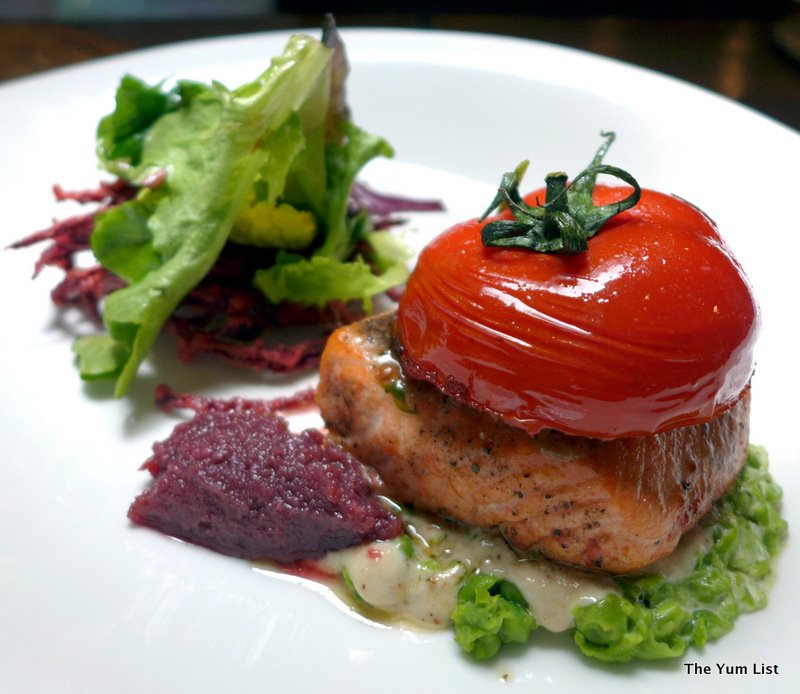 When the next dish arrives we request reassurance from our waiter that this is the last dish (our stomachs are bulging and we don't trust ourselves to show restraint when another delicious plate is set before us). Our waiter gives us the look of, "She's on a roll. I really have no idea when the onslaught of plates will subside," and lays an attractive platter of lamb ribs on the table. These beauties are perfectly cooked – caramelized around the edges and pink in the middle. An unusual trimming of fresh mango slices comes alongside classic roast potato wedges and mesclun. "Oh delicious. Amazing. Oh so good," declares hubby rubbing his stomach and pinching his sides. "Tomorrow I need to have an eight hour tennis session," he continues going back for another slice, "Top notch."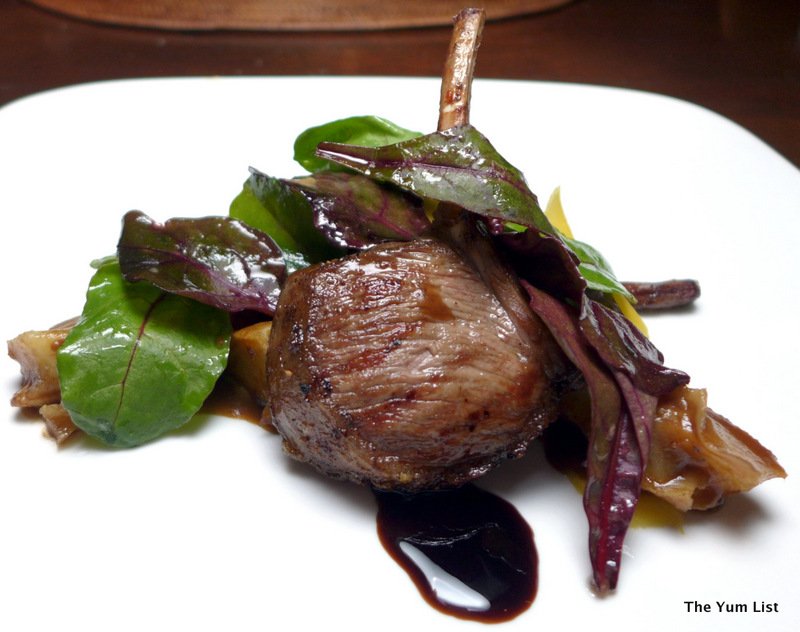 And now the finale… mochi! We like mochi. A pretty arrangement of red bean and purple sweet potato filled balls are interspersed with plump red strawberries. Hubby trumpets that he's not having any dessert, and will also forego breakfast tomorrow morning, that is, until he takes his first bite. "Wow, what an experience. Oh my, so delicious. I love mochi," he rambles. The skin is smooth and elastic, and the filling mildly sweet. Needless to say, they're excellent, and the last three get sent up to our room for finishing off later.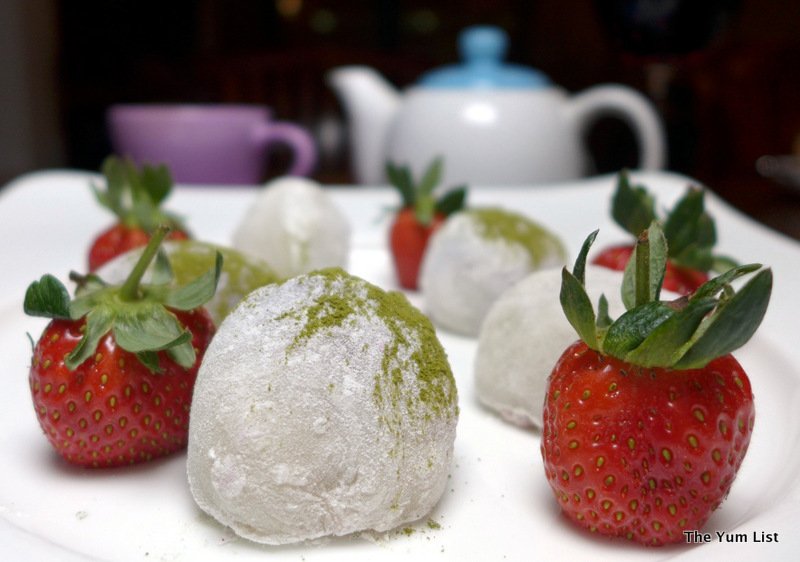 Julie's recipes have evolved in the five years since we last saw her. European cooking techniques seemed to be the base for most recipes during our initial experience, now the menu is rich with the integration of Asian cookery. In Julie we find culinary muse and find Indulgence Restaurant as a continued source for inspiration. Julie bids us farewell stating, "I'm not complete. I'm always learning. I don't think I'll ever say I'm done. There's always more to discover."
Reasons to visit: wonderfully creative fare made with high quality ingredients; charming and casual setting; the menu changes frequently but if you catch Mu-shu Chicken or Mochi on the menu, be sure to place an order.
Indulgence Restaurant
14 Jalan Raja Dihilir
30350 Ipoh
Perak, Malaysia
+6 (0)5 255 5051
[email protected]
http://indulgencerestaurant.com/
Open Wednesday – Sunday 9am – 11:30pm
Ample parking