Towering ceilings, full wall windows overlooking both greenery and the sea, and a cheery collection or artworks in the form of sculptures, paintings and lighting, adorn the pleasant space of L'Orangerie, The St. Regis Langkawi's signature restaurant.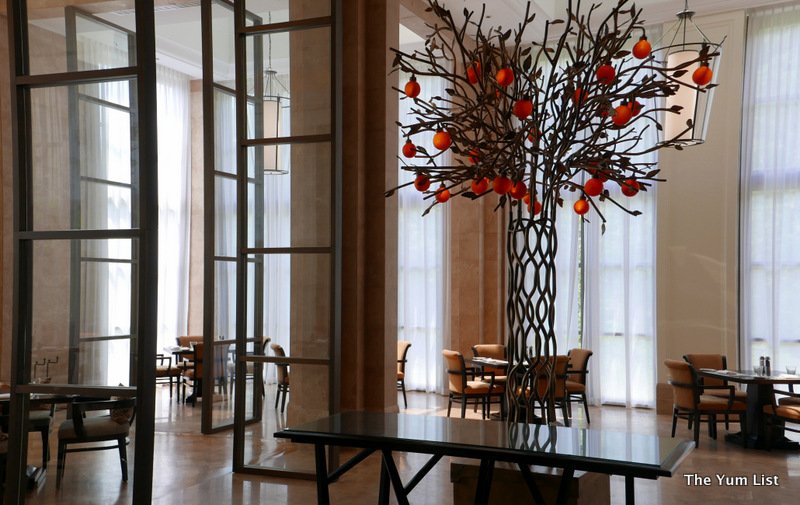 L'Orangerie is open to in house guests and the public, serving both lunch and dinner. The morning sees a hot and cold buffet with an a la carte menu boosting the breakfast options, and the evenings sport a more elegant dining selection with a variety of western and local favourites.
For brekkie, a must order is the lobster omelette with a glass of Champagne (note: real Champagne, not sparkling, not prosecco, not cava, but the real French liquid). Delivered on a hot cast iron oval sizzler, the eggs feature generous pieces of crustaceans atop, with the head provided as garnish, and a rich, bisque-like broth begging to be mopped up with rice or bread. Hubby's faves however are the banana pancakes and freshly squeezed health juices. My wholesome proclivities enjoyed the freshly cut mango and poached eggs made to order. Decadent treats are passed around tempting even the most unyielding to bend: teh terik and banana fritters – oh my – yum!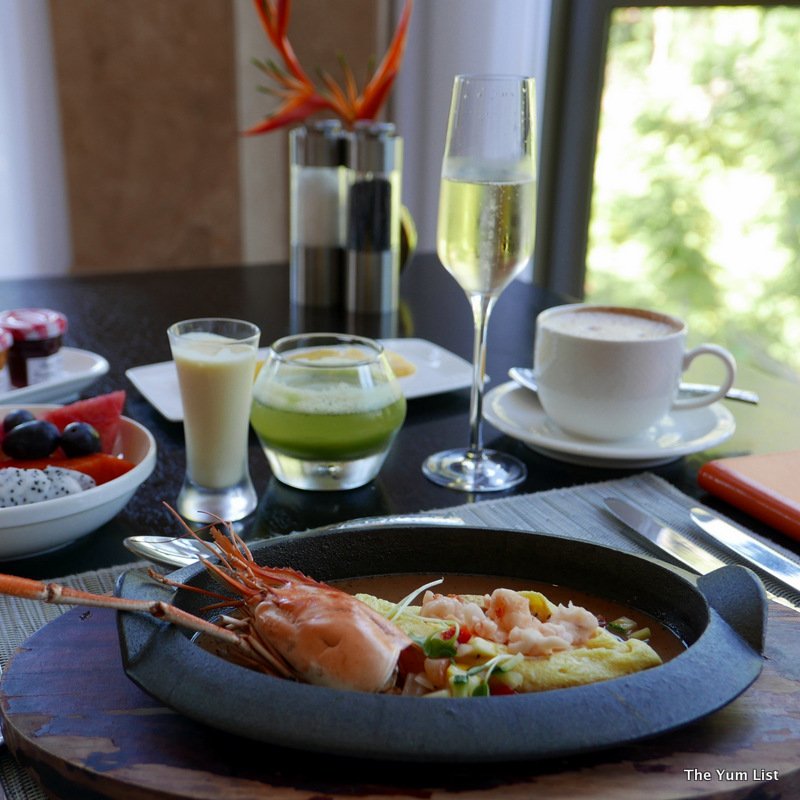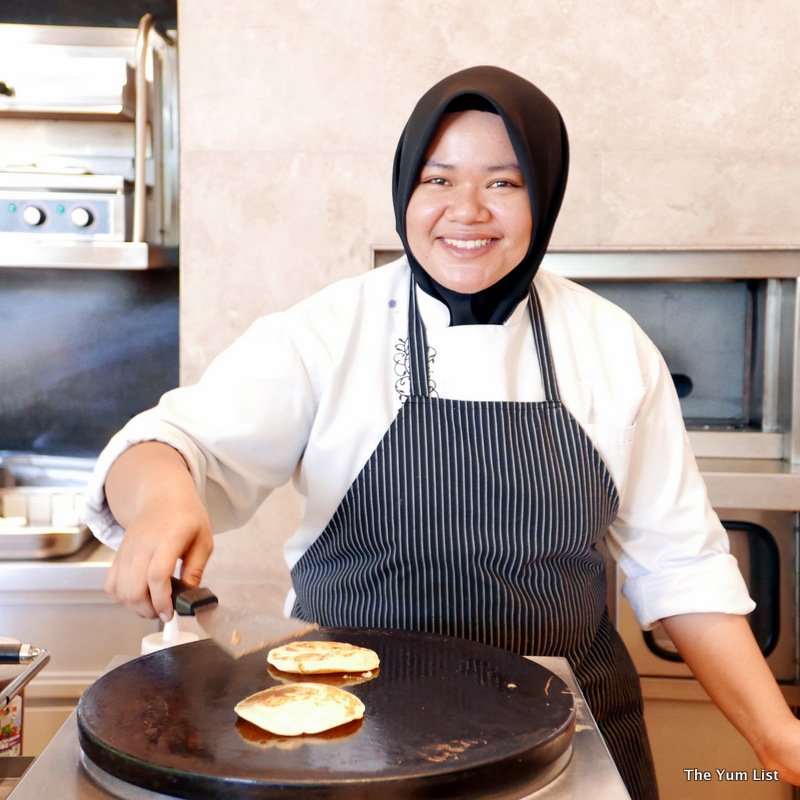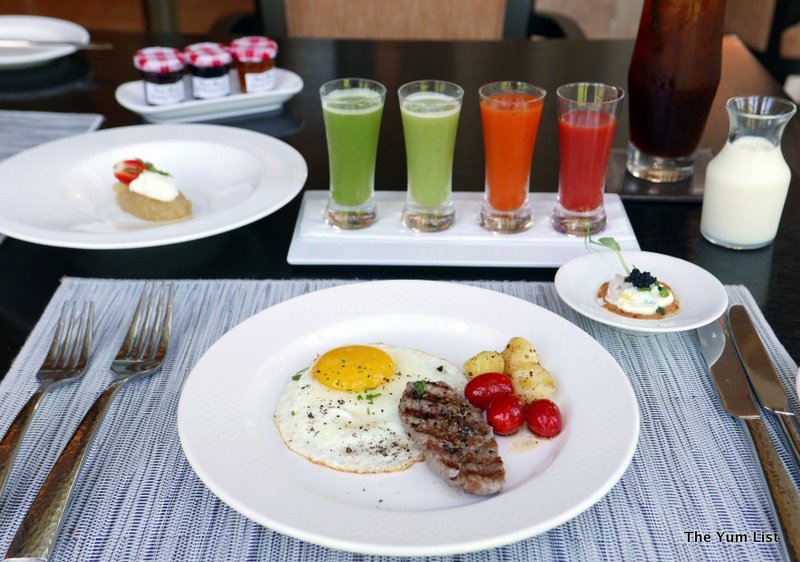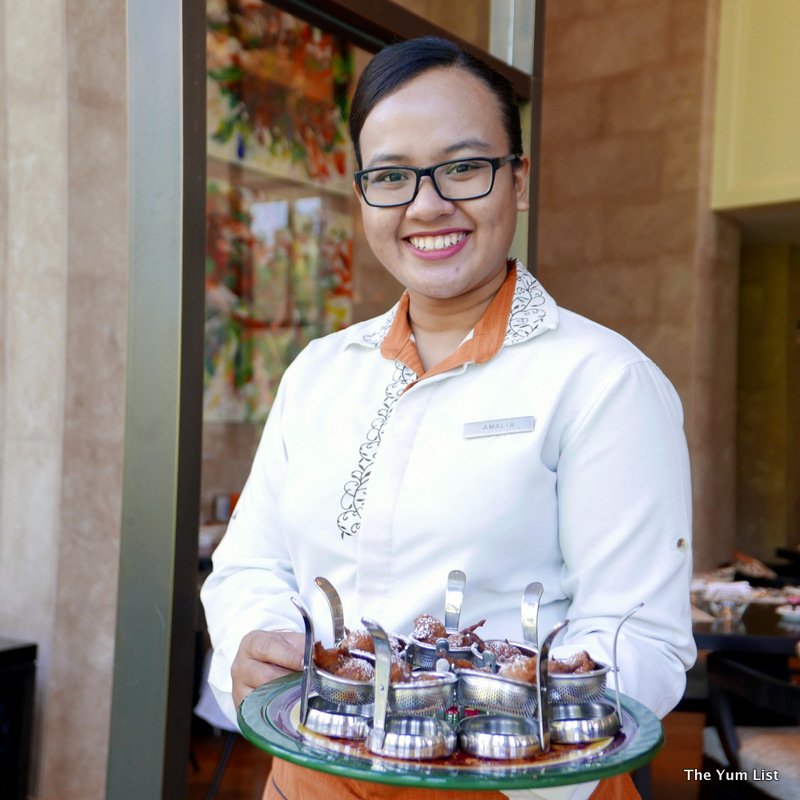 Lights are dimmed and candles are lit for the evening affair. We've just consumed a bottle of Champagne at Kayuputi's sunset bar so are both hankering for some wholesome dishes to neutralize its effects.
Vietnamese Spring Rolls (RM60) are my healthy option with king prawns, ginger and a dark sweet soy dip. The rolls come bursting with fresh veggies and large pieces of prawns. A sweet chili sauce and wedge of lime lifts the starter adding spice and a delectable tang.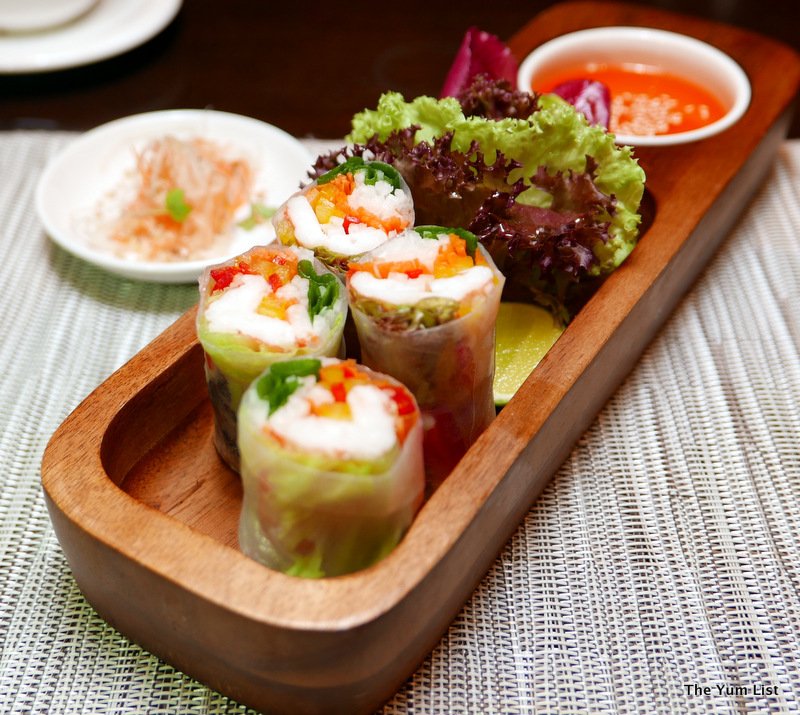 Hubby finds the Traditional Indonesian Oxtail Soup (RM50), infused with regional spices, rich and satisfying. Being slow cooked, the meat is tender and moist, and the broth gets scooped up until not a drop remains. The mini side bowl of steamed white rice makes flawless sopping material.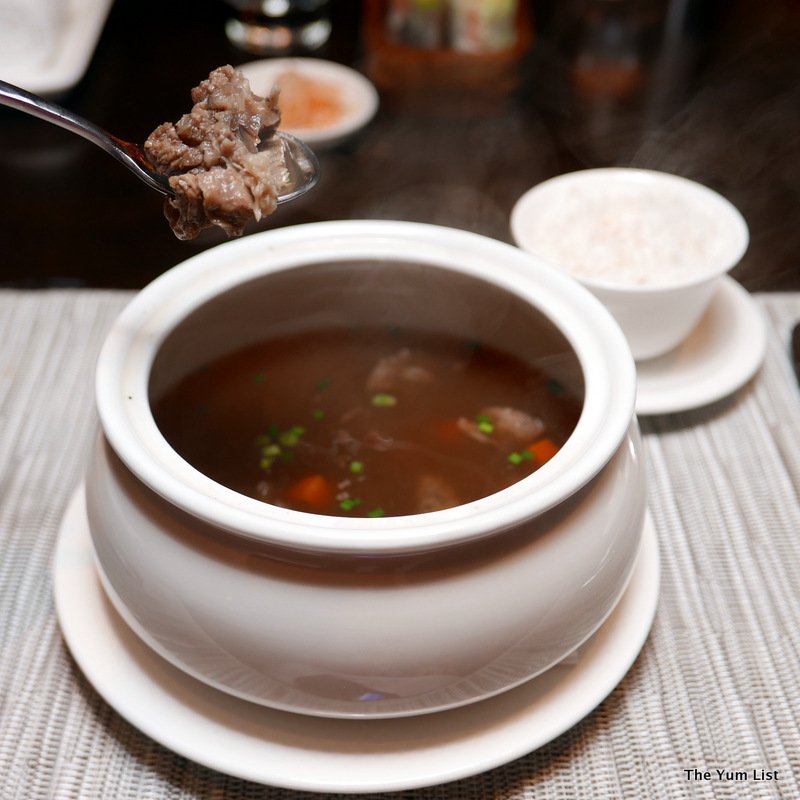 Hubby requested the Grilled Wagyu Beef Tenderloin (RM170) done medium rare and it arrives exactly as ordered, nicely pink in the middle with caramelized edges. It comes with a decadent serving of black truffle mashed potatoes and seasonal vegetables. "Made to perfection," declares hubby numerous times as he finishes off the steak.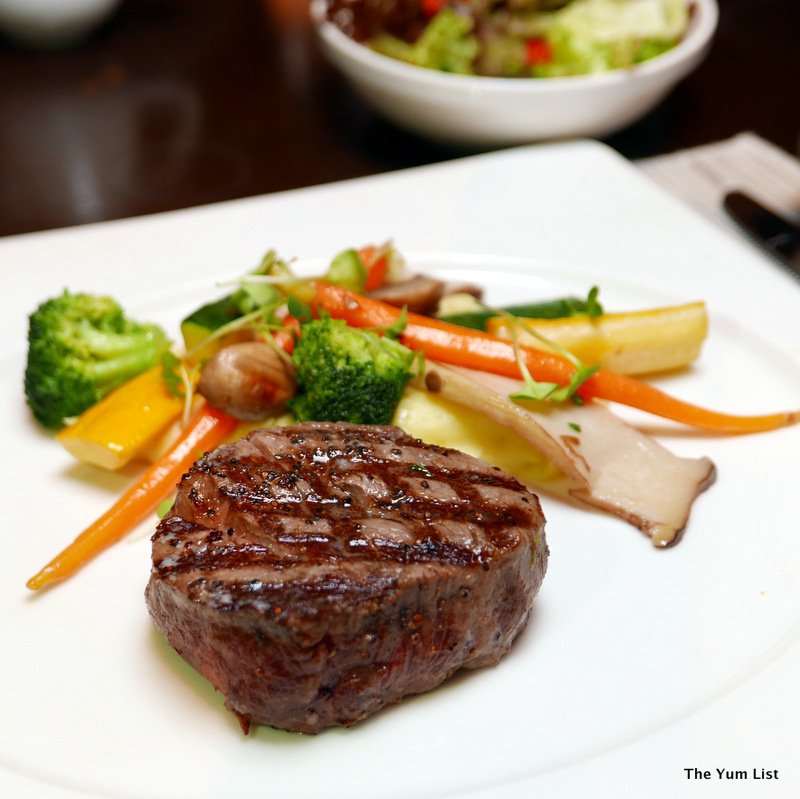 Langkawi Fresh Lobster (RM220) is my main, and it's prepared simply with garlic and herb butter and sided with a corn risotto and green salad. The flesh is incredibly fresh and the specimen a large one. It has been flawlessly cooked with the meat remaining firm, yet moist to the bite. I don't add sodium to any of my cooking, so find it mildly on the salty side. If you're like me you might consider requesting its absence when making your order. Even though I noted the salt, it didn't spoil my overall enjoyment. Rest assured that not a single bite was wasted.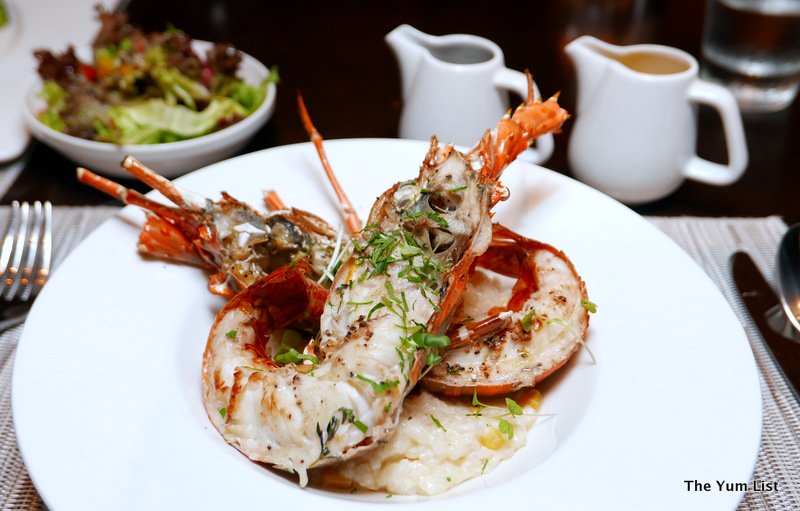 Although we're happily content, our job wouldn't be complete if we didn't try at least one dessert. Trio of Crème Brulee (RM30) does not escape hubby's attention and three versions of the classic arrive: pandan, chocolate and vanilla with tonka bean. Each has a wafer thin brûléed top, and each pot on it's own would be a more than enough. Keep this in mind when ordering: sharing is highly recommended – unless of course you have a bottomless crème brulee stomach and hence the ability to polish off all three, as does hubby.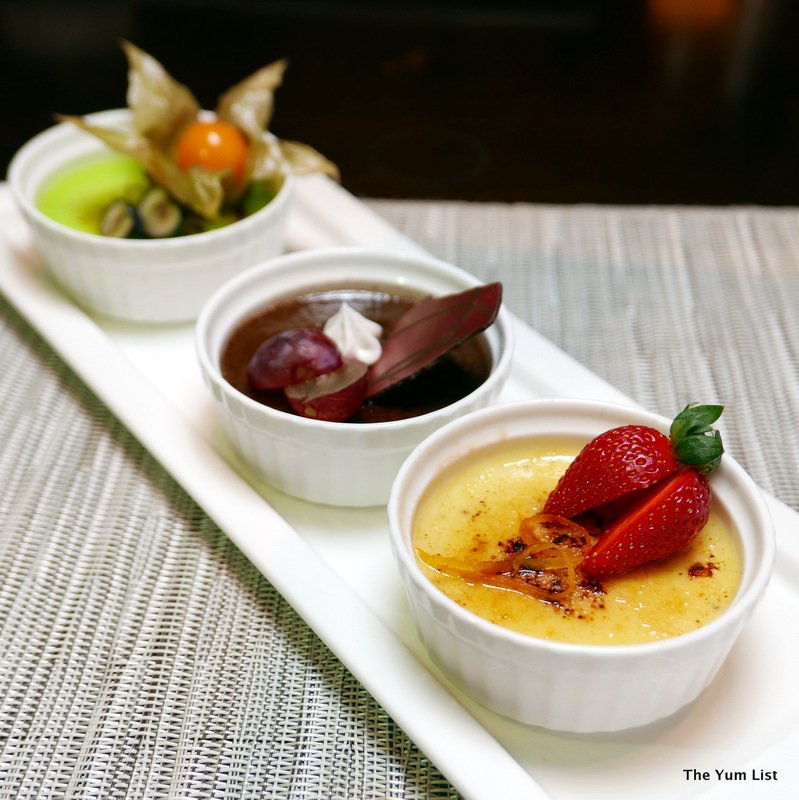 Lemon and Kalamansi Tart (RM30) takes my fancy and I find Florentine tuile, balsamic raspberries and Chantilly cream as additional tasty adornment. The pastry is thin and crisp, holding the moist filling without softening. The silky tart centre is given balance with the berry coulis and cream topping. It's another lavish portion, and an appealing ending.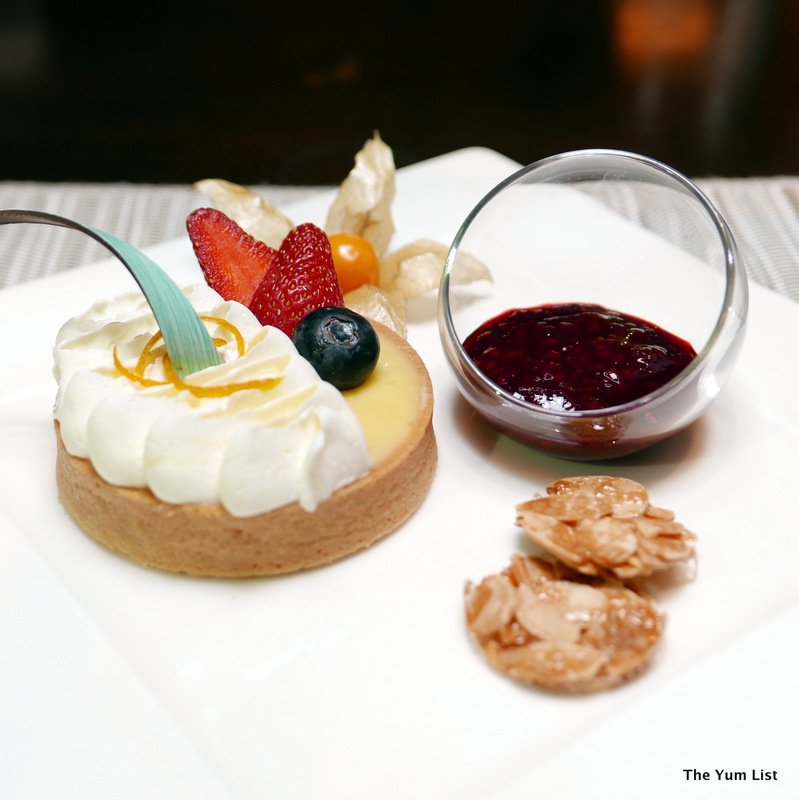 L'Orangerie manages to transform seamlessly from day to night, maintaining its fresh chic charm, while adapting to the needs of both the awakening morning crowd and nighttime dining enthusiasts.
Reasons to visit: pretty setting; attentive service; a variety of western and local dishes; steak and lobster are both excellent choices.
L'Orangerie
The St. Regis Langkawi
Jalan Pantai Beringin
Langkawi
07000 Malaysia
www.stregislangkawi.com
+6 04 960 6666