Words: Robin Pascucci   Photos: Monica Tindall
Levy Li, owner of The Good Co. is on a mission to prove that healthy meatless food can be as tasty and attractive as its meat-filled equivalents. And she's got me convinced.
This brand new café in Bangsar is as attractive and inviting as the dishes they sell. They are suitably located on the ground floor of the Bon Estates Gallery – Bon Estates themselves being a boutique developer with an emphasis on healthy, sustainable living. The building is modern and airy, with diagonally slanted slats of wood dividing the café from the entrance to the building but still allowing the light to come in. Everything is tastefully done, from the simple black bar and the wooden tables to the slate-like dishes with their own little insignia on them. And the dishes are absolute works of art.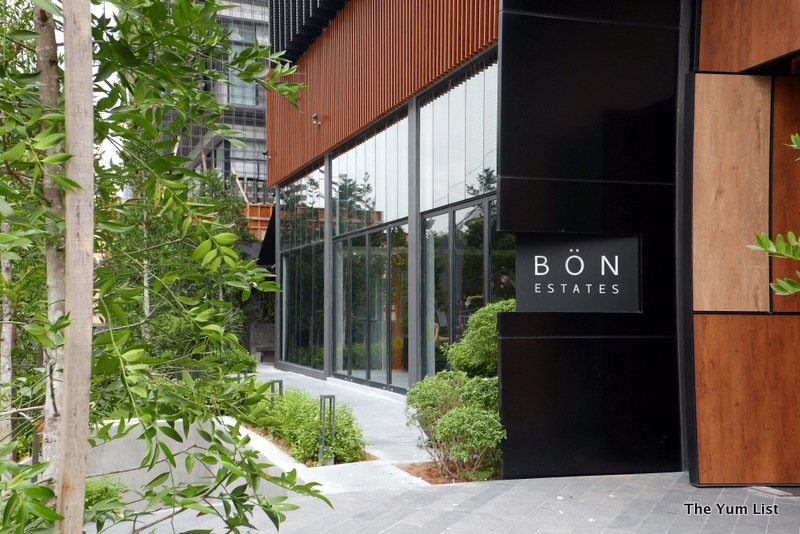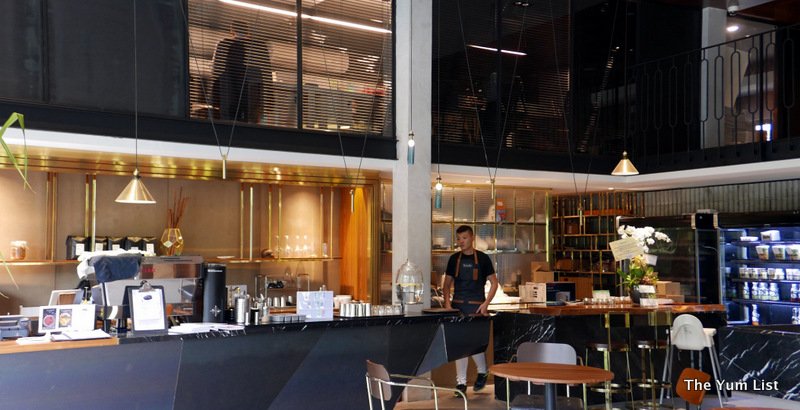 We started with their drink menu, tasting two of their four cold-pressed juices, each listed at RM 12.90. The Iron Man, a combination of beetroot, goji berry, ginger, lemon, carrot, and apple, was a zingy pick-me-up, highly recommended for fans of ginger. Skinny Dip, with its unique lotus root, green apple, jicama, lemon, wild honey, and mint combination was one of the most refreshing juices I've had – and meant to be that way. According to Levy, the lotus root and jicama are known for their cooling properties. We also tasted a coffee from the drink menu – a Carob Peanut Latte (RM 14) made with coffee beans from the local roaster VCR. The coffee was smooth and nutty without being too heavy on the peanuts or too overly sweet, thanks to the carob that replaced the usual chocolate.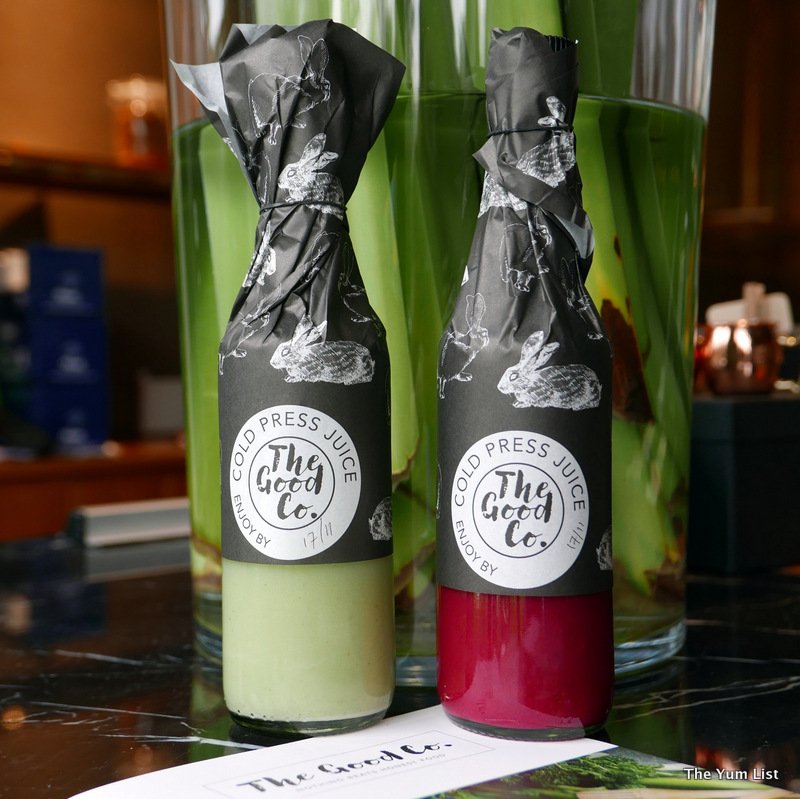 We moved on from the drinks to the smoothie bowls – and yes, I meant to say moved on. These smoothies did not belong on a drink menu. Each of these bowls contained a full breakfast. The smoothies themselves could potentially have been sipped slowly through a wide straw, but instead they were beautifully presented in bowls and garnished with a perfect combination of breakfast ingredients.
The first one, the Golden Bowl (RM 16.90) was a smoothie made mainly from mango and banana and then garnished with blueberry, toasted oats, mango slices, banana slices, dried goji berries, chia seeds and pumpkin seeds, or 'pepitas.' The smoothie was the perfect consistency – not too icy since they just freeze the fruits rather than adding ice to the mix. And the toppings were crunchy and lightly filling – just the kind of breakfast you'd want before a workout or a morning on the go.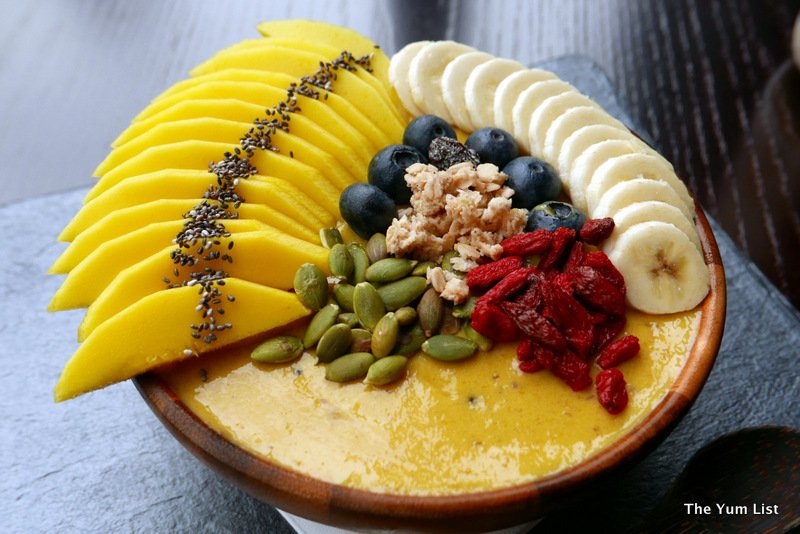 The second bowl, the Acai Bowl (RM 21.90) was even lighter than the first, having a refreshing combination of red dragon fruit and banana as its base and then being decorated with stripes of the mango and banana combination that makes up the Golden Bowl. It was then topped with strawberries, acai, toasted coconut, granola, and dragon fruit. I would probably choose this one before a hike or a run, as the dragon fruit makes it slightly less heavy than the mango in the Golden Bowl, but both were delicious.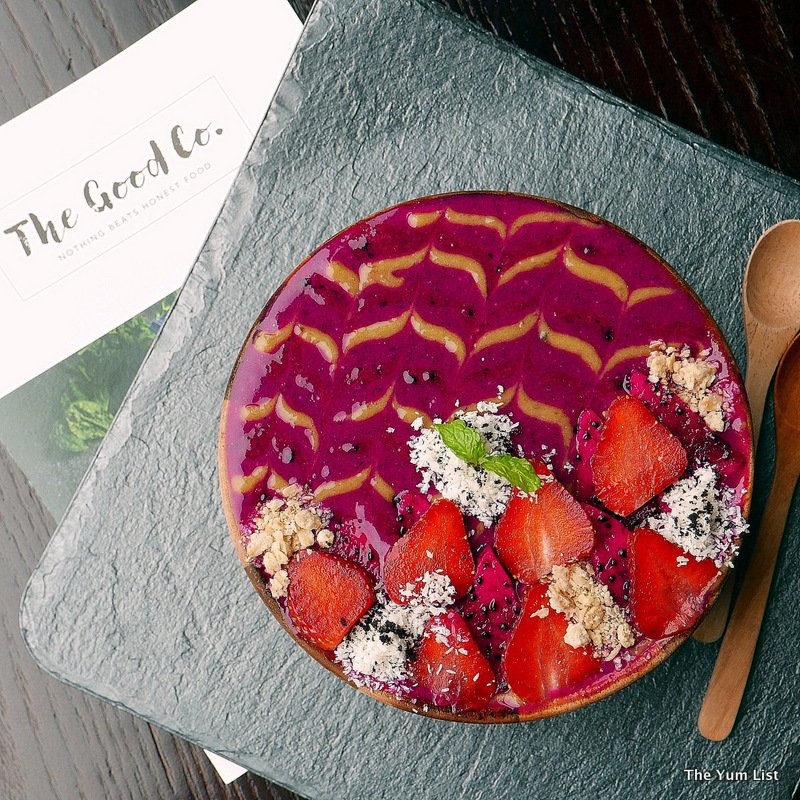 From the ideal pre-workout foods, we moved on to what I would consider a post-workout recovery food. The Energy Jar (RM 14.90), one of the three Jars of Goodness on the menu, was so heavenly that I had a hard time believing it was healthy. A beautifully layered mix of peanut butter (ground in house), banana, carob, granola, yoghurt, and mango/banana puree, this dessert-like wonder would be just as suited for a cozy evening on the couch in front of a movie as it would be for a snack bar at a gym. And should you find yourself craving it one night when you're already in your pajamas and don't want to go out to pick it up, not a problem. The Good Co. delivers, and the Energy Jar, like all of the other items on the menu, is neatly packaged and ready for the road. You can order online and have all of their healthy goodness brought right to your door.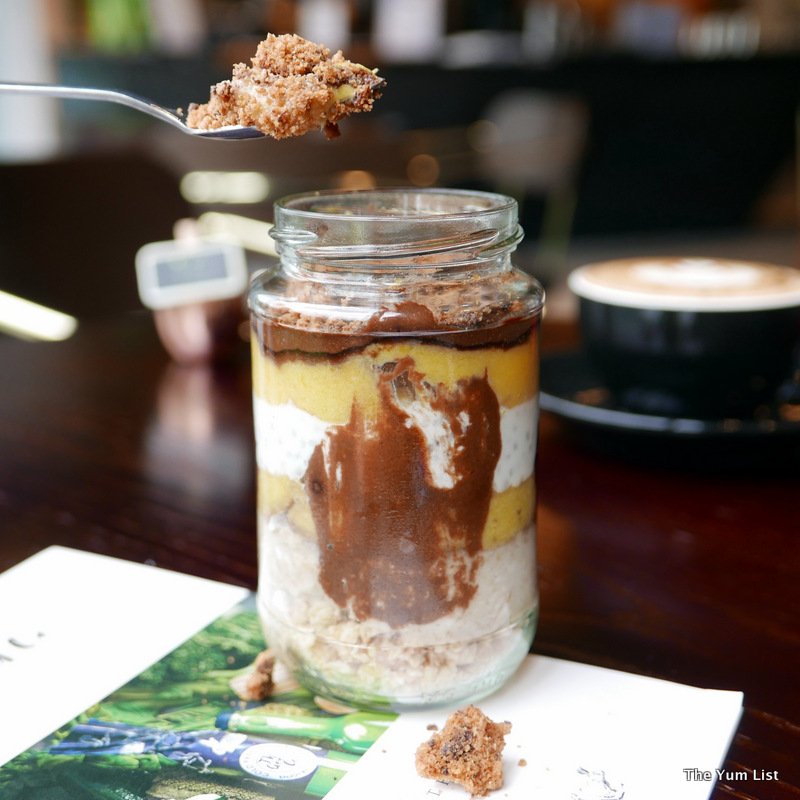 Take the Salad Pots as another convenient example. They are already in their to-go containers, with the dressing on the side. You just add as much dressing as you want, shake them up, and dig in. We tried two of these – the Healthy Organic Nasi Lemak (RM 15.90, vegan option also available), and the Scallop-dee-kap (18.90, vegan).
The Nasi Lemak, a blend of mixed leaves, virgin coconut oil millet, healthy sambal, free-range egg curry, tempeh, roasted peanuts, and cherry tomatoes, was a crunchy, nutty, hearty meal that I would happily have regularly for my lunch.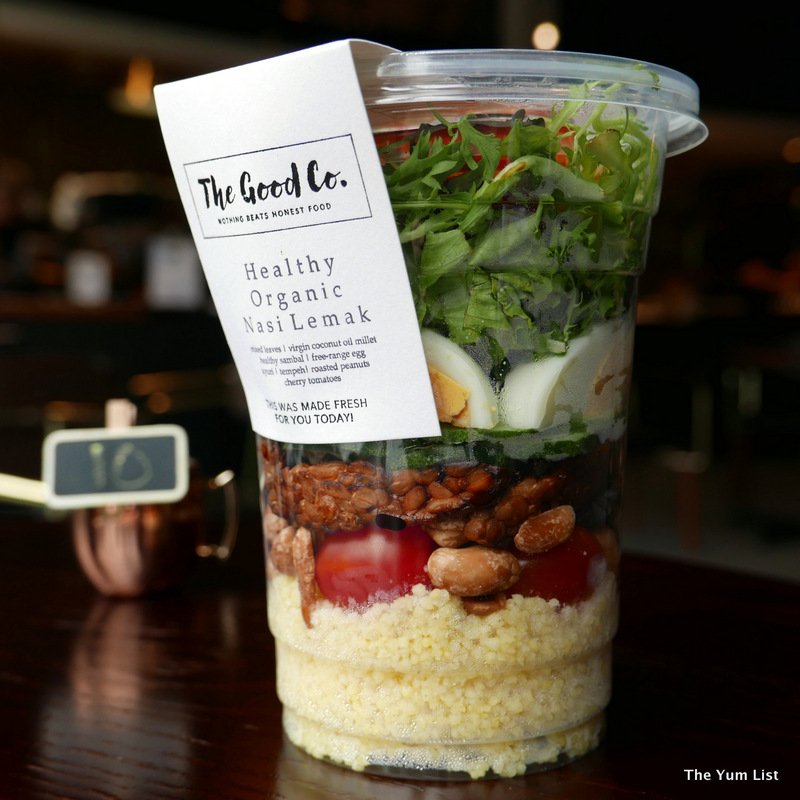 The Thai-spiced Scallop Dee Kap, with its grilled ginger lemongrass mushrooms mimicking the texture of scallops, was also a flavorful lunch option. It had a great variety of tangy, sweet, and spicy flavors coming from the homemade passion fruit dressing, mango, and basil alfalfa on the salad of mixed leaves, cherry tomatoes, and glass noodles. The other three salad options looked just as tempting as these, and I plan to get back and try them as soon as I can.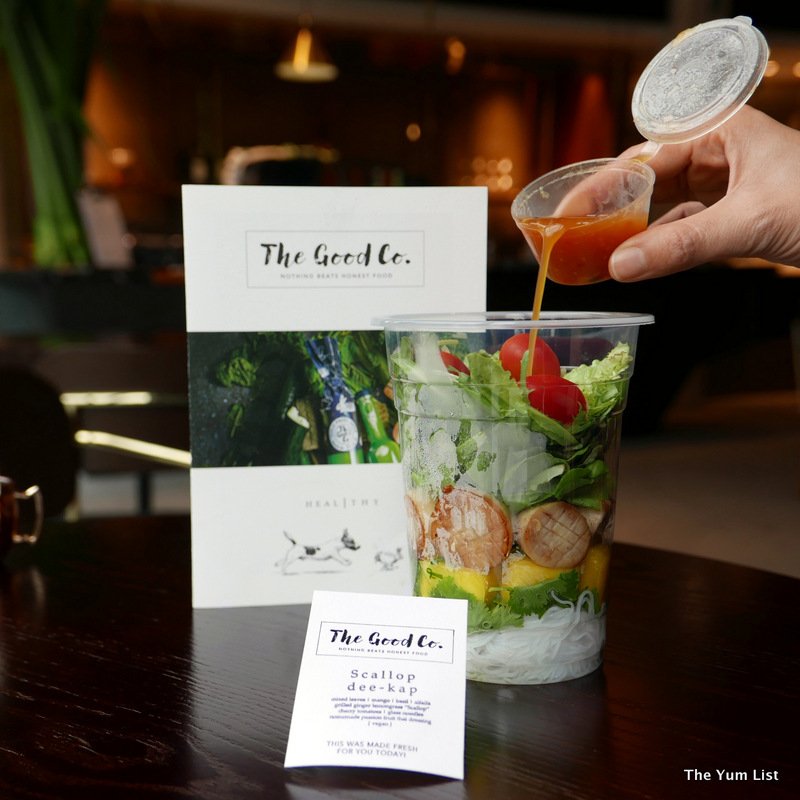 Finally, we moved on to the sandwiches. Pleasantly full from all of the other dishes we had sampled, we only managed to try one of the sandwiches – the Daging Tarik (RM 18.90). The best part of it was the light, flavorful, freshly made rye bread. Levy said that all of their bread was organic and sugar-free, made at a nearby bakery, and it was hearty without being dense or heavy the way one often thinks healthy bread has to be. The other ingredients, the pulled mushrooms that replace shredded meat, the tomatoes, the lettuce, the coleslaw, and the cheddar cheese, were just as fresh and healthy as the bread, and just as tasty. Levy puts a lot of importance on the freshness of her ingredients and does routine quality checks to make sure they are all at peak ripeness and full of flavor.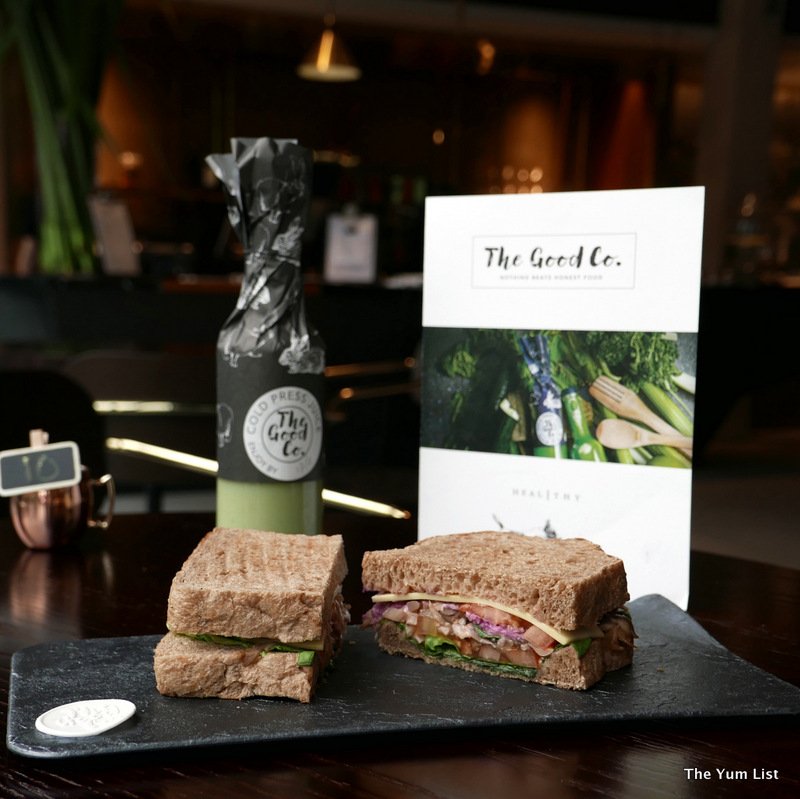 Levy's mission to sell the population of KL on healthy meat-free foods is off to a good start, as I know that I personally have already recommended her restaurant to a number of friends. Whether you are vegetarian yourself or just looking for a little healthy break from the heaviness of a high-meat diet, this place should be on your list.
Reasons to visit: Not to be missed are the smoothie bowls, the Carob Peanut Latte, and for peanut butter lovers, the Energy Jar is a must!
The Good Co.
Bon Estates
184 Jalan Maarof
Bangsar 59100
Malaysia
+603 22026536
www.thegoodco.my