Words: Louise Miller    Photos: Monica Tindall
This charming eatery in Desa Sri Hartamas has been home to more of my breakfasts than my own dining room since I've been living in the neighbourhood, so when Monica invited me to review the place, not only was I delighted but I thought I could do most of the writing before my visit. How wrong I was though as there's far more to this establishment than I'd realised –  whole sections of the menu that I'd completely missed so blinkered had I been by my need for a weekend morning bacon fix!
You only have to step through the door of Breadfruits to realise that you are going to be fed natural and wholesome fare as you are greeted by a market stall style display of shiny fruit piled up in pallets. The warm tones of light wood give the restaurant a welcoming ambience offset by the urban metal framed booths, and bold foodie prints through which the venue's healthy eating ethos is reinforced. All of these features combine to create a contemporary, stylish and yet homely environment in which to enjoy any meal of the day and, as we were to discover, some fantastic beverages too.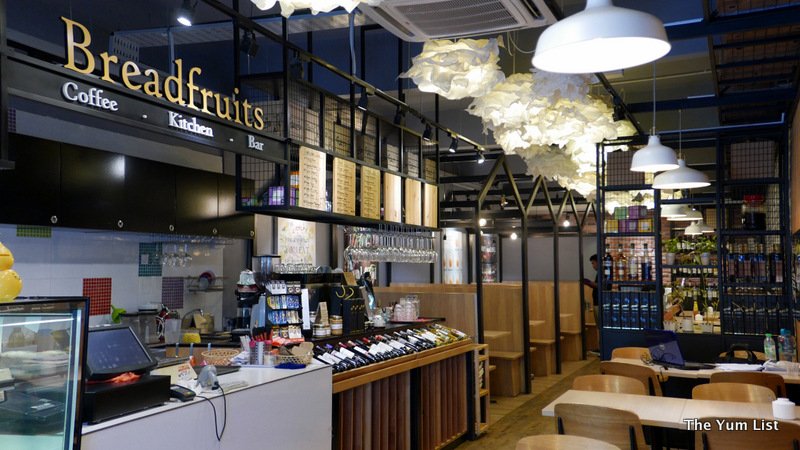 Already very familiar with the breakfast menu, it seemed appropriate to explore their other offerings. Having never even registered the presence of cocktails on the menu, the initial  arrival of two of these beauties set the tone for the journey of discovery that lay ahead. The Lemonade Passion Honey (available as a mocktail RM13 or with rum RM28) was fresh and fruity with the tartness of the natural lemonade balanced with the sweetness of honey. Apple Cider Cinnamon (as a mocktail RM13 or with whisky RM28) was also absolutely delicious and, as we sipped with glee, seemed to show evidence of restorative properties.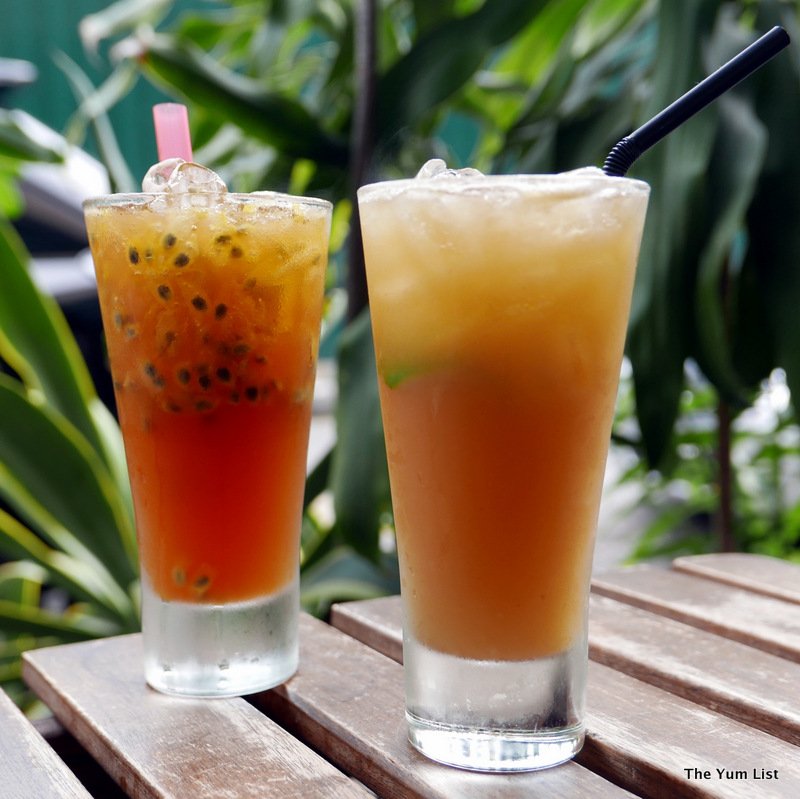 No sooner had we began to imbibe the cocktails than the Cured Ham & Cheese Platter (RM25/RM45) was set before us: wafer thin slices of prosciutto and salami accompanied by chorizo, Brie, cheddar, Parmesan, jalapeño, anchovy, capers, a beetroot and carrot salad, gremolata and toast would make the perfect grazing dish for a hungry couple and perfectly paired with a glass of wine. For us, however, this represented a mere opening to a feast for which we needed to leave room for much more.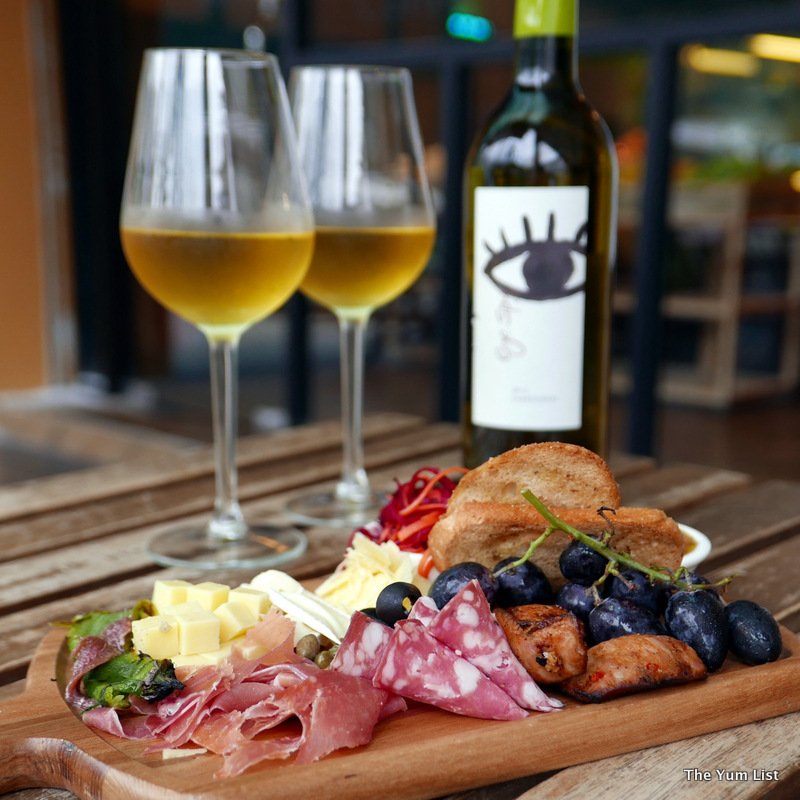 The Wild Honey Pork Chop (RM32) was succulent and flavourful, garnished with slices of caramelised apple pear, drizzled with wild honey infused with star anise, dried chilli and fresh thyme and accompanied by a pumpkin corn mash. Our first bite revealed why this is one of Breadfruits's top sellers. And, if this description isn't enough to tempt you, I should add that it came with a huge shard of the crunchiest pork crackling – what's not to love?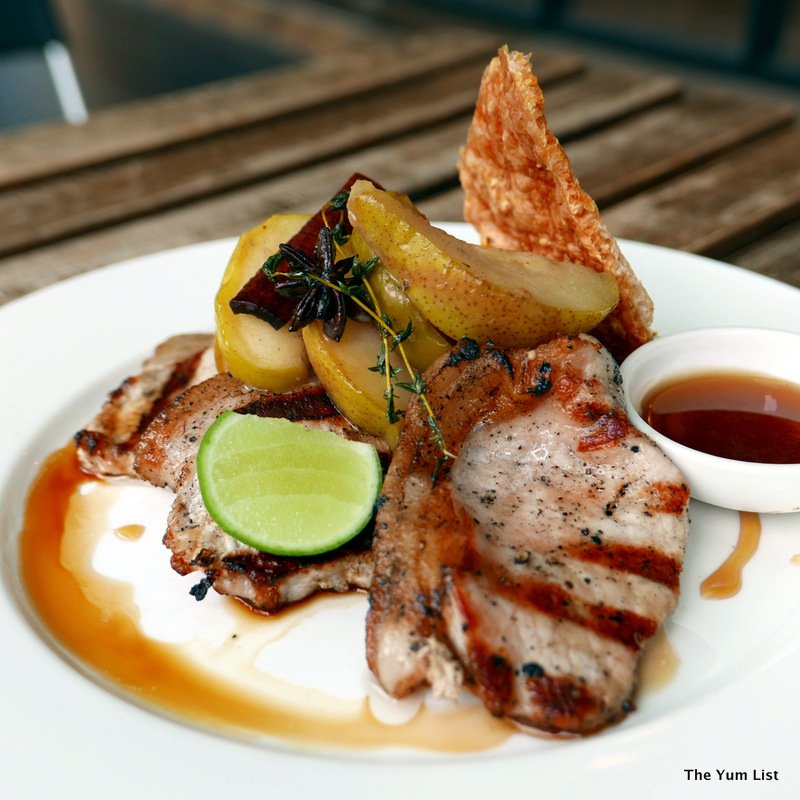 Another popular dish was the Soft Shell Crab & Prawn Risotto (RM33) – a heap of rich tomatoey risotto, scattered with fresh peppery rocket and Parmesan and topped with lightly battered and oh-so-tasty soft shell crab.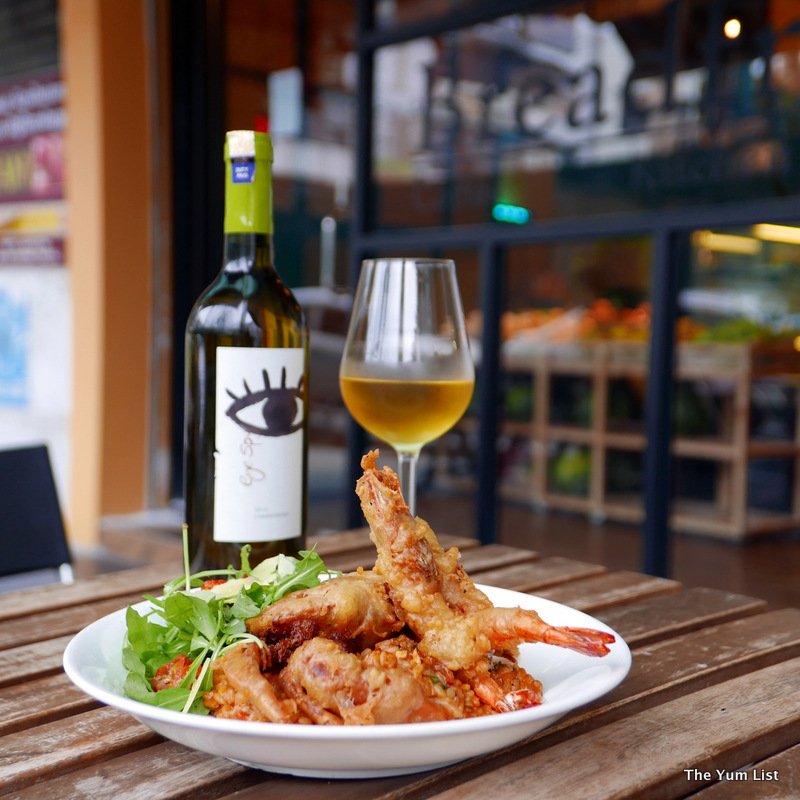 Pesto Grilled Salmon with Asparagus Guacamole (RM35) was a favourite around the table. The fish was cooked to perfection –  delicate and slightly glassy inside, with crispy skin and a slight crust on the outside enhanced further by a basil and cashew nut pesto and served with rocket leaves and a rustic avocado salsa laced with capers, tomatoes and doused with zesty lemon juice.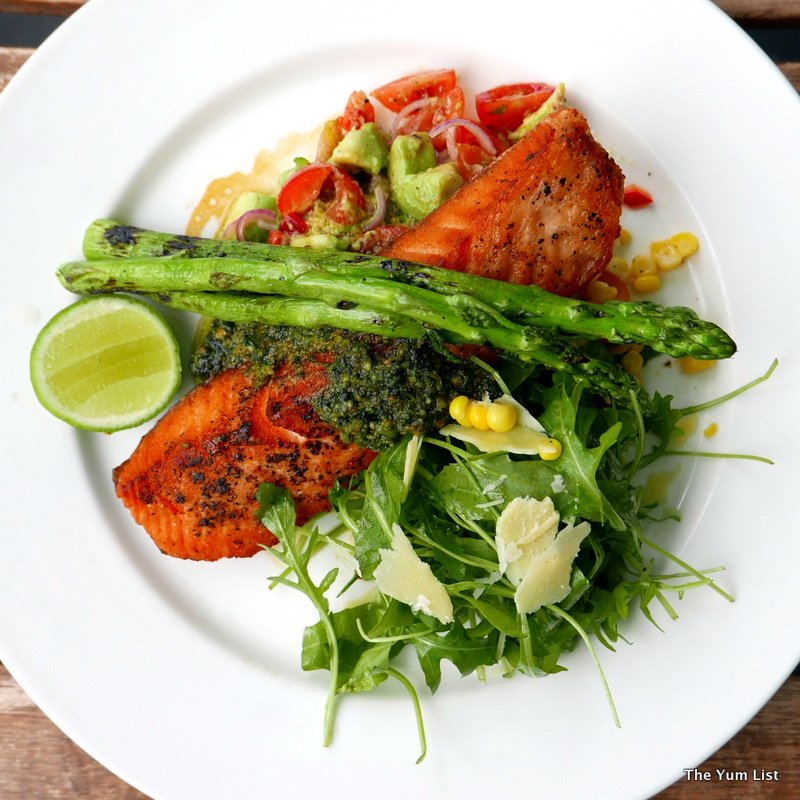 In the mood for something lighter than all of the above? Opt for one of the seven salads on offer. We enjoyed the Fennel, Asparagus and Sweet Pea combination (RM23). The fresh and crunchy flavours and textures were enhanced with cashew nuts and a basil and mint pesto style dressing.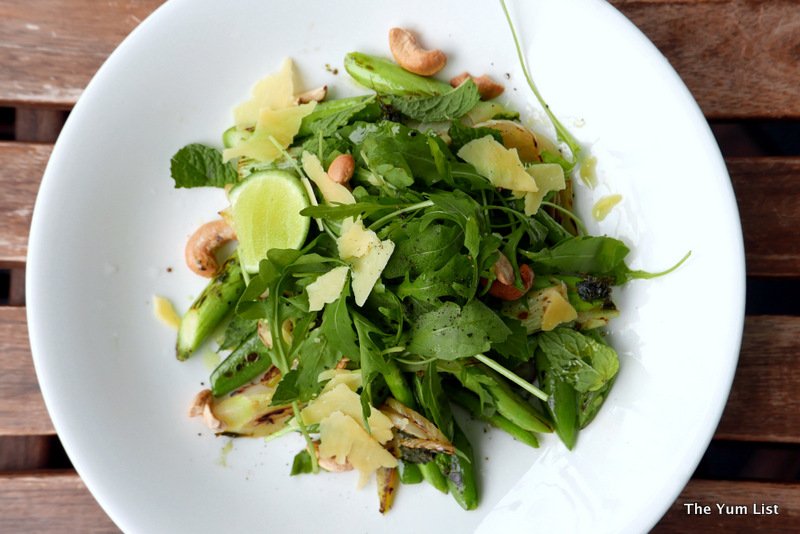 We couldn't leave of course without sampling a couple of desserts so we chose the Lamington (RM9.80) and a Lemon Meringue Tart (RM11.80). The Australian sponge cake was delicate and moist with the obligatory chocolate and coconut coating, and the citrusy tartness of the latter was offset by the sweet, fluffy meringue and sweet shortcrust pastry case.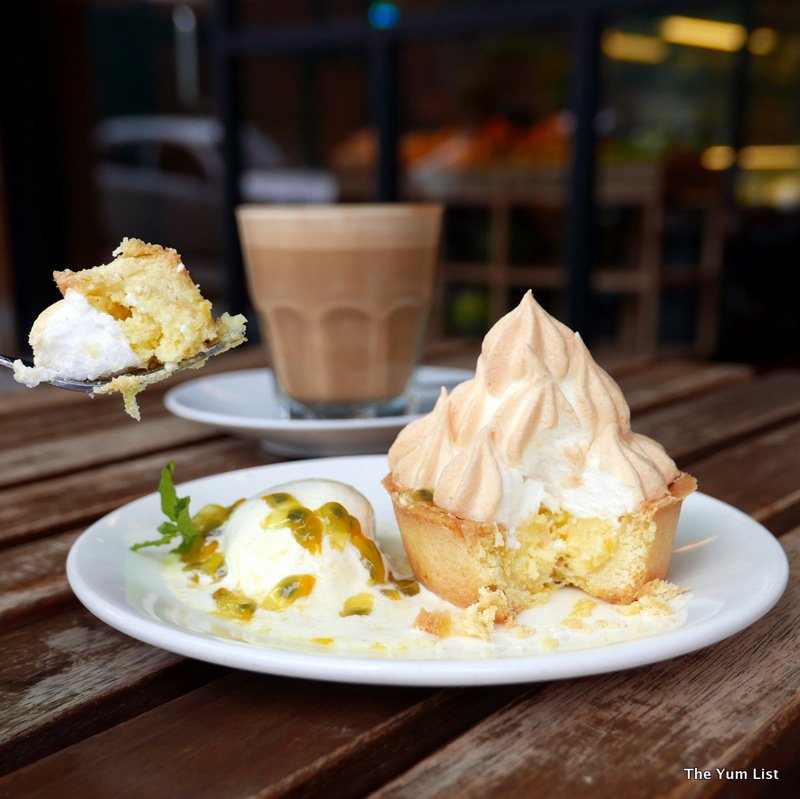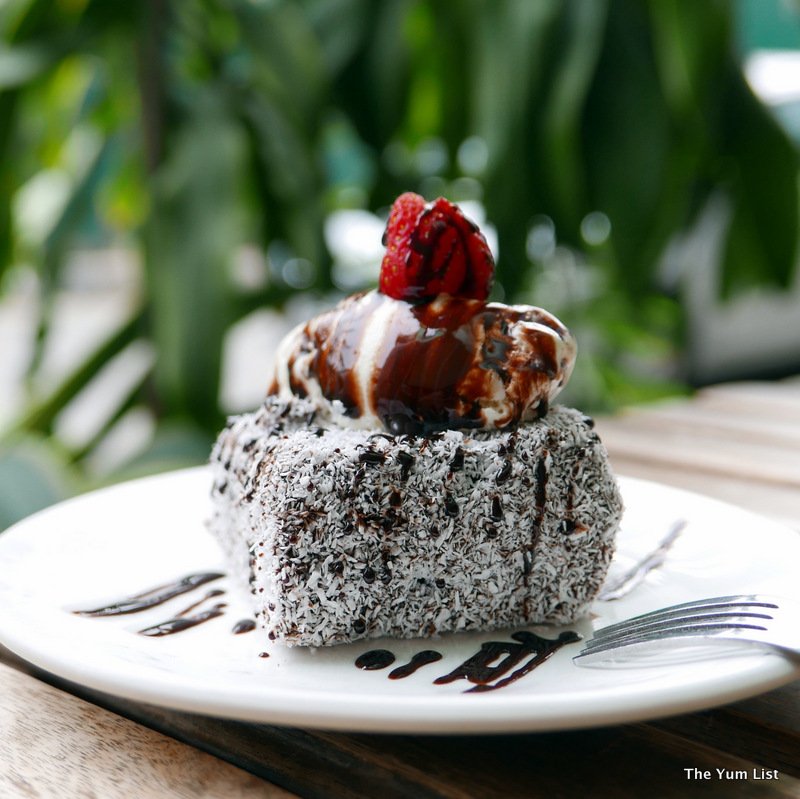 We left smiling and satisfied after what had been a sumptuous feast of delicious and real food. For those who know Breadfruits only as great a breakfast option, I urge you to explore further as you will be pleasantly surprised how the dimmer evening lighting, fantastic dinner menu and selection of wines and cocktails transforms the bustling weekend morning ambience to a relaxing, evening destination.
Reasons to visit: simple yet delicious cocktails, Pesto Grilled Salmon, Wild Honey Pork Chop, Soft Shell Crab Risotto, lovely friendly service, warm atmosphere and value for money.
Breadfruits
17 Jalan 26/70A
Desa Sri Hartamas
Wilayah Persekutuan
50480 Kuala Lumpur
Malaysia
+6 03 6201 0090
www.facebook.com/BreadFruits.my
Breadfruits is open daily from 8:30am to 10:00pm