"Food. Thoughtfully Sourced. Carefully Served."
Offering nine different dining areas, mezza9's Sunday Champagne brunch at the Grand Hyatt Singapore is a popular weekend affair. This institution has even made it to the inaugural edition of the country's Michelin Guide – no easy feat considering the number of weekend buffets available across the city.
The restaurant is large, spanning across nine different areas, including private rooms, wine cellars (both old and new world), a cigar lounge and a martini bar. Clever arrangement of tables and divisions however make the space intimate, and there's excitement similar to that of walking through a busy hawkers nest (a very fancy one) with chefs firing up dishes upon request. Show kitchens include: the grill; steam basket; sustainable seafood counter; the wok; salads and cold cuts; Thai; sushi; patisserie counter and the martini bar.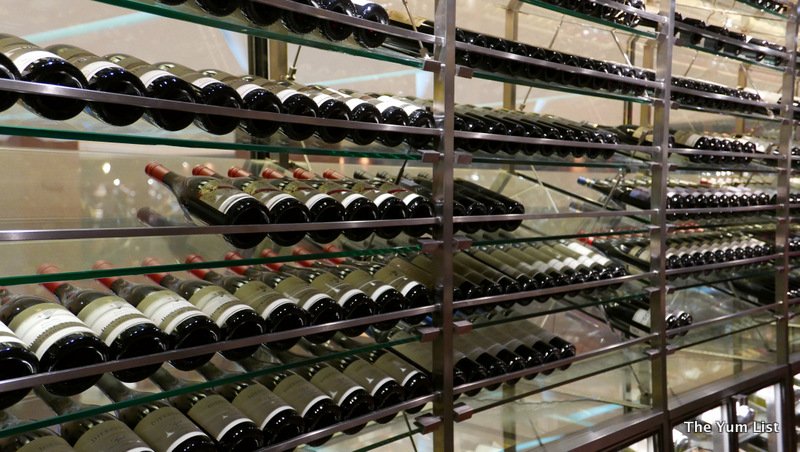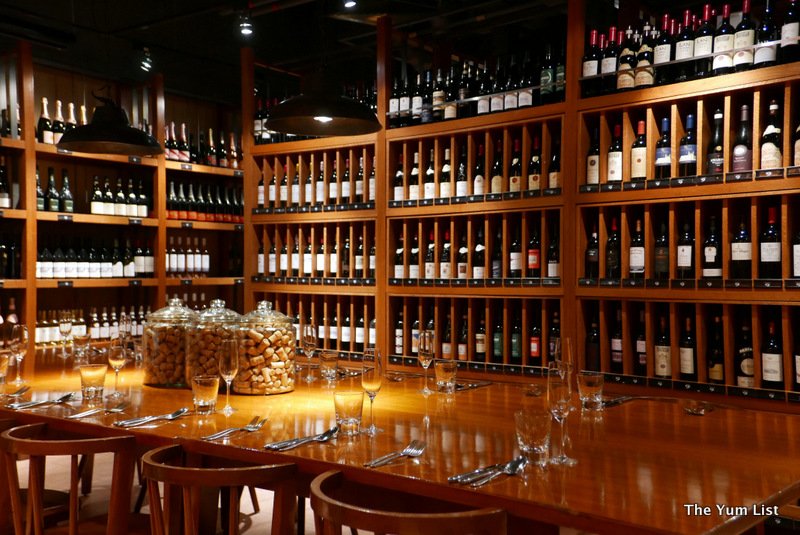 Of high interest are the chefs' efforts in attempting to source fish, meat and produce from sustainable suppliers. For this to happen close partnerships have been forged with farmers, butchers, fishermen and artisan cheese makers, and the hotel has been acknowledged with various awards and certifications recognising these endeavours.
There's far too much food to even consider sampling it all in a single session. Guided by staff and our personal proclivities, we hone in on a few items.
The cheese selection is extraordinary with choices from artisan producers hailing from key areas around Europe. Black truffles are in season during our visit and a warm truffle infused young cheese is incredibly delicious.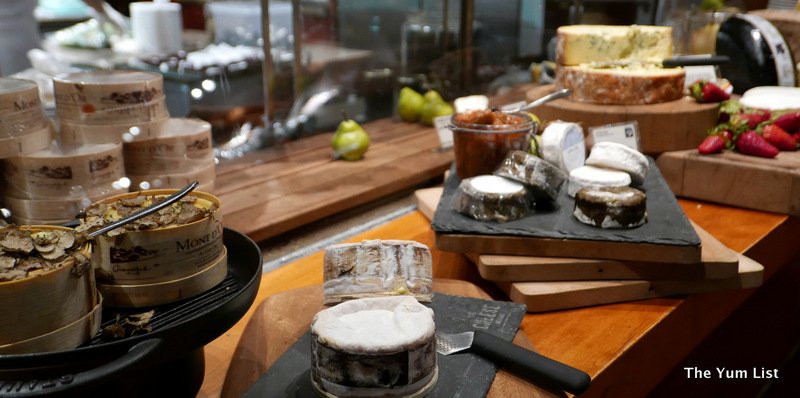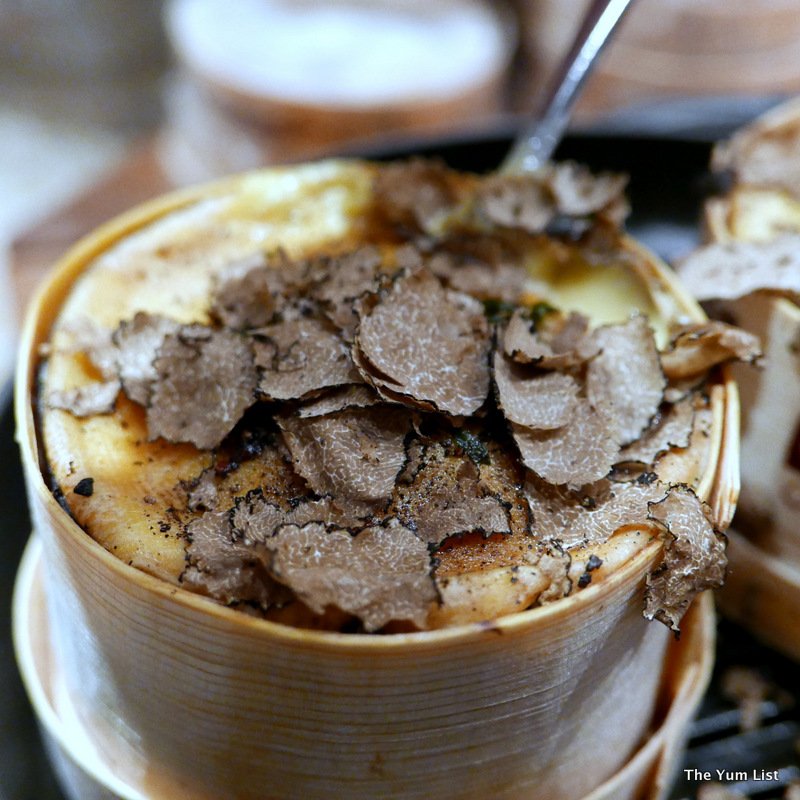 A large ice display, holding slender silver fish, tops the sushi and sashimi counter where chefs slice fish and roll sushi to order. Presented beautifully and prepared on the spot, a few selections, or whole platter, from this section is highly recommended.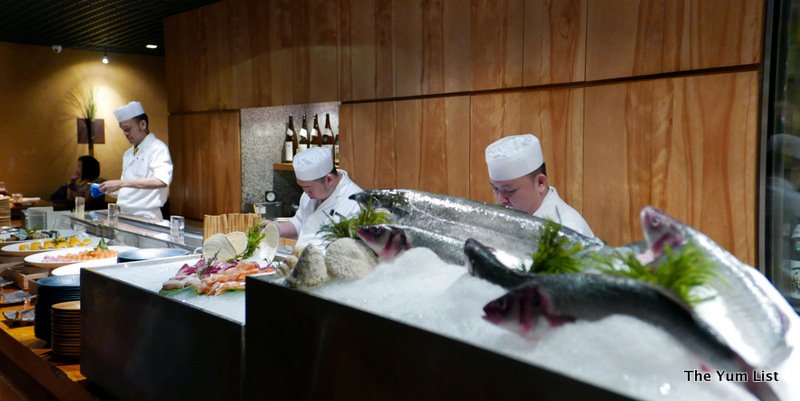 With dim sum baskets surrounded by rising vapour and woks sizzling charismatically, the steam basket kitchen specialises in Chinese items. Roasted suckling pig, and Sri Lankan mud crabs in chili sauce are hot items here.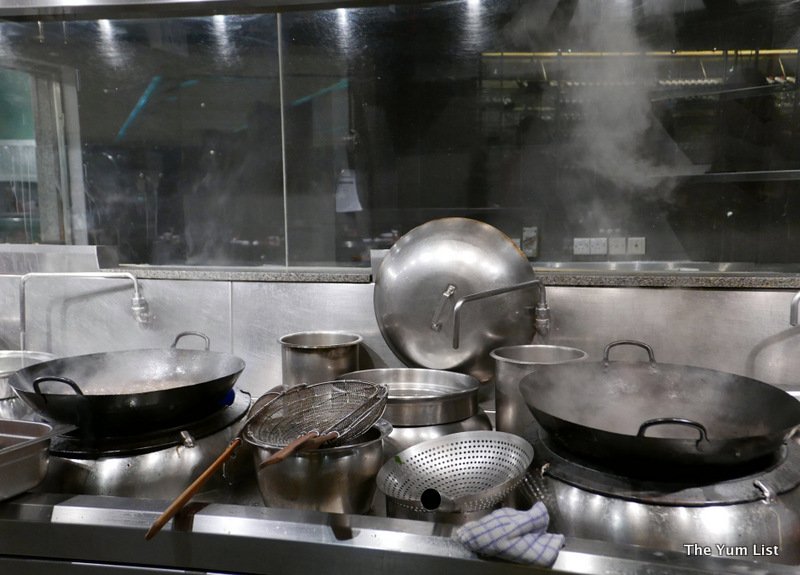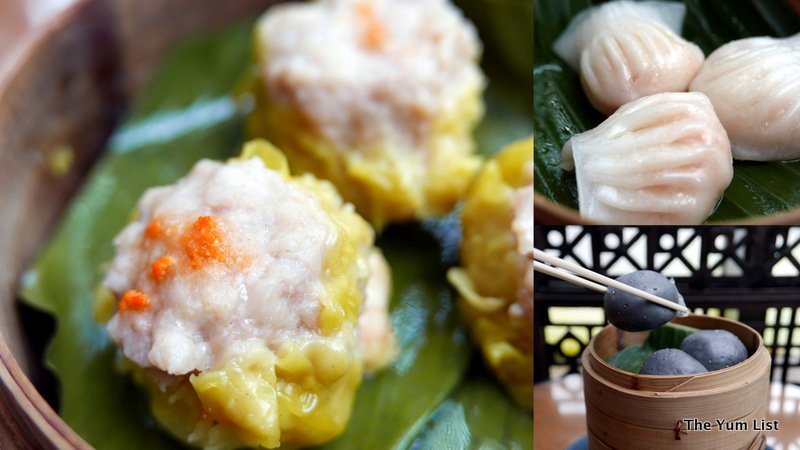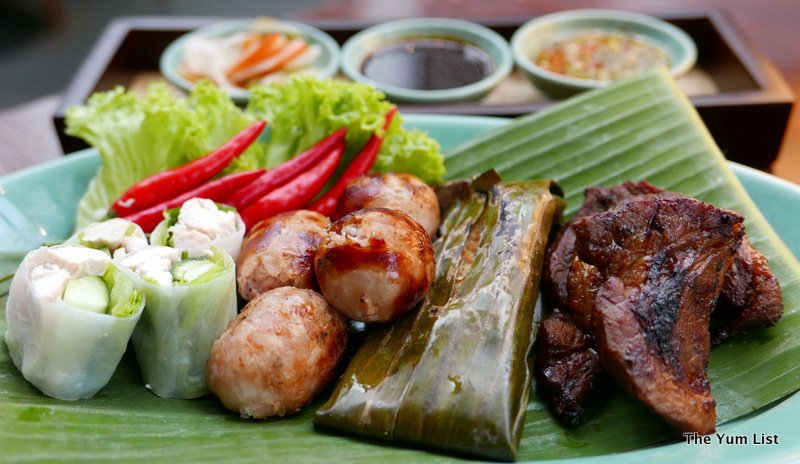 What's known as the Thai kitchen (on regular dining days), is the brunch area for displaying cold cuts and a bounty of vibrant crisp vegetables made into an assortment of salads. And, right next door is the equally fresh seafood counter. Furnishing mounds of seasonal oysters (currently Fine De Claire), Maine lobsters, Scottish brown crabs, Spencer Gulf wild king prawns and much more, this station seems to be the most popular with people lining up from the moment the doors are open.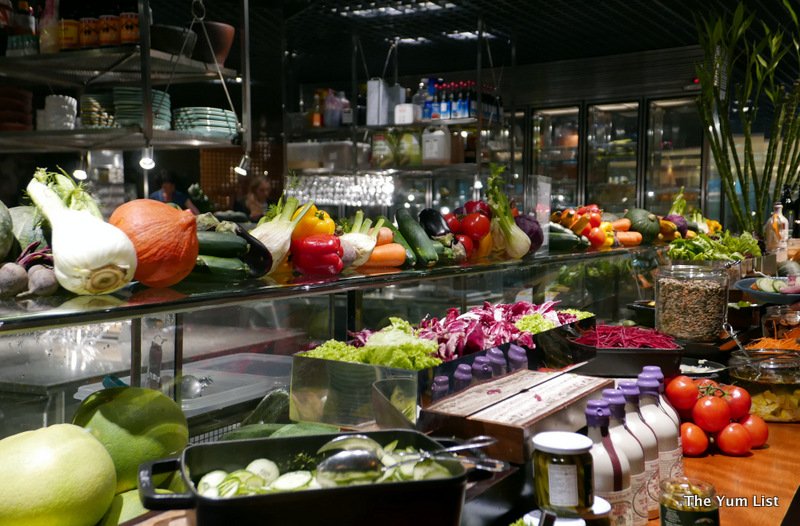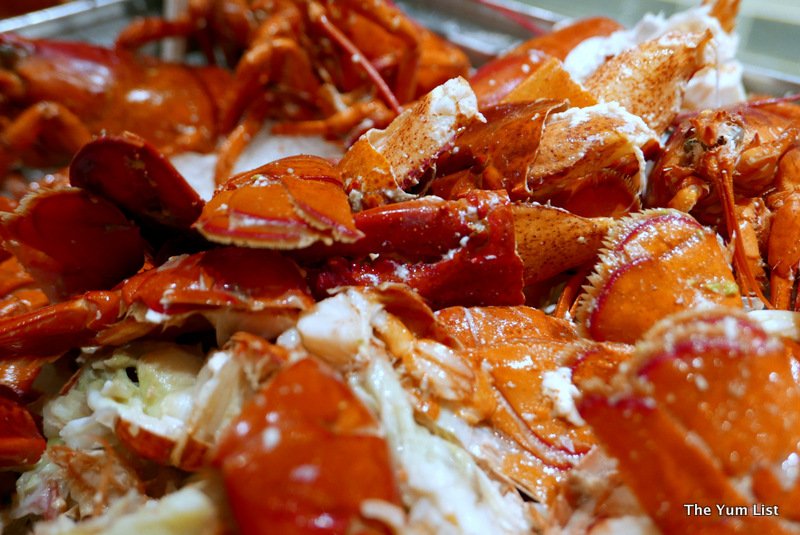 No Sunday brunch would be complete without a grill and roast section, and it's here we find some perfectly prepared examples of German free-range pork leg, grass-fed Tomahawk steak, Kurobuta pork chops and grass-fed charolais beef entrecôte baguette. There's an entire counter too supplying a satisfying line up of veggie dishes such as roasted and steamed veggies, creamed cauliflower and so on.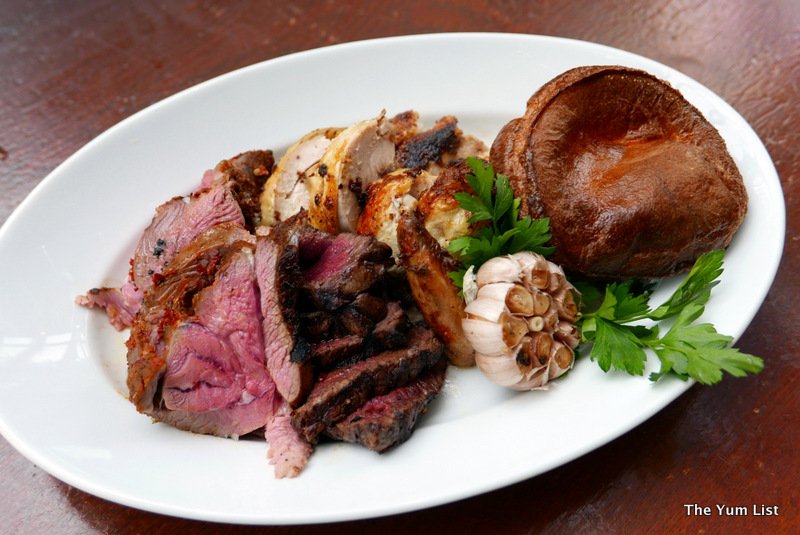 Heading back to where we started, the dessert section, located next to the cheese counter, we find some classics including macarons, bread and butter pudding, and a nitrogen gin fizz made a la minute. House made ice cream is a must-try, with my personal favourite being the dark chocolate.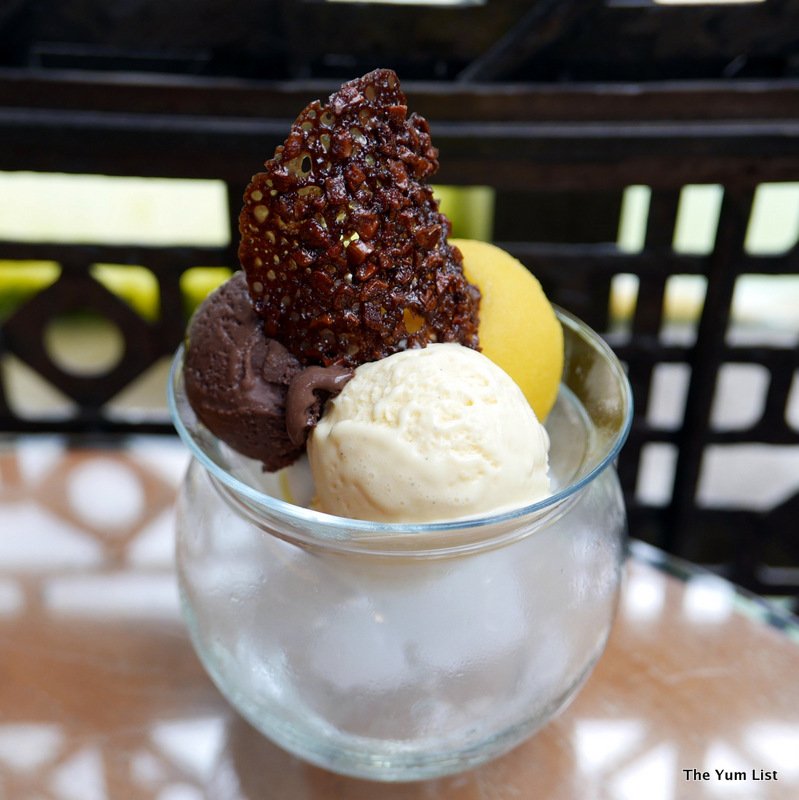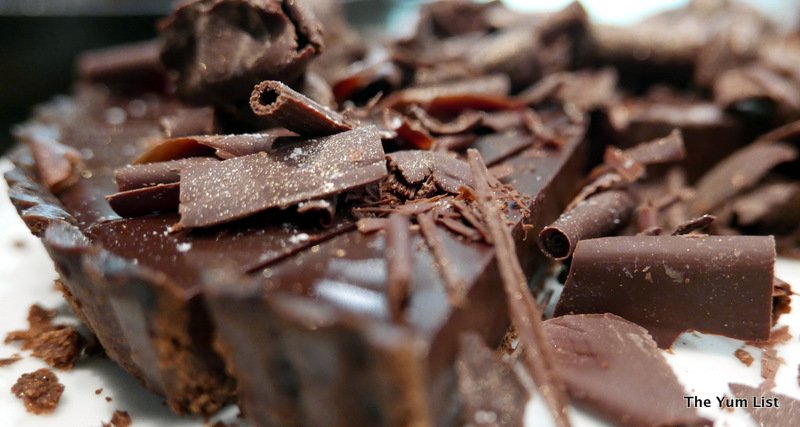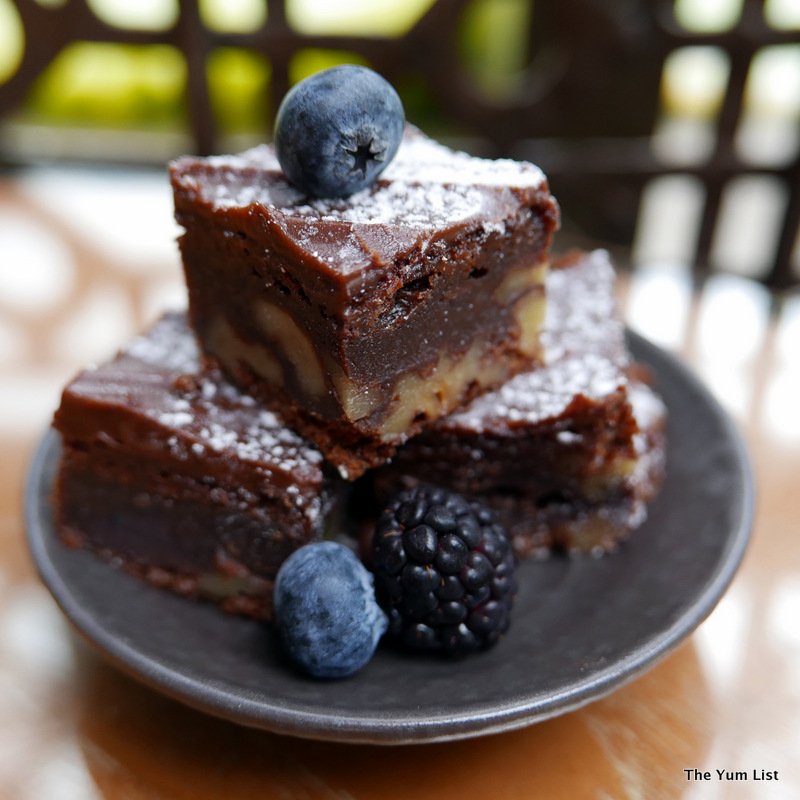 The Champagne has been free flowing, and we've even tasted a cocktail or two, but as we're only here for a short visit, we pull up a seat at the Martini Bar before heading off, to check out why it holds such a highly regarded position in residents' bar list. We're here anyway right – it wouldn't be good journalism if we didn't cover all bases right?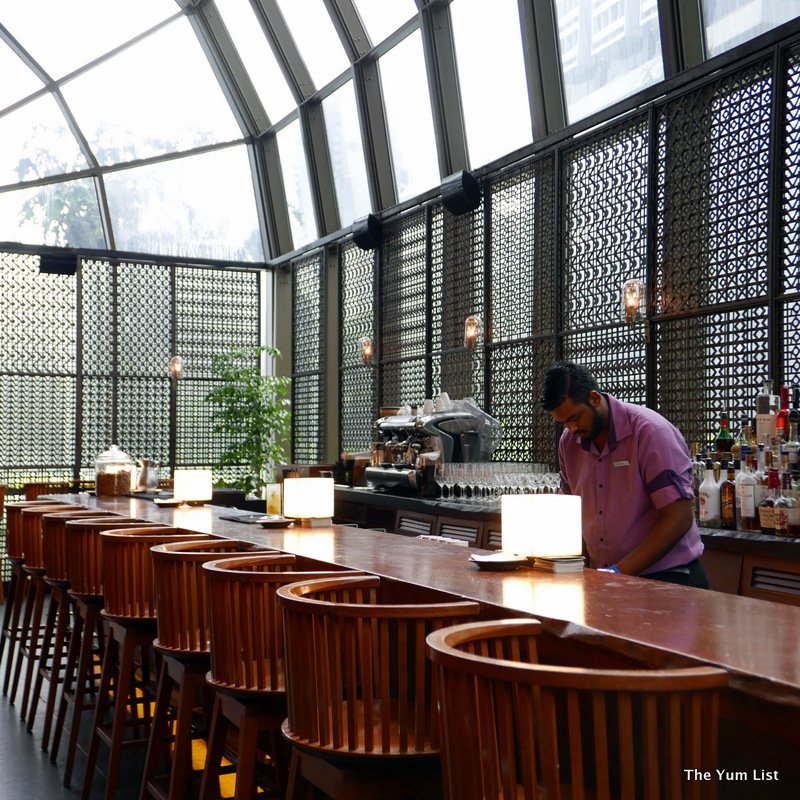 Known for serving the largest collection of martinis in Singapore, the Martini Bar has over 60 recipes on the menu! Happy Hours daily from 4pm – 9pm see great deals of 50% discount on all cocktails, beer and wine by the glass. I try the Belberry ($21, happy hour price – $10.50) made with vodka, muddled raspberries, passionfruit puree, Cointreau, lemon juice and a dash of sugar, and the Espresso Martini ($25, happy hour price – $12.50) with vodka, Kahlua, espresso and sugar syrup. Both are divine! The Belberry has a fresh tartness to it and the caffeine-based beverage would be a welcome replacement to my morning coffee any day. The most popular martinis are the Lychee, with sales of over 1500 a month and the Espresso with sales reaching over 1000 per month. It could be quite a fun mission to try every martini on the menu here. I wonder if anyone ever has? Dena, the bartender, tells me that this is not such a crazy thought (or maybe it's crazy, but not original) as he's had a handful of guests that have fulfilled the mission over a number of days.
Sunday Brunch is served from 11:30am to 3:00pm with the last pour at 2:45pm. The dress code is smart casual with singlets and flip-flops not allowed. Prices start at $128 SGD for food and non-alcoholic drinks, and continue up to $228 SGD inclusive of Perrier-Jouet Belle Epoque Vintage Champagne, wine, beer and selected cocktails with various levels of bubbly priced in between. Most diners during our visit are here for the free flow of Perrier-Jouet Grand Brut Champagne with house wine, selected cocktails and beer for $148 SGD.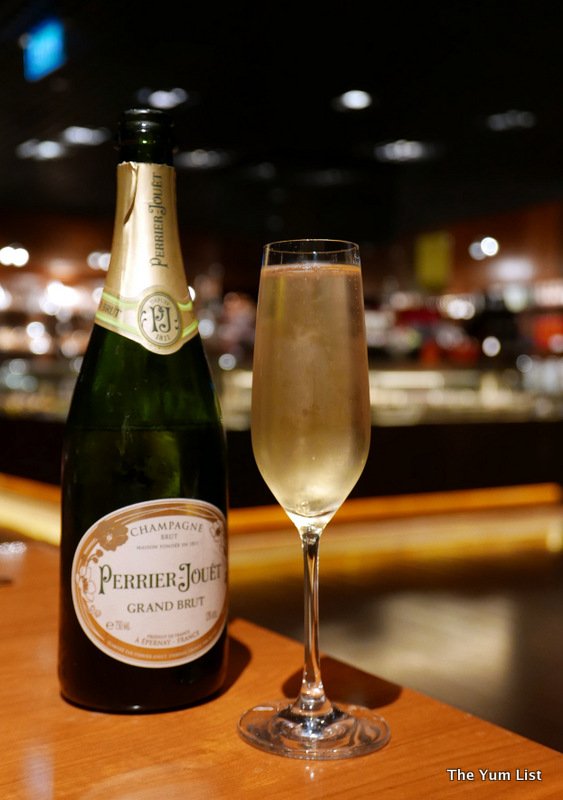 Reasons to visit: incredible range of cuisine from which to choose; tiered pricing so you pay for what you want; excellent efforts in sourcing sustainable produce; cheese lovers should start with the cheese section – you might not go much further!
mezza9
Grand Hyatt Singapore
10 Scotts Road
Singapore, 228211
Republic of Singapore
+65 6732 1234
[email protected]
[email protected]
singapore.grand.hyatt.com
singapore.grand.hyattrestaurants.com