Exciting things are happening at The Majestic Malacca! Celebrity chef Melba Nunis has recently taken over the kitchen, and the hotel's first floor restaurant has been rebranded as Melba at the Mansion.
The first floor vantage point at The Majestic Malacca sees its antique Straits Settlement windows framing the Malacca River and Kampung Morten: an adept setting for indulging in the Kristang cuisine featured on the menu. Chef Melba shares with guests a treasury of family recipes from the lesser-known Malaccan cultural heritage (most restaurants in Malacca are dominated by Peranakan dishes).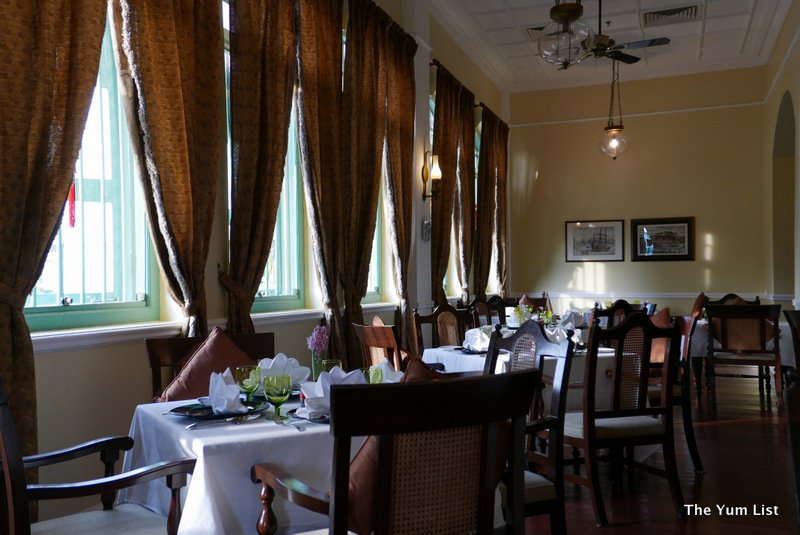 Dating back to the 16th and 17th centuries, when the descendants of Dutch and Portuguese settlers married the local people of Malacca, Kristang cooking is a vibrant mix of east meets west. Even after 500 years, distinctive flavours and cooking techniques from each culture can be discerned. We feel fortunate that chef Melba has lovingly kept the original recipes of her mother – mostly hand scribbled on small bits of paper – and continues to preserve the rich heritage at Melba at The Mansion, The Majestic Malacca.
Needing some guidance, we're happy to have some personal recommendations from the chef recommends. The first suggestion is Cincalok Fretu (RM25) – crispy fried fritters infused with fermented krill – and once they arrive we are sure glad we listened! Not usually a fan of fried food, I even eat a fair share of these little balls of goodness. Aerated and moist, the parcels are soft and spongy and brimming with finely chopped onion and herbs. Yum!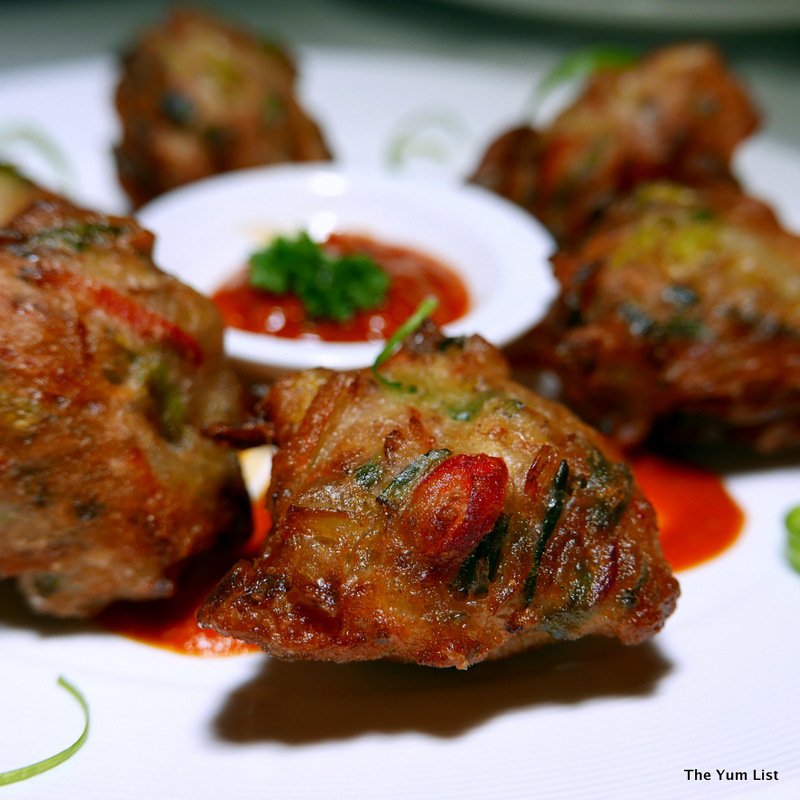 Another house specialty is the Inchimintu Karangezu (RM60) featuring baked crab stuffed with vegetables, chicken and prawns. Two filled shells are presented alongside a delicious pineapple salad, which completes the dish as a flawless companion. Scoop some filling from the crab, top it with a spoon of the spicy fruit salad, and voila, we have ourselves one delicious mouthful.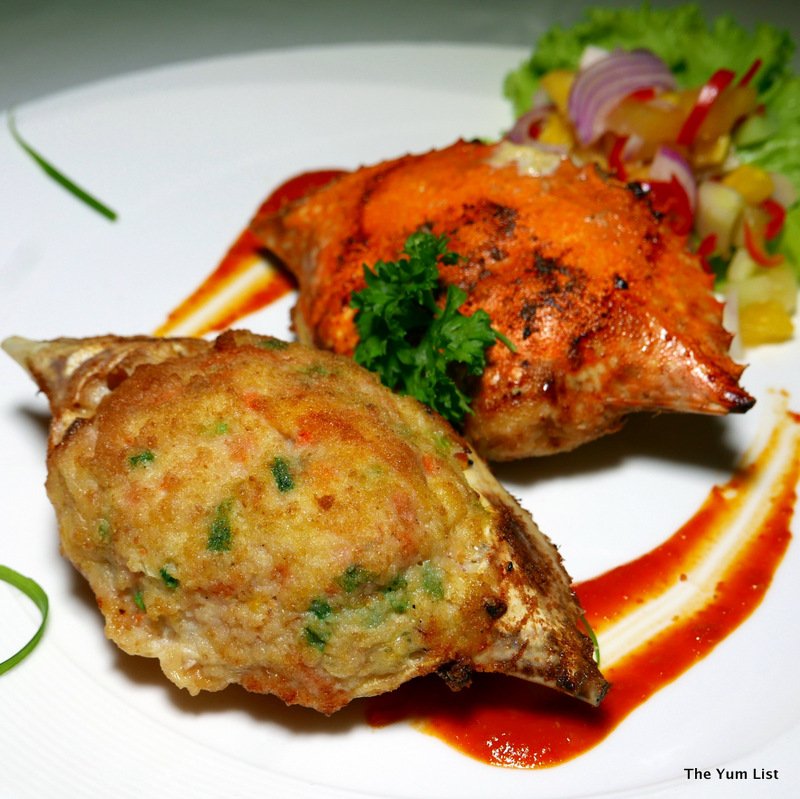 Kaldu Galinhia Kristang (RM25), chicken soup, bridges the starters and the mains. This comforting broth is crammed with diced carrots, potatoes and cubes of chicken. What is it about chicken soup that appears so healing? This, I'm sure, is the perfect antidote to a cold in any culture.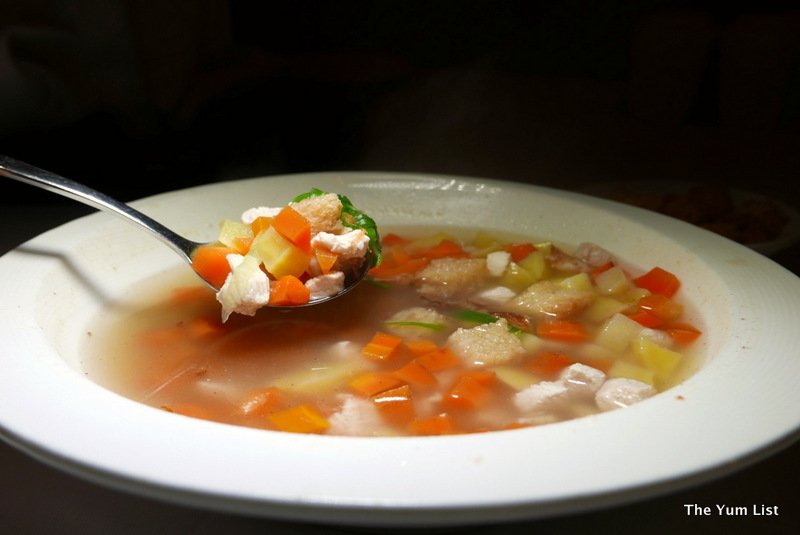 Insistent on having the seabass, hubby continues his requests with the Asa (RM75), a baked fish in aromatic lemongrass and kaffir lime leaf sauce. Even though it's marked with a double chili on the menu, he asks for a non-spicy version (I try not to make the eye roll so obvious, but well, you understand). Chef is kind enough to oblige and serves the baked fish with a mountain of sauce on the side. It gets a big thumbs-up, and the Latino rambles its praises in a verbal barrage of commendations (even though he misses the highlight, the actual sauce!).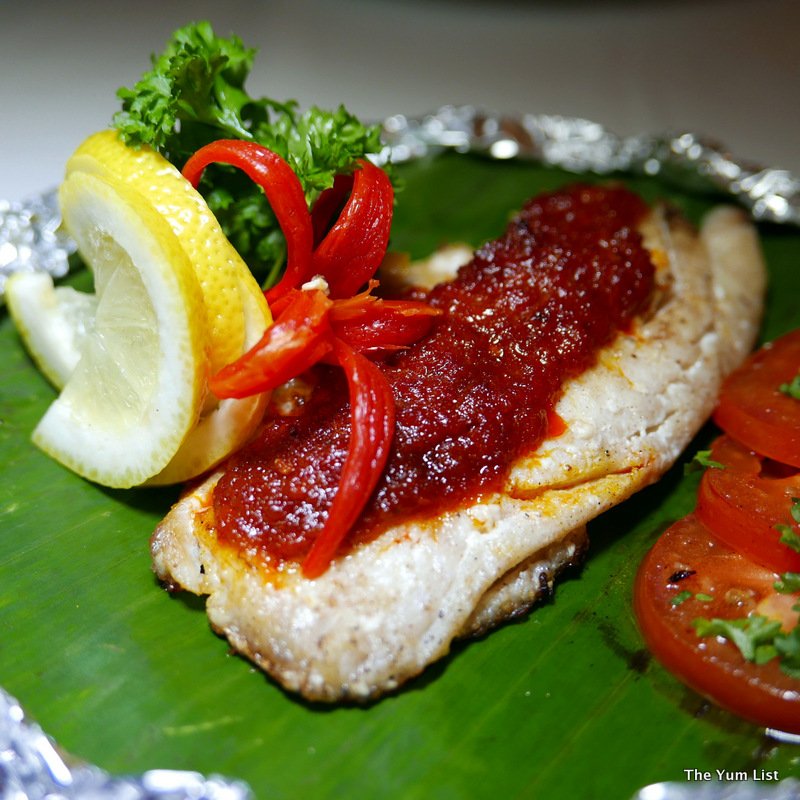 Wok fried French beans, Kachang (RM35) side the fish, and with their accompanying ingredients of taukwa (tofu), carrots and egg, might also be considered a dish in themselves. They're crisp, just how we like them, and in no way lose credibility as a mere side dish.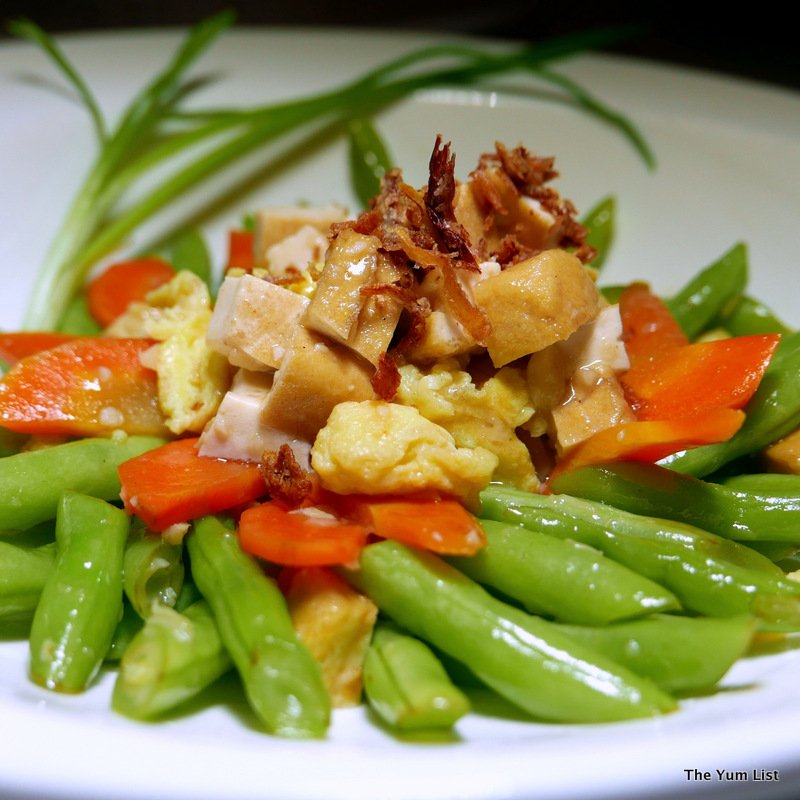 Although we're more than satiated, chef notes my desire to get a further taste of Kristang specialties and offers me a sampling of the Kari Keluak, which is braised chicken and nutty black keluak in a fragrant curry. The highlight, the rich oily keluak nut native to South East Asia, is an acquired taste. Poisonous if eaten in their raw form, the nuts go through various processes of fermentation, soaking and cooking to leach them of any harmful substances. The curry is powerful in flavour and reminds me of the infamous Taiwanese stinky tofu. A long slender spoon is provided as a tool to ladle out the insides of the nut. I find the curry too pungent for my personal tastes and imagine that the reaction to this dish is similar to that of durian – you either love it, or not. Scooping the paste directly out of the nuts, I find the flavours more palatable, and liken it to a black olive paste.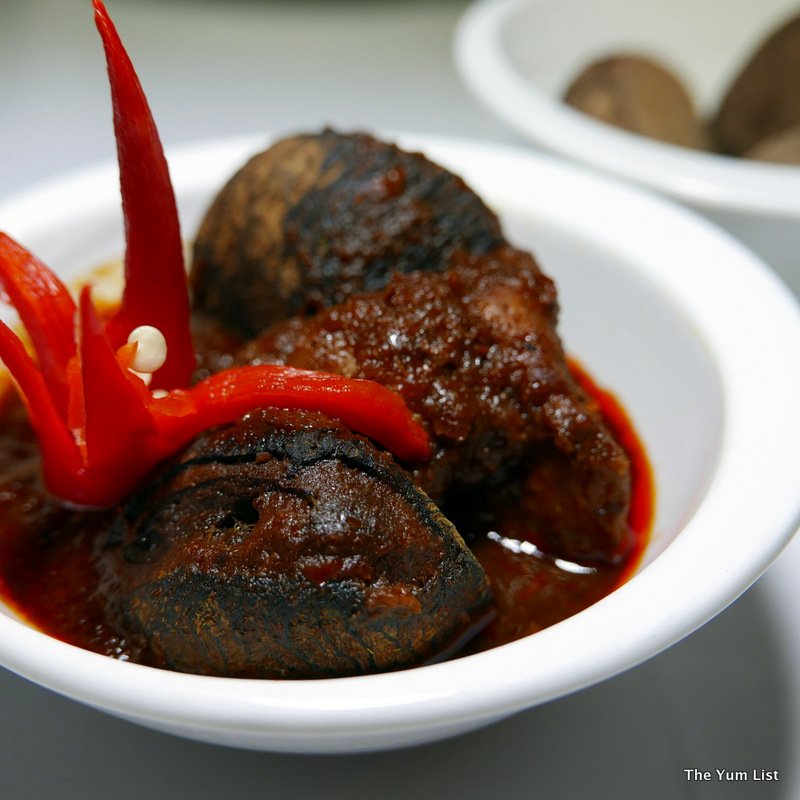 There are a few things we are rather fond of in food in this region and two of them are coconut and palm sugar, so it's no surprise that our chosen desserts have both.
Sagu Kung Sukri Malaka (RM25) sees a round of sago pearls dunked in a martini glass of rich creamy coconut milk. The cone base is filled with melted palm sugar to be mixed in to our own liking – in hubby's case, every last drop. It is indeed a luscious ending.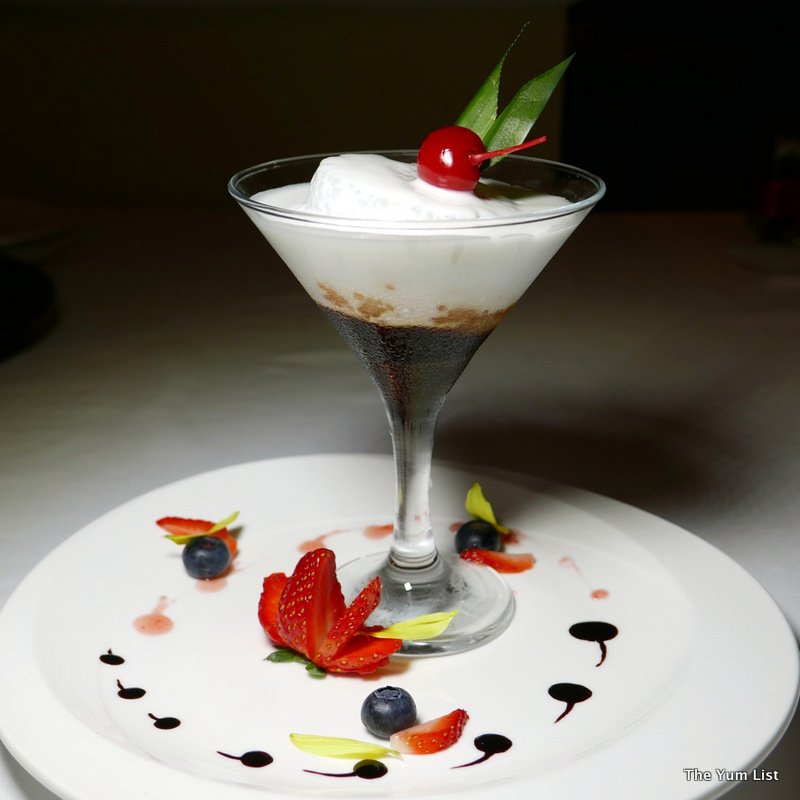 Pulut Kung Kaya (RM25) is a beautiful marbled blue hue thanks to the infusion of bunga telang (butterfly pea) in the glutinous rice. House made coconut jam (kaya) is a superb trimming.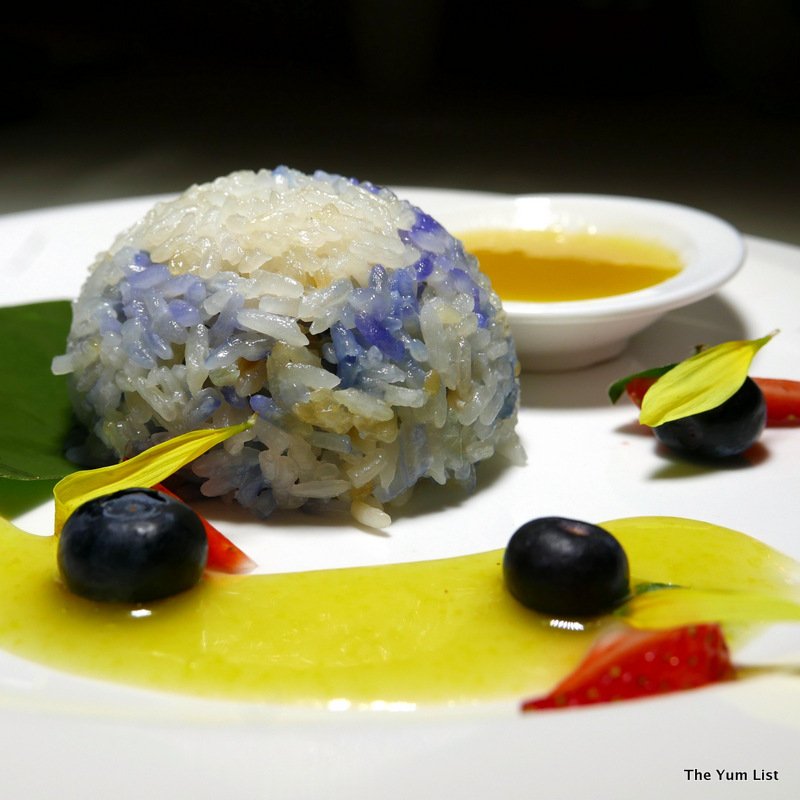 We've seen a happy expansion of our taste buds tonight, and think Melba at The Mansion a fine opportunity to sample Kristang cuisine. Leaving you with the words of chef Melba herself, "Kumi Nang Bergonya!" Eat, don't be shy!
Reasons to visit: a fine opportunity to try authentic Kristang cuisine; don't miss the Cincalok Fretu, Asa, Kachang and Sagu Kung Sukri Malaka.
Melba at The Mansion
The Majestic Malacca
188 Jalan Bunga Raya
75100 Melaka, Malaysia
+6 06 289 8000
[email protected]
www.majesticmalacca.com
Open daily 12pm – 3pm
7pm – 10:30pm