Words: Katrina de Laszlo    Photos: Monica Tindall
The fun starts as soon as you enter the lift on the ground floor of Menara 3 Petronas. A quick trip and you reach the Sky Lobby where you are then guided to the next lift, which literally takes you all the way up into the sky on the 56th floor. It beggars belief that one can travel that high that quickly in an elevator! This was my first visit to Nobu Kuala Lumpur and, I have to say, in fact, I am pleased to say, that my assumption of what it would be like was totally incorrect. I was expecting a snooty, slightly pretentious fine-dining restaurant where I would probably feel out of place. After all, I come from London and Nobu in London is the hang out of the rich and famous; the 'go-to' place for A to Z-list celebrities, especially those hoping to be papped by the press on their way in. Well, I am glad to say that I was completely and utterly wrong! I was immediately struck by the extremely welcoming and friendly staff and the overall casual nature of the entire restaurant. If you are familiar with Japanese dining you may be accustomed to the chefs and staff shouting "Irrashaimase" at you as you enter. This is a traditional greeting meaning "enter, welcome, come in". This blast of a greeting put me at ease and was symbolic of how the restaurant views itself; relaxed, friendly, respectful.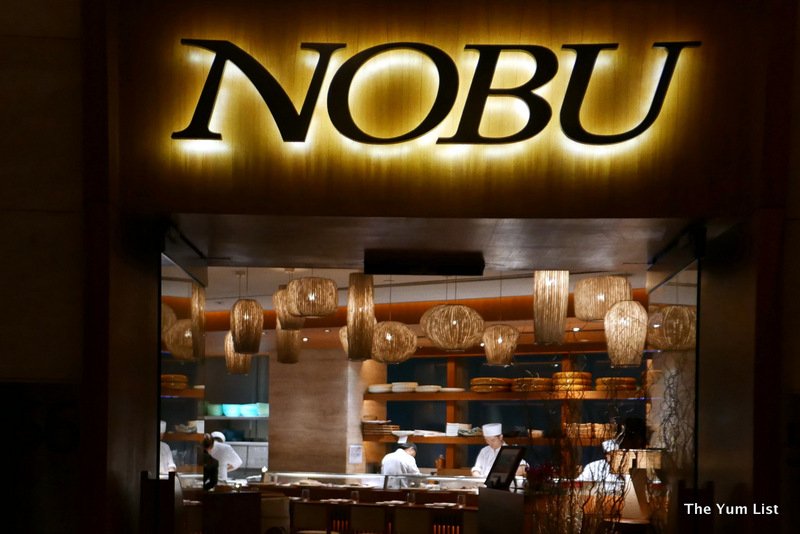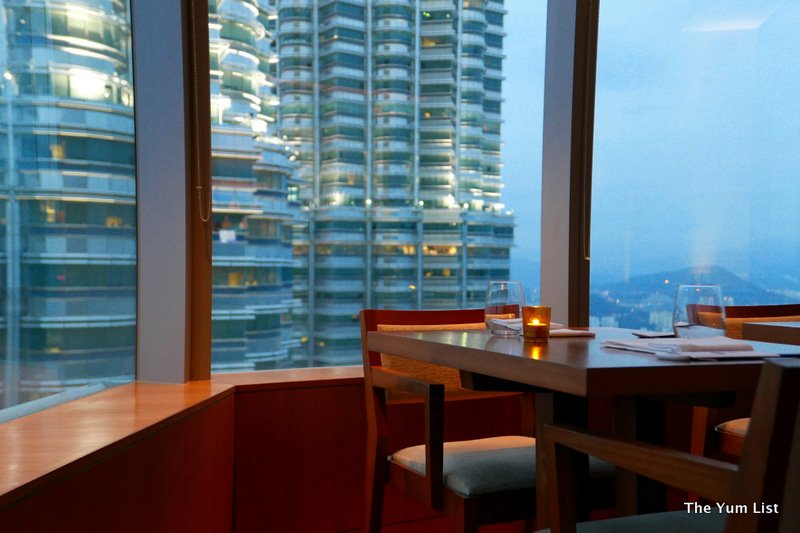 Before I get onto the purpose of this review, which is of course to tell you about the scrumptious Valentine's menu, I must mention the view. The view. That view. What a view. Wow. I was practically spitting distance from the world-renowned Twin Towers, but I was 56 floors up! As I wandered through the restaurant, I took in the sights of the now familiar Kuala Lumpur and felt so lucky to be enjoying it without being pushed and shoved by other tourists, as I have been when at other tall attractions in the city.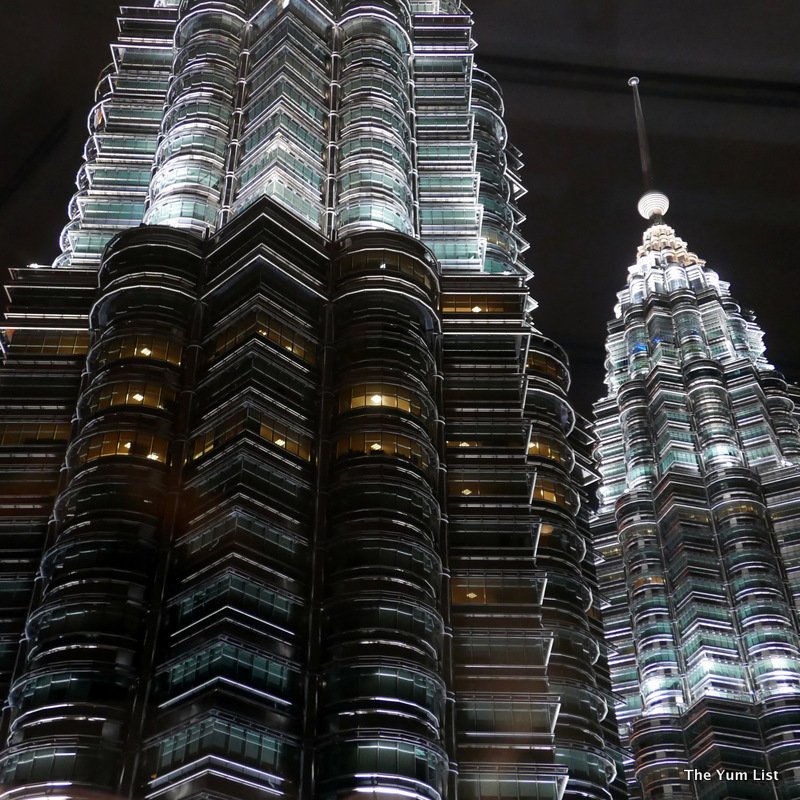 It's time to get down to business and tell you about the special seven-course Omakase Valentine's Day menu that executive chef Philip Leong has put together for the romantics in town. It might be your first date, maybe even a blind date, or perhaps you are celebrating many years together having successfully navigated the ups and downs of relationships. Romantic relationship, friendship, going solo, it really doesn't matter; whoever you are and whatever the circumstances that bring you to Nobu during Valentine's week, you will be equally impressed by the culinary journey that is on offer and hopefully everyone can enjoy the subtle romantic theme present throughout.
The bartender greeted us with the special Valentine's Day cocktail 'Bitter My Lip' – a delectable concoction based on dark rum which has been infused with coffee beans, Angostura bitters, lemongrass, maraschino cherries and is mixed with lemon, lime, sugar and orange peel. Complex flavours come together in a deceivingly simple looking cocktail. The best aspect of 'Bitter My Lip' was that the different flavours became apparent before, during and after each sip – the aftertaste being very obviously grounded in coffee and lemongrass.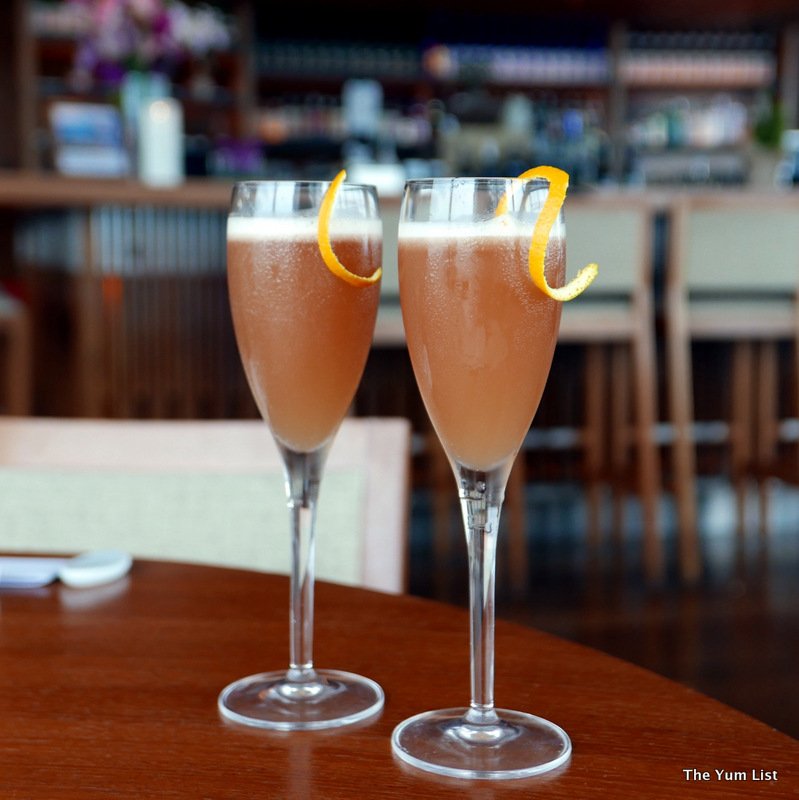 To describe the seven-course meal as a journey would be entirely accurate. We were clearly being guided by flavours, textures and ingredients. The menu started on an absolute high with Salmon Confit Dry Miso. The bite size piece of salmon had been slow cooked at 50 degrees for 45 minutes. It is remarkably difficult to accurately describe just how incredible this small morsel of pink fish actually is. The slow cooking at such a low temperature had turned it into the texture of marshmallow; soft, velvety, melt in the mouth. Monica and I both wanted more, but sadly this was not to be! We did, however, manage to enjoy the moment while it lasted and appreciated the variety of textures on the plate from the dry and crunchy miso crumbs, to the peeled apple garnish and cherry tomato marinated in amazu sauce, ending with the green and red jalapeño sauces. Even more delicious than it was attractive, the first course was a winner for both Monica and myself.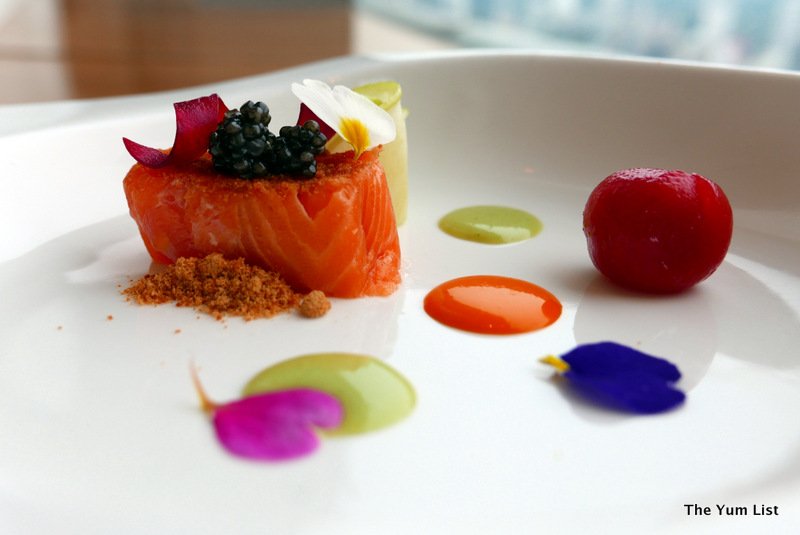 Our taste buds had been awakened and we were ready for more. The second course was a rather fun sushi dish, Cyakin Sushi, which came in the form of a gift wrapped parcel. Aside from the red ribbon, everything was edible and it was quite possibly the most delicious sushi I have ever tasted; a combination of unagi, shrimp, yellowtail and tuna atop a neat pile of perfectly prepared sushi rice. The 'gift wrap' was egg skin and tasted best with a little soy sauce for moisture.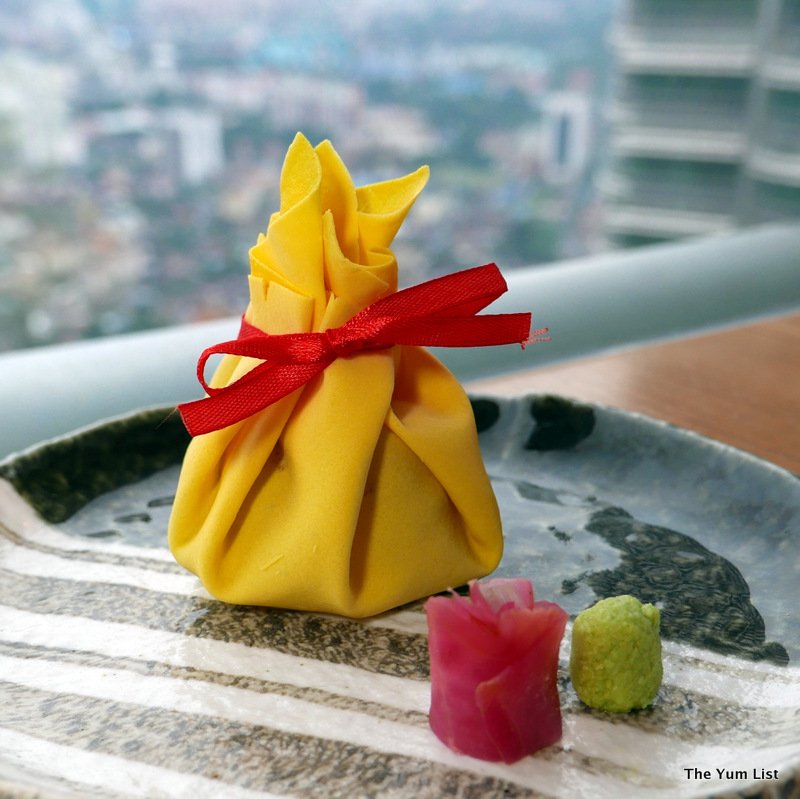 The most romantically presented course was the third, Scallop with Garden Salad. An extraordinary combination of flavours that worked surprisingly well, ranging from the sweet mango and raspberry jellied hearts to the fresh and slightly bitter taste of the baby spinach. The centre of the dish was the scallop, which was beautifully presented as a flower. It had been marinated with purple carrots, which gave it an interesting colour and a slightly surprising flavour. The yuzu dressing helped to liven up the delicate taste of the scallop and the variety of textures coming from the chestnut crumbs, radish and frisée lettuce combined to make a successful and extremely pretty third course.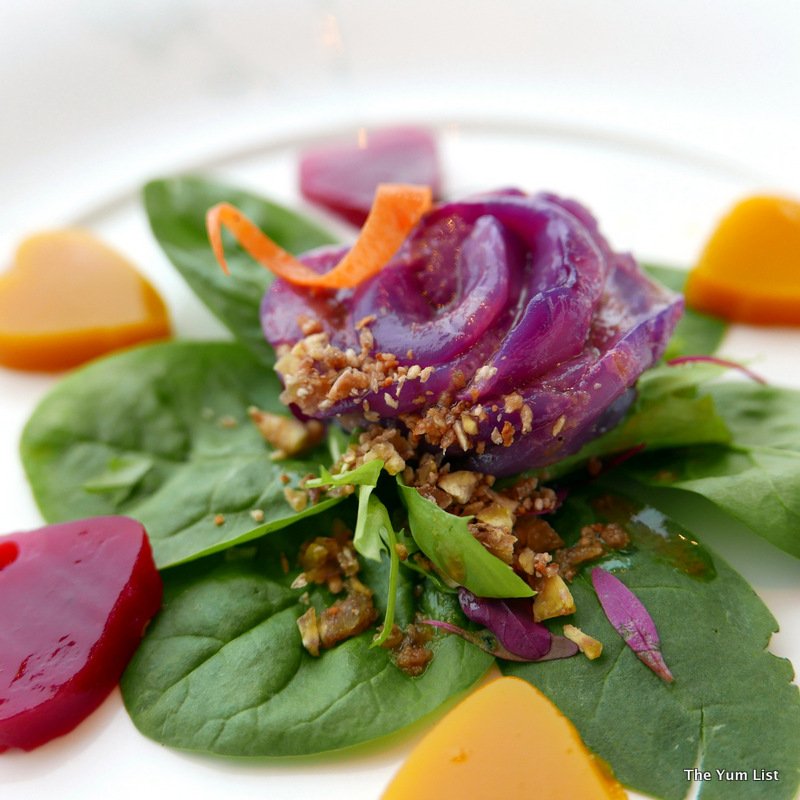 Course four, Soft Shell Prawn Karaage, saw the dial on flavour intensity turn up a notch and the first warm dish of the meal. The soft shell prawns had been deep fried without batter and were served with a beautifully flavourful and powerful yuzu egg sauce and ikura. At this point, it would be relevant to mention the portion sizes. It must be difficult to provide seven courses to customers and expect everyone to be happy with the portion size but I feel that Nobu gets it practically spot on. For those with eyes too big for their stomachs (i.e. me) the portions are perfect. They look big, but the food is light enough that you certainly don't start to get that heavy feeling in your stomach at any point, not even after the full seven courses. It helps, of course, to not have had a big lunch beforehand!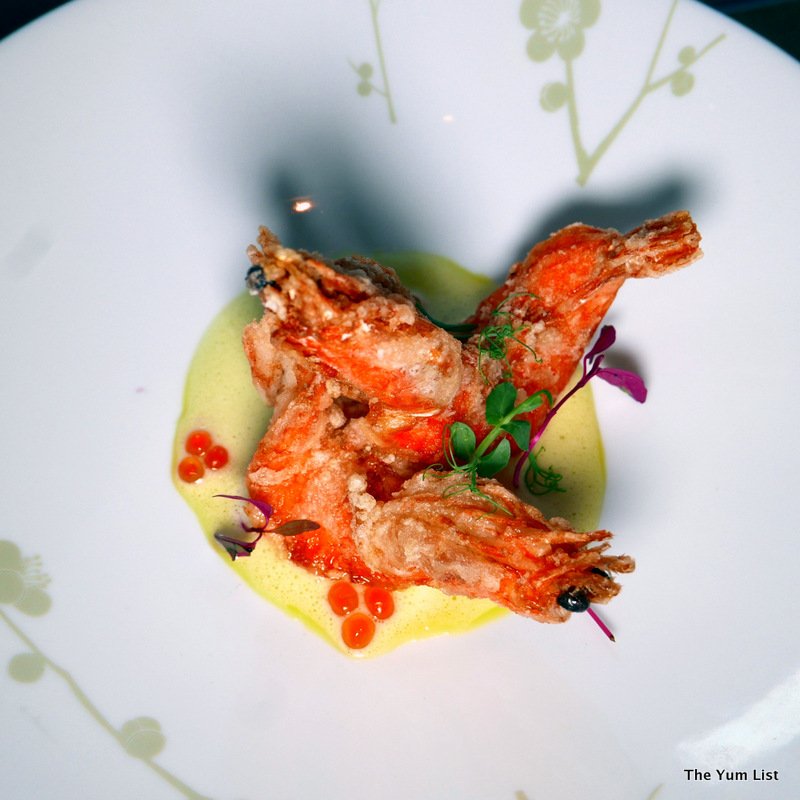 The fifth course was, in my opinion, an equal first place with the first course. Stop number five on our food journey was Wood Oven Roasted Quail served with pea puree, yuzu and wasabi truffle sauce, par boiled carrots and baby sweet corn. Colourful and neatly presented, it tasted absolutely as good as it looked.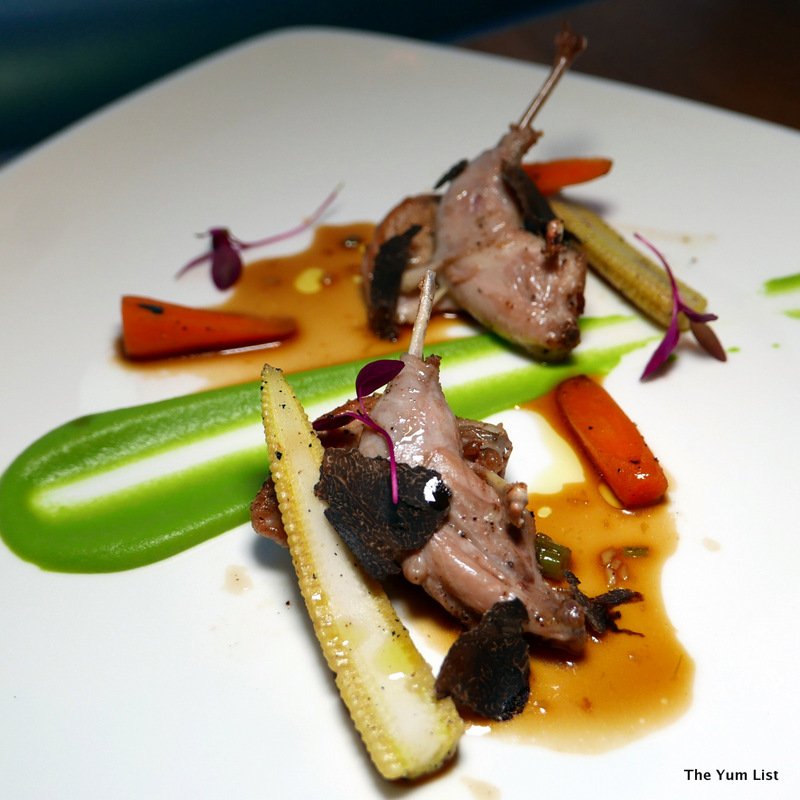 The sixth course was the most contentious as far as I was concerned, Watercress Soup with Lobster. The broth smelt utterly divine with the aromas of the lobster puree and lobster oil taking me on an imaginary journey to the Cornish seaside with fishermen bringing in their freshly caught lobsters. The lobster meat in the soup was delightful and extremely tender. The challenge for me was the bitterness of the watercress. Perhaps it was such a contrast to all of the previous courses that my taste buds were given a small shock, or maybe it is my untrained Western palate that does not have the required familiar relationship with such bitter dishes. Either way, this course will likely be most people's heaven but the watercress didn't quite work for me.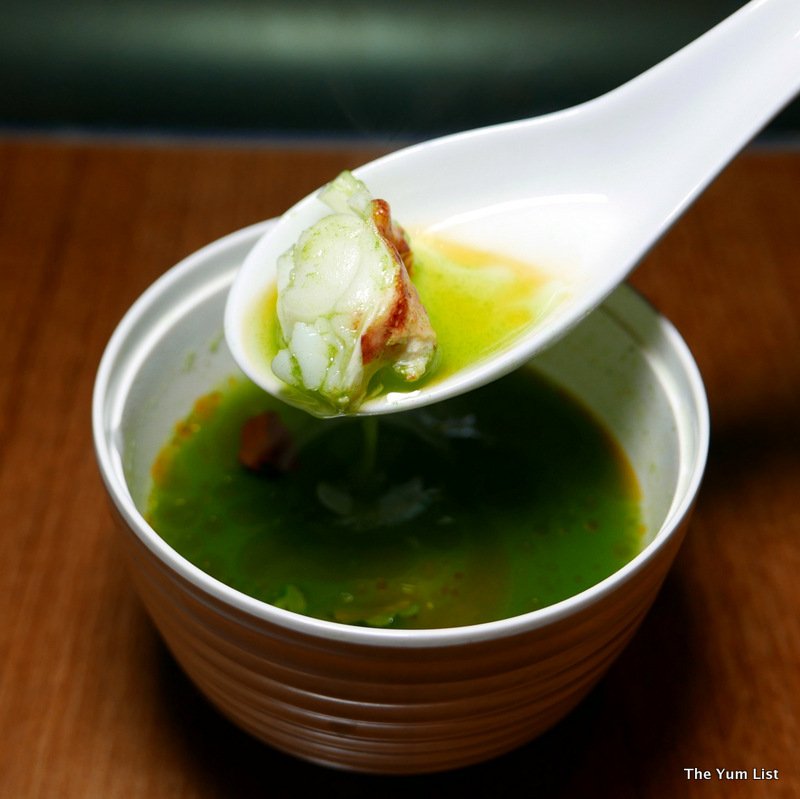 At this point in my reviews I usually say something along the lines of "…and as full as we were, we had just enough room for dessert." Well, I am pleased to say that this time, I didn't have to 'make room' or begrudgingly try yet another dish. I was perfectly satiated and had the appropriate amount of room in my stomach for the seventh and final course, Raspberry Hazelnut Mousse with Almond Sponge and Sakura Ice Cream. What a fabulous combination of flavours and textures. It was like my dream dessert, a little bit of everything that took my fancy on the menu! The raspberry sauce hearts were a final reminder that this was indeed the Valentine's menu and with that, the meal ended on a real high.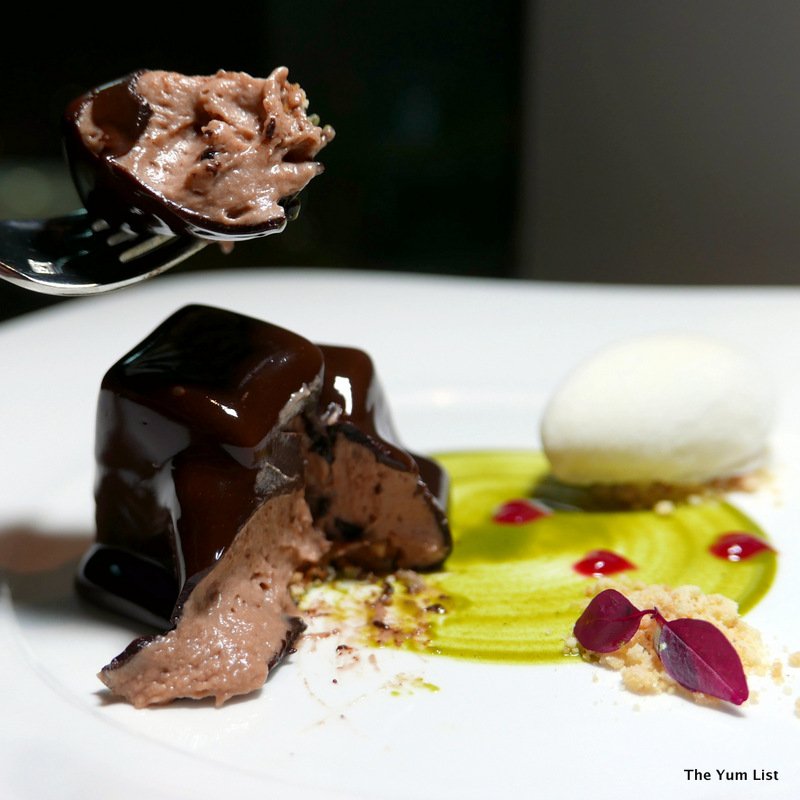 Aside from the beautiful and interesting flavours that we experienced from the Valentine's Day menu, one of the triumphs of this meal is that it does not leave you heavy and laden down with food. And this is most appropriate for what may be many people's 'date night' where they want to carry on enjoying each other's company by moving on to a bar or a dance floor somewhere else in KL. The venue is ideal for a romantic dinner; the excellent acoustics give each table a sense of intimacy and privacy, and the well-informed staff are helpful yet unobtrusive. The Valentine's menu will be available from February 14th until the end of the week so even if you don't fancy heading out on the actual day, it would be equally appropriate to enjoy these seven courses with friends or family on another evening next week.
Reasons to visit: The laid-back nature of this excellent restaurant, the view, and without a doubt, the bite-sized piece of slow cooked salmon from the first course.
The Valentine's Day Omakase special is priced at RM498++ per person with the premium truffle option at RM598++ per person, which also includes a glass of sparkling wine or Bitter My Lip cocktail.
Nobu Kuala Lumpur
Level 56 Menara 3 Petronas
Persiaran KLCC
Kuala Lumpur 50088
Malaysia
www.noburestaurants.com/kuala-lumpur
Phone: +60 (0) 3 2164 5084
Whatsapp +60 (0) 1 9389 5085.