Words: Monica Larrieu     Photos: Monica Tindall
Named after the wildly popular Kelis song from the early 2000s, "Milkshake," The Yard is a small "mom and pop" shop, owned by Nazri Adam, that offers a variety of luscious milkshakes and a selection of classic British-style pies that draw all the boys (and girls, and adults, and nearly everyone) to The Yard.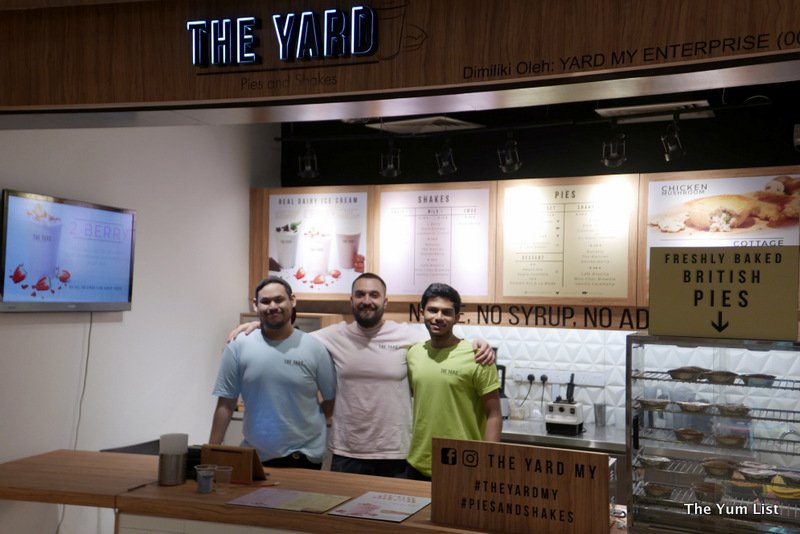 Conveniently located in the food hall on the lower level concourse of The Intermark Mall, one can indulge in a sweet and salty lunch combo during the business lunch rush, or stop by for a snack after grocery shopping at Jaya, or simply plan a specific visit just to savor these particular treats.
Not a combination I would have thought of myself, but, for some reason, shakes and pies can actually work together. The Yard offers homemade ingredients (such as homemade peanut butter, slow-pressed apple juice, or locally produced sea salt), as well as healthier options (such as low-fat milk), and even vegetarian alternatives (like a meat-free pie or dairy-free fruitshake).
Monica T. and I started with a selection of The Yard's most popular shakes. The shake menu offers three kinds of beverages: Milkshakes, Smoo's and Fruitshakes (a smoo is a layered combination of a milkshake and a fruitshake). First up was my personal favorite, the Mint Choc Brownie milkshake (RM 16.90), made with a snappy mint chocolate chip ice cream, blended with an actual fudgy brownie, whose little chunks you slurp up through your straw. Monica T.'s favorite was a slightly healthier option, the Banutty (RM 15.90), made with vanilla ice cream, blended with frozen banana and a smooth tasting homemade peanut butter. The fruitshakes are the healthiest, non-dairy, no-sugar-added beverages on the menu, made solely from blended fruit and fresh slow-pressed apple juice. We sampled the refreshing and lighter mango fruitshake (RM 14.90) that consisted of blended mangos and homemade apple juice. But we were not finished with the drinks, as we were handed yet another – The Superberry Smoo (RM 19.90), a hybrid of the Two Berry milkshake and the Mixed Berry fruitshake (strawberries, raspberries, and if in season, also blueberries). The portions of the shakes are reasonable and fulfilling, not too sweet, and, thank goodness, not oversized like some milkshakes.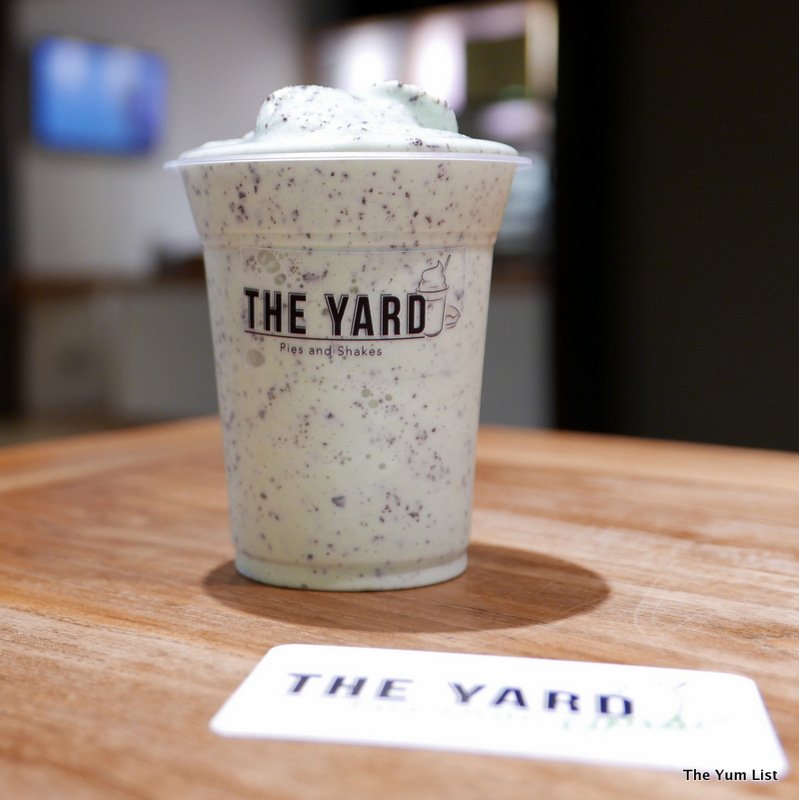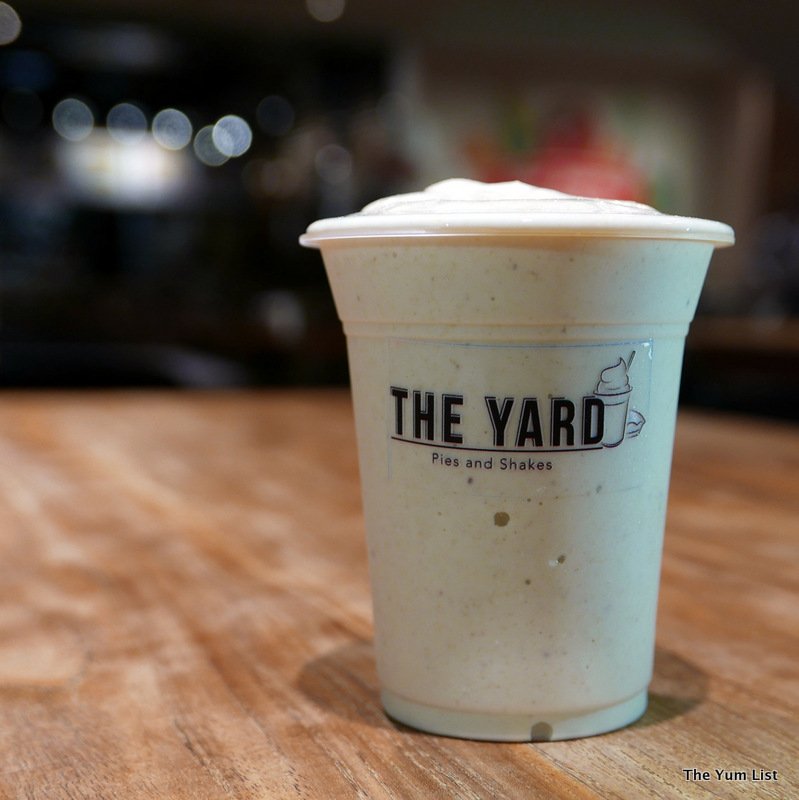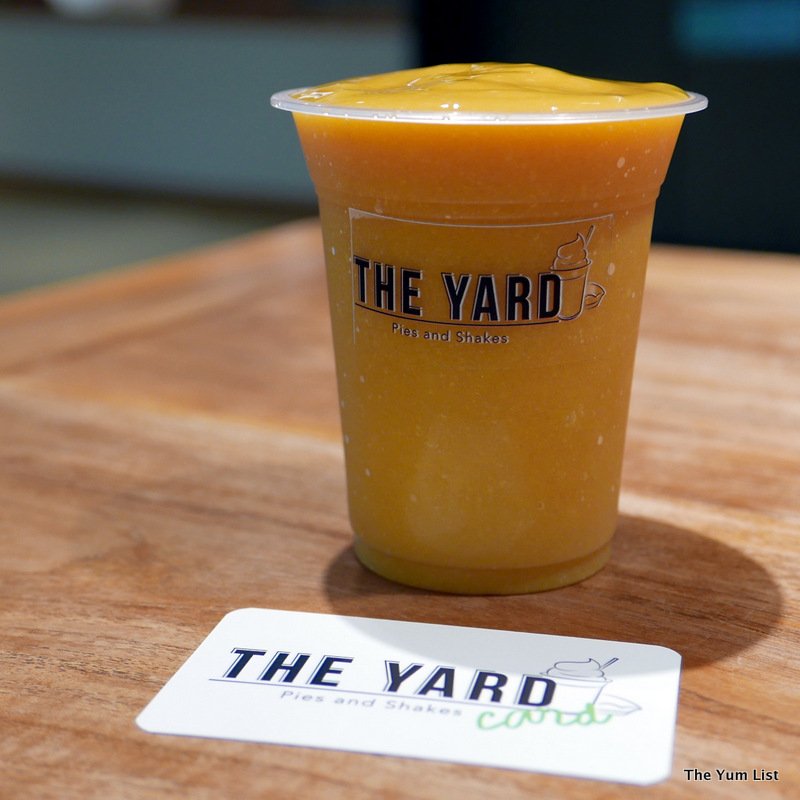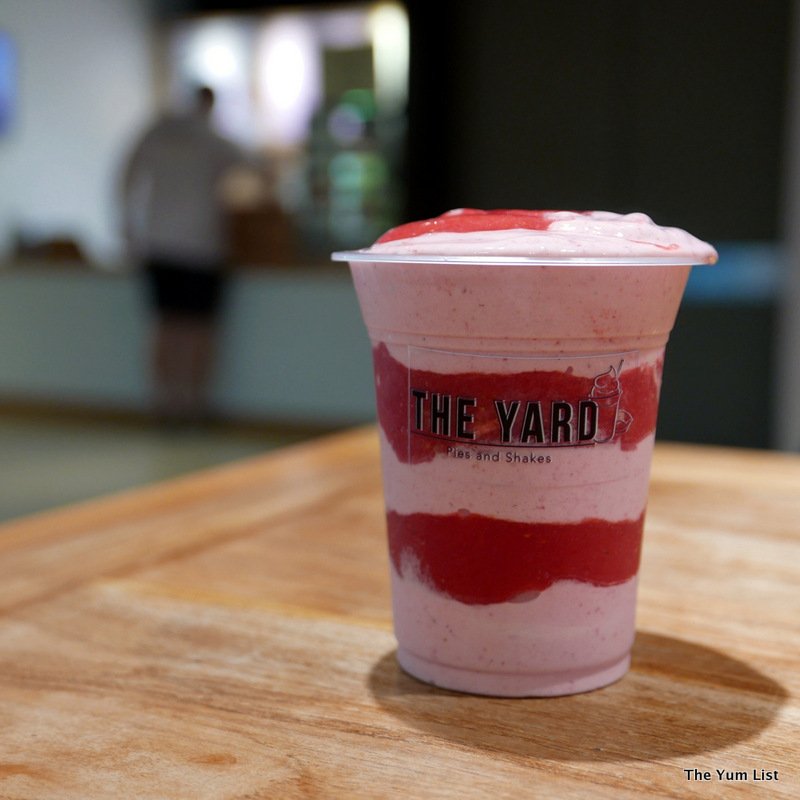 The Yard also offers four variations of British pies (RM 8.90 single, RM 12.90 set), all made from scratch by Nazri's mum using her own personal recipes. We sampled all four: Chicken Leek, Chicken Mushroom, Cottage, and Cheesy Broccoli and Cauliflower (the vegetarian option). Although all were scrumptious, the Chicken Leek pie topped my list with its creamy roux, succulent chicken and fresh subtle-tasting leeks, all enveloped by a homemade buttery shortcrust pastry. Until now, I thought Cottage Pie was the same as Shepard's Pie, but quickly learned that the difference lies in the type of meat used. This tasty Cottage Pie was made of minced Australian beef, mashed potatoes, and topped with melted cheddar cheese. The Cheesy Broccoli and Cauliflower pie was a great vegetarian option.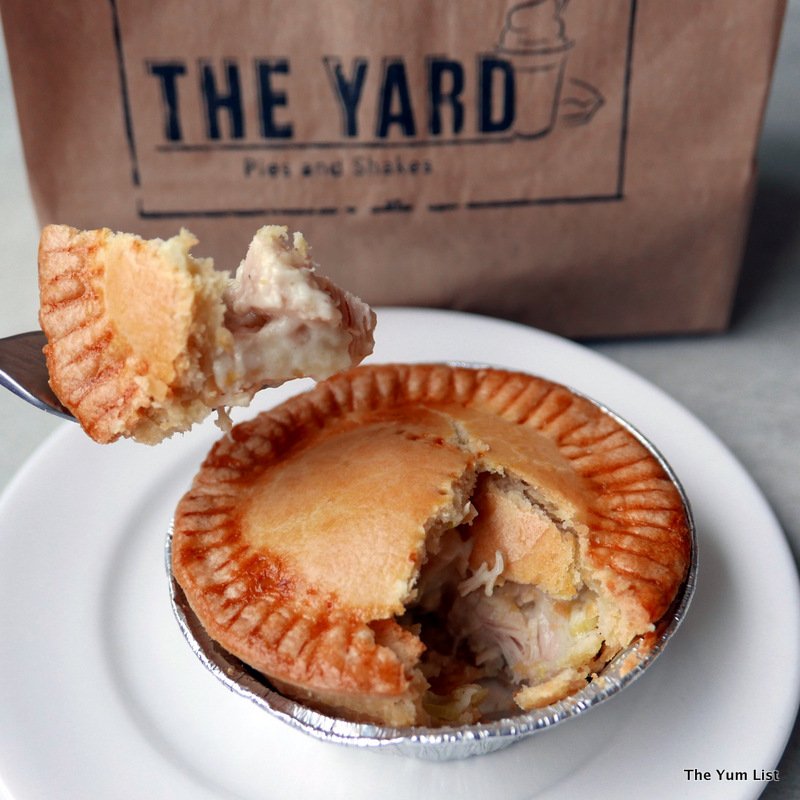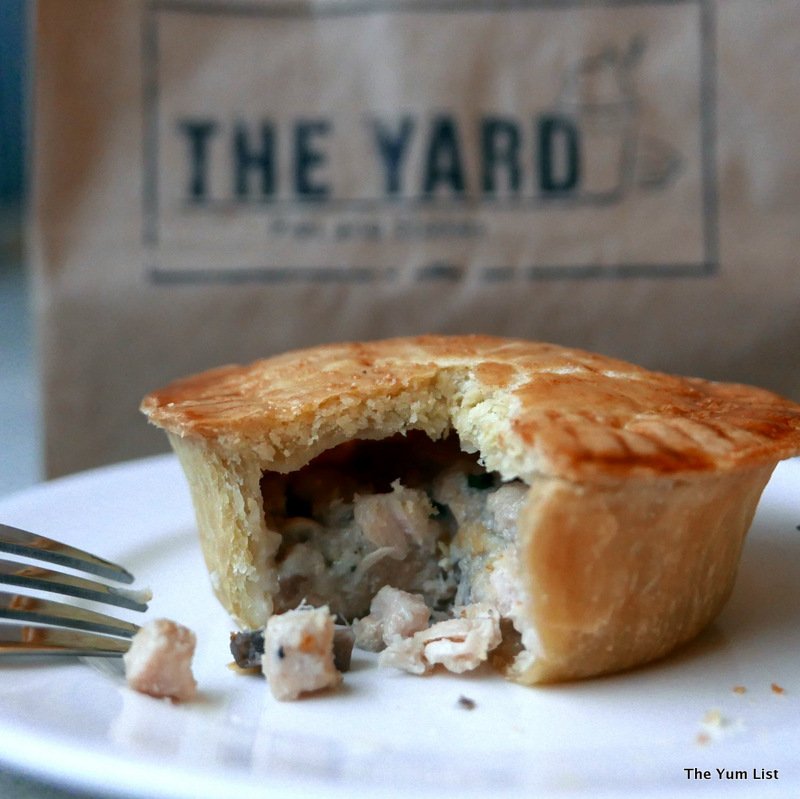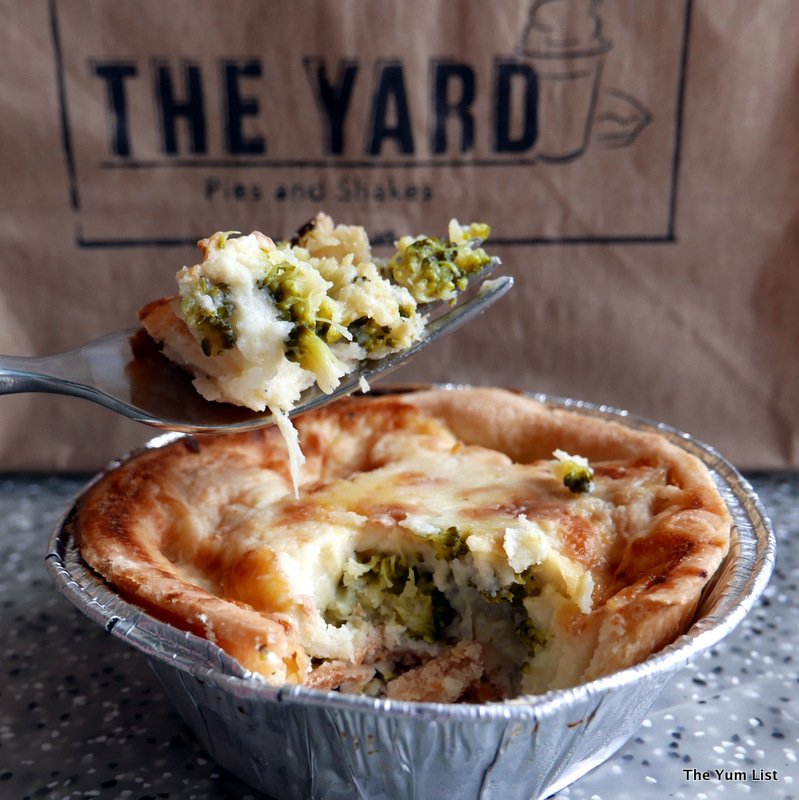 As if the shakes and pies were not enough, the menu also offers apple pies and apple crumble for dessert. Both melted in my mouth, but I have to admit that the buttery crumble really stood out for me.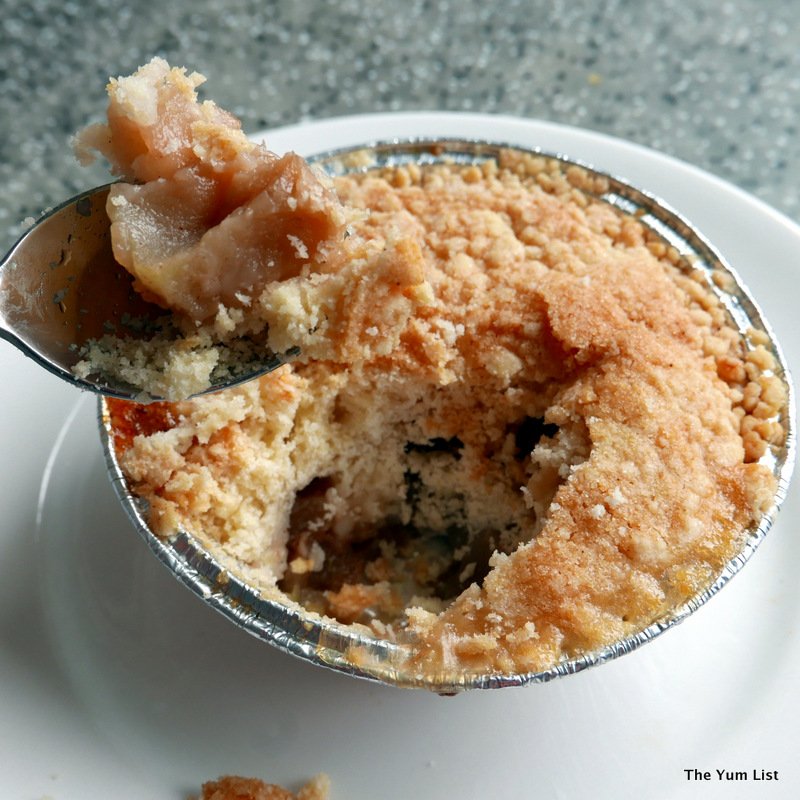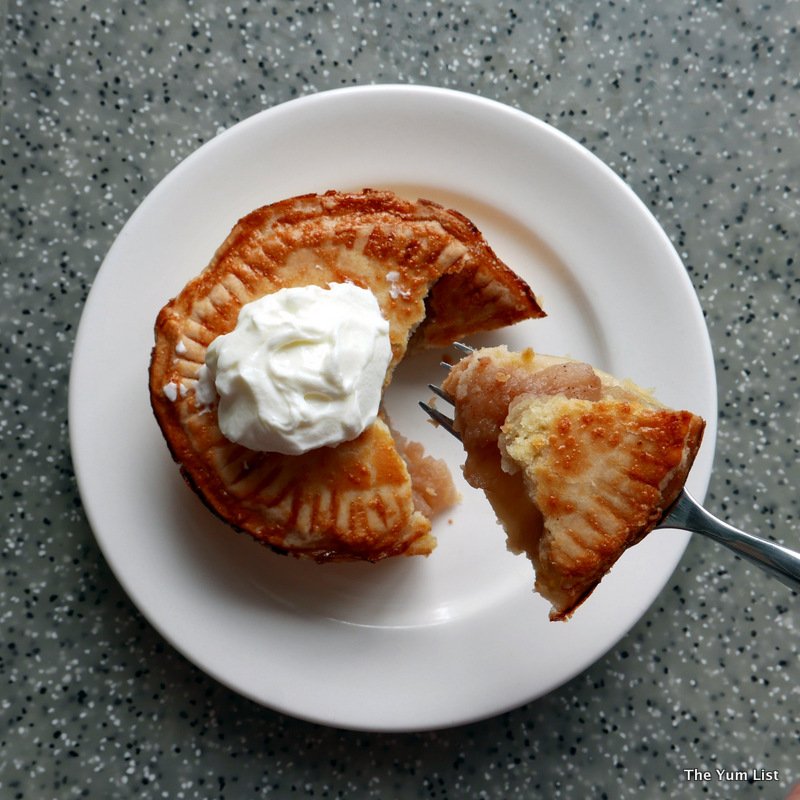 There are several configurations in which to order from The Yard. For example, one may order a stand-alone item, or a combo that comes with a beverage and pie, and can even order the pie as a combo with mashed potatoes and gravy. The menu and restaurant is set up to be quick and easy take-away although there are also tables available at the food court for sitting down. There is a rumor that these pies will be available frozen for storage and baking at home. In which case, I would certainly stock up, particularly since my children absolutely love the Chicken Leek pies.
Reasons to visit: a convenient home-cooked pie – Mon's fave the Cottage Pie and mine the Chicken Leek; healthy fruit smoothies and decadent milkshakes – the two standouts being the Mint Choc Brownie and the Banutty.
The Yard, Pies and Shakes
The Intermark
Food Hall, Lower Concourse
Jalan Tun Razak
Kuala Lumpur, Malaysia
Open daily 10am – 10pm
+6012 522 4490
www.facebook.com/theyardmy