Words: Heather Onderick    Photos: Monica Tindall
Recently opened Marco Creative Cuisine, is an experimental restaurant looking to introduce Malaysians to a fine food experience at a reasonable price. As you walk in, the blend of colors is reminiscent of Menorca, aqua marine blues, sandy beiges and pearly whites are simple and intentional, helping the diner focus more on selecting the culinary voyage, he or she would like to take.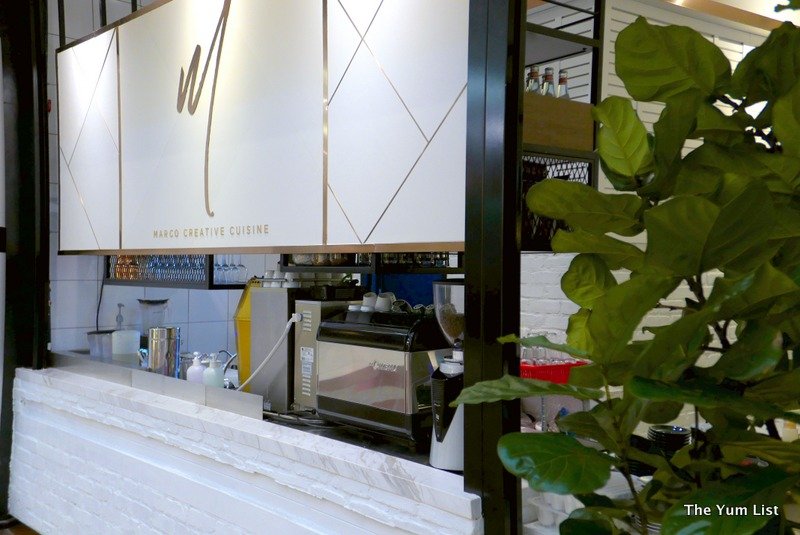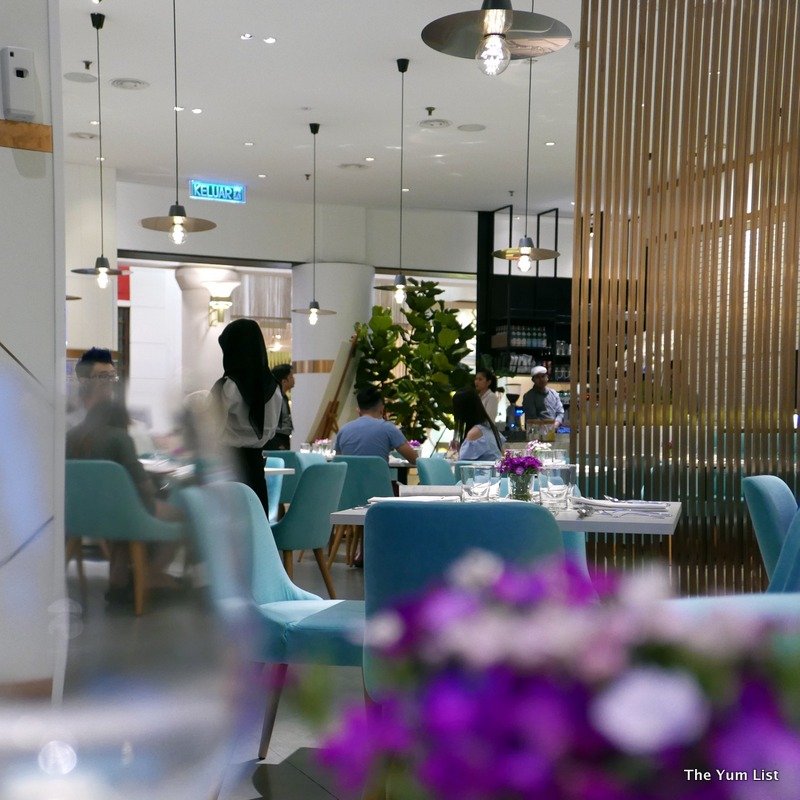 Chef Daren Leong has prepared a seven course menu, that provides diners with a multiple options for each course. In addition, there are also meat-free, vegan and pescatarian voyages, available on request and all for the extra good value price of RM78. The aim is to provide a myriad of flavours and textures that entice all senses while traveling from course to course.
Chef Leong is self-taught and his unique set of experiences have helped him sculpt Marco Creative Cuisine into the restaurant it is. He worked in a Japanese restaurant in Singapore for many years, in which he credits his discipline in food. The Japanese use a lot of tools to make cooking easier and Leong has included some of these in his own kitchen in order for the focus of the culinary team to be more on creativity, rather than prep. One example, is that he has a machine that caramelizes onions instead of having his chefs go through the somewhat laborious and dishwashing delight created from this essential ingredient in haute cuisine.
We start the voyage with a Velvety Matcha Lime Shooter, made with bubbly lime foam and green tea to help animate palates and prepare them for an exciting adventure ahead.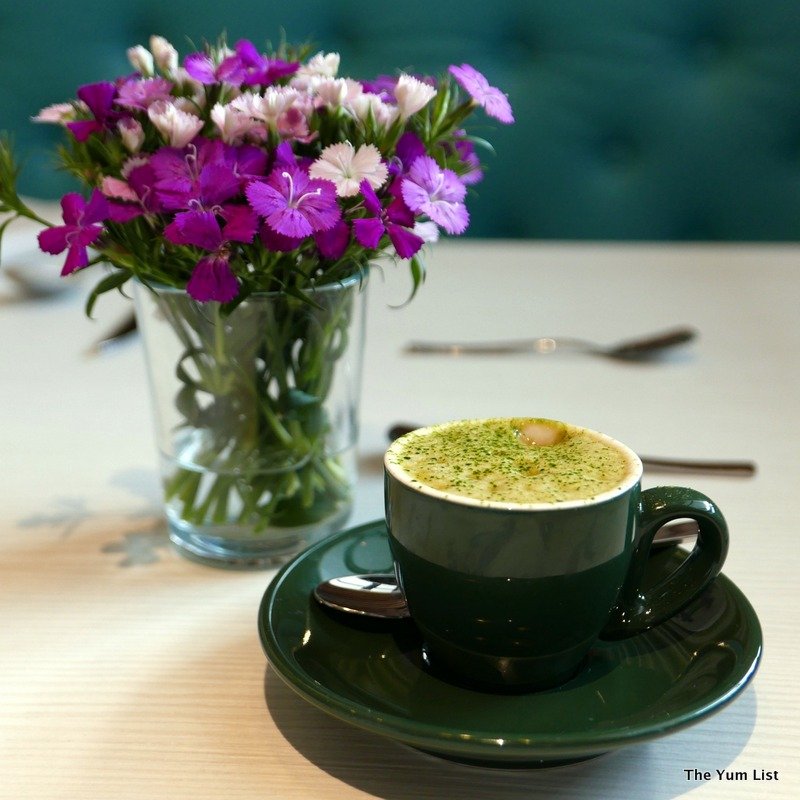 Shortly after, Leong's version of bread and butter arrives. Chef recognizes that across cultures, a little bread teases people's hunger and leaves them wanting more food, so he includes a Savory Eclair to hook voyagers. Adorned with a spirited green chili pesto to remind diners they are in Malaysia, slightly candied cherry tomato confit, creamy Gruyere flavored pate on top of crunchy aerated bread, we welcome this well crafted take on bread and butter and are excited for what is next to come.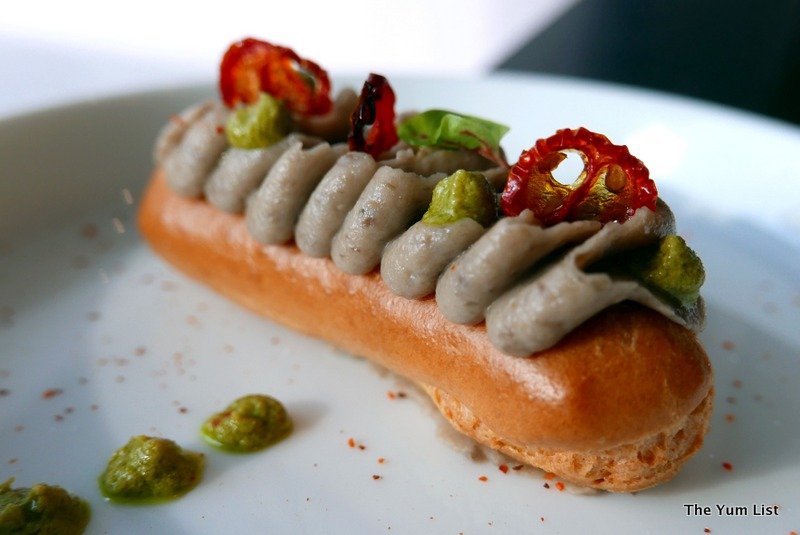 The first two courses are pre-selected by the chef, but the rest of the menu offers voice and choice, allowing diners to pick between three to six different items for each stage of the voyage. The soup course is next and we spring at the opportunity to try two completely different options: the Strawberry Gazpacho and the Truffled Mushroom. The blush colored Strawberry Gazpacho is locally sourced, made with strawberries haled from Cameron highlands. It is simple in flavors, Leong packs cucumber, onion, capsicum and dehydrated strawberries together and lets them marinate for 12 hours before blending into this restorative soup. Leong playfully reminds us that, "Since it's summer in Malaysia all year long, why shouldn't gazpacho be on the menu?" For those craving a warm, earthy soup, the Truffled Mushroom aims to satisfy these desires. It is made with brown mushrooms, sauteed shiitakes and pureed shiitakes and blended with rich French cream producing a lovely consistency.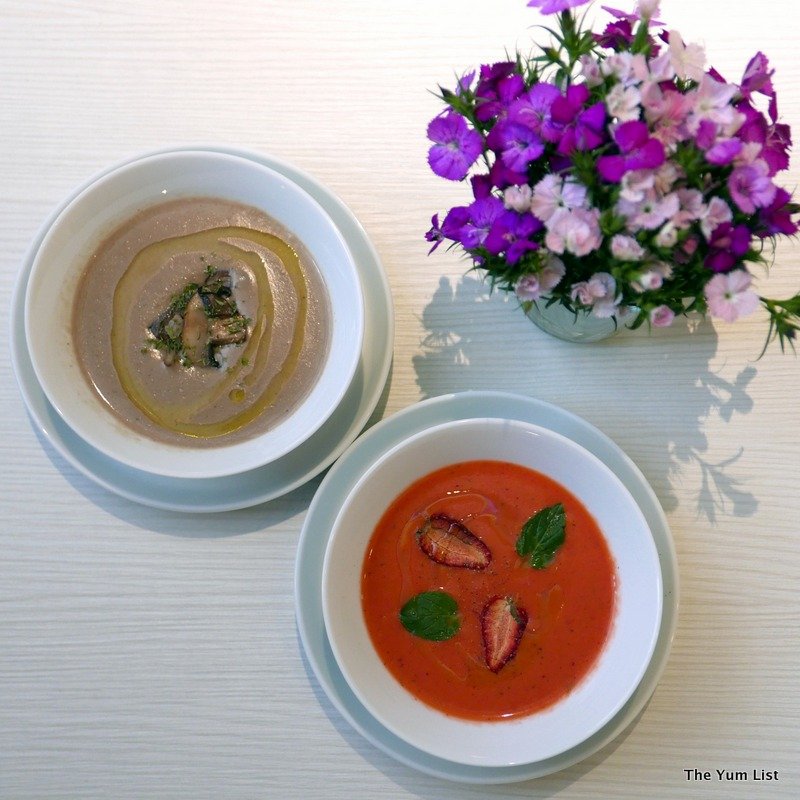 The dishes are light and well paced. Chef Leong points out that the RM78 menu is also available for lunch and that they've refined their technique to be able to serve it all within 50 minutes if you so desire, which makes it an ideal location to host a special occasion event or to impress your colleagues with your afternoon dining choice. He cheekily comments when talking about how Malaysians often competitively talk about their dining in the office post lunch, "Wouldn't it be cool if you could tell your colleagues that you had a seven course meal?"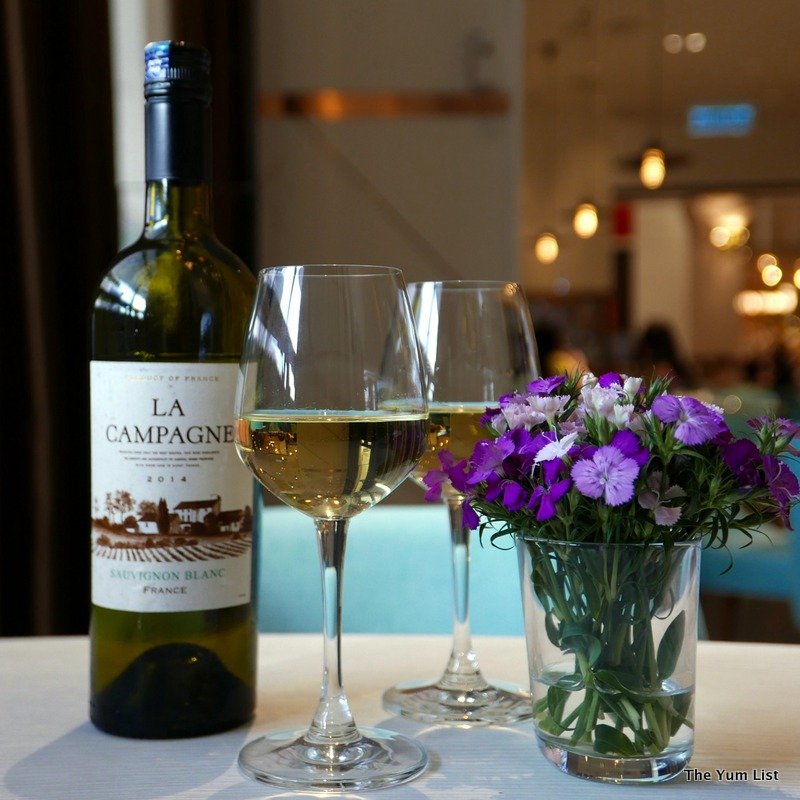 Next up is the salad course. Once again, there are three options to choose from and we select two opposites to get a true range of what this menu offers. First up, is the Savory Ice Cream Salad. This plate is thoughtfully presented like a handful of garden: edible flowers, crispy greens and a zebra tomato served alongside a half scoop of sinless skim milk and salt ice cream over black olive dirt crumble. Leong laughs when saying to us, "If you need to persuade yourself to eat more vegetables, why not throw some ice cream on top?" We appreciate the efforts and creativity in this plate. Having said that, Leong offers balance in his menu options with more meaty offerings as well. The other appetizer we select is the Chicken Parfait, which consists of chicken liver with a brulee set on top, served with light toast and citric flavored dehydrated apple chips.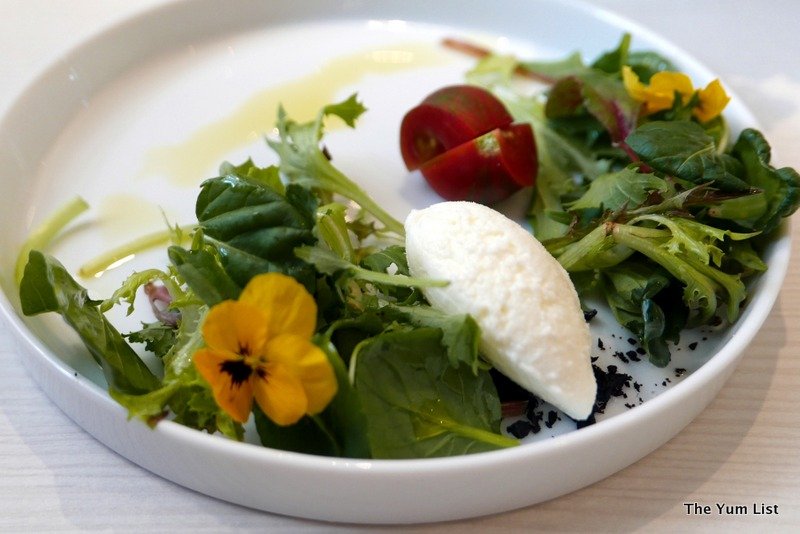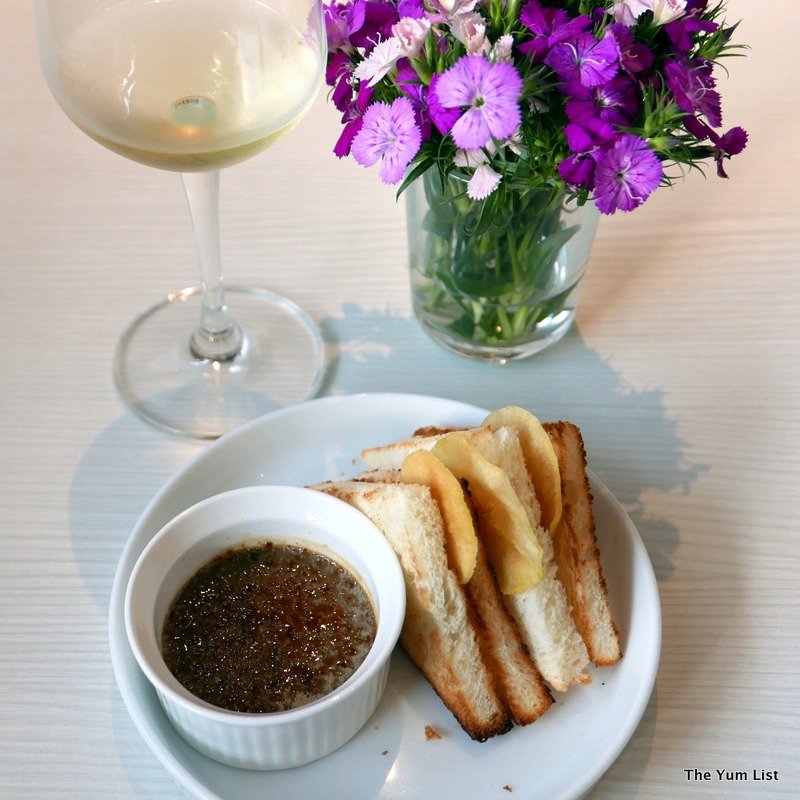 It's time for our main courses, in which we had a variety of six options to choose from. We select the Duck Breast with Orange Puree and Roasted Beetroot to start us off. This playful dish is a thoughtful reflection and synthesis of traditional food pairings. The Duck breast is marinated with five spice and is juicy with a crispy layer of fat on top. Duck is often paired with orange and orange is often paired with chocolate, so Chef Leong combines the two to evoke sparkles of citrus dancing on your tongue rounded off with the smoothness of pure dark Valrhona chocolate.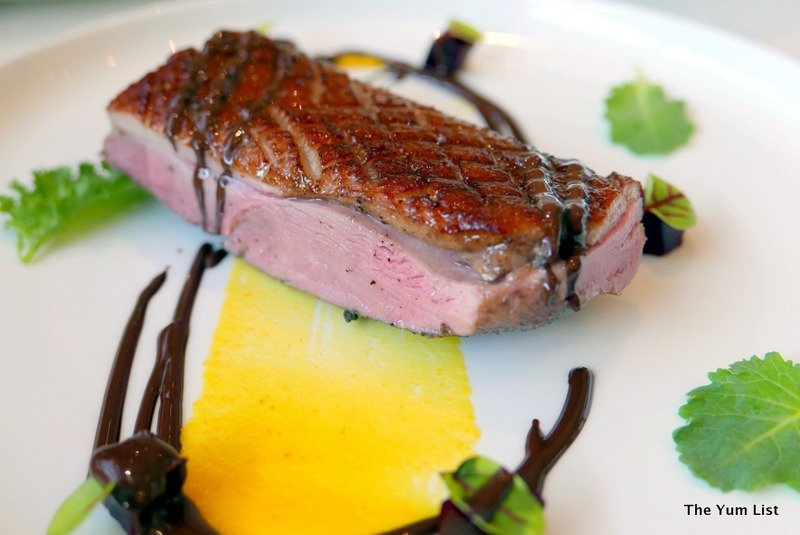 If you are seeking something a little less experimental and more along the lines of comfort food, try the Vegetarian Arrabiata. It comes with a homemade sweet tomato sauce and a smear of chili padi which makes each bite of this dish double the warmth and pleasure.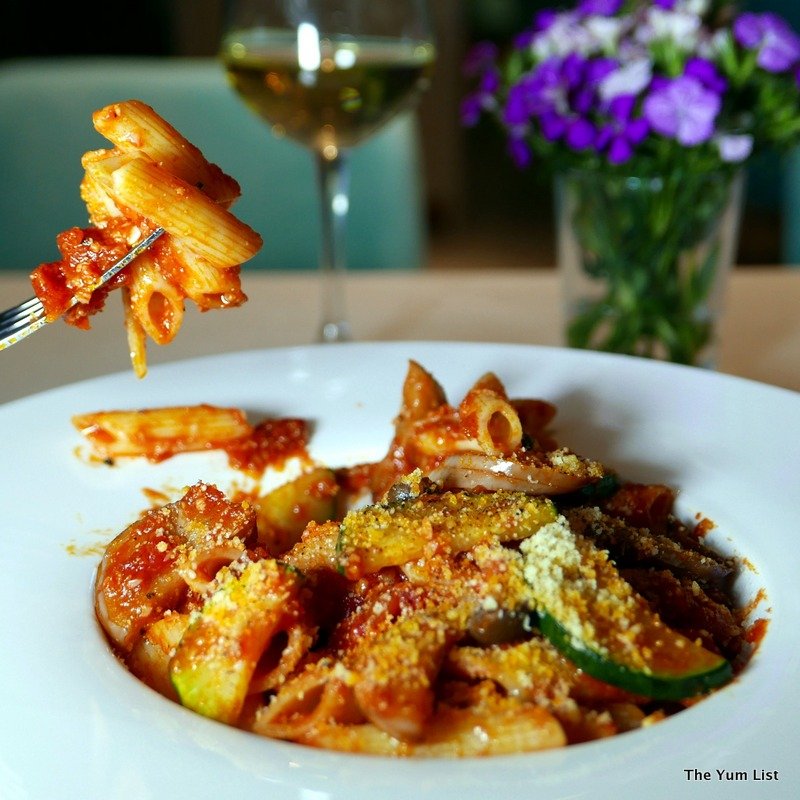 The last main we try is an Atlantic Salmon, flavored with a buttery Japanese squid ink hollandaise, pickled beetroot and the distinctive green chili pesto. This dish is hyper stimulating but one of our favorites as the combination of flavors sit comfortably in our mouths telling interesting stories.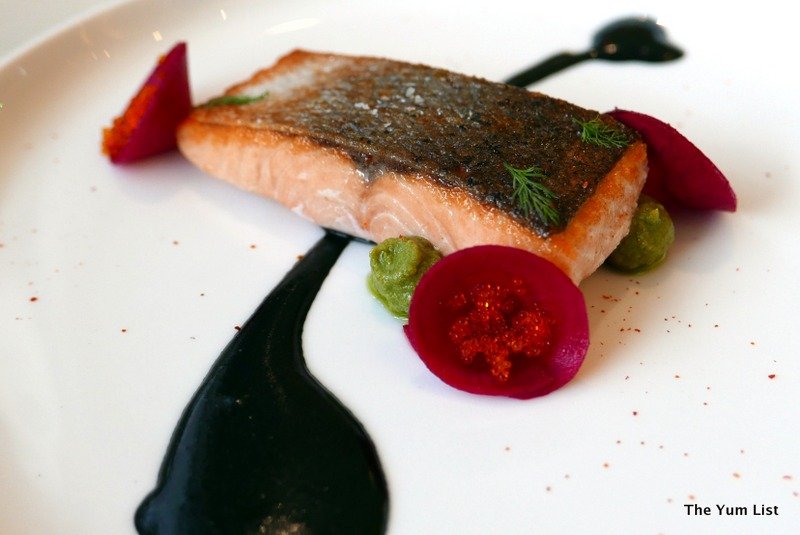 It's time for sweets and we select and devour, the Deconstructed Lemon Meringue Pie, an artistically textured platter with elements of lemon curd, passion fruit gel, Italian meringue crumbles and white chocolate sorbet. This dish gives diners the option to combine all or a few of the flavors and is a revitalising way to nearly end the meal.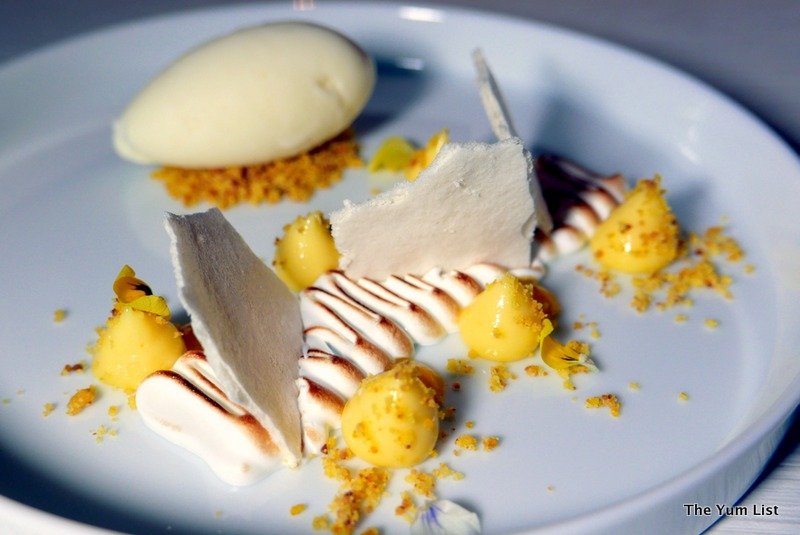 Staying close to Leong's Malaysian heritage, he offers the whimsical, Raspberry Decadence, as our second option. A circus of colors contains raspberry cheesecake, raspberry and passionfruit gels, meringue shards and vibrant candy kisses takes us to the end of the voyage on a softer, fluffier note.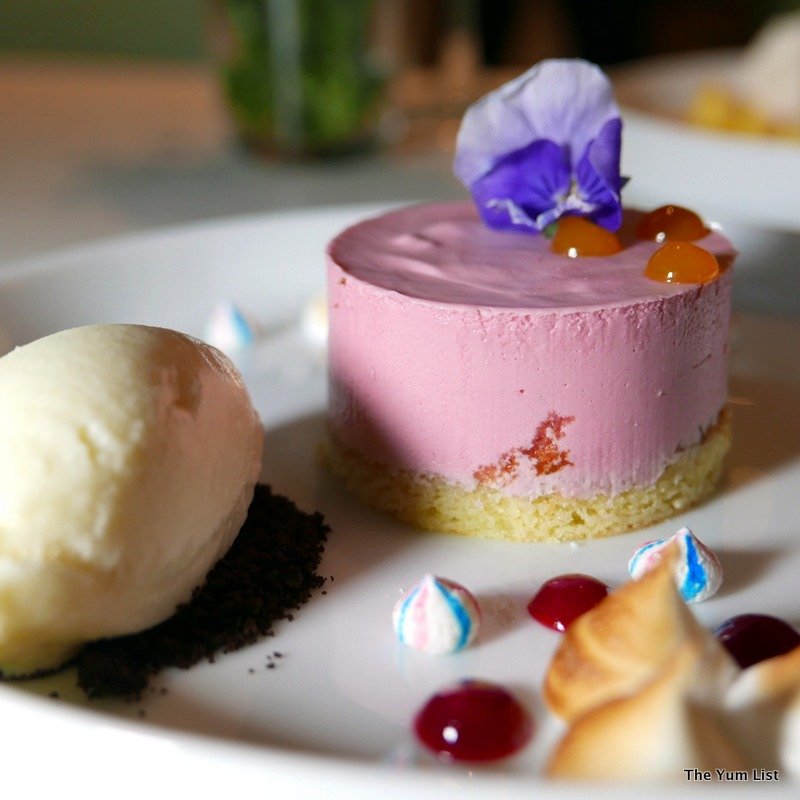 We realise we are not quite done, one more course to personalise the voyage for you. Diners may select between a fruity, French press single origin Nicaraguan coffee, a herbal loose leaf tea or a sparkling iced berry drink, which reminds me of raspberry ginger ale both sweet, soothing and thirst quenching.  Leong reminds us at the end of the day the responsibility of a chef lies in nurturing the diner and rejuvenating and revitalising the person with food. He says this but also acknowledges the importance of choice in a set menu especially with Malaysian diners as they want ownership over their culinary journeys.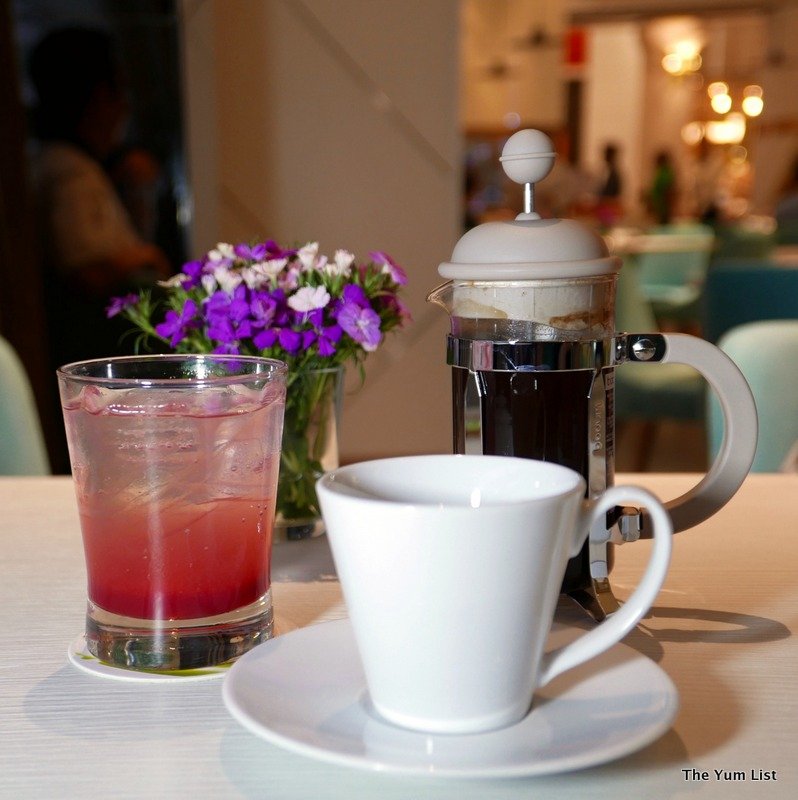 Marco Creative Cuisine is a welcome competitor to KL's emerging fine dining scene. The menu aims to challenge Asian taste buds, using a variety of textures and international flavors that encourage its participants to think differently.
Reasons to visit: The highly creative and still healthy Savory Ice Cream Salad, as well as the enchanting, lemony goodness of the Deconstructed Lemon Meringue Pie. And truly, one of the best value meals in the city!
Marco Creative Cuisine
Lot G146, Ground Floor (old wing) 1Utama Shopping Centre,
No. 1 Lebuh Bandar Utama, Bandar Utama,
Petaling Jaya 47800, Selangor, Malaysia
03-7731 8923
marcocreativecuisine.com