Words: Jane Speechley          Images: Jane Speechley and supplied.
There's nothing like a vacant space in a busy location and a few 'under construction' signs to build anticipation. Since the popular Ox Eatery at East Hotel closed down last year, locals and hotel visitors alike have been keenly waiting to see what might come next.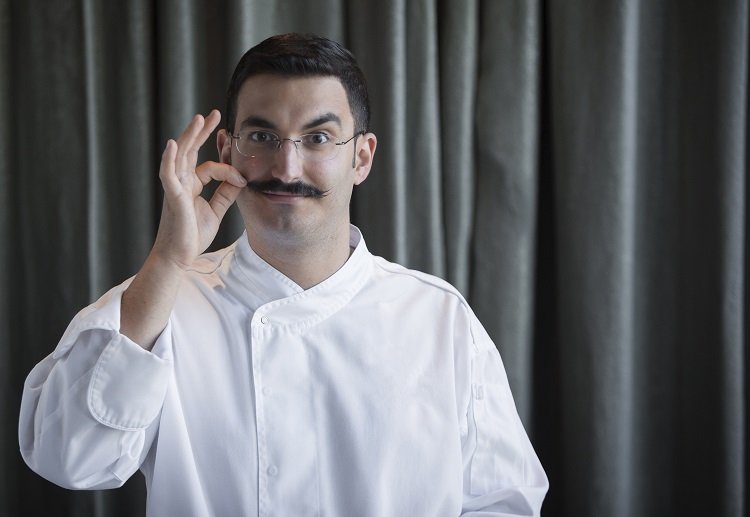 No one moreso than chef Francesco Balestrieri, a familiar face on the Canberra restaurant scene, who was quietly plotting away from behind the counters of his tiny kitchen in Joe's Bar just across the foyer.
With the full support of owners Dan and Dion Bisa, Rome-born Francesco embarked upon his ninth career restaurant build, setting out to turn the blank canvas into a stylish but family-friendly venue that also paid tribute to their own families and heritage. Indeed the name, Agostini, comes from the family – it's the maiden name of Bisa family matriarch, Marisa.
While Joe's Bar focuses more strictly on the Roman style of food however, Agostini's seeks to blend dishes from the north, centre and south of the country.
There's a fascinating contradiction in the Italian culture. On one hand, the country is at the forefront of cutting-edge fashion, style and contemporary design internationally. On the other, it's equally associated with some of our oldest and most-loved traditions centred on the home and family, and especially when it comes to food preparation and dining.
This balance is very evident at Agostini's and it's really interesting. Much talk about the newly-opened restaurant has focused on its bold and eclectic décor – from its pink neon signage and graphic prints to gold-tinged marble bars, mosaic tiles, and floor-to-ceiling curtains.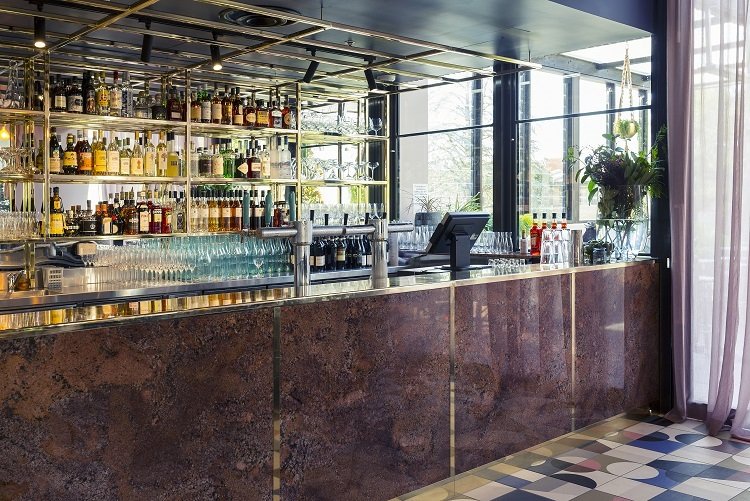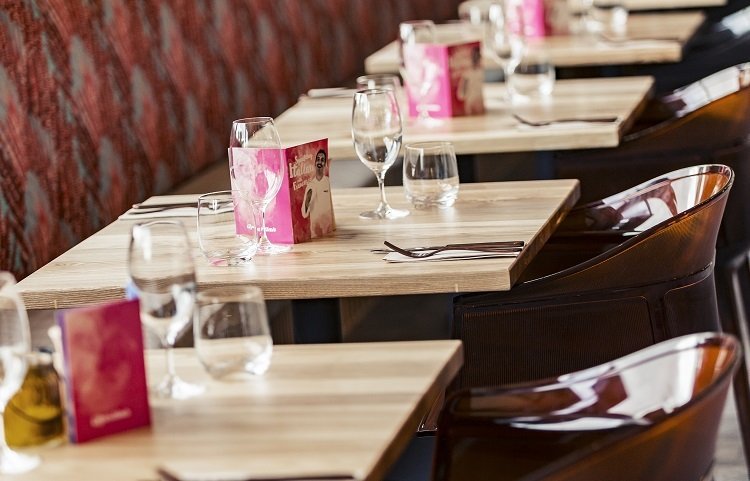 Despite these luxe surroundings, however, somehow the bar manages to create a very warm and family-friendly environment. We visit on the Wednesday night after a long weekend, and yet, the place is packed. My dining companion and I note particularly the wide diversity of guests – we're surrounded in equal measure by businesspeople, groups of teenagers, large families and intimate couples.
This balance between the high-end and the mainstream is best captured, I think, by the design feature of colourful frayed ropes hanging from the ceiling. They seem like a sophisticated and abstract work of art, until you find out they're designed to resemble strands of pasta hung up to dry in the traditional way. Very clever.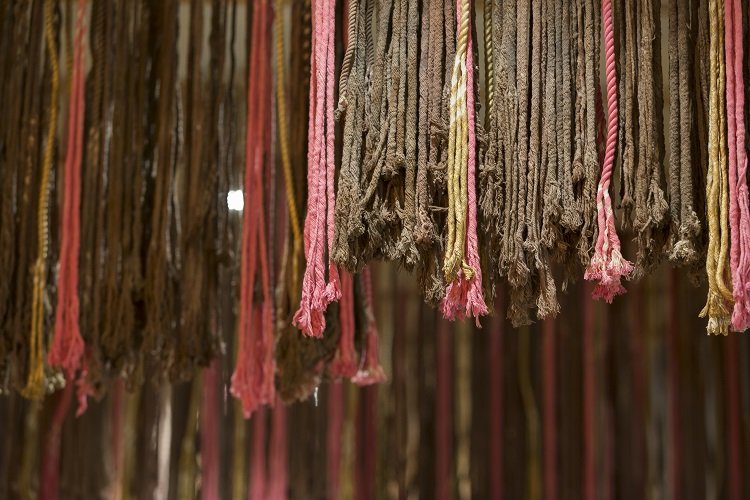 'You had me at pizza' in neon pink welcome us as we arrive. Seating at the restaurant consists of different sized tables, booths, and a few seats at the bar where you can see all the action in the kitchen, close up. Arriving nice and early, we're treated to a booth and a generous serving of chef Francesco's time before things get really busy.
While we chat, we enjoy the traditional Italian aperitif cocktail, the – aptly named – Aperol Spritz (off menu, price on arrival) which consists of the bitter-orange flavoured liqueur mixed with Italy's sparkling prosecco and a splash of soda water, served over ice in a tall glass with a slice of fresh orange.
It's refreshing, and the sharp, dry blend of herb and root flavours does its job of getting the mouth watering and tummy rumbling in preparation for the meal ahead.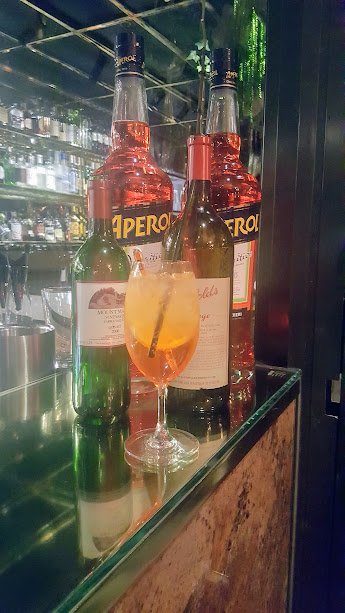 Given the exceptional quality of produce coming from Canberra's clean and green surroundings, most restaurants are almost expected to use local suppliers as much as possible. Agostini's is no exception, though Francesco does travel back to Italy at least one each year to source ideas and inspiration. But for example, all their mortadella and sausage meat for their pizzas is provided by Balzarelli Meats in nearby Fyshwick, who also manufacture an exclusive salami that's made just for Agostini's and according to Francesco's own recipe.
This is beautifully apparent in the Agostinis' Antipasto Originale (AUD$26), which is served to us first. We allow Francesco to choose our starters – always a good idea, and especially so given he says the Antipasti is his favourite category of the menu. Arriving on a wooden board, it consists of the locally-made Veneto-style salami and Black Pepper Mortadella, plus San Daniele prosciutto, Treccia mozzarella, house-made olives and crusty sourdough bread.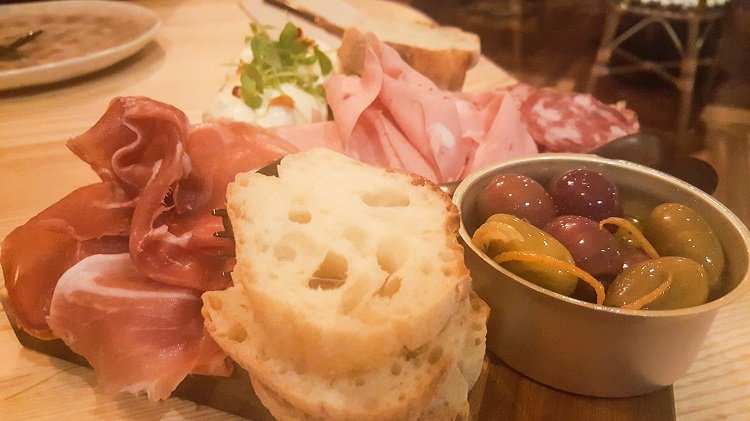 The mortadella, despite its name, is mild and not too spicy. It sits against a classic prosciutto that's salty and tangy. The salami also has a classic Italian taste, with hints of fennel and pepper. The mozzarella is especially interesting: made in Melbourne, it contrasts beautifully against the meat selection with its cool feeling and soft, almost spongy texture. The little pot of green and black olives is generously sized and divine in taste, with hints of the spices, chilli and orange that Francesco tells us they're marinated in for several months.
We enjoy the platter with the rosé that's recommended to us by our friendly and professional bartender, Simone. While beer and cider on tap is a very common sight in Australian bars, Australians have yet to really embrace the idea of wine on tap. Agostini's, however, proudly boasts the only 100% Italian-made selection of wine on tap in the country. While it doesn't sound like a particularly romantic concept, the wine is sealed in stainless steel barrels from the moment it's made until it reached your glass, perfectly preserving its character and quality.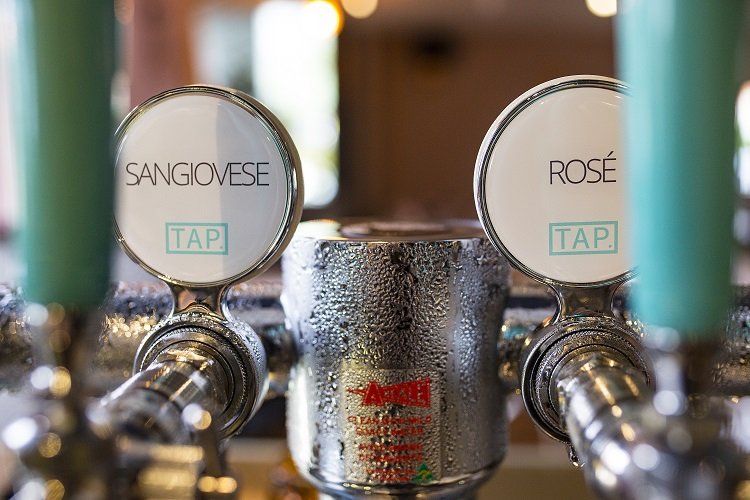 The rosé comes served to our table in a lovely little carafe (250ml Quartino AUD$14.50; 500ml Mezzo AUD$28; 1000ml Litro AUD$55). A blend of 85% Sangiovese and 15% Merlot grapes from Tuscany, it's a dry, smooth wine with summery notes of strawberries and flowers. This writer tends to find rosés a bit hit-and-miss, but this one is very good – not too sweet, not too acidic, and with a very clean finish.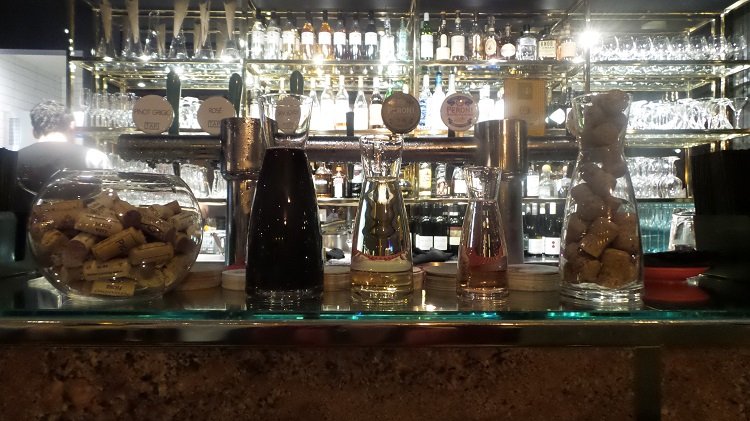 A real highlight though, is the much anticipated Frico (AUD$10) that Francesco insists we try. It's very much a family dish, with origins in the Friuli region of north-eastern Italy. Layer upon wafer-thin layer of Montasio cow's-milk cheese and potato are oven-roasted until the resulting fritter is golden brown and crisp. The moment ours hits the table – sprinkled with shredded sage – we're struck by the powerful and enticing salty, cheesy aroma. This is real comfort food – crisp on the outside, soft in the middle, with an incredibly smoky taste. We both have to work very hard not to eat too much of it, given there are two courses yet to come.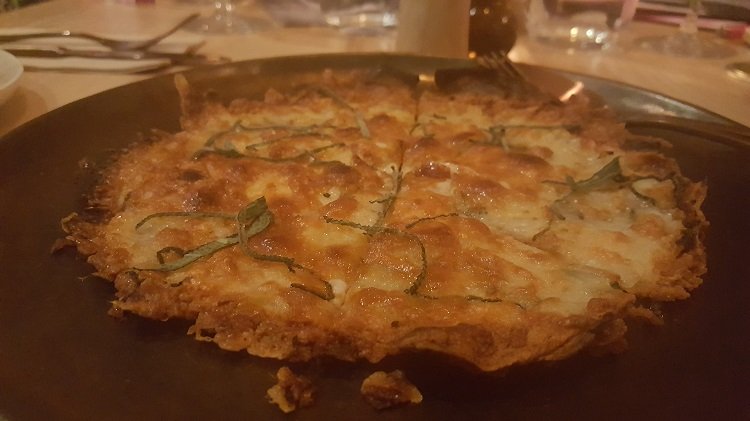 It would also make a great bar snack, and it's accompanied perfectly by the pinot grigio from the tap. Made with grapes from the Veneto region in Italy's northeast, it's described as a light to medium bodied wine in a dry and fruity style. With its fresh and crisp flavour, it's a perfect rival for the gusto of the potato-and-cheese ensemble.
After a good break between courses, we're delivered Francesco's other must-try, the Tonnarelli alla Bottarga (AUD$25) from the Primi Piatti menu. Good traditional Italian cooking is defined by its simplicity, and this dish from seaside Sicily is a tasty example. A swirl of square-cut spaghetti that's cooked to perfection, is topped with a fine dusting of dried Bottarga – a salty, cured fish roe once known as the 'poor man's caviar'. Rounded out with garlic, chilli, lemon and parsley, it's a reliable combination of well-loved flavours. Don't expect it to taste too fishy though; it's more an earthy, herby flavour, and very satisfying.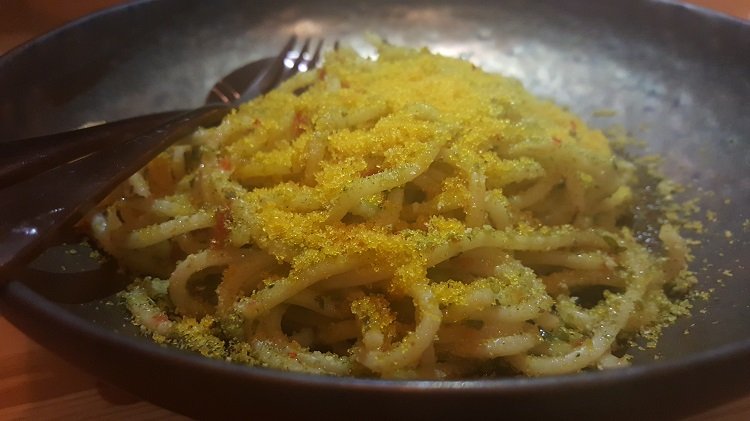 Noting the sign at the entrance, it would be unforgivable to leave Agostini's without trying their wood-fired pizzas, prepared in a giant oven that proudly features in the open kitchen. We choose the Boscaiola (AUD$24) from the Pizza Bianco menu but are persuaded to add the 'nduja (spicy, spreadable salami) that otherwise features on the Salsiccia (AUD$24) pizza, but can be added to any choice for AUD$4.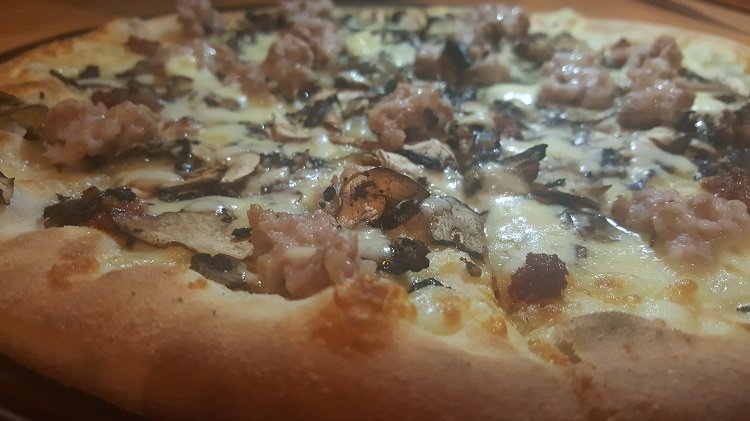 The pizzas are made in a Roman style, rather than the Napoli style, which is doughier. Our Boscaiola is hearty and earthy, with the locally-made Italian pork and fennel sausage, along with mushrooms and scarmorza cheese.
Our mains are washed down with the on-tap Sangiovese, served to us by the East Hotel's General Manager Todd Handy, who stops by several tables for a chat, despite his busy evening. Again, the restaurant's friendly atmosphere is reflected in the relaxed conversations with staff at all levels, as well as their generous offer to package up our remaining pizza to take home.
The Sangiovese itself is vibrant ruby red, with aromas of deep and intense cherry fruit, mixed with light spicy notes. Our last try from the tap, it's medium-bodied with soft tannins.
We simply don't have the appetite to try a pasta dish as well, but it's worth noting it's all fresh and made in house, in a large pasta machine that's visible in the open-plan kitchen. On the day we arrive, they've been making fusilli (spirals) and large rigatoni (tube-shaped) all day.
It's rare to reach this stage of any meal, let alone an Italian feast, with room for dessert. However, of course, the Italians are well known (and rightly so) for their delectable taste in sweets. And so – bravely – we push on.
The menu item of Torta della Casa (AUD$10) translates loosely to Cake of the Day, and the offering changes every day. Ours turns out to be a dense and moist cake of coconut, almond and chocolate, surrounded by chocolate 'soil', passionfruit cream, raspberry kisses, baby mint leaves and.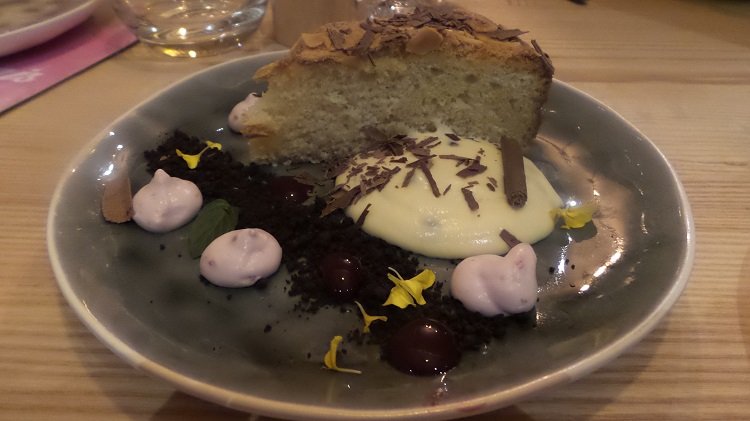 The real grand finale to the meal, however, is the Maritozzo con Gelato (AUD$14). Arriving at our table beneath a vast plume of cotton candy (that's also made in house), it's a kind of upmarket ice-cream sandwich, based on a popular café dish in Sicily that's made with granita.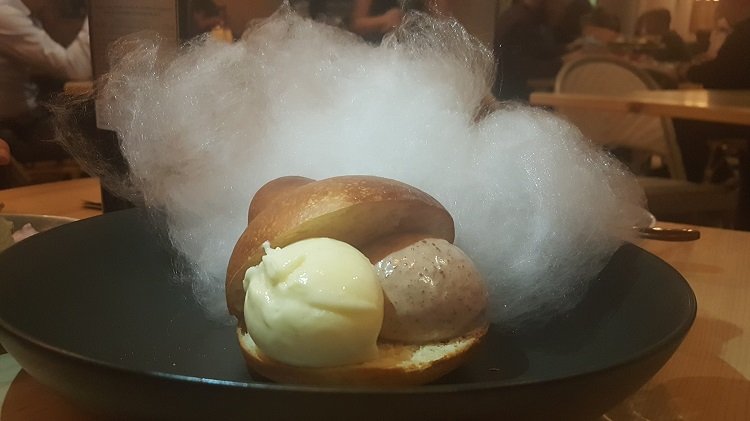 The Agostini's version consists of a brioche bun in the Italian style, which means it's made with olive oil rather than butter. It also means it's a drier and denser bun, which is essential to holding together under the weight of the vanilla and Nutella gelato. The vanilla flavour is sophisticated and subtle, matched well with its sweeter, nuttier chocolate-and-hazelnut partner.
We stay and chat a while with Todd and Francesco over a couple of cheeky dessert wines before stumbling out, full and happy, into the chilly Canberra evening.
While as invited guests, we're no doubt getting some extra attention, I get the strong sense that this degree of personal attention will become a common feature for those who visit Agostini's. It's consistent with their approach to the decor, their food and their service.
Reasons to visit: If you can get to Canberra, get to Agostini's, and try to come on a quieter weeknight. That way, you'll have a better chance of meeting the team, enjoying that personal touch that's so important to the atmosphere, and trying some the more adventurous dishes they recommend.
Agostini's
East Hotel
69 Canberra Avenue, Kingston ACT
Australian Capital Territory (ACT)
Australia
+61 2 6178 0048
[email protected]
www.agostinis.com.au