Monica Tindall
Kikubari means caring in Japanese, and the team at this sake, wine and tapas restaurant on the third floor of DC Mall brings the meaning to life.
Warm greetings mark our arrival and friendly hospitality is carried throughout the evening. Mindfulness in design is evident, right down to the menu that is backed with an LD screen, ensuring you make good decisions even in dim lighting. Attention to detail is apparent wherever we look.
At the entrance a transparent "glass room" (the actual wine cellar is out the back and is much larger) dazzles on the left, a long slender bar with pendant lighting lies directly in front of us, and to our right is the main dining area bordered with cool grey tiles, vibrant prints of geishas and a dizzying decorative glass floor. The glass base allows views through to a Japanese raked sand underlay. 'Don't worry it's safe," says sommelier Danny jumping on it in jest as he shows us to our table.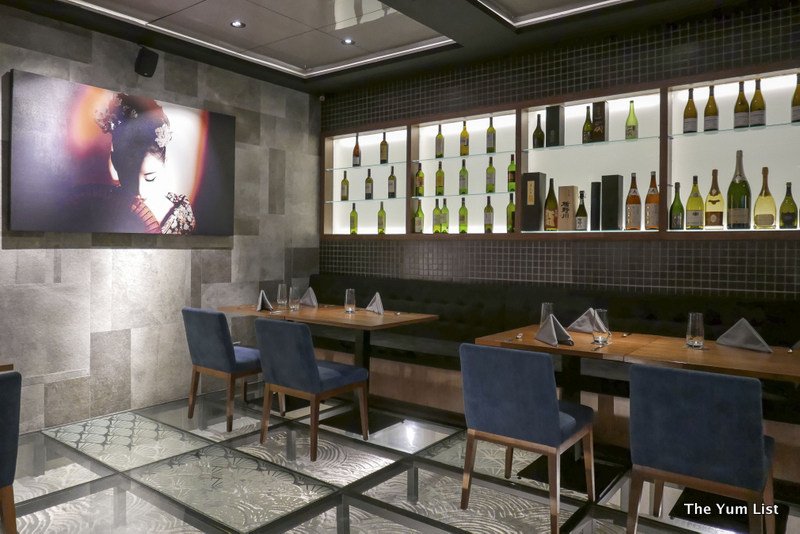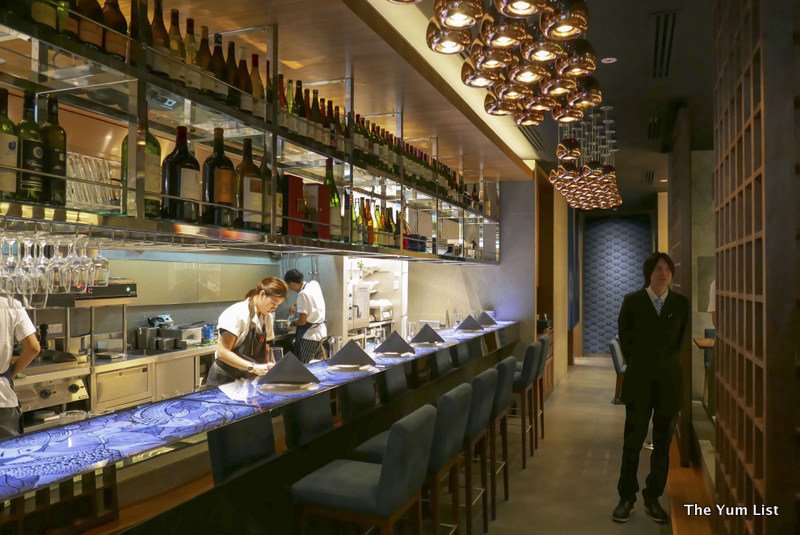 Kikubari: The Concept
A little teaser that this a contemporary Japanese restaurant, is the table setting of knives and forks, not chopsticks. Chef Jun Wong, who's had an impressive career working in the 3 Michelin-starred Robuchon au Dôme in Macau, Narisawa 2 Michelin-starred and Asia's Top 10 in Tokyo, and Sixpenny, a 2-hatted restaurant in Sydney, describes the cuisine as progressive Japanese with a focus on quality ingredients and sustainability practices.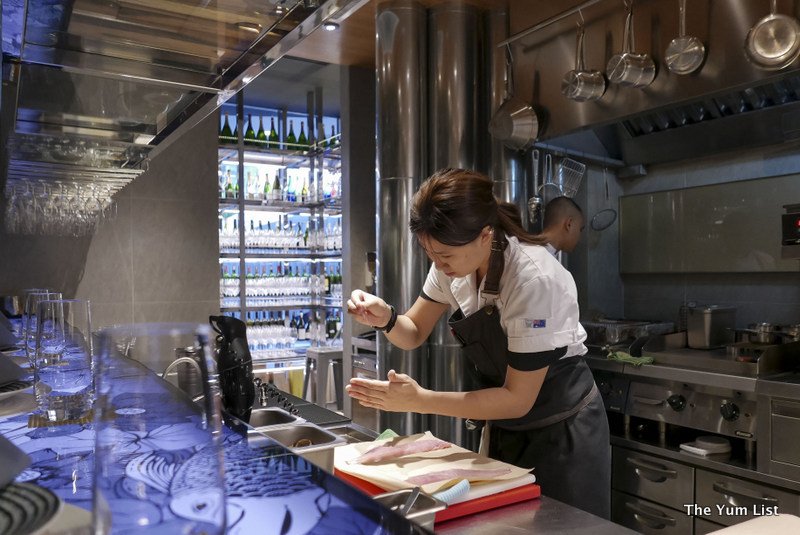 It's not only the food that deserves respect, with not one, but two professional sommeliers in house, we're assured that the wine list is going to be pretty fab too: around 40 labels of sake and over 350 labels of old world wine to begin! Wine by the glass is served with the Coravin preservation system ensuring each glass is always at its best and that some mid-upper wines are also available in single servings – good Barolo, good Riesling – good stuff. Solid offerings are found across various price points ranging from around RM190 per bottle all the way up to figures that you won't believe – RM280 000 (!) for a bottle of Domain Henri Jayer, Richebourg Grand Cru, Vosne-Romanee. The Champagne list is rather special too. Récoltant-manipulant (mostly boutique houses who grow AND process their own grapes) are especially sourced and the Kikubari team work with no less than 20 suppliers to do this.
The food menu is much more concise with one page of tapas and another page of set menus (available with or without wine pairing), see-sawing between French and Japanese, with the beverage pairings mimicking the style of food. We're fortunate to be able to try a bit from both, and of course, sample across the wine menu too.
Apéritif
We've already goggled the glass-walled wine cellar and have worked up quite a thirst so appreciate the nicely chilled glass of Champagne Bruno Paillard, Brut Premiere Cuvee (RM40) to begin. This relatively young Champagne house (around 40 years-old) produces this drop with lots of complexity, a full body with yeasty and butterscotch aromas, and good minerality.
Appetizers
A dish from the five-course dinner set, Iwashi Nanbansuke Bruschetta, opens the meal. It's a tasty number sitting on a slice of bread with a sardine marinated in vinegar, mirin and soyu, crowned with caramelized onions, a quartered kochi tomato from Japan (almost equal in sweetness to a ripe strawberry) and edible flowers. The baguette is delicious. Provided by a home baker, it's a perfect mattress for the fish and even better with a sip of Champagne, which serves to embolden the flavours of the sea.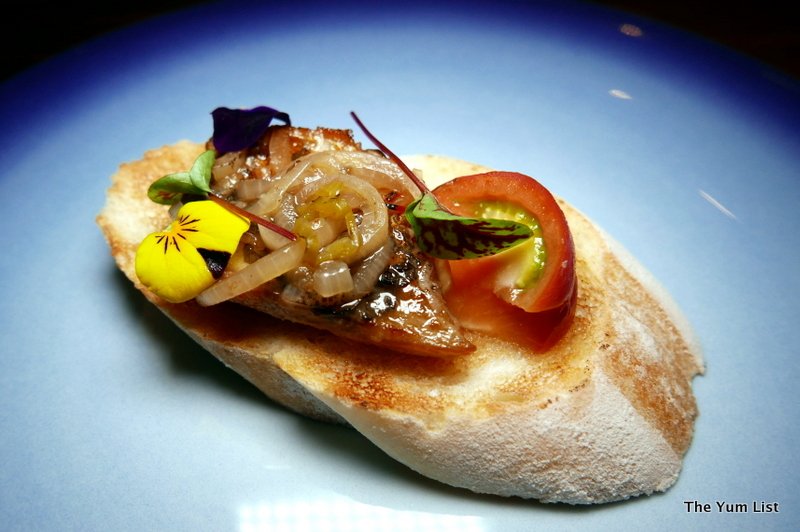 To Snack and To Taste
One of chef Jun's favourite recipes (and soon also to be added to hubby's hot-ticket list too) is the Crispy Prawn Heads (RM33) with aonori ko (strips of dried seaweed), kombu salt (kelp salt), salmon roe and whipped cream. They're incredibly crisp, yet not dry, as the cream provides a balance of moisture.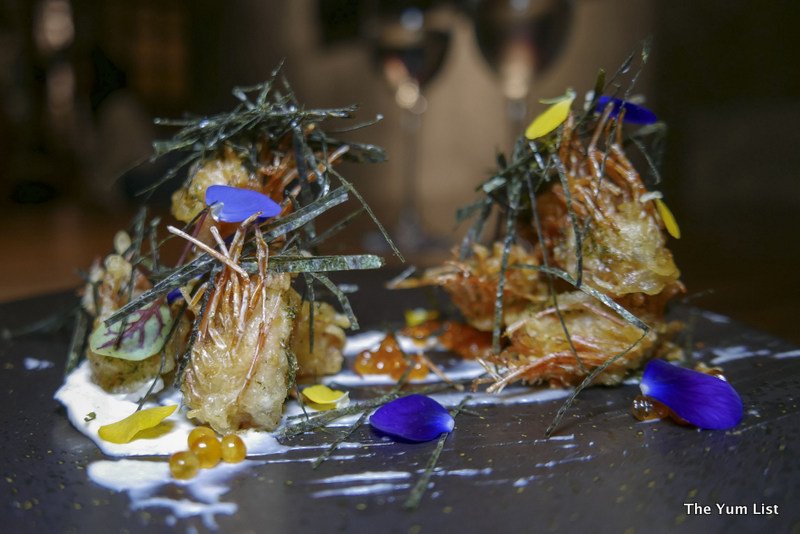 Nicknamed Japanese cheese, the Tofu Misozuke (RM32) is treated as such with a side serving of Meiji crackers for spreading onto. House made tsukemono (pickled carrot, cauliflower, radish and Japanese cucumber) slice nicely through the richness of the tofu.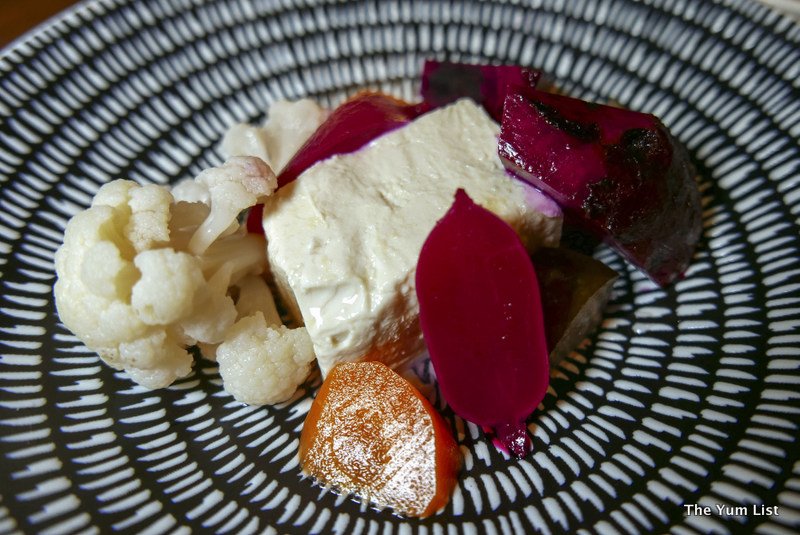 A sparkling sake, Saito, Hikari (RM20) from Kyoto proves a refreshing companion and the green melon flavours, dryness in the mouth and lightness in body make it a versatile beverage: great on its own or paired with these light starters.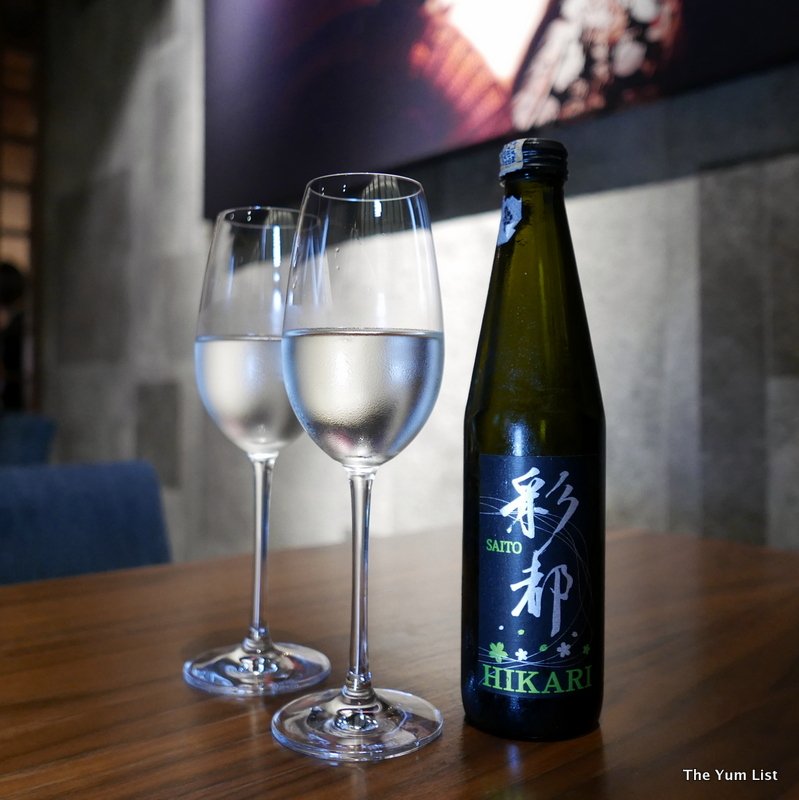 Kikubari's Star Dish
Although only opened for two months, Kikubari already has a star dish, the Signature Botan Ebi Capellini (RM66). Fine strings of pasta are rolled in a lose long bun and draped with seductive strips of the most creamy raw prawn I've ever tasted. The dish is jazzed up with sweet quarters of kochi fruit tomato, tarabagni (Alaskan king crab jelly), and hojiso – flower buds from the shiso leaf plant, which are very aromatic and add small intense bursts of flavour. A light drizzling of truffle oil lubricates the dish allowing it to slide down our throats all too easily yet is subtle enough not to overwhelm the delicate seafood. A Brut Rosé from Champagne Bruno Paillard (RM 540 bottle, but soon to be available by glass), sister to the earlier bubbly we began with, offers a hint of copper in its pink hue, red berries on the nose that are mirrored in the mouth and a lengthy bright finish.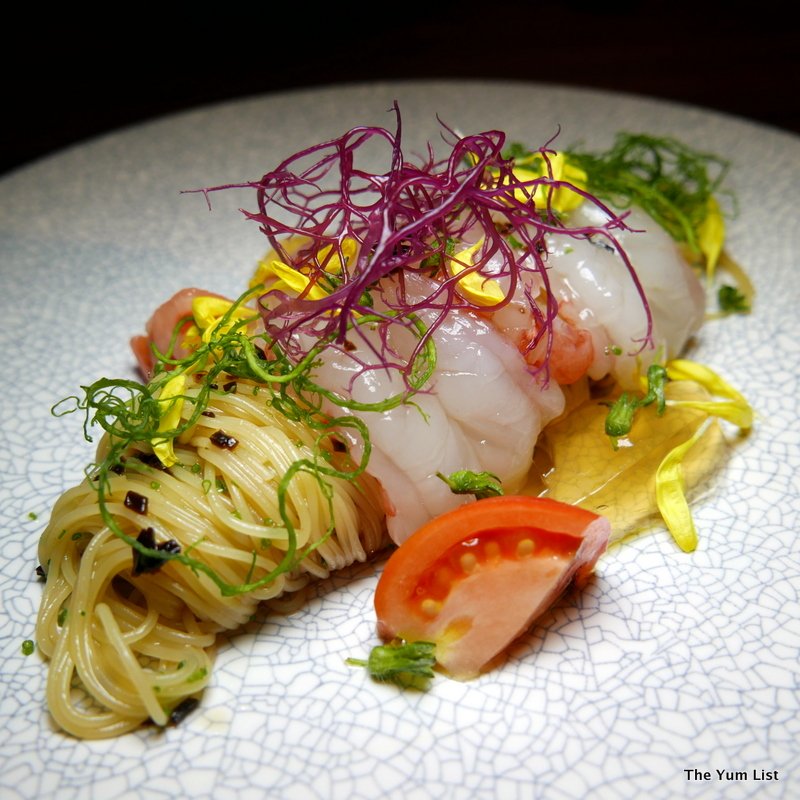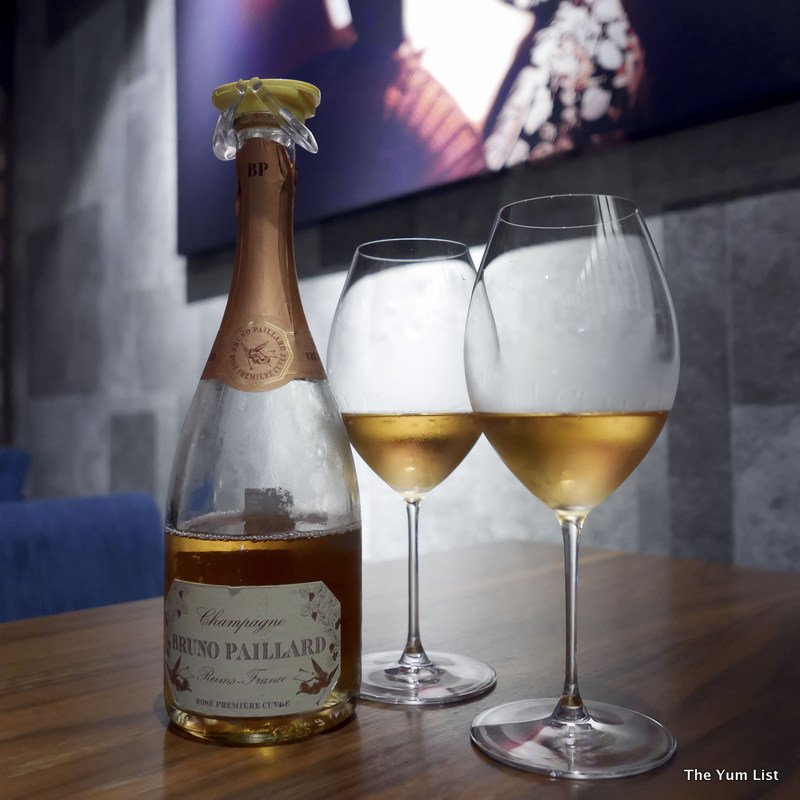 I take a moment to soak up the atmosphere of the restaurant while sipping on the next pairing of Sarakura no Izumi, Junmai Ginjo from Nagano (RM24). Now full, a buzz of excitement envelopes the room. The bar is happily occupied allowing these guests direct action to the going-ons of the kitchen. The small dining space is maxed also, yet the space still feels private enough to enjoy our own table conversation, with the joyous sound of happy people as background melody. Back to the sake: its intense flavour and rich aromatics are allowed space to open up with the wine glass receptacle (as opposed to the common shot glass). Its boldness seems to match the mood of the room terrifically.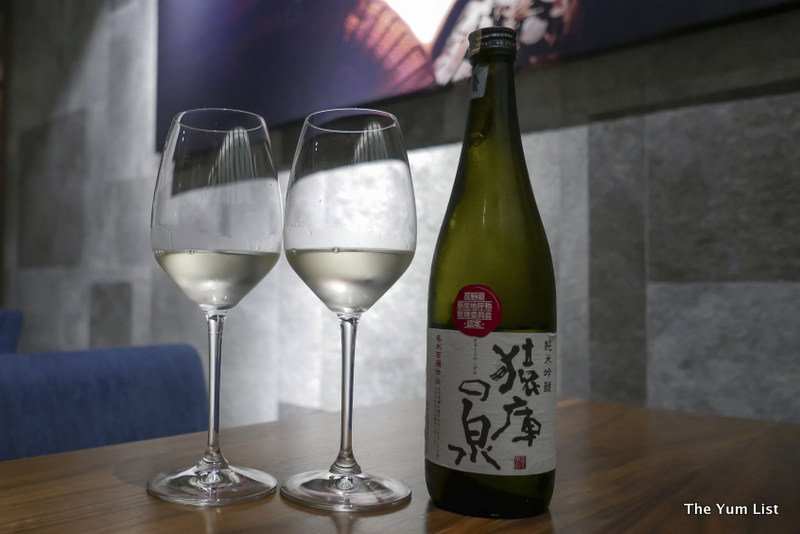 Mains at Kikubari, DC Mall
We see a Japanese French hybrid in the Confit Duck Leg, from the set dinner menu. The traditional European poultry recipe has been slow-cooked then pan-seared and mated with a white daikon radish stylishly topped with thinly sliced kyuri. The clean flavours of the giant vegetable are an adept contrast to the deep flavours of the rich confit.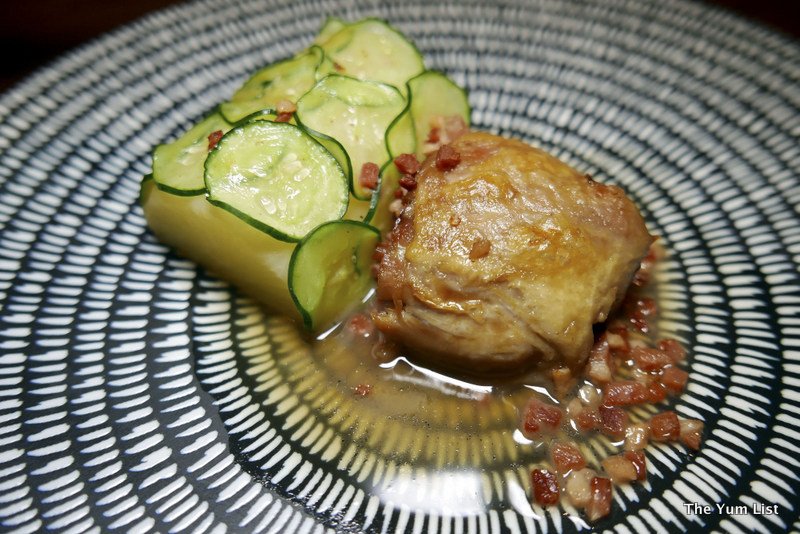 From the weekly special's menu is Charcoal Roasted Foie Gras with Persimmon in a red wine reduction with a touch of Madera to give extra oomph. The fruit is soft and provides a juicy mouthful, almost, but not quite, equivalent to enjoying the dish with a classical glass of sauterne.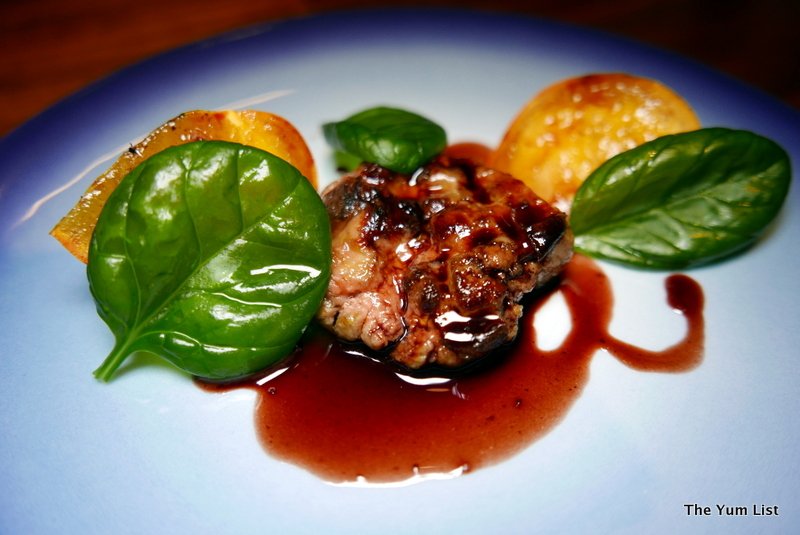 Along with the special is another of chef Jun's most adored recipes. Simple in its conception, but complex in its enjoyment, a quartered cabbage is char-grilled with bincho-tan charcoal (reaching a heat of up to 1000 degrees!) gifting it a smokiness fresh from the heat. An anchovy and butter sauce is fantastic dipping and every last drop is scraped up from the base of the bowl.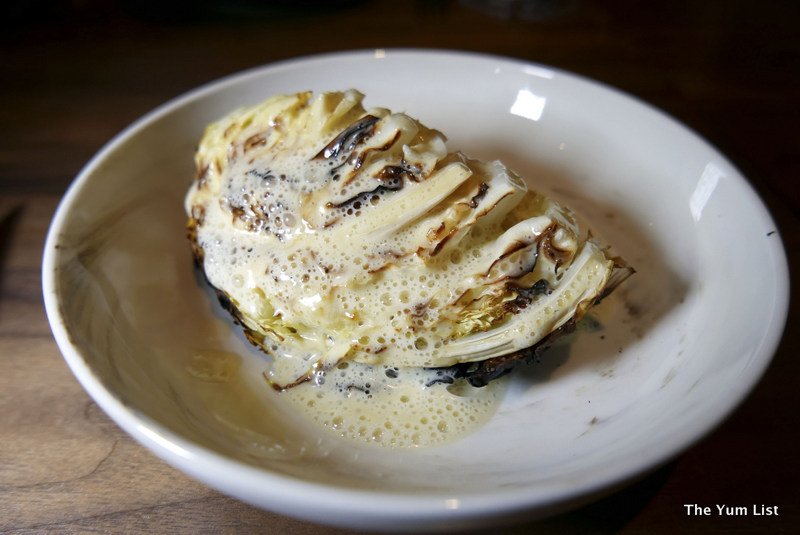 Also from the grill is a decadent board holding NZ Lamb Loin (RM128 per loin) cooked to just lightly brown the edges while remaining pink in the middle. A side pot of potato mash is fluffier and lighter than most resulting from a reduction in butter. Savoury elements from the miso marinade deliciously complement both the meat and mash.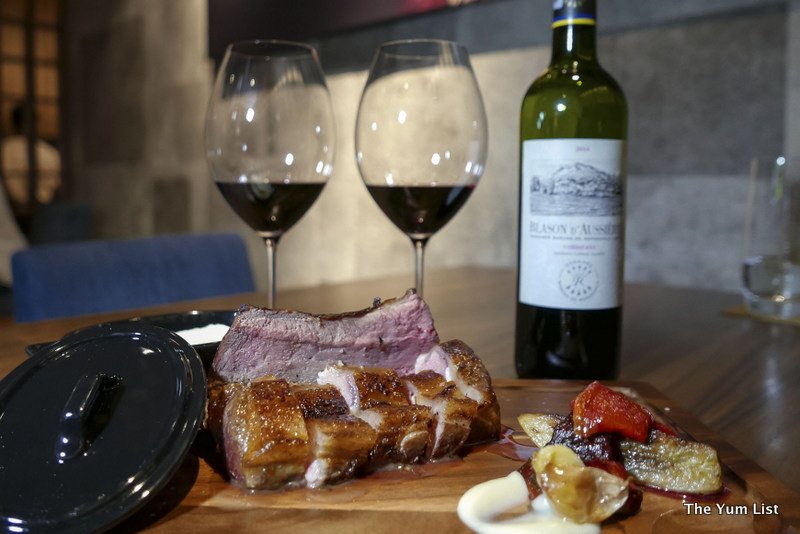 A French blend of Syrah, Grenache, Mourvedre and Carignan from Domaine d'Aussieres, Blason d'Aussieres, Coriberes (RM25 6cl – owned by Château Lafite!) features various herbacious elements in the wine due to the garrigue that surrounds the vineyard. The spicy notes from the Syrah uphold the tried and tested pairing with lamb, and elegance in the palate make this a wine worth contemplating for more than a glass (a bottle instead, perhaps).
But, there's more to try, so more to try we do! The wine list continues to impress with an uncommon sake pairing with the red meat. Yamahai Junmai, Cowboy is fermented with wild yeast resulting with a bit of a "wow" savouriness. Powerful and bold it mettles its worth with the lamb.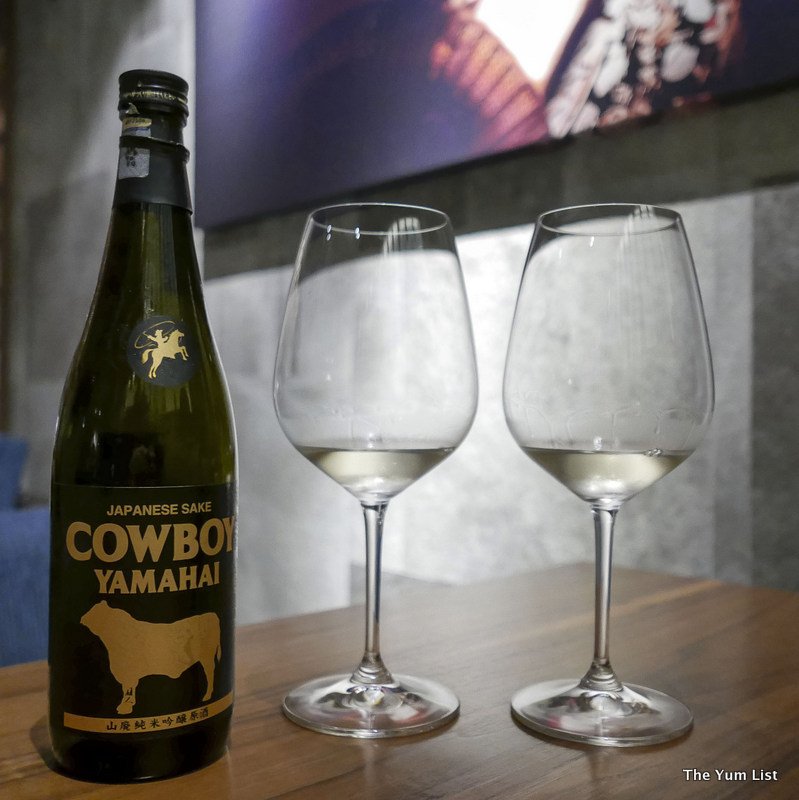 After Meal
Matcha Chocolate Fondant (RM23) with matcha ice cream and vanilla crumble is not only a pretty picture. The bitterness of the green tea and dark chocolate are a harmonious contrast with the sweetness of the rest of the ingredients.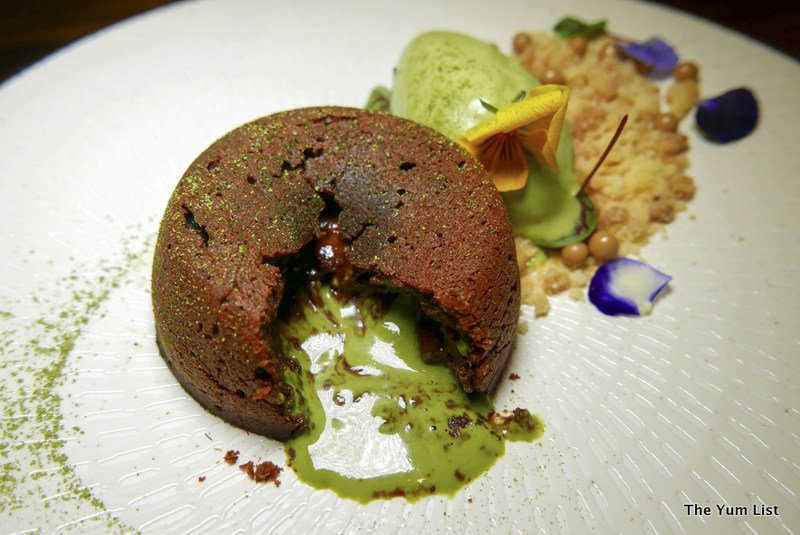 A gorgeous platter of French Cheese (RM32 for 2 cheeses, 46 for 3 cheeses) is presented table-side allowing guests to choose from a variety of goat, cow and ewe milk selections. Just as the wine has been masterly stored and served, it would seem the same goes for the dairy.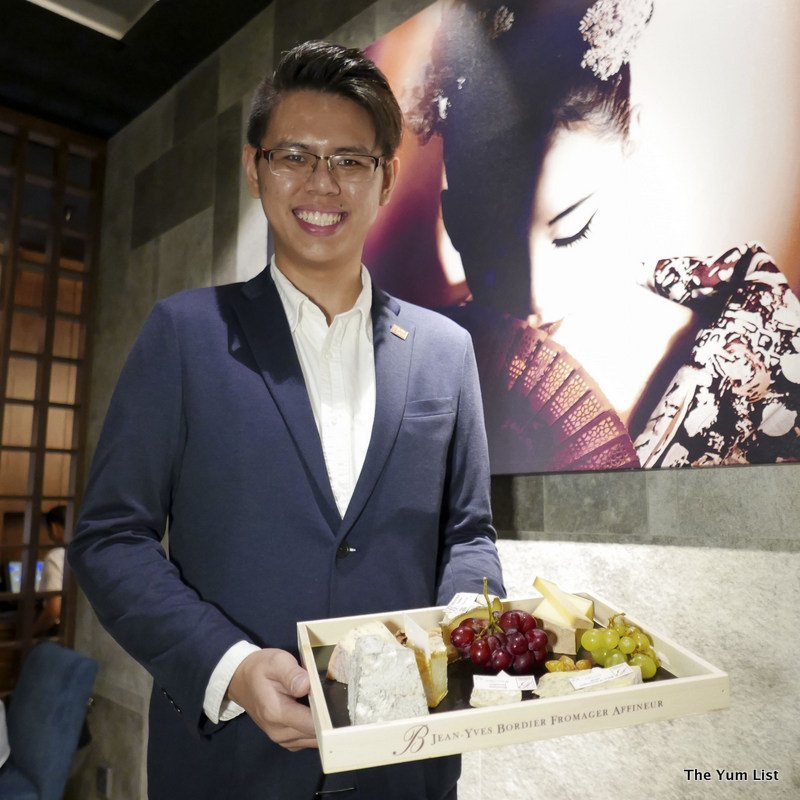 Our choices of Langres AOP Champagne-Ardenne, Tomme de Savoie Fermier, Rhone Alps, and Bleu d'Auvergue AOP Auvergue (one of the first cheeses to successfully gain AOP) are at just the right temperature, softened and full of flavour.
A dessert wine, Disznoko Tokaji, Kesoi Szuret/ Late Harvest 2013 ends the evening on sweet note. Disznoko, one of the older wine makers in the region, makes this late harvest wine by waiting until the grapes are very ripe on the vine before cultivation. Sweetness and a stone fruit acidity counterpoise one another to create a magical match for the blue cheese, and an ending that is bright rather than saccharine.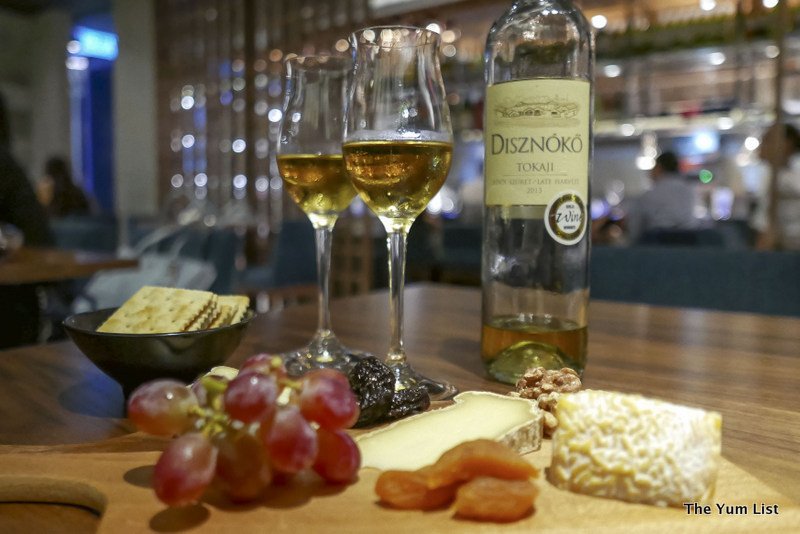 Reasons to visit: contemporary Japanese setting with a great buzzy atmosphere; fantastic wine list curated by not one, but two sommeliers; chef with serious credentials; our favourite dishes were the Signature Botan Ebi Capellini and the Char-Grilled Cabbage in anchovy butter sauce.
Kikubari
#L3-01A, DC Mall,
Damansara City
6 Jalan Damanlela
Damansara Heights
50490 Kuala Lumpur
Malaysia
+603 2011 8200
[email protected]
www.kikubari-dc3.com