Words: Heather Onderick Photos: Monica Tindall
Those of you romance language connoisseurs will know that the word Sapore means flavor in Italian.  A recent lunch at Sapore uncovered a bouquet of fresh flavors across a diverse menu offering hot tapas, cold tapas and main courses, plus a selection of cocktails that will definitely lighten up your week.
Sapore, Ampang
Located in the row of trending restaurants just between Jalan Ampang and Ampang Hilir, off the corner of the Hulu Klang, Sapore is nested in a row of must-try restaurants in Kuala Lumpur.  Having said that, Sapore is one of the few on this strip that comes with a unique combo of a fine dining chef, serving up bistro size portions with reasonable prices.  Nothing on this menu is too heavy and because there are so many dishes to choose from that is ideal because you can try a number of things.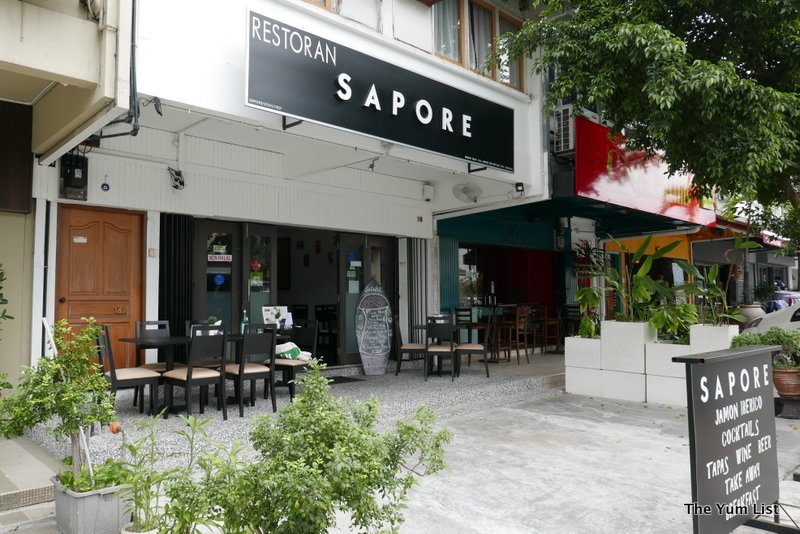 Drinks at Sapore
Our afternoon lunch started out with one ruby red cocktail, the Sapore Crimson Pink house special and another grapefruit colored Sangria.  The Sapore Crimson Pink is not for the faint hearted.  If it's been a long week and you need a strong cocktail to help relax and take the edge off, this is a smooth and dangerous cocktail that includes tequila, gin, vodka, whiskey and rum, with passion fruit juice and a splash of red wine.  The Sangria was balanced, and topped off with fresh squeezed orange juice which gives the taster the satisfaction of drinking liquid sunshine.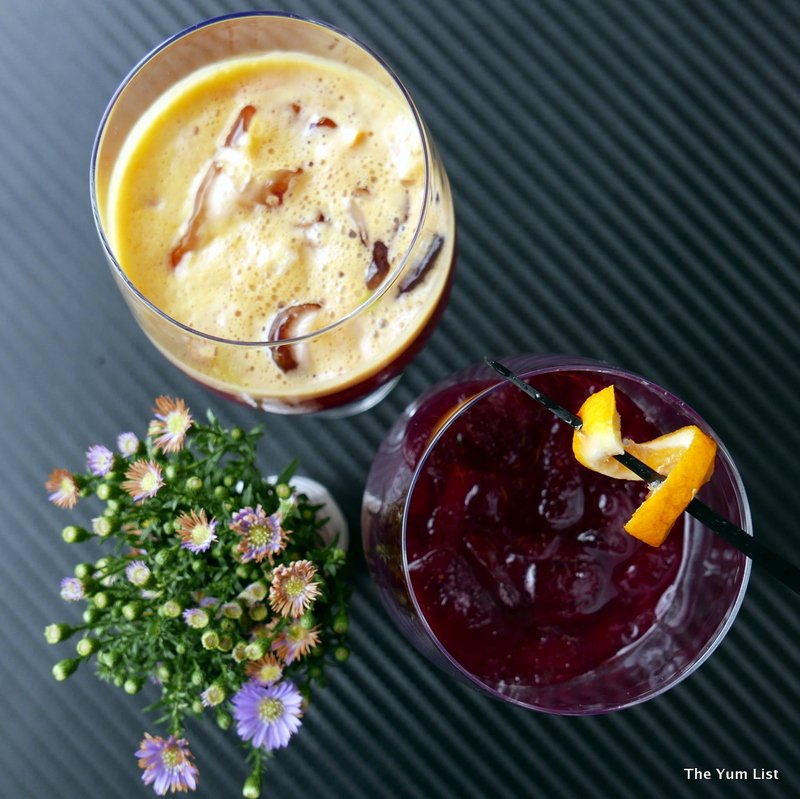 Cold Tapas
Shortly after our drinks arrived, a lovely slate of cold cuts arrived. For those who have a soft spot for charcuterie, this plate did not disappoint.  Garnished with pickles and pickled onions, the board contained heaping portions of chorizo, salchichon, spicy salami, mortadella, porcetta and parma ham and was served alongside slightly toasted homemade Sun-dried tomato bread.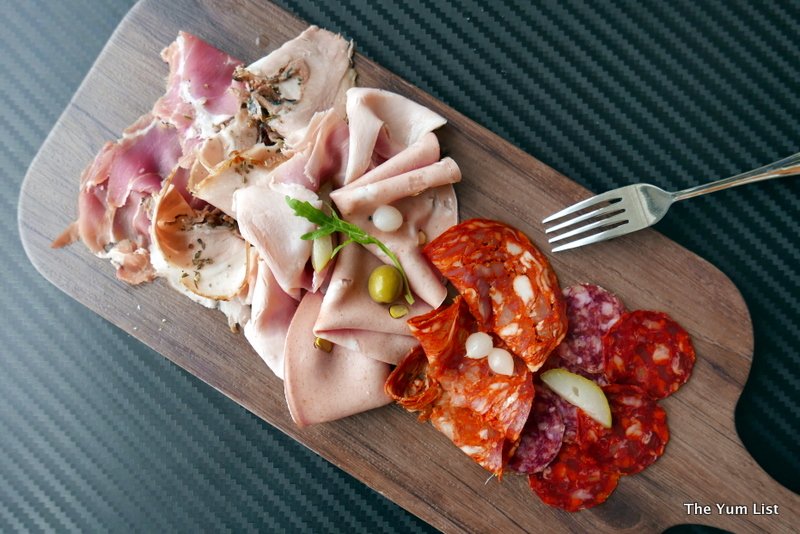 Because Monica, Caning and I were all lovers of embutidos, the charcuterie plate's contents disappeared in seconds.  Luckily, our next plate appeared magically before us beautifully presented.  The Tuna Tartar with Avocado Guacamole (RM 38), served directly in the avocado, with sliced shallots, lemon, and capers.  Citrus infused creamy guacamole complemented the savory tuna making each biteful happiness.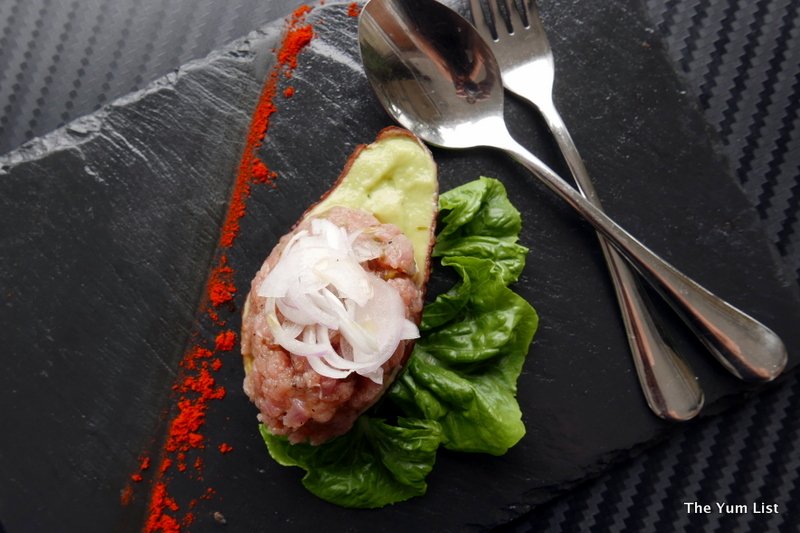 Hot Tapas
After sampling some cold tapas, it was time to warm up.  The Prawn Rolled with Pork Bacon (RM 32) drizzled with Chilli Oil and garnished with rosemary were a sizzling and soft addition to the meal.  A touch of spice partnered well with the buttery and fresh from the sea tasting prawns.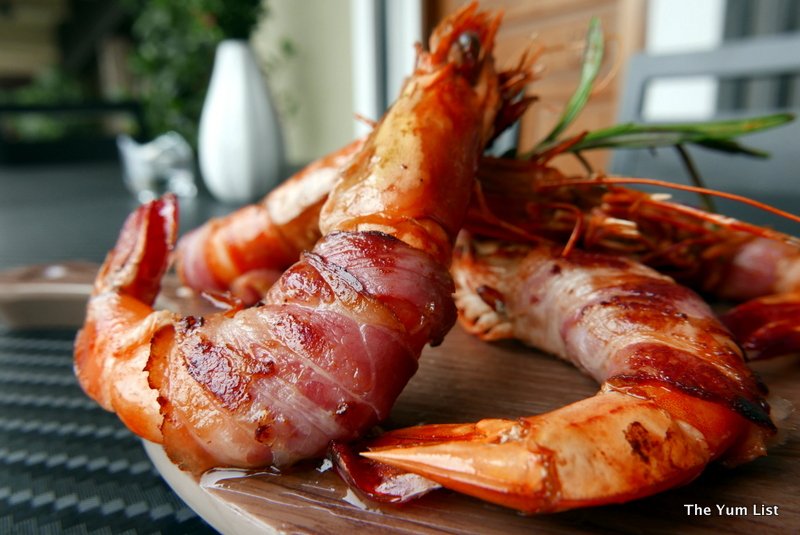 Vegetarian Dishes
Our veggie friends would be enamored with the next dishes that were served.  First came, the sunshine yellow, Spanish Tortilla (RM 18), with softened onion, well cooked potatoes and creamy cheese that folded out of the tortilla like a fondant.  This was one of my favorite dishes on the menu and a nice interpretation  of the often dense Spanish Tortilla.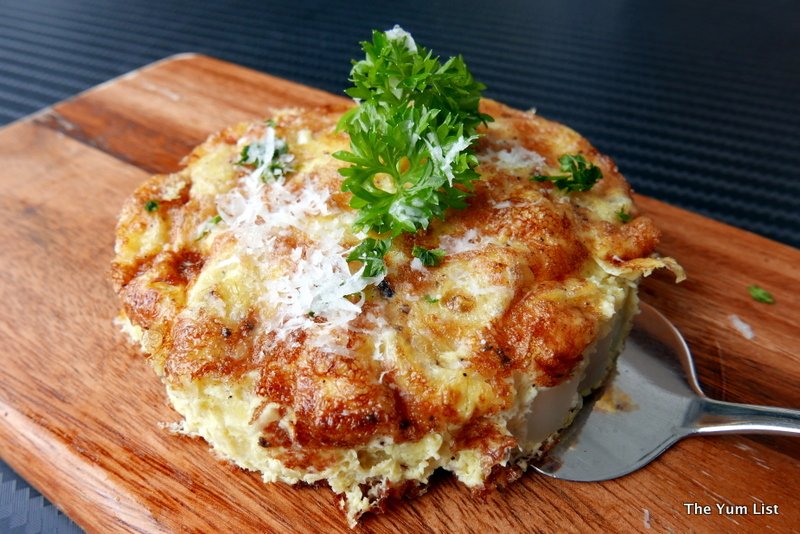 Right after we polished off the Spanish Tortilla, a fluffy comfort food followed. The Corn Polenta, Funghi & Truffle Oil (RM 16) was velvety and the oyster and beech mushrooms added a soft welcome texture.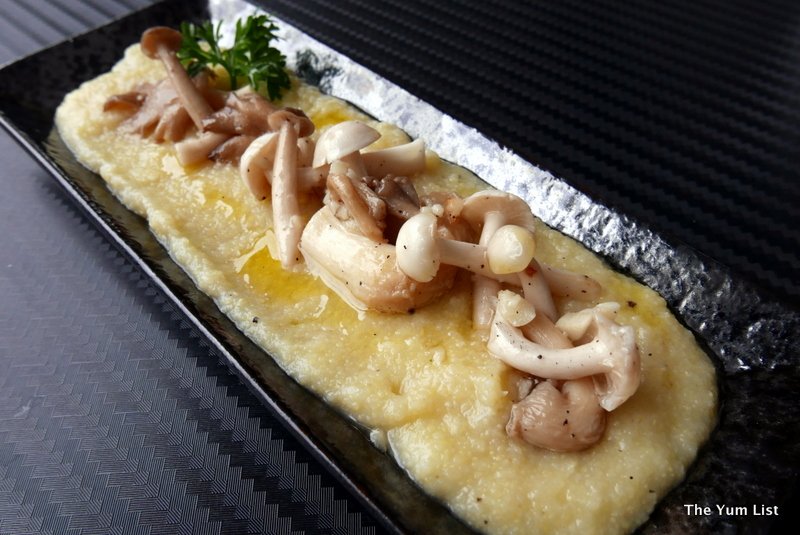 Spanish Wine at Sapore
During our tapas, we were offered two Spanish wines. One was an Airen, which was a white wine, oaky and dry, similar to a Chardonnay and the other, a Tempranillo, a dry red wine which often blends well with food to enhance the dining experience. Sapore have four wines available by the glass: two reds and two whites from Italy and Spain.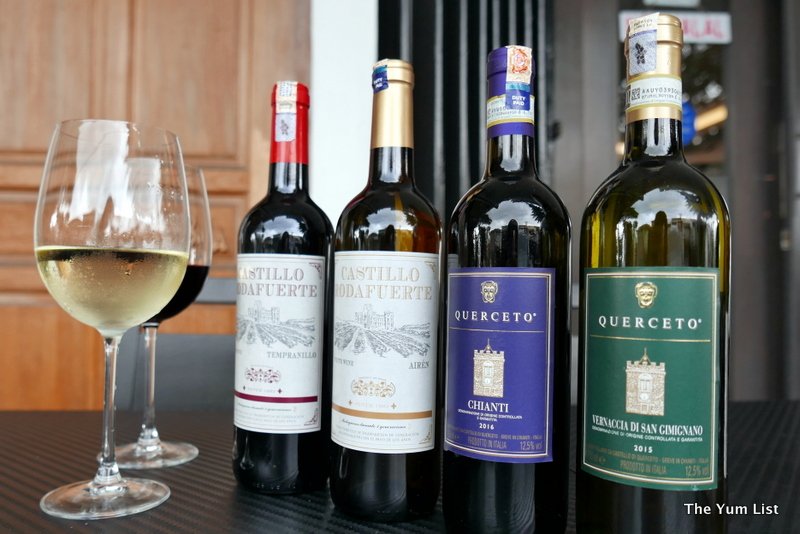 Pastas at Sapore
With the chef slowly bringing us from more Spanish flavors into Italian flavors, we moved onto the pasta dishes and main courses.  There is something for everyone but we tried chef's favorites.  The first, Pici Pasta with Minced Pork, Mushrooms, Green Peas and Cream (RM 36) was served with a kick in the form of spicy green chili paste.  This added spice gave the traditional flavors in this dish a distinct personality.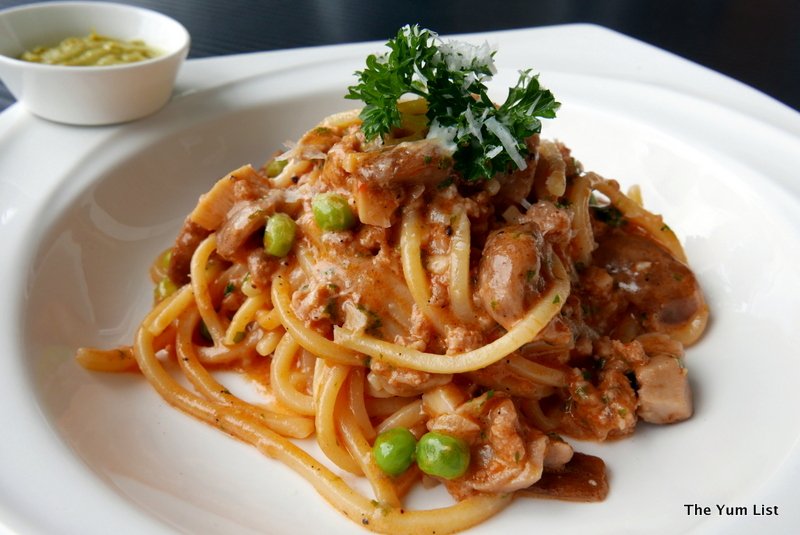 The Pappardelle with Wild Boar & Pecorino (RM 38) presented itself at the same time as the Pici.  The sauce was a warm, tomato, meaty ragu-like consistency over al dente handcrafted pappardelle noodles.  An ultimate comfort dish, this pasta is clearly made with love.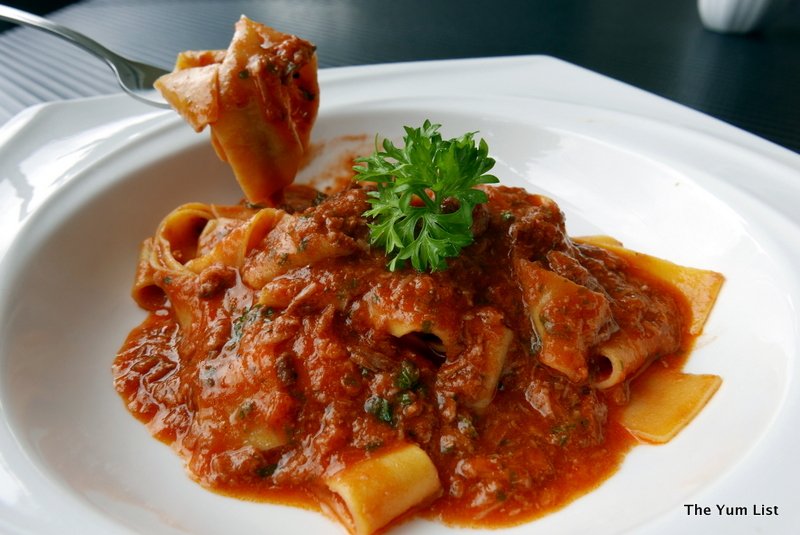 Mains
For those who prefer meat in place of pasta, the obvious choice is the Rabbit Confit with Corn Polenta (RM 98).  Made with rabbit flown in from Spain, and gently marinated in rosemary, garlic, salt, the tender meat was distinctly seasoned and gives diners an opportunity to have an earthy game dish which isn't always to find in Malaysia.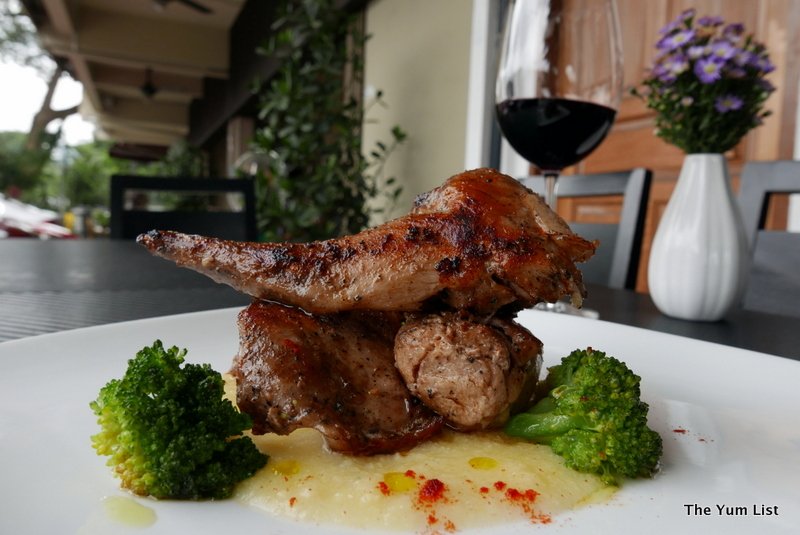 Dessert
To finish off this sweet meal, we ended with a deliciously creamy Creme Brulee (RM 18), drizzled with a raspberry caramel sauce over apple compote and grated lime.  To get the wonderfully creamy texture, the chef explained that he steams the brulee cream for 1 ½ hours.
If you are looking for an authentic Southern European spread, with good portions and presentation with flair, Sapore is worth a visit.
Reasons to visit: Come for the unique, fluffy Spanish Tortilla with oozing cheese and the balanced, citric caramel accented Creme Brulee; stay on for friendly service and value-for-money Spanish and Italian cuisine.
Sapore, Italian Spanish Restaurant, Ampang
18 Persiaran Ampang
Desa Pahlawan
55000 Kuala Lumpur
Malaysia
+6 03 4266 6362
www.facebook.com/saporemy