Monica Tindall
"It's five to five! I'll meet you in the pub!" Apparently, this is a phrase that resonates with many office workers in the UK. As the work day draws to a close colleagues start pointing to their watches and make plans to go for drinks with their mates. After twenty years in the corporate world, Andrew Sykes, owner of 525 in Luang Prabang, decided to make happy hour more of a full-time activity by opening his own bar.
"There are palm trees. There are blue skies. There's the Mekong. It's mythical. And, it's a bloody long way from England," Andrew says when quizzed about the chosen location for his extended drinks session.
525, Luang Prabang
525 is off the Luang Prabang tourist strip and feels a bit as though we've found where the secret "in" crowd hangs out. Only, it's not just the in crowd; everyone who likes a drink seems to be here. It's inclusive; welcoming to ladies and gentlemen from all parts of the globe – a casual mood in sophisticated surrounds.
Walking into 525 we could be in any city around the world with a happening bar scene. It certainly does not have the vibe of a sleepy tourist town that turns out the lights at 10 pm. An outdoor garden is furnished with black and white sofas and lit with cylindrical lanterns. Indoors is covered with a sepia palette, illuminated by exposed filament lightbulbs and adorned with beautiful photographs of the region.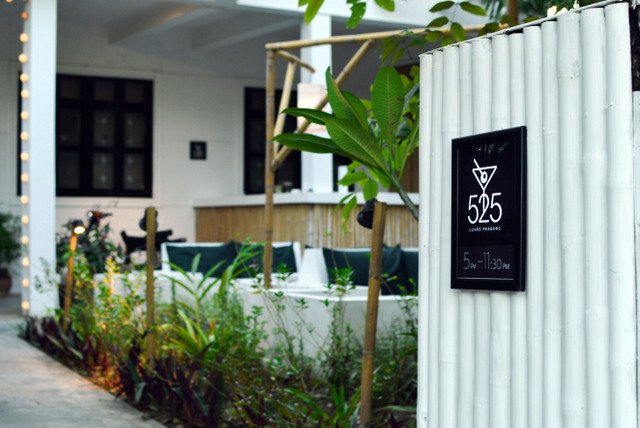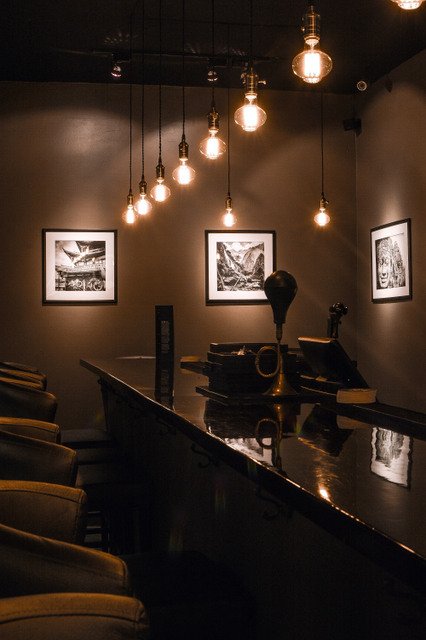 Drinks at 525
James, the general manager, walks us through the menu. Both new and old hat drinkers should find something to their taste on the menu. There are classics for comfort and house cocktails jazzed up with a twist or an original recipe.
Classic
The Whisky Sour (Kip 56 000 $7 USD) with Bourbon, egg white, fresh lime juice, and a touch of sugar is not only a classic worldwide, but was also one of the first drinks on the menu. Here it's made to the standard recipe and we think it's executed flawlessly.
House Cocktails
While sipping on a classic is a good place to start in judging a cocktail bar's worth, once the base line has been established we like to move onto what makes a bar unique, and that is often found in their own interpretations of the classics or original recipes.
Cuban rum is the foundation for the Pineapple Ginger Mojito (Kip 64 000, $8 USD). Backed up with pineapple, ginger and spices to give it a local kick, it's a refreshing take on the standard.
The Asian G&T (Kip 64 000, $8 USD) brightens a British fave by adding lemongrass and Thai basil to London Dry Gin and tonic. This one has a lovely aroma, and well worth a try for gin fans.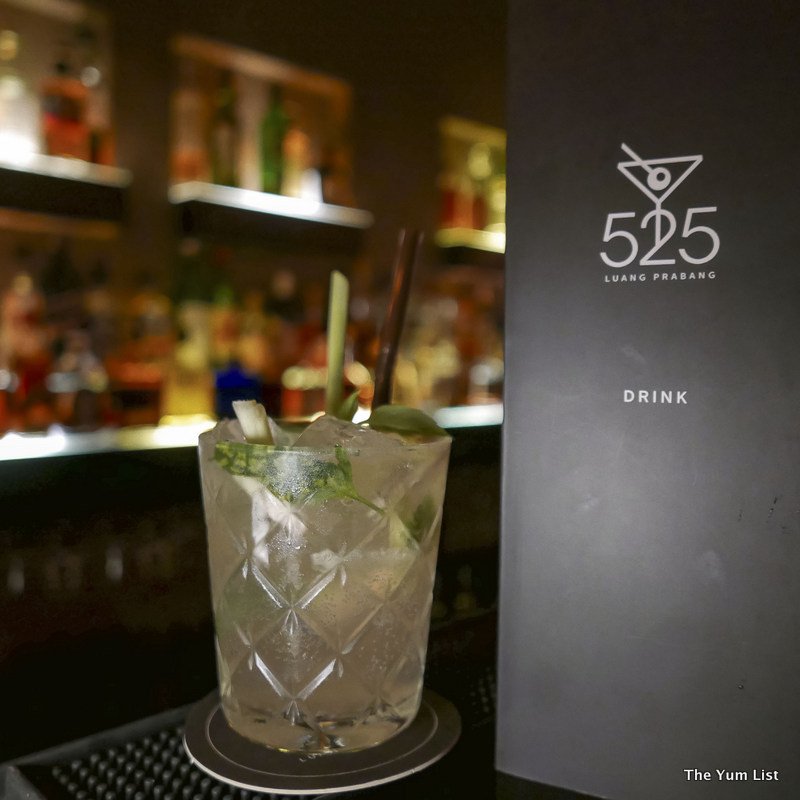 The blue-hued Evening Sky (Kip 64 000 $8 USD) suits hubbies sweet, fruity and tropical preferences with vodka, rum, lychee and citrus. Not only does it sit pretty in the glass but hubby claims that it goes down smoothly too.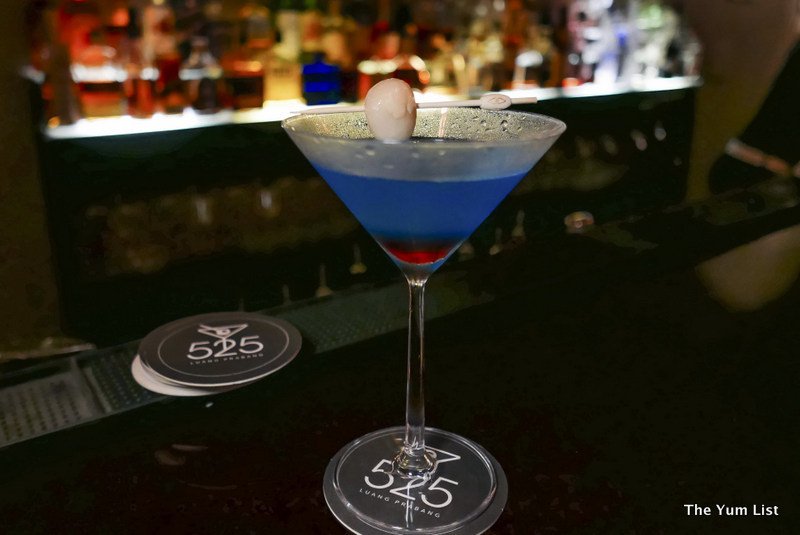 Returning to gin, which has long been a classic amongst expats in tropical climates but more recently seemingly overtaken the world, we sample the Gin Zing (Kip 56 000, $7 USD). This one is for martini lovers, and perhaps suited to the end of a meal with its sweet citrus notes thanks to Cointreau and bitter orange marmalade.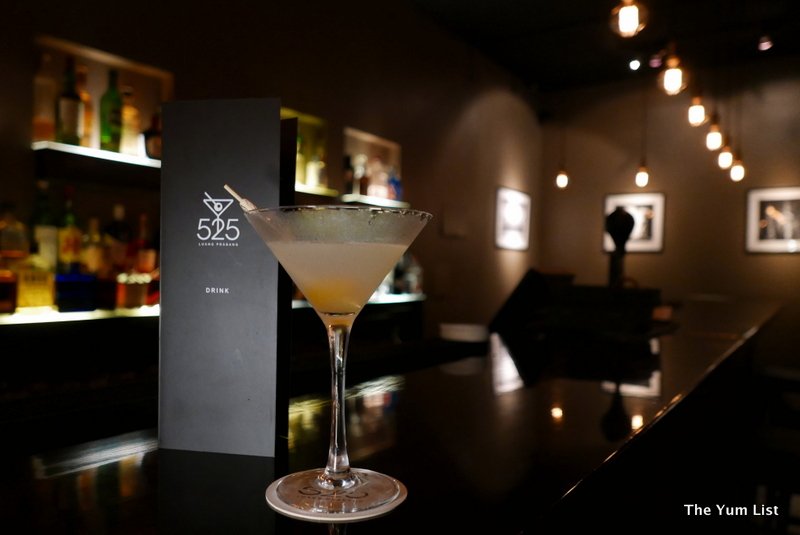 Lastly, from the house, the Lao Lover (Kip 64 000 $8) is a sophisticated beverage featuring vodka, honey, ginger, lemongrass and egg white. Wonderful aromas remind me of many of the Laotian dishes we've recently sampled and I imagine this going nicely with king kai, Lao style fish salad.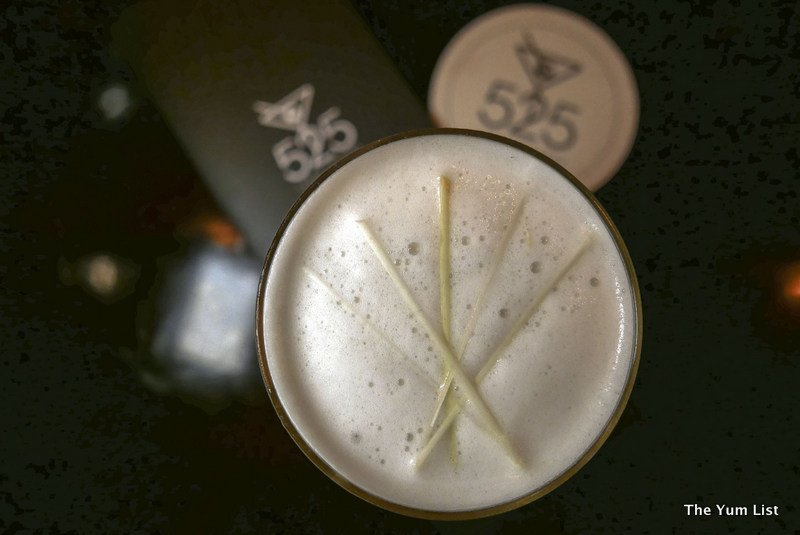 Made to Order
While we've enjoyed the cocktails up to this point, we're hankering to try a local spirit. Having eyed a bottle of Laodi genuine agricole brown rum, we ask the bartender to mix us up something with that as the base. Infused with oak chips, this rum has a distinctive rich aroma and so the mixers of lime juice and brown sugar are kept simple to allow the spirit's flavour to stand out.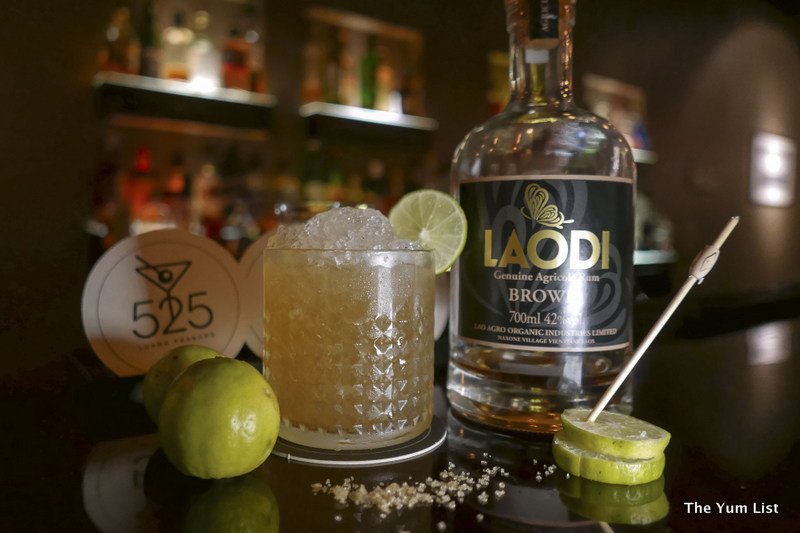 The Connoisseurs List
Andrew, James and the team behind the bar pride themselves on sourcing a wide selection of spirits, often hand-carrying new items into the country themselves. One such label is the Octomore; a 63% Islay barley whisky, which has been aged for five years and holds the reputation of being "a velvet glove around an iron fist." Yum!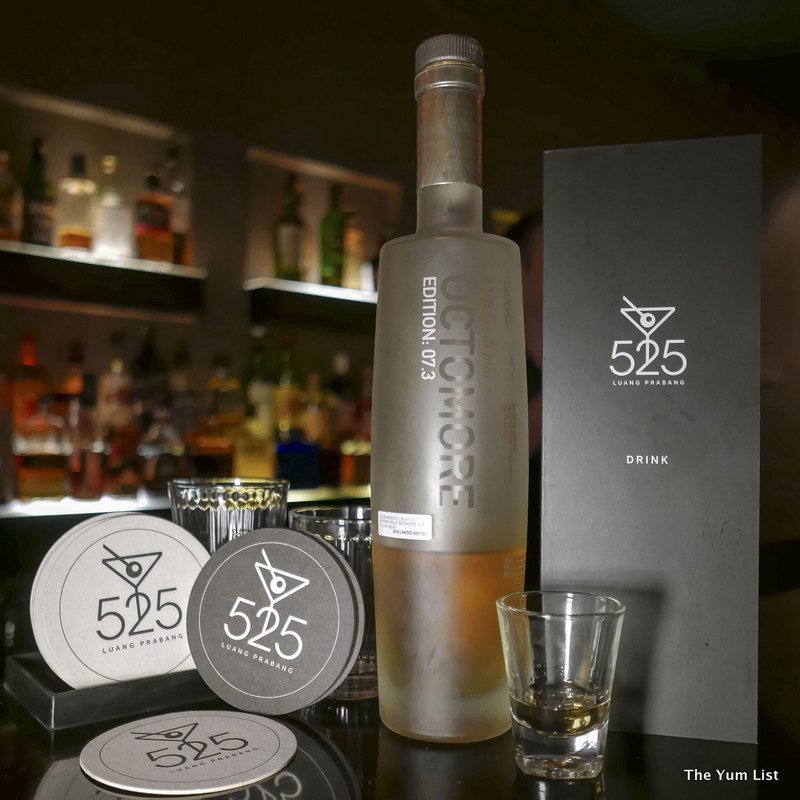 Food at 525, Luang Prabang
The food menu compromises a collection of western comforts such as Mac 'n' Cheese and other recipes with more of an Asian influence.
Aubergine Caviar (KIP 20 000, $2.50 USD) are not only a popular pick but a vegetarian option too. Grilled eggplant dusted with chilli powder tops homemade rice crackers baked with Parmesan, which are made daily and the crispiest crackers I've tasted in a long while. James says proudly that EVERYTHING is made from scratch in-house including the bread and sauces, so when I ask where I can find a packet of these delicious crisps to take home he points to the kitchen.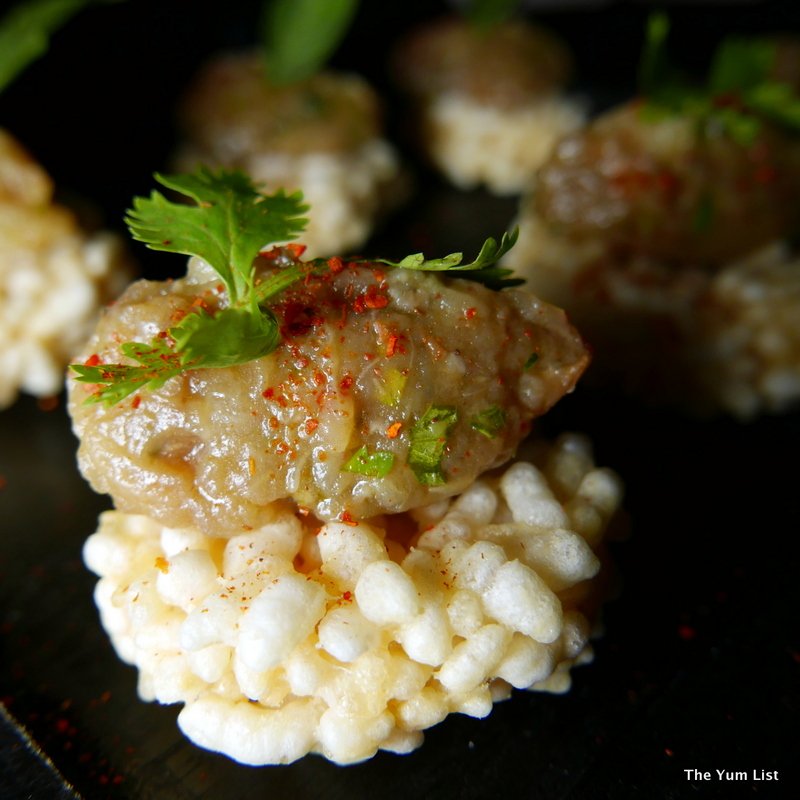 Don't pick up the Gin and Tonic Battered Fish (Kip 20 000, $2.5 USD) with your fingers! You must spoon them into your mouth to get the cucumber salsa on the base. James insists that the batter must be made fresh for every single order. He thinks the kitchen crew, at first, were not so fond of his meticulousness, but soon realized that it doesn't take too long and is worth the effort.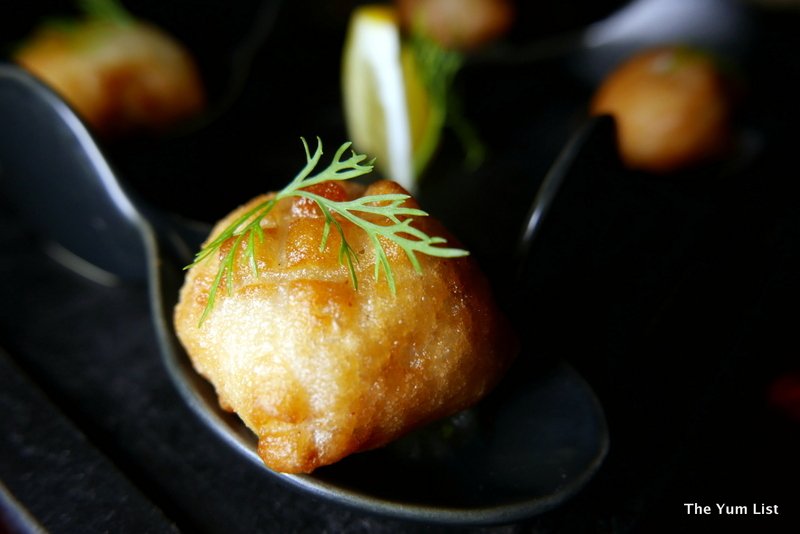 Although the sweets list is small, just as much attention to perfecting recipes has been given to desserts as to the creation of cocktails and tapas. Dark Chocolate Desire, a vegetarian and gluten-free treat, (Kip 16 000, $2USD) is the richest, thickest chocolate mousse ever – seriously the fabric of dreams – sumptuous, velvety yumminess.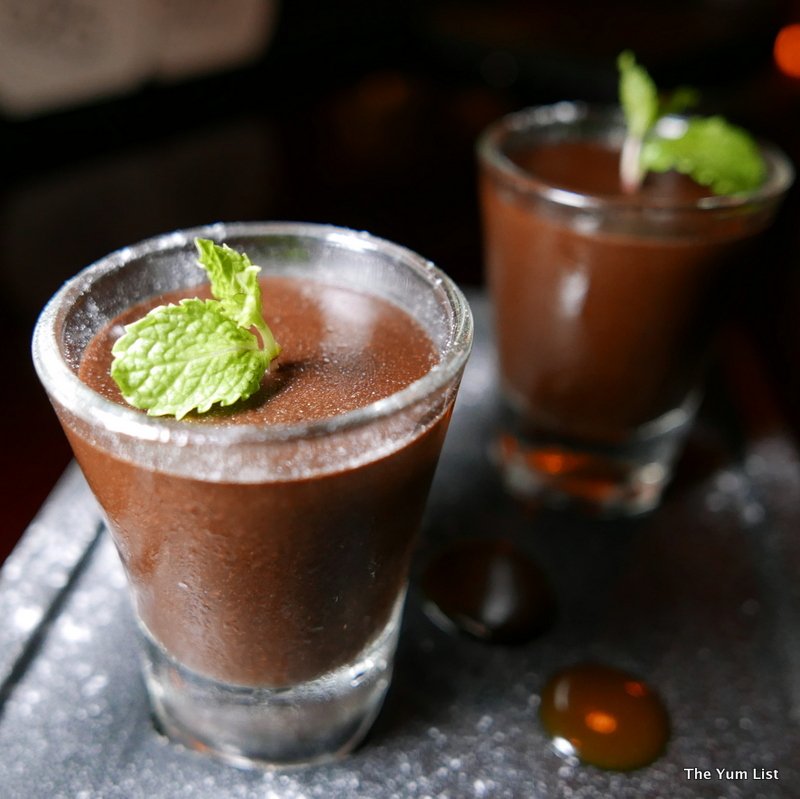 Reasons to visit: to the best of my knowledge it's the only dedicated cocktail bar in Luang Prabang; a place to meet residing expats, some in-the-know travellers and hip locals; my fave cocktail was the Asian G&T; food-wise don't miss the Aubergine Caviar or the Dark Chocolate Desire.
525
Cocktails and Tapas
Kingkitsarath Road
Luang Prabang
Laos
+856 71 212 424
525.rocks