Monica Tindall
Saffron Coffee is not only THE number one spot to get a cup of coffee in Luang Prabang and one of the best brunch cafes in the town, but it's also a chance to support the growth and education of the Lao community.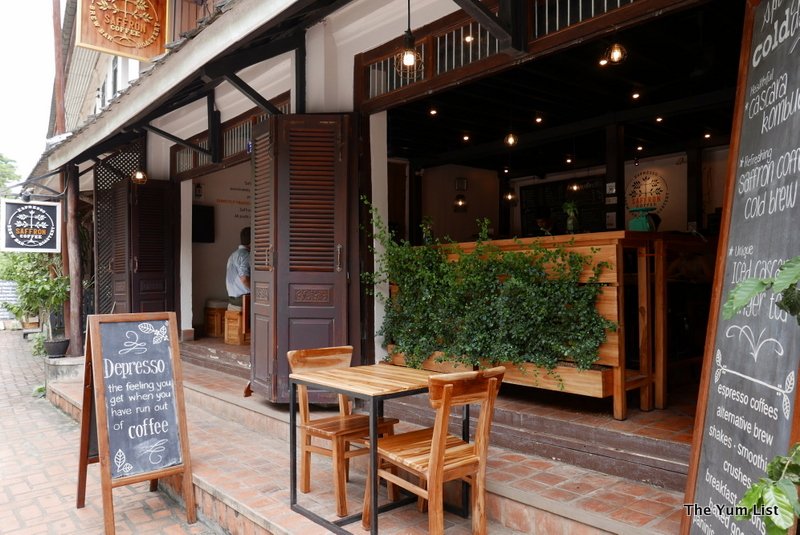 Saffron Coffee: Farm to Brew
A true farm to cup enterprise, Saffron Coffee traces in detail the trail of the coffee bean to the brew. Working directly with Lao coffee farmers, they provide education in maximizing quality production through organic, sustainable methods of farming, and a promise to purchase entire crops, guaranteeing a regular income and an increase in standard of living.
Saffron Coffee's mission is to provide the highest quality of coffee in Laos, and if the word on the street is to be heeded, they've already well and truly accomplished this goal. Working "directly with hill tribes (they) establish meaningful, durable partnerships in offering organic Arabica coffee as an alternative to low-yielding rice and corn crops or as an addition to subsistence crops and livestock."
Once the ripe coffee cherries are collected from the farmers the team at Saffron Coffee do an initial grading by machine and finish it off with a hand sort categorizing it from highest quality to commercial standard: Peaberry, AA, A, Mekong Smooth and Mekong Sunrise. Ensuring standards are kept from farm to customer, the beans are then roasted and packed in house, and lastly brewed by their house trained baristas.
Saffron Coffee
A variety of brewing methods are used at Saffron Coffee, but the most popular are still the espresso-based milk beverages such as lattes and cappuccinos. We try a Flat White made on their double AA espresso with a double shot of espresso in the large, which features some serious latte art by in-house barista, Sai. Check out his fantastic elephant impression below!
Just off the street, we can tell why the Iced Latte (Kip 20 000) is Saffron Coffee's best seller. Not only is it Instagram worthy with its beer mug sized serving and giant bamboo straw (note the efforts to reduce plastic – the straws are washed, steamed at high temperatures and reused for about three weeks before ending up in the compost), but it makes a refreshing perk-me-up from the midday heat.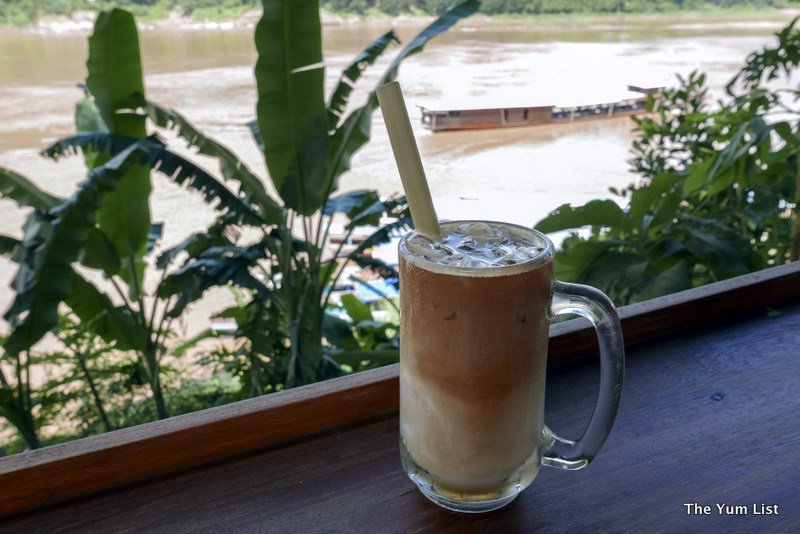 Specialty coffee lovers must try a Cold Drip (Kip 30 000) to appreciate the unblemished flavours of Luang Prabang coffee. Cold water is dripped through coffee grounds for five to seven hours producing a bright, pleasant coffee with fruity acidity and a burst of sweetness.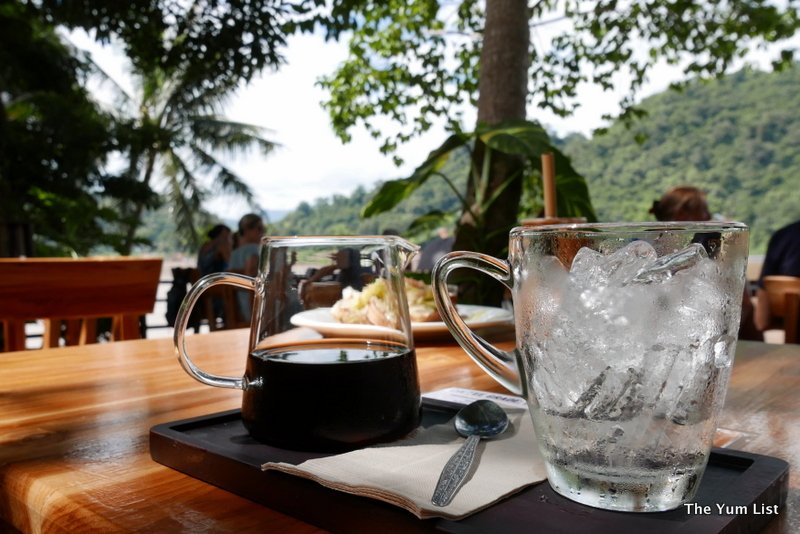 Breakfast at Saffron Coffee
Coffee though, is not the only reason Saffron Coffee has such a following. Their food menu holds comforting western classics often with a unique Saffron Coffee twist.
Mango Coconut French Toast (Kip 34 000) is a good vegetarian brekkie made with succulently thick slices of rye oat bread. Soaked with coconut milk and topped with a mango lime puree and coconut chips, it's a beautiful breakfast, and big enough to share.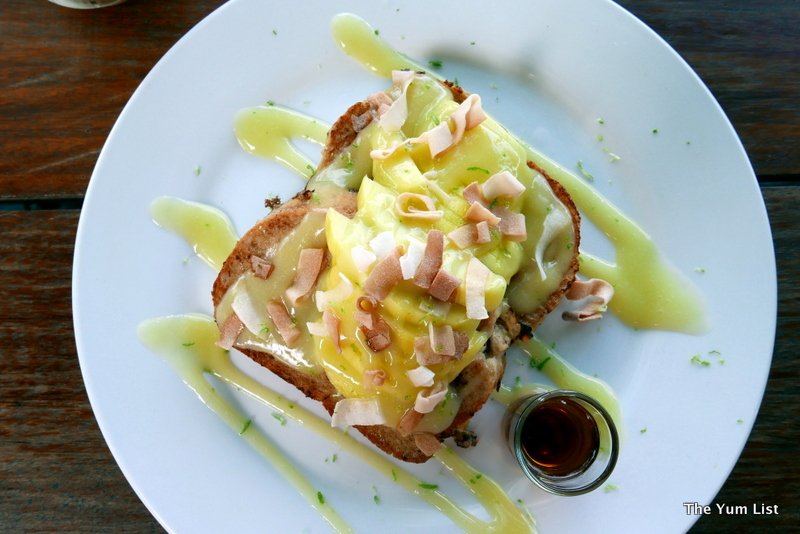 The Big Breakfast (Kip 42 000), with two eggs, bacon, rye oat toast, potato hash, tomato and shaved Parmesan, is an excellent presentation of a well-loved launch to the day. What gives this hearty morning starter a difference though is the home made coffee jam. Organic coffee jam with a slathering of butter goes wonderfully with the thick dense slices of toast. It's only found at Saffron Coffee, so you'll have to drop by to try it.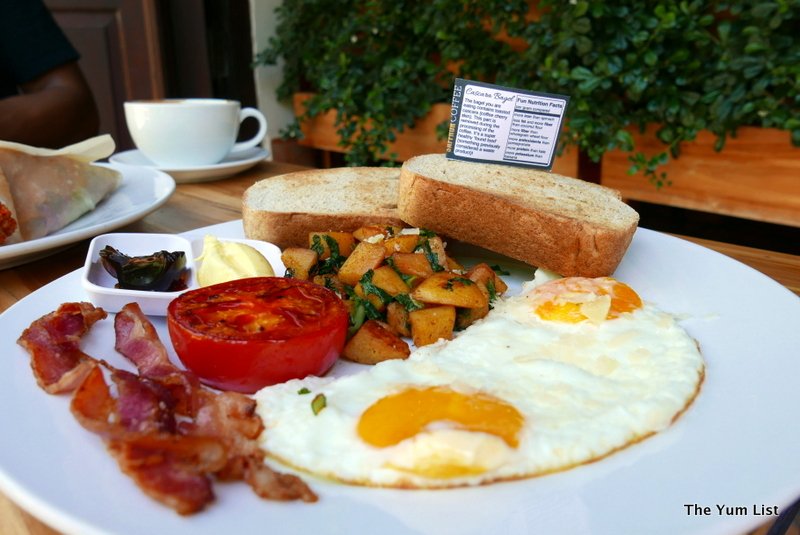 Another original from Saffron Coffee is their cascara bagel. Made with the coffee cherry skin, that is removed from the bean during processing (and would usually end up as waste or compost), the cascara should be classed as a superfood! It's high in iron, has less fat and more fibre than coconut flour, more fibre than wholegrain wheat flour, more antioxidants than pomegranate, more protein that kale, and more potassium than banana. Here the bagel is used for a breakfast favourite, the Bacon and Egg Bagel (Kip 27 000) accompanied by cheddar cheese and tomato chutney.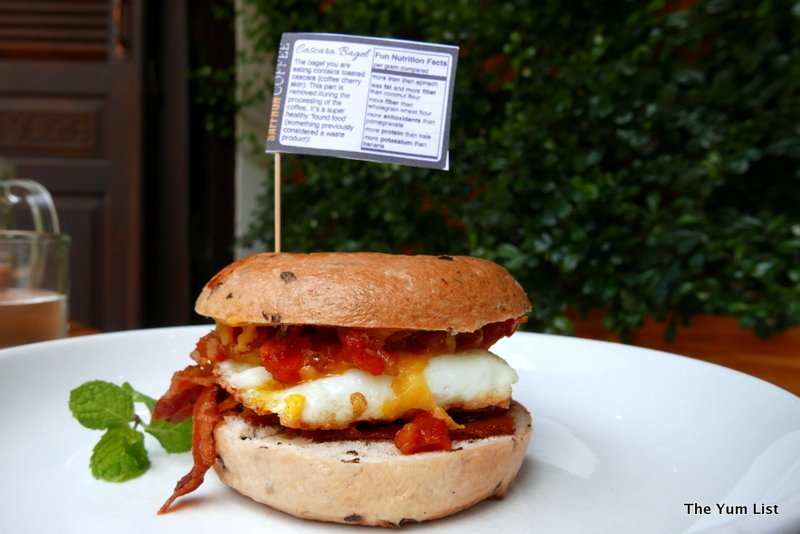 Lunch & Dinner at Saffron Coffee
The most ordered lunch item is the Falafel Wrap (Kip 40 000) and after devouring the entire generous serving, we can see why. A soft flour tortilla is filled with crunchy falafels, pickled cabbage, cucumber, harissa, and a creamy tahini dressing. There's a salad of shredded carrot, red cabbage and cucumber that makes this plate a fresh, crisp and satisfying midday meal.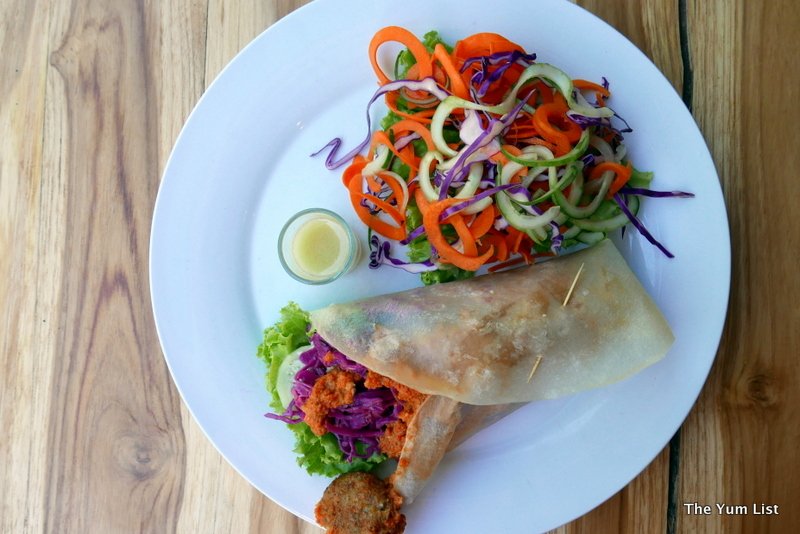 Sweets
Do save room for sweets as they're all homemade and the two we try are scrumptious. Brownie Cheesecake (Kip 25 000) is thick and intensely dense, rich and addictively more-ish. The Carrot Cake (Kip 25 000) is a moist chunk of deliciousness topped with a fluffy generous layer of cream cheese icing. Plated with candied carrot, the orange contrasts the the white fluffy topping, providing an edible garnish.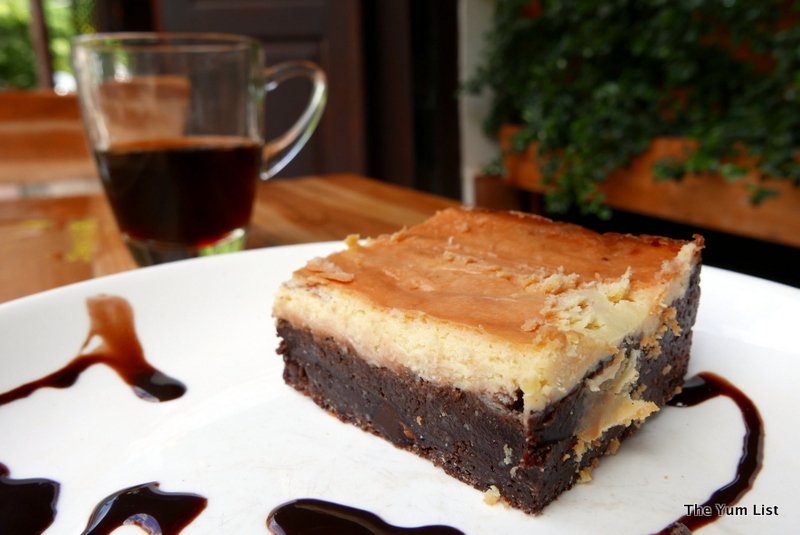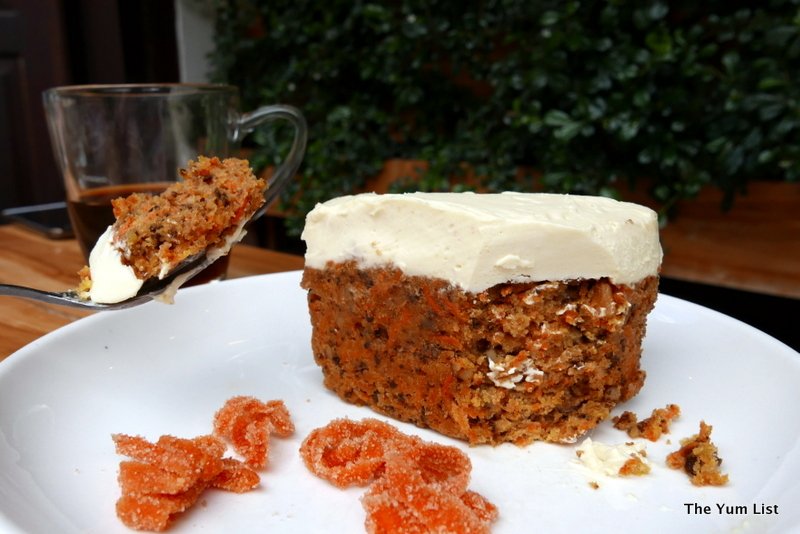 Reasons to visit: THE placed for coffee in Luang Prabang; by supporting Saffron Coffee you support local farmers; value-for-money meals; large portions; comforting western dishes with a Saffron Coffee twist.
Saffron Coffee
Khem Khong Road
Ban Wat Nong
Luang Prabang, Laos
www.facebook.com/SaffronCoffee
https://saffroncoffee.com/
* Free Wi-Fi & air-conditioned sections