Monica Tindall
Wan Chun Ting, meaning "pavilion of 10 000 springs," is Sofitel Kuala Lumpur Damansara's fine dining Chinese restaurant serving imperial Cantonese cuisine. And it's not just the food that is regal, the dining area is rather impressive too.
A circular room with high ceilings is framed by towering decorative wooden panels. Looking closely, we see the design mirrored in embroidered fabric on staff uniforms. Striking chandeliers are suspended from the ceiling and the white-clothed tables are set with heavy wooden chairs.
Wine at Wan Chun Ting
The wine menu is what you'd expect from a French brand: extensive with some good drops in a range of prices from around the world. We're fortunate to try a newly arrived label from the Napa Valley; a 2013 Beringer, Private Reserve Chardonnay. Aromas of winter fruits and whispers of buttery toast, are followed through with layers of creaminess, hints of oak and a luscious mouthfeel. It's full, yet elegant, and served in Sofitel's sexy wine glasses, it's a beautiful drink. Truly, it's one of the most lovely wines I've had in this price range this year.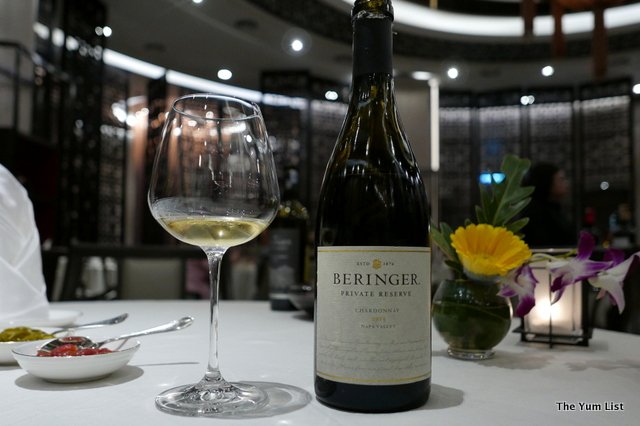 Later in the evening we move onto a second fab bottle by the same producers, the 2013 Beringer, Knights Valley, Cabernet Sauvignon. This wine has been produced with sustainable farming practices, which makes me like it even more. Delicately spicy aromas are backed up with concentrated flavours of fruit and chocolate, an elegant structure and distinctive finish. It's another beauty.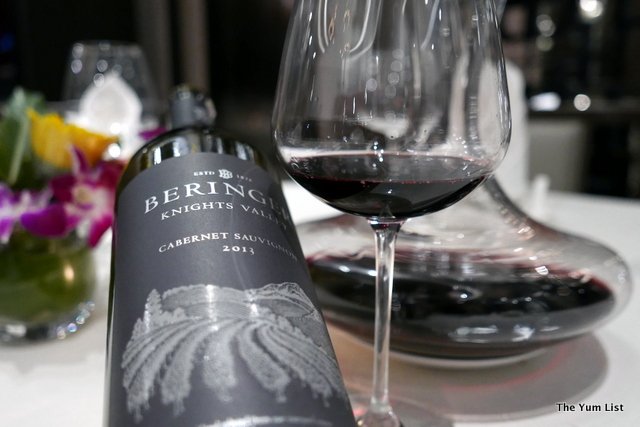 Peking Duck
We're at Wan Chun Ting because we've heard of the special wood-fired oven custom made for Sofitel Kuala Lumpur Damansara in which their Roasted Peking Duck (RM168) is prepared. Lychee woods imparts a light smokiness to the meat and the glass walled room allows you to get a look at your duck while it's cooking.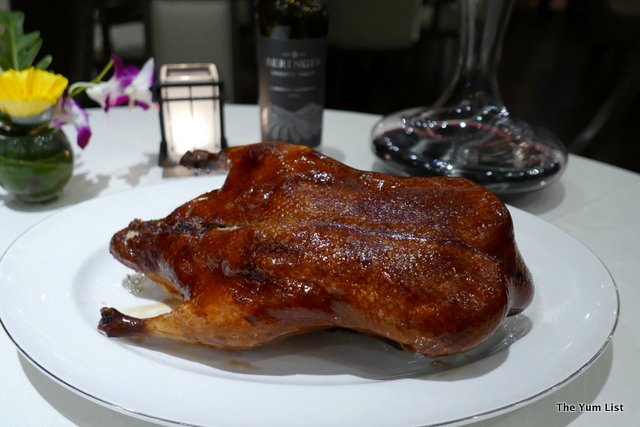 Here, the skin and the flesh are served separately, turning the duck into two courses. The first course utilizes the crispy skin and wraps it in delicate Mandarin pancakes. Staff roll a trolley tableside and prepare the pancakes as we hungrily look on. The crepes are superbly thin and the barbecue sauce is deliciously sweet. The mix of textures makes a fantastic mouthful.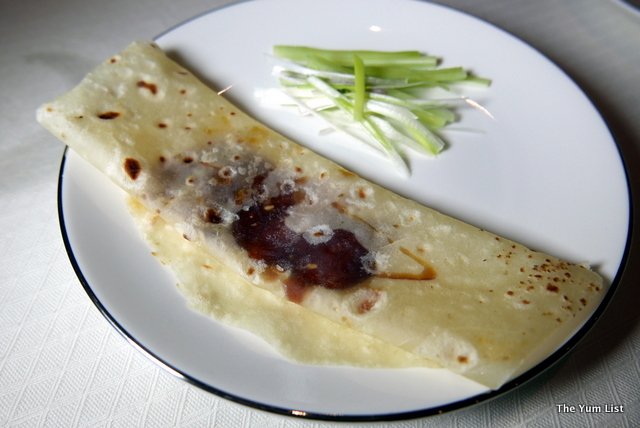 After the skin has been shed for the first course, the meat can be prepared according to your preference such as with spring onion and ginger, sautéed and served in iceberg lettuce, with black pepper, or along with crispy wanton noodles. We've taken advice from the assistant F&B manager, Julian, and have the meat with fried rice. Every grain of rice feels separate in the mouth. It's a great preparation, fragrant with the roast duck and rich with fresh herbs.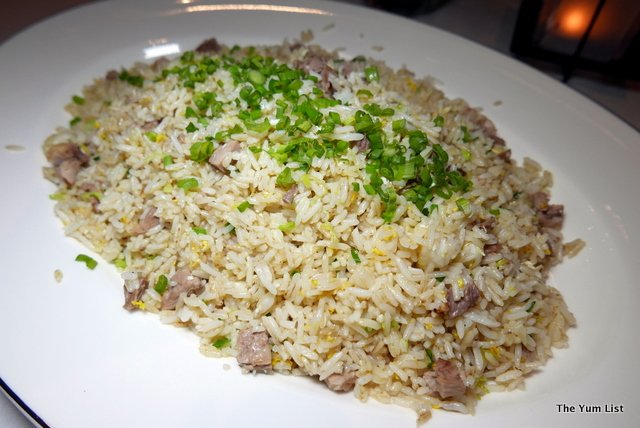 Beggar's Chicken
Another signature of Wan Chun Ting is their Baked Traditional Beggar's Chicken (RM138). It's wrapped in lotus leaves and slow cooked for at least two hours to allow the multitude of condiments to infuse their flavours and make the meat soft and succulent. An entire village chicken (free-range) goes into the pot with kei chee berries (also known as wolfberries or goji), red dates, ginseng, yoke chok (a pale yellow root used in Chinese cooking), and wai san (another root veg sometimes called Chinese yam). The mix is double boiled and given its brown hue with the soy sauce. Lotus leaves keep the flavours inside and impart a soft fragrance when the chicken is nearly ready. It's a hearty dish and one meant for sharing family-style. Rice is a must to make the most of the luscious, herb-filled liquid in which the chicken sits.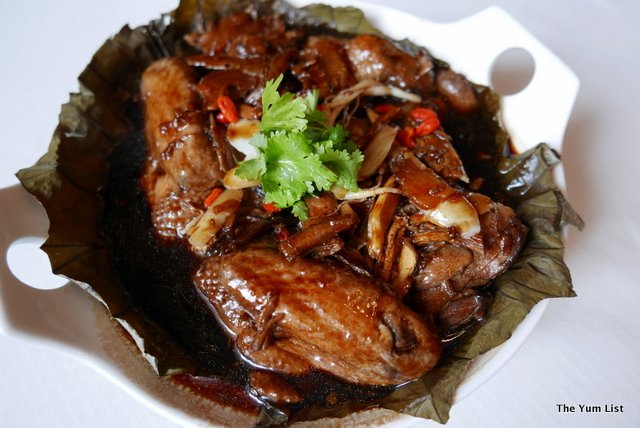 Veggies
Braised Broccoli Duo Style (RM45) is presented in a yin and yang arrangement separating the two preparations: one with crab meat and egg, and the other with dried scallops. Only just-cooked the broccoli maintains a good bite to it – just the way I like it. Hong Kong Kai Lan, Hong Kong Baby Cabbage and Prawns (RM38) is cooked lightly with plump prawns perfectly done with just the right balance between bite and softness.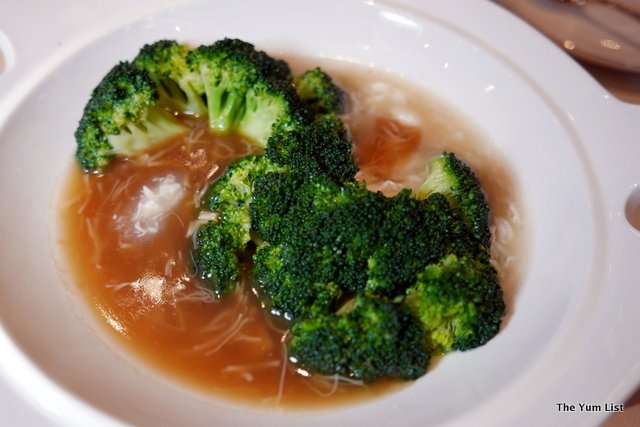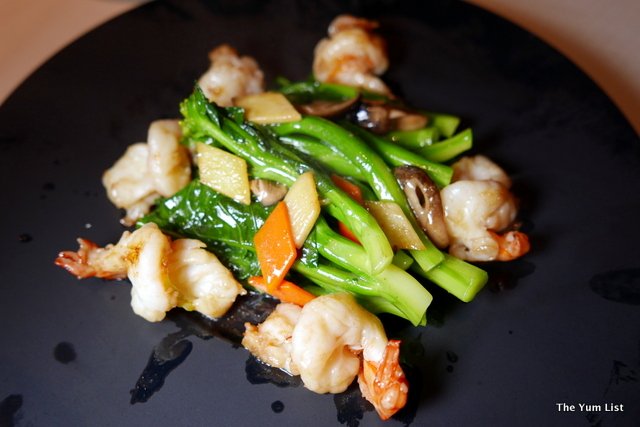 Fish
Lucky we're dining with friends as one more main is delivered; Steamed Cod Fish (RM120). Its rich buttery notes go well with the lovely chardonnay we've been relishing. The beautiful white flesh is flaky and moist and a light soy sauce complements the fish deliciously.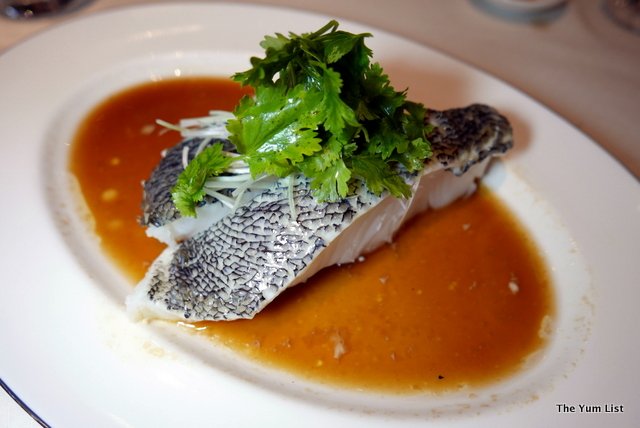 Desserts at Wan Chun Ting
Something hot and something cold are to be tried to balance out the ending. Double Boiled Sweetened Black Glutinous Rice with Coconut Milk (RM12) is a warm purple soup of coziness, and the Cream of Avocado (RM18) topped with vanilla ice cream and banana fritters is a pretty bowl brightened with red dragon fruit. It's aerated and creamy and the warm banana mixed with black bean paste fritters are warm comforts in the cool pond of green. This is chef's signature dessert and we can see why it's an order on just about every table.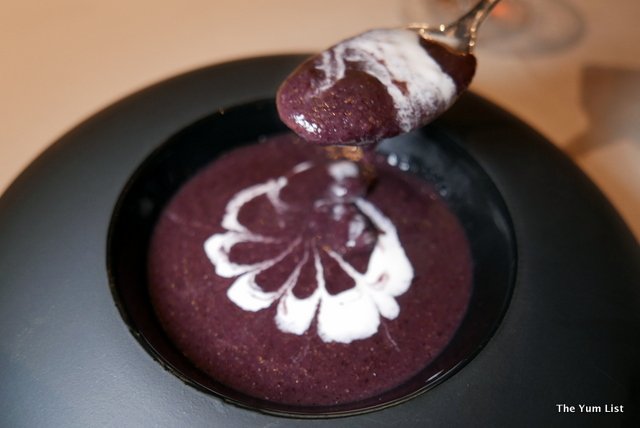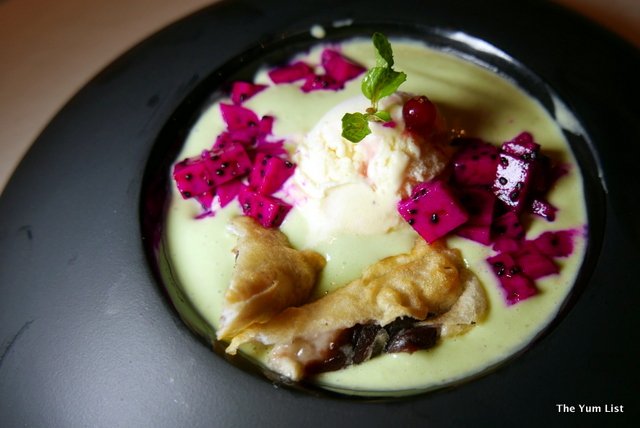 Dinner at Wan Chun Ting has been a feast fit for royalty. For a more casual dining experience their dim sum lunch and brunch is worth exploring too. Find our full review of that menu here.
Reasons to visit: beautiful setting; you must try the roasted duck prepared in their custom-made oven; the cod was delish too; wine lovers should definitely check out what they have in their cellar from Beringer – I've grown a particular fondness for their 2013 chardonnay (which is currently in prime drinking time).
Wan Chun Ting
Sofitel Kuala Lumpur Damansara
5 Jalan Damanlela
Bukit Damansara
50490 Kuala Lumpur
Malaysia
+6 03 2720 6688
[email protected]
www.sofitel.com