Words: Craig J Selby    Photos: Monica Tindall
It was my first Dapur Mekwa Grub Club. Local fare, with a twist, I was told. Driving across the city to the unknown depths of Kuala Lumpur (well, Melawati), I couldn't help but wonder what lay in store for us that evening. Supperclubs, hosted in private homes all across the city are not only gaining traction but so too are showcasing some fantastic chefs and cuisine concepts. Tonight was certainly one not to disappoint.
We arrived, parked our car, and were ushered upstairs to our host's abode. Greeted at the door by co-host CJ, a bubbly, friendly guy, the sneak peek into the home suggested tonight was all about the details. There in front of us was a huge dining table, lavishly laid with modern batik cloth, shiny cutlery, glassware, and gorgeous decorations. A larger than life piece of art took pride of place behind the table – representing the old proverb "don't bite the hand that feeds you". This was no ordinary home. It was a haven of attention to detail, colour, texture, and personality. We would soon find out that dinner would be too.
Dapur Mekwa Grub Club
Welcome drinks were served. A light lemongrass drink with assam boi was a refreshing starter. Throughout dinner, traditional Malay sirap was served (roselle with chia seeds). Light to the palette and not too sweet, the drink went well with the dishes that were served. (Guests though, are welcome to bring their own beverages if they would prefer.)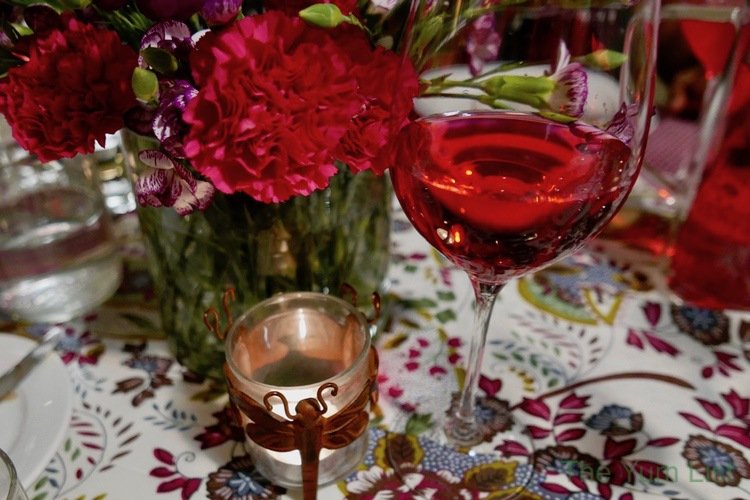 Despite the opulence of the setting, and the fantastic fanfare, it wasn't a complicated affair. Four courses were served, each telling a story. Our other co-host, H (yes, H) hails from Kelantan. Inspired by his grandmother's culinary influence, and stories of old Malaya and earlier, H crafted four dishes to take guests on a journey through his hometown heritage and took on the role of Tok Selampit (storyteller) throughout this journey.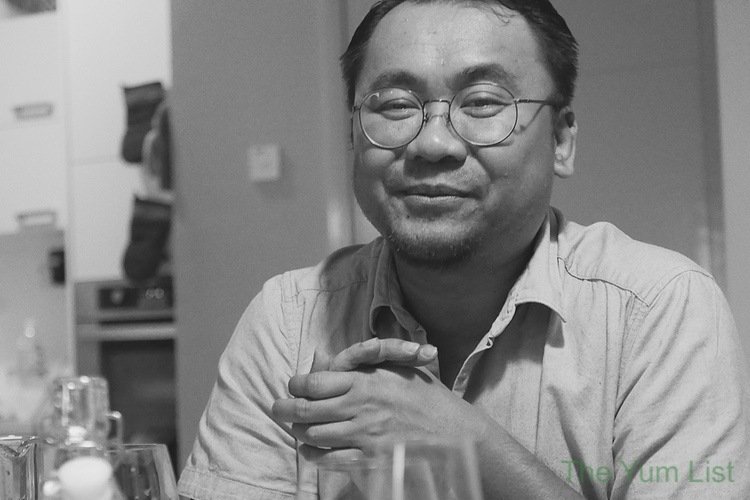 Served first was Sup Udang Paduka Jambal – a creamy and lightly spiced prawn soup, with a tender juicy prawn taking centre stage. The hints of chilli and kafir lime were evident in each mouthful, but the rich and creamy broth had an immense depth of flavour. Could we ask for seconds, I wondered?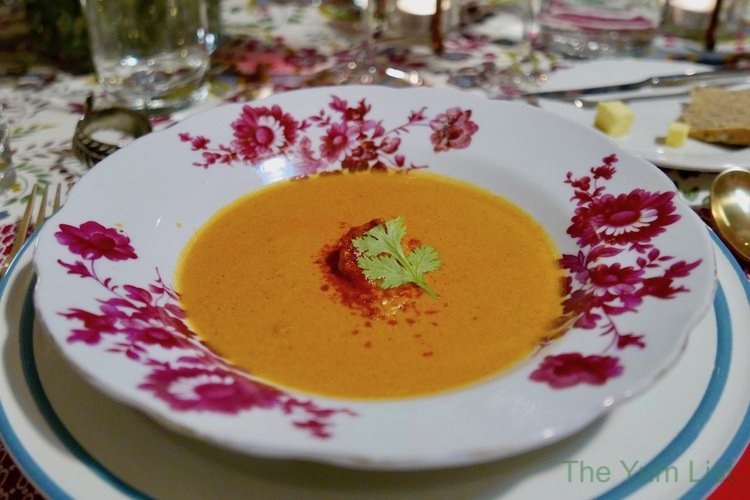 For the appetizer, Mak Yong Salad with Kerabu Snapper. This delightfully fresh salad of fresh garden leaves, red cabbage, sliced onion, dried shrimp chilli, and peanuts was balanced beautifully with fresh snapper chunks cured in lime juice and lemongrass. What a burst of flavour. Not only gorgeous to look at but fantastic to enjoy too.
A giant bowl of Keropok was bought out to snack on while H finalized the main. Accompanied by a homemade sweet chilli dipping sauce, the crunchy fish crackers took on a new dimension with this accompaniment. Found at night markets all over Malaysia, keropok is a relatively common local snack but often eaten as it. The sauce transformed it beautifully.
The main course was one I am particularly fond of, and have had the chance to eat many times over the years. But as with everything tonight, it was elevated to a whole new level, and this classic Malay chicken dish took on a life of its own. Ayam Percik Bonda with Inderapura Rice took a quarter chicken, tenderly roasted until pull apart texture, and smothered in a rich textured sauce. Not spicy, but with a lovely kick, the sauce compliments the rice well too. Taking a different perspective on the rice, Indian spices and cloves were added during the cooking process, to offer a distinctively different rice. Beautiful. Add to this crispy anchovy (for those who can), thinly sliced keropok, and a dried seaweed salad with flossed coconut, this dish took the popular Ayam Percik to an entirely new dimension.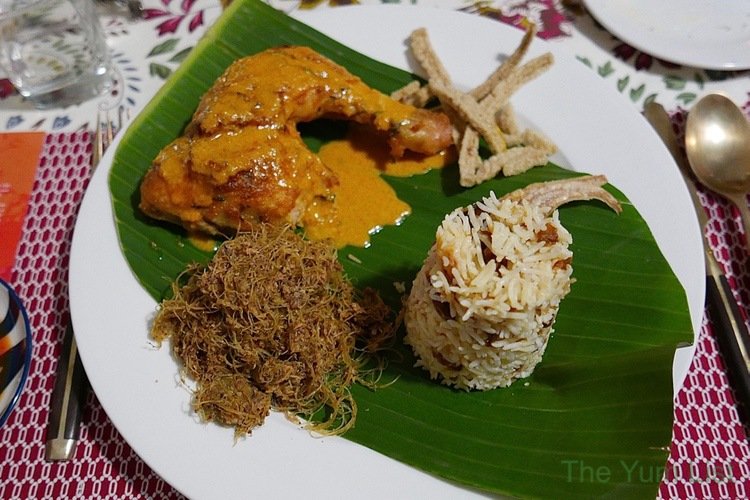 We capped off the evening with a dessert of Lompat Tikam with Gula Melaka. This colourful dish suggested that the flavours too would be somewhat special. A red glutinous rice topped a subtle and silky green pandan rice-flour cake, both immersed in thick coconut milk and gula Melaka (dark palm sugar). Personally, I love to add lots of gula Melaka to really bring out the sweetness and compliment the pandan.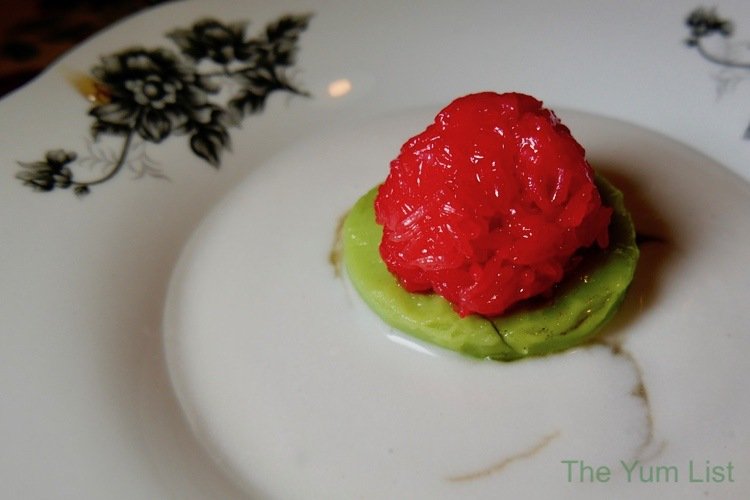 Coffee followed, along with a wefie session, and lots of chit-chat. Interestingly enough, a common theme amongst the guests tonight was the marketing industry – so our six degrees of separation has somewhat become only two or three. That's what great food does – it brings us together!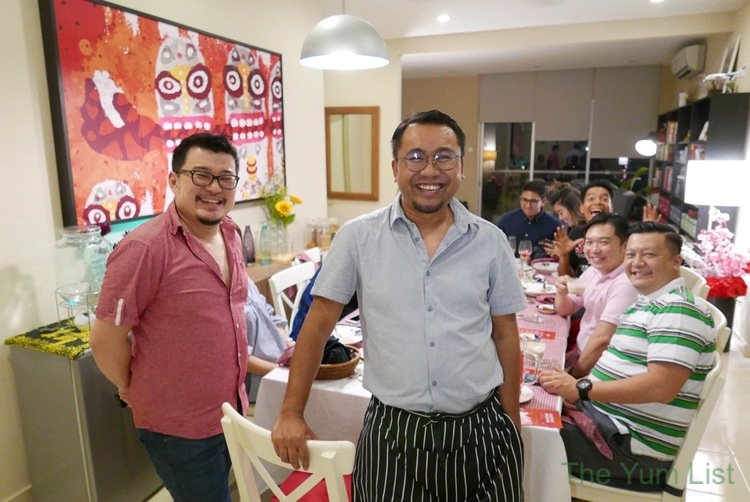 CJ and H host their supper club on a monthly basis and clearly love what they do. Each supper club has a different menu, but the themes of fantastic cuisine, storytelling, and elevated dining shine through in each one. The effort put into the experience created for guests is extremely evident, and well rewarded by the fantastic reviews CJ and H have been getting. We certainly concur.
Dapur Mekwa Grub Club
Dapur Mekwa Grub Club will be closed for Ramadan but will return to weekly Saturday evening supper clubs from June 23rd onwards.