Monica Tindall
Tired? No time to cook? Can't face the traffic? Want to eat healthily but just haven't squeezed in a visit to the grocery store?
All of the above?
I find myself constantly ticking all of the above boxes… but where there are problems there are also solutions. In this case, the answer for me is GrabFood.
GrabFood Malaysia
GrabFood, Malaysia's most comprehensive food delivery service, allows me to order from more than 500 restaurants and have my food delivered within the hour, often less.
The easy-to-use platform makes sorting through the multitude of service providers straightforward. Firstly, I narrow down my selection by deciding on the style of food. Eating out almost daily, my choice is usually healthy and I'm happy to find a decent bunch of outlets offering nutritious meals within my delivery range (after you enter your address you are shown possibilities within your area).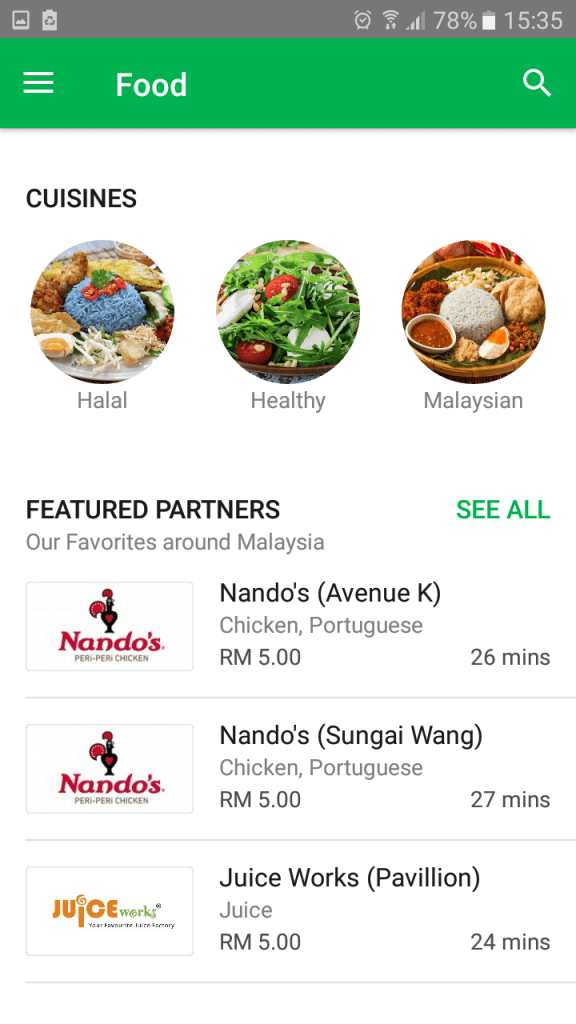 GrabFood Delivery Time
Next, I scan the estimated time taken for delivery: anywhere from 16 to 31 minutes with my current candidates. I also note that the drop-off charge is a mere RM5. Seriously, it would cost me more in parking if I were to venture out to pick something up myself.
Each restaurant has a menu with photos making it simple to scroll across the items. These menus are further divided up, again making walking my way through the choices effortless. The group of Most Popular orders is almost like a recommendation service within the app itself – surely if these same items get repeat orders they must be good.
Healthy Food Choices with GrabFood
So onto the choosing. I'm after something hearty and healthy and it seems Simply Green Salad Gallery has just what I need. The Bountiful Platter (RM25.90) and the Pasta Lover (RM20) are right up my alley of goodness. I add them both to my cart (one for now and one for dinner tonight) and am appreciative of the option of adding in special requests such as asking for the dressings on the side and for unnecessary waste such as napkins and cutlery to not be included in my delivery.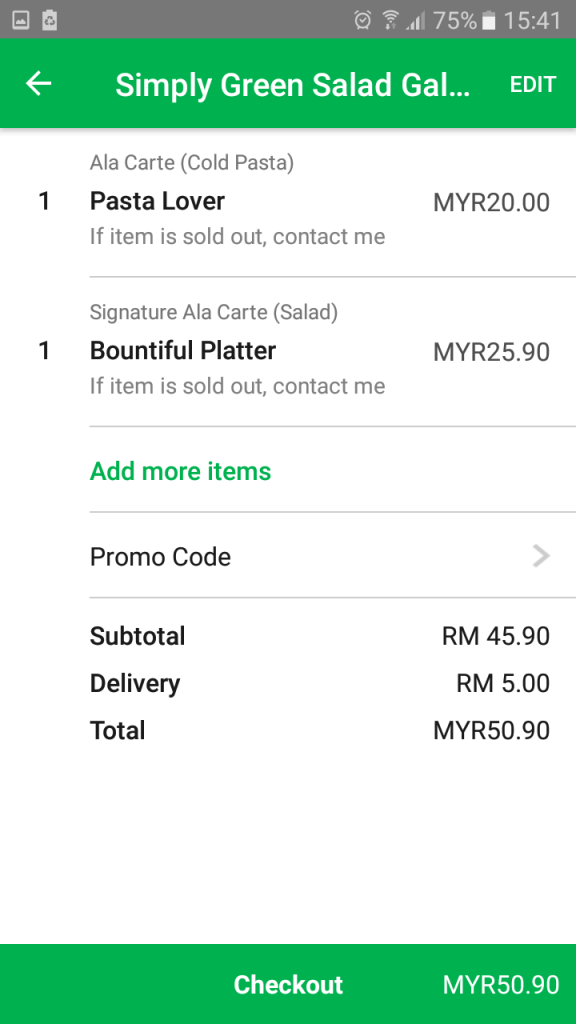 Once my order is in, I can track it live via the app! In the past with delivery services, I found it inconvenient to not know exactly when an order would arrive. I would often spend the waiting time wasted for fear of someone arriving at my door just at the same moment I decided to take a shower. Being able to track precisely where my food is, I am able to make the most of my saved minutes.
In less than half an hour my order is at my desk, just in time for lunch! My first dish of salad is indeed a bountiful box composed of multigrain rice, baby spinach, black beans, mixed peppers, sweet corn, raisins, sunflower seeds, cranberries and pesto chicken. It's all dressed in a tangy lime herb mayo, which I can add to my liking. The pasta dish attends well to my fondness for carbs with its generous base of pasta topped with Japanese cucumber, boiled egg, sweet corn, mozzarella cheese and pesto chicken. Again, I'm happy to have the seasoning on the side and can add the deliciously balanced honey mustard dressing to my desire.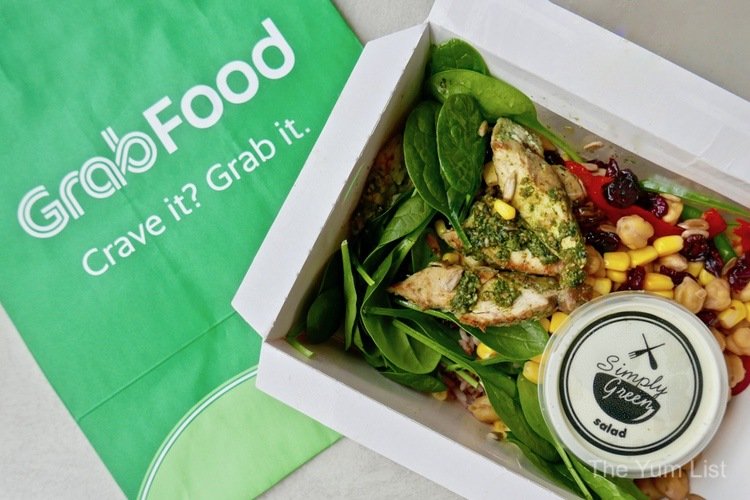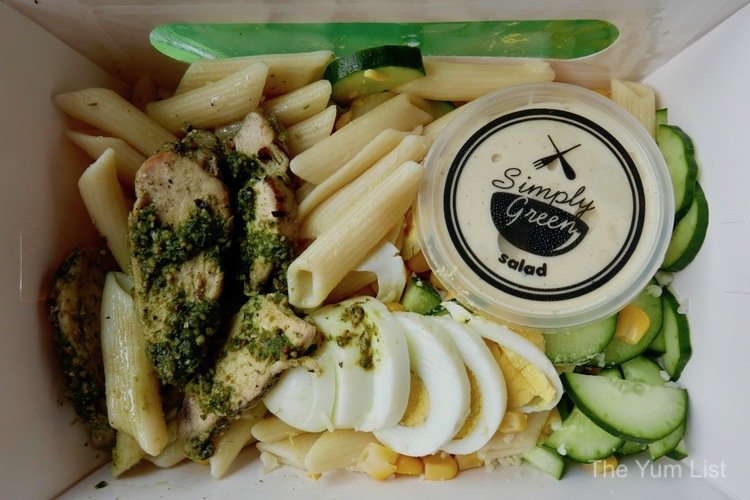 GrabFood App
I'm a regular user of the GrabFood app and thank the wonderful innovations of modern technology for saving me time, relieving stress, getting healthy delicious food to my table and making it all effortless to accomplish.
If you are a new user to GrabFood you can get a RM15 discount on your first two orders by using the code: THEYUMLIST15 (limited to 1000 redemptions).