Words: Monica Tindall
Photos: Rich Callahan
The spirit of Flock W Kuala Lumpur is encapsulated in the introduction to their menu. "Flock Foodism: From farm to flock – serving Modern Australian cuisine showcasing bold flavours and organic produce while championing a sustainable food movement." Executive chef, Richard Millar, describes it as, "A sensory approach to eating. Designed for sharing, it's fun, interactive and unpretentious." Driven by good produce and partnerships with local suppliers, it's an eclectic collection of recipes that chef likes to eat himself. It's an ongoing process and concept that the team want to evolve, constantly seeking to find more local artisan producers and incorporate their goods into the menu.
It sounds exactly what we at The Yum List love: good food with an awareness of the supply chain and active support of "growing the good." We are indeed, excited to try the menu at Flock.
Flock W Kuala Lumpur Menu – Raw – Smoked – Cured
Dishes are designed for sharing, beginning with some things light and moving onto bold and hearty. From the raw, smoked and cured section, Cold Smoked Ceviche (RM58) features deep-sea New Zealand kingfish marinated in "tiger's milk." Cucumber, seaweed, aji amarillo, red onion, micro coriander and a pineapple-ancho chilli dressing provide that seductive tang the traditional recipe is known for. It arrives in a dome of smoke, which leaves a very light trace in the fish. Quite contrary to a hot smoking method, cold smoking leaves a subtle thread allowing the rest of the flavours to play their roles without being overpowered. The overall profile suits my personal preference brandishing a good bit of zip in the finish.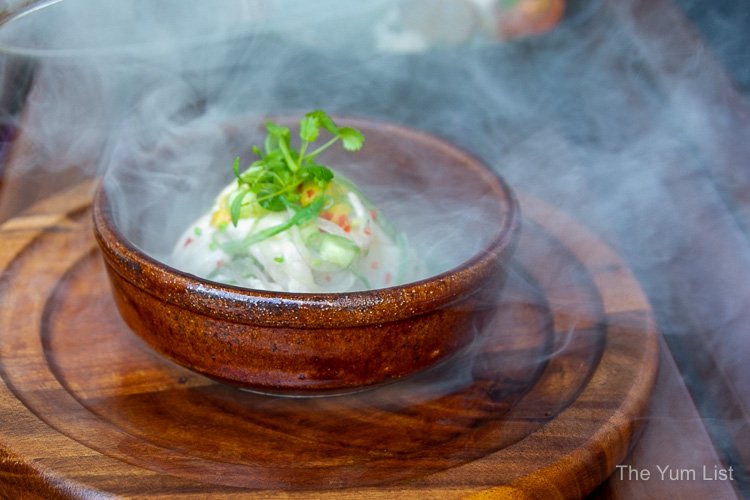 Highlighting local produce from their organic farm in Cameron Highlands, the Heirloom Tomato Salad (RM38) is a vibrant mix of red, yellow and green. The addition of thin slices of red onion, olive tapenade, pesto vinaigrette, crostini, pink salt and soft chèvre (from local artisan Milky Way) ensure that every mouthful is a tasty bite.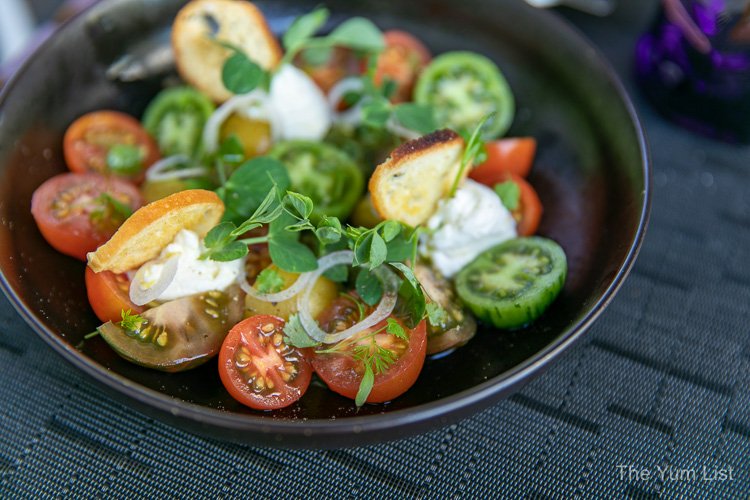 Pecking Plates
Spanish BBQ Octopus (RM68) is first sous vide (85 degrees for five hours), and then sprinkled with sea salt and char-grilled. A rich romesco sauce sets the stage for its beauty and thin shavings of charred kohibari (European root vegetable) further lay the bed. The octopus is deliciously caramelized around the edges with micro herbs (Italian parsley and cemut – tiny local flowers) and curry oil adding the final garnish. Delish!!!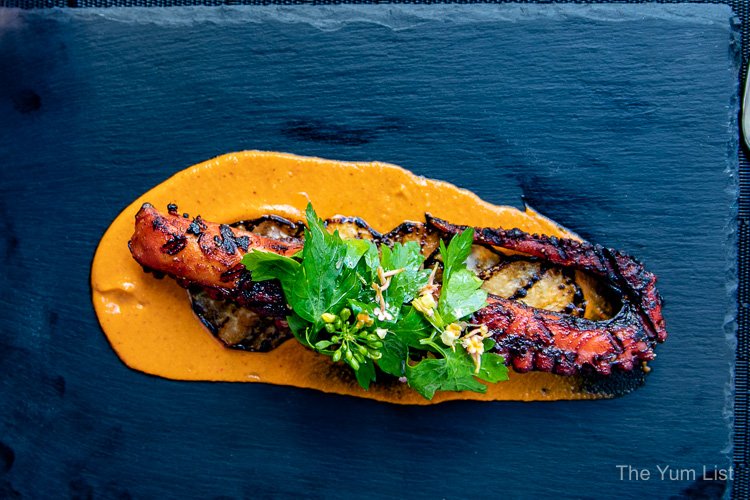 Hot Volcanic Stone
For an interactive experience and those who like to have a little control over the "doneness" of their steak, the Wagyu Beef (RM65) served on a hot volcanic stone is a must. What looks like an ancient cooking pot arrives sizzling to the table. Guests are invited to grill their own meat atop the black stone. It's cliché melt-in-the-mouth. The chuck flaptail cut of the animal, sliced to about five millimetres in thickness, cooks in less than 15 seconds. People clearly like to have a hand in preparing their own dinner (minus the chopping and washing up no doubt) as it is the most popular order on the menu (also available with lamb, salmon, and tofu). Not that it's needed, but a wasabi and sesame mayonnaise is a delicious companion.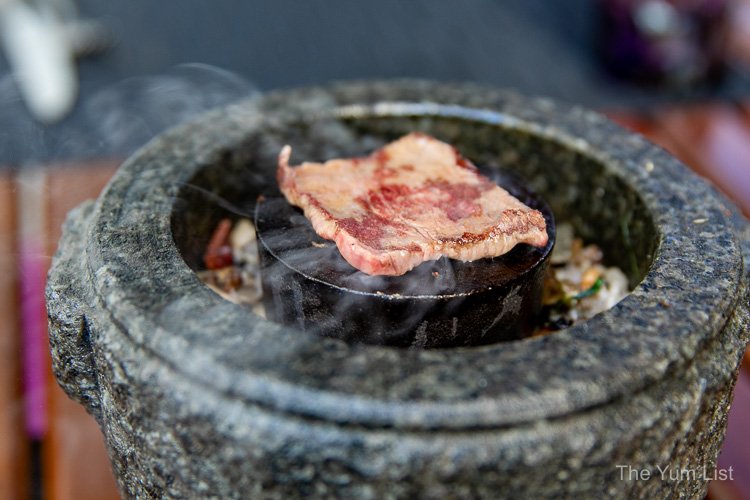 Four-Legged
We've had a very satisfying experience up to this point and the protagonist is still to come. An incredibly tender Suckling Milk-Fed Lamb Shoulder (RM358 600gm) from Spain steals the show. Sous vide for 24 hours then finished off with a roasting in the pizza oven with olive oil, garlic and rosemary. Everybody is quiet for a few moments with only the sounds of lips smacking and murmurs of contentment. As everyone swallows, the conversation quickly livens with an appreciation of the meat and forks and knives are swift to return to slice off more. Chef Richard also thrilled with the quality of the meat, affirms, "When you talk about modern Australian cuisine, it's about taking a great product that's at its best and then cooking it to honour the purity of the ingredient." While chef says it's another plate made for sharing, photographer Rich responds he has no problem not sharing with a cheeky smile taking the last of the meat from the bone.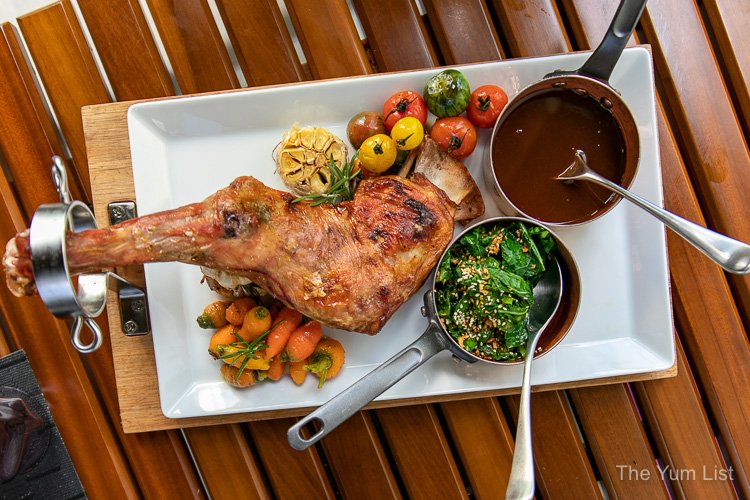 Accompanied by whole roasted garlic, confit heirloom tomatoes and lamb jus, guests may also choose one sauce and one side to go with it. We have the lamb jus, polenta fries and one extra, organic heirloom kale (a trio of blue Scotch, cavalo nero and red Russian varieties) – I do love my greens.
Guilty Pleasures at Flock W Kuala Lumpur
Room must be saved for dessert and foreigners and Malaysians alike would be well-advised to order The Rojak Table Experience! (RM55). Made famous by the kitchen team at Alinea (World's 50 Best restaurants), the table dessert experience has since been copied around the world. Rarely have I seen it deviate though too much from the typical chocolate, sauces and fruit compotes of the original. The team at W Kuala Lumpur, however, bring a truly local experience to this icon. Inspired by Malaysia's beloved rojak, the story begins with a banana leaf being laid on the table. Then one by one, the chef adds guava pannacotta, dehydrated jicama, pickled papaya, peanut crumble and paste, pineapple cake, shaved mango ice and chilli coconut espuma. Wow! Order this dish – you'll never look at the humble rojak in the same way again!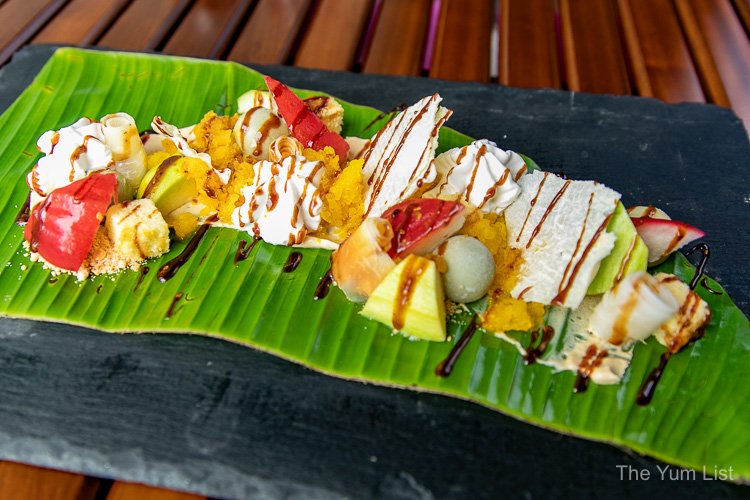 Reasons to visit Flock W Kuala Lumpur: great space with open kitchens; farm to table concept with a focus on local artisan suppliers; the freshest of ingredients available on the market; meat lovers should request the lamb shoulder and/ or the wagyu cooked on volcanic stone; the bbq octopus is also very good and don't miss The Rojak Table Experience.
Flock W Kuala Lumpur
121, Jalan Ampang
Kuala Lumpur  50450
Malaysia
+603 2786 8888
W Kuala Lumpur website