Monica Tindall
Nobu Kuala Lumpur is set to make your end of year celebrations delicious with their Christmas and New Year's menus. Tonight we're sky-high (literally, Nobu is on the 56th floor of KLCC tower 3) as the night lights begin to twinkle and we raise our glasses in an early toast to year-end festivities.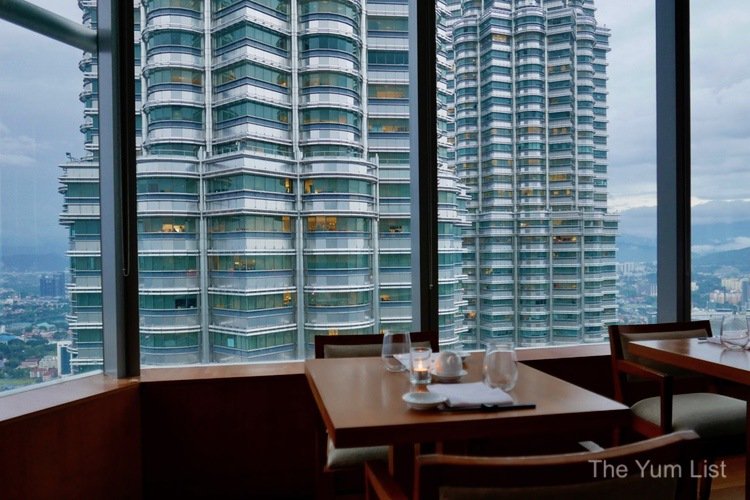 Nobu has an impressive list of sake and craft cocktails with a distinctive Japanese theme. We're in the holiday spirit so a glass champers and a house cocktail (vodka, toasted cinnamon, orange) fit the bill.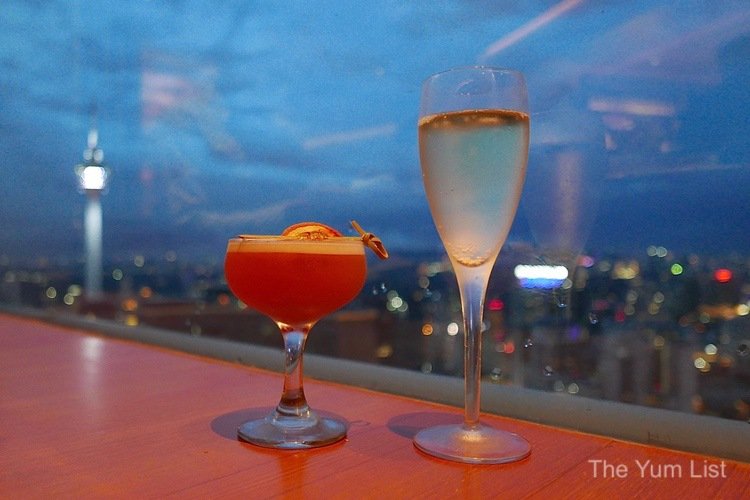 Nobu KL Christmas Menu
We're hopping between the Christmas and New Year's menu this evening and first off the knife comes from the sushi bar Moriawase from the Xmas menu. A trio of small bites arranged at differing heights with spoons, petite cups and a box assisting with the presentation. It's recommended to begin with the toro tartar with caviar, minced onion, garlic, wasabi soy sauce and a garnish of Japanese maple leaf. Head next for the seafood harumaki, which is king crab, wrapped in shisho leaf, flash-fried and lastly topped with sweet maui onion salsa. Finish with the refreshing junsai ponzu– chilled water sprout with mango miso and a topping of sea urchin. Each is distinct in flavour, beginning soft, rising in intensity and ending with a cleansing of the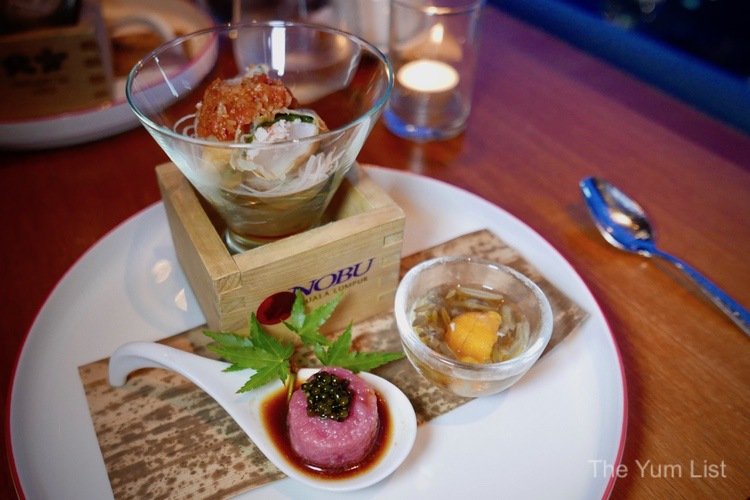 Nobu KL New Year Menu
A signature of Nobu is their serving of sushi in a cup, and so it makes sense that the Nobu Style Sushi Cup should be on their New Year's menu. A quartet of petite cups presents cooked unagi (eel) with sweet sauce, sashimi of sea bream with sea salt, premium fatty tuna with soy sauce and horse mackerel with grated ginger and spring onions. With the seasoning already added to each cup, there is no need to dip any sauces but rather just enjoy with all of the work done for you. Start from the right to the left, beginning with the sweet and ending with the refreshing with the ginger helping to cleanse the palate ready for the next dish.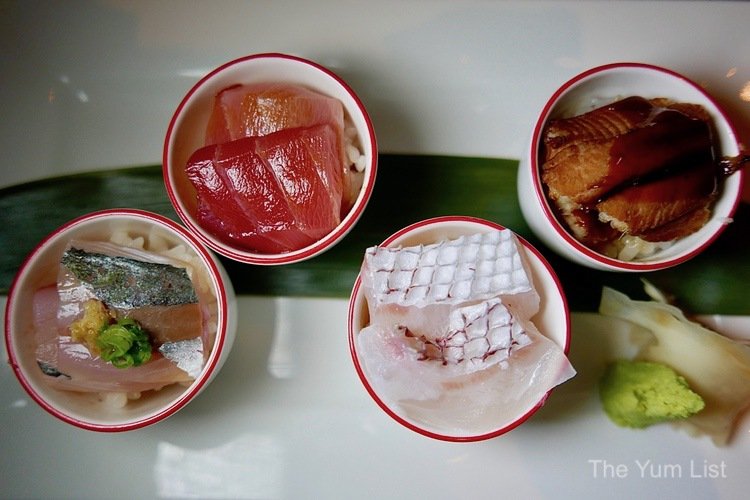 Botan Ebi and Kanpachi with endive salad continue the New Year's selection. Endive leaves are used as bite-size bowls that hold wild yellow tail (seasonal, meatier than the regular fish) topped with a salsa of avocado, onion and tomato in a citrus dressing. The best way to enjoy this is to pick up the leaf with your fingers and pop the whole thing in the mouth. It's crunchy, refreshing and creamy because of the botan and avocado. It's lively in the palate and a compliment to the chef for balancing the strong bitterness of the endives.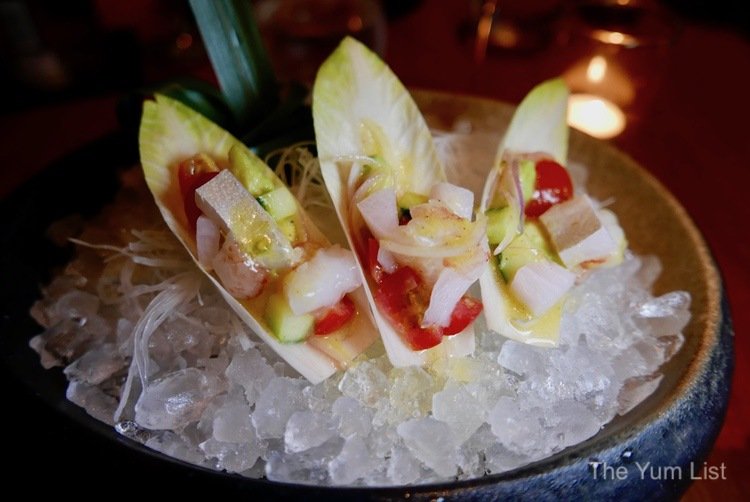 Nobu Diaginjo TK40 'The Premium Sake' (small 180ml RM160) changes our direction from aperitif drinks to a serious pairing for the food. It's medium-bodied, delicate and creamy and quite a versatile pairing for the dishes to come.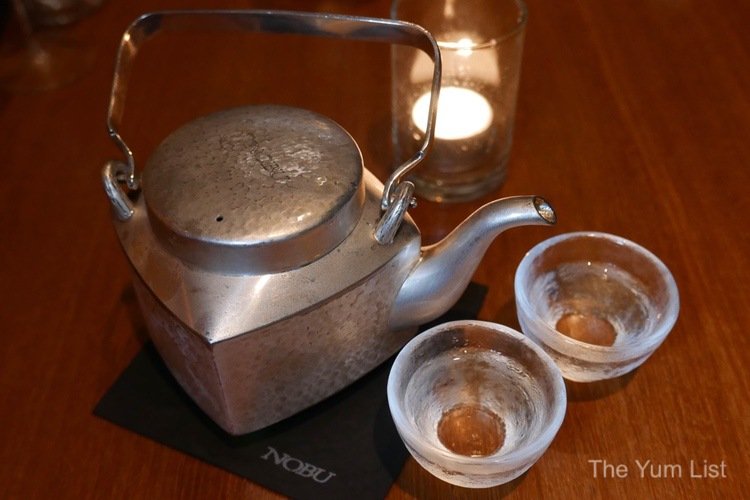 Palate Cleanser
Passionfruit yuzu sorbet with yuzu juice tickles all of my fancies with its smooth revitalizing tang. There are a few flavours that I seem to have a mild addiction to and yuzu is one of them (In case you have any interest at all the others are the Malaysian ginger torch and mango ginger – I love that bite!). Pretty butterfly pea blooms and gooseberry adorn the plate.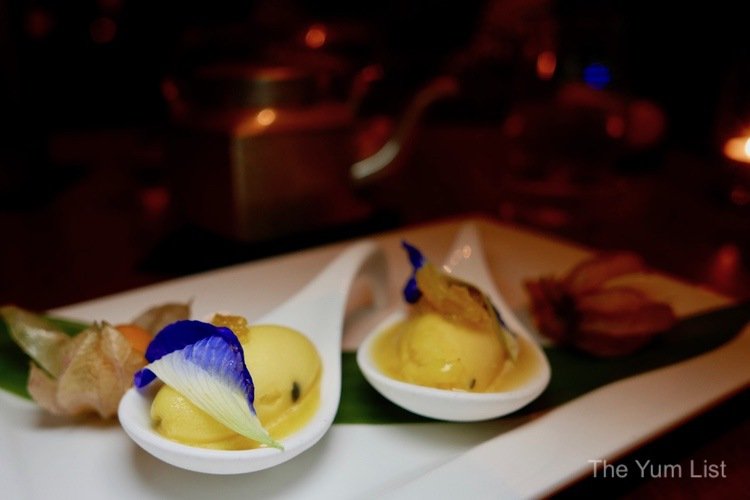 Still on the New Year's line-up, Butter Poached Lobster is luxurious in its flaunting of beautiful pieces of the tail with a complete claw (peeled of course). The pond of watercress broth in its vibrant greenness contrasts the white and pink flesh. The savoury notes of the leaves are levelled with glazed figs.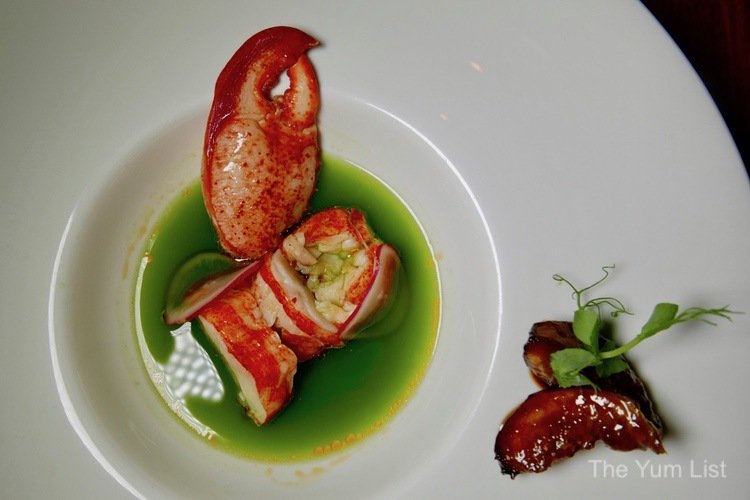 Nobu KL Christmas Menu
We return to Christmas for the meaty main. Grilled Wagyu (A5 Miyazaki) with wasabi black bean miso sure is a fetching sight for the carnivore at my table. Charred edges, rosy middle and melted fats, it goes down very easily, slice after succulent slice. The meat needs zero additions but that miso side has an addictiveness all on of its own. Tempura zucchini flower adds some crunch in between bites.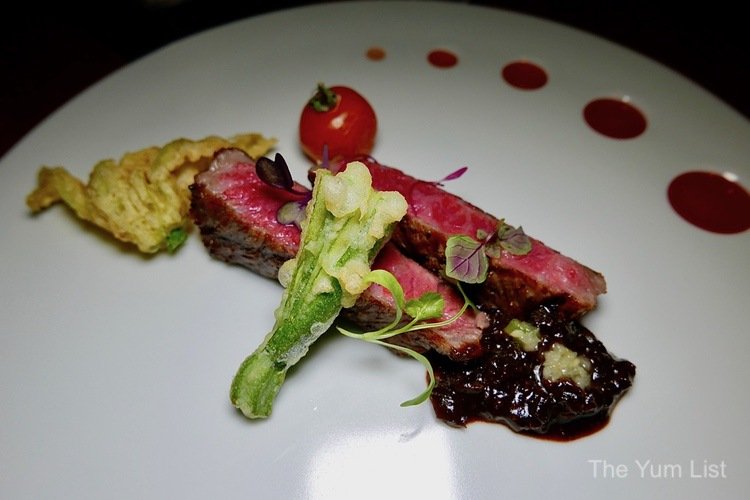 Nobu KL New Year Menu
The carb filler between main and dessert comes in the New Year dish, Cold Inaniwa. These cold noodles have a great texture and bite to them, more al dente in style than I some Asian noodles. Braised bamboo shoot, smoked duck breast and crisp leak each contribute flavours and textures of their own, and moistness and a rich saltiness is given in the bath of Kaeshi dashi.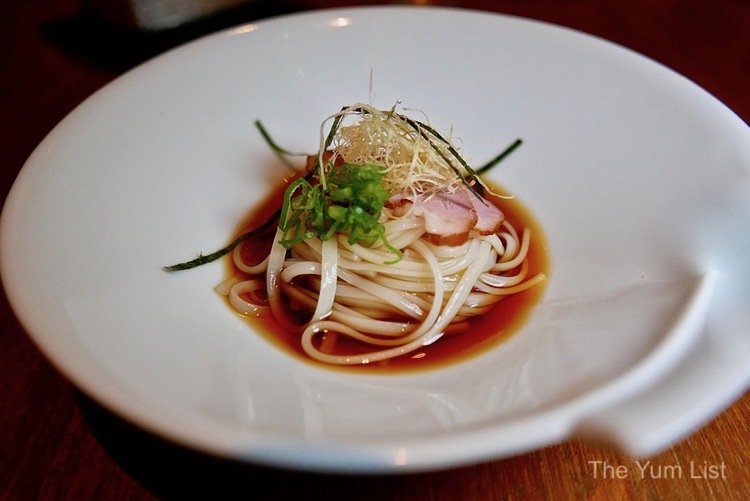 Nobu KL Christmas Menu
We finish with Christmas with the 'Snowman.' The cutest snowman, almost too adorable to eat, is served in a glass coated in white chocolate mousse and topped with a chocolate ganache hat. Spooning in we find black sesame and green pannacotta and a ground of vanilla sponge. It's Instworthy yes, but it tastes good too. Hubby has not said a word since first spooning in and to keep him quiet for more than a few seconds is rather a large task – so thumbs up from him too I guess.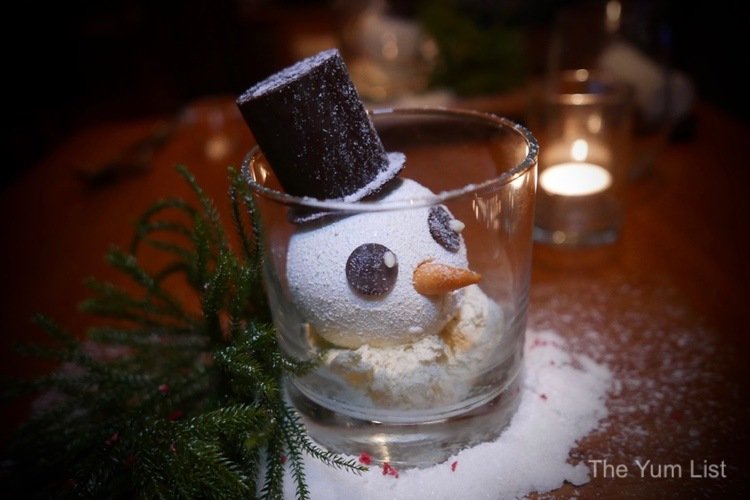 Specific details of Nobu KL's Christmas and New Year menus can be found below.
Reasons to have a Nobu KL Christmas: spectacular views; excellent service; delicious festive menus.
Nobu KL Christmas & New Year Menus
Level 56 Menara 3 Petronas
Persiaran KLCC
Kuala Lumpur 50088
Malaysia
www.noburestaurants.com/kuala-lumpur
+60 3 2164 5084
Whatsapp +6 019 389 5085
Find more Christmas and New Year menus in KL here.