Monica Tindall
At the foot of the Viennese Ferris Wheel lies a gem that might at first seem touristy but given a closer look is founded in tradition and is well worth a visit. With a focus on local products and a valuing of long-term relationships with Viennese artisans, the team at Stadtgasthaus Eisvogel bring authentic Austrian flavours to the table. A quality dining experience with attentive service and fine local cuisine is a sturdy foundation and finishing the evening with dessert in the iconic Giant Ferris Wheel is the icing on the Sachertorte.
Beginning with the end in mind, a view of the Viennese Riesenrad and Danube River accompanied by sweet nibbles and a glass of bubbly in a private wagon is an unforgettable experience. The Giant Ferris Wheel sits in Vienna's Prater, the green lung of the city, and within the Wurstelprater, the oldest amusement park in the world! Built in 1897 the ride has been a steadfast trademark of the city skyline for over 120 years and has been the set from some exciting films such James Bond The Living Daylights, and Orson Wells', The Third Man.
Stadtgasthaus Eisvogel Menu – Modern Viennese cuisine
Dating back to 1805, the iconic Viennese restaurant Zum Eisvogel was revived in 2008 and renamed Stadtgasthaus Eisvogel. The contemporary version maintains respect for tradition while bringing a certain lively modernity to it. Although the kitchen is known for genuine home-style recipes such as goulash, schnitzel, barley soup and Bauernschmaus, attention to diners and plating of food is first class.
Chef Adam Prelovsky features classic recipes on the regular menu and a monthly theme card based on the horoscopes giving seasonal variety. A comprehensive vegetarian selection is also available. I'm dining with an old friend (and former Yum List writer), Mags, and tonight she dines on this month's Capricorn menu while I choose from the meat-free options.
We both, however, dine with wine and we're happy to leave the pairings to our jovial waiter, Simon from Tyrol, as he exudes passion when speaking of Austrian food and beverage. As such, he sees that we're off to a bubbly beginning with Eichberger Eibsbrunn Gelber Muskateller Frizzante (EU5.30), which is light and fruity and makes the perfect aperitif.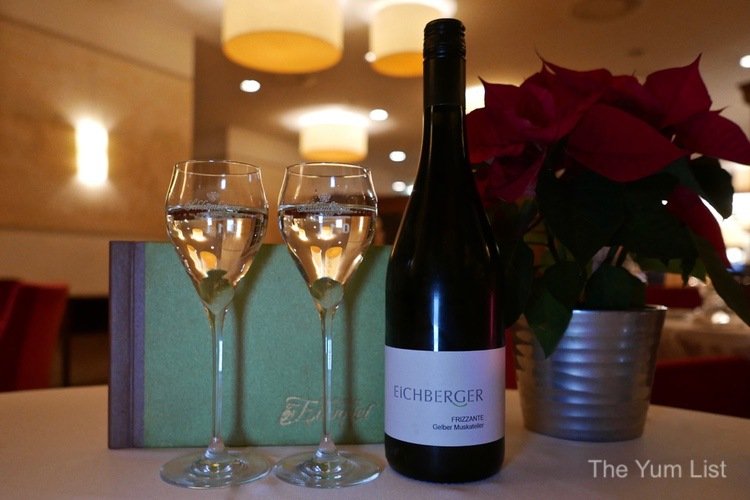 While enjoying the fizz, we're told our bread will be out in precisely seven-minutes as they bake it fresh to order. A basket of white and dark rolls arrives indeed warm from the oven and we enjoy slathering a thick spread of Austrian butter across their middles and watching as it immediately softens around the edges providing that perfect combo of warm and cool.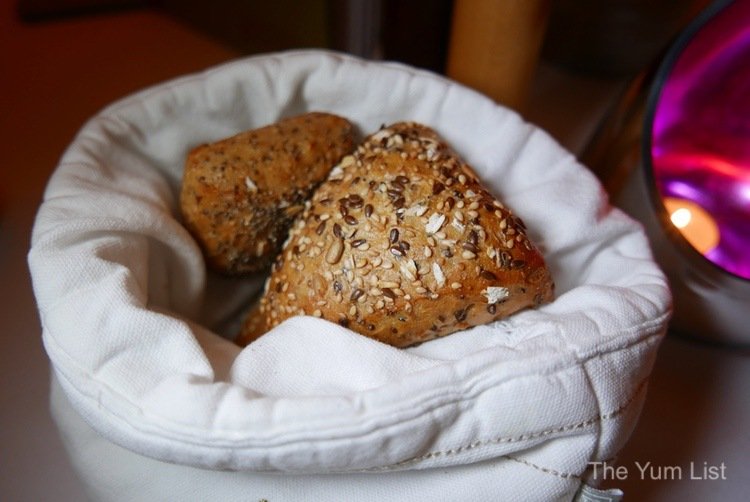 As the amuse bouche arrives we remind ourselves to slow down on the bread as if this appetite opener is an indicator of what is to come, we are in for a feast of ginormous proportions! Multiple slices of beautifully rare roast beef with truffled corn puree and a demi-glace sauce is comforting (and large). Amuse bouche number two (!) is a scrumptious cauliflower soup poured over a quail egg and topped with a potato crisp and trout row. It is great in texture and when we break the egg, the petite yolk spills delicately breaking up the creamy white with its yellow drool.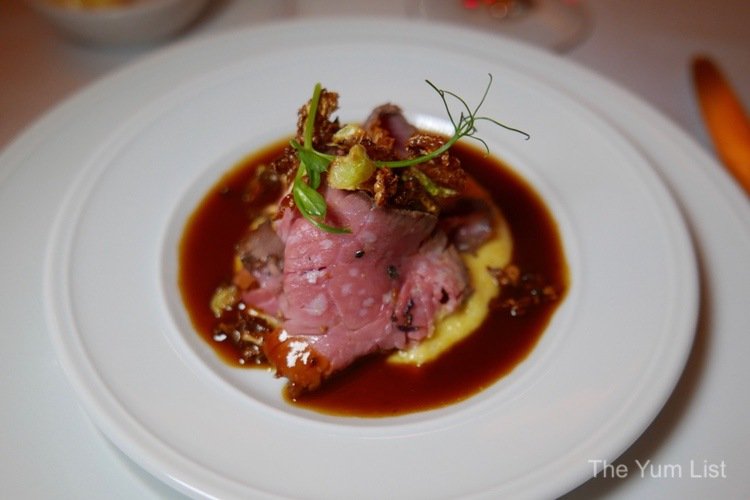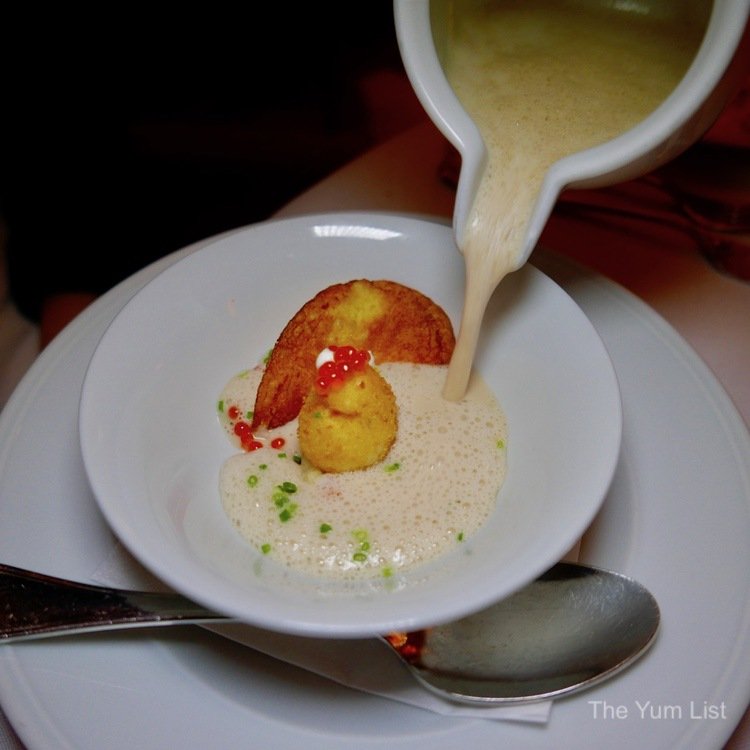 Seeing our glasses emptied, Simon brings out a Pear Bellini. It has been carefully poured so that the various liquids are layered. Softly fruity and refreshing, Simon says, "two amuse bouche, why not two aperitifs?" Who are we to argue?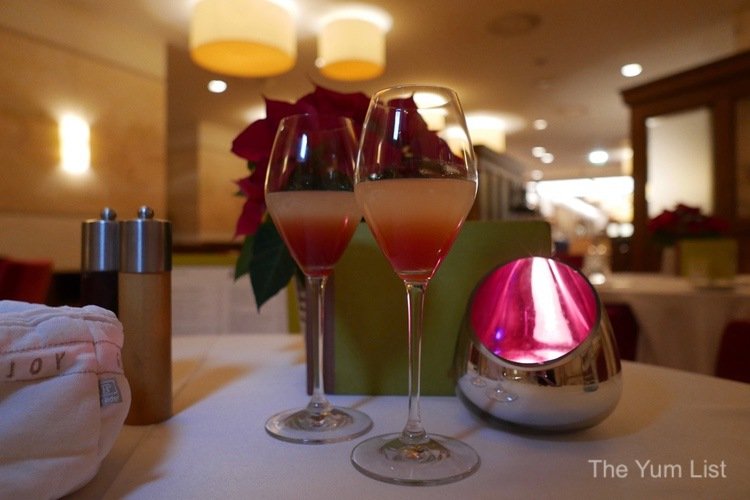 Stadtgasthaus Eisvogel Menu – Starters
Finally, we actually begin the three-course menu! My veggie starter, The Beets, sees marinated beets in flat rounds laid across a black slate topped with shredded Waldorf salad, stewed pear cubes, nuts and micro greens. Yum! Mags' Capricorn plate, The Quail, is fried with Jerusalem artichokes and cabbage. The jus is poured over tableside and Mags remarks that you, "get the feel of the soil. It evokes a sense of the forest." The meat is succulent and the crisp caramelized skin provides a nice contrast in texture.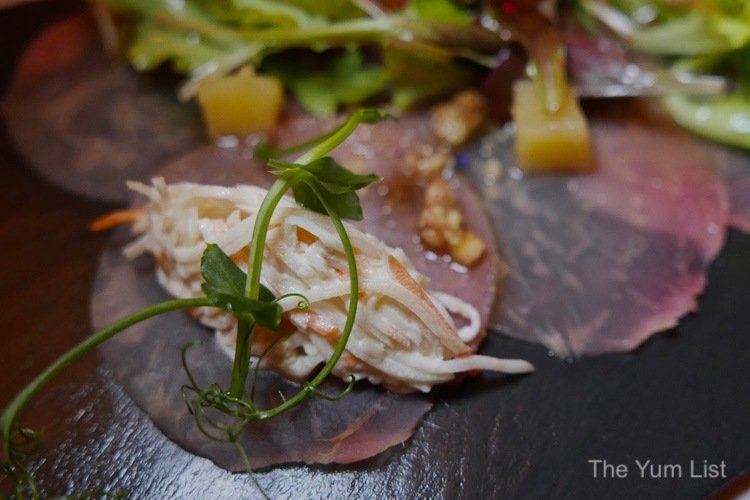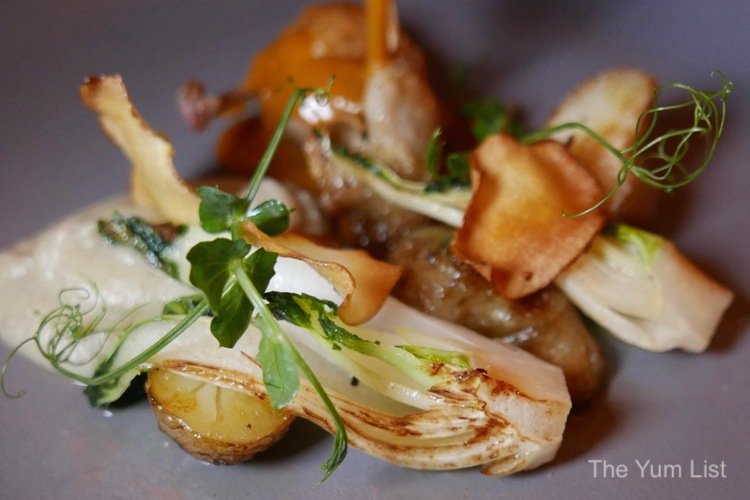 In between courses, a palate cleanser of clementine sorbet with mint is taken to luscious levels with a topping up of Veuve Clicquot Rosé. If you are celebrating a special occasion, or simply like to honour every beautiful moment in life, ask for the Champers version.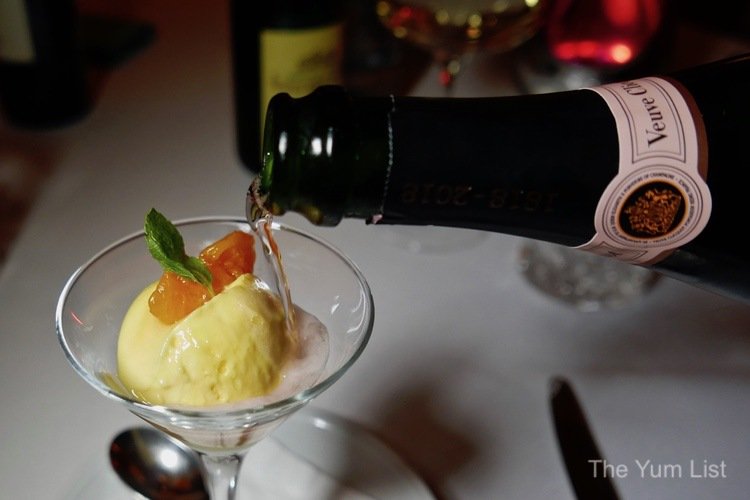 Stadtgasthaus Eisvogel Menu – Mains
For an independent restaurant, Stadtgasthaus Eisvogel has an impressive number of wines by the glass: five whites and five reds backed up by a full list of wine available by the bottle along with other alcoholic beverages including cocktails, spirits and liqueurs. I switch to a 2017 Steinterrassen Riesling from Federspiel by famous winemaker Franz Hirtzberger (EU6.50) and Mags moves onto a Spanish red, 2014 Reserva Rioja by Bodegas Muga (EU8.20). Both are great choices: our Simon has done us well again.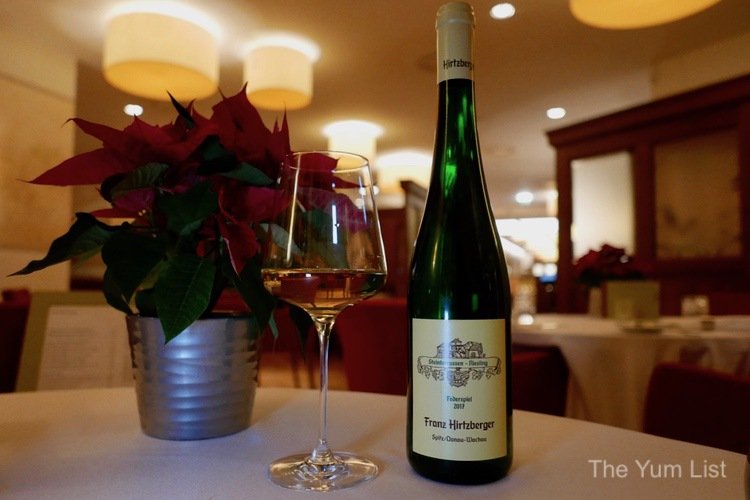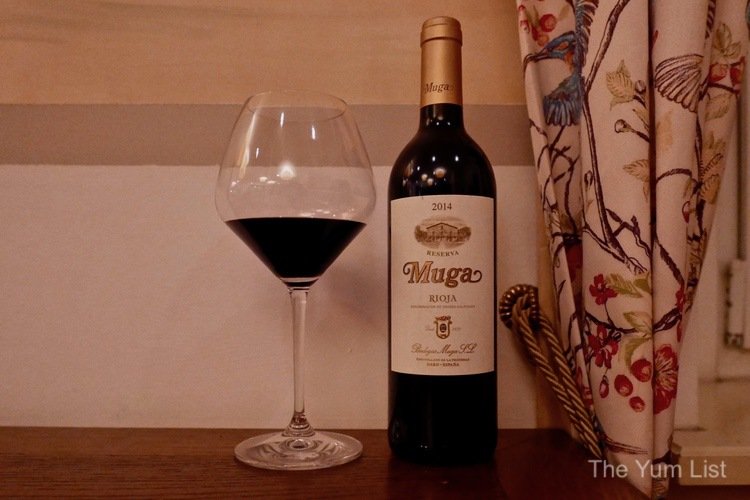 My meat-free main, The Cams, is a prettily arranged plateful of pumpkin cams (breaded dumplings) with oven baked vegetables – baby corn, eggplant, zucchini, pumpkin – and Austrian goats' cheese. It's a generous serving, full, savoury and rich in flavour, but despite its deliciousness, I can barely make my way through it (now I am regretting my enthusiasm for EVERYTHING at the beginning of the meal ;-).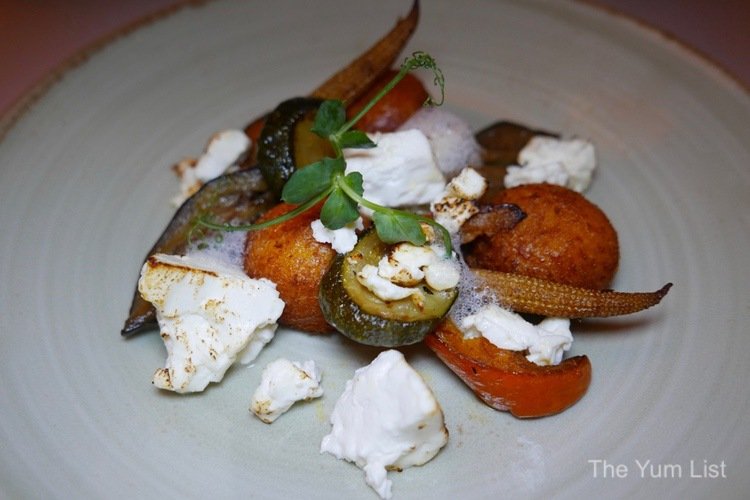 The Deer, from the Capricorn menu, is an edible artwork. Pink pieces of deer back, goose liver, potatoes cream, broccoli and chestnut form a colourful exhibition on the plate – even Mags' takes out her phone to snap a shot of this one. Simon is pretty excited about the jus proclaiming that he could jump in and swim in it. He even convinces us to try it by the spoon before digging into the rest of the plate. His enthusiasm is contagious and he is right: the jus is pretty special. The meat is so tender, the edges nicely charred and Mags is pleased with the consistent temperature all the way through. The liver is buttery and delicious and very very rich, also ensuring that Mags does not leave unsatisfied.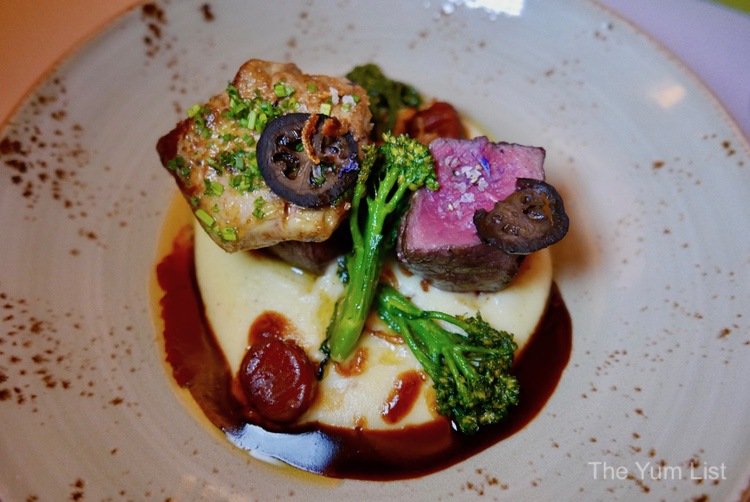 Stadtgasthaus Eisvogel Menu – Dessert
Before moving onto our final adventure in the Giant Ferris Wheel, Simon insists we finish with coffee and schnapps, "because the Austrians know how to live." The spirits of Swiss Pine and Farmer's Apple will fortify us for the brisk weather and the short walk across to the grand finale he assures. If you've only tried the overly sweet fruit-flavoured schnapps that seemed to bombard the western market around 20 years back, you really can't say you've tried schnapps. The "real" version is a distilled liquor, sometimes with a faint fruit taste depending on its base, but is much more likely to raise the hairs on your upper lip than the sweetened liqueurs popular in the west.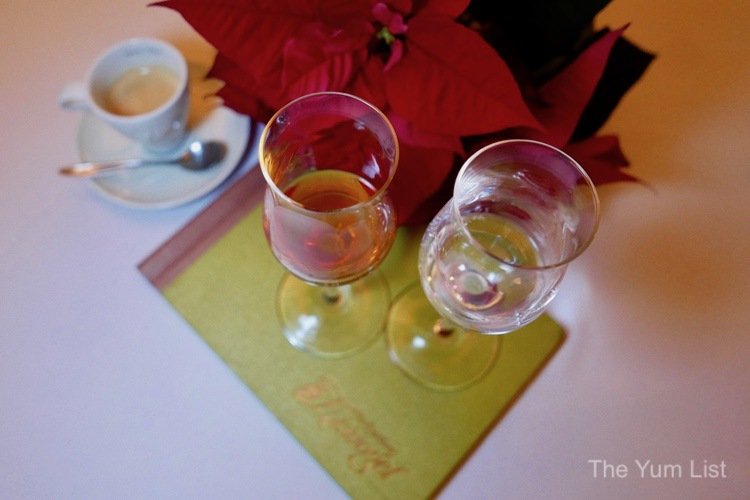 Stadtgasthaus Eisvogel – The Giant Ferris Wheel Adventure
Excitement builds as we are escorted to a VIP entrance of the Giant Ferris Wheel (all guests partaking in a degustation dinner at Stadtgasthaus Eisvogel get to skip the queue) where our private carriage awaits. The flashy cabin is furnished with cocktail tables and already holds our Cheese Plate (with a fantastic selection of regional cheeses – Asmothe, Le Rustique, Schärdinger Affineur Kracher, Schärdinger Affineur Rosso, Epoisses Germain AOC), the restaurant's signature Eisvogal Cake (creamy layers of sponge with chocolate and egg liquor) and Schmarrn (Tyrolean pancakes). And, ending just as we began, two glasses of bubbly match the twinkling of the lights in the cabin.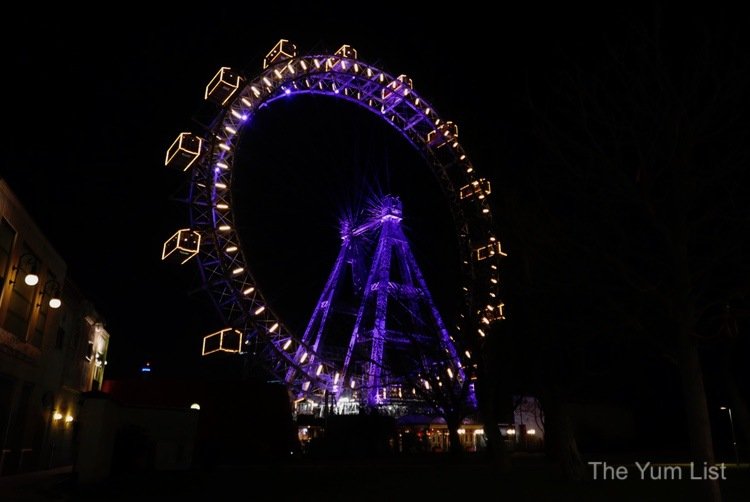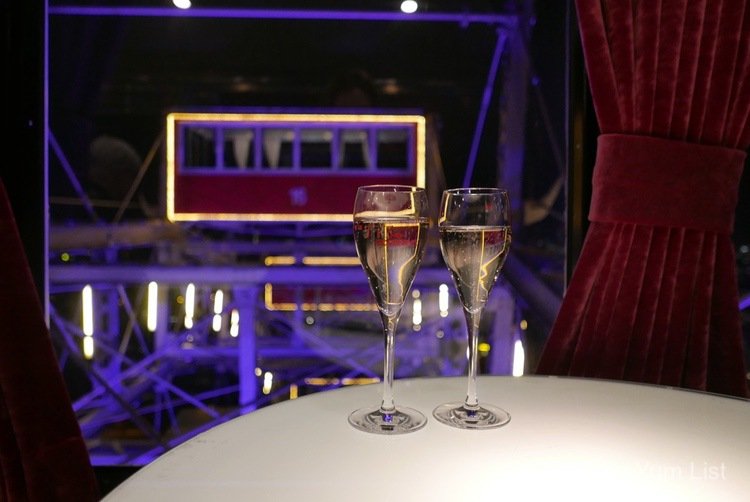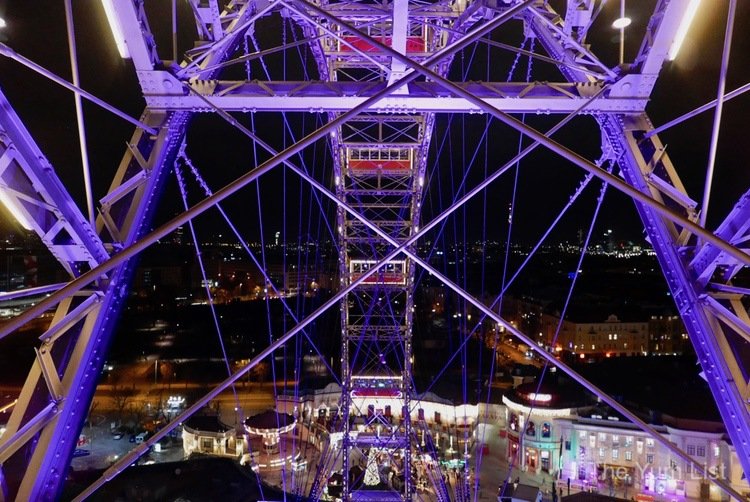 Being foodies, Mags and I are torn between tasting, sipping, admiring the view and recording it all for prosperity. It may have been a culmination of the alcoholic beverages consumed; it may also have been the pleasure of two old friends catching up, but it very well could have been the thrill of returning to childhood and the sensation of having a ride on the Ferris wheel – but we were both giddy with elation. Great food, delicious wine, exceptional service, the sincere feeling of long-term friendship and the sensation of childhood glee – thank you Stadtgasthaus Eisvogel for a magical evening.
Reasons to visit Stadtgasthaus Eisvogel: an unforgettable dining experience both at the foot of and inside a carriage of the iconic Giant Ferris Wheel; besides the novelty of the setting, the menu is a fine experience with Austrian cuisine and service is exceptional.
Stadtgasthaus Eisvogel Opening Hours
Daily from 11:00 – 24:00
Closed January 7 – 20, 2019