Words: Patricia Podorsek
Photos: Monica Tindall
Walking down the backside of the Bangsar Metro Station seems like one of the least likely places to find the distressed wood and sandy shades of a beachside eatery. But there it is, the oyster shells nailed to a traffic cone the hint of something unexpected. Ducking under the bright blue awning, I feel like I've stepped out of Asian bustle and into the Atlantic low country. I'm listening for the sound of the surf in the background.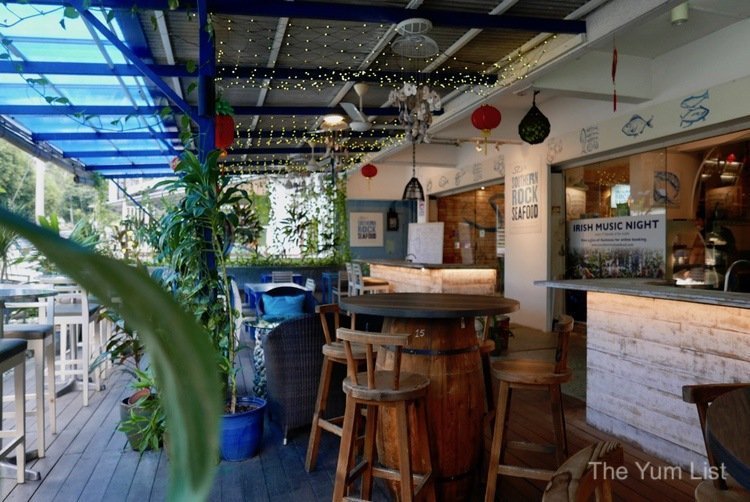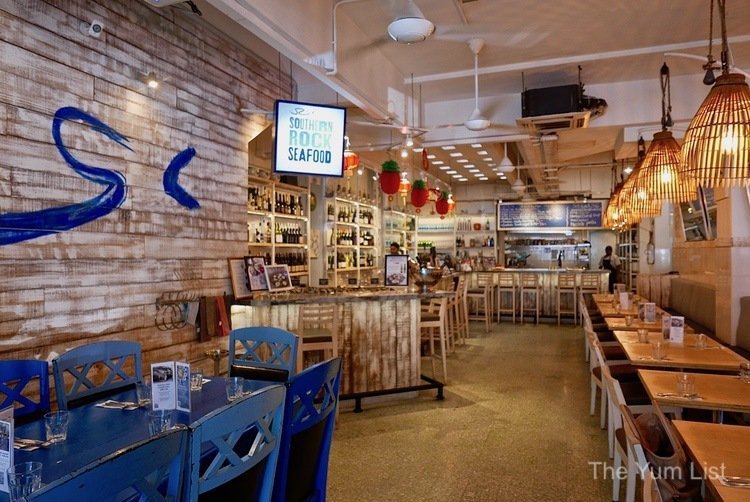 Seafood Restaurant Bangsar
This is Southern Rock Seafood. Opened in 2008 as a fishmonger, selling wild-caught fish and family-farmed seafood from around the world, Southern Rock added a restaurant in 2015 and has been a pillar in the seafood scene ever since. We are pleased to join proprietor Josh Green and his crew for a deep dive into their new menu.
To take the edge off a hungry afternoon, we start with some snacks for sharing. Super crispy Fish Skin Nibbles act like corn chips at a Mexican restaurant, only with the fish and without the corn. Light and salty, with a satisfying crunch, these nibbles are the perfect sidecar to a cold beer or a fresh cocktail…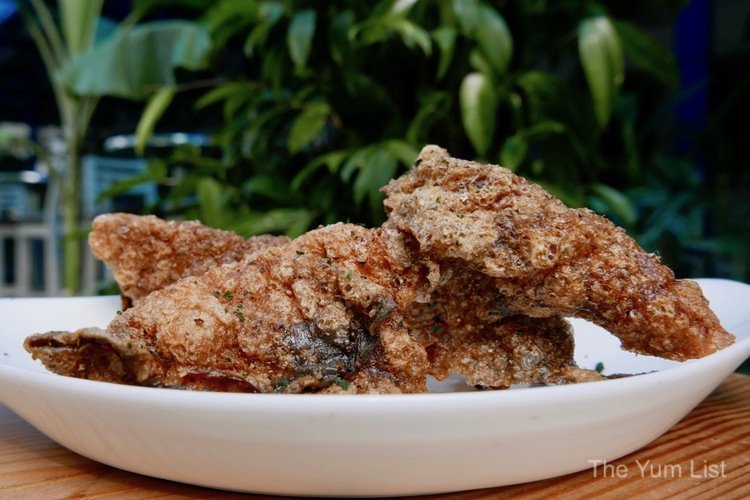 …like a Mojito! Refreshing, bubbly, not overly sweet, but packed with fresh mint, this is surprisingly one of the best mojitos I've had in the city, and a promise of the quality meal to come.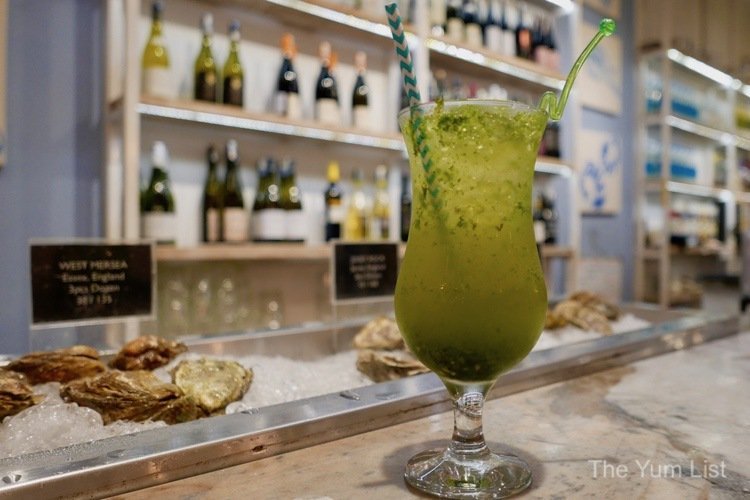 Starters, Seafood Restaurant Bangsar
More substantive among the starters are the Steamed Mussels. Topped with minced pineapple salsa, sweet, bright and crunchy meets shell, flesh and brine. I love the hints of cucumber around the edges. These little poppers disappear quickly while Monica is out taking photos of the next course. So much for sharing! Fortunately for her, a few more show up on the official sharing platter, up next.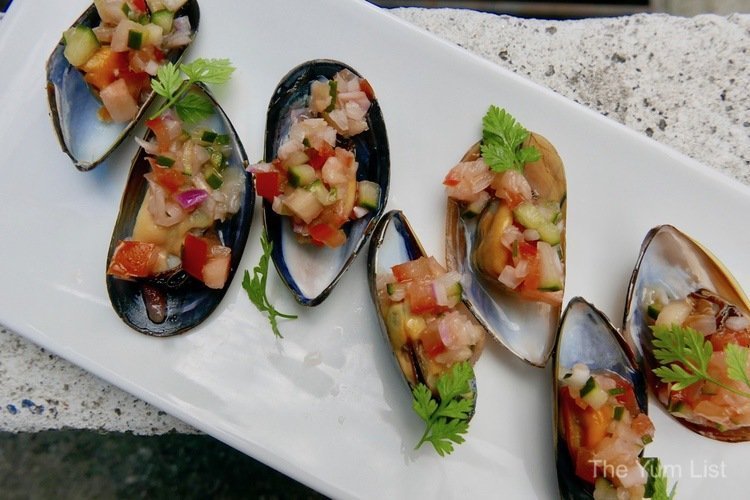 Seafood Platter
Thirsty after all this selfless eating, the first thing I reach for off the Fruit de Mer Seafood Platter (RM88) is the oyster shooter. Lucky for Monica, who is back at the table, there are two of them. A small glass of bouillabaisse seasoned with smoked paprika and a little chilli gets a crowning of a whole Imperial Dutch oyster. Dropping the gem into the glass, we take it all in with one smooth and spicy slurp.
All together we demolish the rest of the plate: cured Loch Duart salmon, sweetly wrapped in tangy goat cheese; elegant steamed prawns; cubed gravlax salad flavoured with beetroot; and smoked mackerel pate so smooth it is just missing the bowtie and hair wax for a sexy evening out.
Luxury Seafood Experience Malaysia
But if we're going to talk sexy, that can really only describe the next course, which Caning affectionately refers to as "rompe colchon". Southern Rock calls it the "Best on the Best", a dozen top quality Dutch Imperial oysters, raised on a family farm in the North Sea, topped by Anna Dutch Oscietra Caviar (RM338). Josh gives us a fully-narrated description of how to properly enjoy this combination: Using the mother-of-pearl spoon, sprinkle the sea treasure with tiny sturgeon black pearls. Using a fork, loosen the oyster and lift it into your mouth. Enjoy the silky texture and whispers of walnut and caramel, before lifting the shell to your lips for a salty wash of brine at the finish. The dozen disappear quickly, so we are happy to have Shan, officially the fastest shucker in Malaysia, close at hand.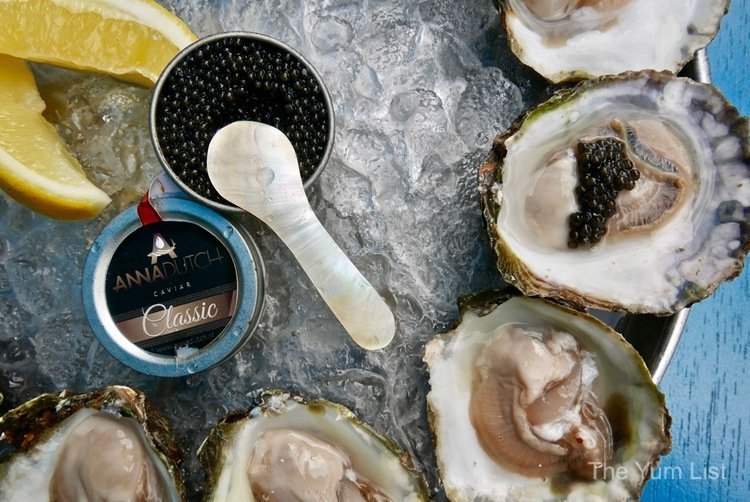 Nothing gives shimmer to a set of oysters more than a bottle of bubbles. Southern Rock retains a number of sparkling wines on its menu, but for the "Best on the Best" to become the "Best on the Best with the Best," we reach for a 2017 Moet & Chandon, all sparkle with little room to whine.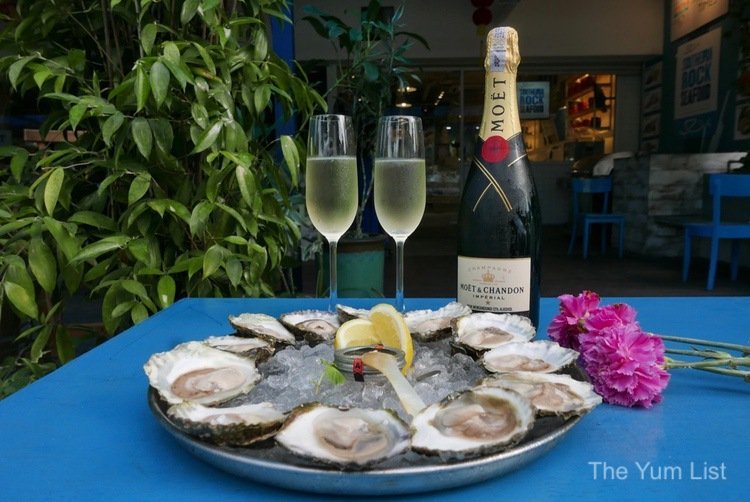 Bottomless Bowls of Mussels
The riot of seafood continues with the "bottomless bowl" of organic mussels (RM56). Two preparations are available. The first, the European classic Meuniere, steams the shells in wine and stock with plenty of onions, garlic and herbs. The second, an Asian upscale, soaks the shells in laksa so bursting with lemongrass it's as if spring fireworks have exploded onto my palate. The great news is that guests can take home the laksa paste and a kilo of mussels and have the same dish ready in ten minutes right in their own kitchen.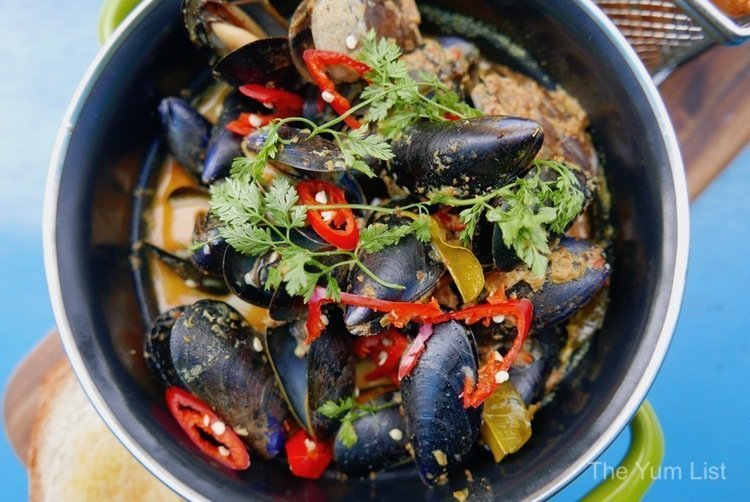 Perfect Wine for Seafood
Such luscious shellfish deserves a white wine of equal merit. We try the 2017 Domaine des Poncetys Saint-Veran Les Chailloux from Burgundy, a chardonnay that feels warm going down despite being served icy cold. This wine is buttery and bright, with hints of citrus right at the end, enough to complement the lemongrass in the laksa.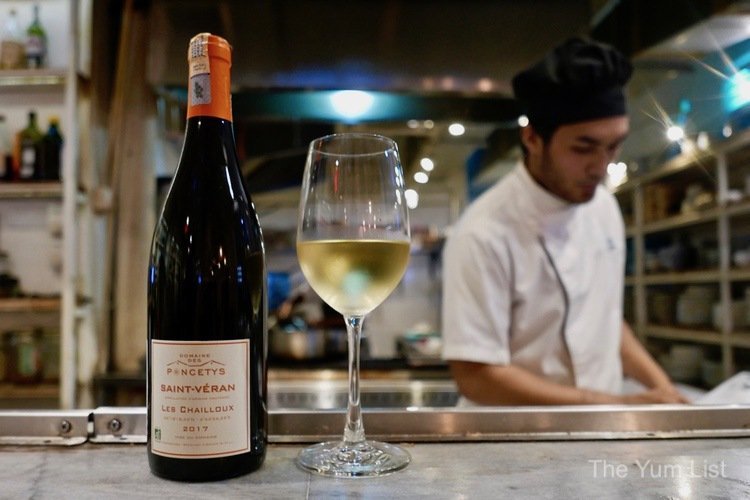 Catch of the Day
Every day, the chalkboards are updated with the fresh catch of the day, each prepared in its own unique style. New to us, we select the Tarokini (RM77), a fish caught in the wilds of New Zealand. With flesh similar to red snapper, we enjoy this fish grilled, served alongside ratatouille, squid ink risotto and whole fried spinach leaves. Monica loves the sticky caramelized soy sauce so much, she is licking it off her fingers! I found the whole combination to be delightful and would look for it again on future chalkboards.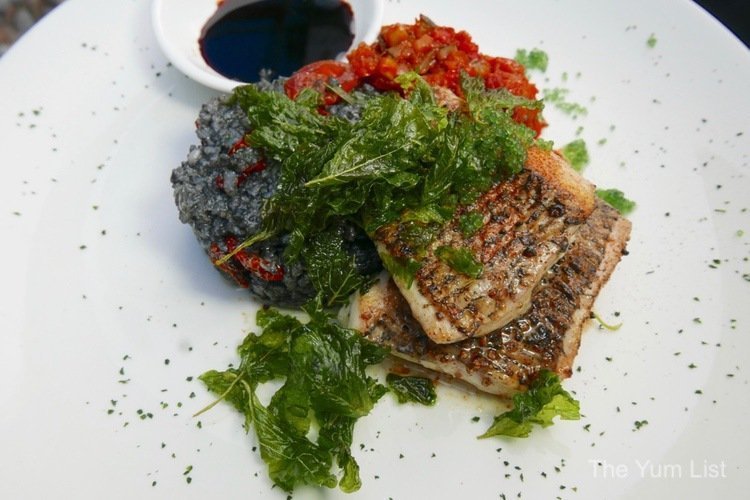 Rainbow trout (RM72) is our second selection off the boards. Wild caught in England, a whole fish is grilled and lain upon a bed of lightly-scented couscous salad. With a dish of house-made pesto on the side, we appreciate the delicate flavour of the fish with as much herby freshness as we like. More spring explosions happening here, the same as with the laksa.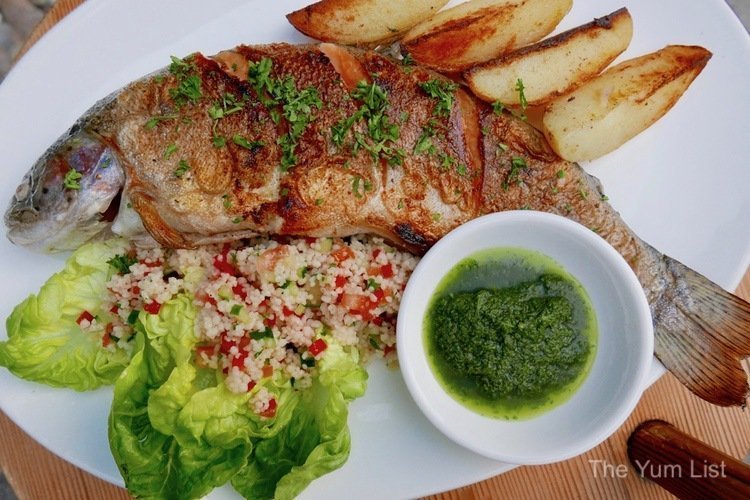 Dessert with Heart
Dessert fully showcases the community-based mindset of Josh and the crew at Southern Rock, even more than their sustainability practices. The Salted Caramel Fudge Brownie (RM26) is made by Bake with Dignity, an employment project that provides opportunities for adults with learning disabilities. A layer of rich caramel cuts across fudgy density in a move that emphasizes the chocolate without overpowering it with sugar. Sublime.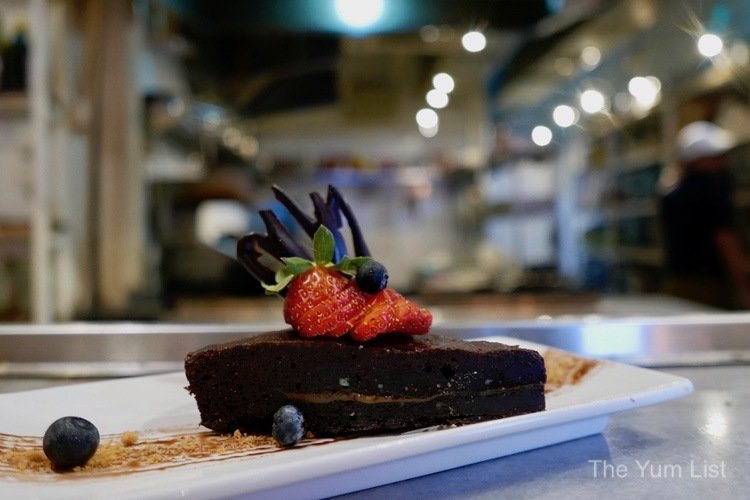 Events at Southern Rock Seafood
As if the food were not invitation enough, Southern Rock loves to host special events. Every third Saturday of the month, a six-piece band plays live Irish music. On these nights, RM88 gets you a starter, a main, a dessert, plus a glass of wine or a pint of beer. Holidays like Chinese New Year and St. Patrick's Day feature special menus. The next big event will be the Shucked Oyster Festival on May 1. I'd mark your calendars now if I were you. The retail side of Southern Rock supplies many of the best restaurants in KL with oysters. And speaking of the retail side, visit their website for terrific deals on seafood, delivered right to your home.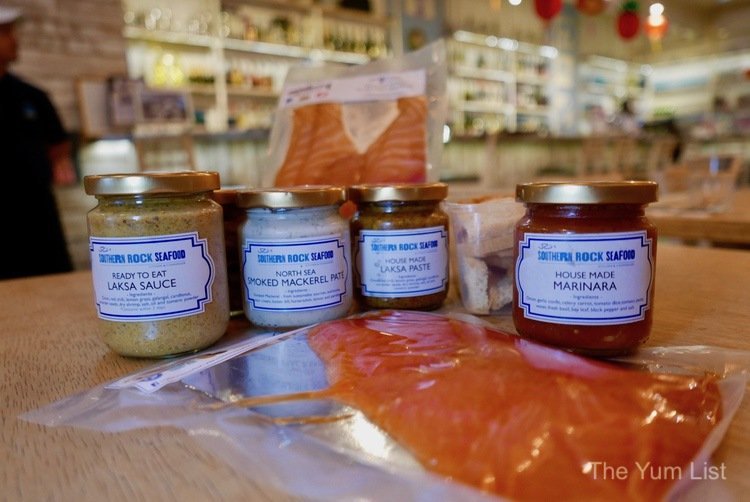 For an unexpected dive into some great seafood, let yourself be trapped by the culinary nets of Southern Rock Seafood. You may never want to come up for air.
Reasons to visit this seafood restaurant in Bangsar: Occasions looking for "Best on the Best" should go no further than the pairing of oysters with caviar and the promise of champagne. More modest occasions will celebrate the sustainability focus of wild-caught fish. Occasions looking for greater value will appreciate the bottomless bowls of laksa mussels with terrific bursts of lemongrass.
Southern Rock Seafood
Seafood Restaurant Bangsar
32-36, Jalan Kemuja, off Jalan Bangsar, 59000
Kuala Lumpur, Malaysia
+6 03 2282 8315
www.facebook.com/southernrockseafood
Southern Rock Seafood is opened daily from 10:00 a.m. to 10:00 p.m.
Find more delicious seafood restaurants in Kuala Lumpur here.