Querciabella
Monica Tindall
I don't know an Italian-wine lover who hasn't dreamed at least once of life under the Tuscan sun. There is a romance associated with this region like none other and I think this is in part due to its beauty, partly because of the passion of the Italian people within the community and has much owing to the wonderful wines produced here. Quality wines such as those from Querciabella have influenced many visitors to embark on an initial visit and a good number to even make Tuscany their home.
The historic estate of Querciabella holds vineyards in both Chianti Classico and Maremma and is the featured wine at tonight's dinner at Stoked KL. With a focus on sustainability, quality and authenticity, I'm immediately drawn in and can't wait to learn more from winemaker, Manfred Ing, who joins us for tonight's dinner at Stoked – the first Querciabella wine dinner in Malaysia.
It turns out that there are many more reasons to get excited about Querciabella. Not only has it been organic since 1988 but also biodynamic since 2000, and a first for me, and possibly a first in the world, it is plant-based biodynamic and the wine is vegan. No animal products were used to fine the wine (wines are often fined with products with components from egg or gelatine) and even the glue used to stick the labels are plant-based and sustainably sourced!
In the family since 1974, the son of the owner of Querciabella, Sebastiano Cossia Castiglioni, gradually converted the winery to 100% organic production without the knowledge of this father. As Sebastiano became more and more involved in the winery, he continued to make the production increasingly sustainable by converting it to biodynamic in the year 2000 and in 2011 to plant-based biodynamic. This is no "airy-fairy" type of biodynamics signified by dancing around the moon and planting cow horns, but rather a science-based approach. They even consult NASA scientists to study the proven cycles of nature and use them to leave the land in a better condition than when they started.
This approach of taking care of the earth and respecting natural cycles has paid off as Querciabella is now recognized around the world for their quality wines.
Querciabella Wine Dinner
First Course – Querciabella Chianti Classico DOCG 2015
The first wine, Querciabella Chianti Classico DOCG 2015, presents a firm grounding for what is to come with a red based on 100% Sangiovese. After 30 years of production, Sebastiano finally reached satisfaction with the Chianti Classico calling this the epitome of what he wanted to achieve. The bouquet offers a soft fragrance of leather, smoke and dark fruits. It's balanced in the mouth with both fruit and fine tannins following through with a silky mouthfeel and powerful finish. It holds the estate's name and so must be exceptional. The pairing of mushroom duxelles tortellini with sautéed wild mushroom and Parmesan foam mirrors the wine with its earthiness and connection to the land. The pasta packages are al dente and packed with fungi. It's a comforting, good start.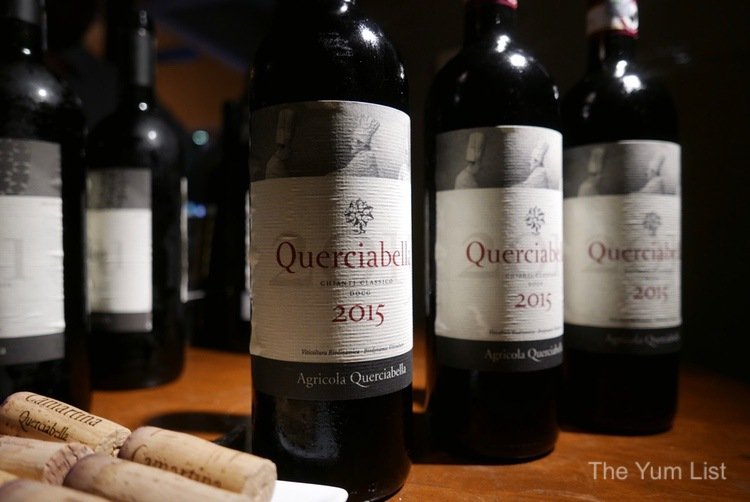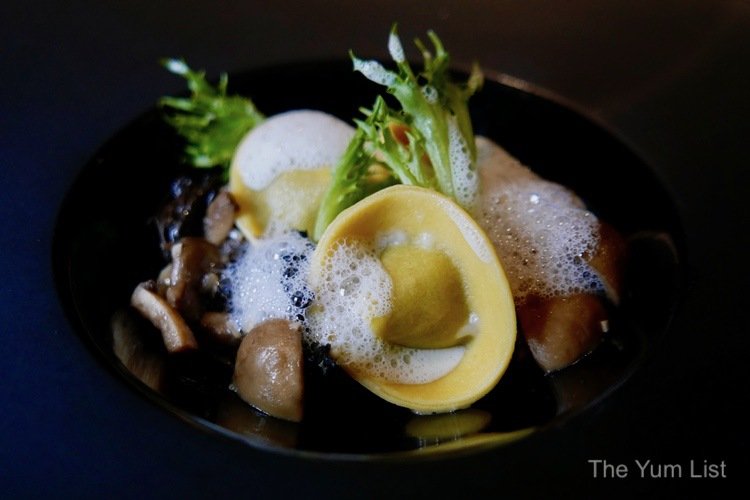 Second Course – Turpino Rosso IGT 2011
Turpino Rosso IGT 2011 scored a respectable 91 points with Vinous (one of the most respected wine publications in the world) and continues our tasting with another red. This is a blend of Cabernet Franc, Syrah and Merlot offering berries and flowers on the nose. The wine is layered and rich with a refined structure supported by plenty of fruit. It's a lively ending with traces of both minerals and spice. Duck breast is its mate and again the seasoning mirrors the stronger elements of the wine with its beetroot berry puree and red currant jus. The meat is tender and the sauces are robust. It's a good dish but I end up eating the dish first and then enjoying the wine separately.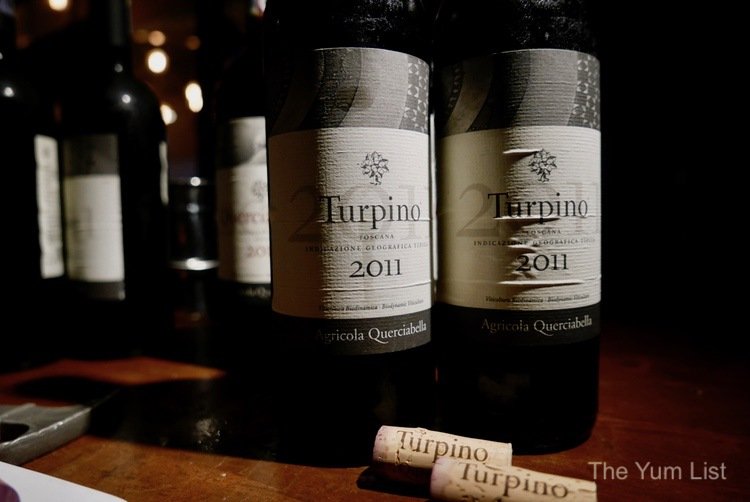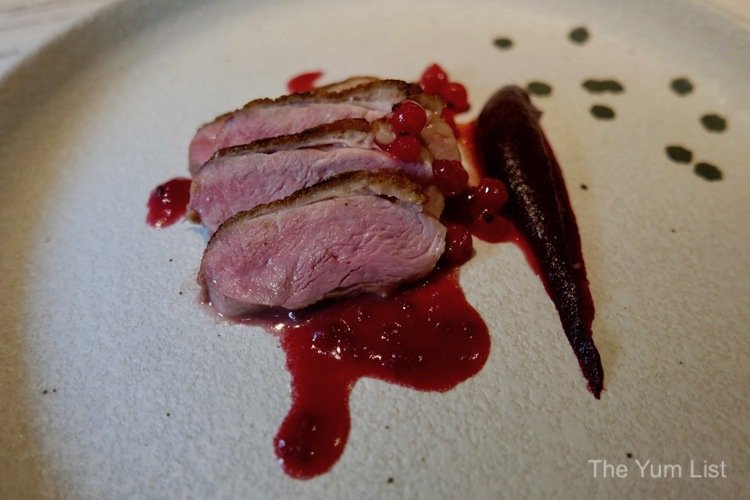 Main Course – Camartina Toscana IGT 2000 and 2012
One of the most educative wine experiences for me has been the opportunity to sample not only wines side by side of varying vintages but also to see how they interact differently with food. I welcome the pairing of two wines with the main of Stanbroke Tri-tip with foie gras, charred kalian (also known as Chinese broccoli or Chinese kale) and beef jus for this exact reason. Subtle distinctions are detected when sipping together and these become more prominent when taken with food. A comparison of different vintages of the winery's flagship, a Cabernet Sauvignon dominant wine, Camartina, is surely a highlight of the evening. The char on this meat is fantastic and this is thanks to the Bertha charcoal oven imported from England.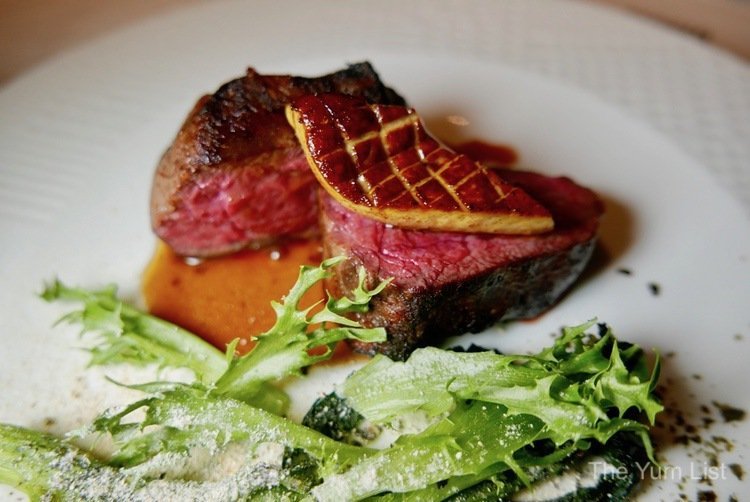 Twelve years apart, Querciabella's Camartina Toscana IGT 2000 and 2012 (the latter receiving a generous 94 points from Vinous), shows why Querciabella has gained consistent attention. The older is a blend of Cabernet Sauvignon, Sangiovese and Merlot, while the younger is Cabernet Sauvignon and Sangiovese. The first has a concentrated nose of cherry, fresh grass and a light pungency. The latter offers berries and chocolate. In the 2000, dark bitter chocolate along with fruit and cherry fills the mouth with juice and ends with a long persistent ending The 2012 furnishes a medium body, soft tannins and ends deliciously juicy.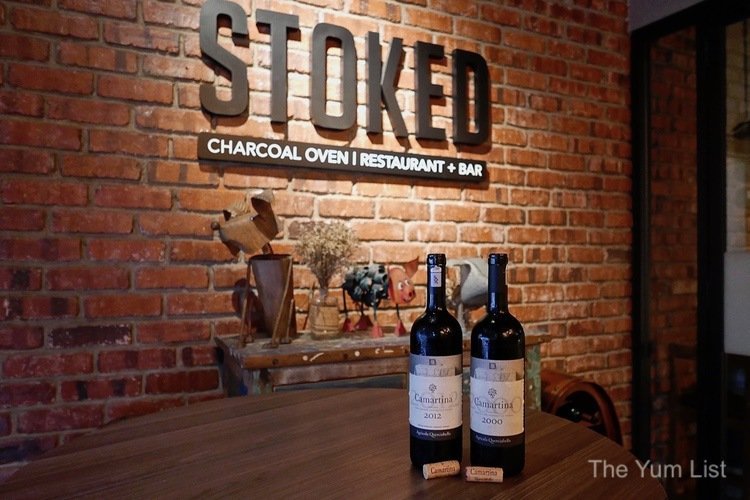 Cheese Course – Batàr Chardonnay IGT 2015
The Batàr Chardonnay IGT 2015 (Vinous 93 points) is introduced as, "one of Tuscany's most convincing renditions of this classic white varietal," and so has our table of gourmets' immediate attention. It's vibrant yellow in the glass with stone fruit and honeydew on the nose and a whisper of oak and spice. It has a wonderful mouth-filling body, loads of flavour, nicely balanced and lingers leisurely in the finale. It's poured alongside a cheese course of Pecorino and Parmigiano.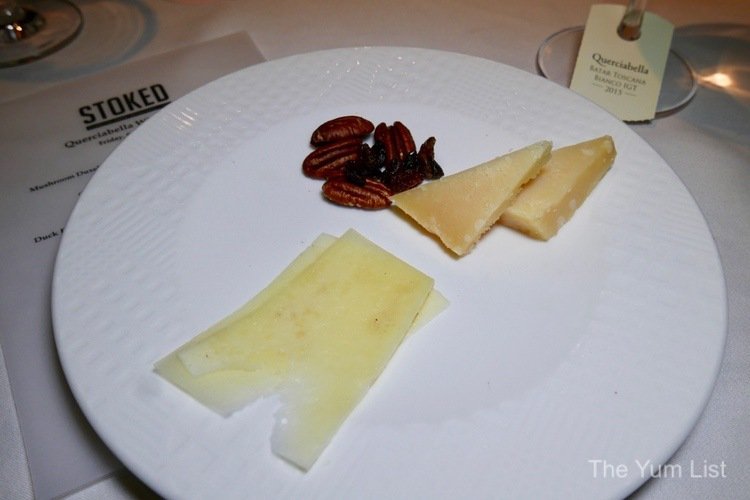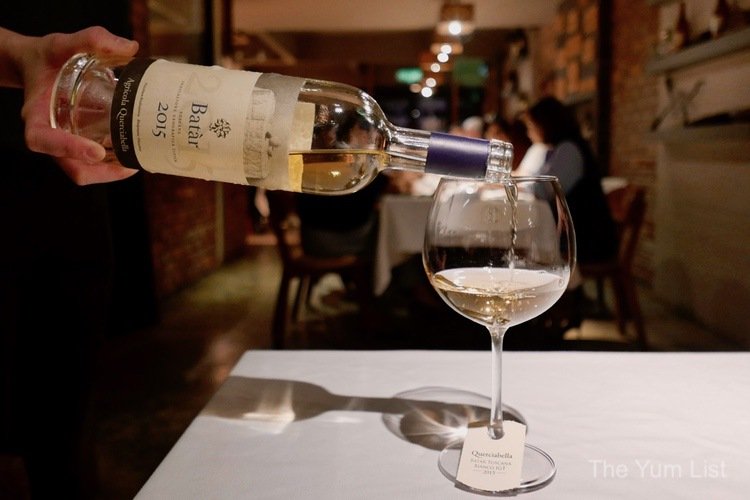 Dessert
Milk ice cream sees us through to the conclusion. An olive oil emulsion and meringue provides a pleasant contrast of taste and texture. It's mildly sweet; a calming finish.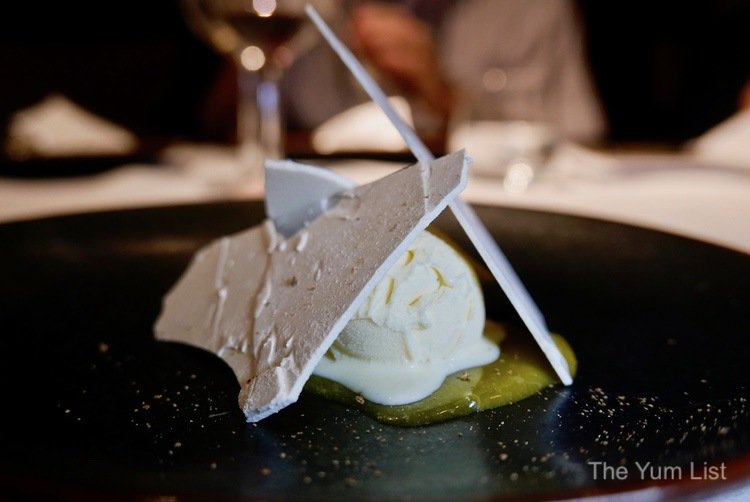 The Querciabella wine dinner at Stoked KL was priced at RM318 Nett per person. Follow the restaurant on Facebook or get on their mailing list for news on upcoming events.
Querciabella wine is made available in Malaysia through AsiaEuro Wines and Spirits
AsiaEuro Wines & Spirits SDN BHD
No. 1 & 3, Jalan PJU 3/49 Sunway Damansara
47810 Petaling Jaya
Selangor, Malaysia
+603 78832828
www.asiaeurowines.com
Love a good glass of wine? Find more on the vibrant wine scene in Malaysia here.