Anna Chew & Monica Tindall
Colonial is played out in Straits & Co in The Danna Langkawi. One of three restaurants on the property, Straits & Co serves a well-documented high tea, bringing back memories of a bygone era of British-Malaya, and one of the best desserts we've tried in Langkawi. More on that soon!
The restaurant is a beautiful Straits-inspired space overlooking the expansive infinity pool, with motif tiles and rattan furniture. We can enjoy this in the comfort of air-conditioning or take a pavilion in the breeze on the deck outside.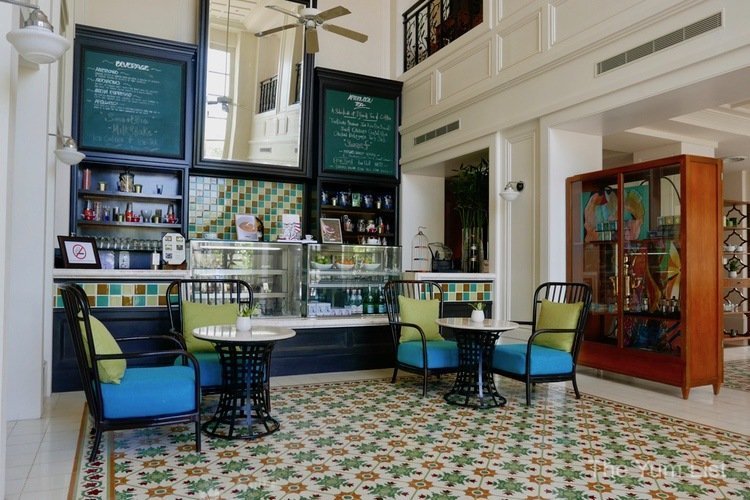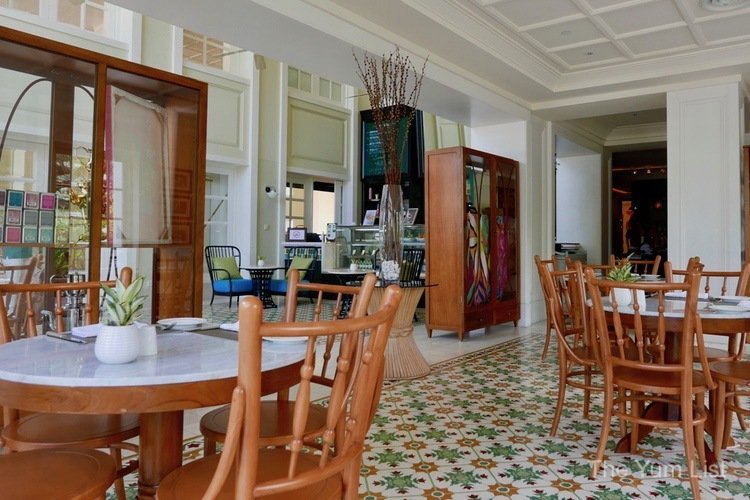 The afternoon we visited called for a cool welcome drink. The Detox Special, with mango puree, kiwi, pineapple and mint leaves was light and a good counter to the tropical heat. It also served as a bit of healthy balance to what we had come for – dessert!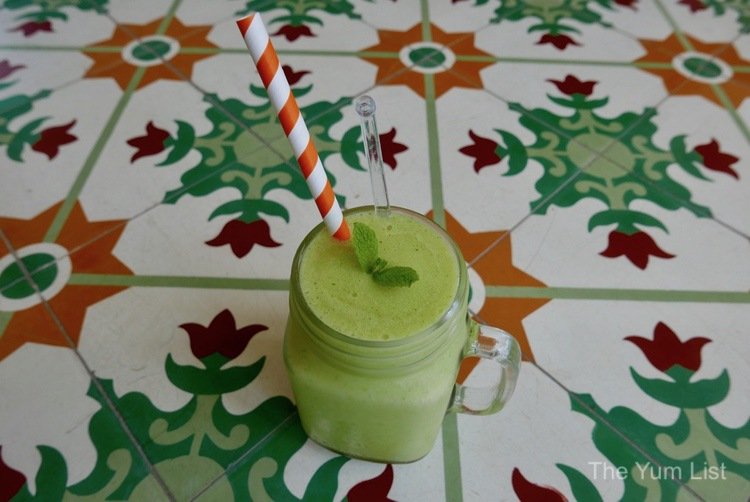 Straits & Co. – Have We Found the Best Dessert in Langkawi?
We'd heard rumblings about the talented pastry chef at The Danna and had already sussed out the beautiful dessert counter. It's a display that made us forego the local savoury fare and begin with the end in mind – dessert.
The banana fritters have a reputation – apparently, one is never enough. It's not advisable to share this dish or else risk troubled relations with your dining mate. Nope. Order this one all for yourself and consider it a starter, main and dessert all in one.
Their fritters, a twist on a local treat, are coated with cereal and quickly deep-fried producing a coating that is crisp but not oily and a centre that is soft and moist. There's a vanilla sauce for drizzling – with evidence of real vanilla beans used in the tiny black dots in the cream – for a spoon of extra indulgence.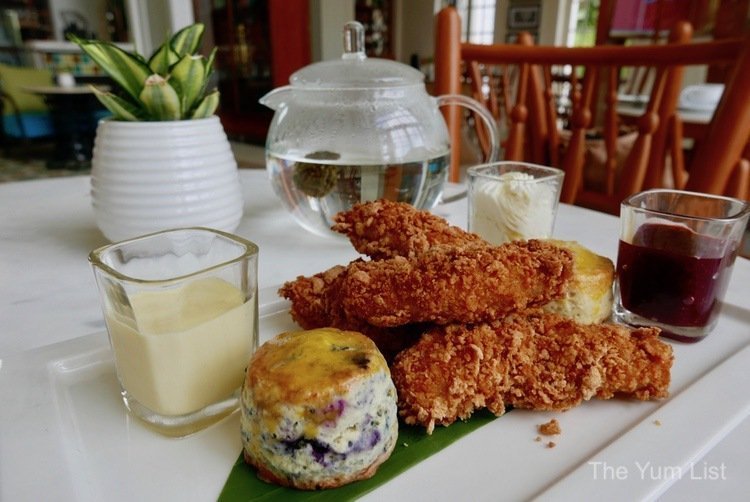 The fritters are part of the high tea set, at RM128 for two. They come with your choice of Dilmah tea or Lavazza coffee. A duo of scones (on our visit one plain, one blueberry) are accompanied by jam and cream and also included in the set.
More Than Banana Fritters
While we're wondering if banana fritters are the best dessert in Langkawi, we thought it wise to check out some of the other sweet treats – just to make sure it wasn't a one-hit wonder. So, a scoop of their homemade ice-cream, the Salted Caramel Walnut (RM21 scoop), was our next order. Despite the presentation looking like a child's birthday party complete with marshmallows and rainbow sprinkles, the ice cream was definitely of adult dreams. Creamy with a refined nuttiness, the pastry chef struck the perfect balance.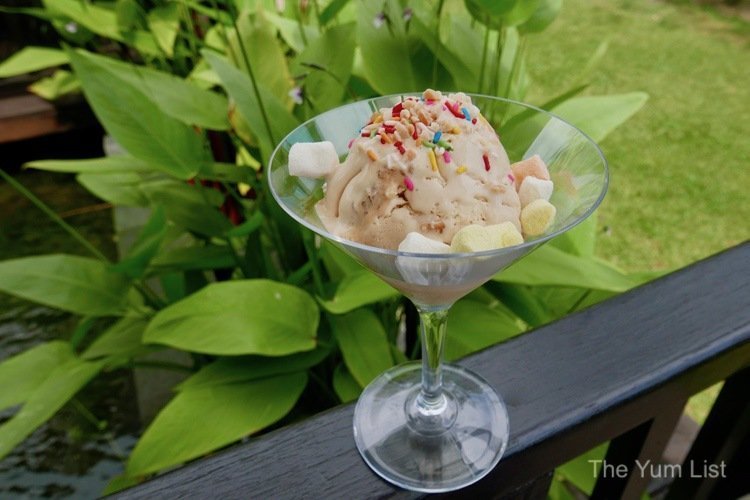 Now back to that dessert counter. A compact selection of meticulously formed edible artworks make choosing a challenge. We picked out a trio of macarons – I swear it was for a variety for the photos, not solely that our sweet desires could not resist temptation. Cinnamon, pandan pistachio and strawberry were moulded with an elegantly crisp shell that gave way to a softer centre. The creams inside each also had a strip of jelly, showing just how much attention to detail is paid by the chef.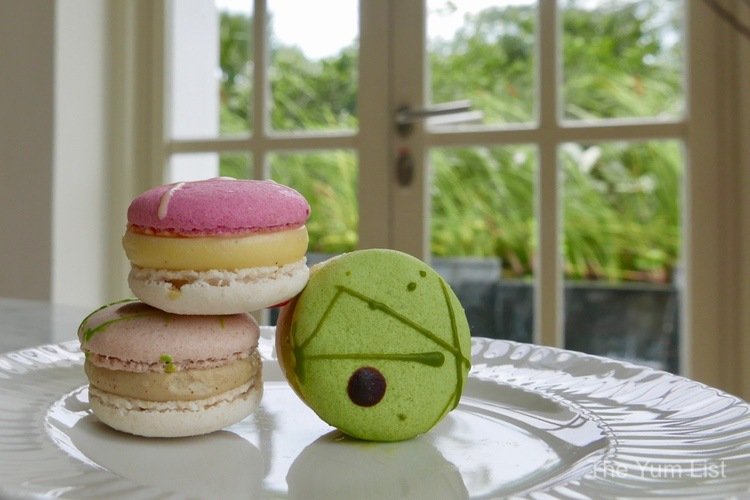 And, we couldn't possibly end without trying something chocolate, right? Choices. Choices. In the end, the Caramel Top (RM15) won out with its Ferrero-inspired half-sphere nutty chocolate base. This delicate ball encased a double layer of aerated caramel mousse with a jelly middle. As suspected, it looked great but tasted even better.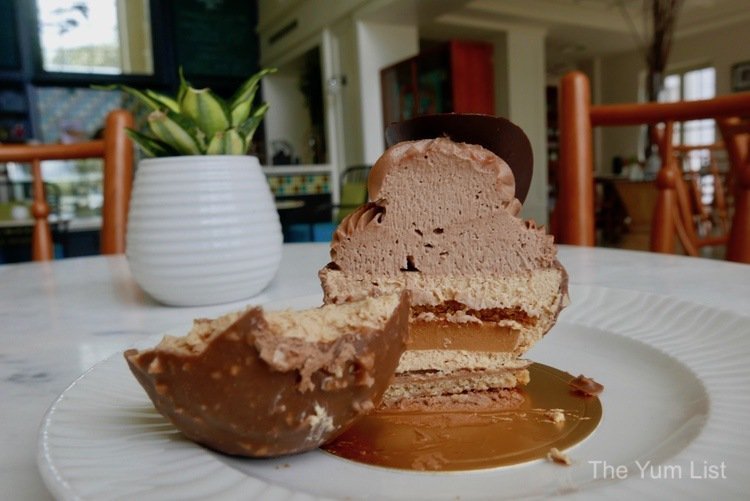 Tea & Coffee To End Our Afternoon Tea in Langkawi
To round off, both tea and coffee offer their own aesthetic pleasure. Flower tea served in a glass teapot humours as a tight bud slowly opens up to a full flower immersed in hot water. Alternatively, first, ogle their beautiful Elektra coffee machine – a golden double boiler – before sipping on an espresso paired with one of the many sweet treats.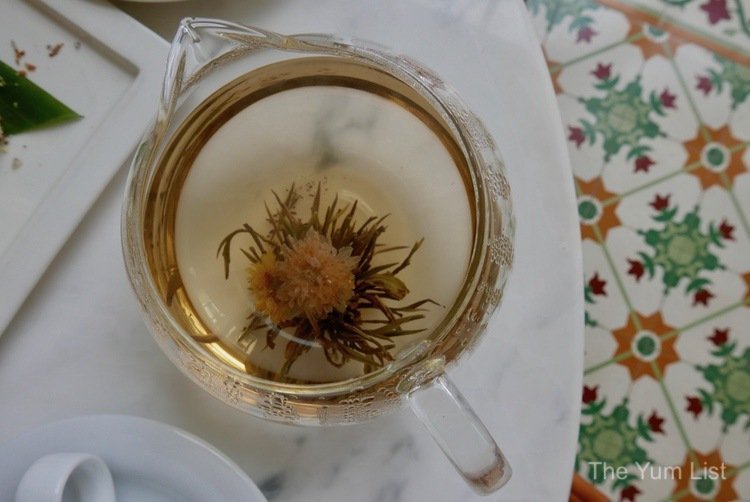 Reasons to visit Straits & Co: to try the best dessert in Langkawi – the banana fritters!; the service is attentive and genuine; the beautiful Straits décor are highly Instagrammable; very good desserts and high tea.
Straits & Co.
Best Dessert in Langkawi!
The Danna, Langkawi
Telaga Harbour Park Pantai Kok
07000 Langkawi
Malaysia
+6 04 959 3288
[email protected]
www.thedanna.com
What do you think is the best dessert in Langkawi?
More on Langkawi's luxury travel and the culinary scene here.