The Steakhouse Hilton Kuching
Monica Tindall
As the name leads you to believe, The Steakhouse at Hilton Kuching is ideal for all things meat. Prime cuts, aged in house, are the highlight of the menu along with a comprehensive wine list that often only hotels are in a position to provide. We've ordered ahead and are dining on a special menu prepared by Executive Chef Alex Wong; one that is off the regular menu but available to any guest who desires it with advance order.
As a benefit of staying in a club room at the hotel for three days, our evening begins with stunning views of the Sarawak River as it lights up at night from the executive club lounge of Hilton Kuching. This is known across the city as being one of the best spots to appreciate Kuching's vibrant show of colour at dusk. We sip on pink bubbly, Moët & Chandon Rosé Impérial, and nibble on canapes as pre-dinner enjoyment.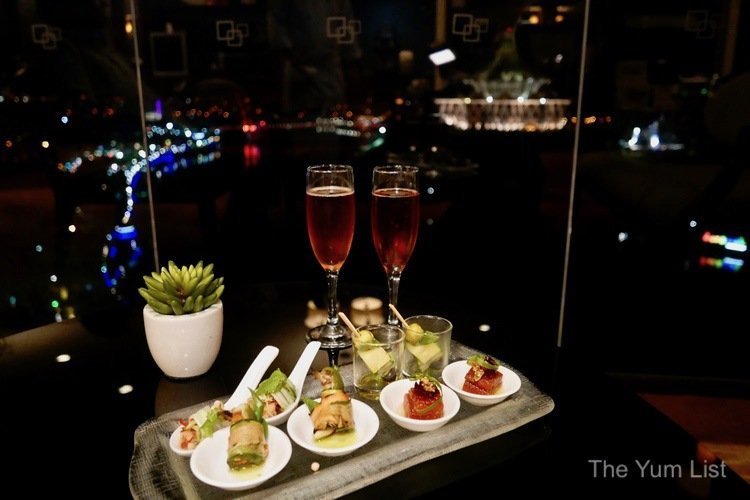 The Steakhouse Kuching Menu – Drinks
Moving downstairs, a Chilean sauvignon blanc, Cono Sur Bicicleta, greets us to begin the five-course meal. It was chosen for its tropical flavours that go well with our first three courses. Chicken and seafood, in the initial recipes, are combined with Asian ingredients to produce light yet tasty recipes and the summer fruits found in the wine are a good match.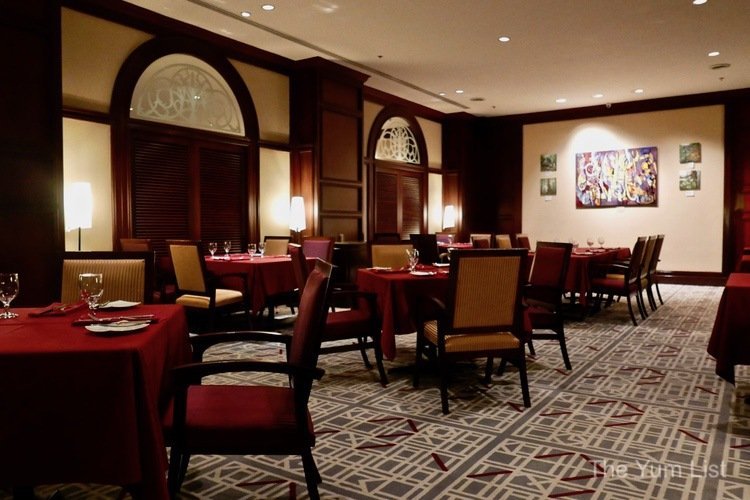 The Steakhouse Hilton Kuching Menu – Food
Along with the wine, Sarawak peppercorn bread is served on a slice of tree trunk. We smell it as it is delivered as the warm loaf wafts aromas of fresh peppercorns. It has the perfect texture of a soft, dense middle encased in a thin crust and departs the mouth with a tingle of the pepper. Superb. (If you love it, you can take some home for RM13 as it's also sold in Caffe Cino in the hotel lobby.)
Glutinous Black Chicken Roulade
Chef Alex's special five-course menu begins with stunning plating. Glutinous black chicken roulade is made with a local bird, which is rather small, perhaps less than one kilogram, but offers an enchanting dark hue of meat. It has been sous vide at 72 degrees for two hours and stuffed with a wonderfully dense glutinous rice. Dried shrimp sambal and a turmeric and coconut cream sauce furnish a delicious rich intensity. Lastly, it's tossed with toasted desiccated coconut and garnished with midin (jungle fern), a local herb resembling tiny purple leaves of basil and some marinated cucumber shavings. It's visually attractive and a very enticing balance of both flavour and texture.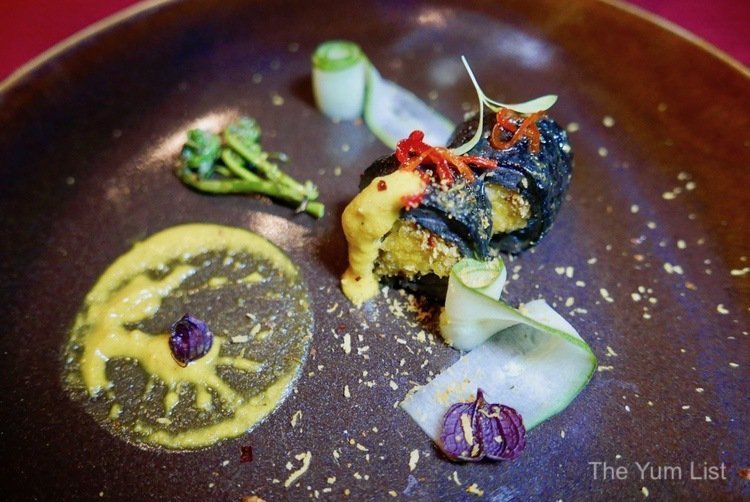 Miso Consommé
The second course, in what is deceptively named a simple dish, the Miso Consommé is anything but. Made with vegetable stock and crowned with a poached kampong chicken egg, the soup is finished off with miso hollandaise and truffle oil. The truffle oil tickles our noses as the bowl is set down on the table and the tang of the hollandaise is absolutely addictive. I look around to see if hubby is disrupting anyone with his moans of satisfaction but, thankfully, the other diners are all too consumed by their own meals to notice the pleasure going on at our table.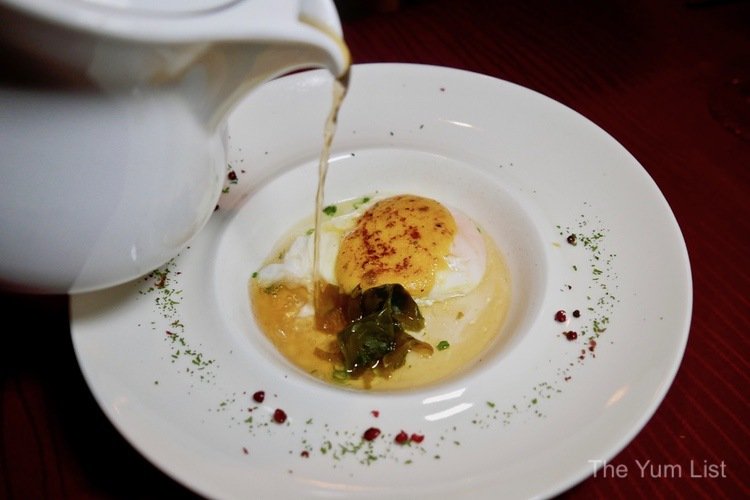 Seafood on the Rocks
Up next, Seafood on the Rocks is an entertaining treat for the eyes, nose, ears and taste buds. The raw seafood is delivered to the table atop a cast iron tray and black volcanic stones. A piping hot broth is poured over the top causing the plate to sizzle and steam and then the seafood is covered with a glass case. It's cooked in its own juices, continuing to bubble and fogging the transparent prism completely. Within minutes it's revealed as a succulent tiger prawn, local lobster and two scallops.
Served aside clarified butter, mango salsa and an egg white and vinegar sauce we take turns for each piece of seafood trying it first on its own and then with each of the sauces. Hubby's favourite is the mango salsa while mine is the Chinese-style egg white sauce.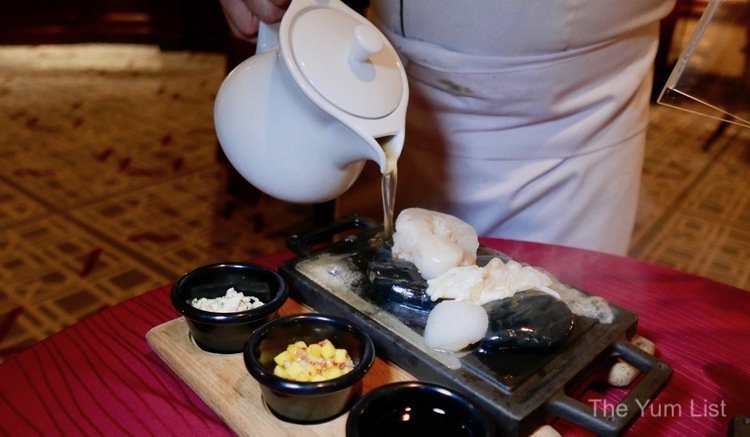 Feta and Sundried Tomato Crusted Tenderloin
The main dish, Feta and Sundried Tomato Crusted Tenderloin, showcases The Steakhouse Kuching's signature protein. This tender piece of beef is ordained with feta and sun-dried tomato crust and accompanied by mushroom custard and ensabi (a local mustard leaf with a layer of bitterness similar to rocket). The meat is pink within and pillow-like to slice. It's another dish that gains guttural groans of contentment from hubby, who eyes my yet half-finished plate with desirous intent.
We move to a New Zealand Pinot Noir, 2016 by Sacred Hill from Marlborough. A bouquet of spice, small berries and herbs follow through to a palate of fruit, savoury and earthy notes which both complement and mirror the earthy mushroom side and savoury cheese topping.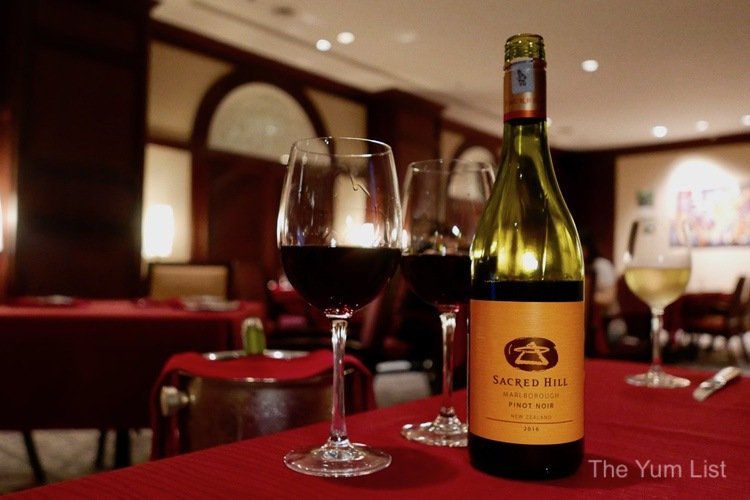 Warm Chocolate Pudding
To end the meal, Warm Chocolate Pudding is not overly sweet as it's made with dark chocolate. A small slice of white chocolate is melted on top giving it only a gentle layer of sweetness. Who doesn't love melty chocolate? There's a spoon of salted caramel sauce next to it and a refreshing soya bean sherbet, which provides both a contrast in temperature and richness.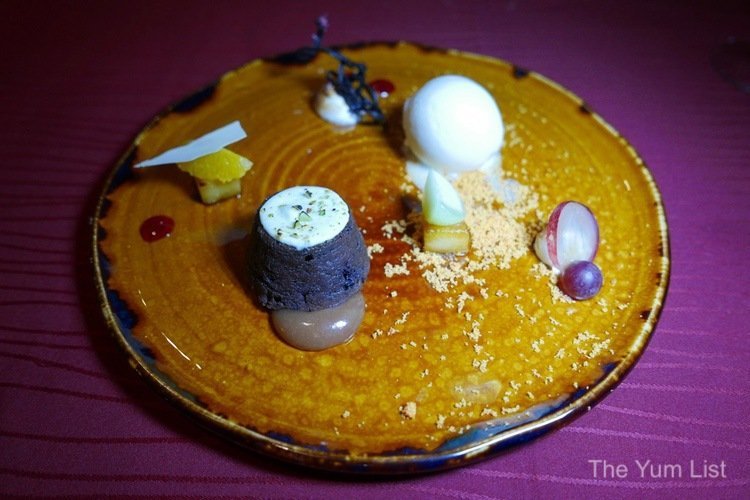 Petit Fours
Parmesan chocolate, peanut butter jelly, and cookies coated with chocolate bring us back full circle with the presentation on a slice of a tree trunk for the petit fours.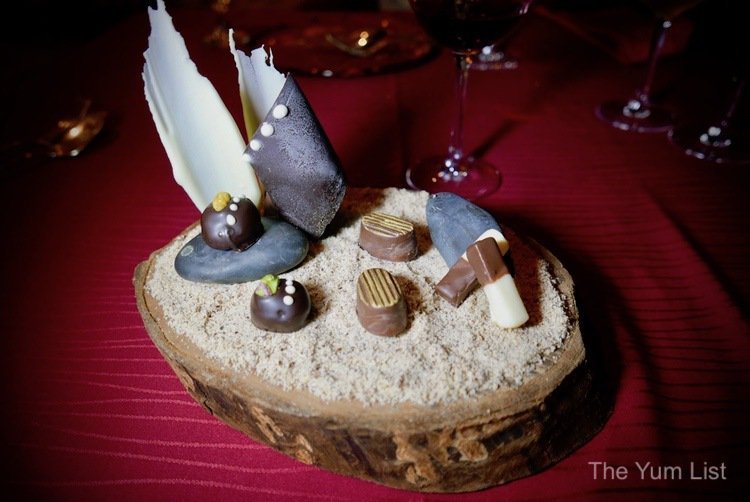 The Steakhouse Hilton Kuching Price
If you would like this special menu or an item from the list, you should give the chef some advance notice by making a special request when reserving your table. The five-course menu can be pre-ordered and would cost around RM280 nett (depending on availability of ingredients). Wine is additional.
If you're just looking for a good meal, there's currently a special offer of a four-course set menu including a starter, soup and dessert with your choice of main: sous vide chicken (RM95), chilled salmon fillet (RM135) or Beef Striploin (RM155).
Reasons to visit The Steakhouse Hilton Kuching: the place to enjoy steak with a good glass of wine in Kuching; special menus available with advance reservation; a chef who truly understands how to make the best of western cooking techniques using local ingredients to enhance flavours and textures.
The Steakhouse
Hilton Kuching
Jalan Tunku Abdul Rahman
93100 Kuching, Sarawak
+6 082223 888
[email protected]
www.facebook.com/hiltonkch
The Steakhouse Opening Hours
Daily: 6:30 pm – 10:30 pm
Find more recommendations for luxury travel in Sarawak here.