High Tea Element KL
Words: Patricia Podorsek    Photos: Rich Callahan   Video: Monica Tindall
High tea often conjures up images of bone China and lacy doilies, crumpets with clotted cream and ladies in white gloves; a delicate respite from the hunger pangs that strike in the long hours between lunch and dinner. Trace Restaurant and Bar at Element Kuala Lumpur has put their own spin on the concept of afternoon tea, creating something that is more substantive than tea and biscuits, and also more surprising. Their special is called "Arteastry" Hi-Tea, named for the setting, the timing, and the way they close your meal with something uniquely colourful and sweet. We are happy to have a closer look.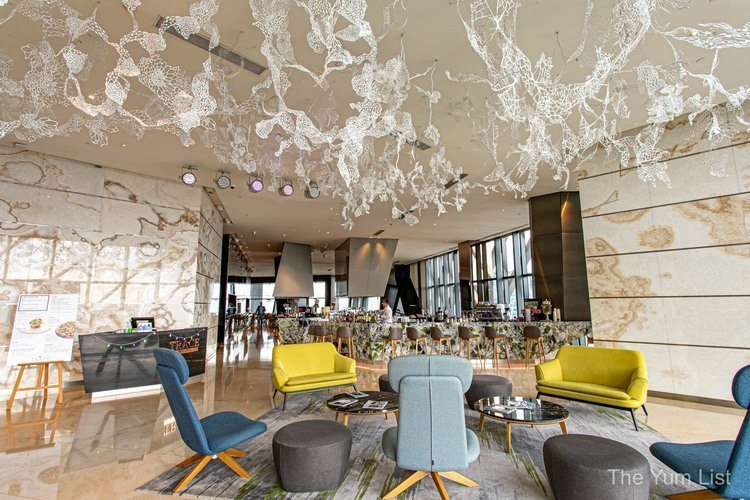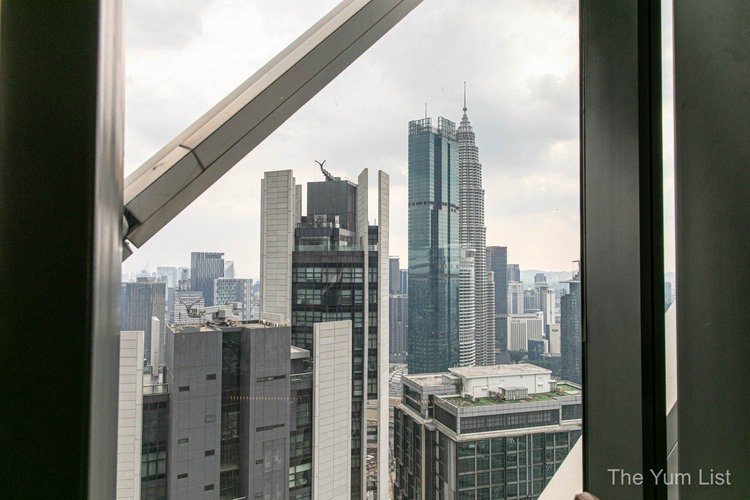 "Arteastry" High Tea Element Kuala Lumpur
Trace sits on level 40 of Element Kuala Lumpur, in open-air grace and sweeping views of the city centre. Eye-catching paintings and sculptures welcome guests in splashy tones. A seat by the window reveals the bustle of late afternoon traffic and the cranes of our ever-changing skyline against the PETRONAS Twin Towers.
The menu features a selection of Dilmah teas, and we opt for a pot of green and one of Earl Grey. Thirstier guests (like us!) might choose something off the list of intriguing cocktails. Our host recommends the Iblis and Tonic (RM36), The Botanist gin blended with tonic and a little white vermouth, then topped with fresh berries. Herbal aromas suggest the complexity of the gin, fully revealed by the long spicy finish.
Our curiosity is piqued by the name of the next cocktail. The Yellow Zunguza (RM40) blends Gordon's gin with cherry brandy and loads of fresh passionfruit. Mint joins the fruity aromas that open this refreshing drink. As a lover of passionfruit, I'm delighted that the tropical tang leads the charge without the distraction of too much sugar.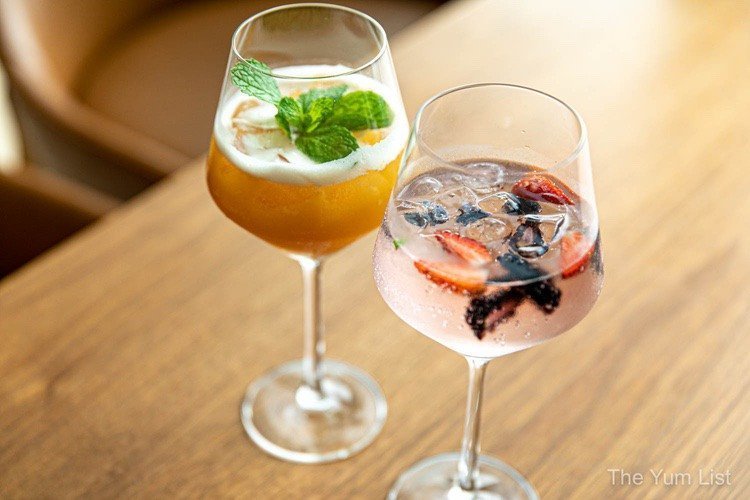 High Tea Element KL
The food menu for Trace Restaurant and Bar's "Arteastry" Hi-Tea breaks down into three sections: hot and cold savouries and sweet. At RM100+ for two people, the abundance and variety of food offers great value for patrons.
Cold Savouries
With dramatic dry-ice flair, the cold plate arrives first with four serious upgrades to the traditional white bread sandwiches. Closest to the classic is the chicken lyoner focaccia, which tops herb bread with chicken slices, cream cheese, lots of vegetables, and skewers of green olives. The open-faced nature makes it less heavy than a full sandwich, and the variety of ingredients gives it plenty of flavour and texture.
Sitting alongside, we find the vegetables wrap and roll with sweet chilli dip. A flour tortilla wraps around carrots and yellow peppers for a satisfyingly fresh crunch. Grilled beforehand, the peppers offer a little smoky undertone to the sandwich, and we find hints of chilli and onion lingering at the end, perhaps from the mayo inside.
The vegetable parade continues with the Vietnamese roll. Crunchy cabbage, rice noodles, basil, and mushroom are tucked inside of a rice paper roll. The sweet chilli dip works with this wrap just as well as with the previous one.
The last of the cold savouries, the smoked salmon bagel, delivers a thick cut of smoky salmon topped with bi-coloured roe. We are impressed by the generous portion of fish, which is true of the menu as a whole. No one will leave hungry today!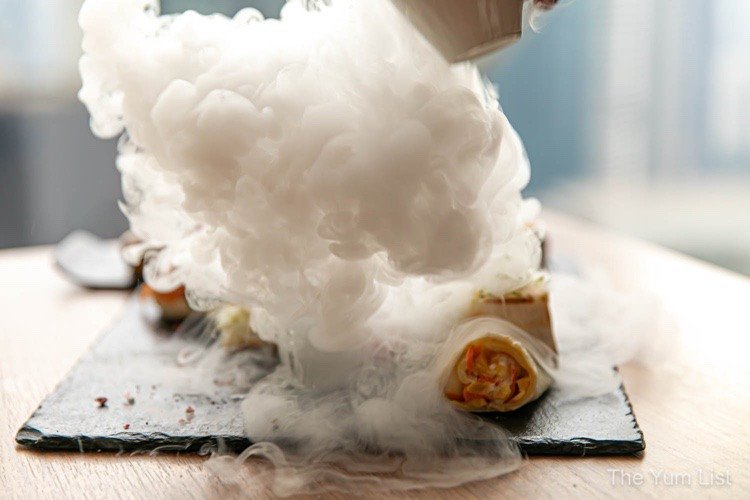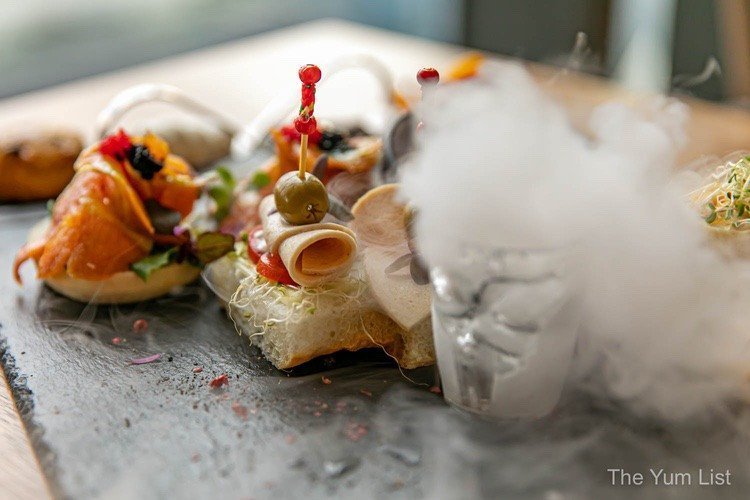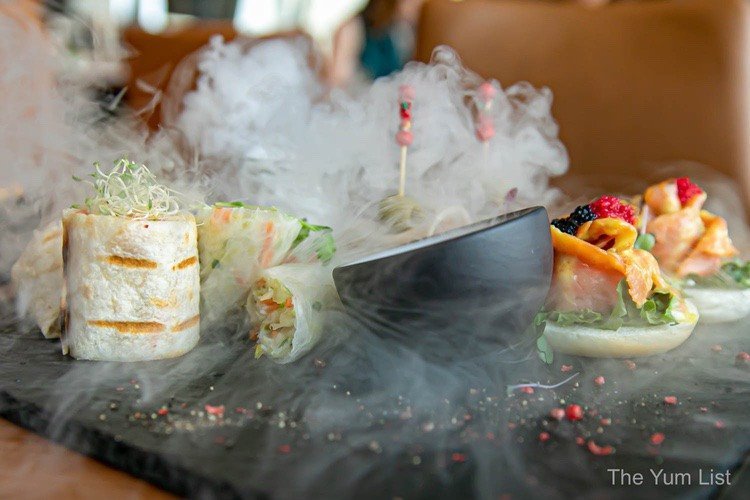 Hot Savouries
Arriving quickly on the heels of the cold snacks, the hot savouries look equally as tempting. My eyes (and stomach!) are first drawn to the lemongrass spiced fish. Fish 'lollipops' are moulded to lemongrass stems for a double lemongrass flavour. The fish has a nice texture, the crispy breaded exterior giving way to soft flakes inside.
Guests are given a choice of sliders, showcasing either crispy fish or tender sloppy joes. Both are conveyed on a colourful charcoal bun. The fish is slow, drippy goodness with crunchy coleslaw to align with the crisp batter of the fish. The sloppy joe slider is meaty with a tangy tomato sauce. In both cases, the flavours are tasty and the portions generous.
Two kinds of pies round out the plate. The chicken black pepper pie is packaged in a super flaky crust, loaded with meat and mushrooms in a thick gravy. Adorning the top, toasted black sesame seeds speak to the Asian influence of this pie. The second, a classic shepherd pie, crowns chunky ground beef and carrots with festive mashed potato flowers. Both are hearty and well-prepared.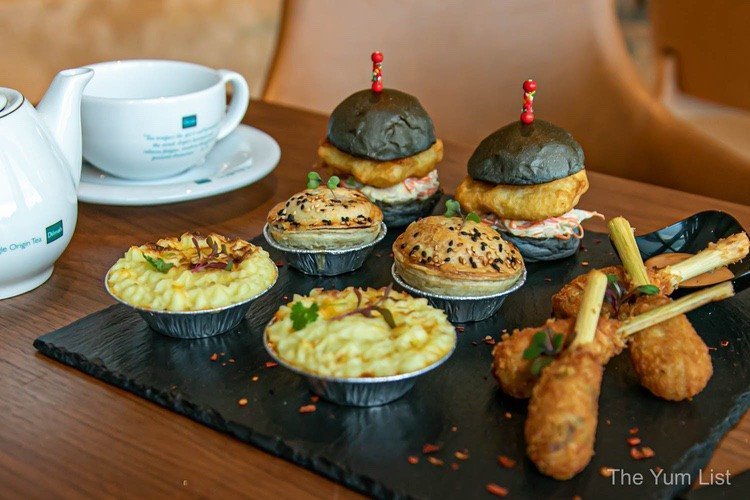 Sweets
The sweet course appears to be a more modest endeavour. Flanking the smaller plate, two fruit tarts deliver sweetened cream and cuts of fresh fruit in a delicious buttery crust. Alongside, we find two dense mini-scones dotted with chocolate chips and served with spirals of whipped cream and fudgy chocolate ganache.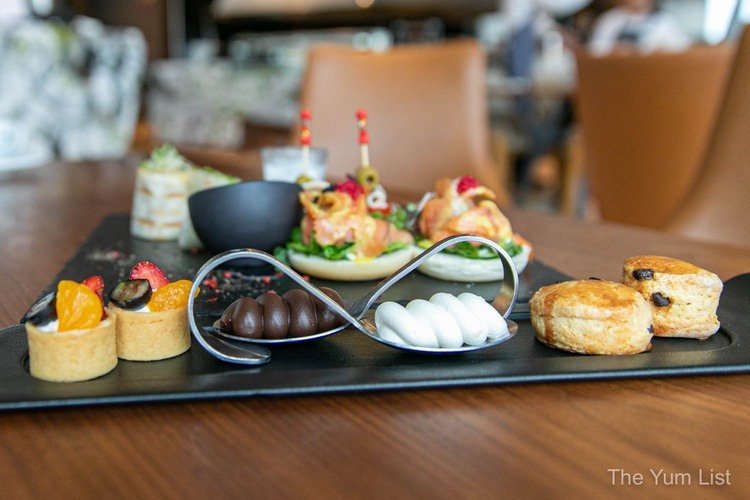 Surprise High Tea Element KL
But the sweetest element of our experience is not listed on the menu at all. SURPRISE! Just as we finish what we think is our tea, a chef arrives with a cart full of goodies and a blank canvas for the table. With palette in hand, the chef paints a picture of food for the table, beginning with colourful sauces of kiwi, strawberry, and mango, then layering the frame with green crumble, shredded coconut, and candies of all colours. Flower marshmallows and tinted macarons add further dimension. At the centre of it all is laid a chocolate sphere. One guest is given a mallet to crack it open and inside lies a treasure of cheesecake bites and marshmallows. Over the top is poured a rich chocolate sauce. We are encouraged to dig into this edible masterpiece with our hands. This course is nothing short of childhood fantasy in pure sugar. If you have a family, be sure to bring the kids to High Tea at Element KL. They will think they have died and gone to heaven!
High Tea Element Kuala Lumpur Review
"Arteastry" Hi-Tea at Trace Restaurant and Bar marries ART at TEA time with tasty paSTRY for a unique experience right in the heart of KL's city centre. Guests can expect good portions, good value, and a finish that is drawn right out of childhood dreams.
"Arteastry" Hi-Tea is available on Saturdays, Sundays and public holidays, from 1:00 p.m. until 4:00 p.m.
Reasons to visit Element KL for High Tea: the most reasonably priced afternoon tea in KL we've recently come across; a sugary finish to please children of all ages.
"Arteastry" Hi-Tea
Trace Restaurant & Bar
Element Kuala Lumpur
lham Tower, 8 Jln Binjai
50450 Kuala Lumpur, Malaysia
+6 03 2771 3388
[email protected]
www.elementkualalumpur.com