Osteria Gamberoni
Words: Monica Tindall
Photos: Rich Callahan
Osteria Gamberoni, the newest kid on the block in the happening area of Chow Kit between Hotel Stripes and The Row, seems set for success. Opened only a week, there's already a steady stream of traffic visiting this stylish Italian restaurant. We think credit goes to the setting, team, quality of the food and carefully considered price points.
Floor-to-ceiling windows allow natural light to illuminate shiny marble and dark mirrors. In the evening giant globe-like chandeliers gently light the space with warmth. There's an attractive semi-alfresco area lined with plants, which is popular in the cooler hours of the morning or later afternoon. Additionally, a partially open kitchen allows a peek into where the magic happens.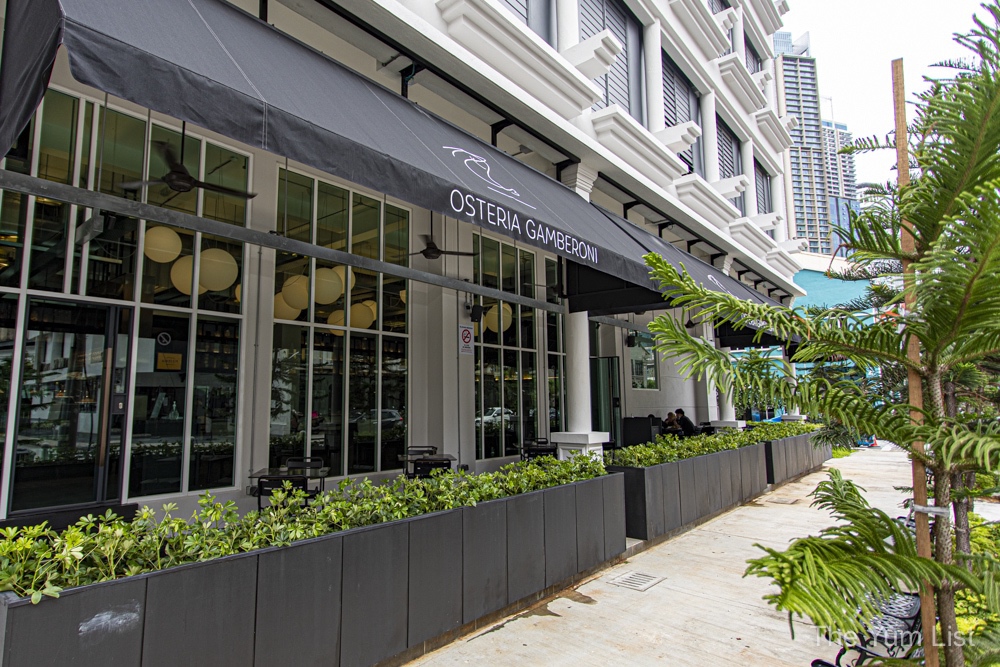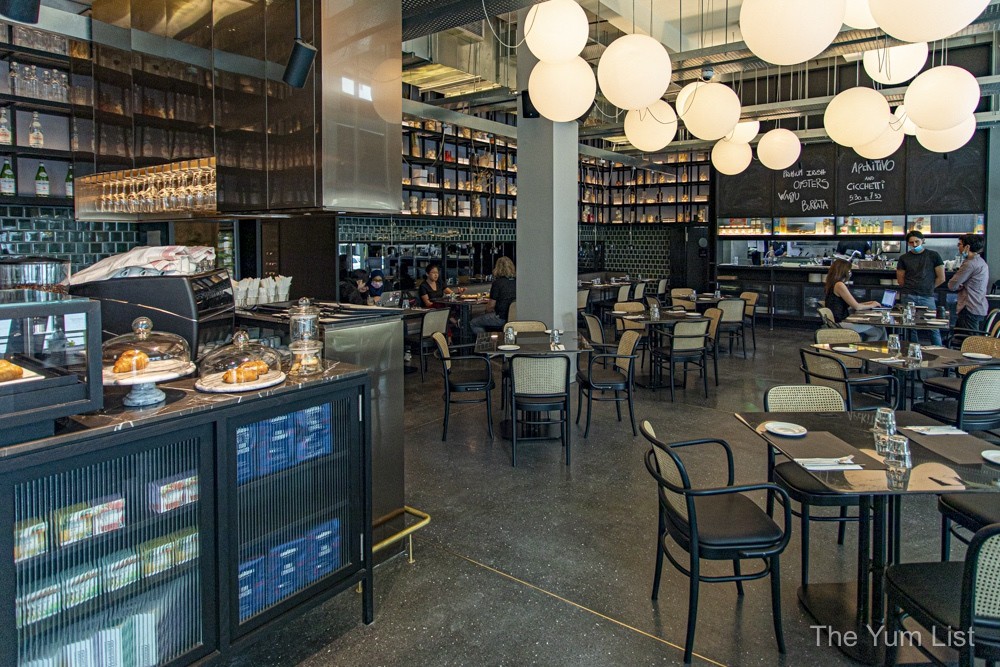 All staff are welcoming and an Italian manager and head chef gift a flavour of authenticity. The menu collates traditional recipes focused around the coastal areas of Italy, hence an abundance of seafood in the dishes. Sourcing of as much produce locally as possible supports the farm to table concept, and, in true Italian style, everything is made fresh daily. Price points are also given much consideration and decided to provide a selection of recipes using quality ingredients at reasonable prices. The team want an authentic taste of Italy to be accessible to a wide range of guests, so much that it will encourage diners to return again and again.
Primo
Baked goods and hot beverages come from Primo, a small coffee and pastry counter at the entrance. It's the first thing you see when you enter Osteria Gamberoni. It's designed as a typical Italian bar where you stand at the counter for a coffee or grab a cup and pastry to go.
What some might consider the perfect breakfast combo (and the only appropriate time of day to drink a cappuccino according to the Italians) is a milky coffee and buttery pastry. The Cappuccino (RM 10) is made on Lavazza beans and sports a perfect foam – kudos to the barista. It's superb with the Bomboloni (RM 8) and Crostata (RM 10). The former comes both with Nutella and Custard Cream fillings and the tart is an elegant, crisp shell filled with blueberry jam. Rich gives high praise to both.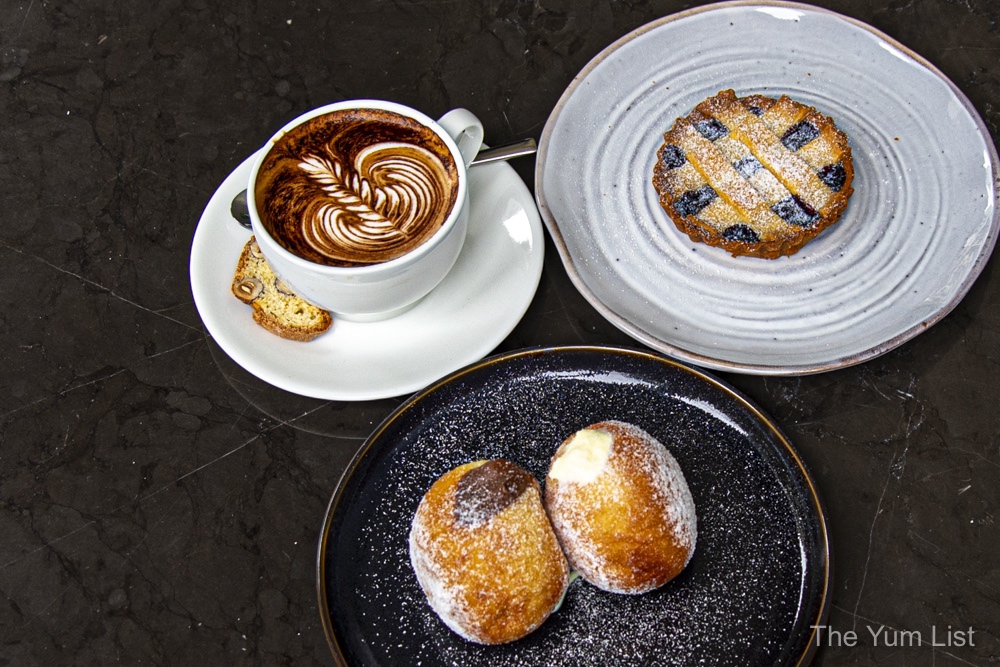 Aperitivo
Moving from coffee to wine, and ideal for after-work get-togethers, Osteria Gamberoni's Aperitivo runs daily from 5:30 – 7:30 pm. For every two glasses of wine, beer or Aperol Spritz (any combo is okay) purchased you can choose one complimentary chichetto. A compact list includes bites from croquettes to fried shrimp. Manager, Simona Rossetti, recommends the Granchi Fritti (RM 12), and if you're an Instagrammer, there's no arguing that these baby deep-fried crabs sure make a cute photo. They tumble from a paper cone with sea salt and aioli as condiments.
Wines are 100% Italian and chosen for their suitability to go with food. Seven wines are available by the glass including prosecco, three whites and three reds. They're possibly the best-priced wines in the city starting at RM18 for a glass of something that is far from rubbish.
I try both the Cataratto, Anthilia, Donnafugata, Sicilia (RM 20) and the Scaia Bianco, Tenuta S. Antonio, Veneto (RM 22), from the white selection and find them, excellent food mates. The former is aromatic and palate-filling, while the second, a blend of Garganega and Chardonnay, offers white blooms and citrus in the bouquet and a balanced palate with good acidity in the finish. The red Corvina, Scaia Rosso, Tenuta S. Antonio from Veneto (RM 22) is another sure crowd-pleaser with its intensity, good body and fresh fruitiness.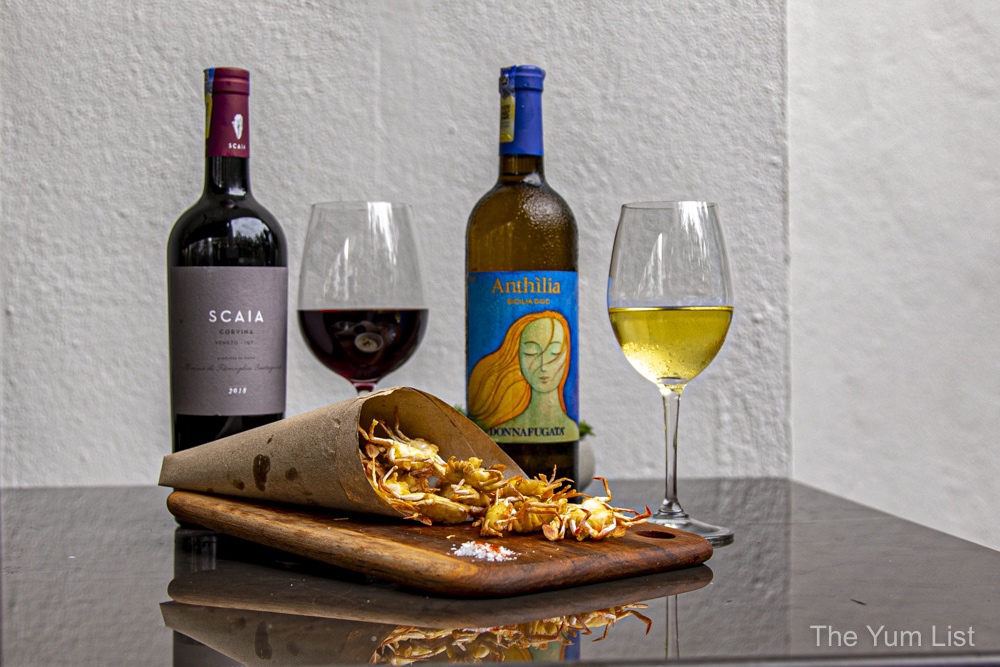 Osteria Gamberoni Menu
Osteria Gamberoni's head chef Daniele Ponzani only serves food he enjoys eating himself. He trains his kitchen crew to taste ingredients before using them in recipes and if they're not in top condition then to discard them. With Italian cooking's focus on less than a handful of ingredients in each recipe, only using the freshest, in-season products is essential.
The team at Osteria Gamberoni run daily specials and we consider ourselves fortunate that today it's Burrata Prosciutto e Fichi (RM 68). Upon slicing, the soft white ball of cheese spills onto the wooden serving board. It's best spread across a slice of baguette or focaccia and topped with thin shavings of beef ham, rocket and fig. I think a little sprinkling of sea salt is needed until I chew into the ham, and find it provides just the right amount of savoury on its own.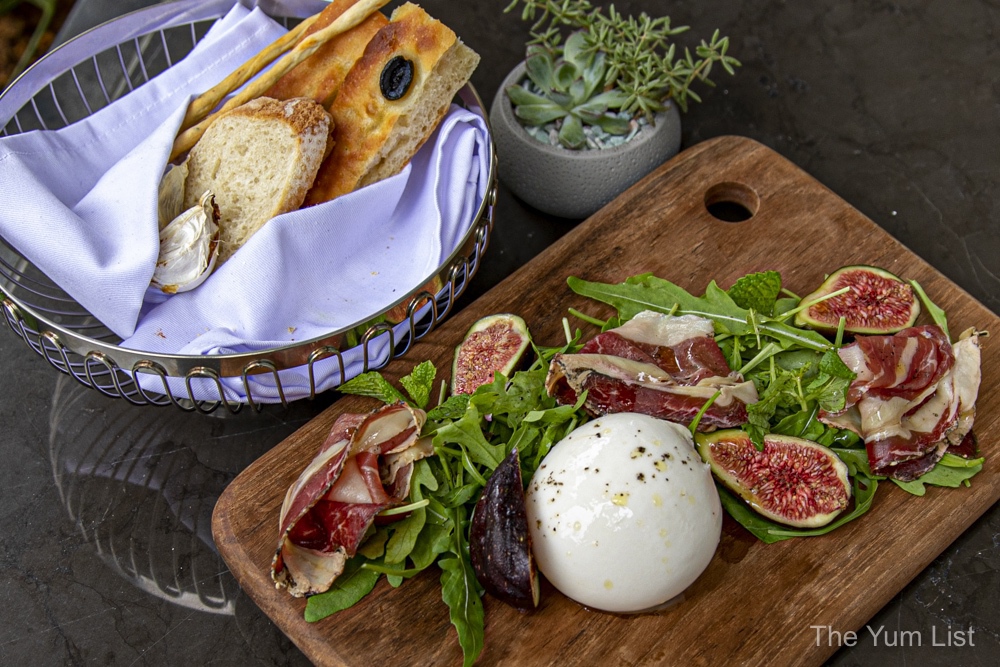 Pizza
With two pizzerias on the same block, the team at Osteria Gamberoni are not trying to outshine their neighbours but rather offer a small range of pizza as part of their larger Italian menu. The Gamberi e Peperoncino (RM 48) is the signature featuring tomato, mozzarella, sautéed prawns, chilli purée and wild rocket. A little bit of olive oil in the dough (let rest for 48 hours) makes the crust more Roman in style with a slightly crunchy texture. Rich and I appreciate the rigid base making it easy to get into the mouth with one hand without losing the toppings.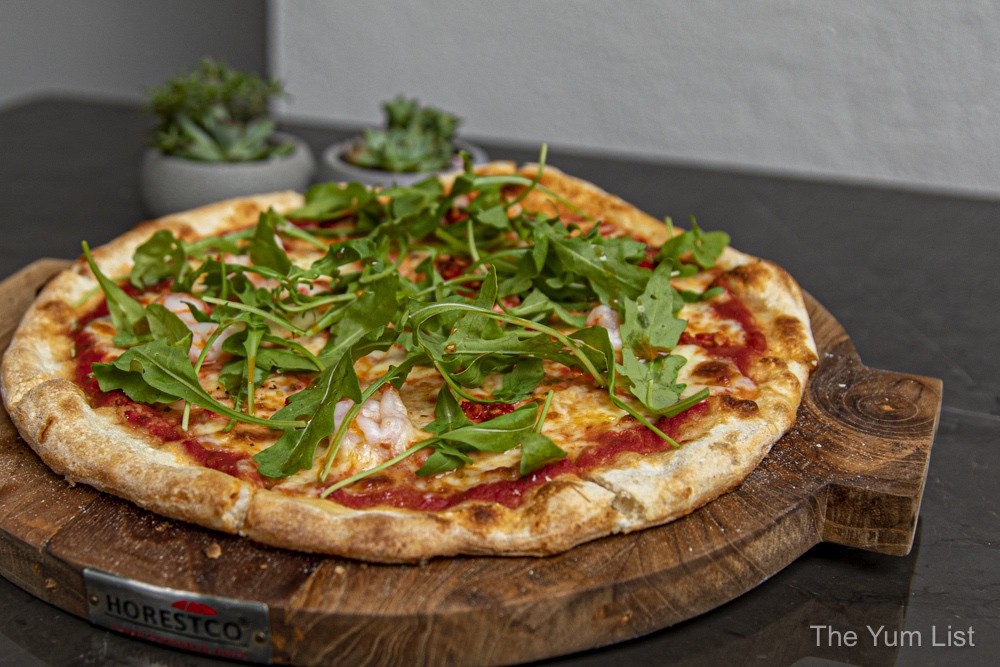 Pasta
Although pizza is great at Osteria Gamberoni, homemade pasta is more of the focus. Close to two handfuls of dry and fresh versions are on the menu. Chef Danieli uses his grandmother's recipe. Plating is something to note too; they're not all served in a round bowl looking the same except for the sauce, but there's a subtle flair in the presentation, not overdone, but making for a slightly elevated experience.
I can highly recommend the Tagliolini con Gamberoni e Limone (RM 46). With the namesake, "gamberoni – big prawn," in the title it is a wise order. Chef's fresh tagliolini is sautéed together with prawns, white wine, ricotta and lemon cream. The acidity in this dish is a definite highlight, along with the pasta that has just the right amount of bite – al dente. (If you prefer softer noodles though, they will accommodate, without protest; just let them know when making your order.)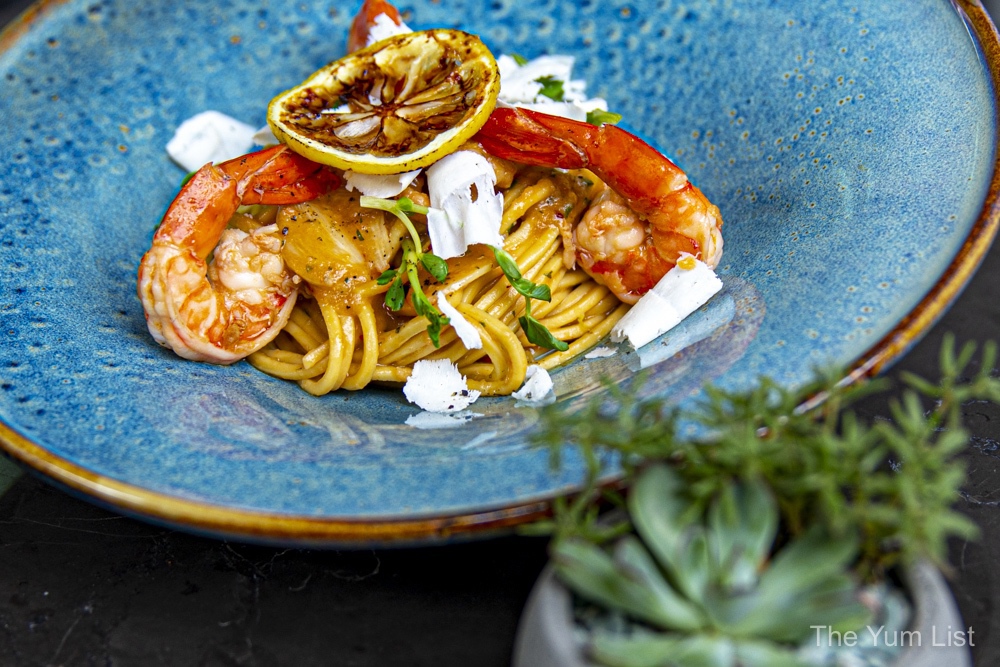 Rich gets what he calls an "adult version of mac 'n' cheese," not being much of a seafood fan. It's hard to go past a classic, and the Cacio e Pepe with its simple seasonings of black pepper and cheese (Pecorino and Parmesan) is a perfect example of why classics withstand the test of time.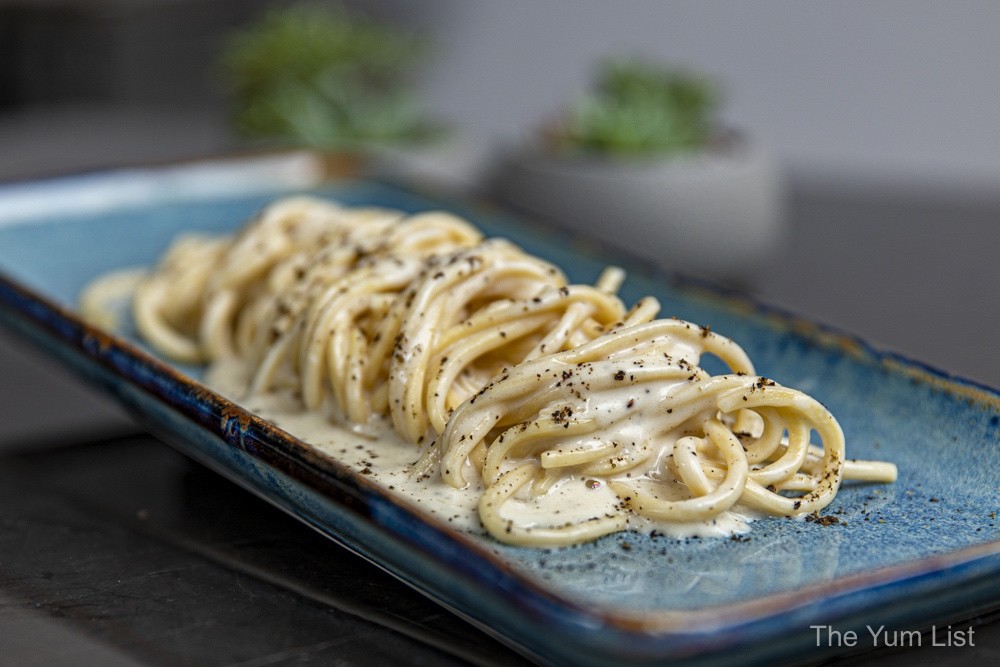 Osteria Gamberoni Menu – Secondi
Another item including the restaurant's namesake, Gamberoni Grigliati (RM 108), has already become a popular order even being only a week old. We quickly see why. The presentation is highly attractive with two plump oversized grilled king prawns from Sabah as the centrepiece of a wooden platter. A seabass fillet, two pieces of calamari, a baby octopus and grilled vegetables accompany the crustaceans. All can be seasoned with your choice of salmoriglio (lemon juice, olive oil, garlic, salt, and herbs) sauce and a wedge of lemon.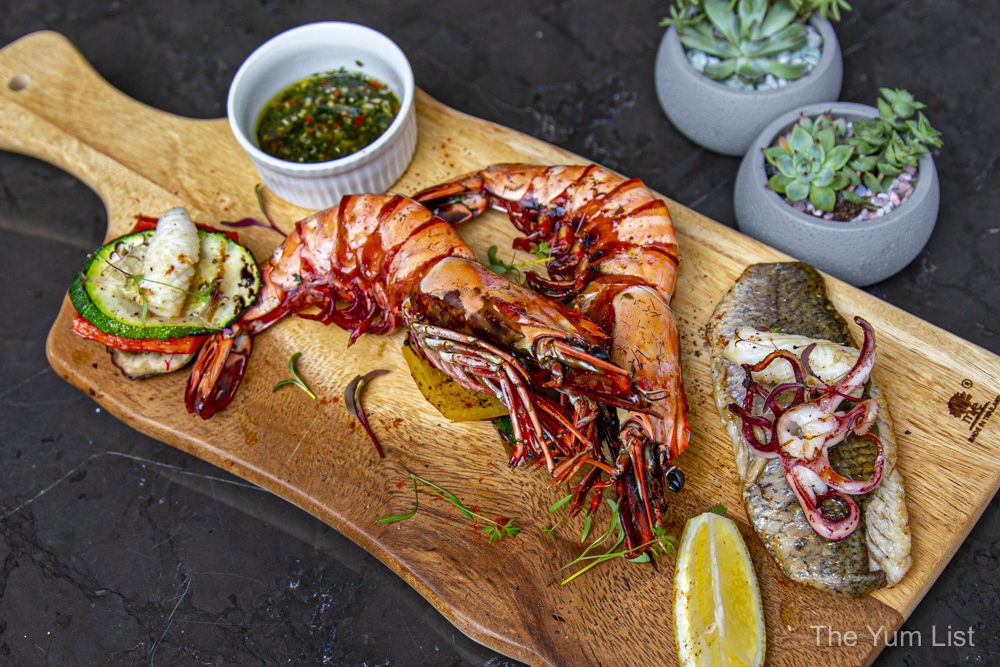 Dessert
Lastly, a trio of Italian desserts makes choosing uncomplicated (take one, or them all). After that feast, we're happy to share a Pannacotta Frutti di Bosco (RM 18). A berry compote breaks up the creaminess of the firm vanilla custard. Rich is ever so happy that this meal both started and is finishing with dessert. And, I'm pleased to conclude with a final glass of wine.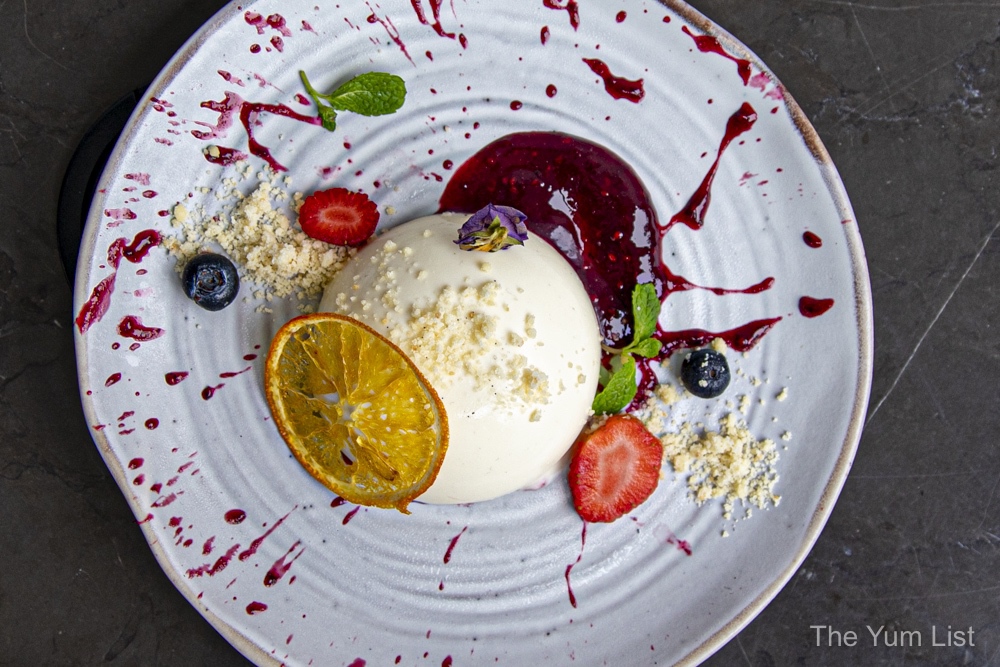 Reasons to visit Osteria Gamberoni: elegant setting with floor-to-ceiling windows, shiny-black marble and a plant-lined semi-alfresco area; must order house-made fresh pasta; possibly the best value wine by the glass in the city.


Osteria Gamberoni, Italian Restaurant, Chow Kit
Yap Ak Shak House, 17 Jalan Yap Ah Shak
50300 Kuala Lumpur, Malaysia
www.facebook.com/osteriagamberoni
*Pork-free
**Coming soon: a rooftop bar… stay tuned to The Yum List for more information.
Osteria Gamberoni Opening Hours
Tuesday: Closed
Wednesday to Monday: 11 am – 8 pm
Set Lunch, Monday to Friday: 12 – 3 pm
From December 4, the full menu will be available all day and opening hours will be 11 am until 10 pm.
Find more Italian restaurants in KL here and stay up-to-date on the latest happenings in KL's food and beverage scene here and here.