Caribbean Food Cruise
Words: Monica Tindall Photos: Rich Callahan
Missing travel and time on the beach, Joloko brings us a culinary island-hop with their Caribbean Food Cruise. For all of December (except 24th, 25th and 31st), the kitchen crew are taking diners on an eating adventure and encouraging you to expand your palate, just as you might when traversing a new holiday destination.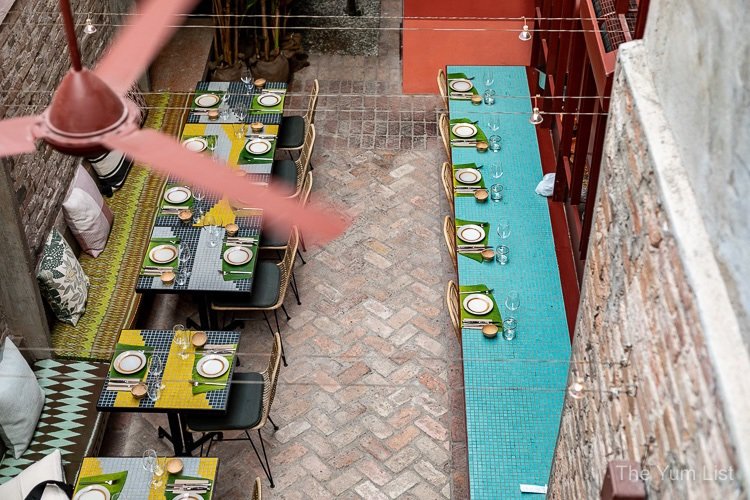 Eight-Course Caribbean Food Cruise Menu at Joloko
Many of us travel for the desire to be surprised and learn something new. Well, the menu here is bound to tempt diners to taste unusual recipes and create memorable moments.
The eight-course menu showcasing dishes from Aruba to Jamaica is priced as RM 115 per person or RM135 with a cocktail. As it's a shared experience, the menu requires a minimum two-person order. Any number above two can step aboard and order the tasting menu, or have the choice of a la carte.
Tropical Cocktails
Like any proper tropical cruise, we set off with a cocktail. Bacardi is a classic label representing the Caribbean and just this month they launched their four-year-old, Cuatro Años, hence an adept choice for the base of the beverages. The Caribbean Food Cruise includes your choice of a Mojito or Piña Colada. As you'd expect of Joloko, the cocktails are excellent renditions of classics. (Really, if you have not yet been, cocktails here are fab!)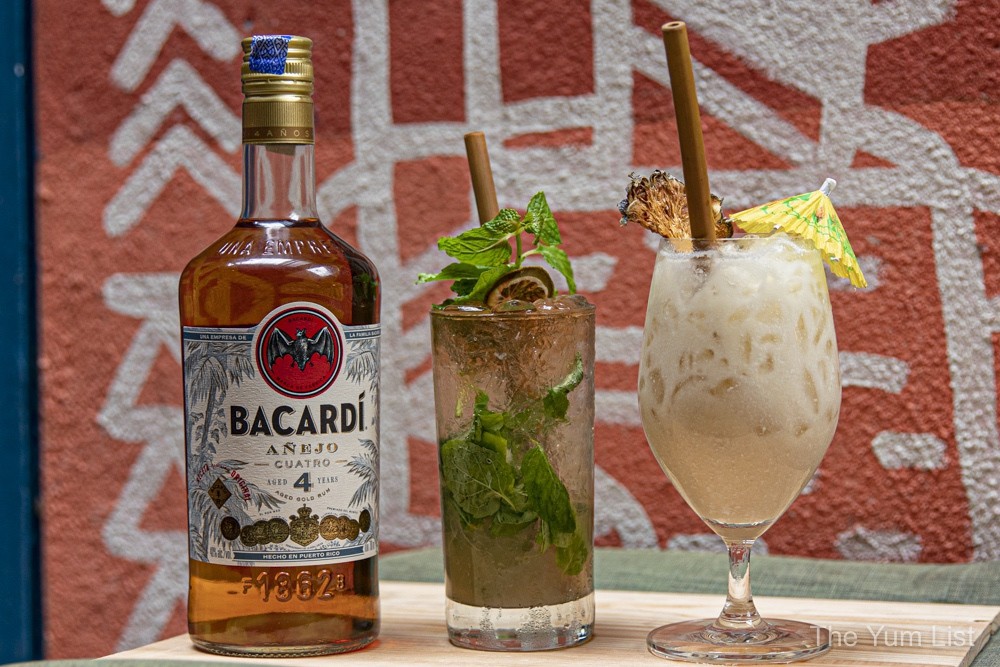 First Stop, Martinique
Our first stop is Martinique with Accras de Morue. These salted fish and prawn fritters are found throughout the Caribbean but this particular recipe is typical of the island. A light, crispy batter with a good thread of heat coats a soft, moist middle. They're so good! We hope they keep these on the menu as a memento from the cruise.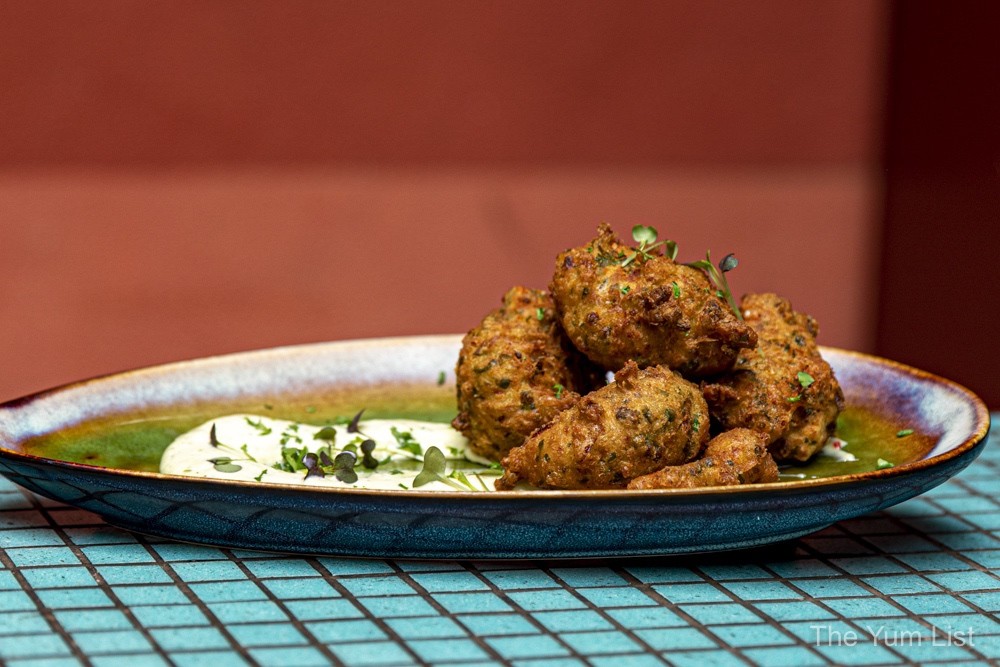 Moving further East, we pull into the port of Trinidad with Bake & Shark. These are also mouthfuls of deliciousness. Fried bread circles hug grilled shark sporting the char of the grill with a spicy marination of chilli and cayenne pepper. The secret to getting the tender consistency is a sous vide before the barbecue.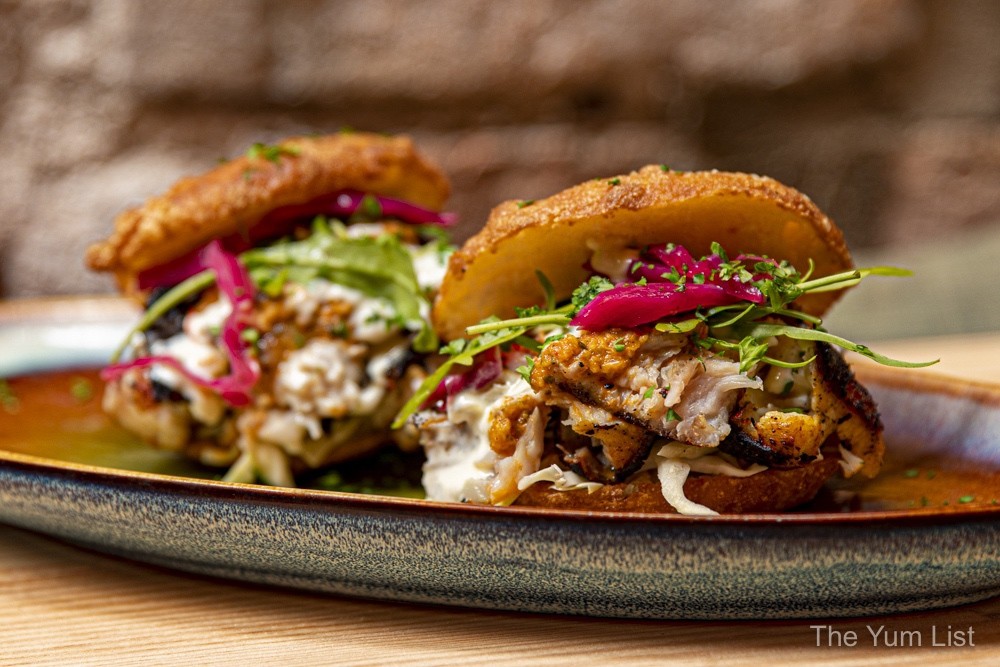 Sparkling Orange Wine
Wine lovers should consider Joloko's fantastic natural wine list. The 2018 Catherine et Pierre Breton, Vouvray, Petillant, 'Elle est Pas Bulle la la Vie?' is guaranteed to broaden your taste just as much as the food menu on this Caribbean Food Cruise will. It's a sparkling, natural, orange wine, just arrived in Malaysia and very interesting. Joloko's founder Rick Joore is so passionate about natural wine that he is even a kick-starter founder of the book The Amber Revolution – the story of orange wine. I get some peach and citrus notes in these entertaining bubbles; Rick says, "This wine just makes everything better." I have to agree!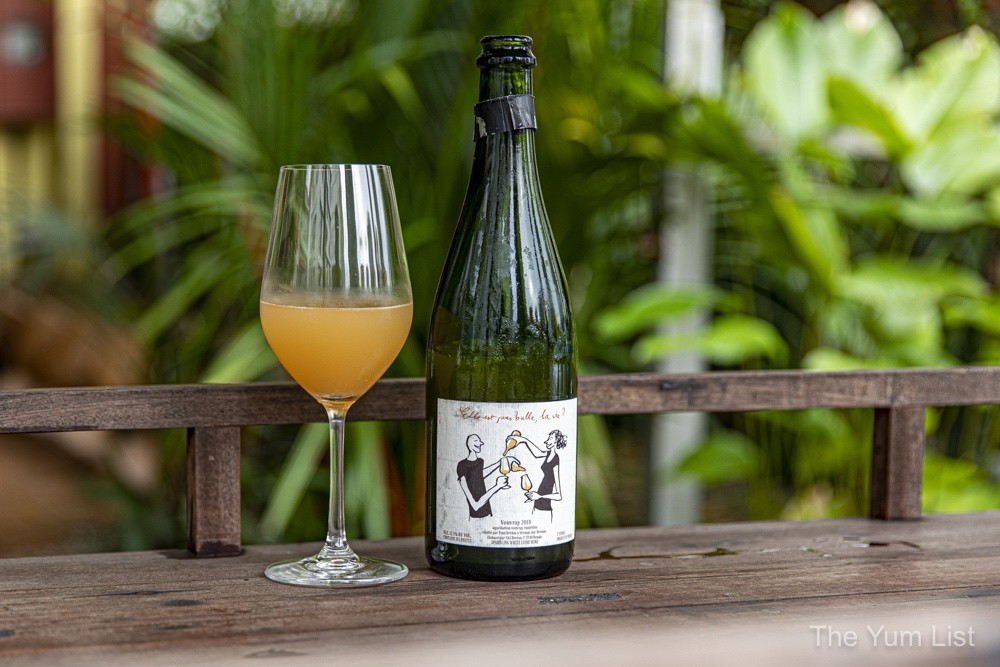 All Aboard!
Docking next at Port-au-Prince, we slurp up a rich Haitian soup, Joumou. This pumpkin and goat soup has a long history, often signifying independence. Haitians enslaved by the French were once not allowed to enjoy the same delicacies as their colonisers. On January 1, 1804 when slaves gained their freedom, they celebrated with music, dance and by eating all of the things their oppressors had forbidden. Joumou, or "freedom soup" continues to be eaten with gusto today, and we mirror the enthusiasm in the hope that we will be "free" (to travel) again soon.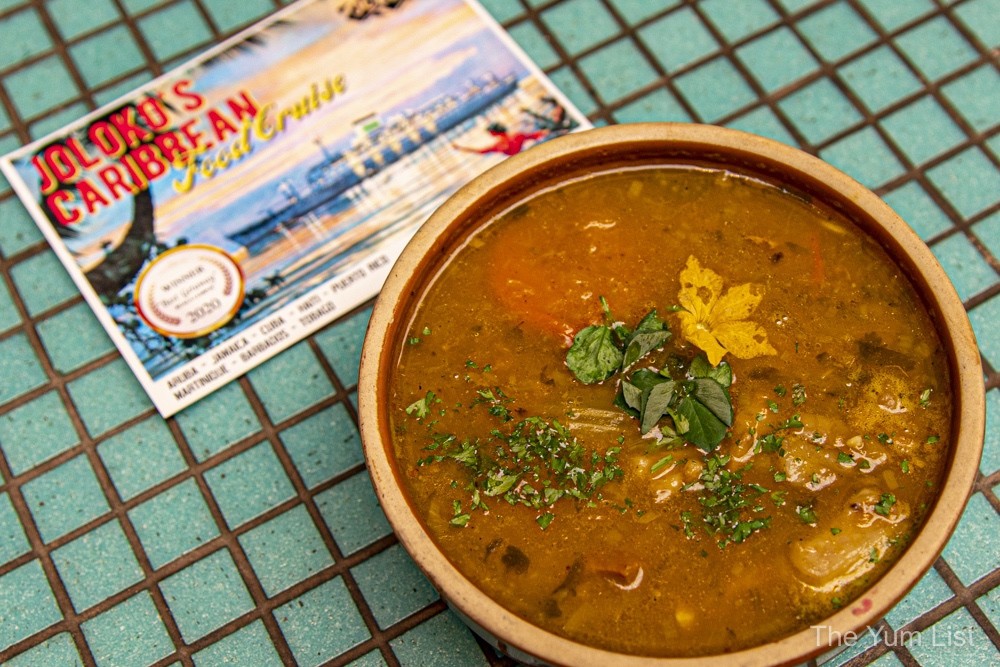 Puerto Rico brings us a highly enjoyable Mofongo. A warm mix of beef and mashed plantain has a slightly smokey undertone. It's similar to Bolognese in texture with thick mashed potatoes underneath. We love the tropical flours.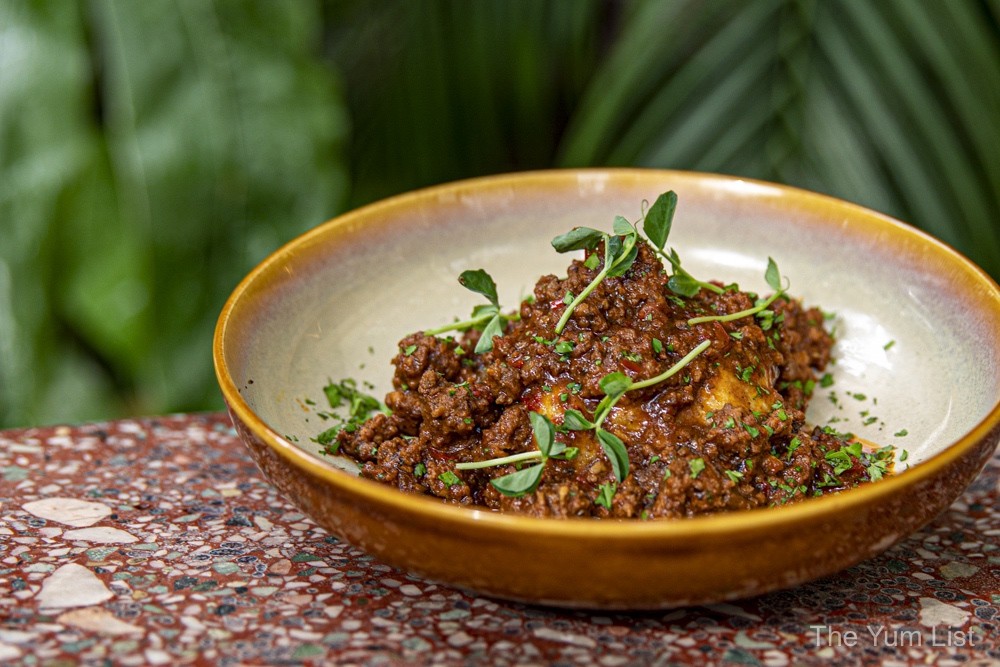 With Beach Boys' Kokomo on permanent replay in our minds, our Caribbean Food Cruise anchors in Aruba. Coconut Stew sees a bunch of island ingredients stewed together in a cast iron pot – coconut, mussels, tomato and mango. A whole fried mullet sits on top in a delicious coat of spices. Smoke, fruit and a touch of spice – another winner.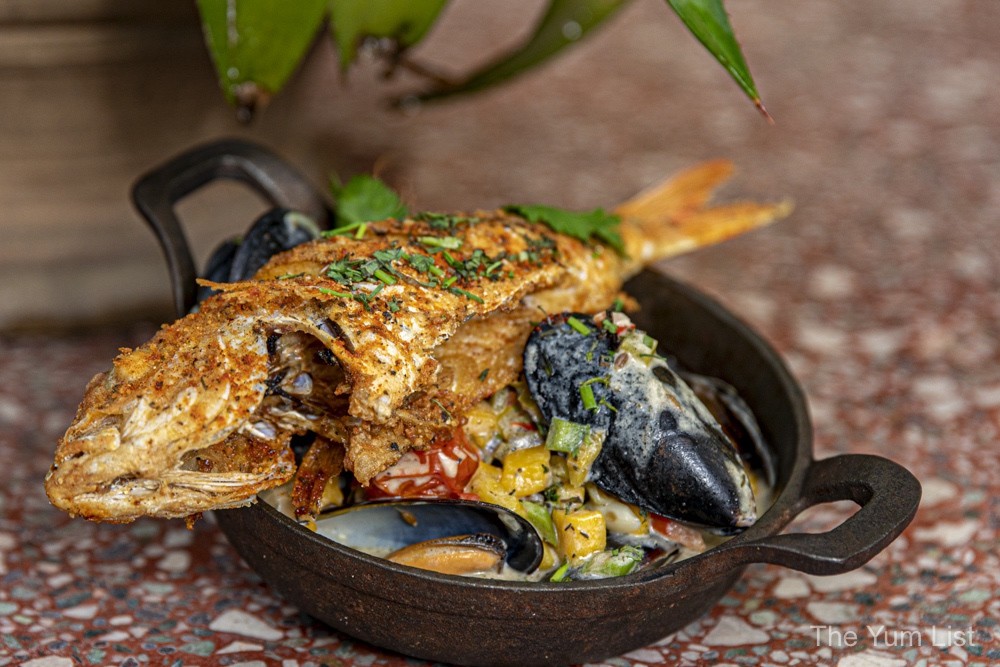 Holiday Snaps
What would a Caribbean Food Cruise be without some holiday snaps? Props provided, a photo booth encourages guests to capture the holiday vibe. One print out is included in the menu per guest, but you're welcome to go wild with your own cameras.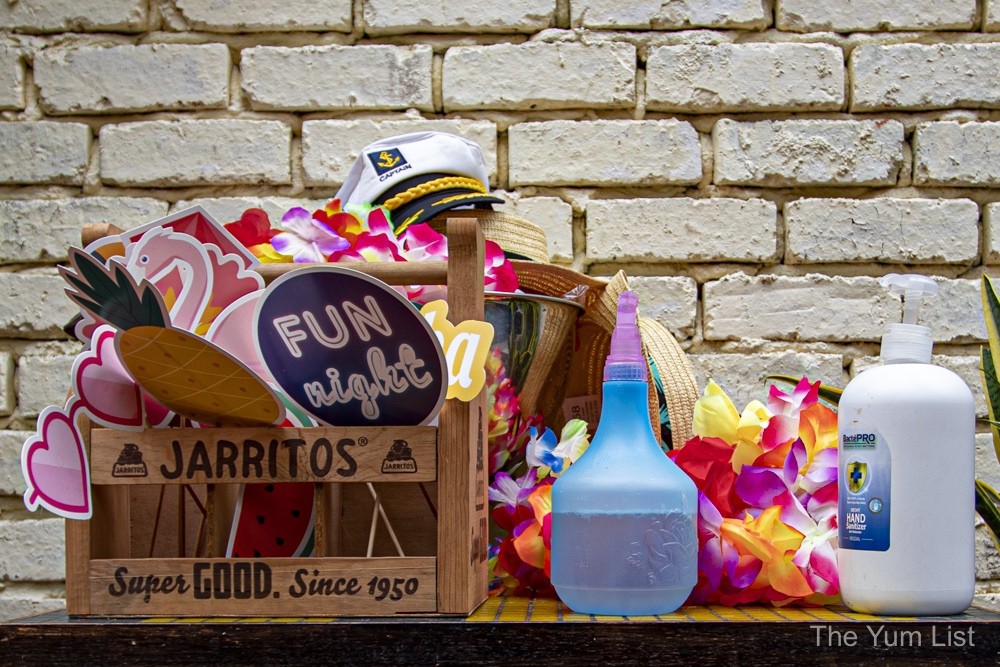 Set Sail!
Andrew Zimmern might possibly introduce the next dish on Bizarre Foods… BBQ Pig Tails! From Barbados, the tails are served with cou cou – a polenta style corn mash with a green mojo sauce. The texture of the tails might be likened to fatty pork belly with a bit of cartilage to chew on. It's no cute little Peppa Pig twirly tail, but rather a sturdy, straight, cone-ish shaped hind end. Rick was at first hesitant about putting pig tails on the menu but thought they encapsulated the sense of adventure and new found courage often stimulated by the travel spirit.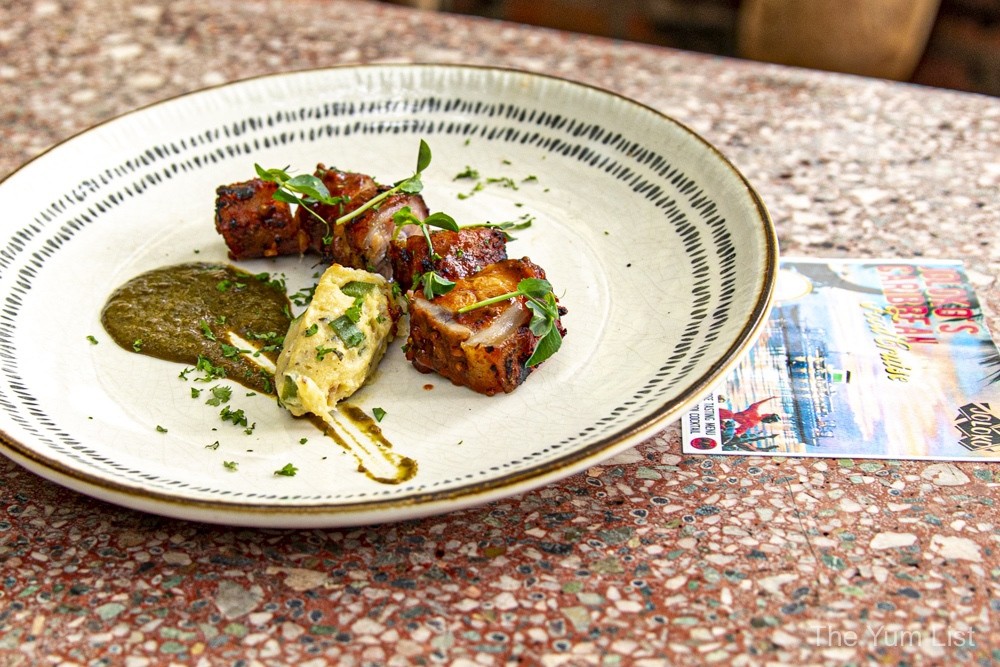 Berthing in Cuba, Asado Lechon, is appropriate for the season. Traditionally served during Christmas, this grilled pork dish with mojo sauce is marinated in orange. The meat has an appealing fruity sweetness and light acidity. We're glad to get the more of the pig than just the tail.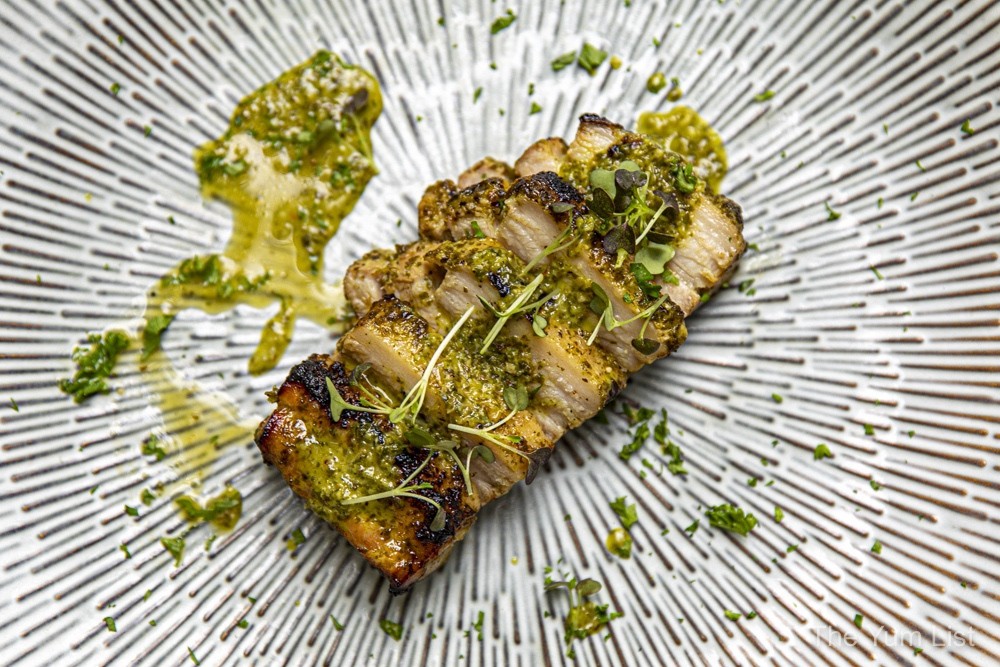 We bid farewell to our Caribbean Food Cruise with a final stop in Jamaica. Gizzada, a coconut tart with rum, is also a recipe eaten especially at Christmas. It tastes just as good as it looks with tonka bean cream sauce and black strap molasses giving it a bit of funk and depth of flavour. Que rico!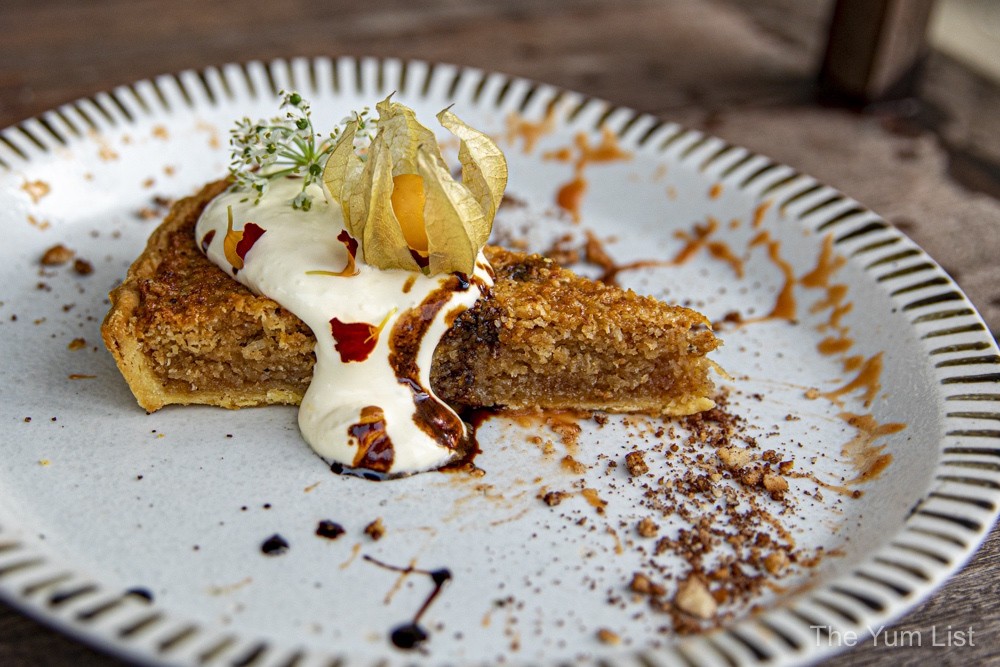 Caribbean Food Cruise at Joloko
The Caribbean Food Cruise is available December 2020 except on the 24th, 25th, and 31st, on which days special menus are served. Do book ahead! It is priced at RM 115 per person or RM135 with a cocktail (with a minimum two-person order as it's a sharing menu).
Reasons to embark on the Caribbean Food Cruise at Joloko: a chance to "travel" at least by setting sail on your tastebuds; fun, fun, fun team and setting; a culinary adventure; excellent cocktails and wine list.
Joloko Bar and Restaurant
43, Jalan Kamunting
Chow Kit, 50300 Kuala Lumpur
+6 03 2694 1100
www.bar-joloko.com
Joloko Opening Hours
Daily: 11:30 am – midnight