La Chica Mexican Grill Changkat Bukit Bintang
Words: Alison Christ Photos: Rich Callahan
La Chicá is a casual and vibrant Mexican kitchen and bar serving Mexican food and tequila. La Chicá, the latest outlet opened by The Olive Tree Group, is located in the heart of Changkat Bukit Bintang. The entrance has an inviting pub-style terrace with lots of small tables overlooking the busy street. The interior is splashed with fun art deco paintings of Latin America. Monica and I meet for a late lunch, and my first impression is that this is a place to sit outside, drink margaritas, and people watch. Growing up in the States, I was spoiled by a large number of Mexican restaurants. Now living in Asia it's really the one thing that I miss the most. So, it's exciting to see a new Mexican place near KLCC.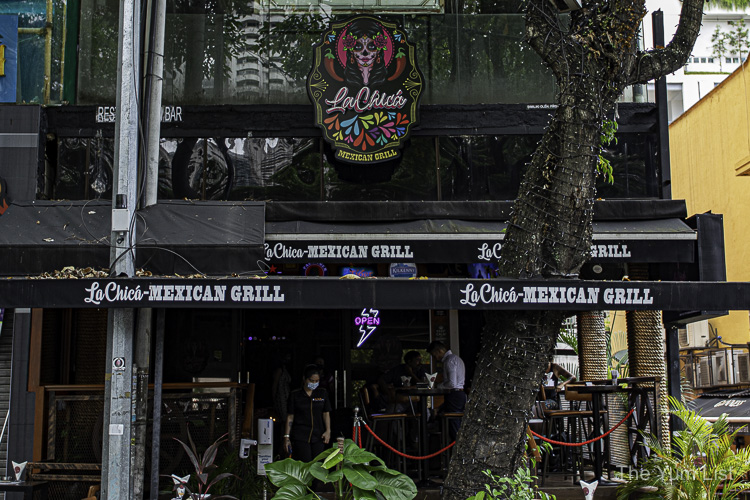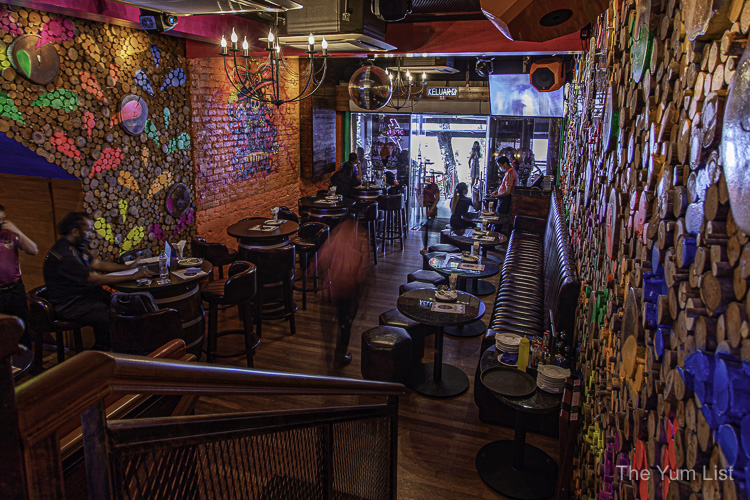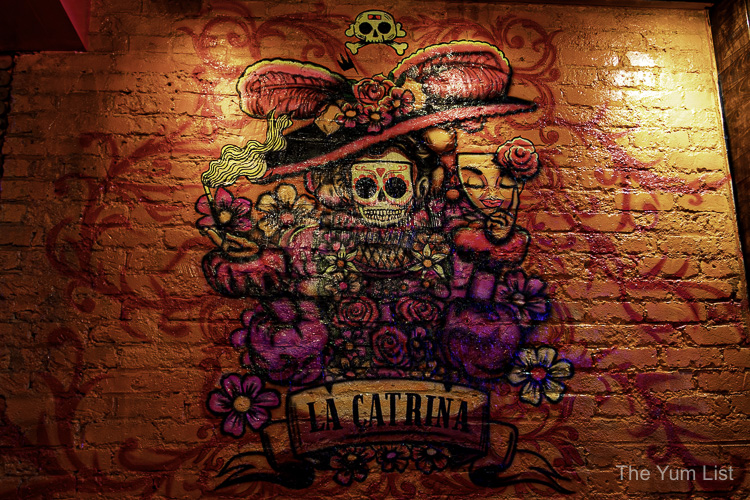 Chips & Salsa
The first rule for me is if the chips and salsa are good, then I'll try the rest of the food. Happily, the chips are freshly fried corn tortillas, and the salsa is great with just the right amount of heat to keep you sipping on agave cocktails! I'm already in the "mood'. Hence, we start with a Classic Margarita (RM 30) and a Paloma, which is on the all-day buy-one-get-one-free menu (before 8 pm 2 for RM 55, after 8 pm 2 for RM 65). Awesome, I will definitely have two Palomas, please!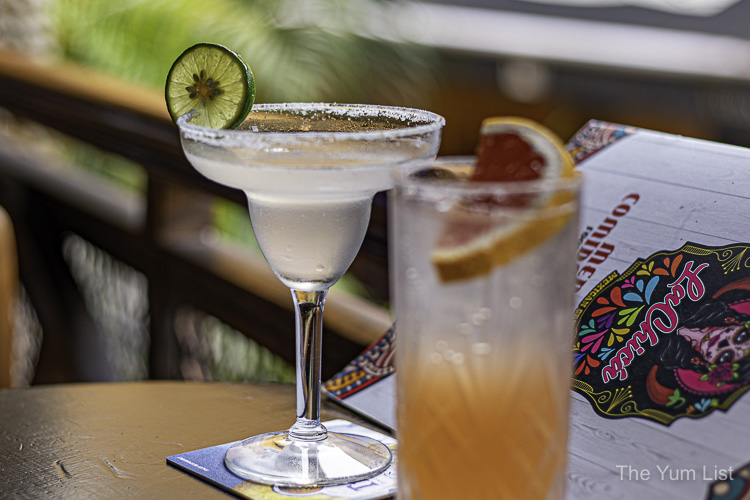 La Chica – Changkat Bukit Bintang
After a healthy serving of chips and salsa, we have the difficult task of picking the dishes we want. The menu is huge, offering sharing plates, antojitos, tapas, nachos, tacos, platos de tortilla, mains, postres, drinks, cocktails, and tequilas. The menu also offers some non-traditional Mexican dishes such as hamburgers and spaghetti. We decide to dive into the Totopos Con Queso Brie (RM 36). This is yummy melted brie with tortilla chips, walnuts, and pomegranate. Next, we try a more traditional dish, Elote (RM 15) charred corn on the cob, lime-cream-mayo, crushed cheese, chilli-lime-salt, and fresh lime.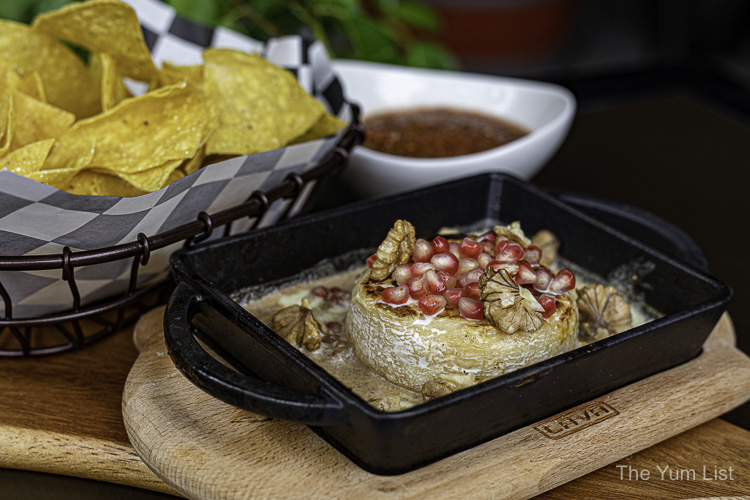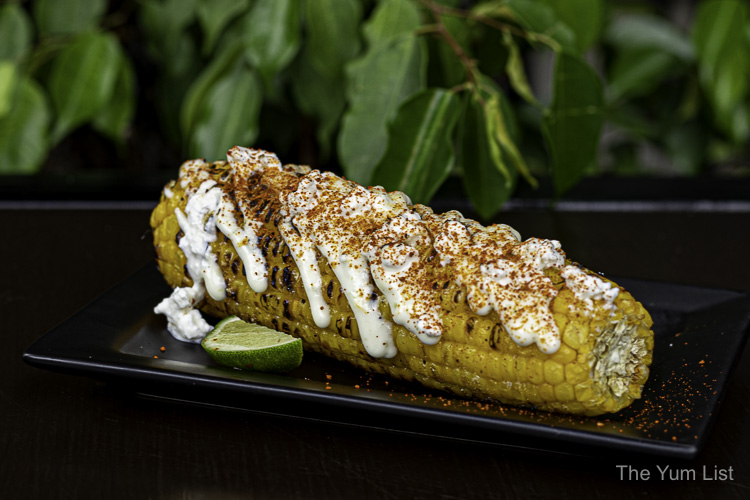 Tacos
There are seven different tacos to choose from. We pick a veggie option, Berenjena y Champinones (RM 12), with roasted mushrooms and eggplant, herbed pomegranate salsa, and rosemary sour cream. The menu has a wide offering of vegetarian dishes, each designated with an avocado symbol. I prefer the Pescado con Miel de Habañero (RM 14) a habañero and honey-glazed fish taco with shredded red cabbage and pico de gallo. This has just the perfect touch of habañero and fresh ingredients.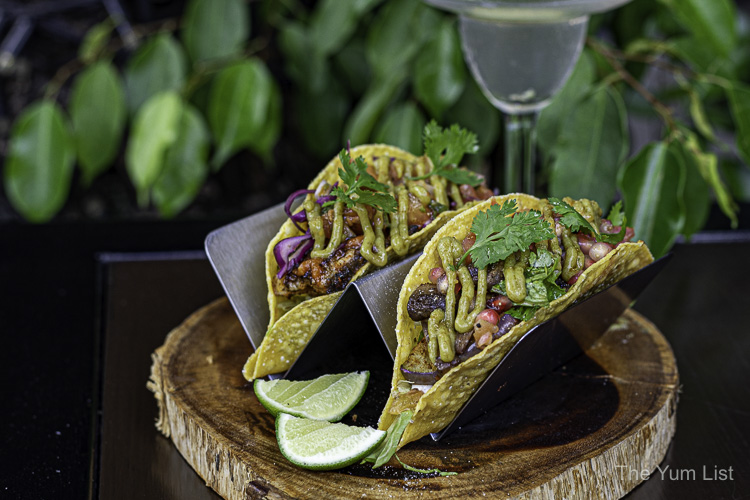 Tortillas
From the Platos de Tortilla section, we chow down on the generously stuffed Burrito Grande con Carne (RM 34). It's an easy ground beef recipe with few ingredients – perfectly cooked red rice, refried beans, ground beef and bell pepper salsa, served with sour cream and guacamole. Quesadilla Vegetariana (RM 28), another veggie option, is classically presented and tasty with creamy refried beans, spicy jalapeños, sweet corn, and cheese.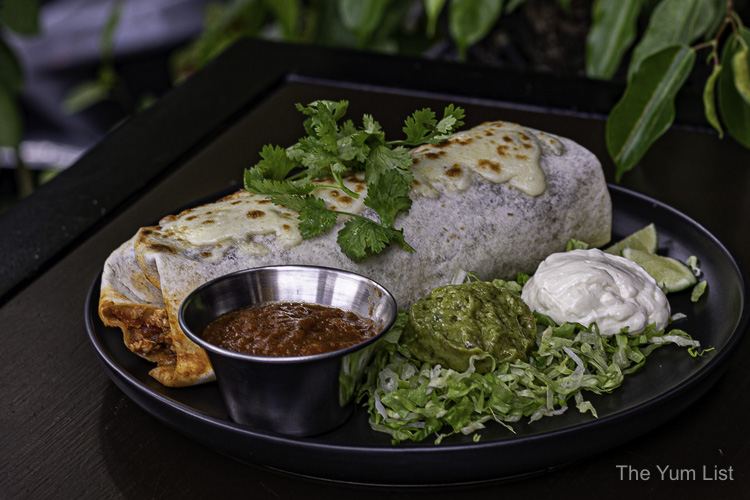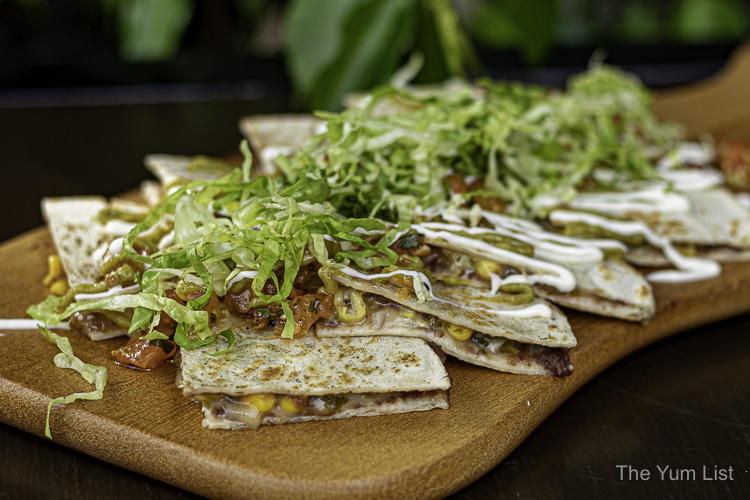 Mains
By the time the main comes, we are almost completely stuffed but find room for the Pescado Mojito (RM 34) citrus-marinated fish, yellow onion, garlic, capers, pimiento, and Mexican rice. The fish is a hearty portion, very fresh, and great for anyone who wants to avoid the calories of cheese, sour cream, and guacamole.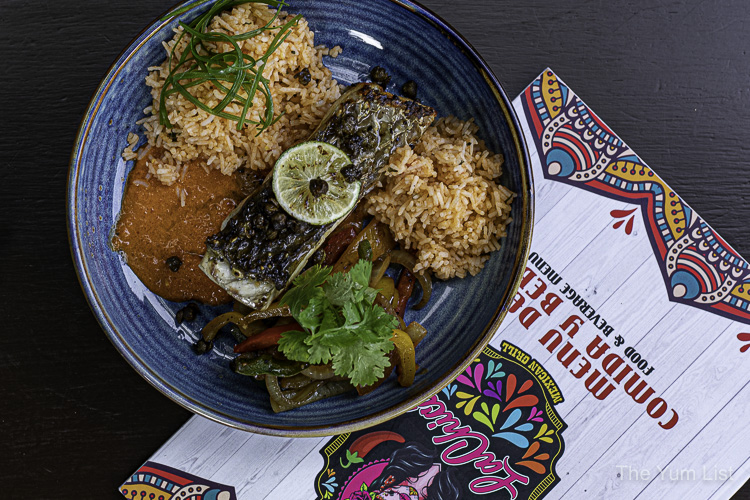 La Chica – Postre
Somehow, we manage to squeeze in a bite of postre. The Tarta de Queso Margarita (RM 18) is a deliciously creamy tequila-spiked cheesecake with lime mousse, and cookie crumble. After we are done stuffing ourselves, executive chef Yogi comes out to check on us. He says his goal was to create a delicious menu best described as gourmet Mexican street food. It's his first time doing Mexican food, and we could see the passion and enthusiasm he has for learning and getting it just right.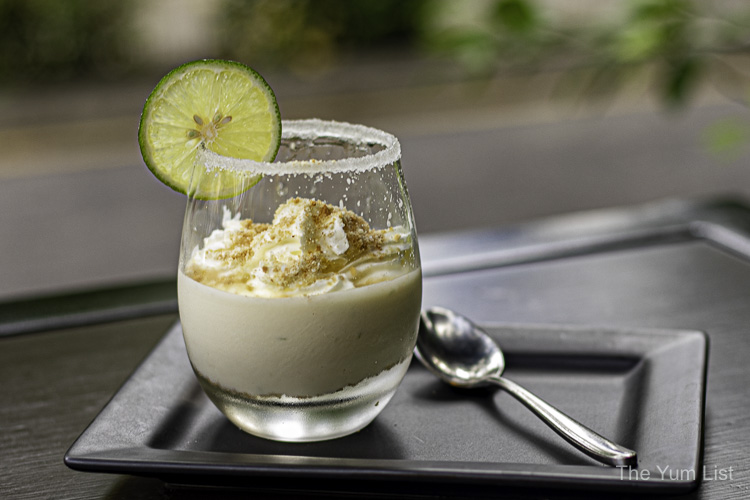 Reasons to visit La Chica: buy-one-get-one-free cocktails, great salsa, food made with love, food selection – something for everyone, fun outdoor dining, people watching.
La Chica
Changkat Bukit Bintang
20-2 Kuala Lumpur 50200, Malaysia
+6017-642 1470
La Chica Opening Hours
Daily 3 pm – 11:30 pm
Find more restaurants and bars in Bukit Bintang here and stay up to date with the latest happenings around Malaysia here and here.