Tatsu Japanese Cuisine
Monica Tindall
With things opening up again, we're enjoying returning to some of our favourite restaurants. Tatsu, the Japanese restaurant in InterContinental Kuala Lumpur, has been considered with warm affection over the years. From the freshest sashimi to various wagyu beef promotions, chef Tommy Kuan ensures his recipes are as beautifully presented as they are mouth-wateringly delicious.
The setting on the first floor of the hotel is an attractive collage of dark timber, thoughtful lighting and floor-to-ceiling windows. During the day, guests enjoy views of greenery and a pretty waterfall. At night, the scene changes to a play of light, shadows and reflections. It's an intimate atmosphere with a cool Tokyo vibe.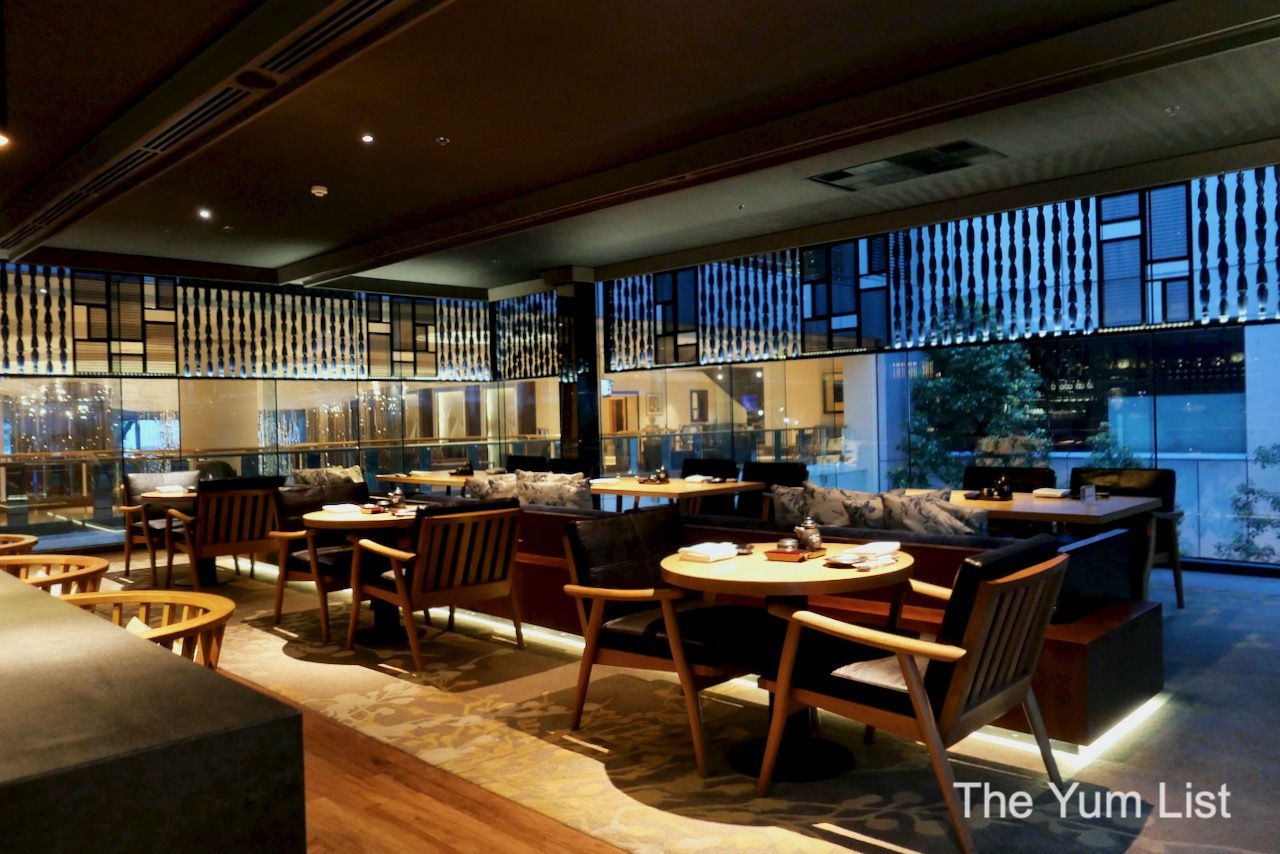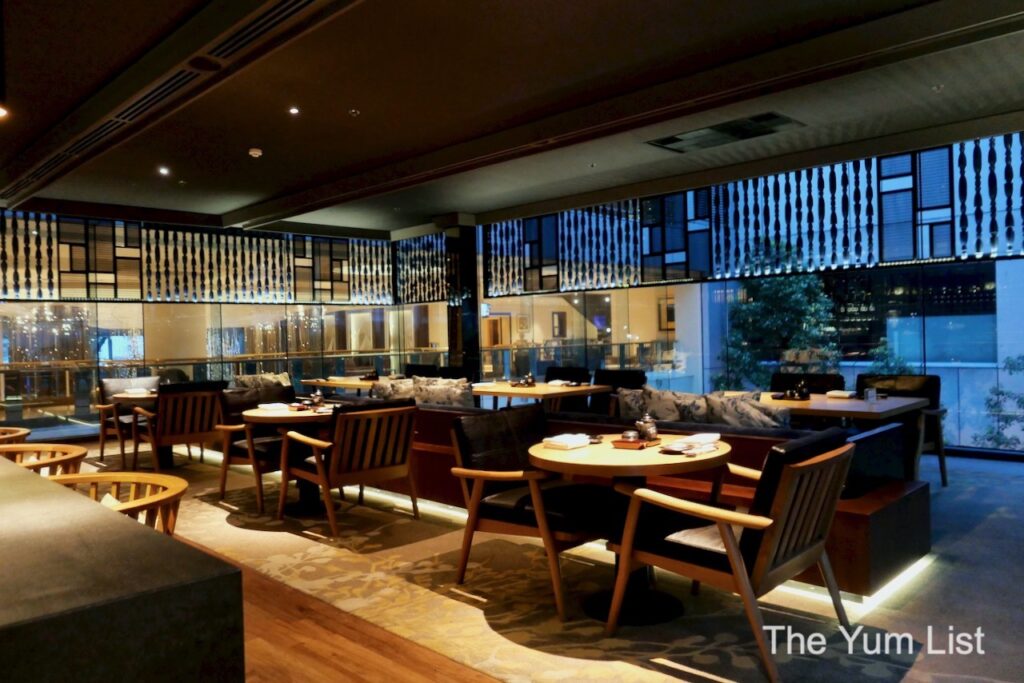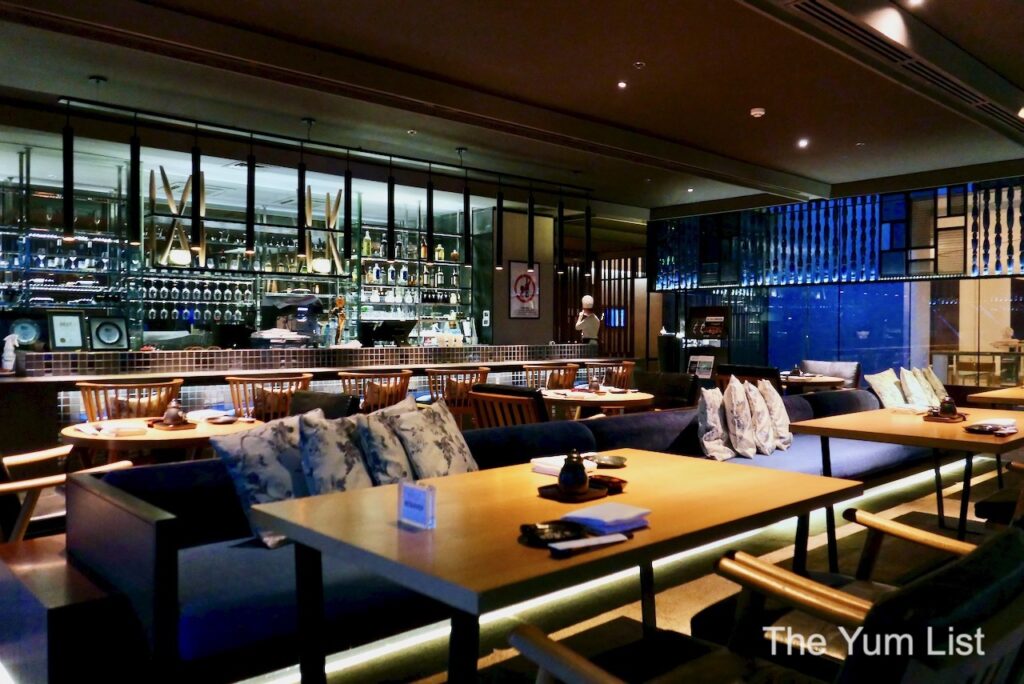 Tatsu Japanese Cuisine Menu
Tonight we're dining on a selection recommended by the chef. It features some house favourites alongside seasonal promotions.
Shirataki Sake
Hot sake is the recommended mate for this evening's lineup. The Shirataki, is a junmai ginjo, from Niigata (RM 74, 180 ml), a delicious choice. It's balanced, with a nice roundness in the mouth and a gently sweet finish.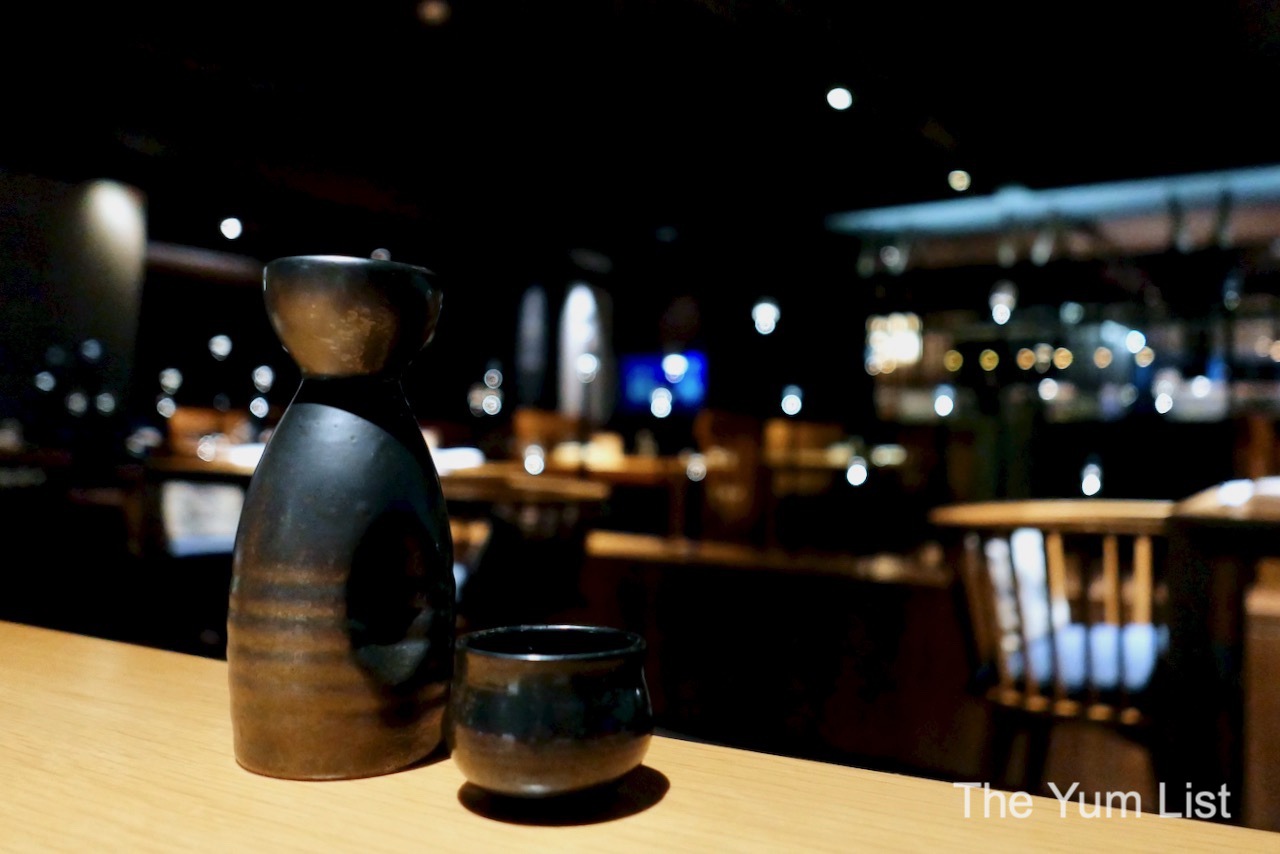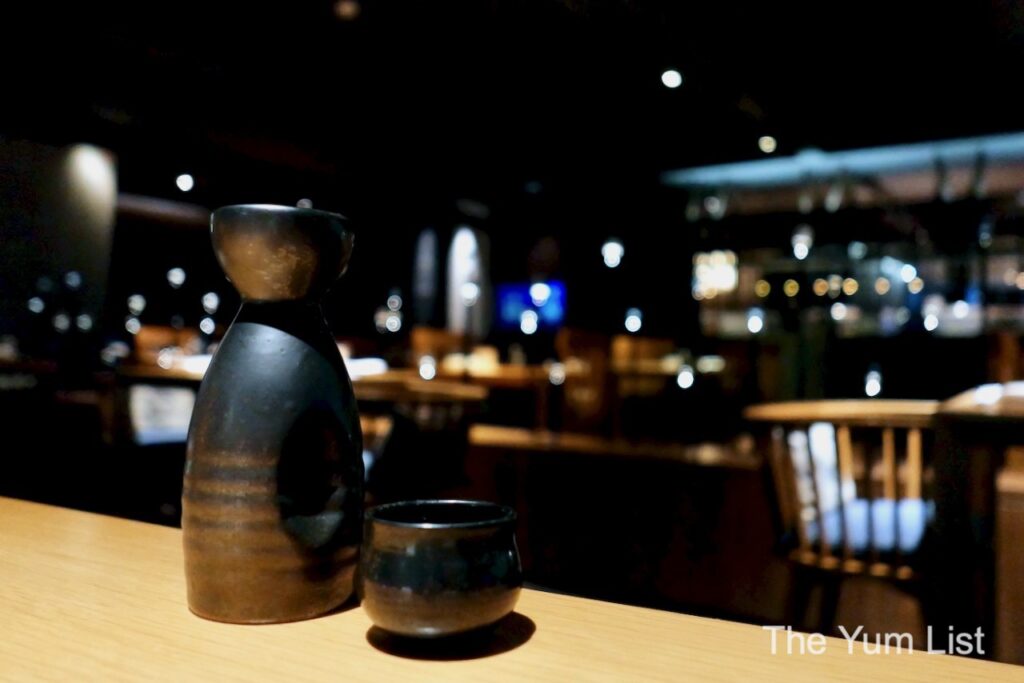 Kanpachi Carpaccio
The meal begins magnificently with Kanpachi Carpaccio (RM 120+). On a base of tempura oba leaf, there's amberjack slices and flying fish roe. We drizzle just a splash of the homemade ponzu on top and put the whole parcel in our mouths. The contrast of the delicately crunchy batter, fresh fish and tiny bursts of moistness from the roe excites the palate. It leads us to the next sensational course.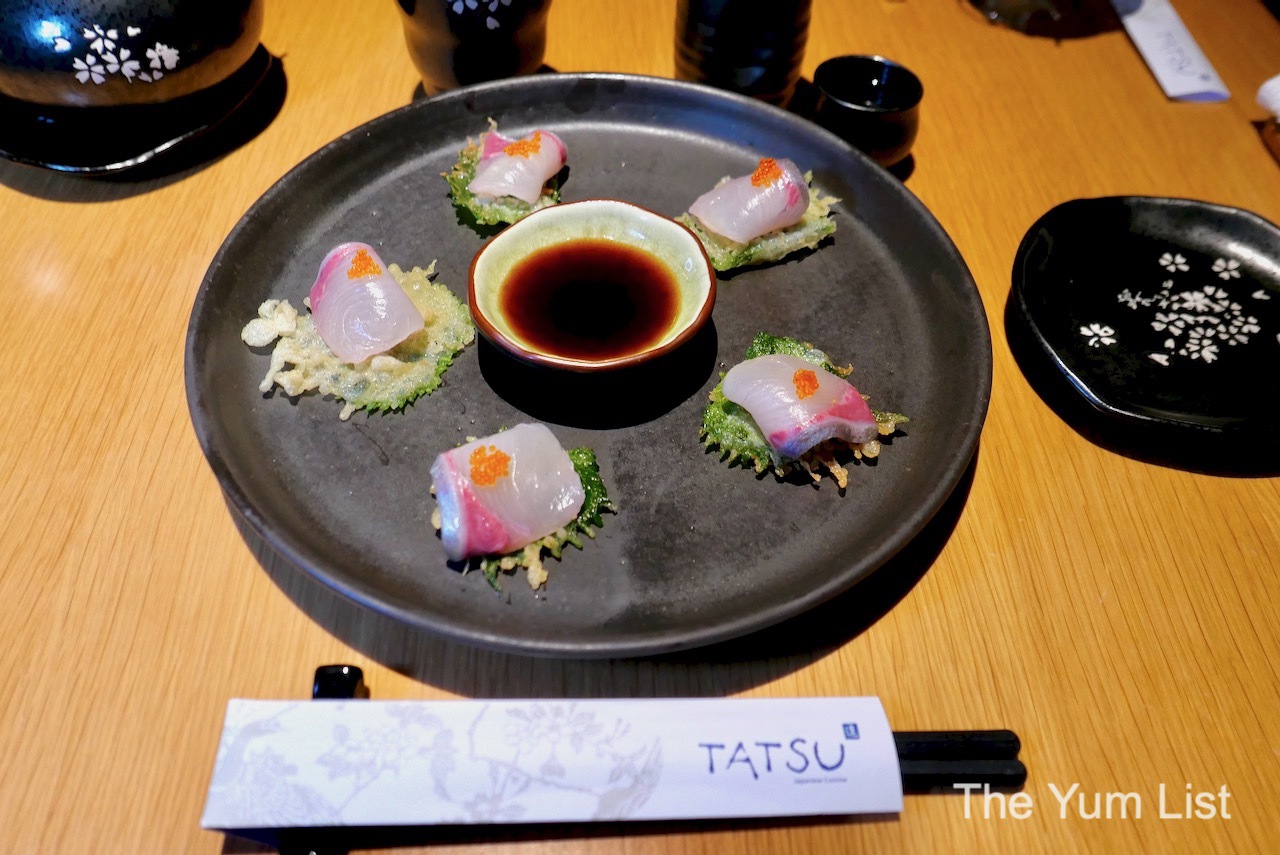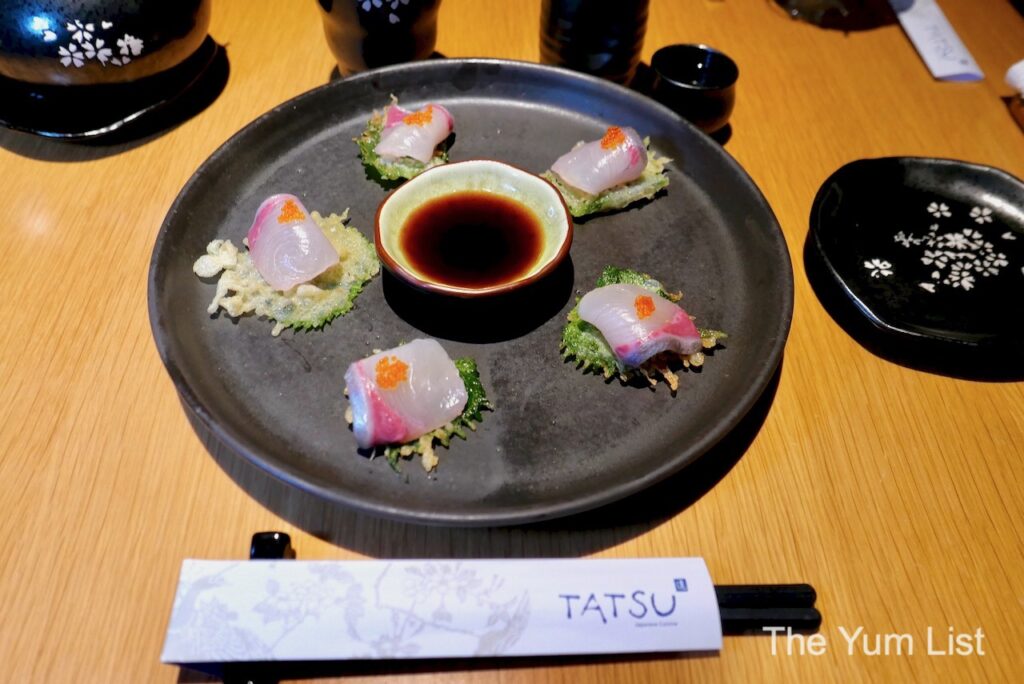 Tatsu Japanese Cuisine – Nama Sanma Sashimi
I'm told many Japanese think of autumn when eating Nama Sanma Sashimi (RM 120+). This seasonal fish (Pacific saury) is long and slender, resembling the shape of a sword, and is only available for a short period in the fall. Chef Tommy has outdone himself with the plating, literally creating a piece of raw art. Set on a square stone, the fish's skeleton twists up from a chunk of white radish. The sashimi is arranged in a butterfly of slices and five curls. The rich fattiness of the sashimi is complemented by spring onions, ginger, and just a tiny drop of soy sauce.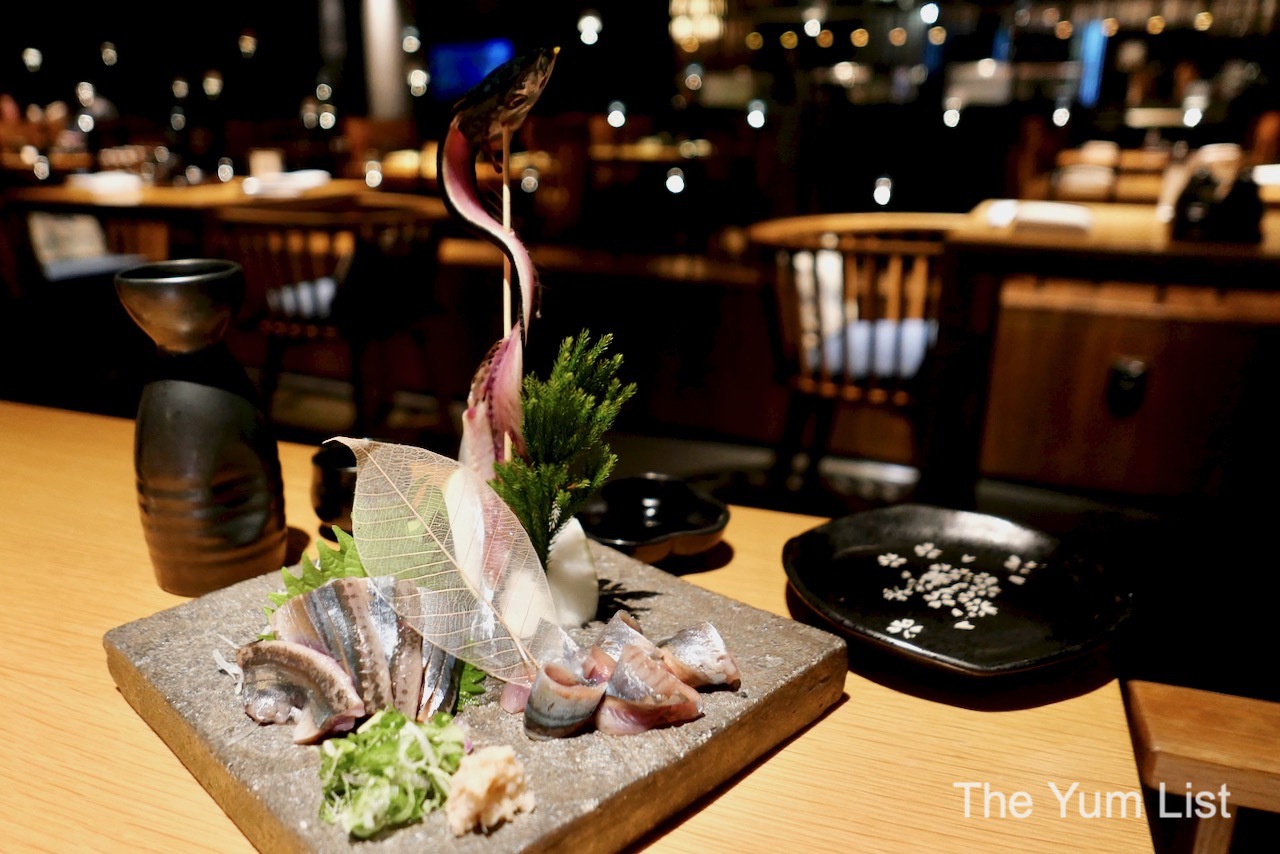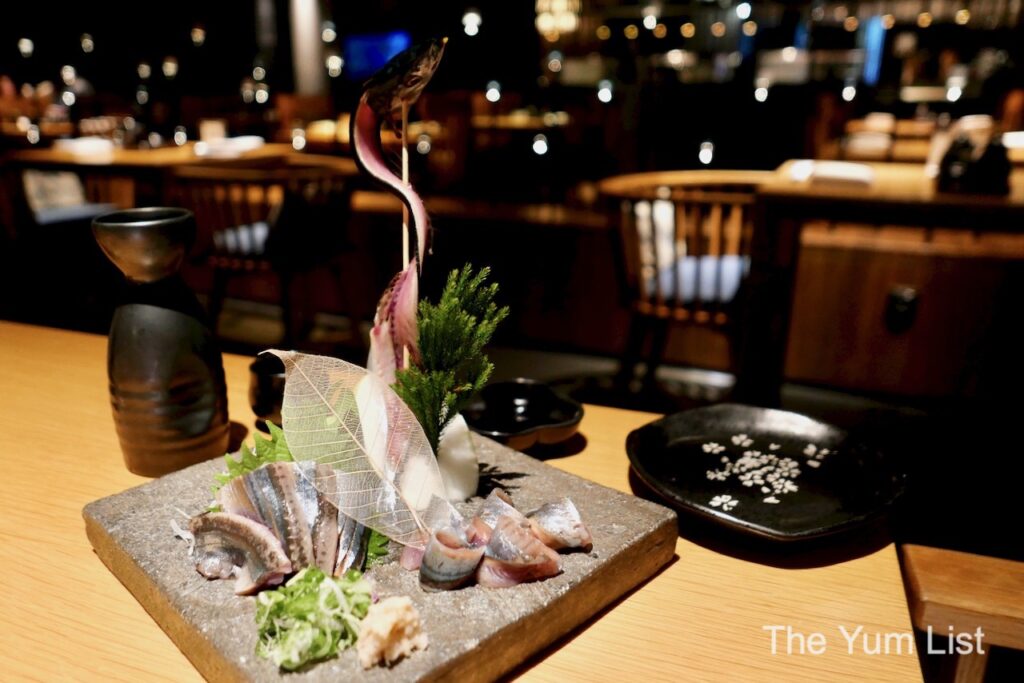 Tatsu Japanese Cuisine – Dobin Mushi
When I think of Japanese soups, miso and ramen usually come to mind. But, tonight, we're introduced to something that will stay in our memories for years to come. Dobin Mushi (RM 33+) is a brilliantly scrumptious Japanese clear seafood soup. Served in a teapot with a wedge of lemon in a cup on the side, we squeeze the citrus into the soup and then pour the broth into the cup. A piece of amberjack, a prawn, ginkgo nuts, mushroom and coriander, add texture to the liquid, but it's the drop of citrus that makes this soup shine.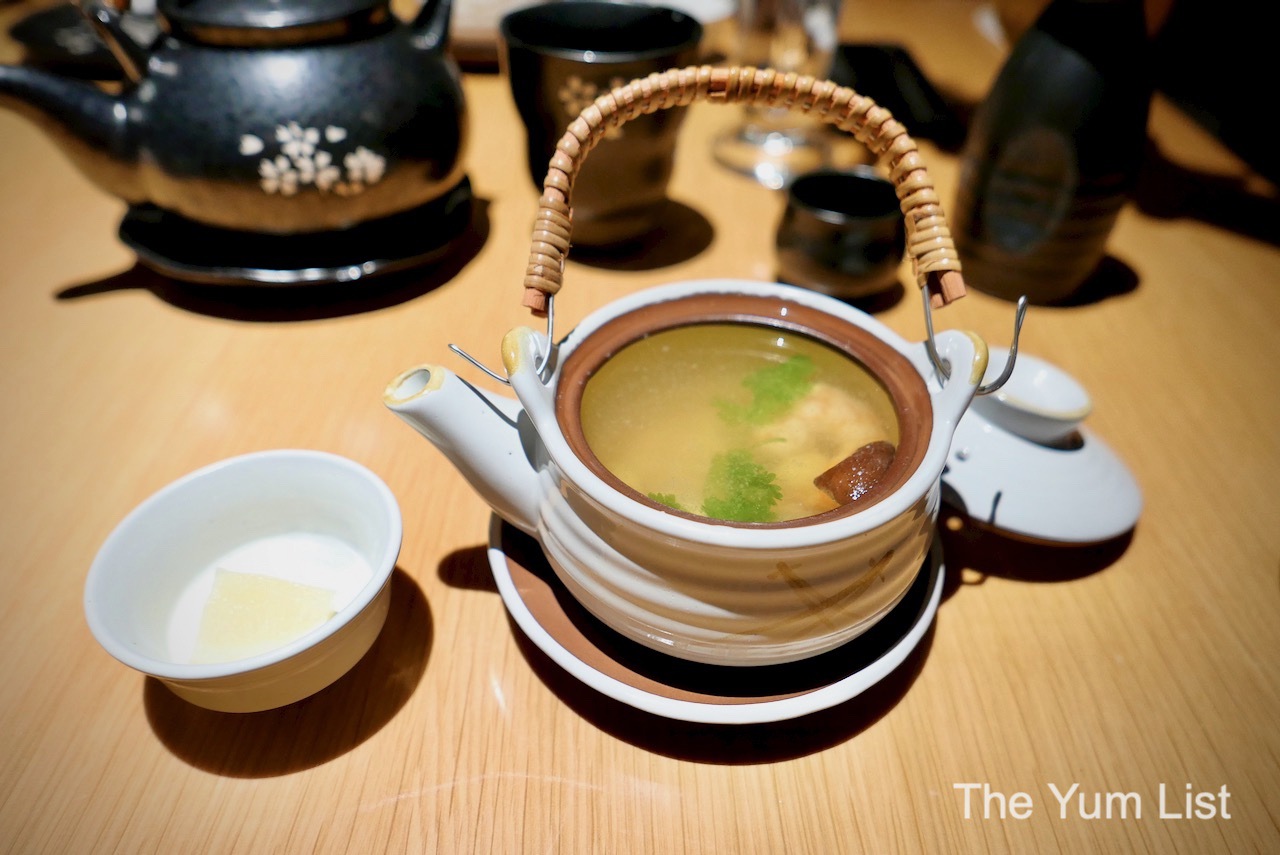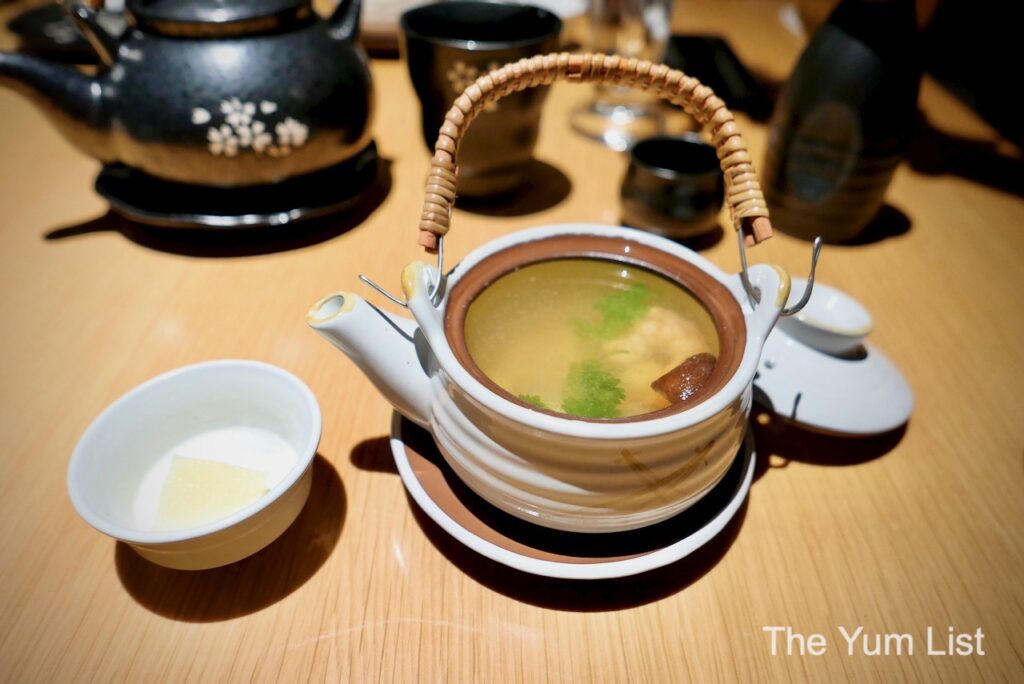 Teppanyaki Miyagi Wagyu A5
Fans of wagyu should immediately make a reservation at Tastu to savour the rich, buttery, mouth-filling sensation of chef's Teppanyaki Miyagi Wagyu A5 (RM 462+). As it's delivered to the table, a certificate of authenticity also shows the breed, sex, origin, date of slaughter, and more. This grade of beef is the most prized in Japan and well-justified with its melt-in-the-mouth tenderness and luscious fat content. Batayaki (butter) sauce enhances these qualities even more so. The entire cut is used with the fat trimmings crisped on the teppan grill and served alongside the meat. Thinly shaved fried garlic, mixed mushrooms, and pickled onions and plum provide relief from the richness. My companion diner describes it as like eating a stick of butter.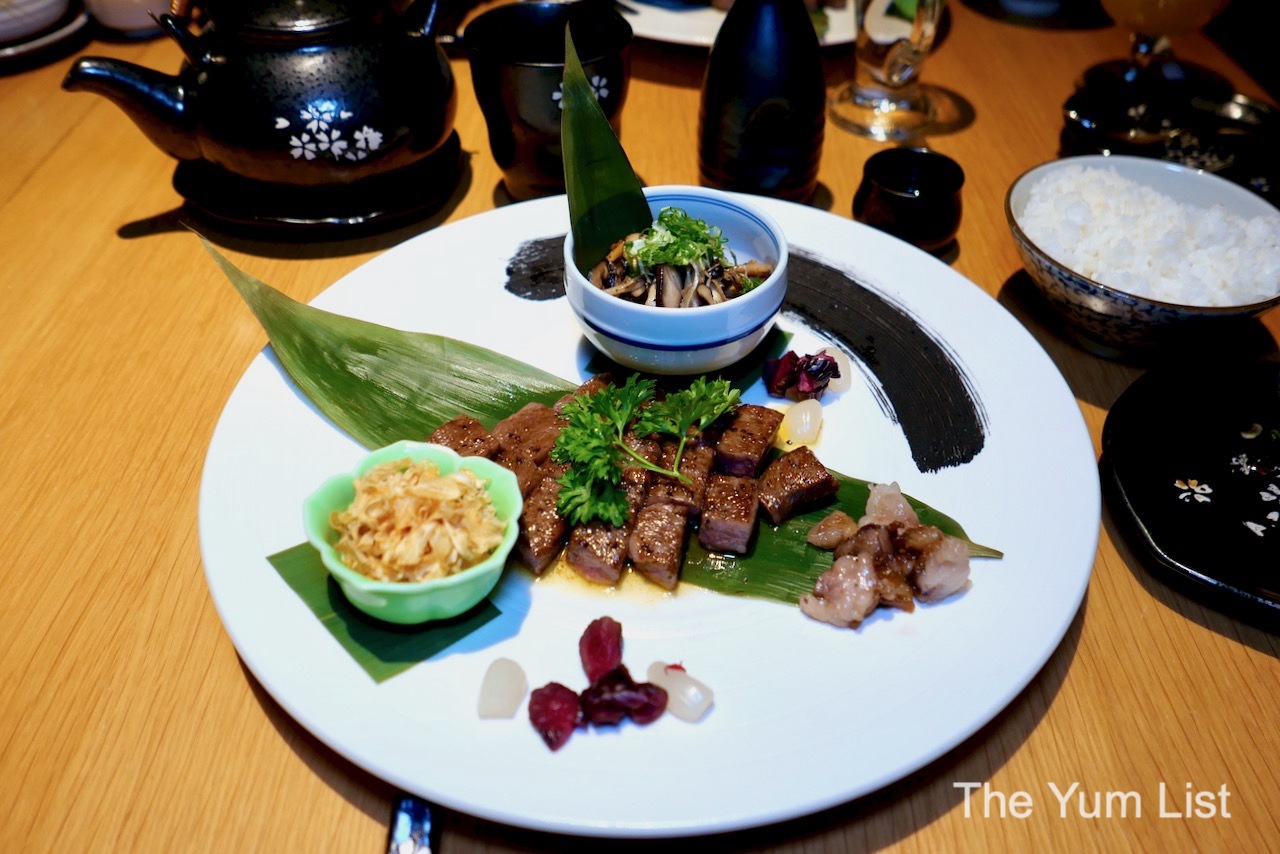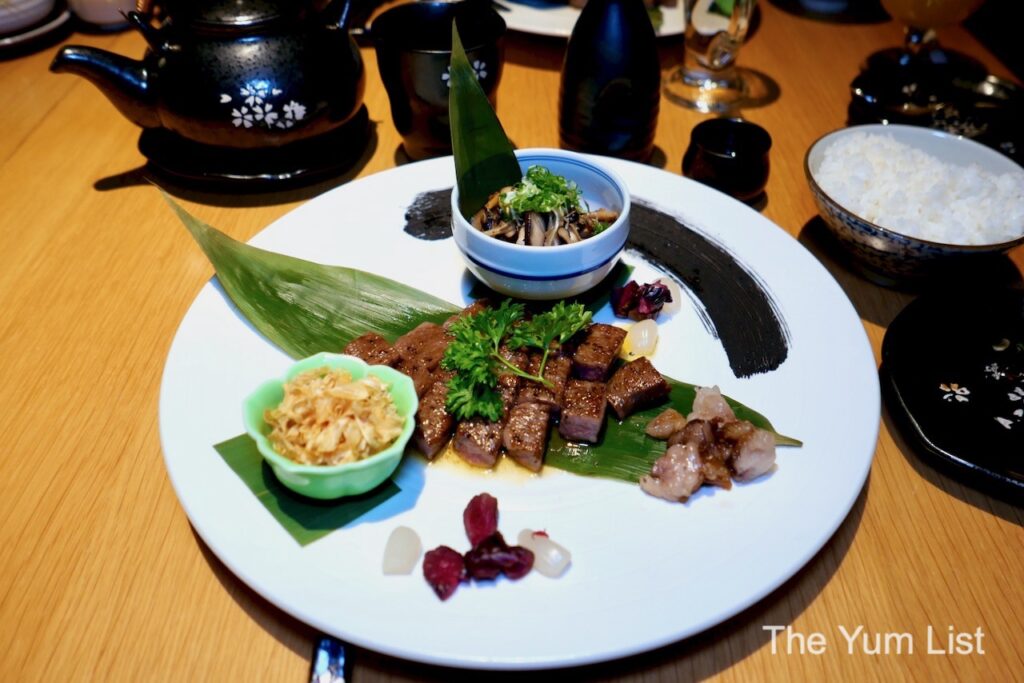 Kaki & Kuro Goma Dorayaki
Following such opulence, the Kaki & Kuro Goma Dorayaki (RM 55+) is a flawless conclusion. On a bowl of ice, persimmon slices cleanse the palate with their cool temperature and fresh juiciness. The final touch of drops of passionfruit coulis are perfect companions to the warm black sesame pancakes stuffed with peanut butter and red beans.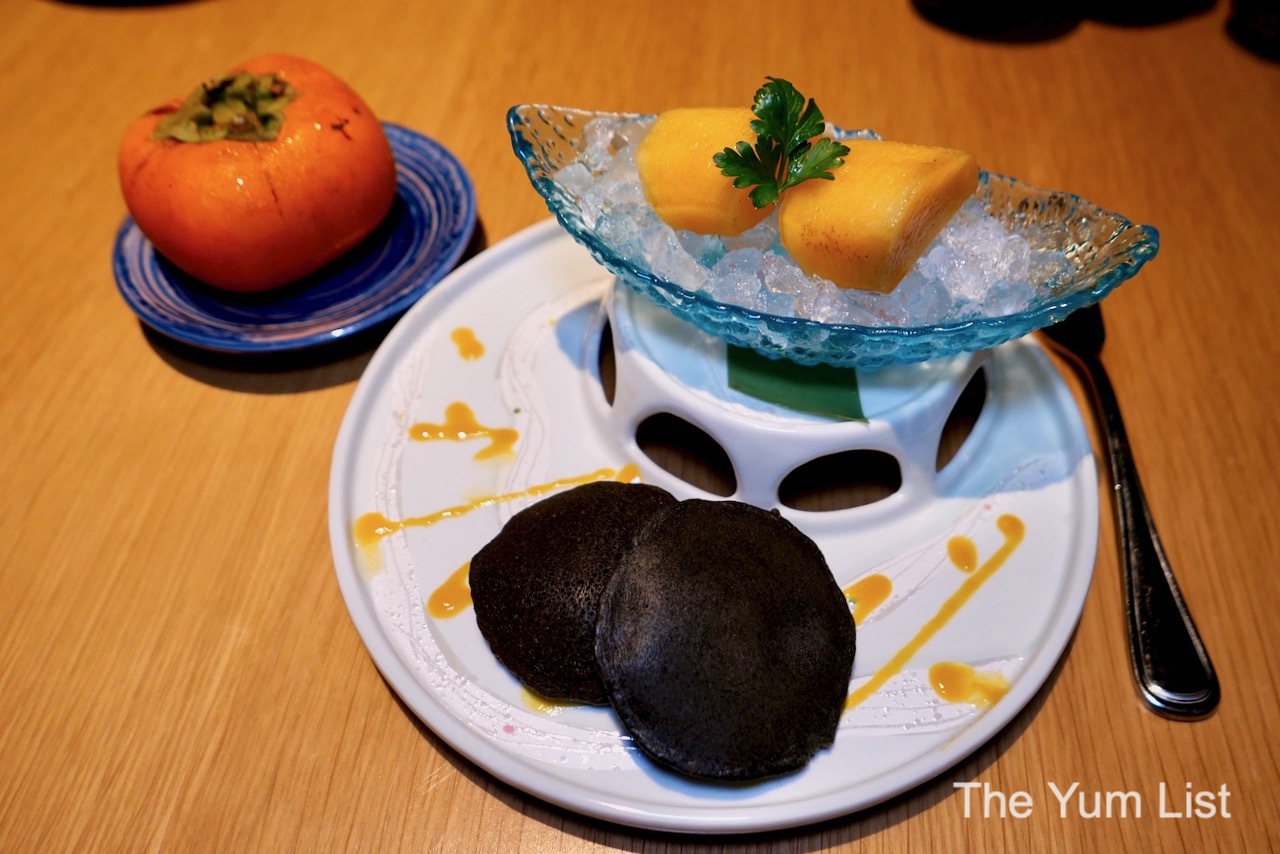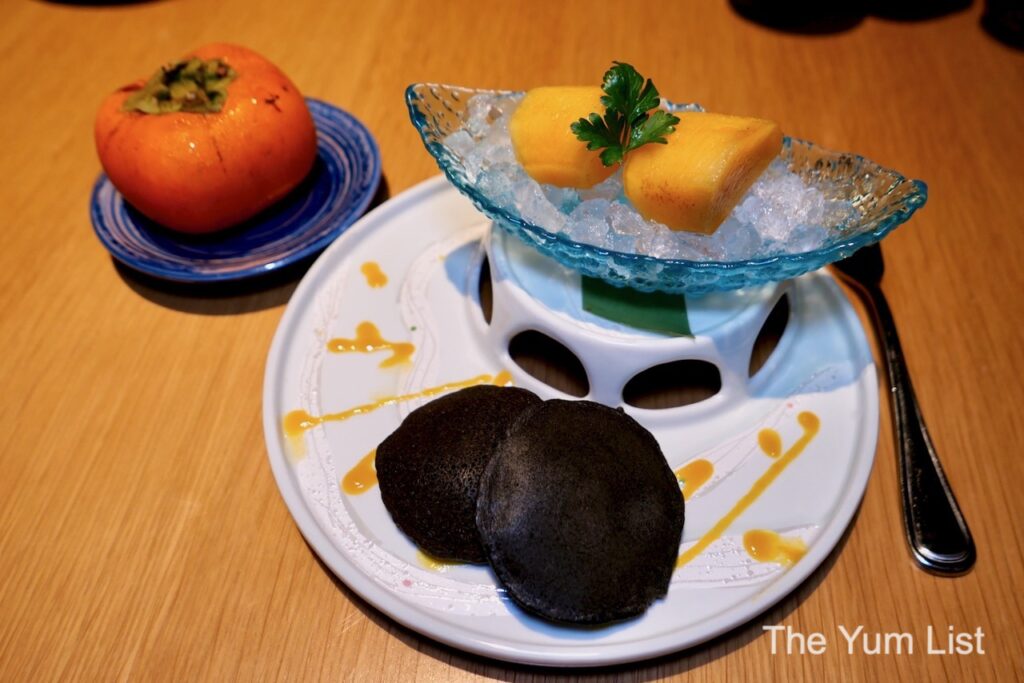 Reasons to visit Tatsu Japanese Cuisine: seasonal specials such as Nama Sanma Sashimi; Miyagi Wagyu A5; stylish setting; friendly, knowledgeable staff.
Tatsu Japanese Cuisine
InterContinental Kuala Lumpur
165, Jalan Ampang, 50450 Kuala Lumpur, Malaysia
+60 32782 6000
kualalumpur.intercontinental.com
Find more Japanese restaurants in KL here, and stay up-to-date with the latest gourmet and travel recommendations for Malaysia here and here.