MALIN+GOETZ's Afternoon Tea
Words: Rebecca Cannon
Photos: Rich Callahan
Is it possible to get bored of cake? The team at Le Méridien Kuala Lumpur doesn't care to find out; that's why, every month, they change the afternoon tea menu. And for you, dear reader, I am willing to always sample and report back. No need to thank me, but the applause for my valiant effort is much appreciated.
This month's title is (Avec Amour) by Le Méridien in honour of the month of love and the new fragrance launch, Strawberry Eau de Parfum by MALIN +GOETZ (the boutique supplier of the hotel's bathroom amenities). As strawberries are the fruit of love, they all roll together to theme the menu. Avec Fraise might be as equally fitting as every piece contains strawberries. The chefs use imported Korean strawberries, where the climate is perfect for producing plump, red, sweet specimens.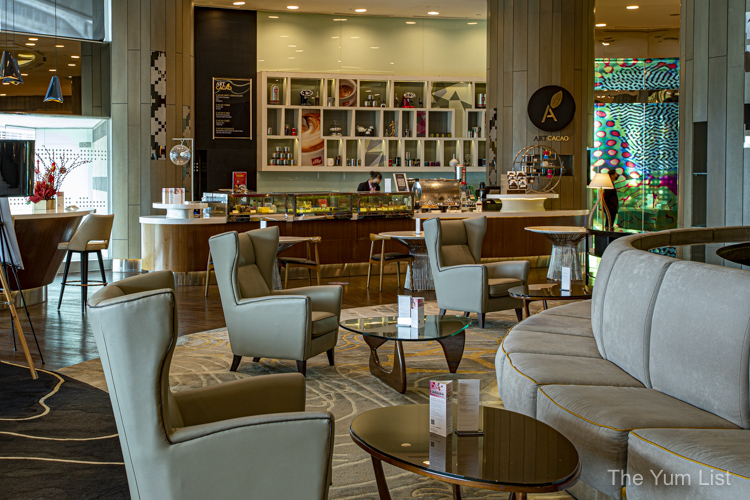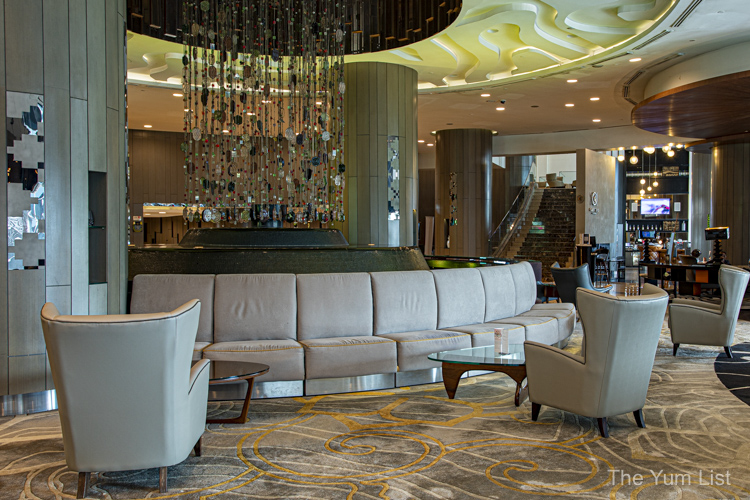 MALIN+GOETZ's Afternoon Tea
The hardest part of afternoon tea can be deciding where to start. You might hear your mother's voice in your ear saying to keep the sweets for last. Or, maybe it's the rebellious voice saying you're an adult do what you want, or a particular slice may hold your eye and seductively whisper to begin there. You can be whatever person you want to be, and I will support you, but I'll order my review going down the slide from savoury to sweets.
Plated Savouries
Served on mini plates, like those you'd take from a sushi bar train, these four delicacies are like the high points of the seasons. The cold gazpacho is winter. The tepid fresh soup is soothing and relaxing. You can taste the vine-ripened tomatoes and flavourful fennel.
Spring breaks with the chicken ham and cheese toastie, mildly warm like the spring sunshine starting to peek through the storm clouds, reminiscent of life breaking through the winter stagnation with the chunky strawberry jam. This croque is like a hug from a sister telling you, you made it through the hard seasonal blues.
Summer is the salmon fajitas – the heat comes from the chilli, giving warmth like the summer sun. Lastly, the autumn harvest is represented by the plant-based patty made from pea flour on a pumpkin mash. Continuing the overarching theme is the sweet yet sour strawberry balsamic sauce, which goes equally well with the patty and pumpkin. This was my favourite from the section. The patty didn't taste meaty, nor did it taste like a synthetic cabbage. The tartness from the vinegar and sweetness from the strawberry and pumpkin made for a unique barbeque sauce-like flavour.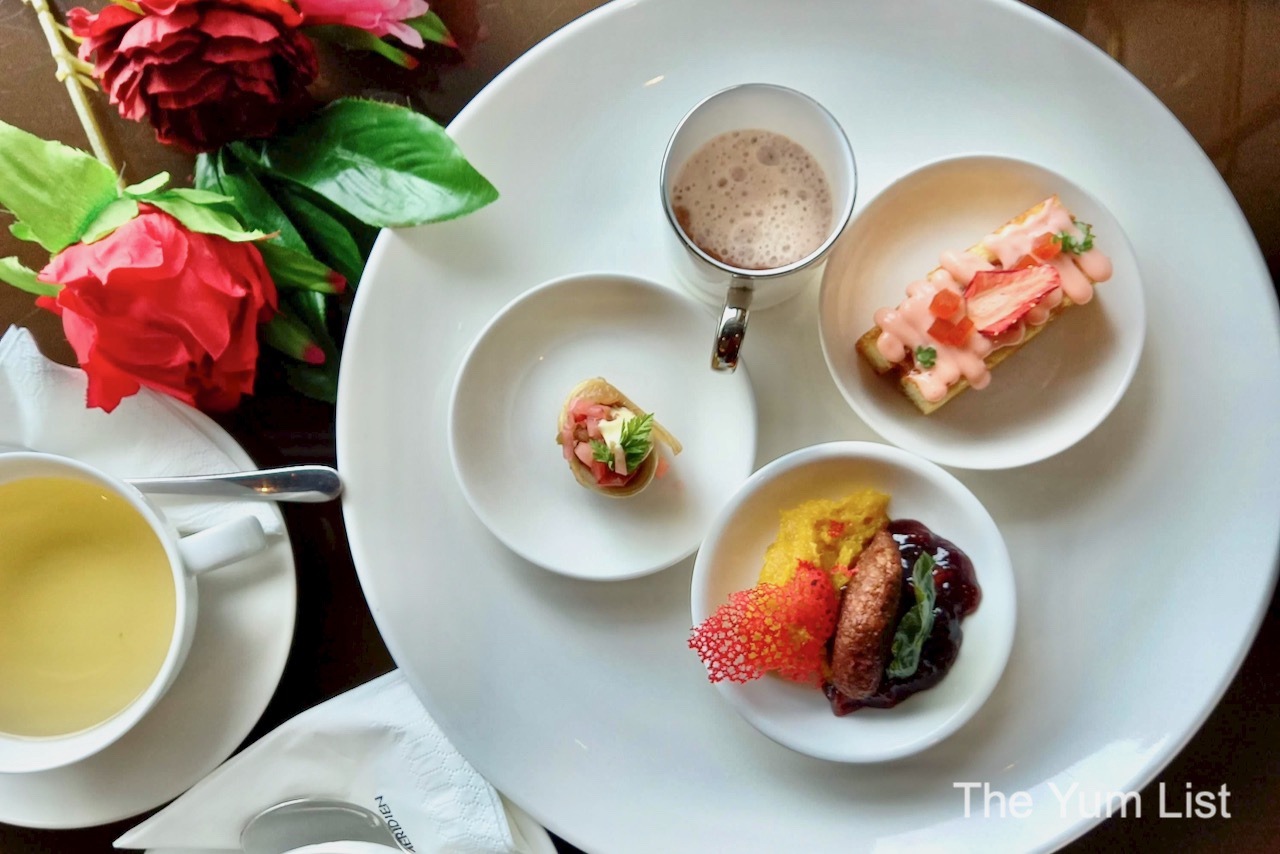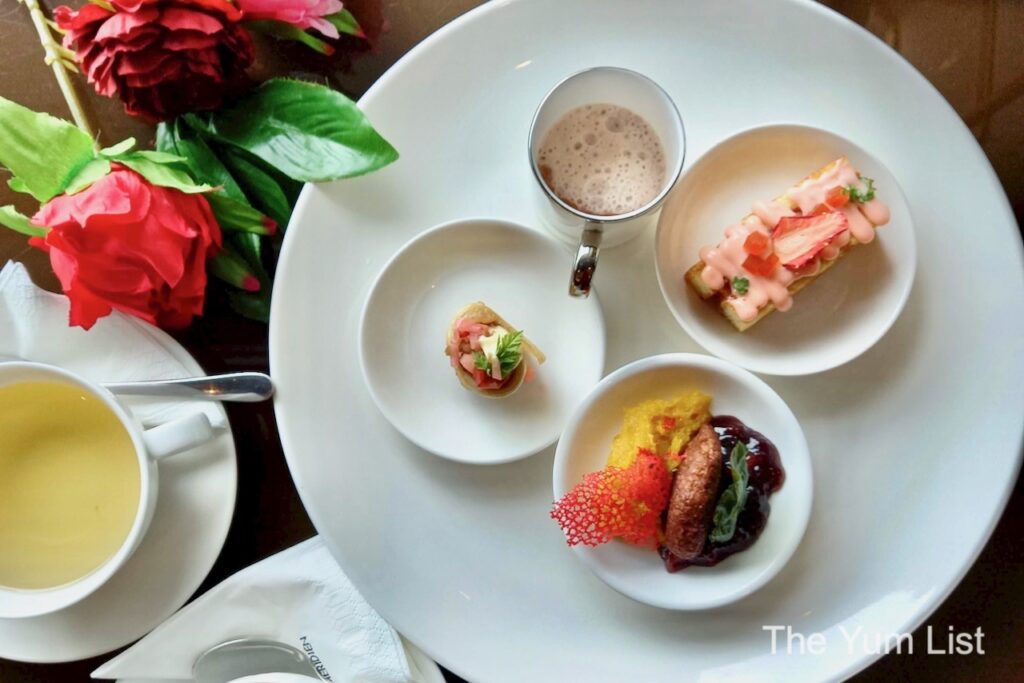 Savouries on Tier – MALIN+GOETZ's Afternoon Tea
More savouries are on offer on the tiered stand. These bites jump from country to country like Carmen Sandiego. The tart is two bites of quiche with smoked duck wedges and strawberry slices. The duck meat pairs effortlessly with the fruit. The bruschetta is not traditional Italian. Instead, it's made from gravlax salmon dolloped with sour cream and dill, ready for all who love the Atlantic fish. I enjoyed the fusion of an American pancake rolled around Indian style tandoori chicken, with some strawberry chutney and cucumber raita chopped in. My mouth started by thinking I was in a dessert pancake house but ended up being sure I was in an Indian restaurant. Despite my confusion, at no point was I complaining.
I had even more trouble identifying the overall taste of the shooter of cream vichyssoise with heavy whipping cream and strawberry pickle. The name implies it should be taken as a shot, but I was in high tea mode, so I took spoonfuls at a time. Like Mary Poppins, each spoonful was different. Some were intense cream, other times it was savoury, and other times it was sweeter and less liquid than cream. A good conundrum to puzzle over as you space out your food. The last glass vessel on this level contained honey strawberry carrot jelly and cooked prawn salad. The sliced prawns were soft and crunchy, the ideal prawn texture making me grin like the Cheshire cat.
Sweet Touch
My idea of heaven is the real sweet stuff. Thankfully none will send you into a sickly sweet overload, but the strawberry mousse in a cup made entirely of milk chocolate will try. I spent a good few minutes fawning over the chocolate-dipped strawberry – it's a big juicy strawberry in a little formal chocolate tuxedo. It knows how to dress for afternoon tea! The so-called "lovely strawberry macaron" isn't just Le Méridien trying to upsell a macaron (as if that was ever required), but their attempt to do justice to the chefs who create perfect heart-shaped macaron pairs, with a strawberry inside. I appreciate a good pun marketing, but I appreciated the well-crafted sweet and almondy macaron itself more!
Lastly, it was time to get my cake spoon out again for the chilled cheesecake with strawberry compote. It is served in an individual glass jar so you can get a better cake to biscuit ratio without having to worry about the shape melting like the wicked witch of the west before you make your way round to it. In case a cheesecake isn't enough for you, the biscuit crumbs are sweet, not plain digestive, and a meringue kiss has been planted on top of this perfection.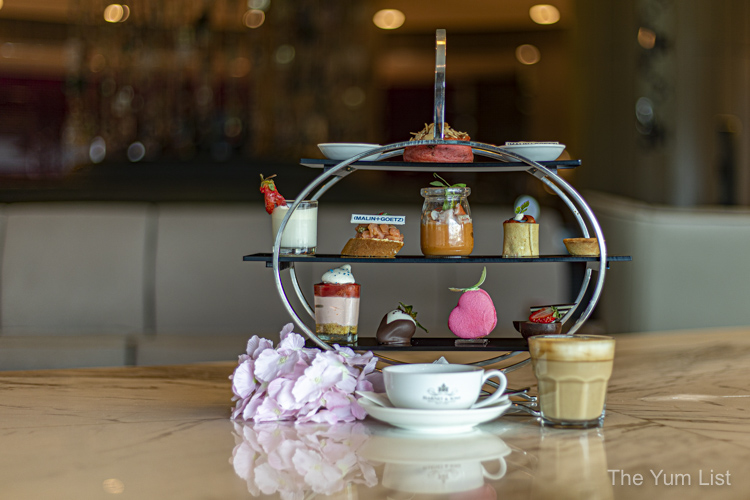 Scone
You might think the basic scone already meets the strawberry criteria with its strawberry jam. But head Chef Antoine Rodriquez didn't want to stop with anything ordinary. The humble scone is as pink as baby rosebuds and sprinkled with shaved almonds on top. The scone is large to prevent it from turning into a biscuit in case you feed your phone first and save the scone for last. It's dense with a crunchy outer layer and is the perfect way to end the afternoon tea as your body finally says, yes, I am full and sated.
MALIN+GOETZ's Afternoon Tea x (Avec Amour) by Le Méridien – The Details
MALIN+GOETZ's Afternoon Tea x (Avec Amour) by Le Méridien is served with a selection of Illy coffee or Harney & Sons tea. Each set comes with a RM50 MALIN+GOETZ voucher (exclusively for Marriott Bonvoy members). *The voucher collection is limited to the first 150 redemptions only. The afternoon tea is available from 1 February 2022 to 28 February 2022 for dine-in only and is priced at RM120nett per person or RM220nett for two. Call +6032263788, email [email protected], WhatsApp https://wa.link/6mtpog or connect via Instagram, https://www.instagram.com/lemeridienkl/ to make a reservation.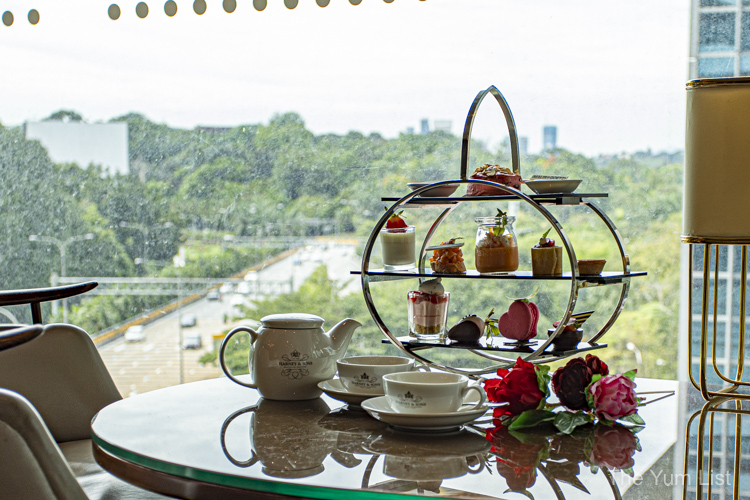 Reasons to try the MALIN+GOETZ's Afternoon Tea x (Avec Amour) by Le Méridien: Beautiful set with a lovely fresh strawberry theme. Makes a great afternoon date. The last few days to try it before a new theme arrives on March 1. 
Latitude 03, Le Méridien Kuala Lumpur
2, Jalan Stesen Sentral, Kuala Lumpur Sentral
50470 Kuala Lumpur
+6032263788
[email protected]
MALIN+GOETZ's Afternoon Tea x (Avec Amour) by Le Méridien
Available from the 1st to the 28th of February, 2022.
Find more spots for afternoon tea here and stay up to date with the latest culinary happenings around Malaysia here and here.