Cba & Spice Market – Pelangi Beach Resort & Spa, Langkawi
Words: Rebecca Cannon & Monica Tindall
Photos: Monica Tindall
One of the things I admire most about hotel chefs is their commitment to catering to a diverse range of dietary needs and desires. Unlike stand-alone kitchens that might have a "take it or leave it" approach, restaurants attached to accommodation tend to have a greater sense of responsibility in ensuring every guest has a pleasurable meal. During our stay at Pelangi Beach Resort & Spa in Langkawi, we met the team behind Cba & Spice Market and saw this dedication in action.
Spice Market is the resort's all-day-dining restaurant featuring flavours from the Spice Route, with both buffets and ala carte options. Cba sits on the beachfront, offering spectacular sunset views and a gorgeous setting for alfresco dining under the stars. Both have menus that provide for an assortment of meal preferences, but these can be customized even further, especially when given advance notice. If you let the team at Pelangi Beach Resort & Spa know ahead of your visit, they are able to craft menus suitable for vegans, all variety of vegetarians, gluten-free, dairy-free, special occasions and much, much more.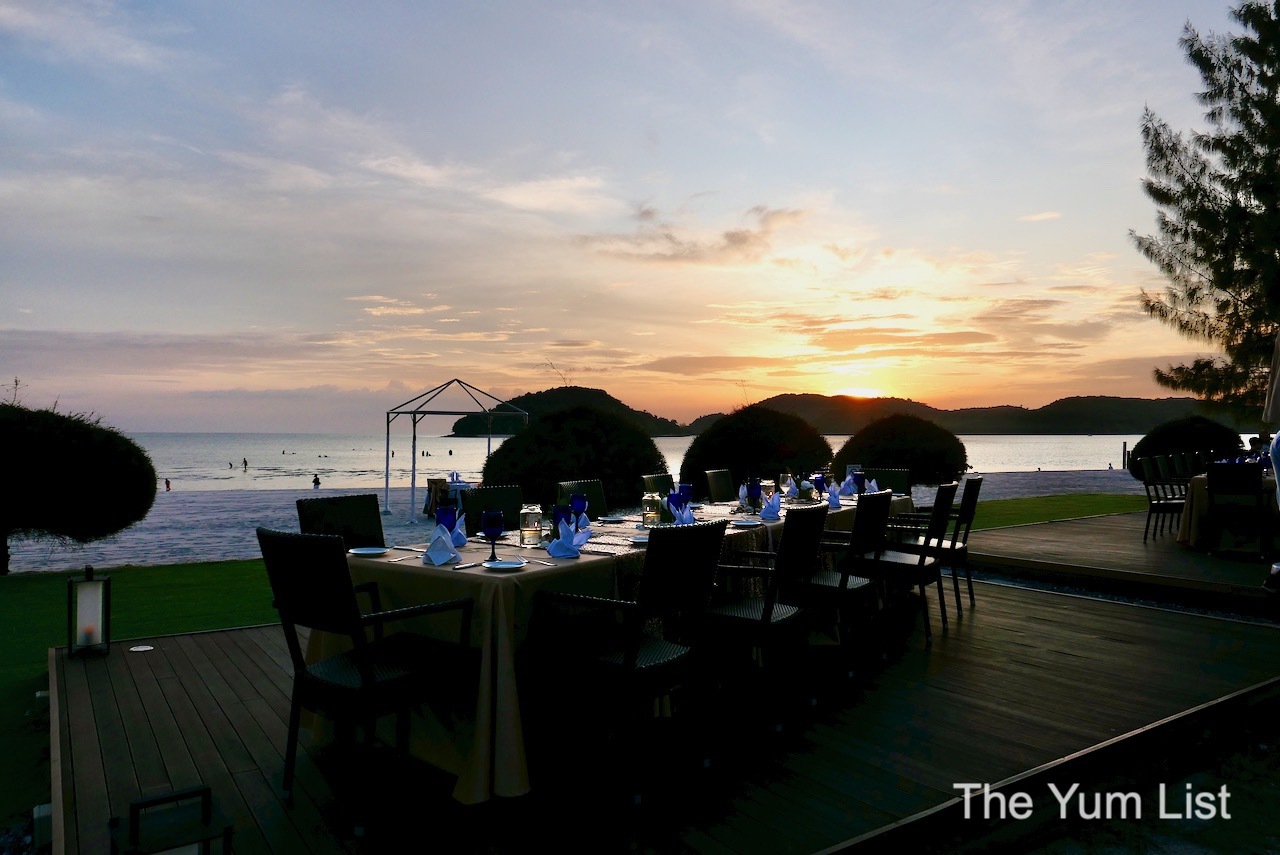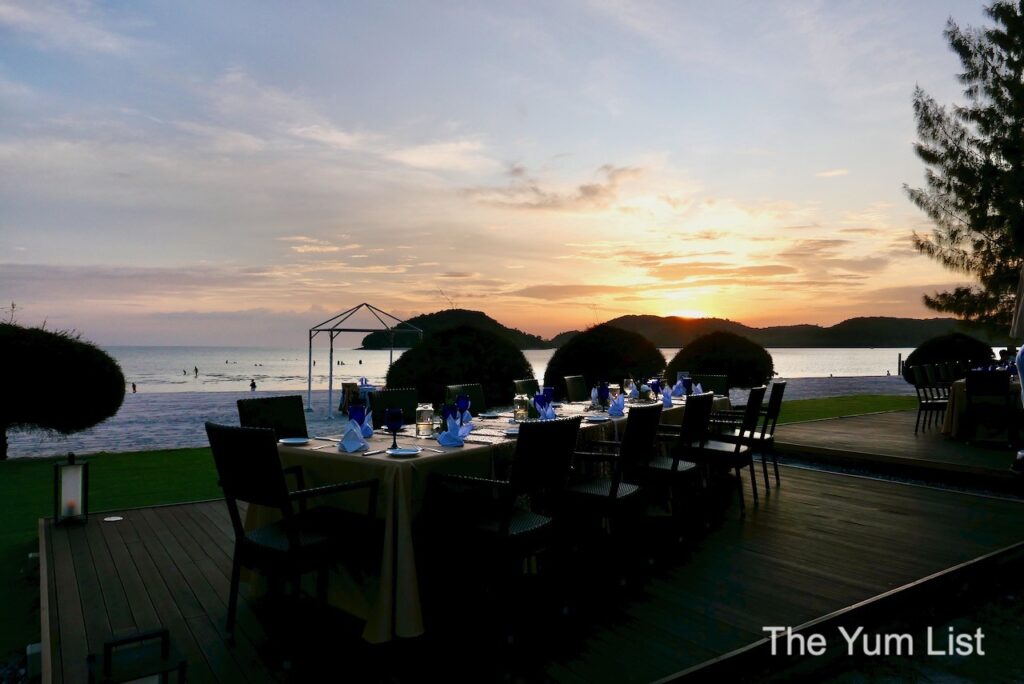 Cheapest Happy Hours on Pantai Cenang
Not only does the team at Pelangi Beach Resort & Spa entertain diverse food requirements, but budgets of all sizes can also be satisfied at Cba and Spice Market. And, on the beach, that begins with excellent happy hours. Claiming to have the cheapest drinks on Pantai Cenang, Cba practically gives away beer for a mere RM6 per half-pint of Carlsberg. During happy hours, of which there is a steady timetable of nine hours rotating through the resort (Cascade pool bar, lobby lounge, Cba… from 12 noon until 9 pm), cocktails go for 30% off, and the wines are reasonably priced too with both old world and new world labels on the list. A current promotion sees bottles of Sauvignon Blanc, Rose and Pinot Noir by Matua in New Zealand priced at only RM 110 per bottle. All three are typical expressions of each grape and go well with food or are as equally quaffable all on their own.
Besides booze, Cba and Spice Market drinks menu showcase a lovely selection of freshly squeezed juices and smoothies, alongside mocktails, soft drinks and hot beverages. You can even request off-menu creations such as alcoholic milkshakes.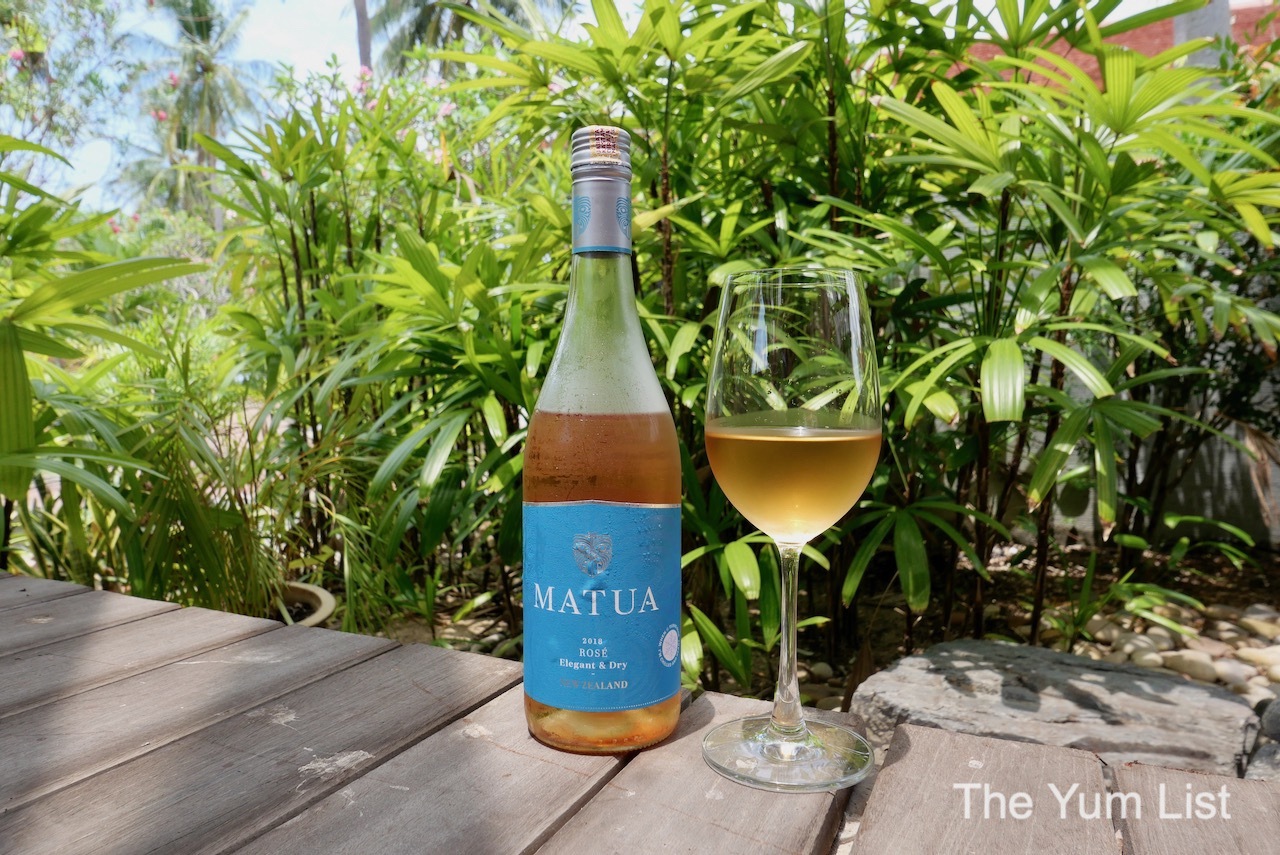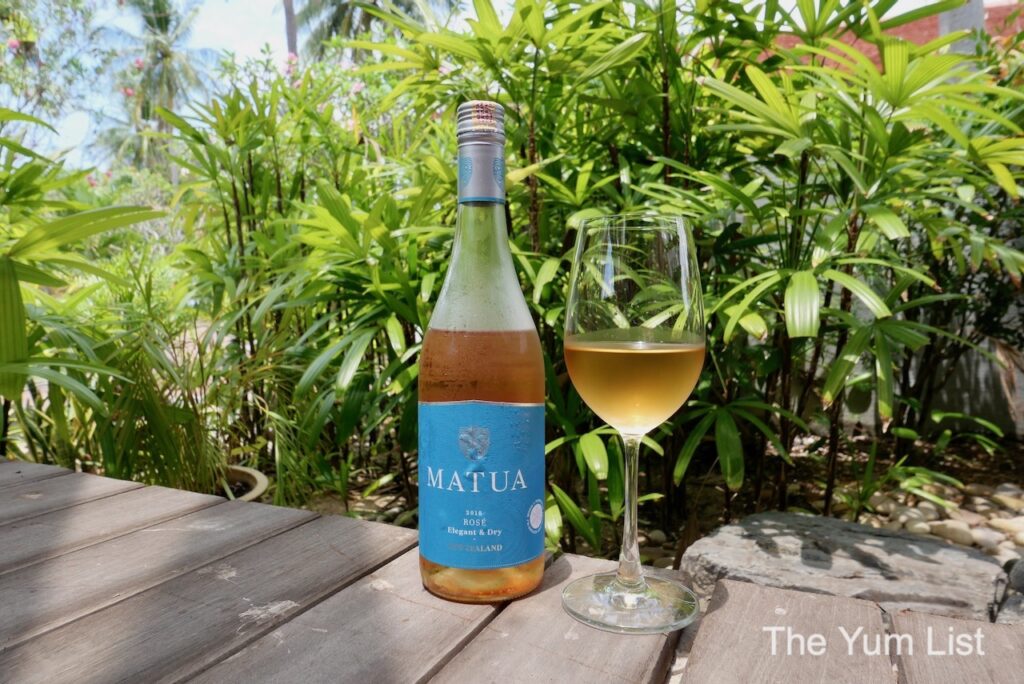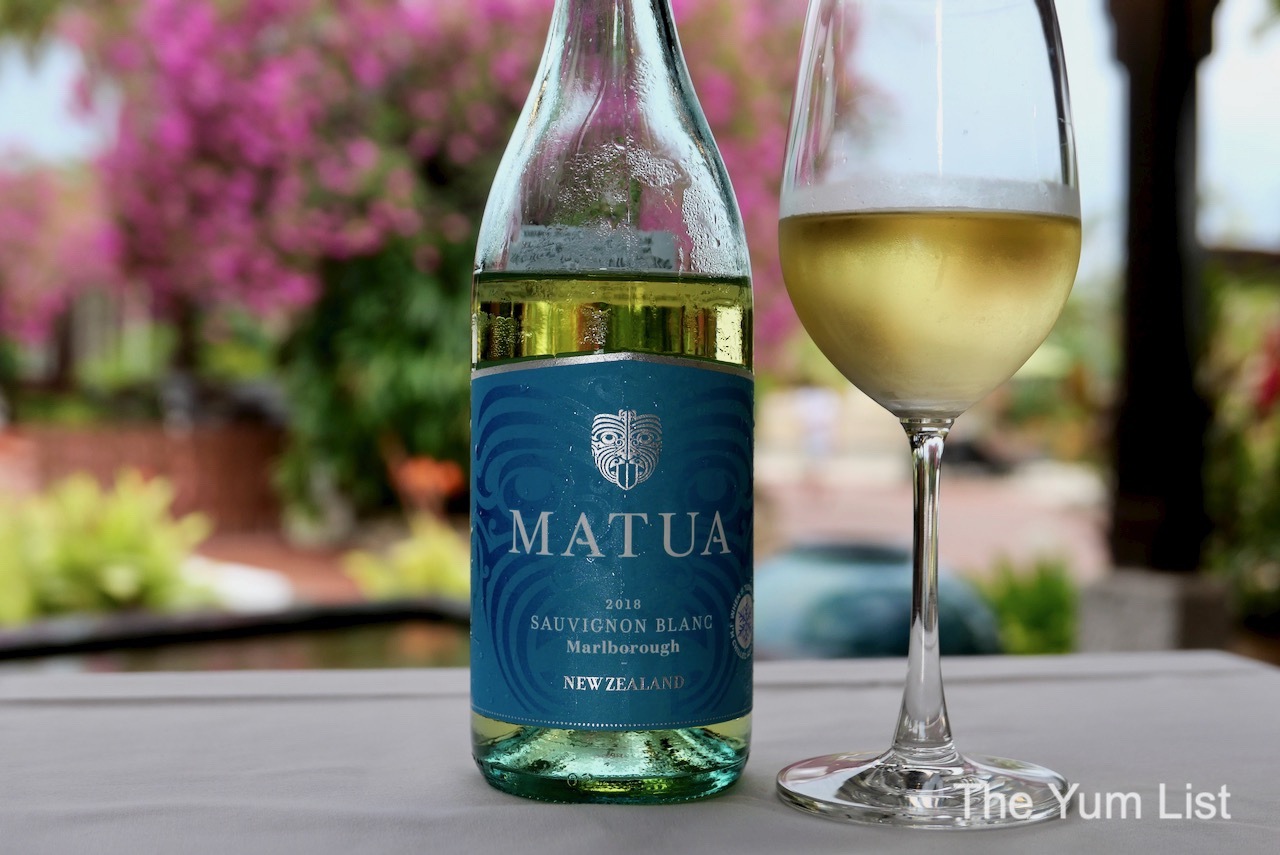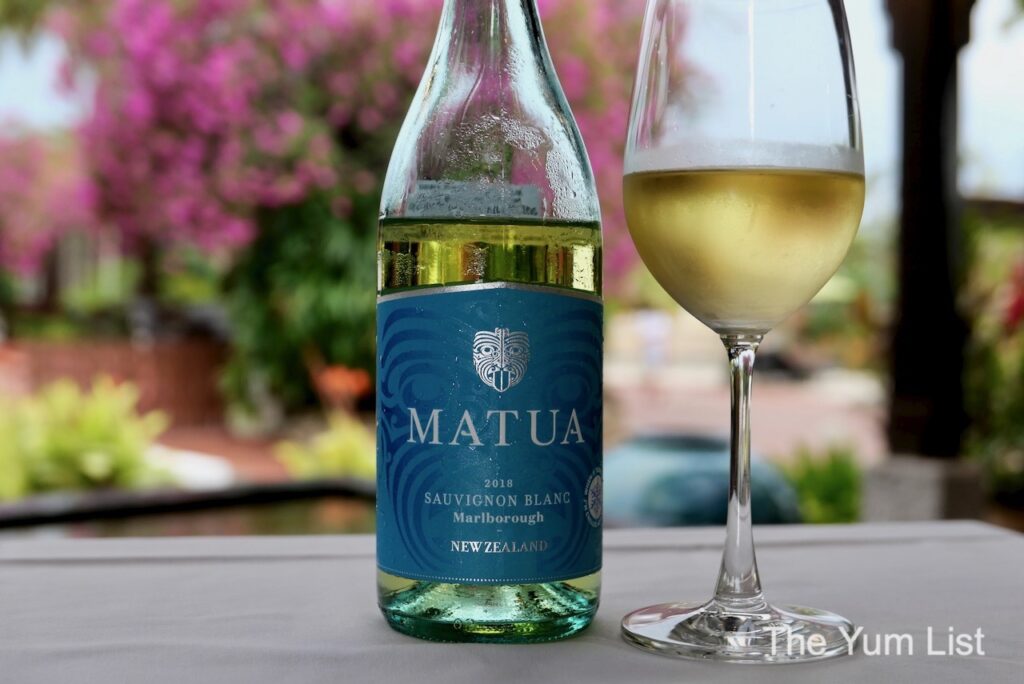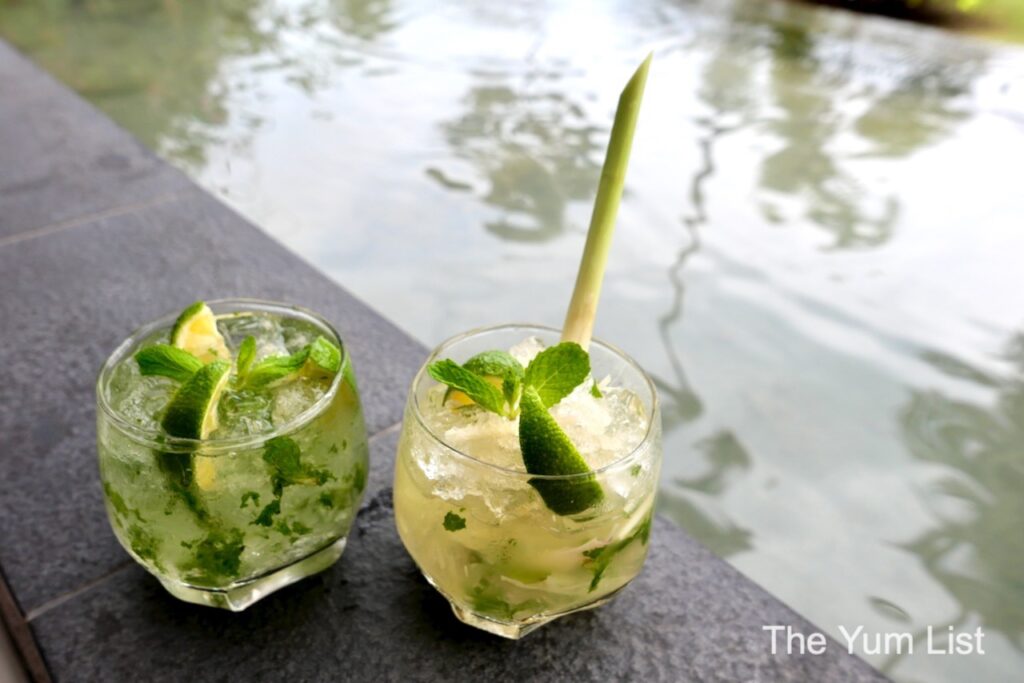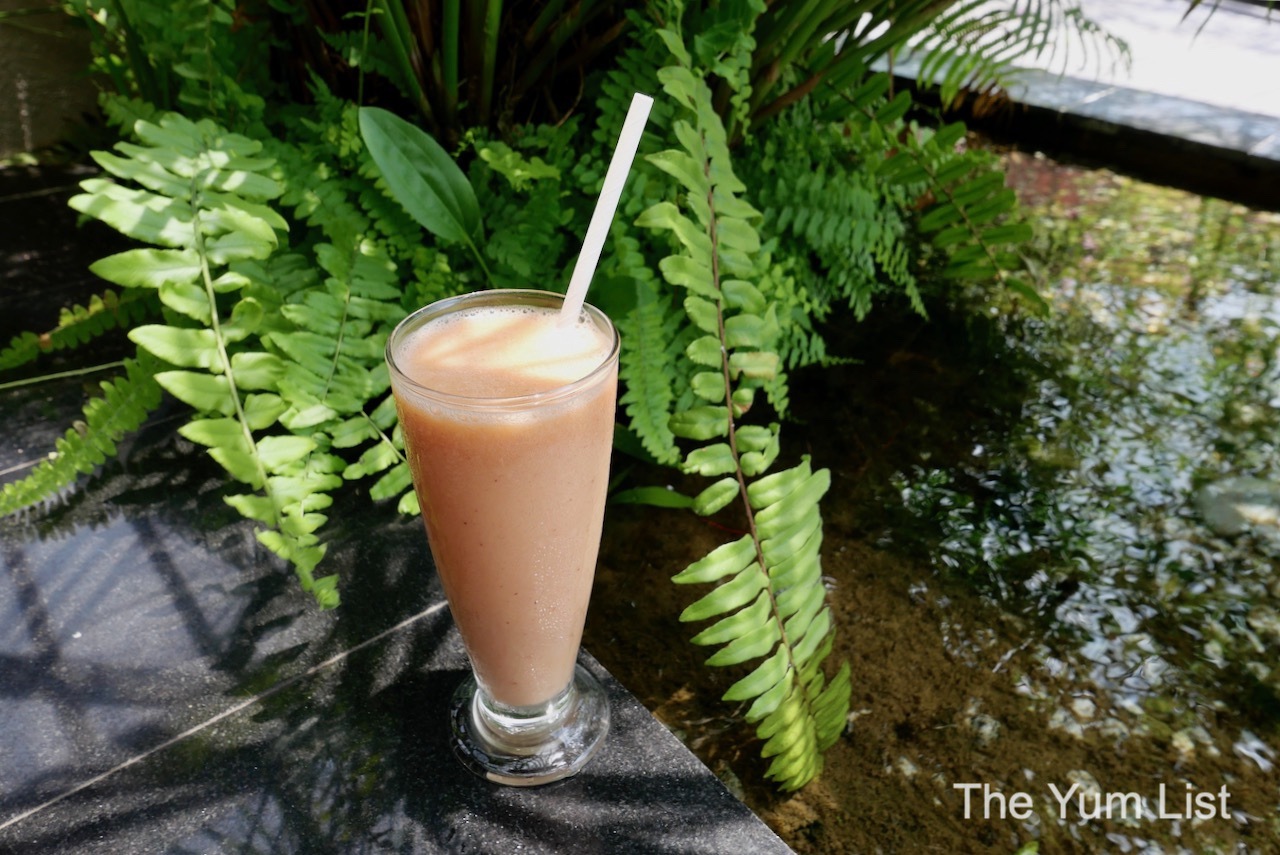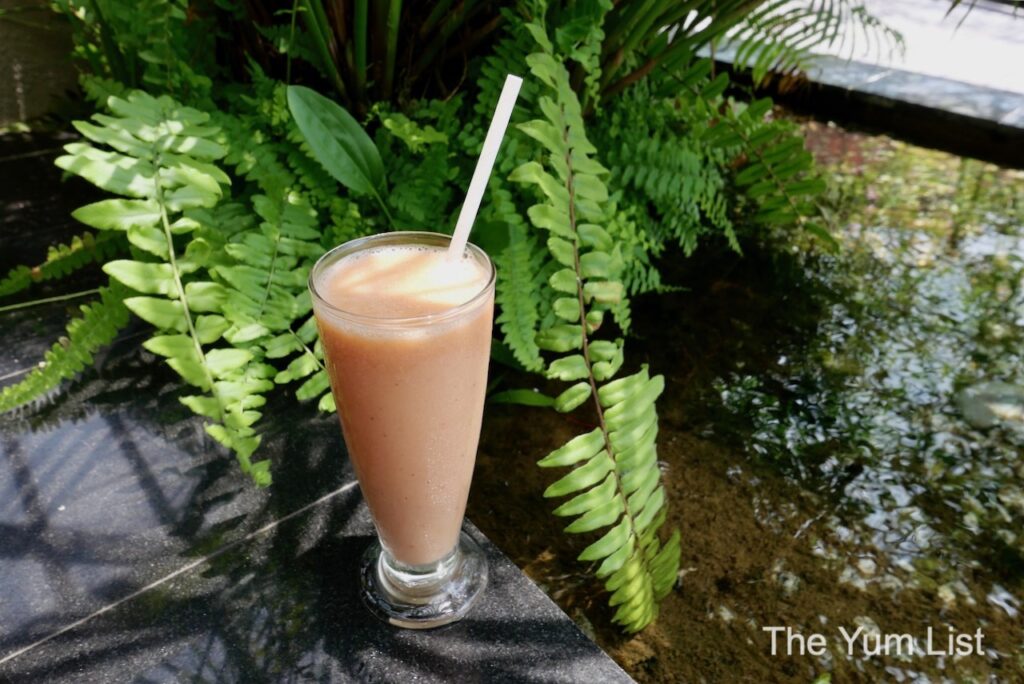 A Vegetarian Lunch – Spice Market
Knowing Mon's love for plant-forward menus and ideals in sustainable eating, Chef Zainuddin showcased what can be prepared with a little advance notice. It turns out chefs are regular people too. They can be exercise fanatics and become bored if made to do the same thing over and over. This is good news for us because it means Chef Zainuddin also has a passion for food that can fuel his body to run marathons and stay on his feet all day in his role as executive chef.
Our lunch selection showed off Chef's work and Spice Market's ideals; fusion made with wholesome ingredients and, in this case, completely vegetarian. We began lunch with the Trilogy Bruschetta – traditional, mushroom, and beetroot with baba ganoush. They rested on pakoras (fried chickpeas) scattered like confetti. All three were flavourful. In the classic, the tomatoes were peeled to better absorb the garlic, onion, and vinegar. The mushrooms, garlicky shimeji, were soft and not oily themselves. Still, a layer of extra virgin olive oil and balsamic vinegar has been applied on top to help them slide down the throat. The beetroot cubes resting on baba ganoush is an inspired combination.
Our main lunch meal was a salad. Don't let the name fool you, though, as it was satisfying and tasty. A generous plateful of tomatoes, lettuce, and spinach leaves was given sweetness with pear and plum slices. Avocado added creaminess, and roasted sweet potatoes and carrots gifted bulk and warmth. Finally, some nuts – almonds, walnuts, and honey cashews – provided crunch and healthy fats. The whole lot was drizzled with tahini, lemon juice, and yoghurt sauce.
This made a fantastic lunch, leaving us satiated but not overly full or worried bikinis could not be donned for more waterside lazing in the afternoon.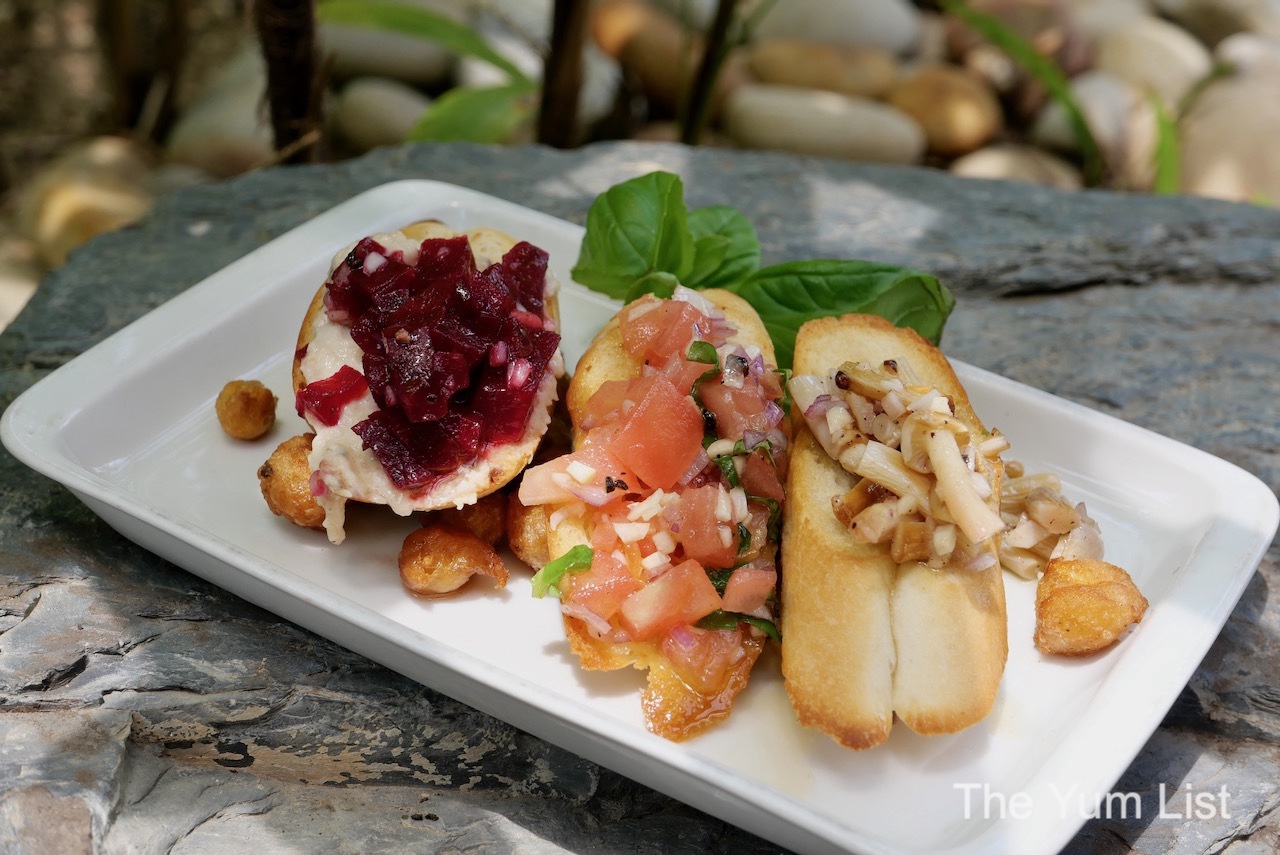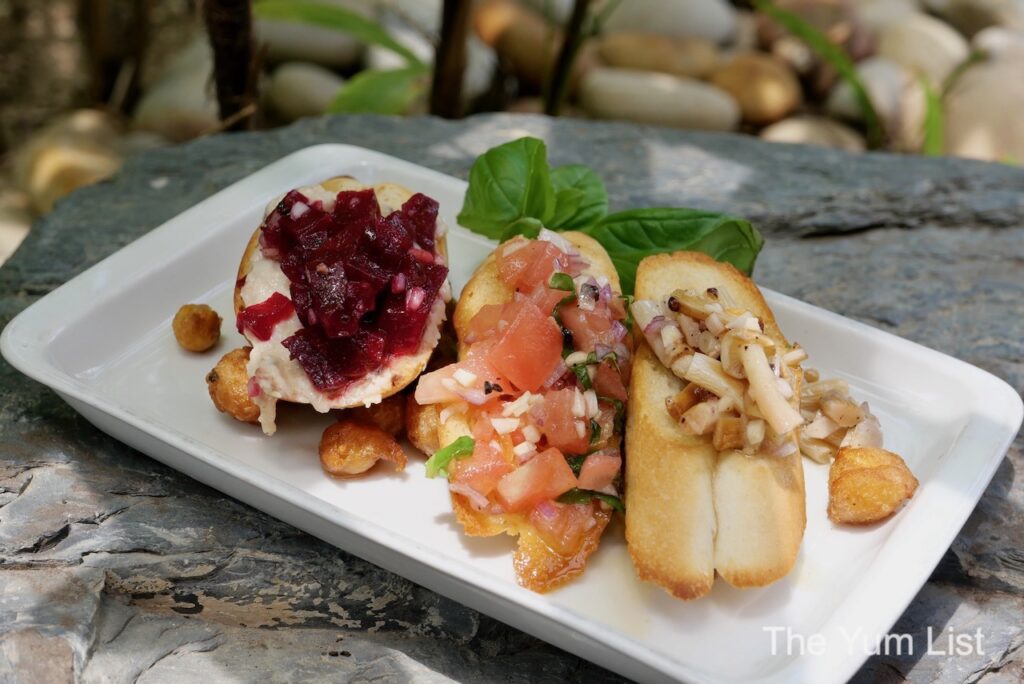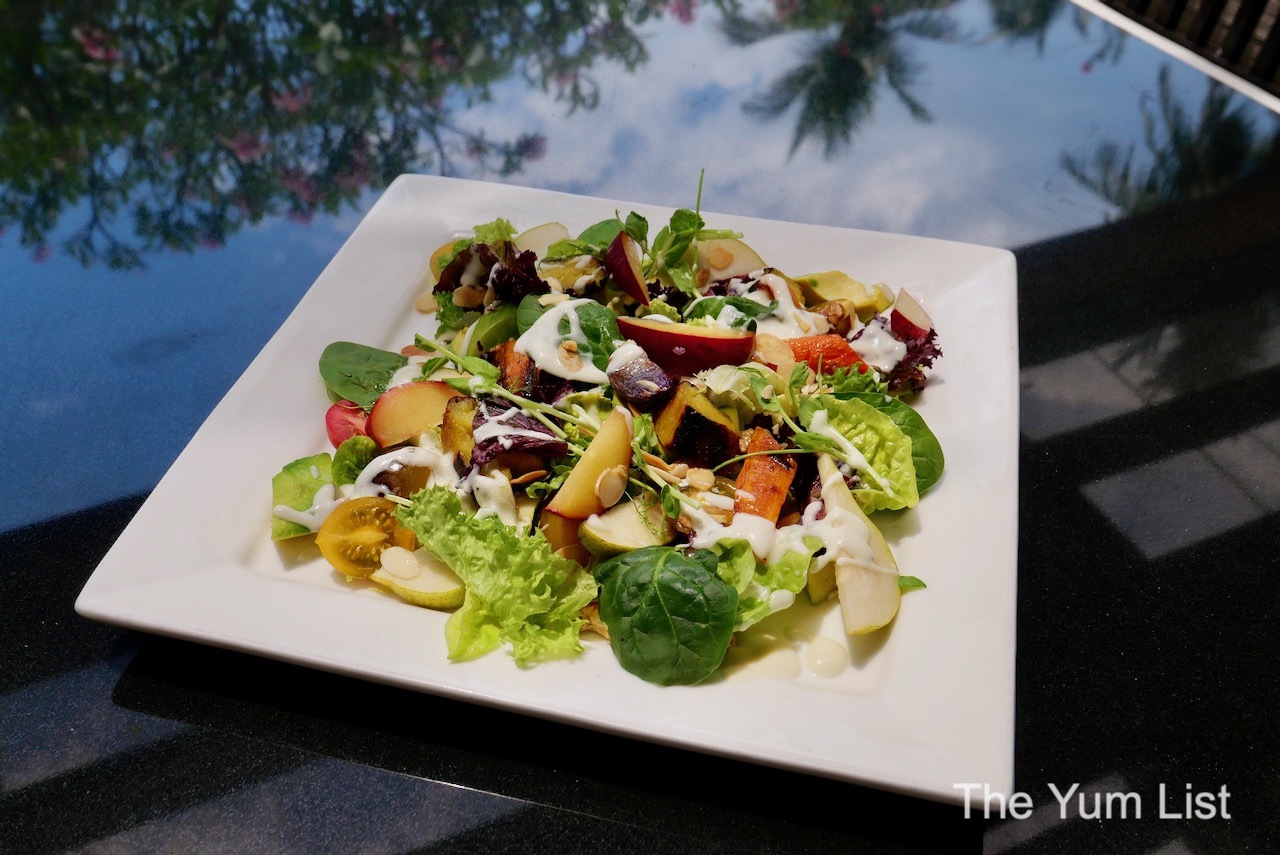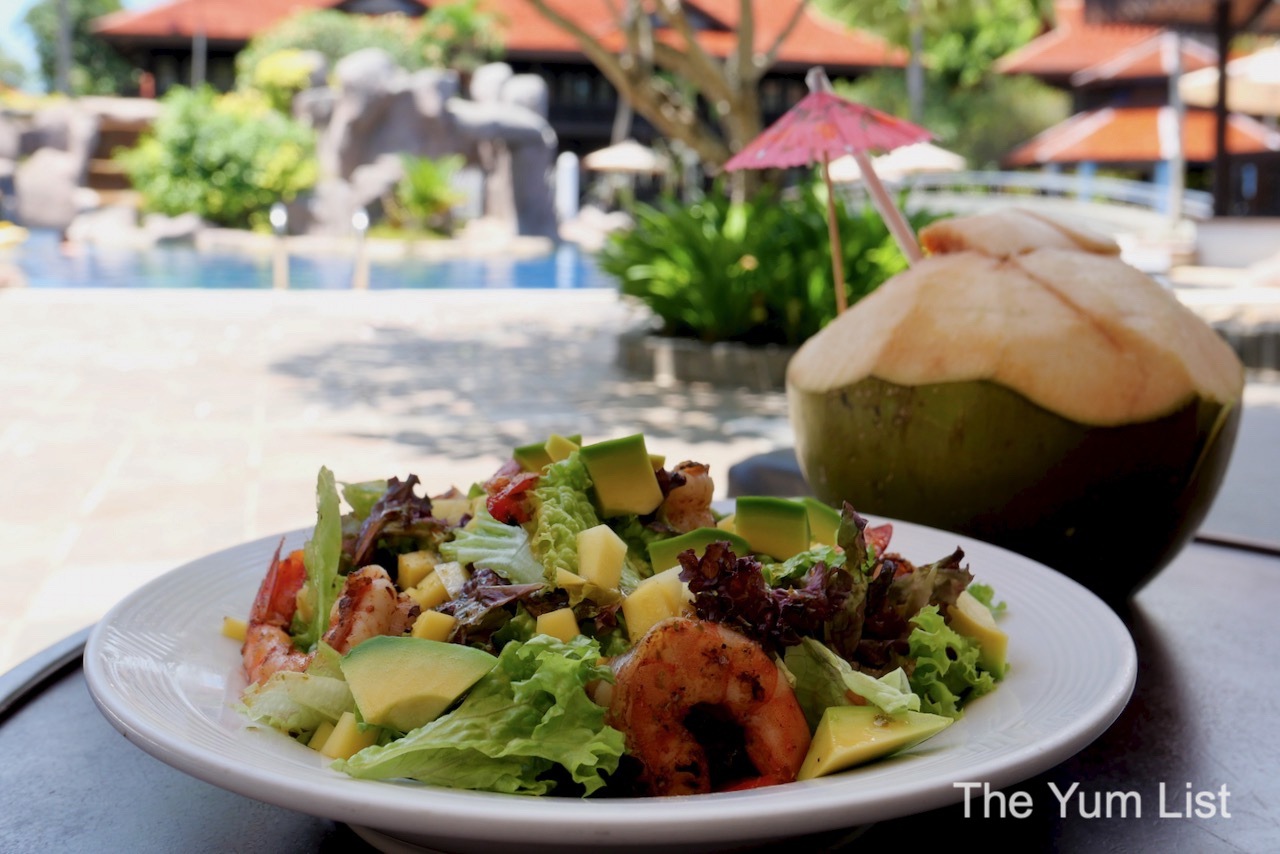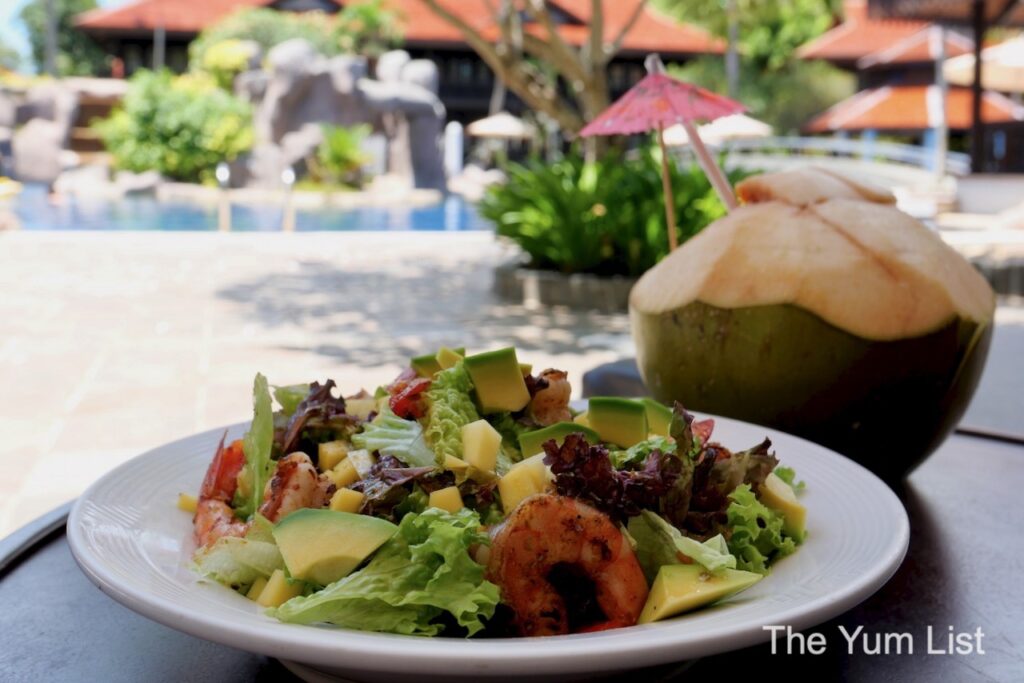 Tapas at Cba
As the sun lowers, Cba is an excellent location to pull up a seat or order some drinks and bites from the comfort of your beach chair. Cba has a tapas menu of international influence. It includes spinach pakoras, chickpea paneer with aubergine dip, and olives with feta. The quick-fried spinach seems like a way my mum might have made a smaller me eat my greens. I cannot compute how they infused chickpea into paneer. Still, they did, and its finger-licking good, especially when dunked it in the aubergine dip. And, well, you can't go wrong with the classic of olives and feta.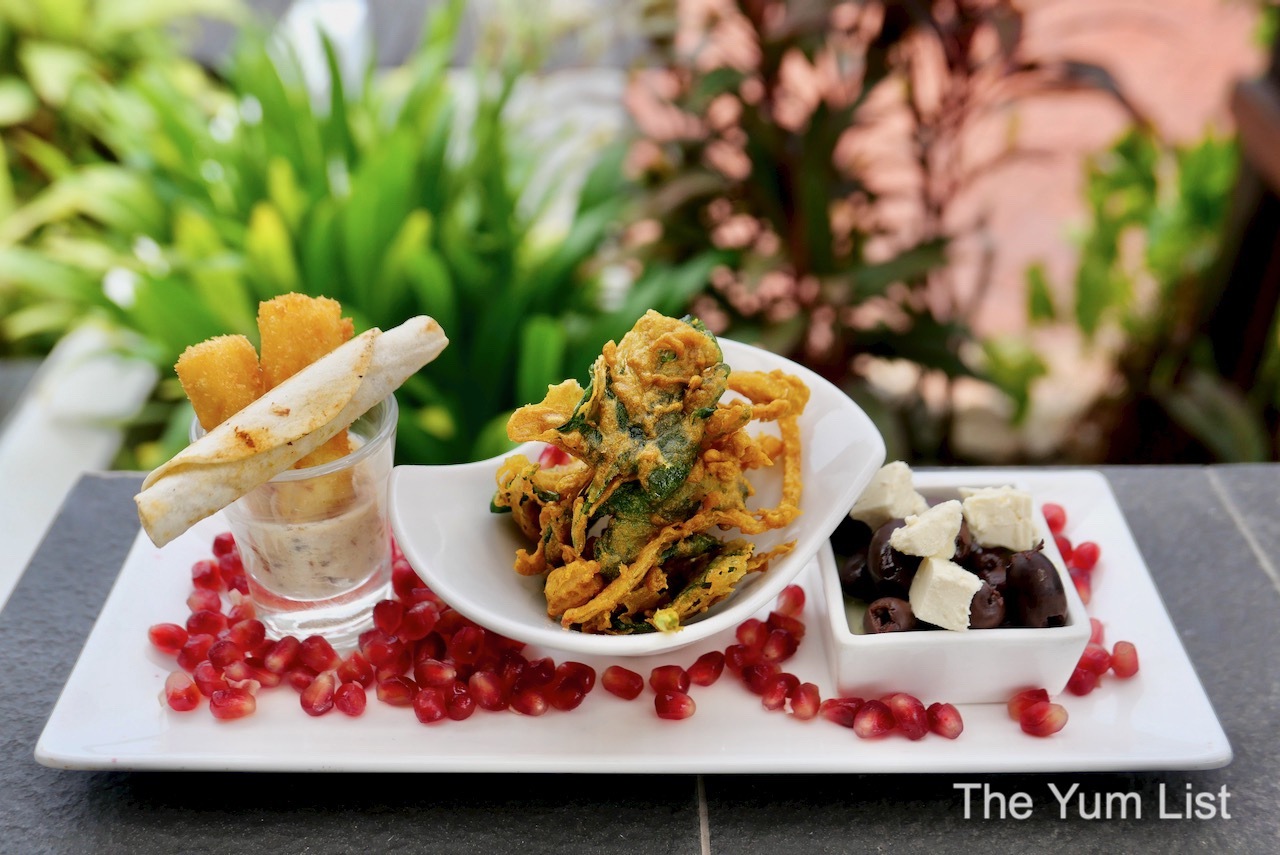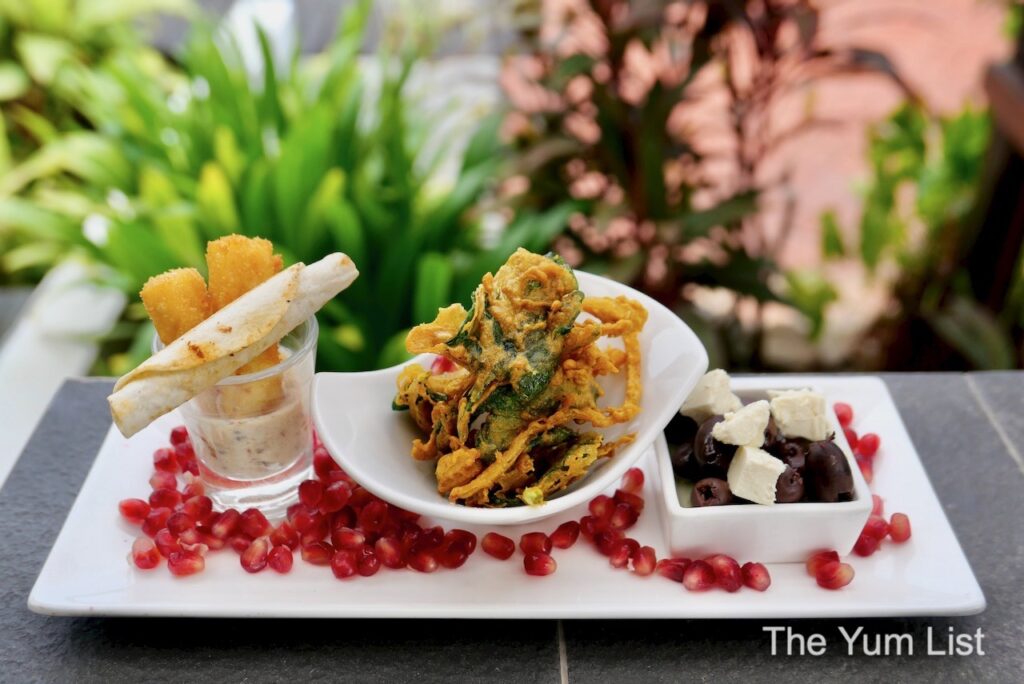 Cba Dinner
As an example of what can be prearranged for special occasions for couples or larger groups, the team prepared a multicourse dinner menu highlighting the best aspects of Cba and Spice Market as well as some original creations.
Every recipe was a complex layering of flavours showcasing chef's Malaysian tastebuds and understanding of a vast selection of herbs and spices. The amuse bouche mixed lobster with curry and sweet potato with pea sprouts on top for crunch. The caprese salad had smoked organic chicken, and baby potatoes added to heirloom tomatoes. The pumpkin soup was made extra tasty with the addition of a swirl of garlic cream, chilli oil, and pine nuts. Combined with the Sovital rolls from the breadbasket, this could be a meal on its own.
Both main courses were seafood in honour of our beachfront location – seared tuna sashimi with scampi, scallop, and salad, and pan-seared snapper with a curried lentil risotto. All the seafood was caught locally, fresh and well-cooked. We particularly enjoyed the supplementary texture supplied by the lentils in the risotto.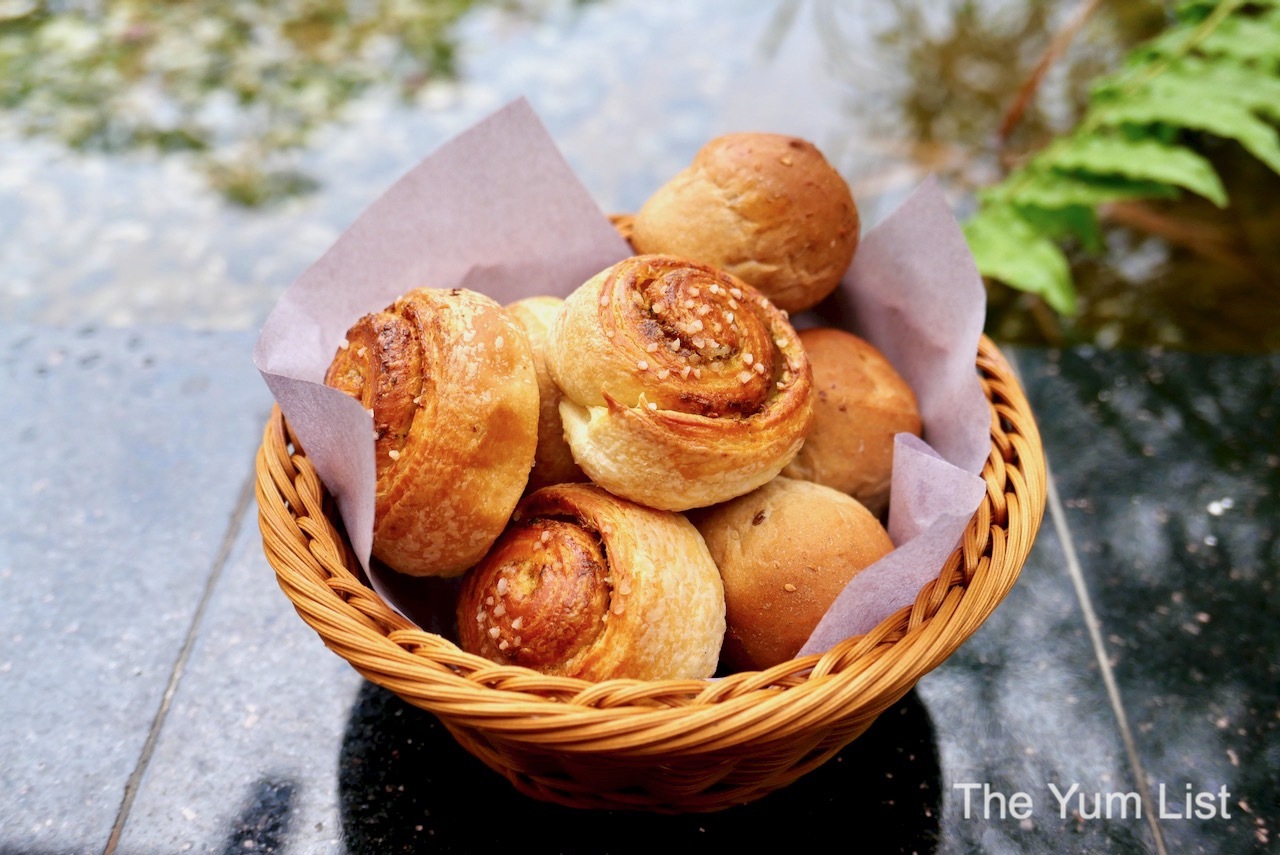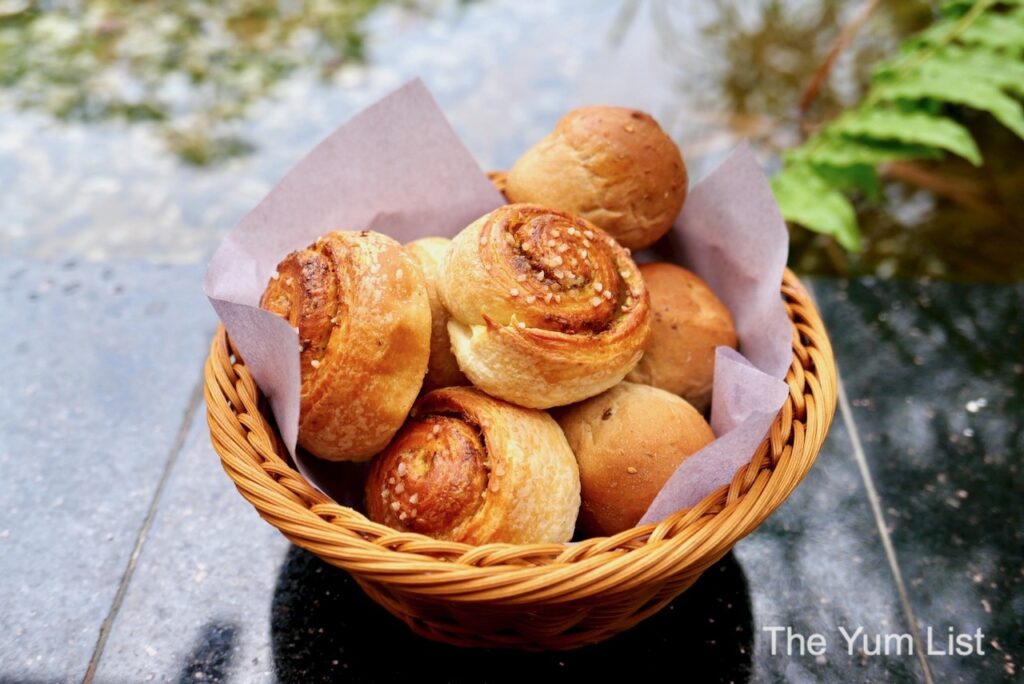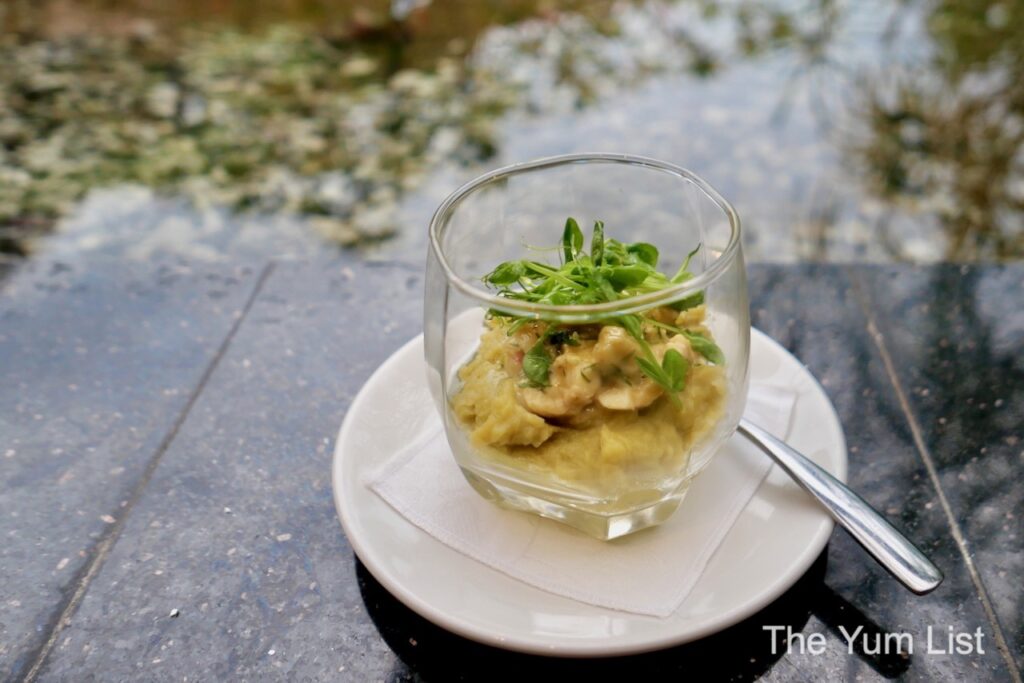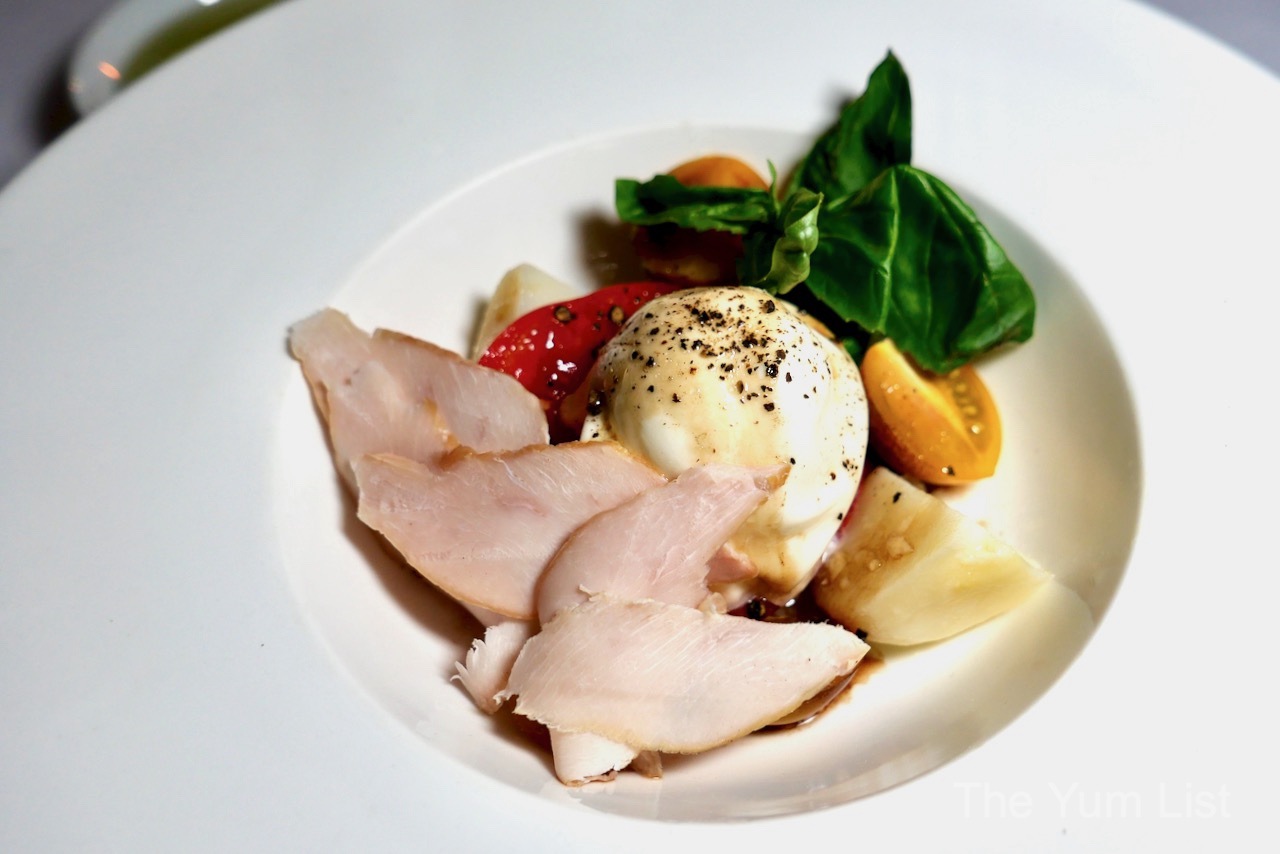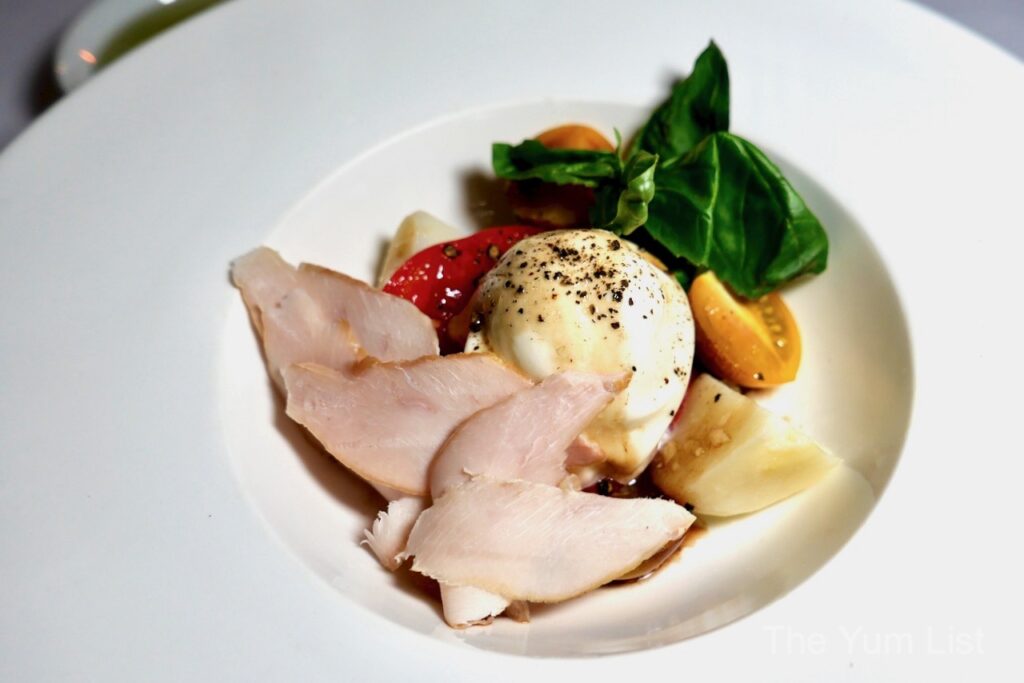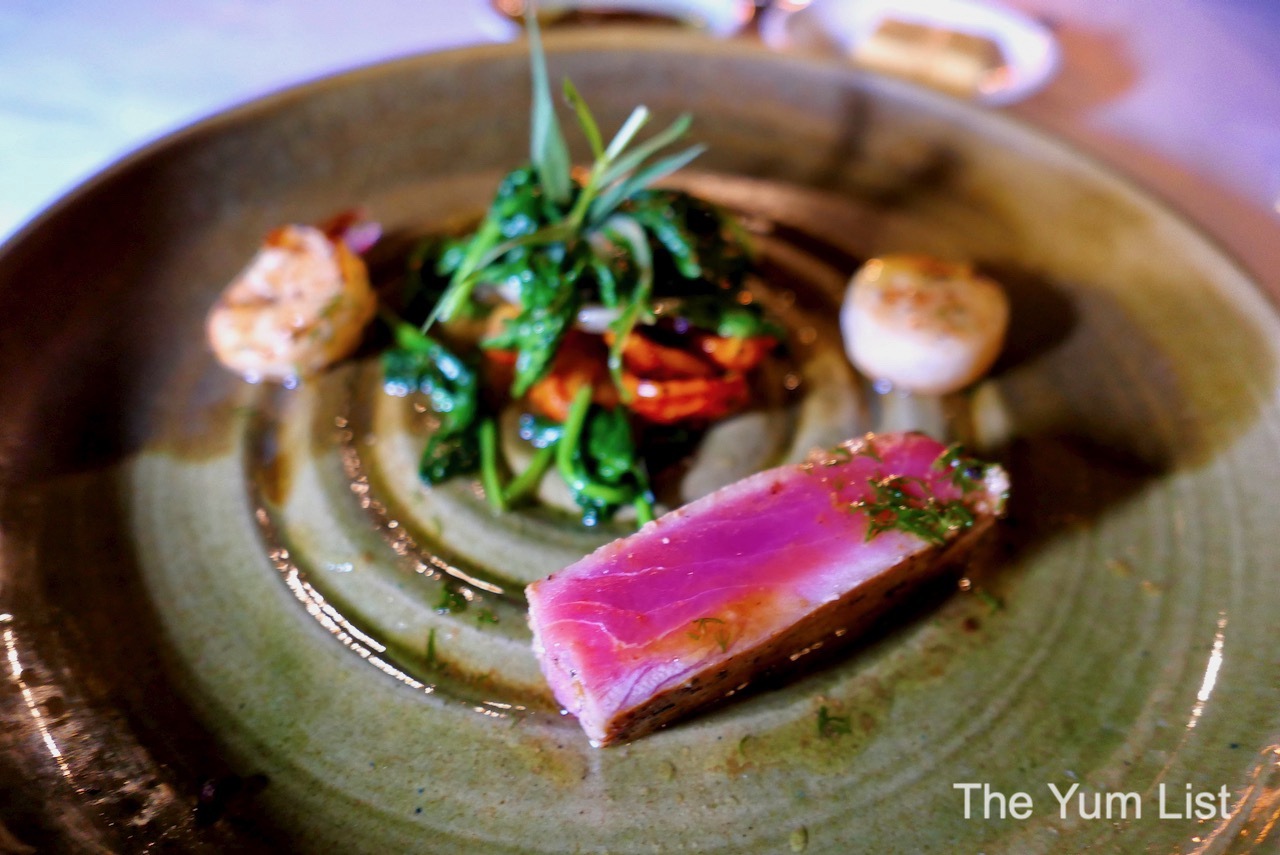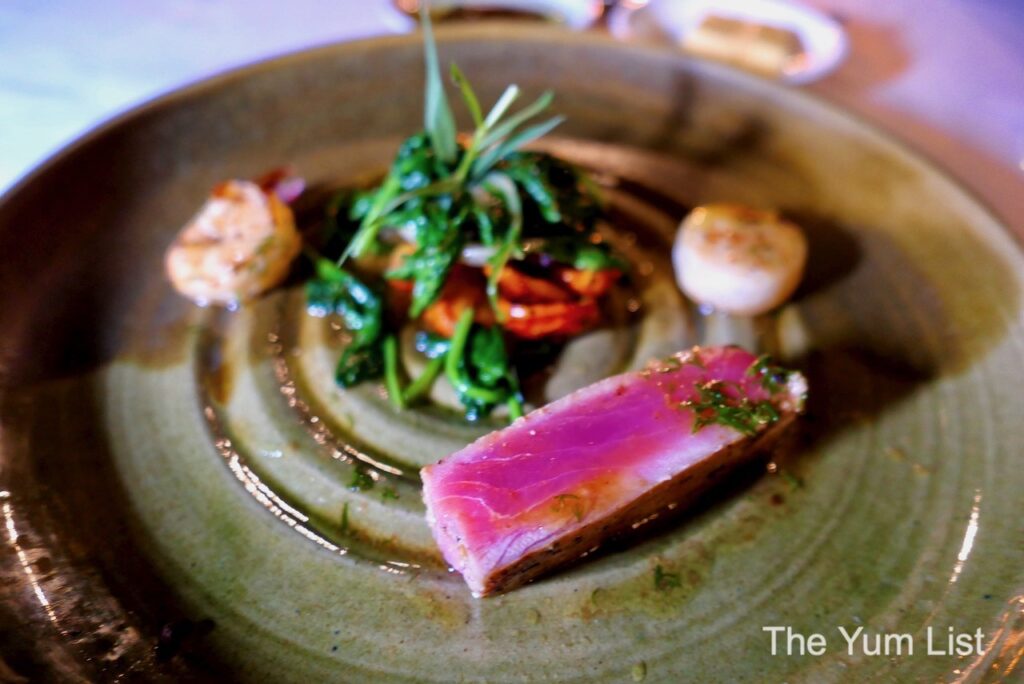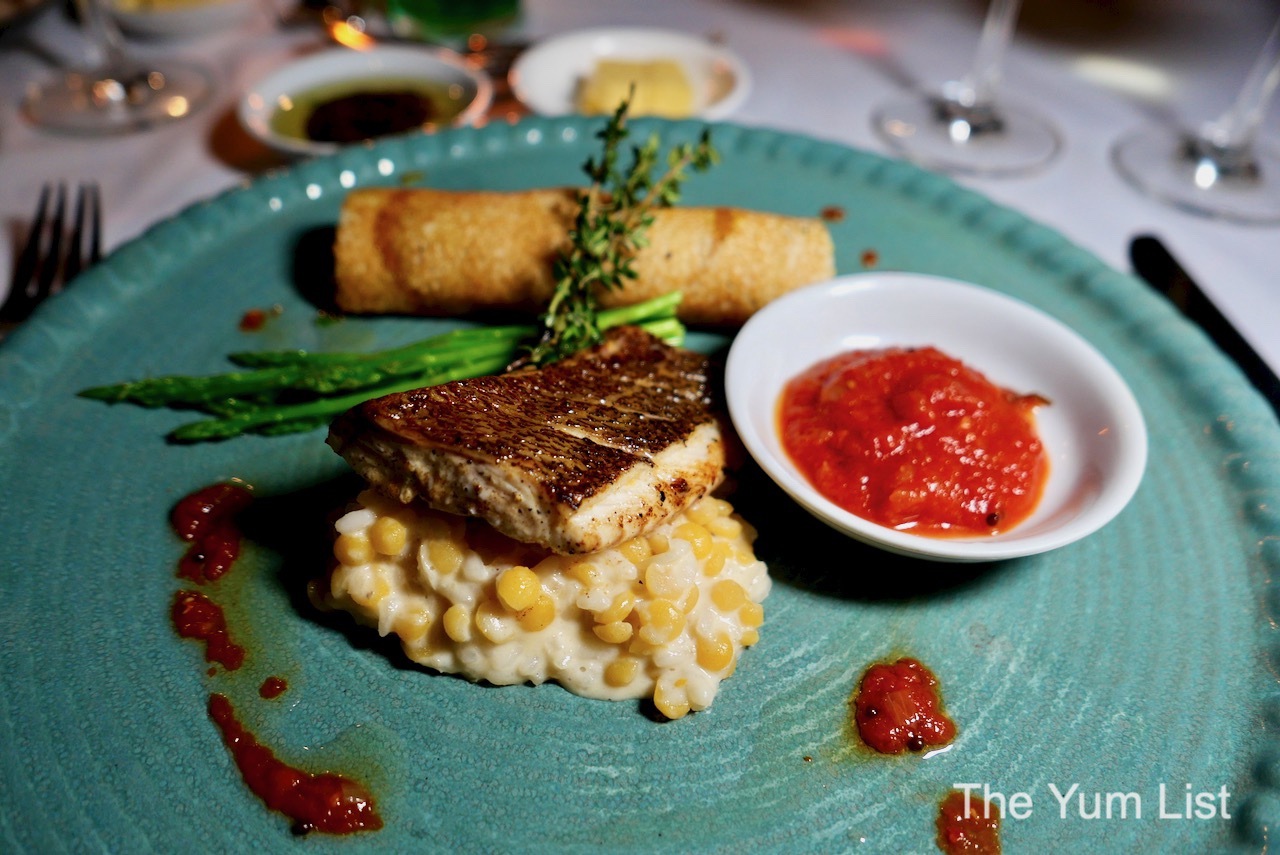 Dessert
Lastly, deep-fried gelato served in a sugar dome and resting on an almond crumble was certainly an eye-catching piece. A beauty to admire, what looked like golden crumbed ice cream was trapped inside a net of hardened toffee lattice. While it might be tempting to pull out flashes and prepare for a full-length photoshoot, I recommend eating it fast as the ice cream inside is already soft from the deep frying. If you haven't had deep-fried ice cream before, it's not as strange as it seems. It's more like a thin cake layer surrounding vanilla ice cream but offers the best of both hot and cold desserts in one.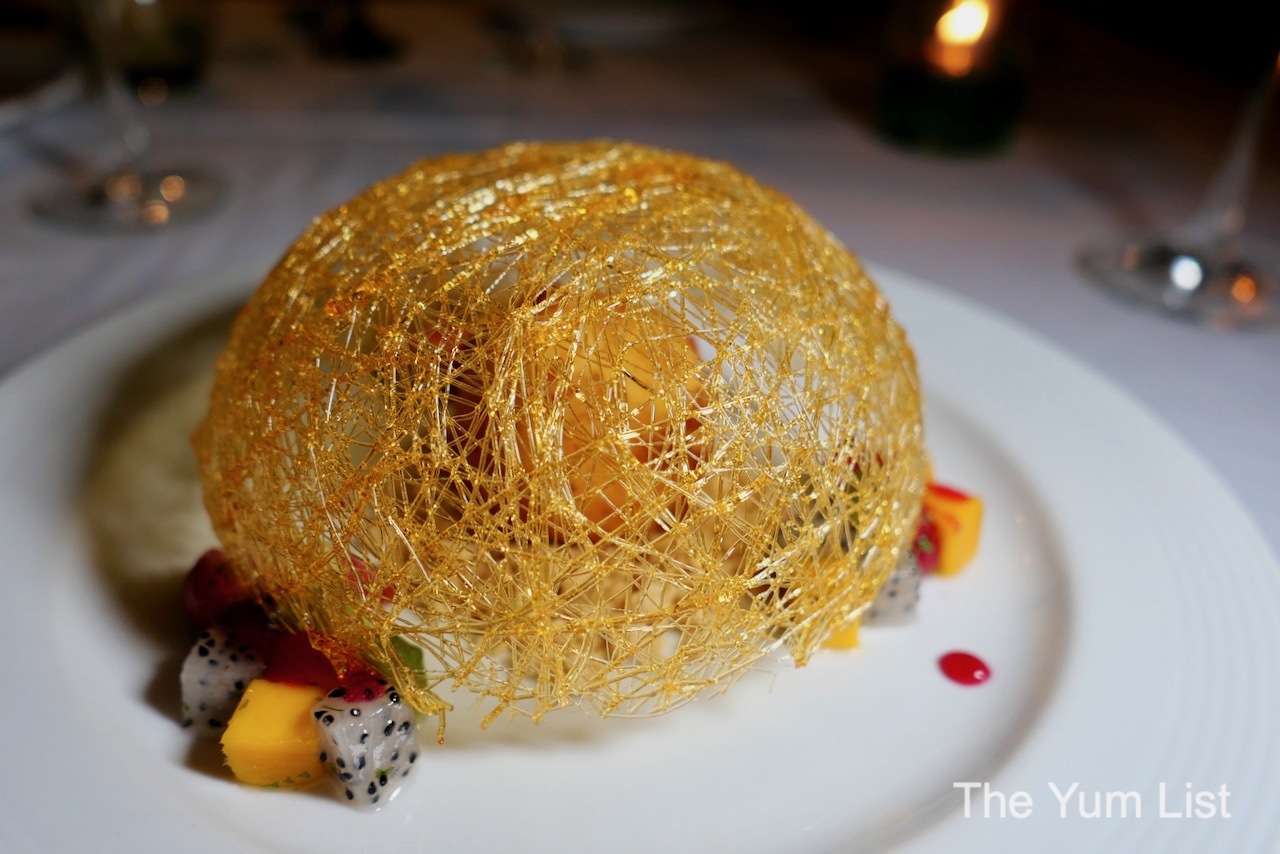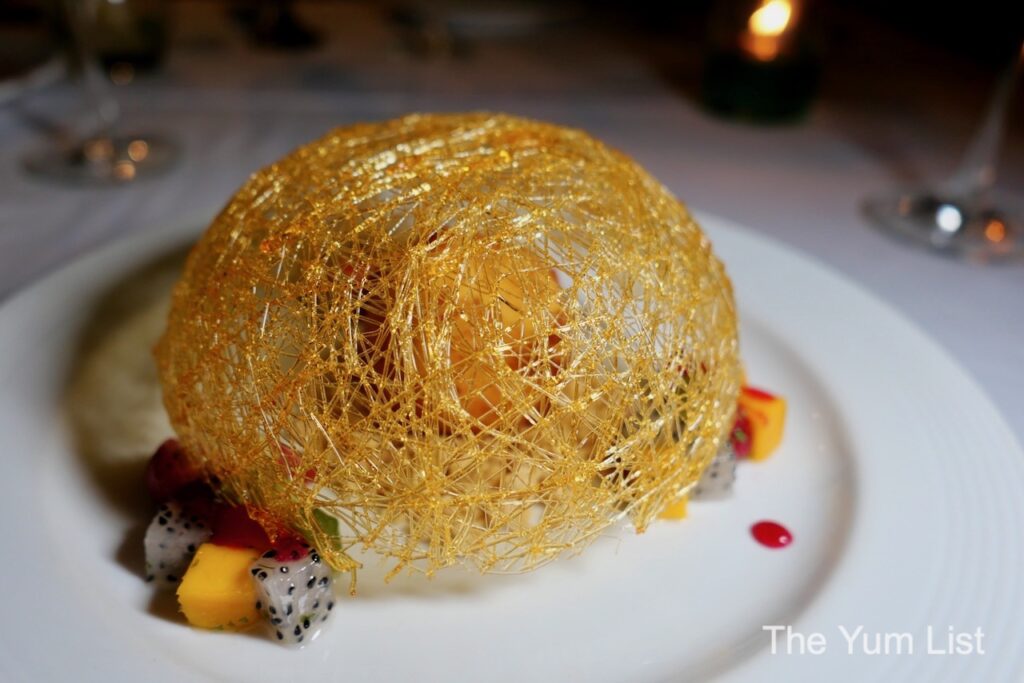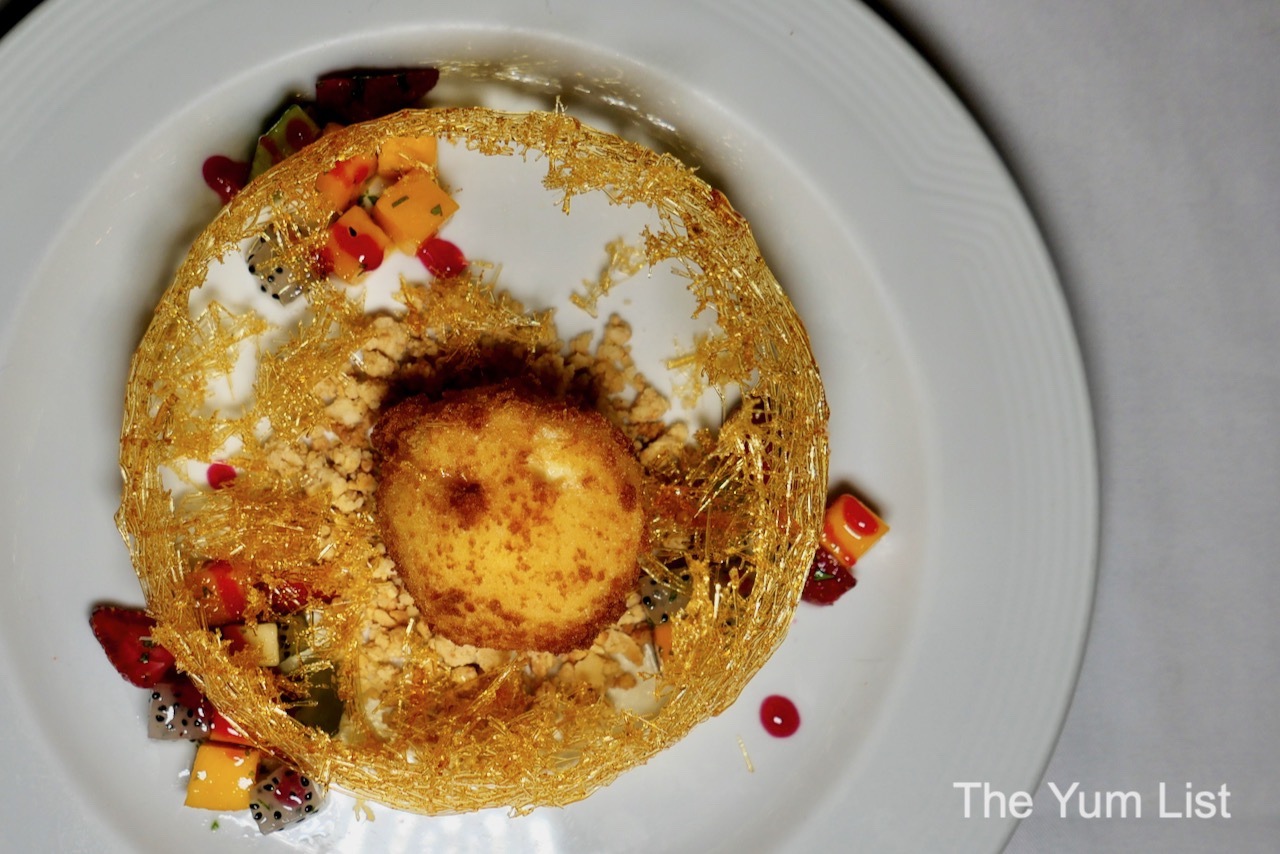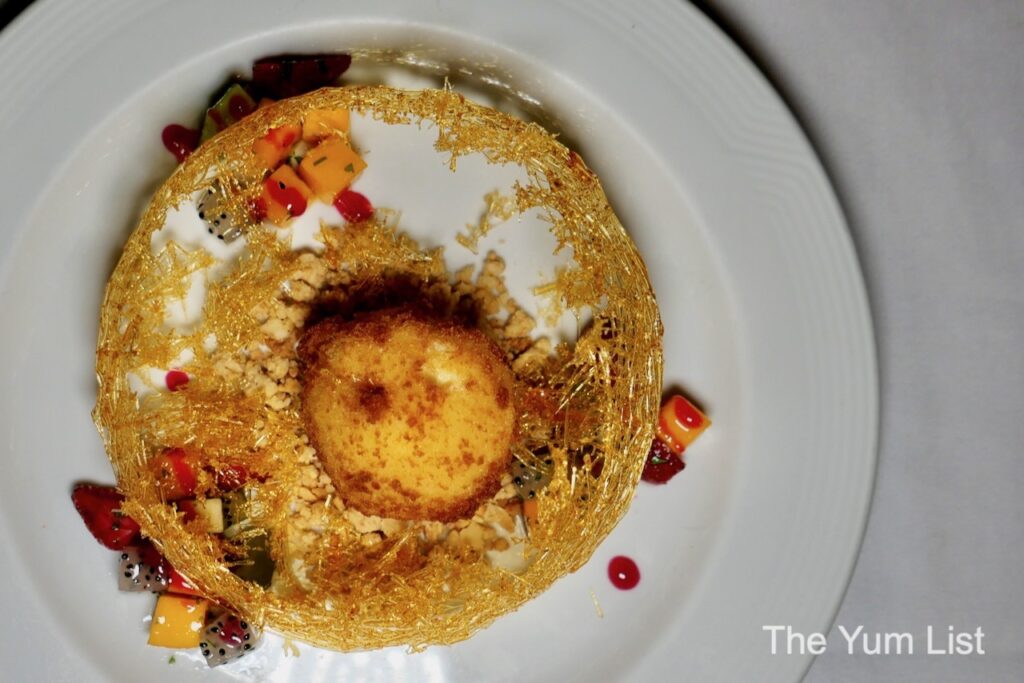 Reasons to visit Cba and Spice Market: Cba's beach location with postcard-perfect sunset views, Spice Market's lovely outdoor patio bordered by lush tropical gardens, great happy hours, customizable menus to suit any range of dietary or celebratory needs with advance notice, kind and helpful staff.
Cba & Spice Market at Pelangi Beach Resort & Spa
Pantai Cenang, Langkawi, Kedah
Malaysia 07000
www.facebook.com/pelangilangkawi
Food & Beverage Outlet Opening Hours
Spice Market; 7:00 am -11:00 pm
Cba: 3-11 pm (kitchen closes at 10 pm)
Find more recommendations for travel to Langkawi here and stay up to date with the latest gourmet happenings in Malaysia here and here.