The Coffee Academics, Pavilion Kuala Lumpur
Words: Sathya Selvarajah
Photos: Monica Tindall
The Coffee Academics voted HK's best specialty coffee shop, just opened its first outlet in Pavilion, Kuala Lumpur. Led by a founder who cares, Jennifer Liu and her team have taken their business to massive heights while maintaining integrity and fair trade for everyone involved. What they bring is the cream of the crop when it comes to specialty coffee, together with sustainability that goes beyond the usual effort.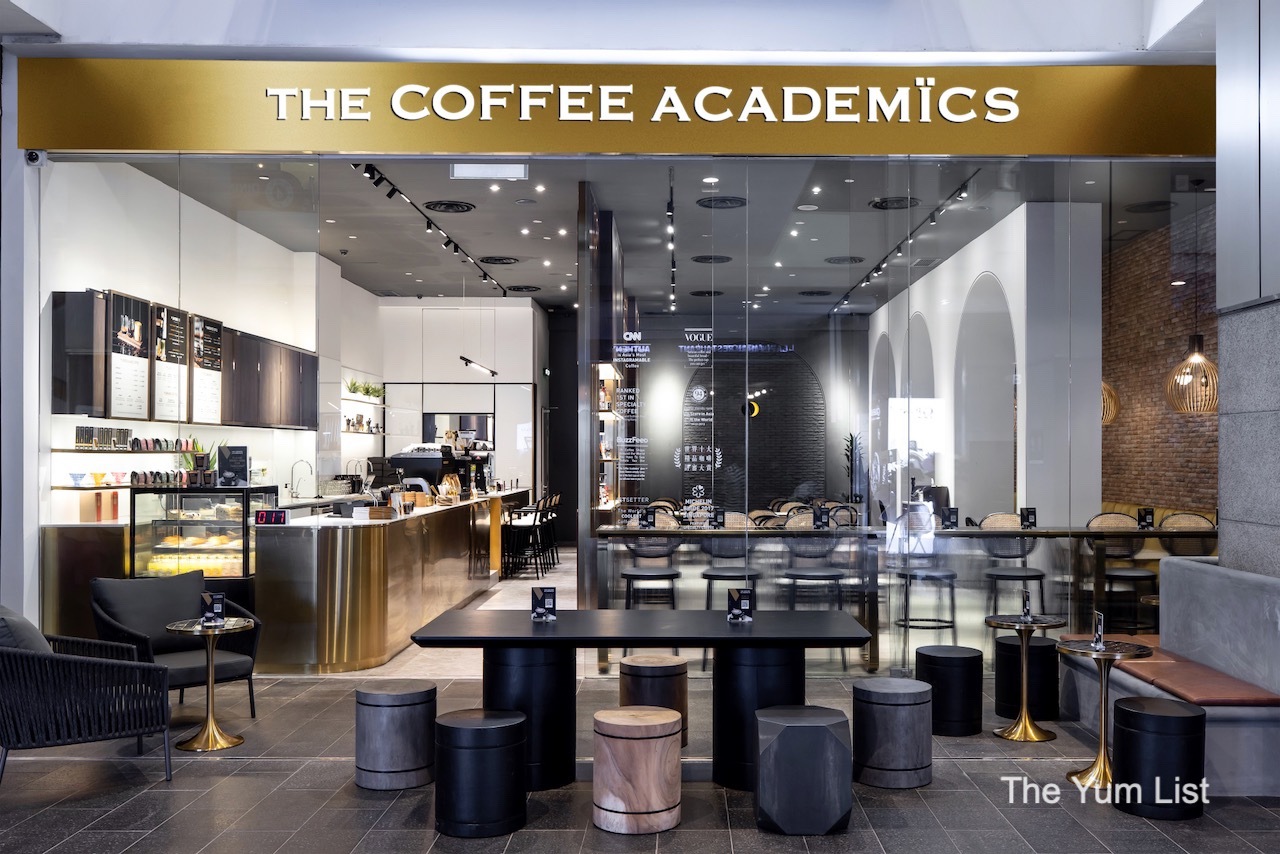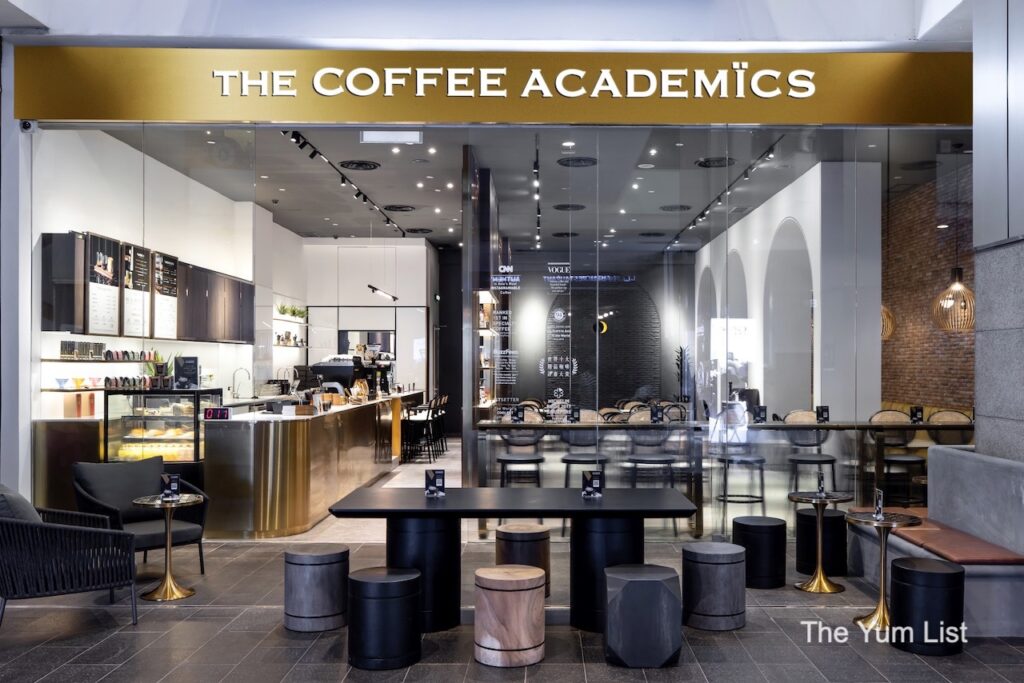 Integrity & Fair Trade
Before we dive in, we have to talk about the coffee industry as a whole. The coffee trade was a lot like cocaine in the '70s. It was ruthless. Farmers and labourers were exploited, and margins were ridiculous. Later, single-use plastic did even more damage to top it all off.
Then came The Coffee Academics, which source their beans from over 50 independent farmers worldwide, choosing only the top 5% of Arabica beans. Putting in the real work, 70% of sales from their famous House Blend are redirected back to help their farmers through social enterprises and charities around the world. Conscious capitalism is the fourth wave of coffee, and it's here to stay!
The Coffee Academics Pavilion KL
It's packed as we walk in, signalling a new star in Pavilion. Located on the third floor of the outdoor area, The Coffee Academics is bright, open and spacious. They're open 10am-10pm daily but expect a slight waiting period during peak hours as they've just launched.
We're joined by Choon, their PR whiz. The more he tells us about the business and its efforts, the more I'm inspired. Capitalism doesn't have to be a tyrant who sits on the back of his people, and The Coffee Academics prove just that.
Coffee Menu
And now for what you're really here to read about: the coffee.
Using only the top 5% of Arabica beans globally, they're serious when they call themselves the specialty purveyors of coffee and roasting. All of their roasting is done in-house in Hong Kong. Their Kuala Lumpur outlet is helmed by head barista Dane Low, an award-winning barista and one of the best in Malaysia!
The coffee here is full-bodied and somehow balanced without being overly roasted. All their pours have an average rating of 86 points, with a couple of their blends scoring 90+ too! Specialty coffee has its own globally recognised point system, with anything over 80 points being deemed an excellent blend.
We first try the Flat White (RM16). A silky, full-bodied blend with a lovely finish. I've never had a Flat White this smooth and balanced. This is the first thing I order at any cafe, and I was still smitten! We finished it in seconds!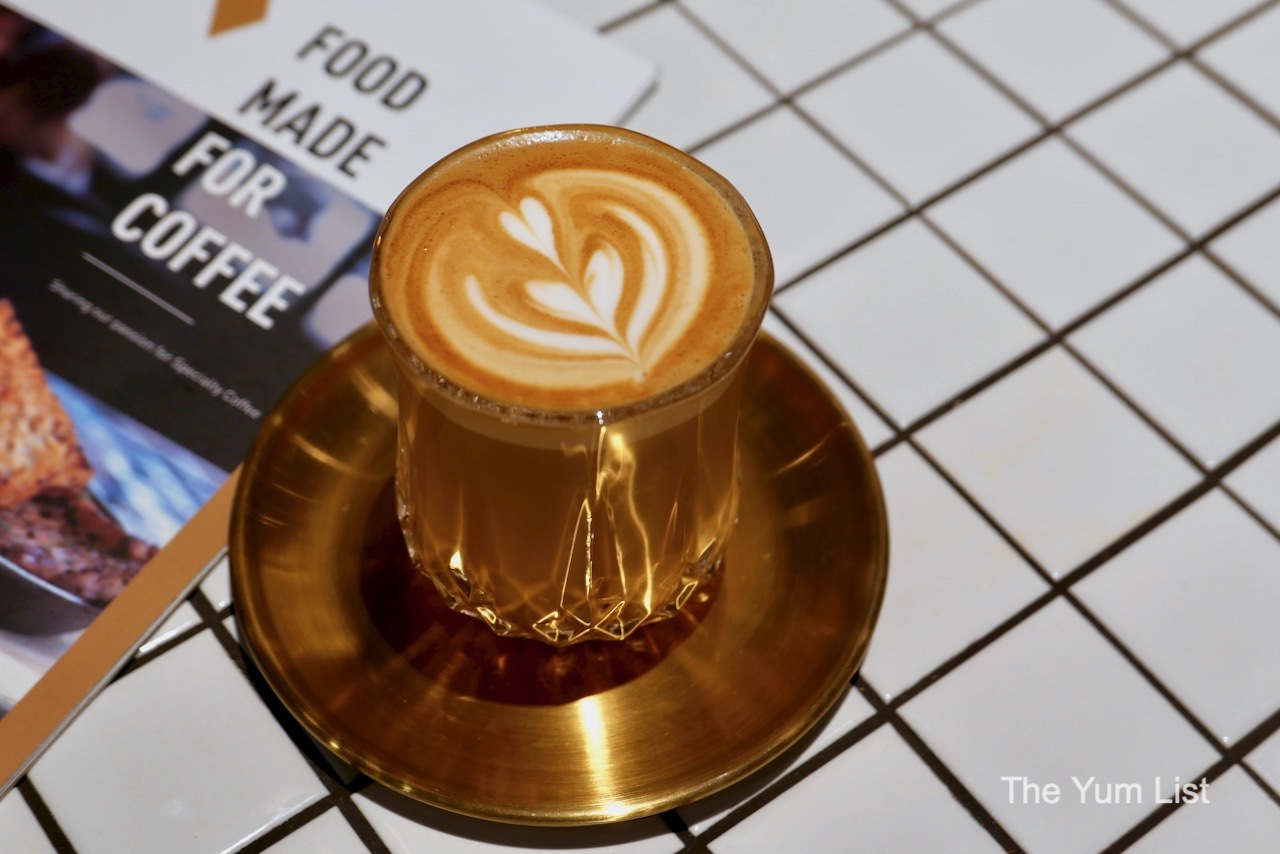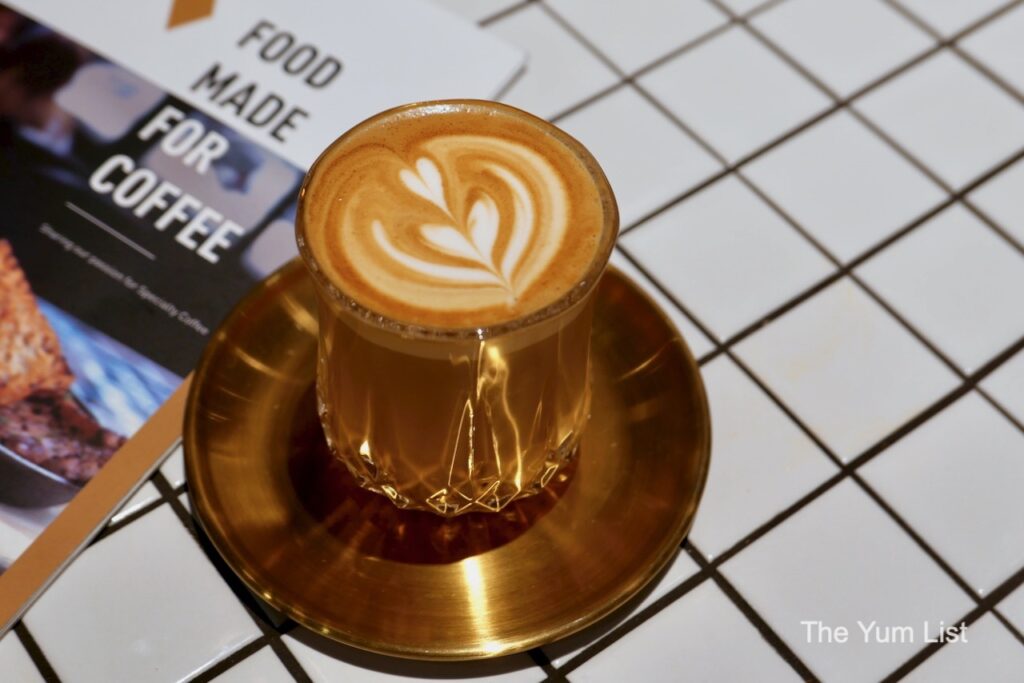 You will love the Steam (RM17) if you like cold brew coffee! Espresso is steamed with ice to create a light, frothy texture on top. It tastes like a mild cold brew, with some sour notes just like it.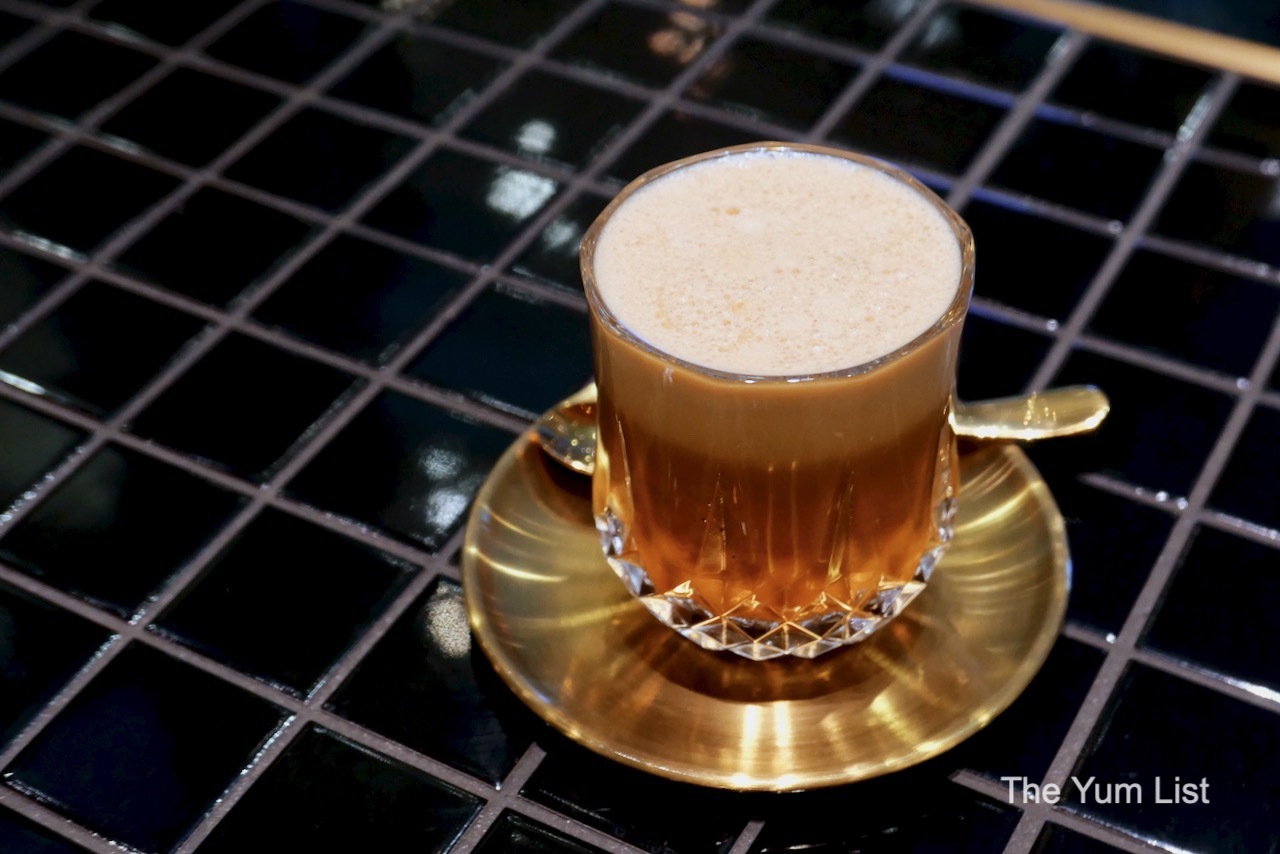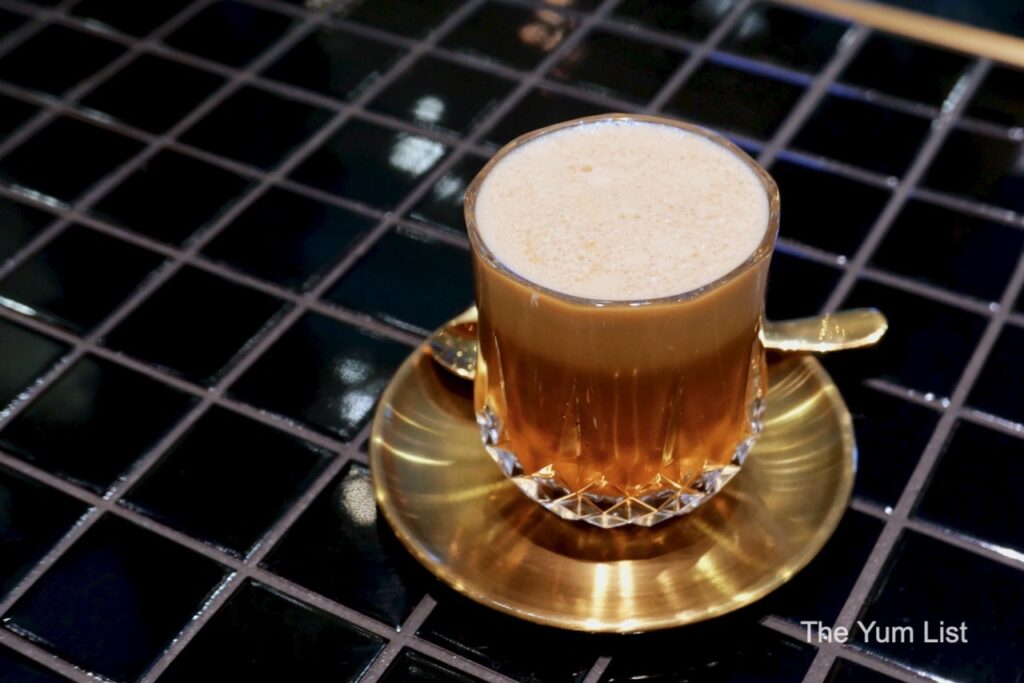 Paying homage to regional flavours, The Jawa (RM21) is a macchiato sweetened with Jawa palm sugar from Indonesia. Unlike many of the gula Melaka (Malaysian palm sugar) lattes you find elsewhere, this one hits differently. The sugar doesn't overpower the taste of the coffee. It accentuates it instead. You get hints of pandan and coconut too. It's milky, only mildly sweet and great for a hot day in KL!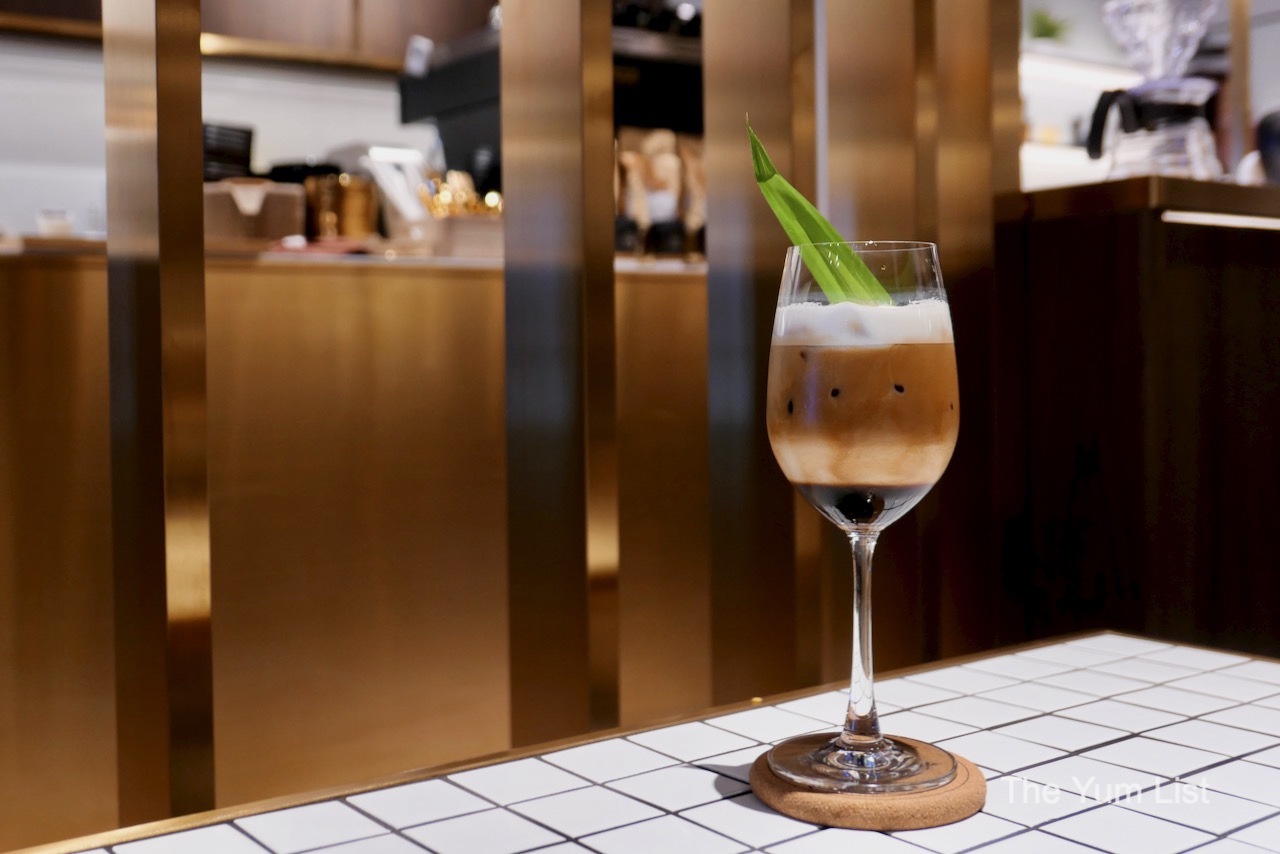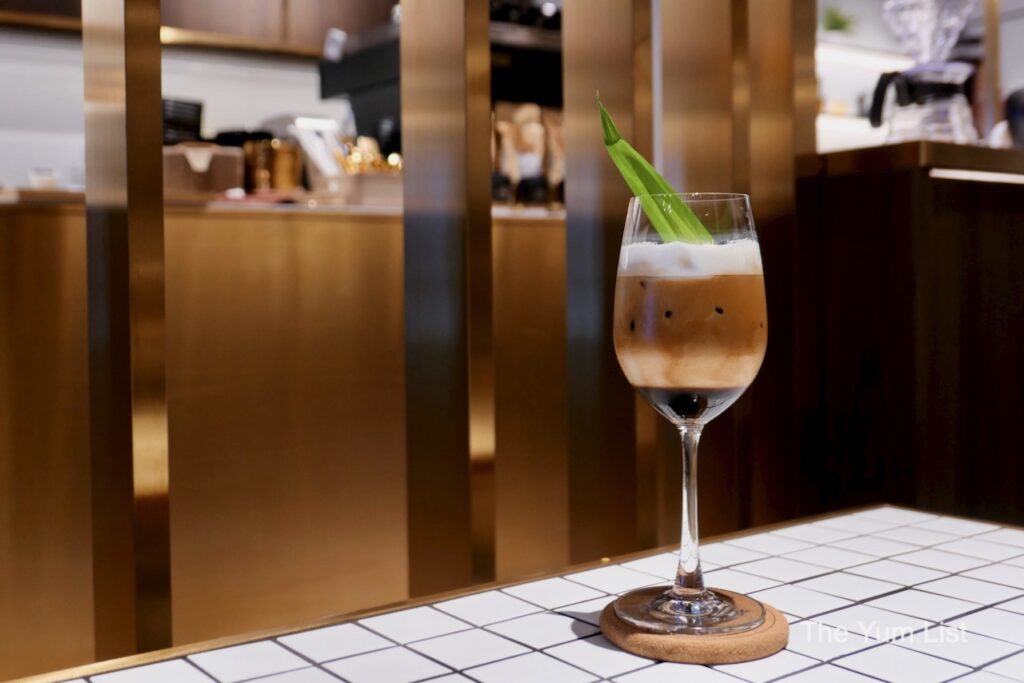 Food Menu
Famished from all that shopping and walking in Pavilion? They've got a decent spread to go with all that coffee. Think cafe favourites like a big breakfast called The Academics Breakfast (RM42) that comes with German sausage, beef bacon, homemade baked beans, sautéed mushrooms, halloumi cheese, cherry tomatoes and eggs of your choice served with two slices of sourdough toast and leafy greens. We opted for poached eggs! The shaved pieces of black truffle on top were a nice touch.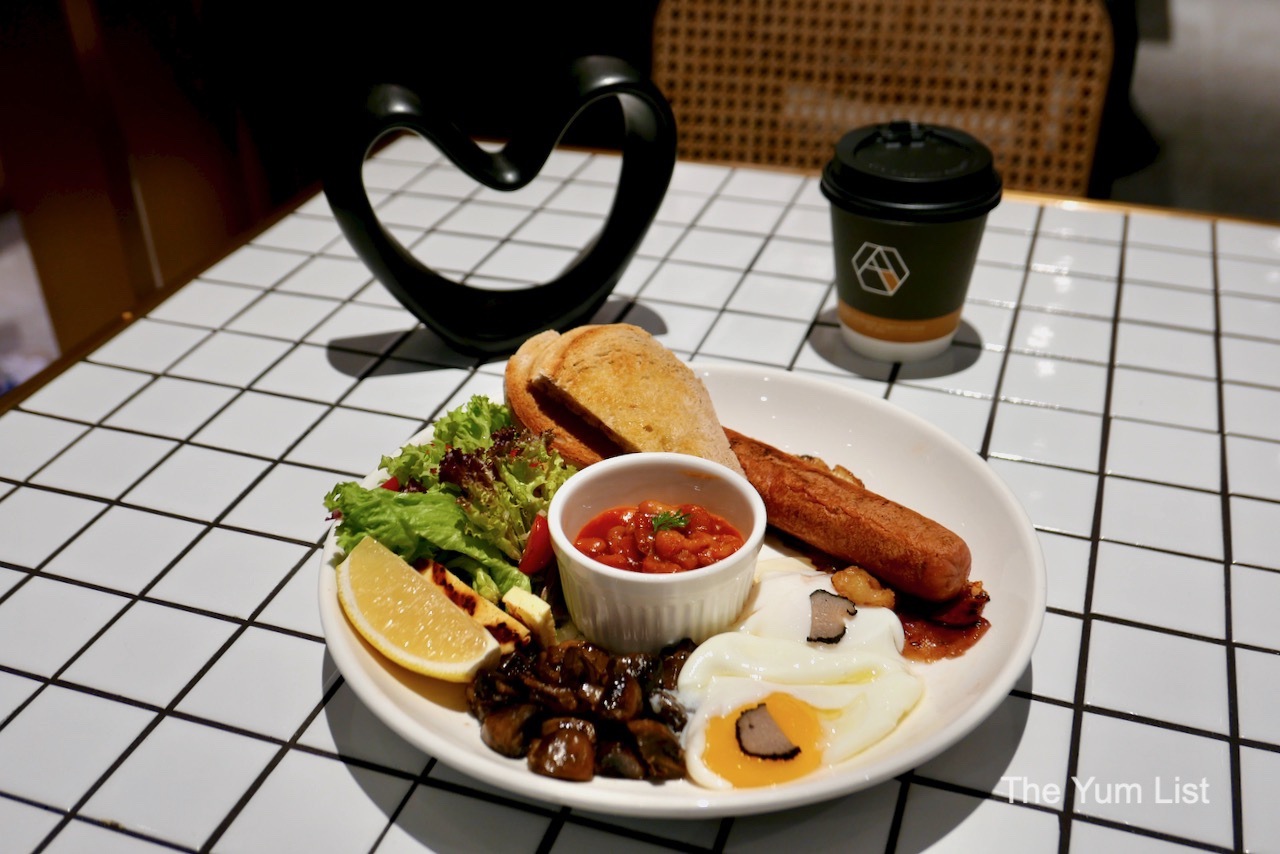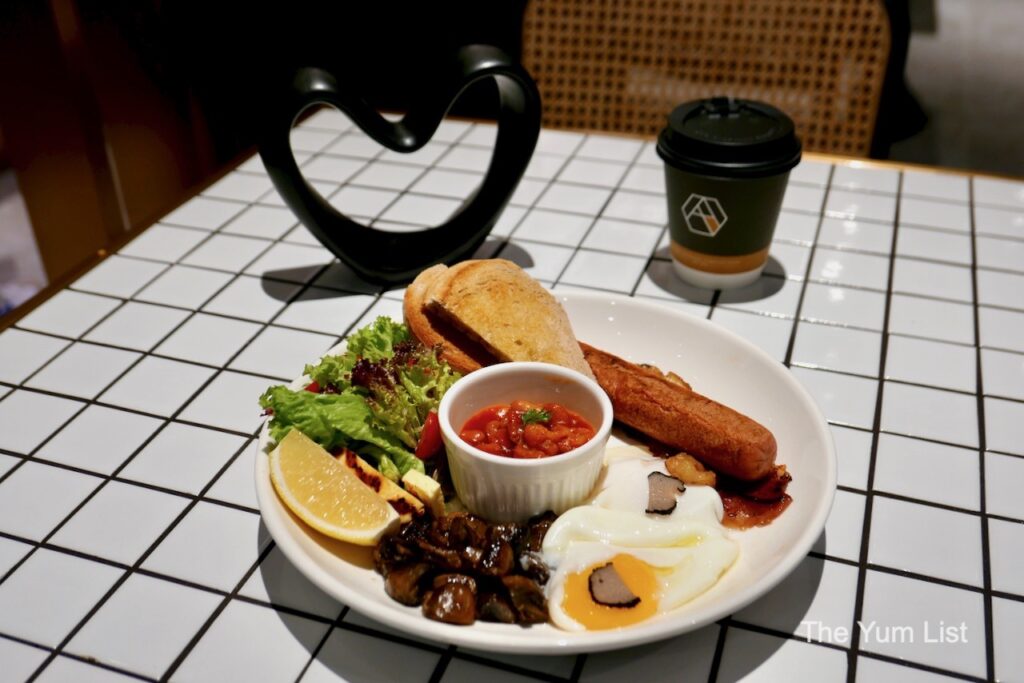 The Breakfast Burger (RM36) is pretty good too. Creamy scrambled eggs with a sweet touch, beef bacon and torched cheddar cheese were sandwiched between a brioche bun. And, the side of tater tots disappeared all too quickly.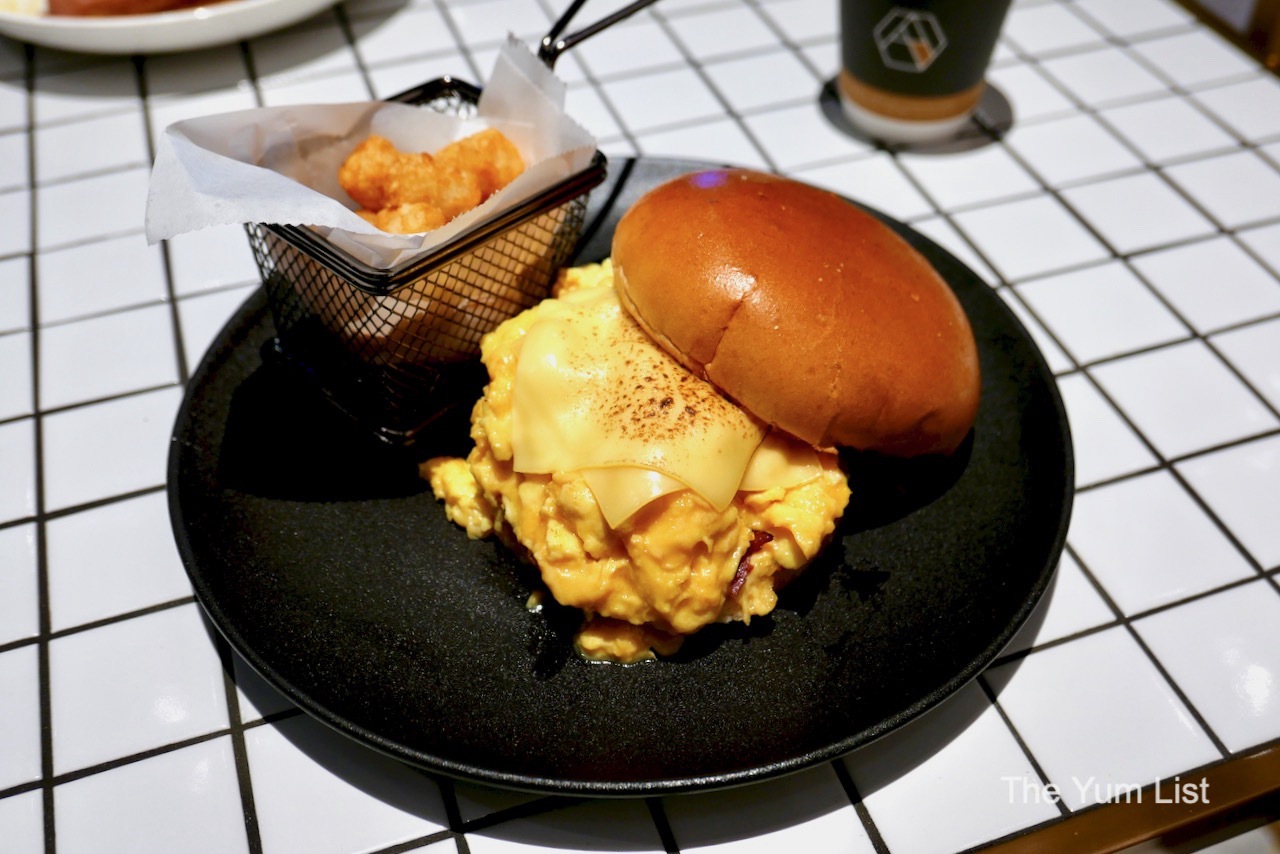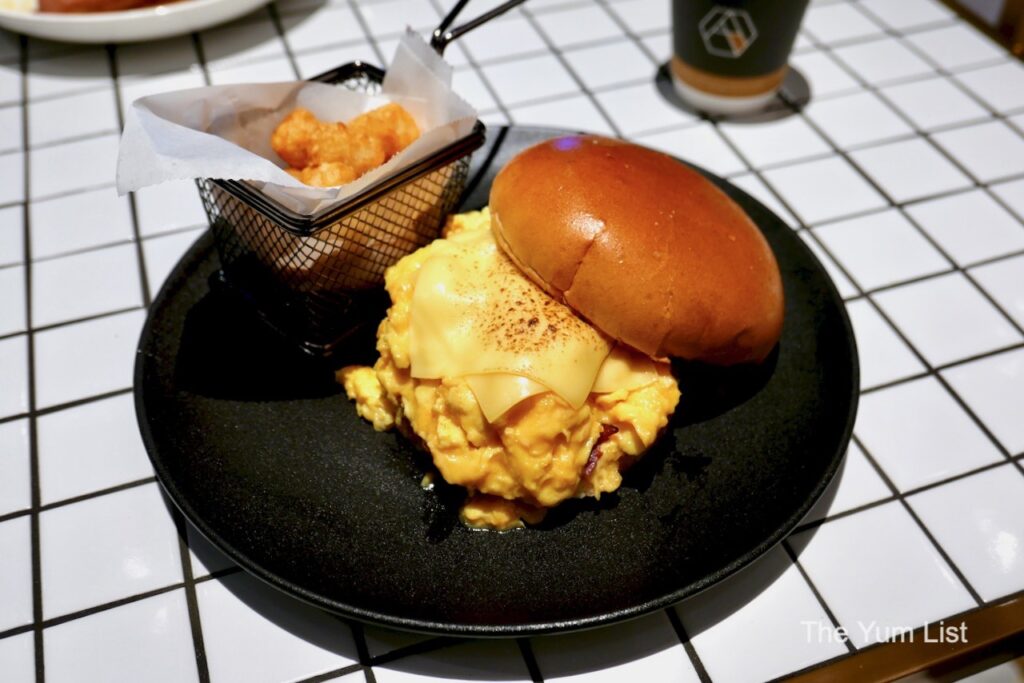 Feeling like dessert? The Espresso Butter on Fluffy Pancakes (RM38) is great to share. They feature thick medium-sized pancakes topped with homemade espresso butter and whipped cream, with a sprinkle of sliced almonds, pistachios and dried apricots for a little texture and zing.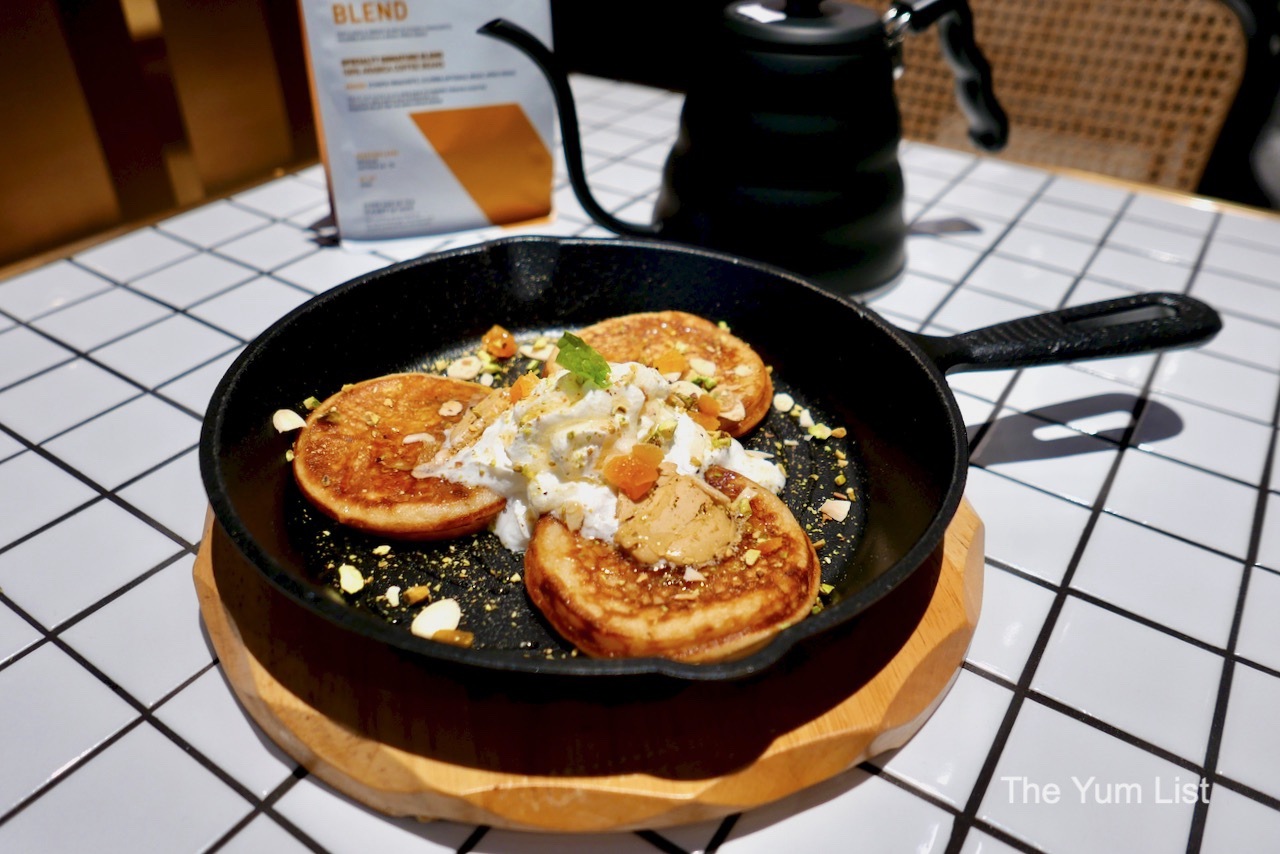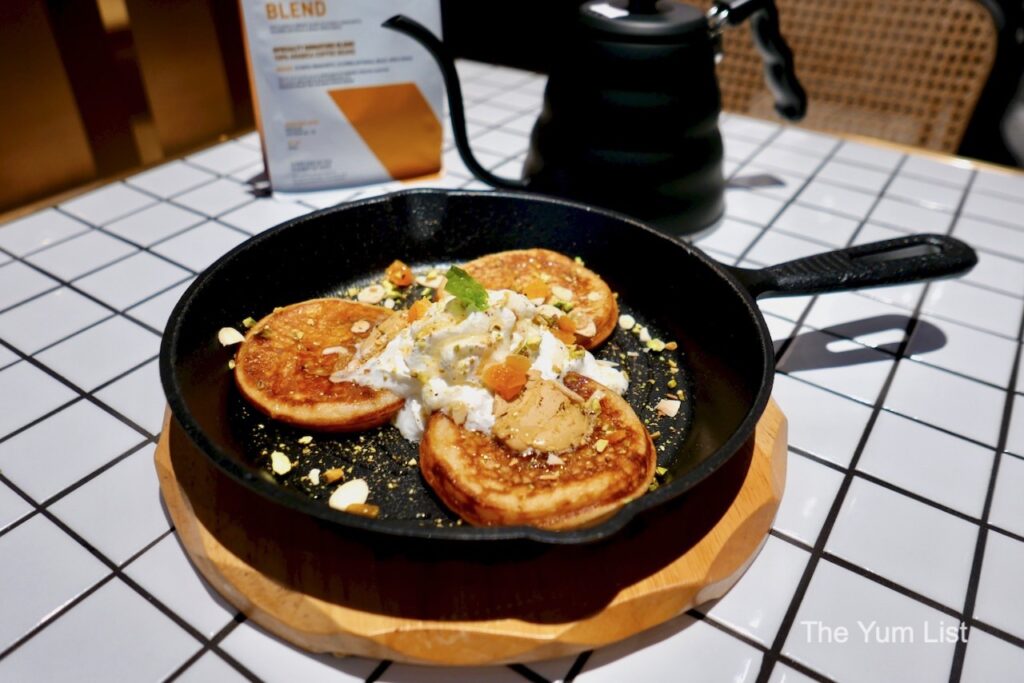 There's a little something for everyone on the menu. Personally, I'd be happy with the coffee alone! It's the real knockout here.
Speciality Coffee
We end our evening by witnessing a pour-over by the bar facing our baristas. Being a picky person when it comes to seating, this is easily my favourite spot in the cafe. It's intimate, and there are only four chairs turned away from the crowd. Great for a date!
We chose the Ethiopian Blend (RM23), and the show began. As CY, our barista, swirls the hot water in, Choon rejoins us and tells us more about the brand.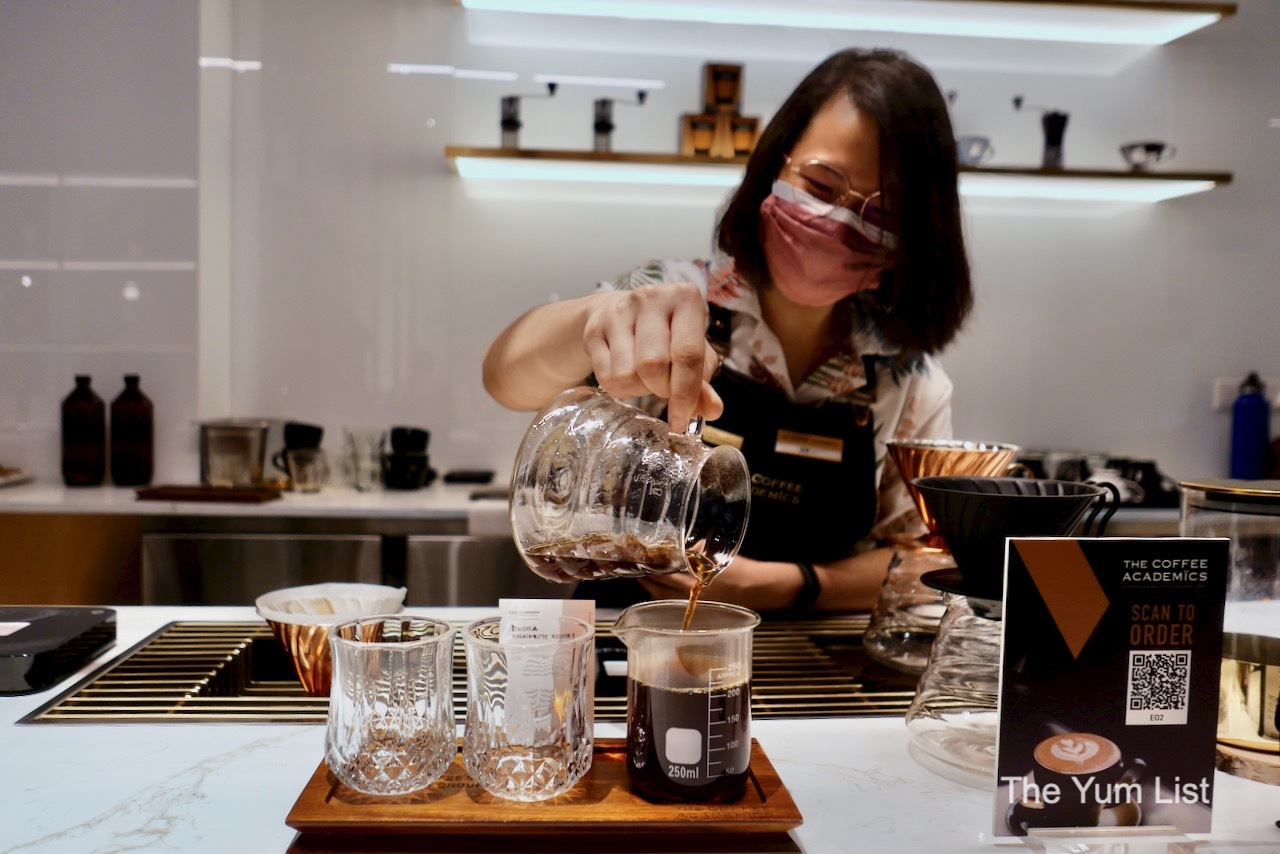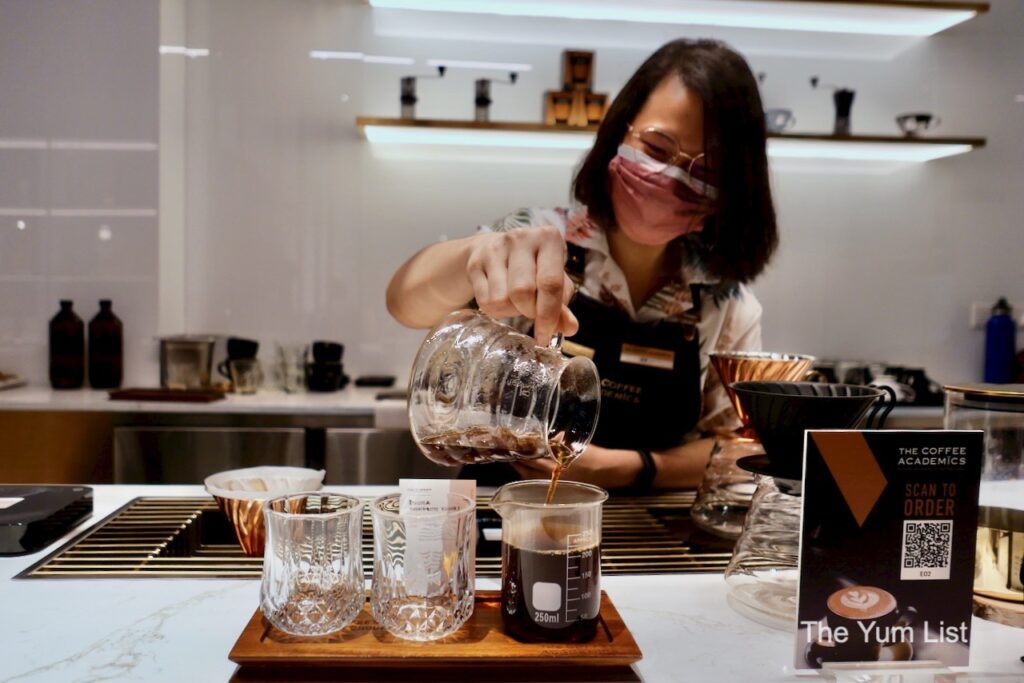 The Coffee Academics is one of the only TWO companies in the world where their coffee has no acrylamide (a carcinogenic byproduct from roasting). I'm going to be honest. When I heard this, in my head, I was like, "Okay, probably a marketing stunt to create a fallacy." BUT I GOOGLED IT. AND IT'S TRUE. There was a test in Hong Kong, and they found that 47 out of 49 coffee samples they tested contained acrylamide, a cancer-causing substance. Guess who was one of the 2 out of 49 that didn't contain acrylamide? Yeah, that's right. I'm only sorry I didn't believe it at the start… Bonus fact? All their takeaway packaging is fully biodegradable within 12 weeks!
The Coffee Academics Review
Good coffee is easy to find in KL, but great coffee is something else. With Kuala Lumpur being their 40th outlet to open, The Coffee Academics is on its way to being a global powerhouse for coffee. Their multiple accolades are a reflection of the quality they bring and the love they put into what they do. And with coffee this good, it's no surprise. Fans of their blends will soon be able to bring them home as well! Drip bags, specialty coffee capsules and brewing tools will all be available to purchase too.
Reasons to visit The Coffee Academics: Fantastic coffee! Flat White. Bar table facing baristas is great for a date. A sustainable business that cares about every side and not only the customer.
The Coffee Academics Pavilion Kuala Lumpur
Lot C3.02.00, Level 3 Connection, Pavilion
168, Jalan Bukit Bintang
55100 Kuala Lumpur, Malaysia
+60397790788
Facebook: The Coffee Academics Malaysia
Instagram: @thecoffeeacademicsmy
The Coffee Academics Opening Hours
Daily: 10am-10pm
Find more of our favourite cafes in Kuala Lumpur here and stay up-to-date with the latest gourmet and travel recommendations for the country here and here.