Urban Retreat Onsen Spa
Monica Tindall
On the second floor of 163 Mont Kiara, tucked away in a quiet corner near the lifts, resides the latest spa trend to grace Malaysia's spa and beauty scene – Urban Retreat Onsen Spa. The brand aims to bring the benefits of traditional Japanese bathing culture to residents with a team of expert therapists and first-rate facilities.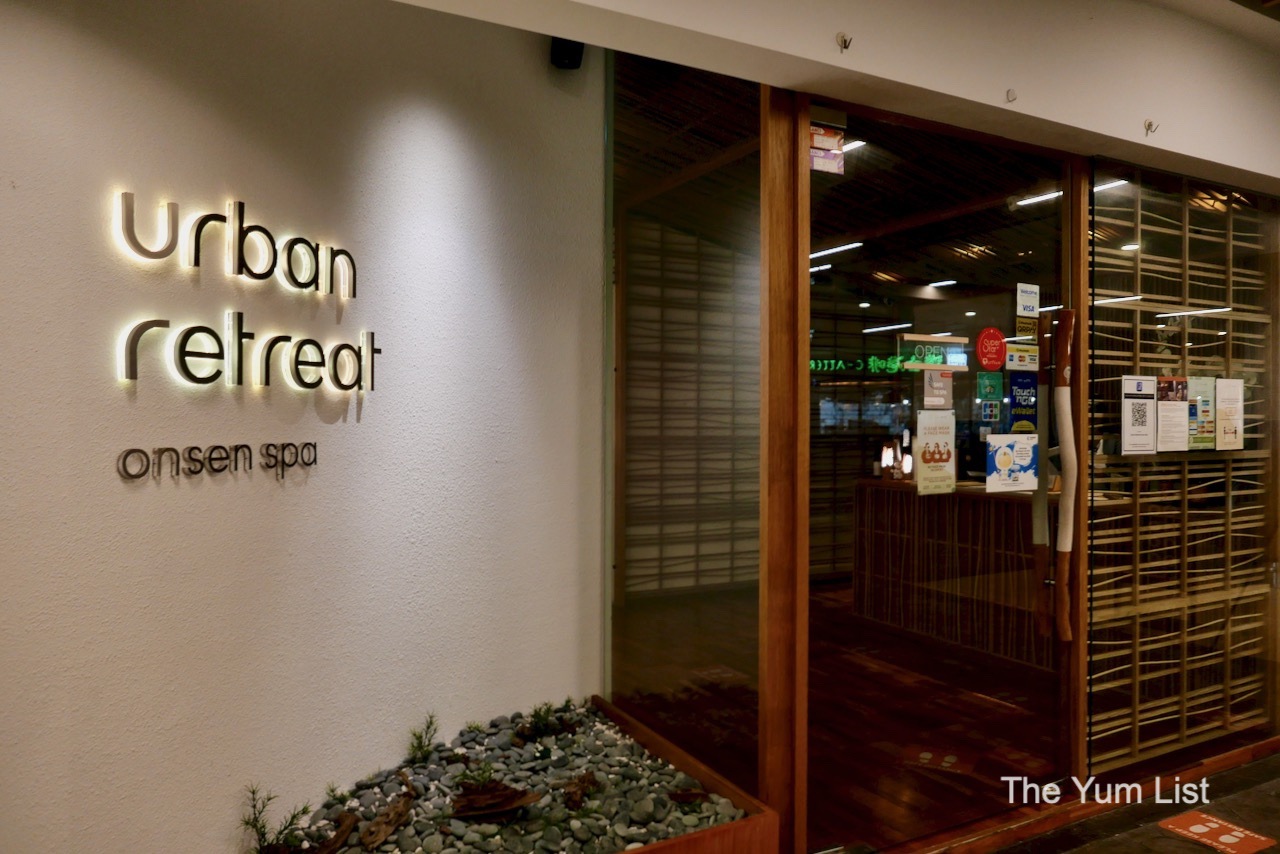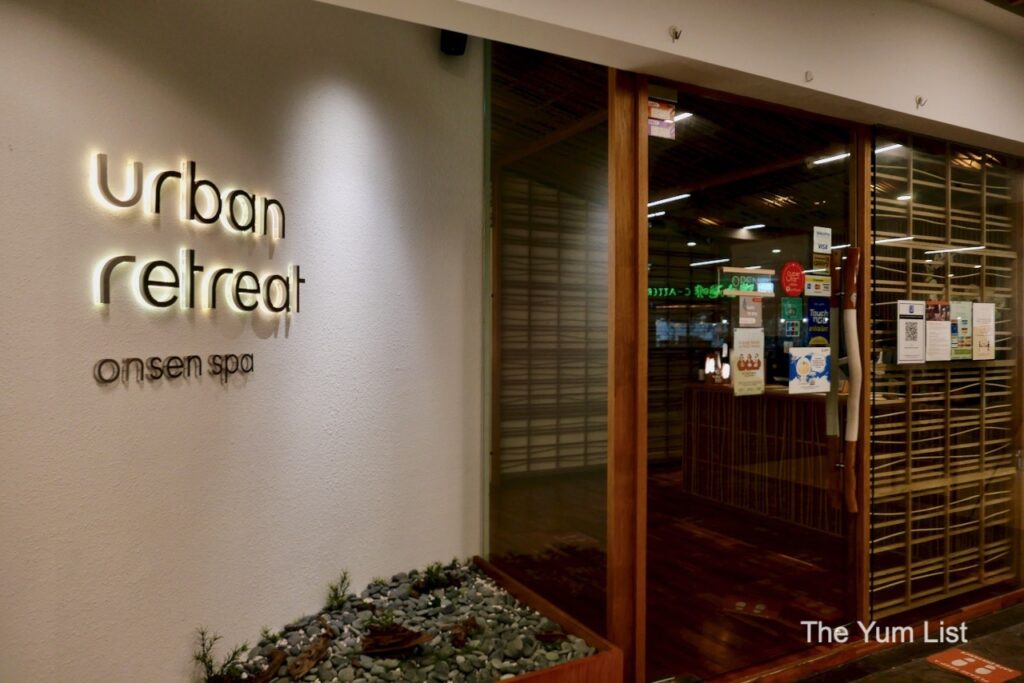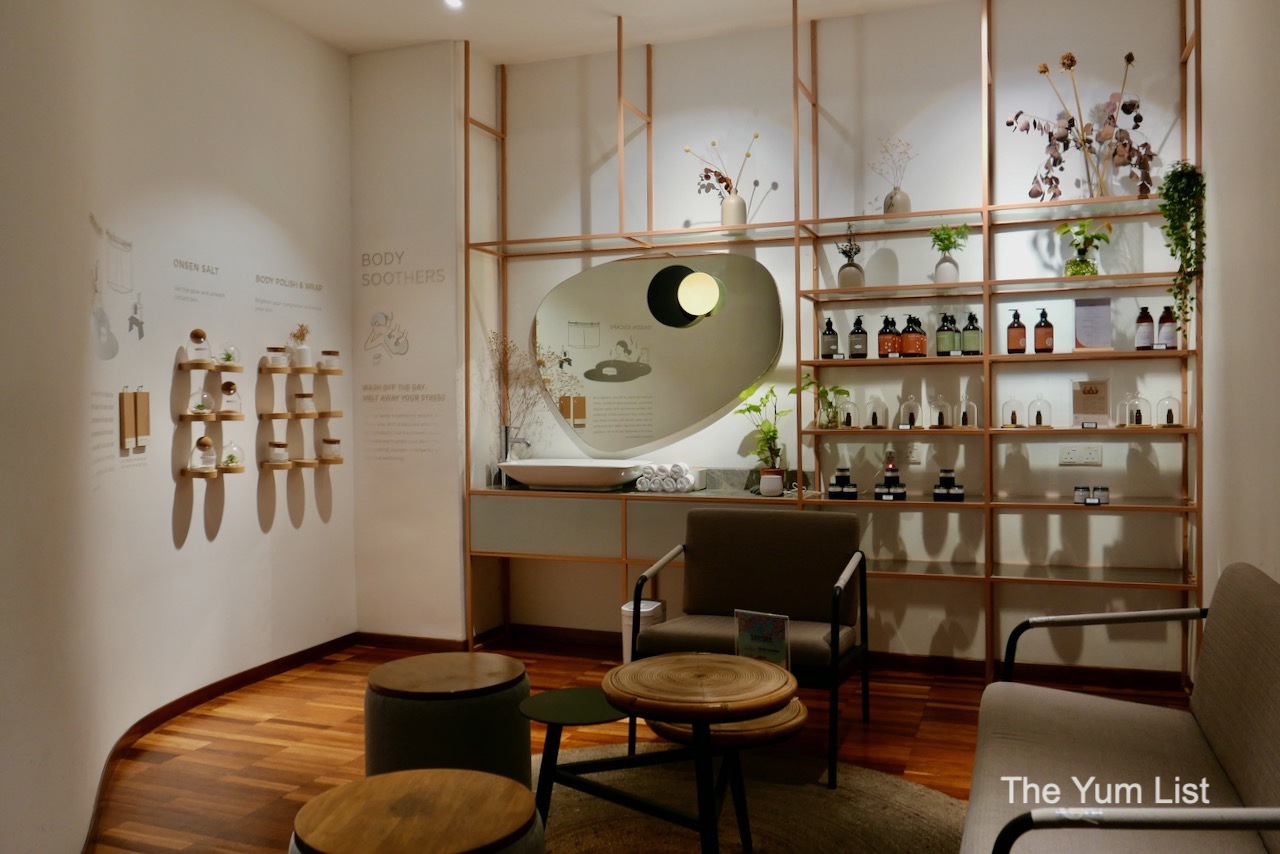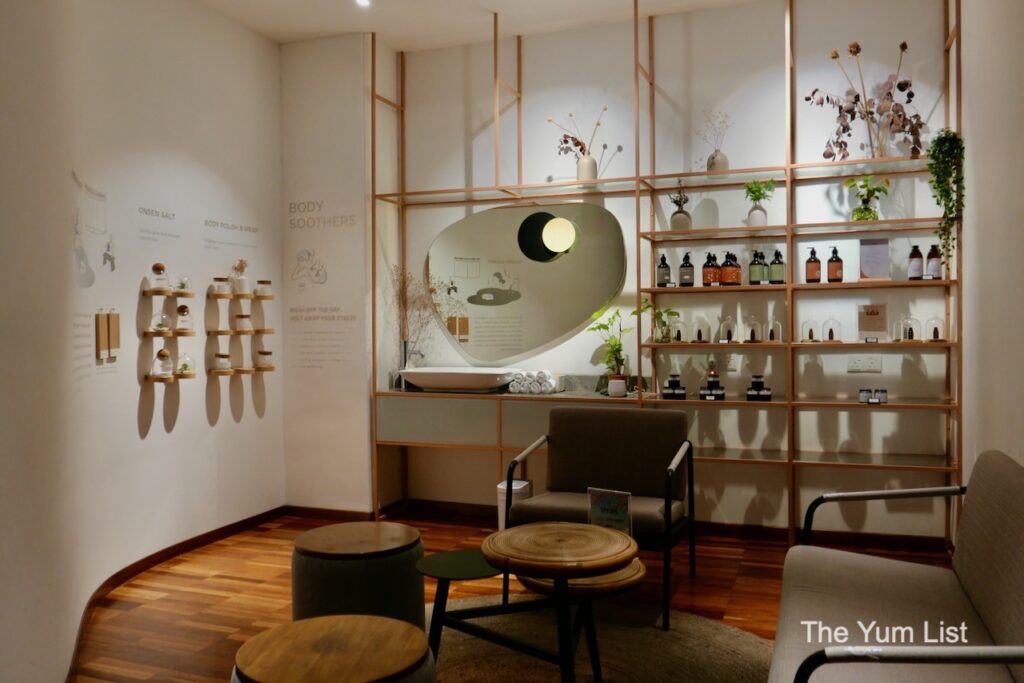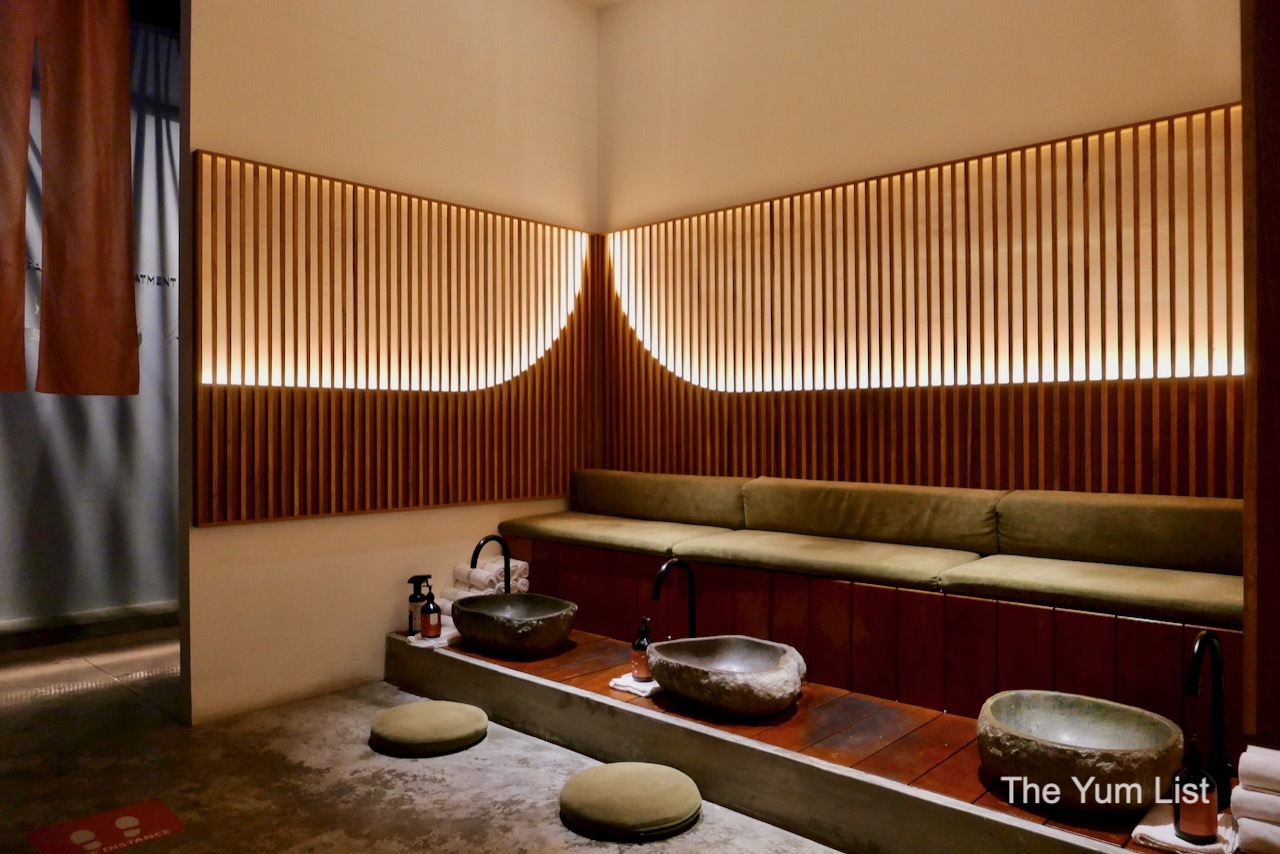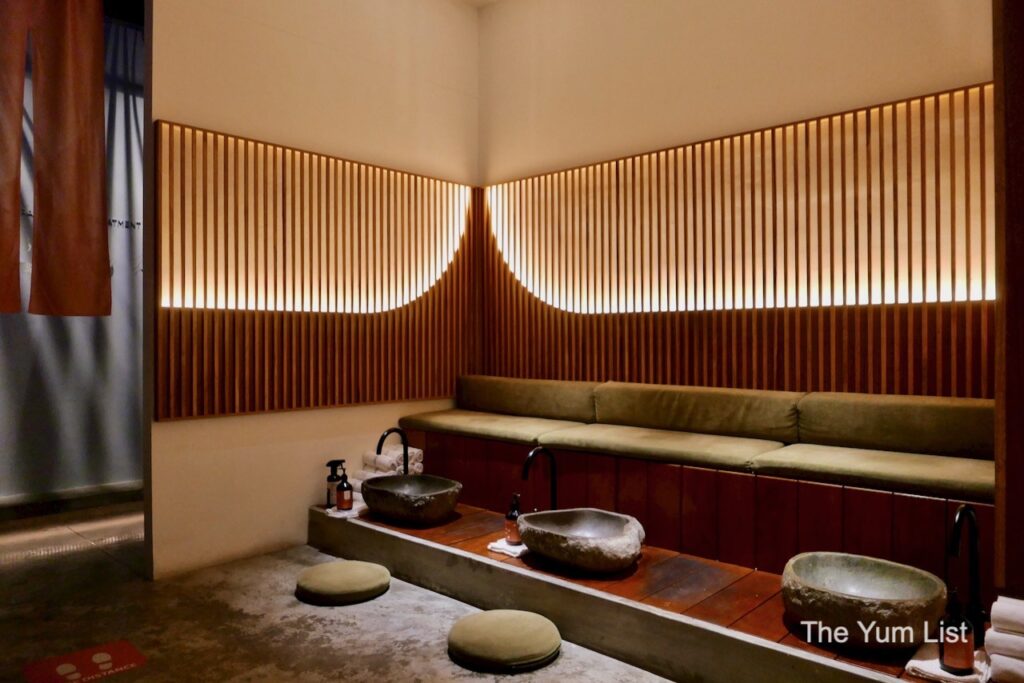 Urban Retreat Onsen Spa, Mont Kiara
Greeted in the reception by a friendly team, I'm shown to a pleasant sitting area at the Urban Retreat Onsen Spa. The treatments I've booked are explained, and my questions answered. I'm new to Japanese bathing culture, so I appreciate the informative tips shared and visuals showing the best way to make the most of the experience.
At this point, I also make personalised selections for my spa journey. For the Urban Retreat Onsen Spa, there's a choice of three mineral salts – Kirei, Iyashi and Zen. These mineral-rich crystalline powders have been extracted from Japan's renowned onsen springs. Each is rich in natural minerals and boasts a handful of benefits. The most popular, Kirei, promises smooth, baby-soft skin. Sign me up! Additionally, you can choose your preferred water temperature – 40 degrees Celsius is recommended for newbies and 42 for old hats.
Following my onsen, I have plans for a scrub and massage, for which I can pick my product preference (Coconut Rice) and massage focus areas (and avoidances), as well as preferred pressure. I'm encouraged to be proactive in my communication with the therapist once the session begins. This is a customised experience, and the only way to get the best fit for every body is to be open with your wants and needs.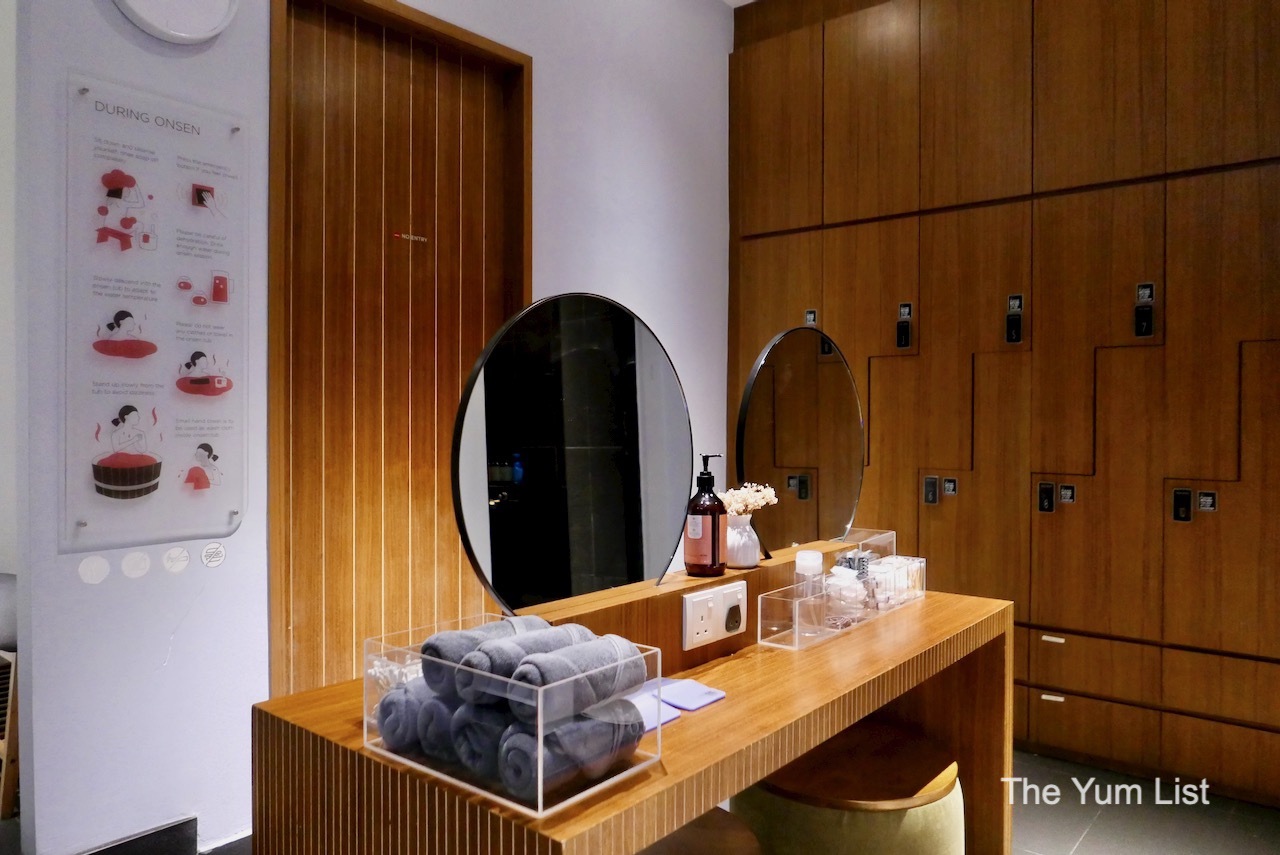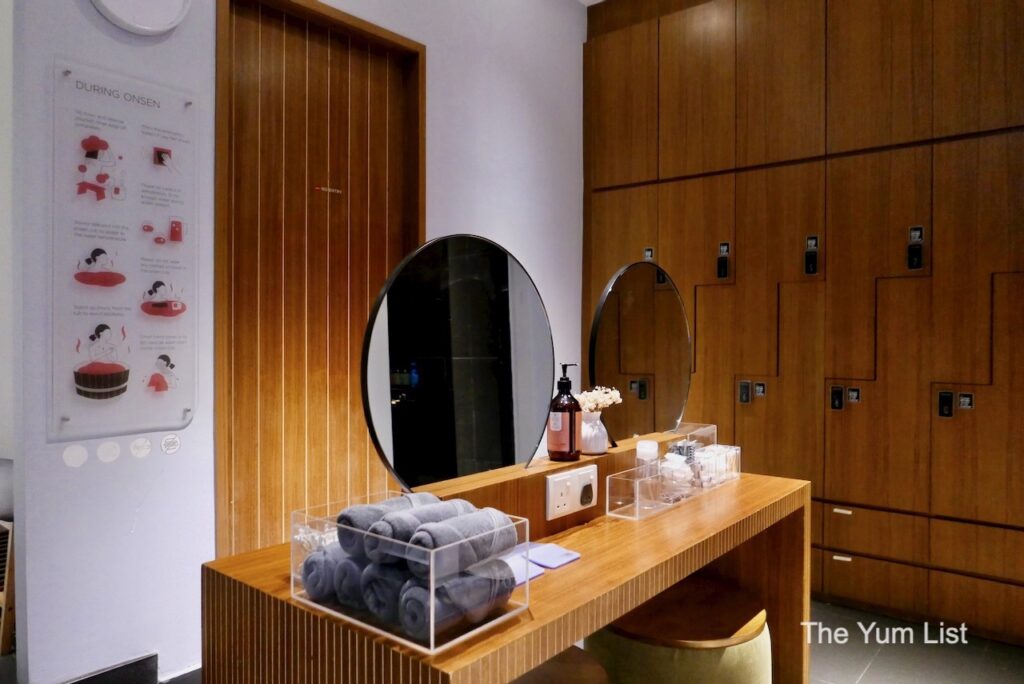 Onsen
The onsen rooms are connected to the changerooms, so you access your locker and toilet with relative privacy. Much thought has been given to what you might need or desire. Hairdryers with attachments for curls or straight hair, hair bands, make-up remover, cleanser, moisturiser, mask holders and much more are provided. Lockers are secured with an electronic wristband, making it easy for guests to keep the key on hand and have peace of mind.
An eye-catching 200-year-old hinoki pinewood tub atop a base of smooth stones sits at the end of the private onsen room-for-one. The walls are tiled in slate grey and wooden panels, and subtle lighting softly illuminates, creating a calm, uncluttered setting.
It's recommended to take a shower at the beginning of the Onsen Journey (RM 149, 60 minutes). A hand-held nozzle, tap and wooden bucket are provided along with natural Uroot bath products. Cold drinking water is provided, and posters counsel a slow rise to a standing position. For those new to the experience, you might shower, soak, shower, soak several times throughout the hour to accustom yourself to the heat. The heat can cause dehydration and dizziness. So newbies would be wise to take it easy.
Grains of a giant hourglass help keep track of the time. Still, a therapist also knocks on the door about 10 minutes before completion, giving guests time to prepare to resurface. I rise, soft, subtle and relaxed. I bet the bath has also opened up my pores, which should ready my skin to fully accept the benefits of the upcoming scrub.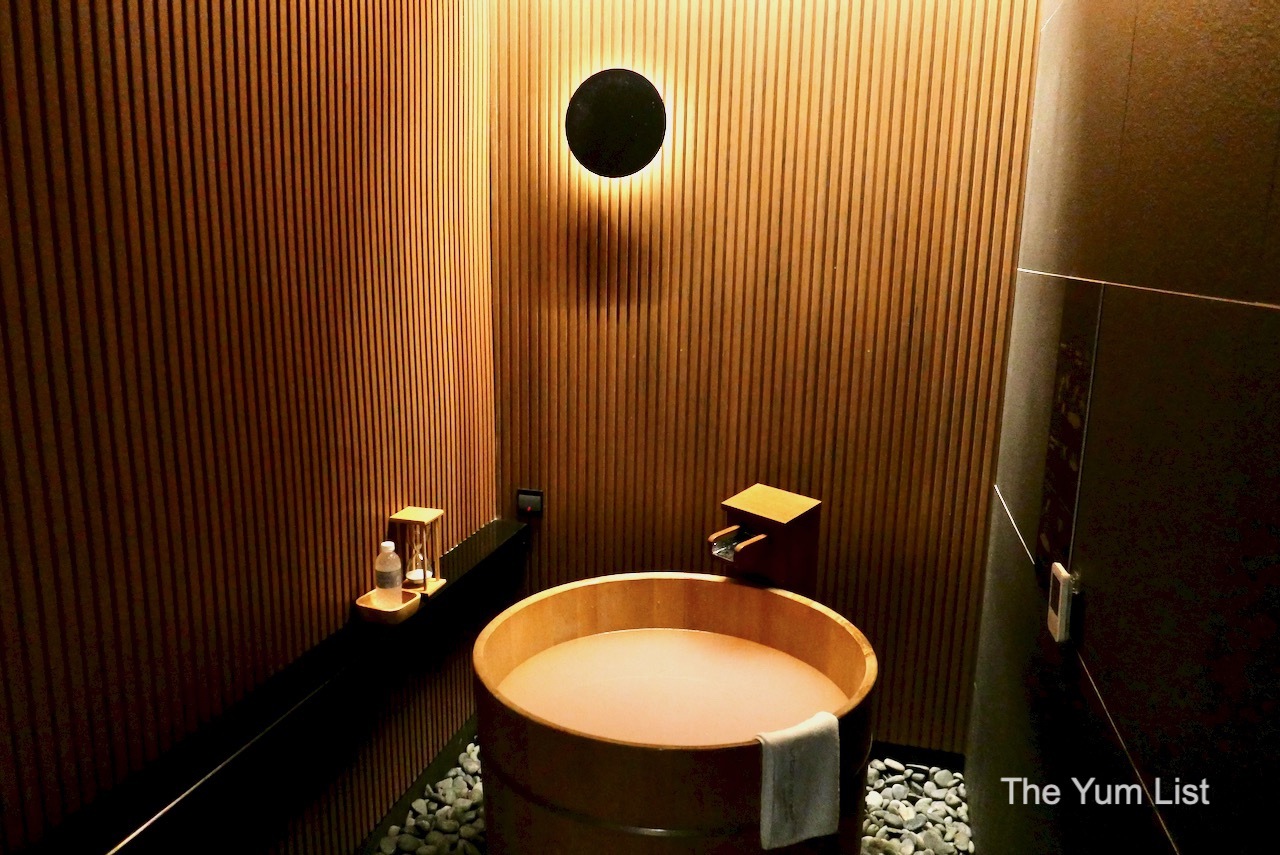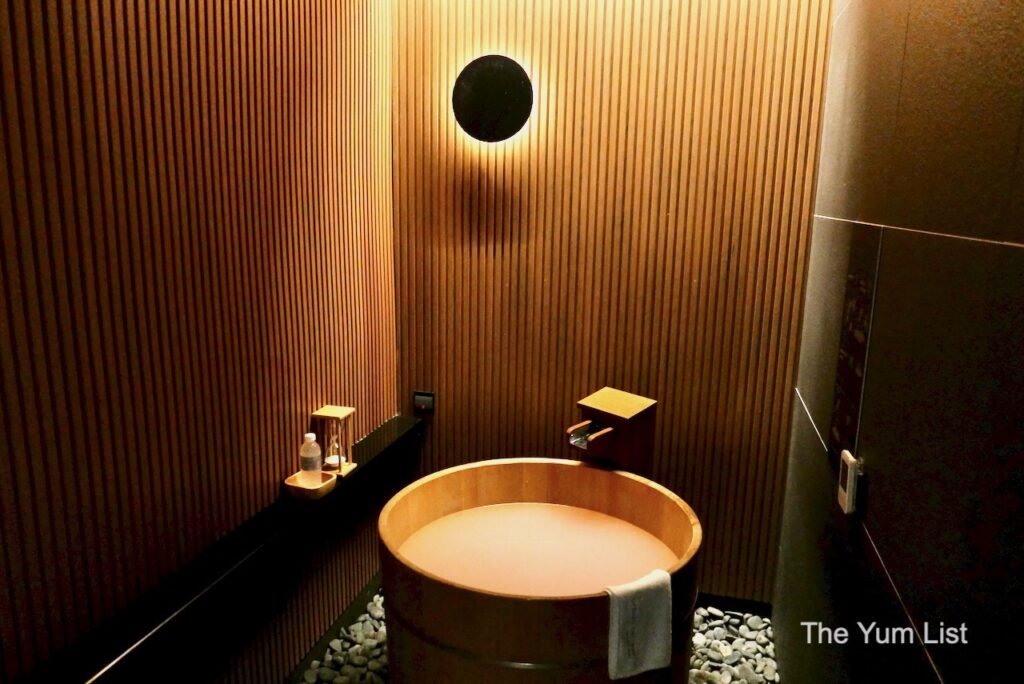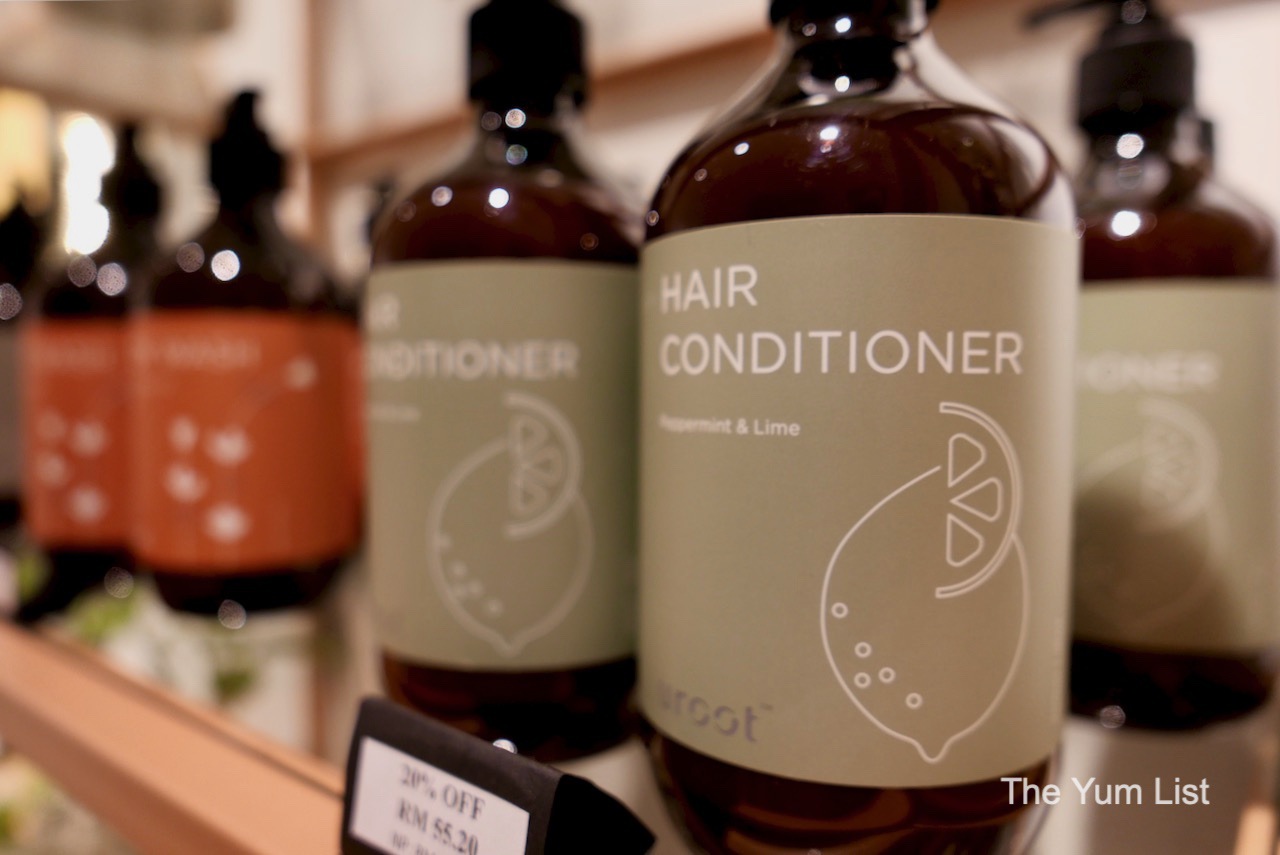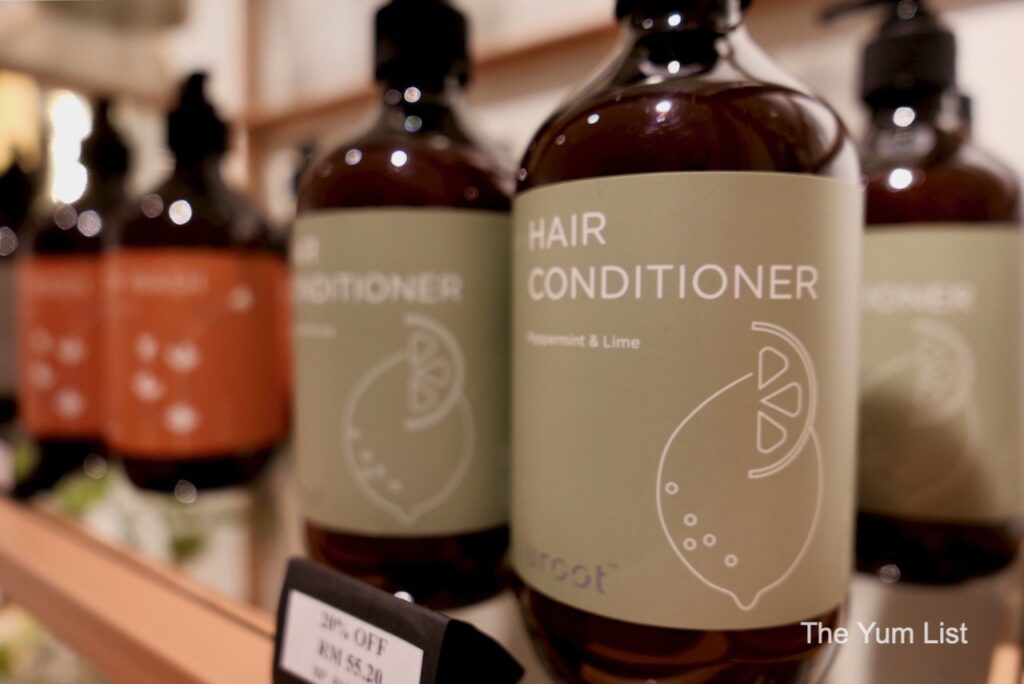 Relaxation Lounge
As I leave to transition to the relaxation lounge, I notice a staff member scrubbing the room next door. The team at Urban Retreat Onsen Spa, Mont Kiara, are serious about maintaining a hygienic environment. Each room is thoroughly cleaned and sanitised and left empty for at least 30 minutes before the next guest enters.
I appreciate a few minutes between treatments cooling off with chilled pandan-infused water. It has the lightest thread of screwpine, just enough to notice but not overpowering -perfect refreshment post-onsen.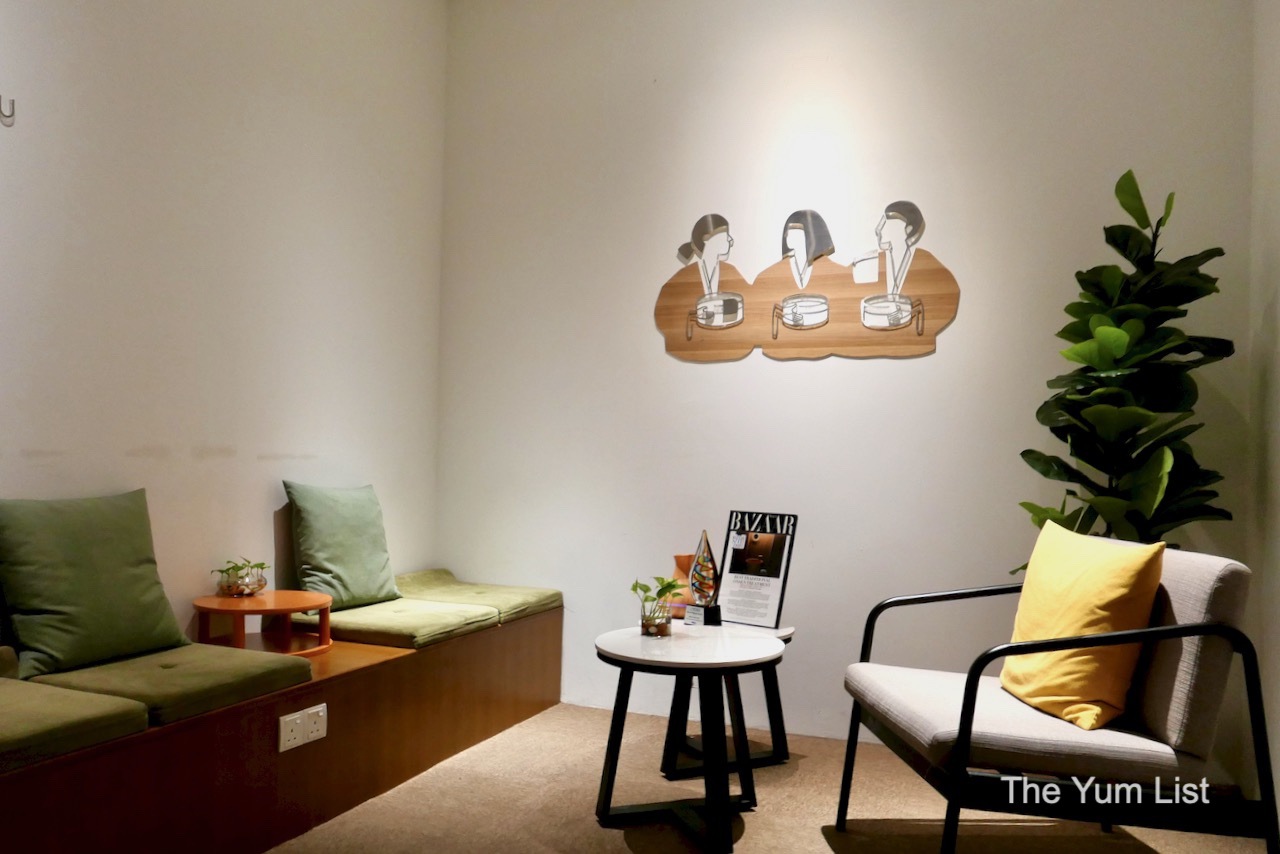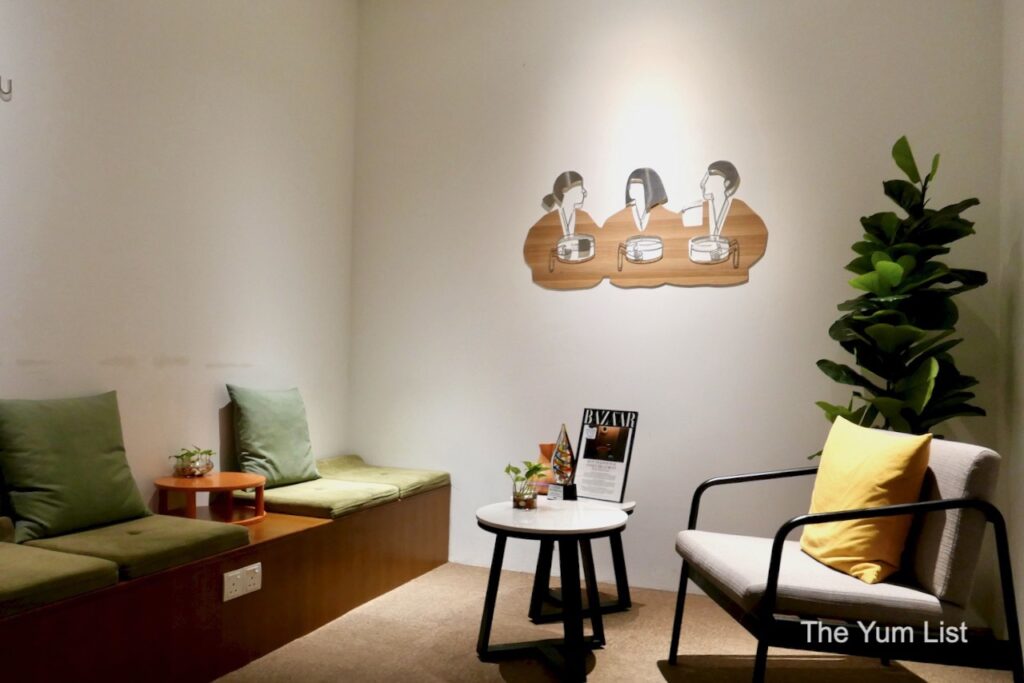 Signature Massage Scrub
Soon, my therapist Wendy meets me in the relaxation lounge and shows me to the treatment room for my scrub and massage. The minimalist, natural decor fits flawlessly with the theme with pieces of style met with clean-cut lines. The beds are equipped with a heated blanket – just the right temperature, enough to warm, but I never feel uncomfortable or perspire.
The Signature Massage Scrub (RM 209, 60 minutes) incorporates massage techniques designed exclusively for and by the Urban Retreat Onsen Spa team. Initially, a dry brush is passed over the body to assist lymphatic drainage and stimulate the body's natural detoxification process. It's followed by the wet coconut and rice scrub. Strokes are timely and consistent, like waves washing in and out, followed by circular movements around heels, ankles, knees and elbows. The technique is indeed expert and something worth coming for.
Wendy runs the shower for me to wash off the grains. It's best to do this just with warm water, no soap, so that the residual shea butter remains on the skin. I enjoy the cup of warm ginger tea Wendy has left for me in a short break between sessions. Made in-house, it's an enticing balance of gently sweet and spicy.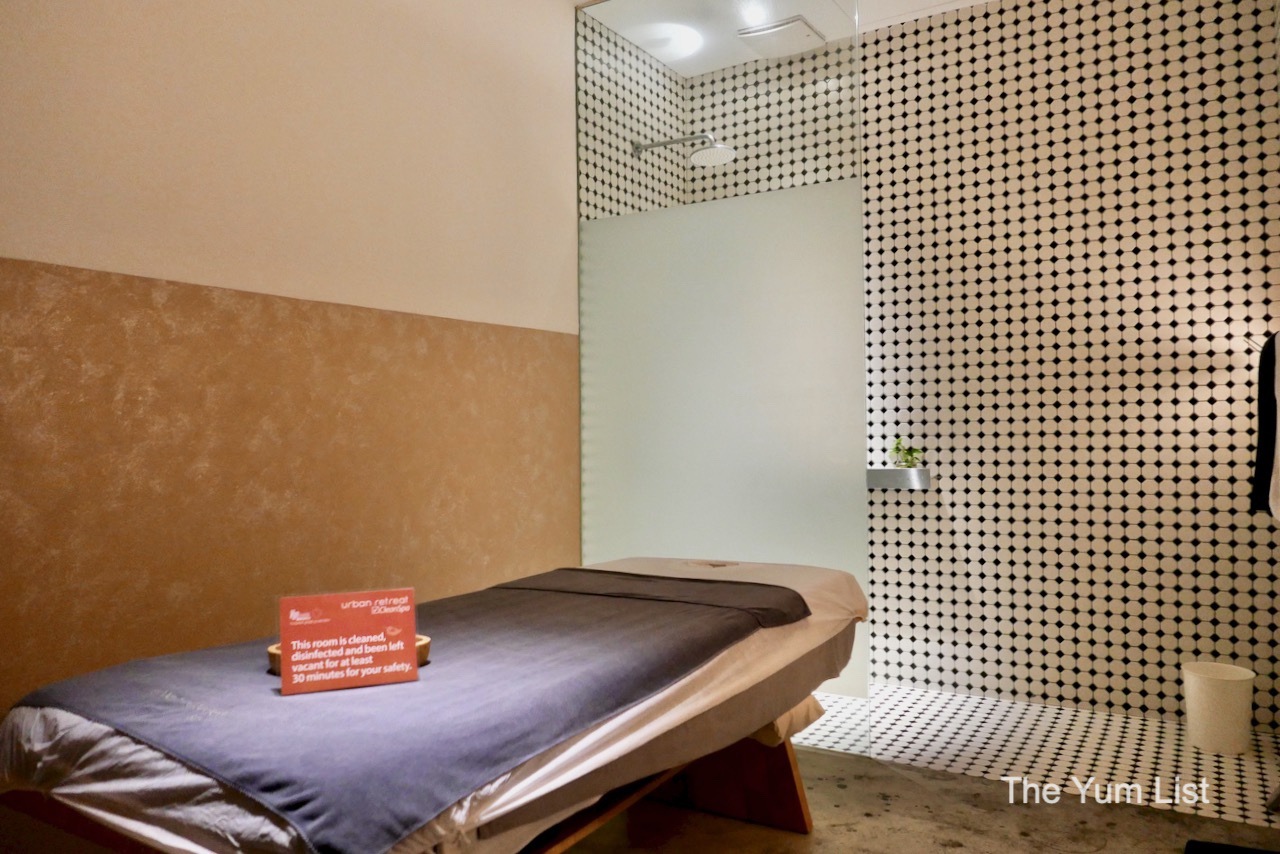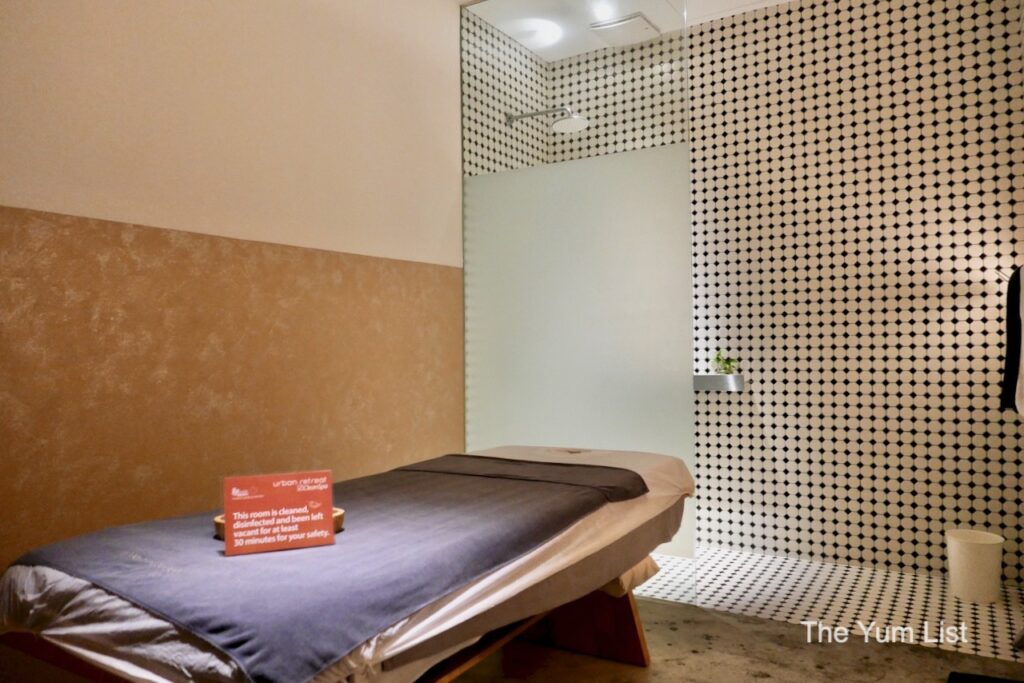 Personalised Massage – Urban Retreat Onsen Spa
At just the right moment, Wendy returns, and we continue with the Personalised Massage (RM 199, 60 min). There are several styles to choose from on the Urban Retreat Onsen Spa menu. Still, this particular item allows you to customise it exactly to your needs. Standard massages usually have a routine to follow, so there is limited ability to truly focus on specific body parts. However, with the personalised massage, you only get what you sign up for. I wanted attention given to my neck, shoulders, lower back and feet, and that is precisely what I got. No other body parts were included. Additionally, heat packs were placed on those areas, warming them in a blissful therapeutic treatment for tired, tight muscles.
To re-awaken, Wendy used a hot, wet towel to remove excess oil and engaged by back and legs in a light stretch. I ended the session once again in the relaxation lounge. My outside shoes were waiting for me, along with ginger tea and a thick slice of cream cake.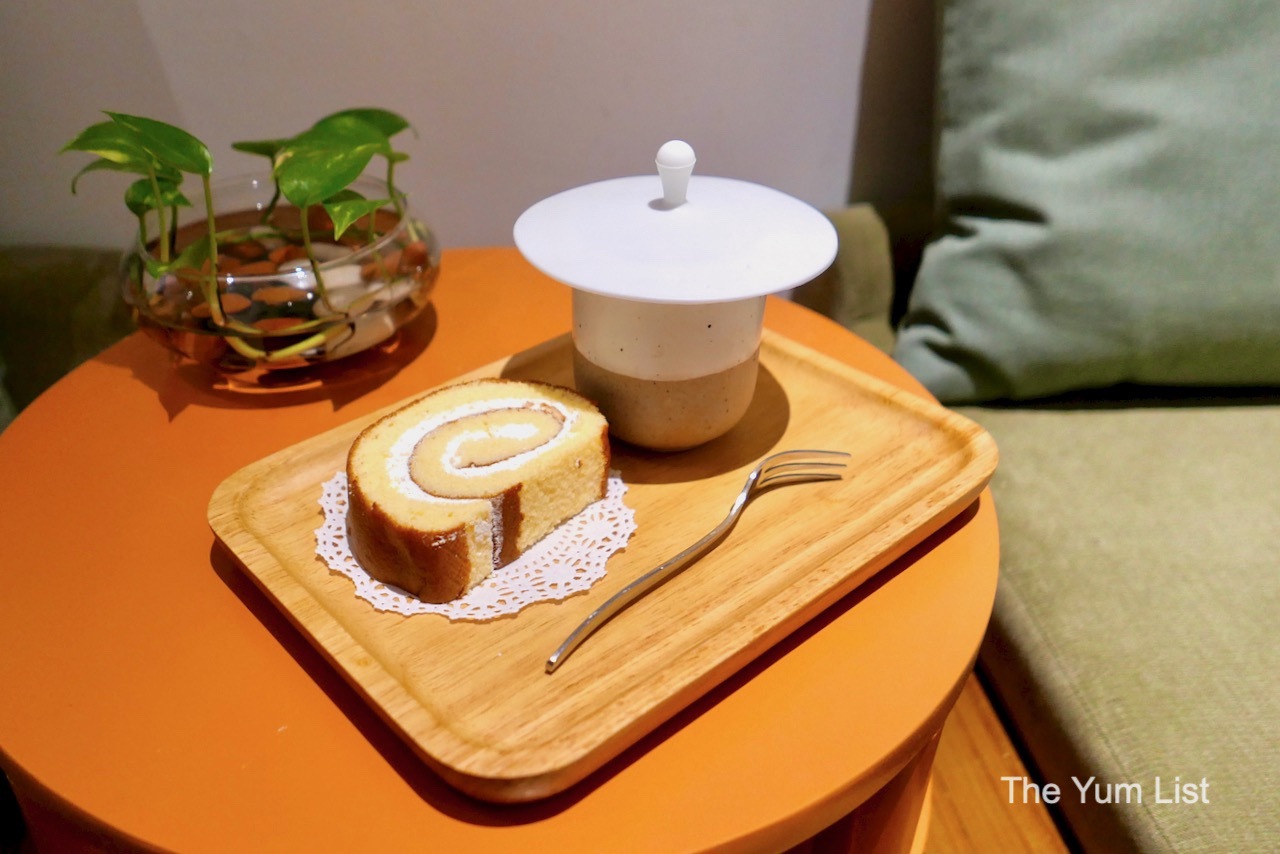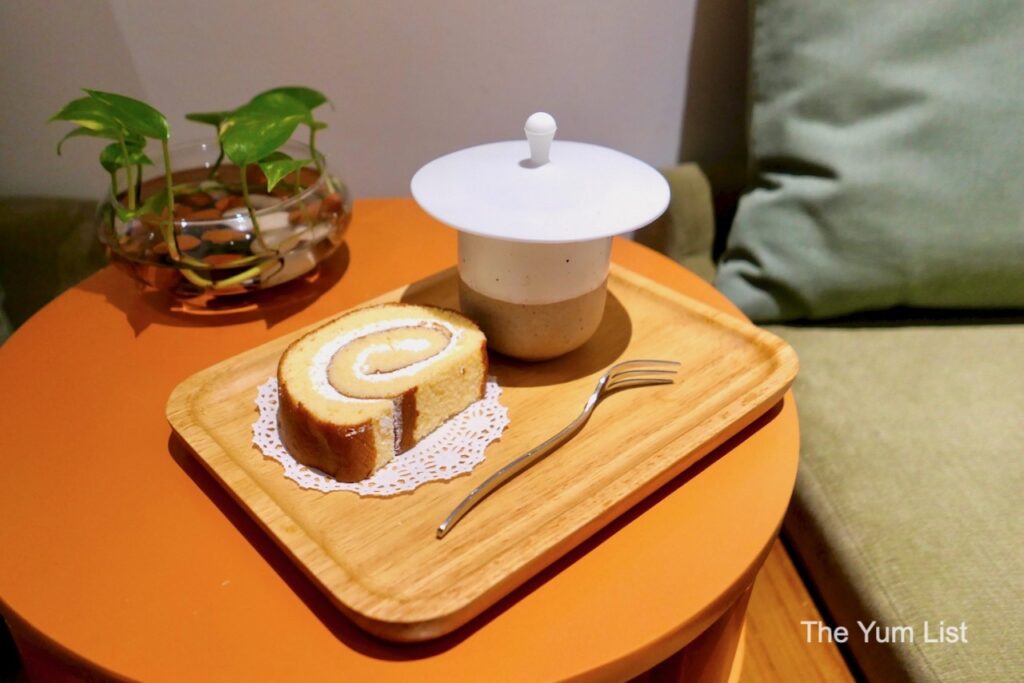 Reasons to visit Urban Retreat Onsen Spa, Mont Kiara: a unique spa experience in Malaysia drawing from traditional Japanese bathing culture; professional service; highly recommend the signature massage scrub.
Urban Retreat Onsen Spa, Mont Kiara
Lot 2F – 02, 163 Retail Park
07, 8, Jalan Kiara, Mont Kiara,
50480 Kuala Lumpur, Malaysia
+6 017 881 4486
www.facebook.com/urbanretreatspa
Find more on the spa and beauty scene in Malaysia here and stay up to date with the happenings around KL here and here.