Restaurant Locavore (the end as you know it)
Monica Tindall
No excuses. No compromises. Unwavering commitment.
Restaurant Locavore's pledge to ONLY use what is found locally is inspirational. Many people claim to follow similar convictions but very few practice entire alignment with that philosophy. Sure there are admirable attempts, with 90% of produce coming from local providers, but chef-owners Ray Adriansyah and Eelke Plasmeijer refuse to make any concessions. Even the beverage pairing is 100% unapologetically local.
The team admit it's not easy. With no imported goods, there is no dairy or wheat in the restaurant, making recipes naturally gluten and dairy-free (a huge bonus for many diners). All parts of plants and animals are used, and plant-forward menus are the mainstream, with a full vegetarian experience available with advance booking. Innovative in nature, the crew don't see sourcing solely local ingredients as restrictive. Instead, they see it as an opportunity to create something new. It's a simple but powerful mindset. Old-school thinking beginning with a recipe is not useful here. Instead, the chefs reverse the sequence, considering first what they have at their fingertips and then deciding what to do with them. This kind of reasoning opens rather than limits the possibilities.
Restaurant Locavore
With endless possibilities, something new is brewing for the team at Restaurant Locavore. Only hints about what is coming NXT are revealed (follow their social media accounts for breadcrumbs in the journey). However, we do know that their current location at the end of Jalan Dewi Sita in Ubud will soon come to an end. This will make way for the next chapter in the first quarter of 2023. Reservations have always been essential, but with the announcement that Indonesia's only restaurant ranked in Asia's 50 Best Restaurants five years in a row will soon evolve into something else, I imagine availability is fast disappearing. (Panic! Book now!)
With the end of Restaurant Locavore as you know it just around the corner, their final menu celebrates 50 of their favourite recipes over the past nine years. The Artefacts menus will be rolled out into three "exhibitions" (18-course menus) until the year-end. Recipes are preserved and honoured with artworks by local creatives.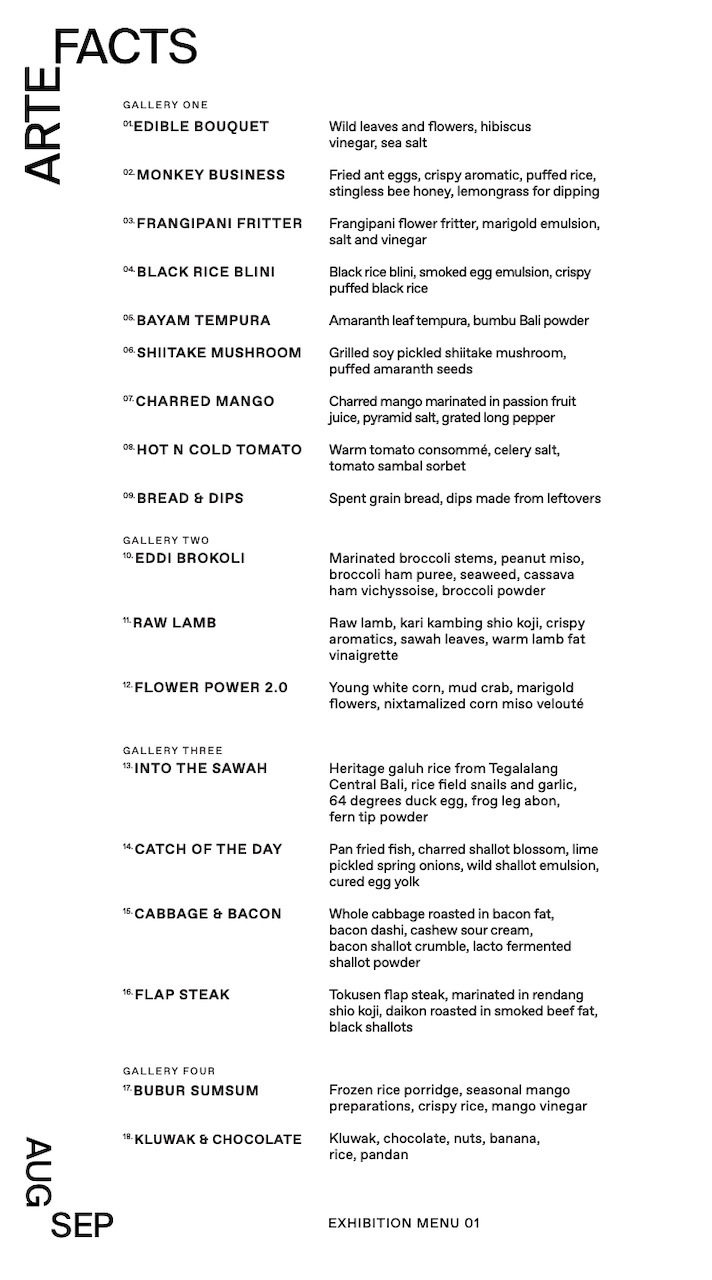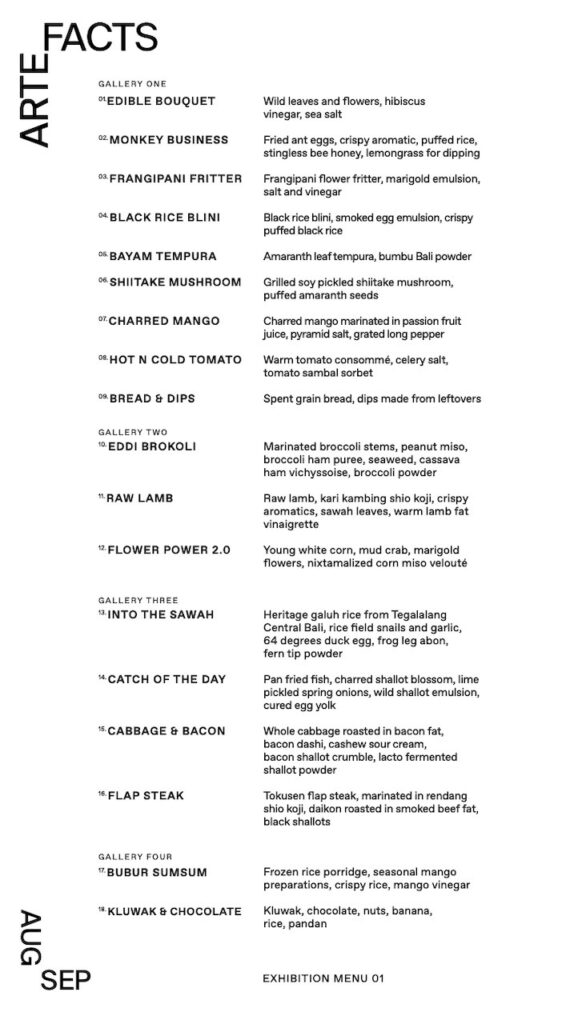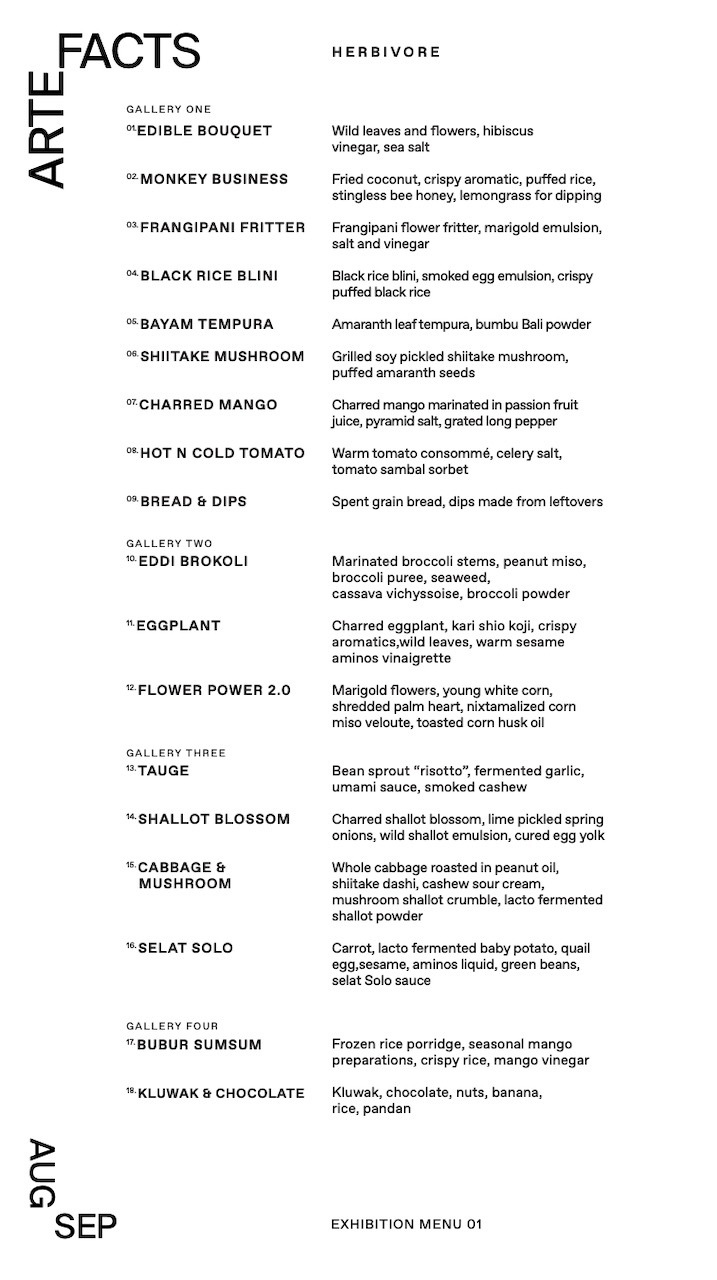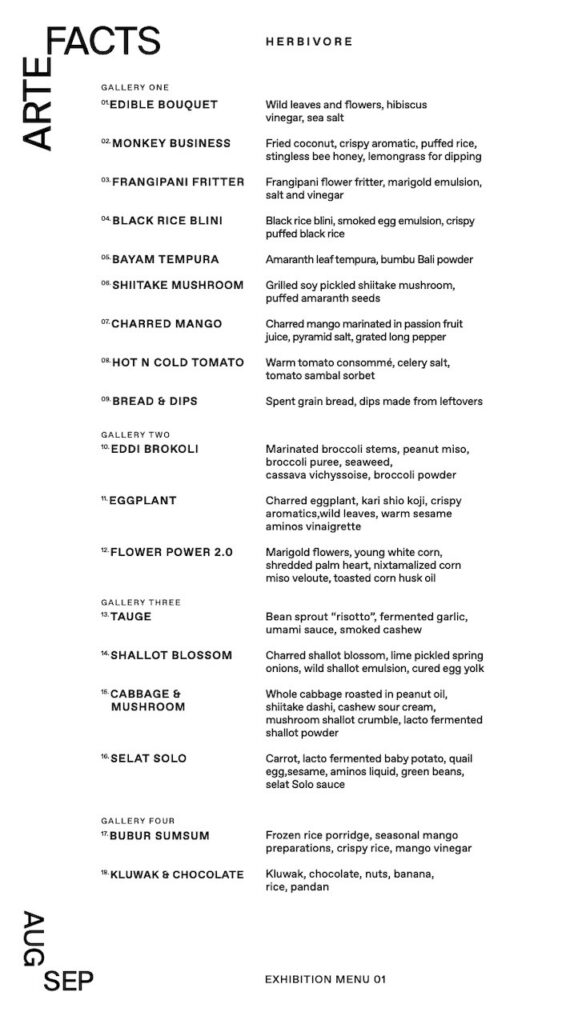 For nine years, Restaurant Locavore has been changing menus every few months with a core idea threaded through both food and setting. I depart Ubud one day too early to try the final Artefacts notion. Some might say unlucky. However, I like to switch up my mindset like the Locavore team and rather think I'm fortunate to catch the ultimate night of The Unknown before it too is gone.
The Unknown – An Edible Mystery Explored
They say nothing is unknown if you choose to explore it. Much like Anthony Bourdain's Parts Unknown takes viewers off the beaten path, the team at Restaurant Locavore brings diners on an investigation of the little-known use of ingredients in their entirety. For example, you might usually eat the leaves or fruit of a plant, but have you considered the peel, seeds, stems, roots and rhizomes of the same? 
The Locavore Menu (IDR 1.350.000++) of 18 courses is divided into four explorations. You can include drinks pairing for an additional IDR 550.000++, which I highly recommend. Keeping with the concept, not a thing is imported and using the leftovers from the kitchen ensures zero waste. Expect beverages like house-ferments and mixes with local brews such as rice wines and spirits. Nine drinks pair with nine dishes (five with alcohol, four without) and are served in 60ml (double shot) portions. Do the drinks pairing; it takes the meal to a whole new level.
When I arrive, I count 13 people in the modest kitchen space (not to mention the team behind the bar and on the floor). No one is idle. It's abuzz with activity, each person taking care of a specific task. It reminds me of an Ubud intersection with pedestrians, cycles, motorbikes, cars and vans all doing their own thing, amazingly without collision.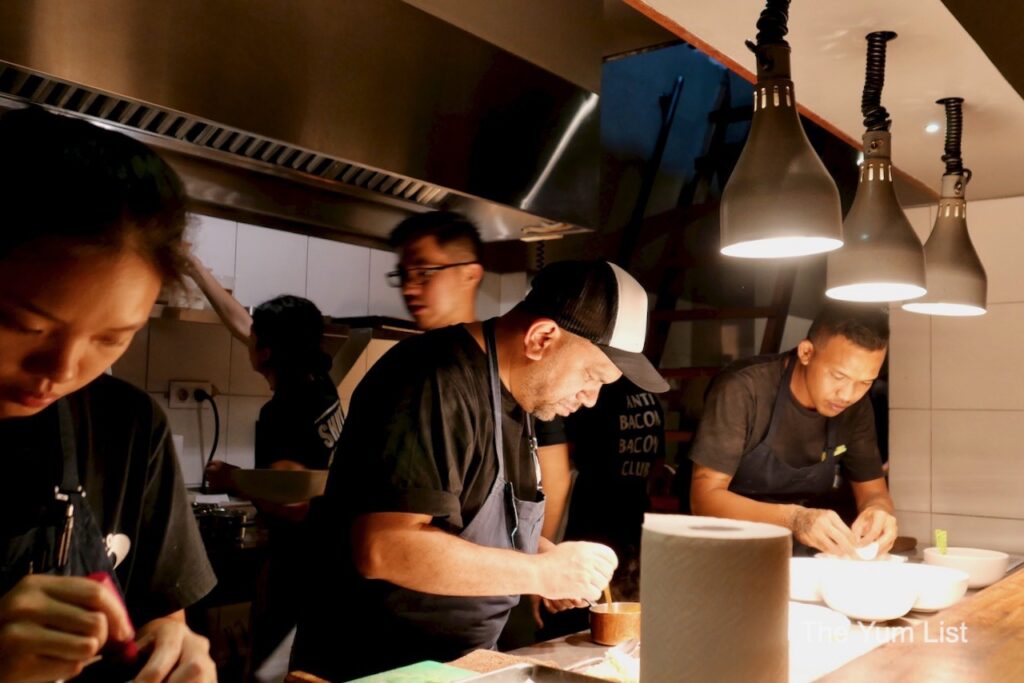 Exploration One
Eight of the nine items in Exploration One are served as a snack platter. I find a new addiction in the first bite. The cassava coriander seed bun is awesomely chewy (think glutinous rice texture on steroids). Smoked fish bone "butter" adds creaminess and a touch more savoury. It's not the best thing since sliced bread; it's BETTER than sliced bread! I might be prepared to give up wheat loaves (crowd gasps!) if only I could get my hands on these manioc buns more often.
The spice rub cured fish is meaty and expertly seasoned. At the same time, the prawn-head sago cracker with sambal matah powder, turmeric black pepper emulsion, and wild pickles salsa furnishes a change in texture with its crunchy base. Grilled cucumber and sweet lime vinaigrette are delicious, but it's the rhizome leaves salad with coconut dressing that I'd like to take home – sweet, savoury, one forkful is not enough.
The last of Exploration One is a warm, comforting smoked fish dashi. Presented on its own in a black ceramic cup, it's an interlude between the first and second act.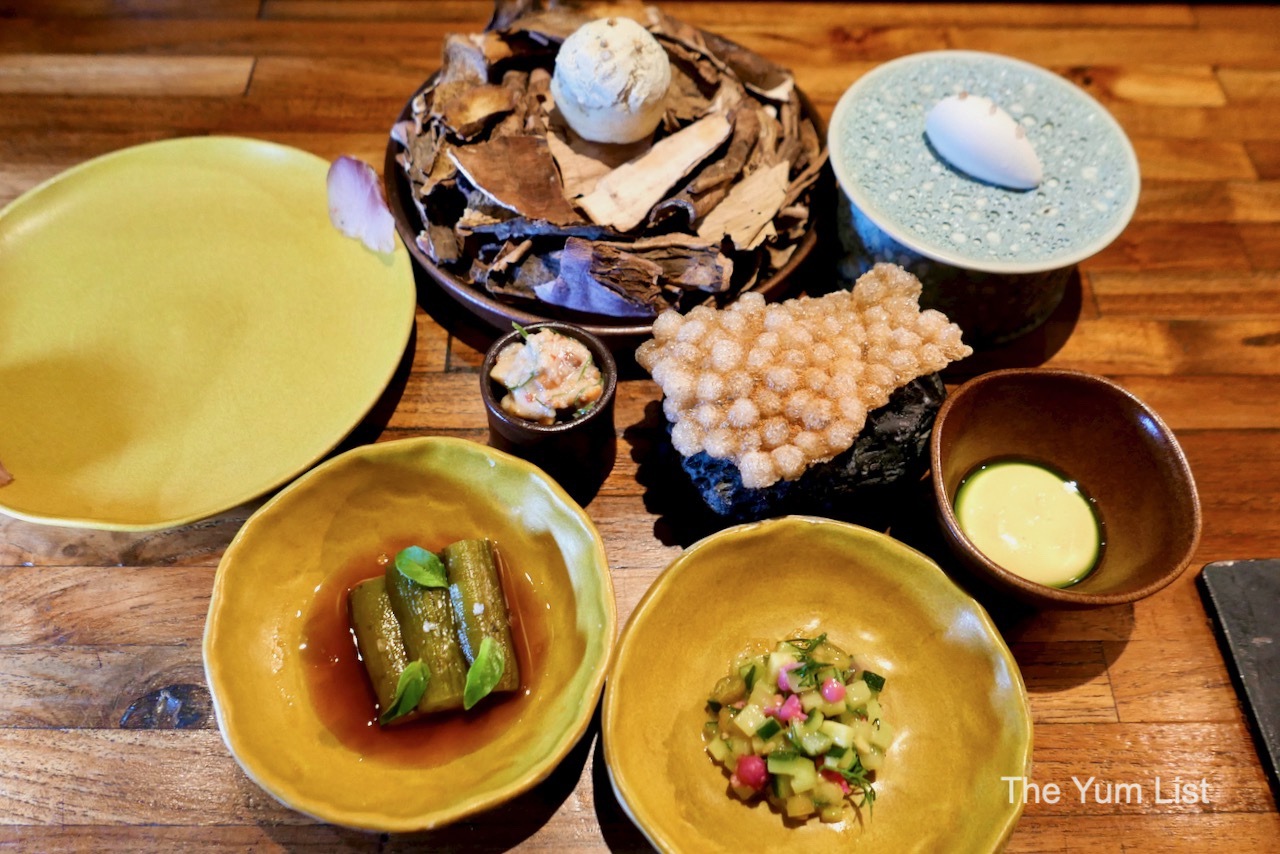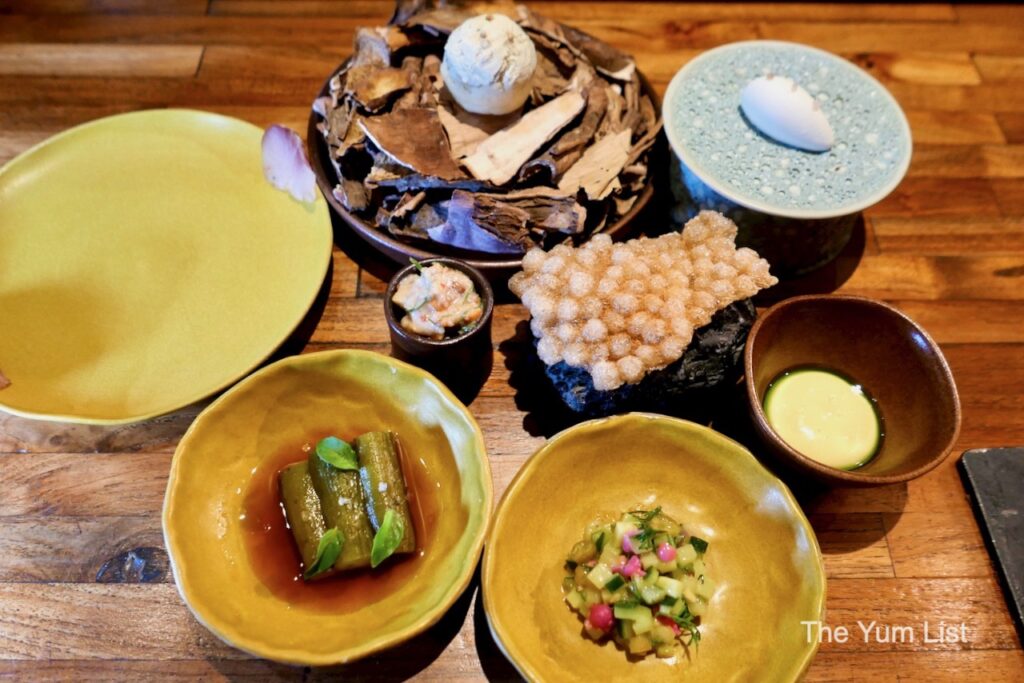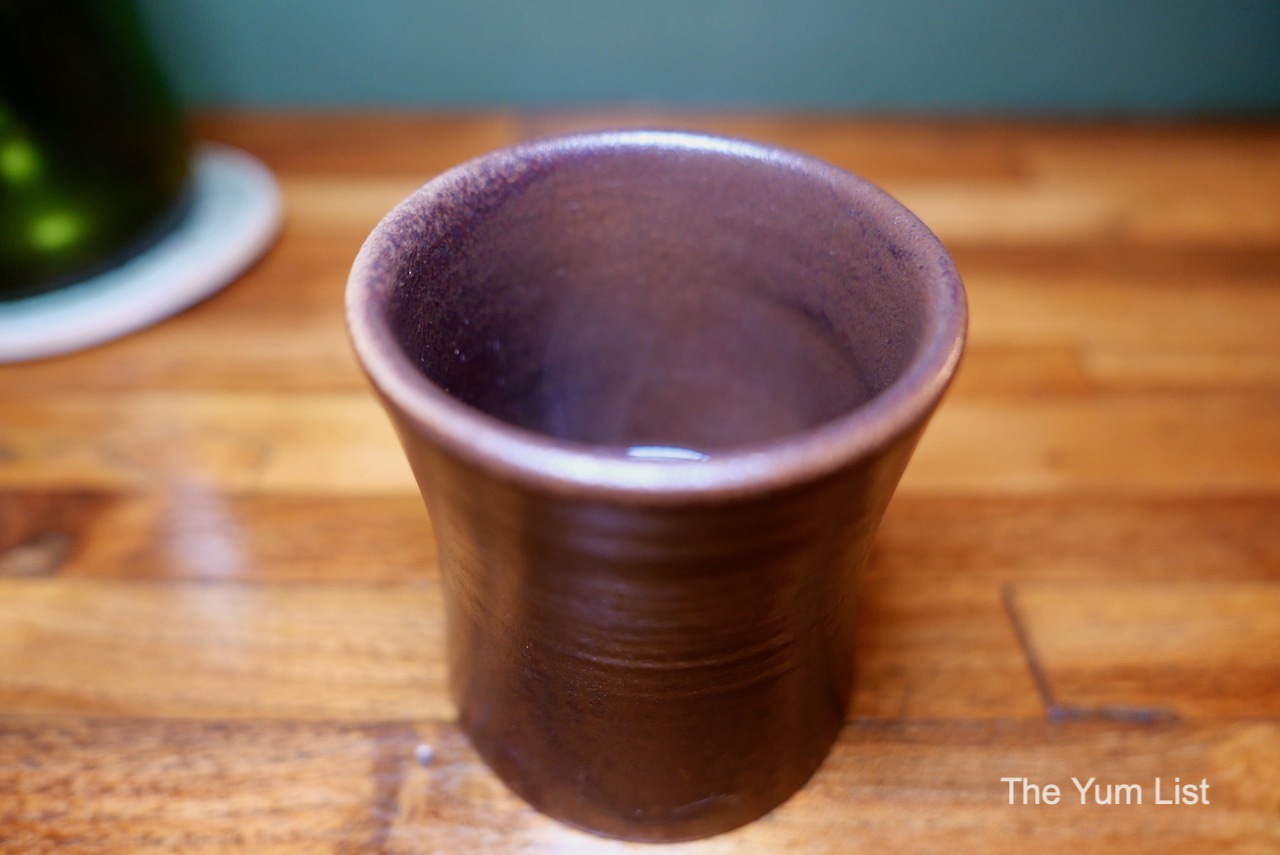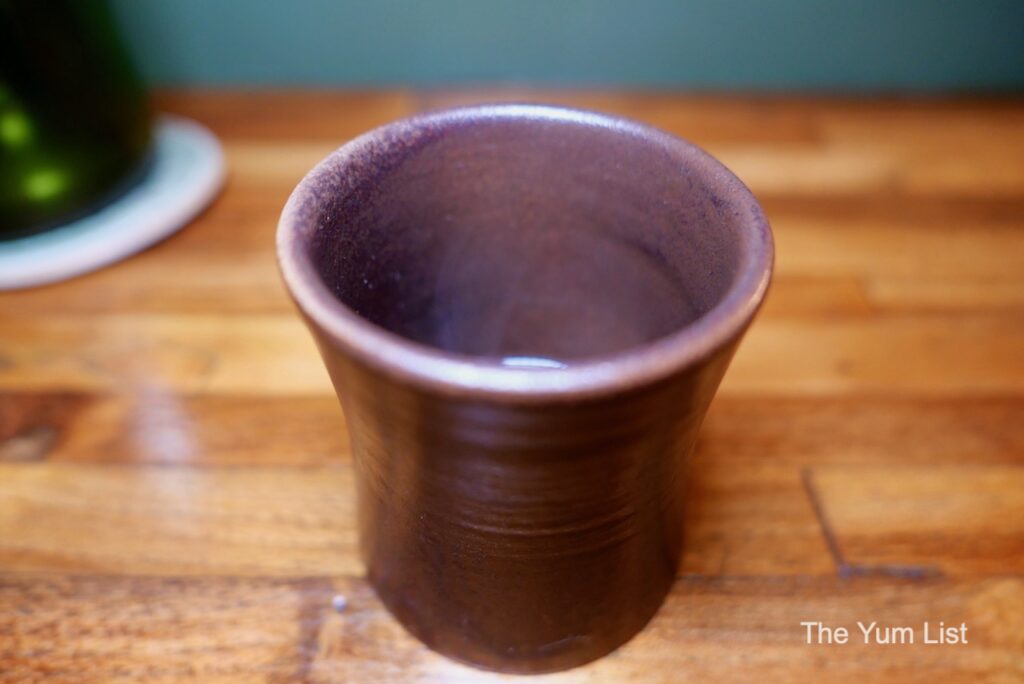 Exploration Two – Restaurant Locavore
If you've just been settling in so far, orienting yourself to the space and menu, that's fine. Nevertheless, Exploration Two is where I advise you to sit up and focus. Drinks are paired with the following nine courses; each complements and elevates, making great food even greater. Every dish and drink is explained by a member of the team; sometimes waitstaff, sometimes a bartender and often, someone from the kitchen carries it out directly to your table.
The slowly roasted watermelon arrives on a trolley, the remaining blackened shell used as a container. It's plated tableside with cherry tomatoes in tomato broth and caramelised watermelon juice. The texture and appearance of the melon are surprisingly similar to a rare piece of wagyu – a deep pink in the middle. While vibrant colour draws the eye to the food, the paired cocktail is unexpectedly clear. The hue of watermelon juice has been removed by clarification. It's blended with kemangi leaves (a local type of basil) and Karusotju (Balinese soju). Subtle melon and herbs work superbly with the food.
Eating out every day with an adventurous spirit means it's rare for me to be surprised by a dish or ingredient. However, goat tartar is a first! Goat stewed, minced or barbecued, yes, but served as tartar in a grilled genjer leaf (folded, bringing to mind a mini calzone) with three-peppers oil, fried genjer capers and cassava sour cream – you got me. Wow. Tepache is the perfect pairing with its pungent pineapple overtones and tint similar to an orange, natural wine.
The last of the trio in this round presents as concentric rings. Poached lobster in the middle is encircled by lobster reduction and a citrus beurre blanc with cashews used instead of butter. A dusting of black citrus powder (finger lime dried until black then powdered) speckles the top. Citrus and seafood are a natural pairing, and, likewise, the tartness of the blackened lime kombucha is a flawless match.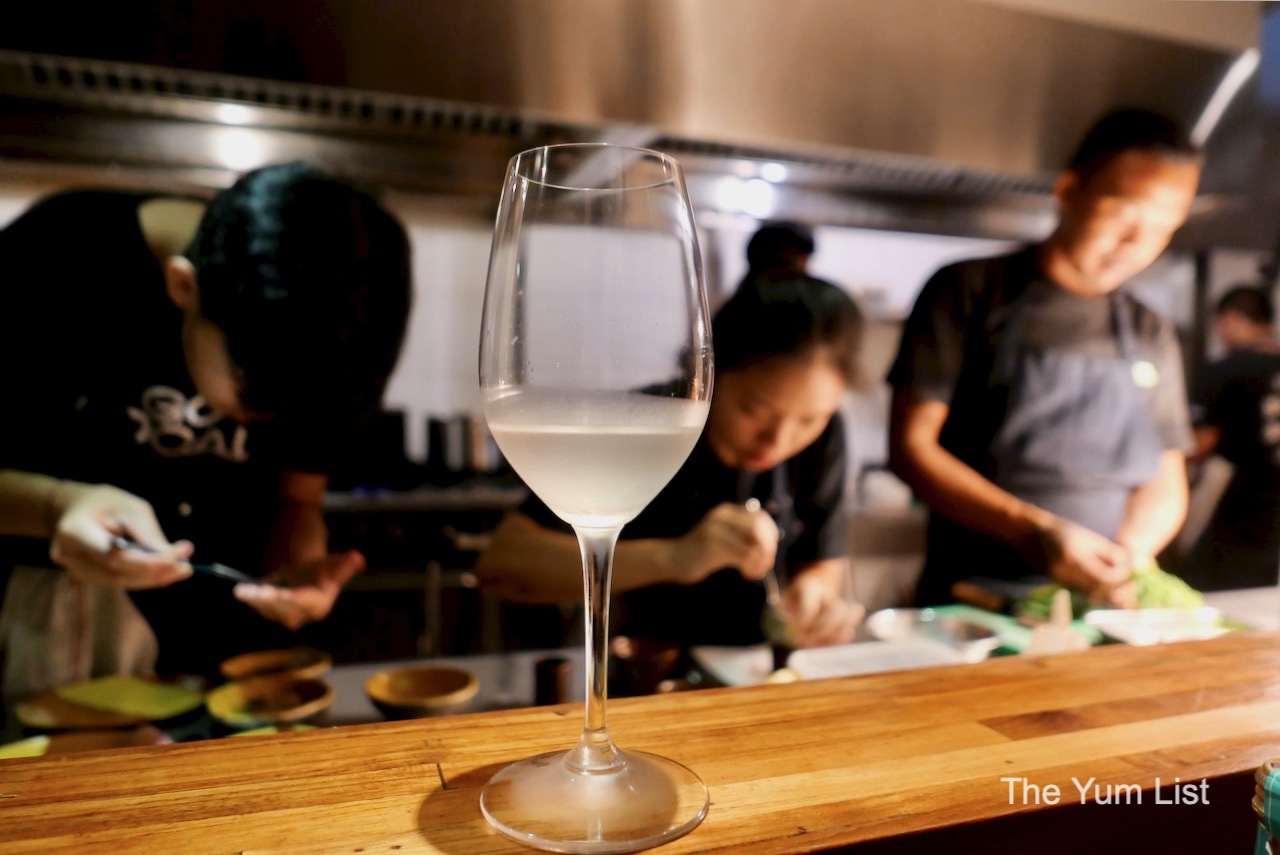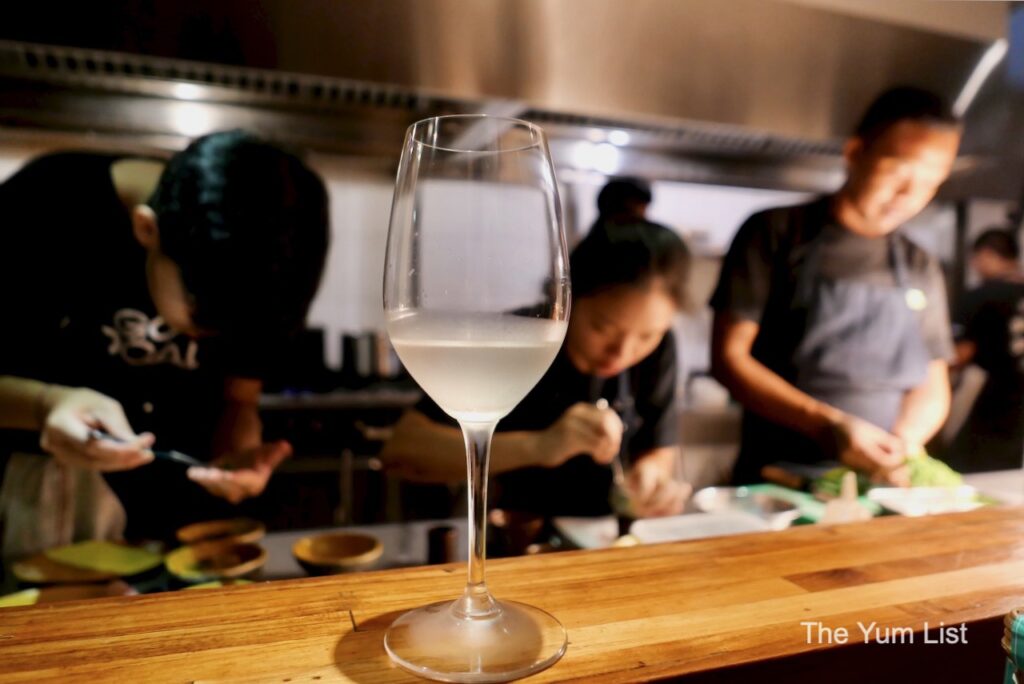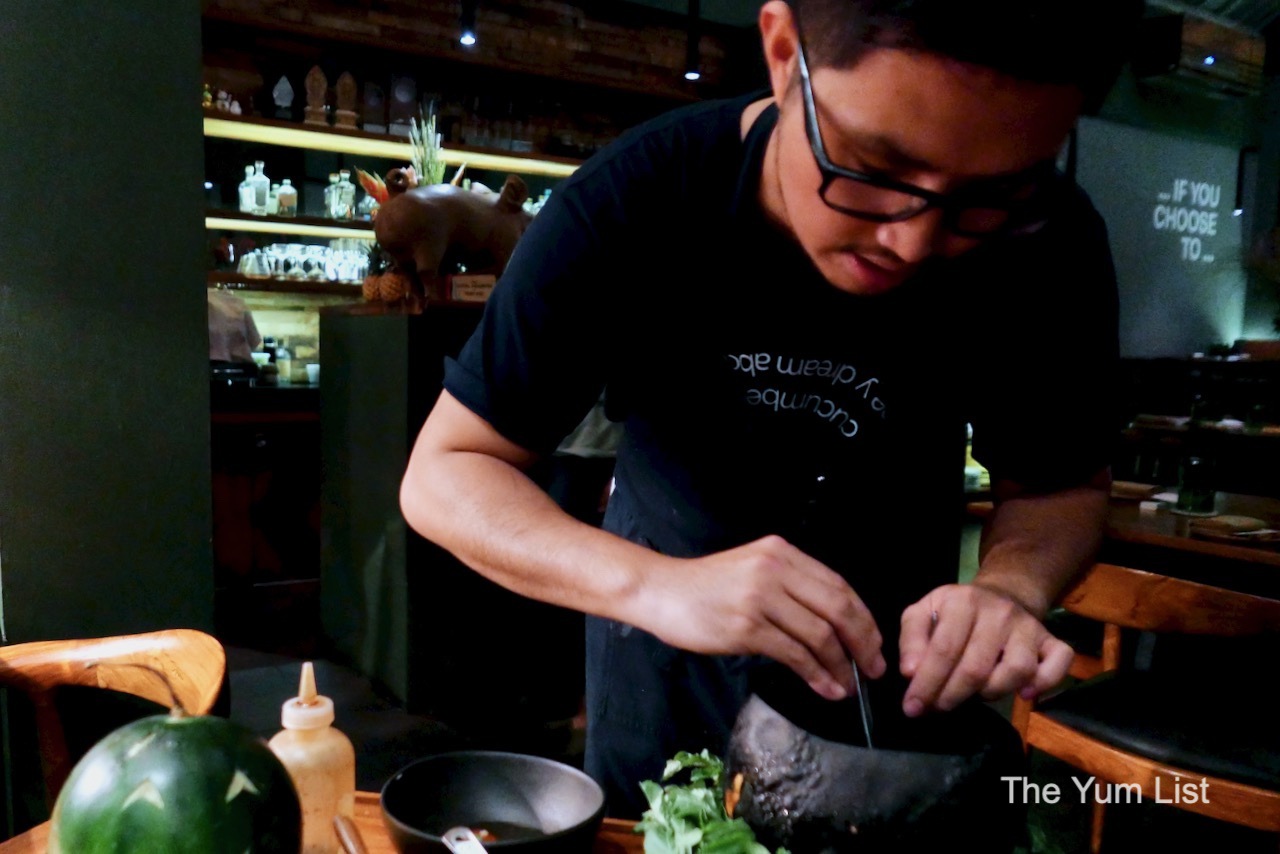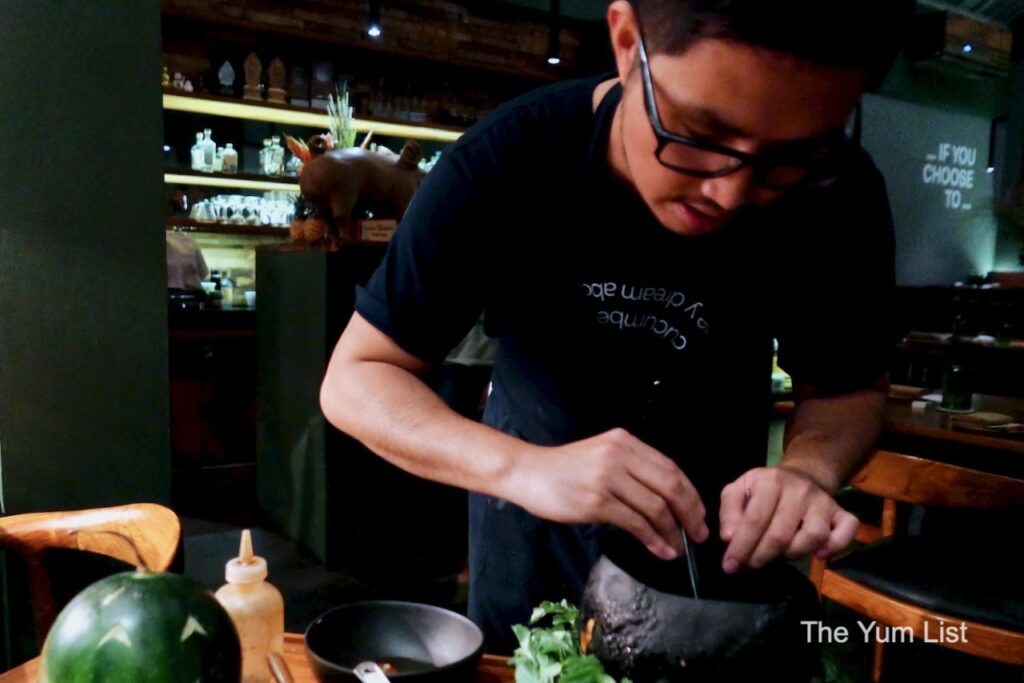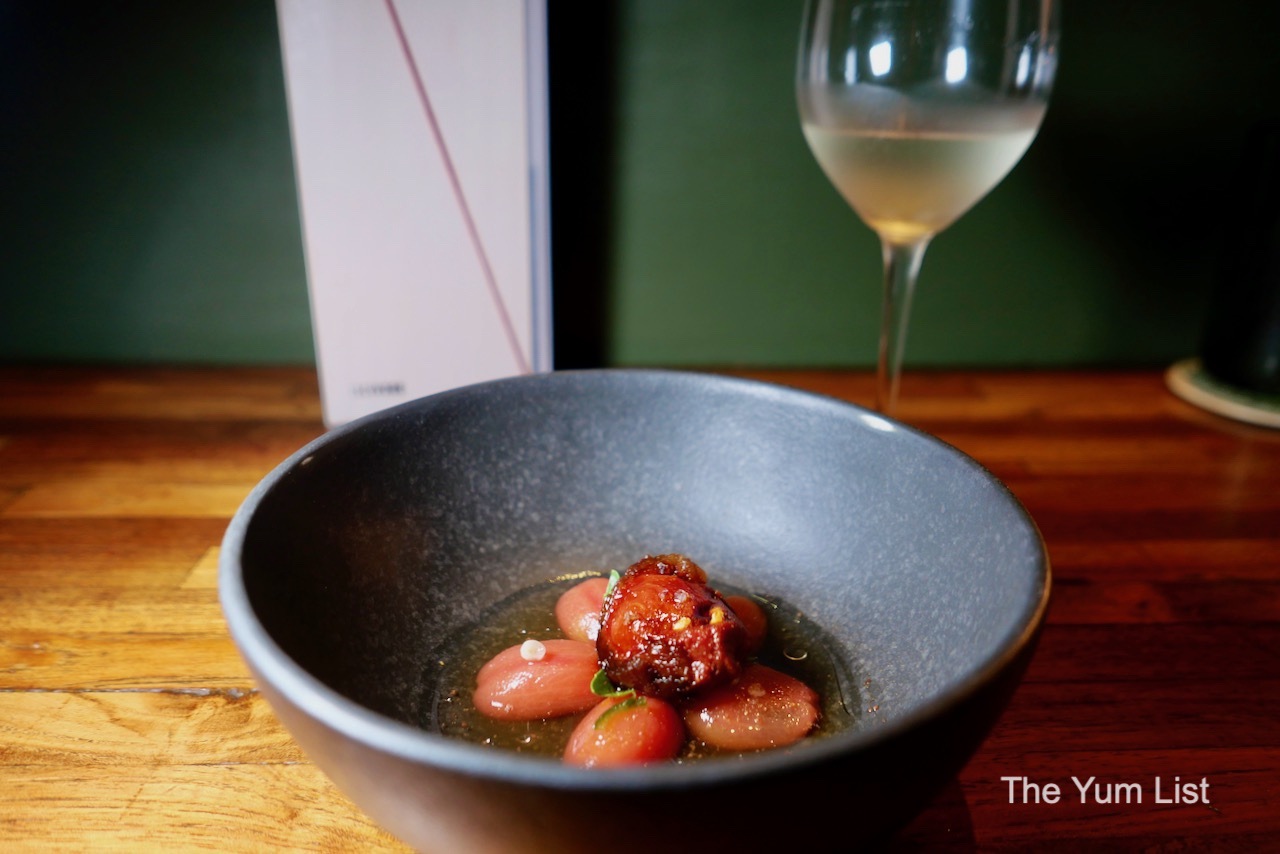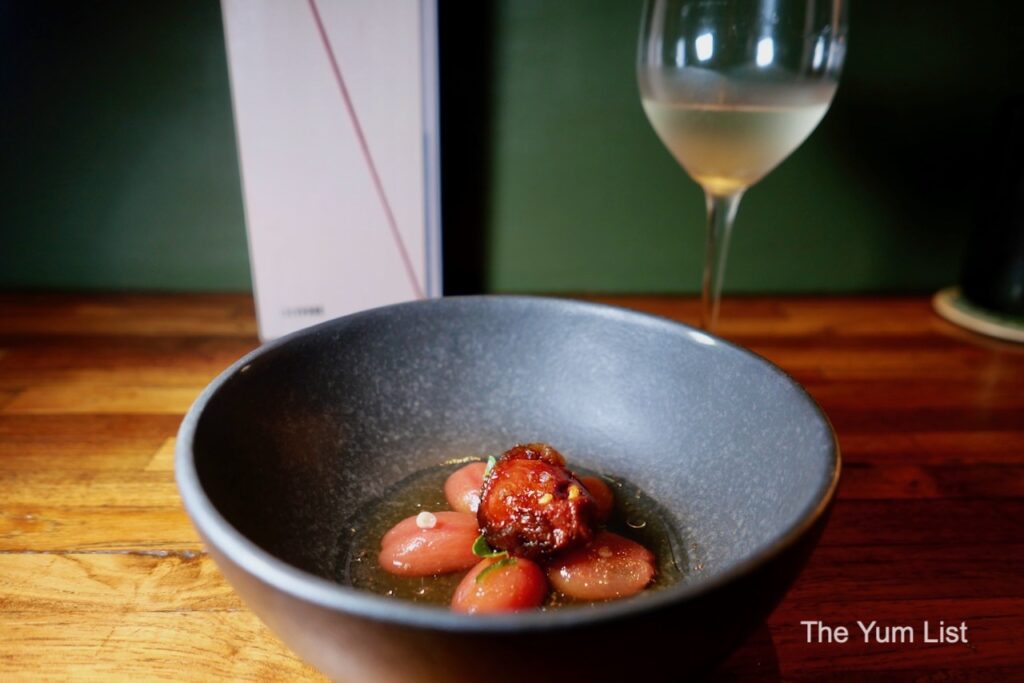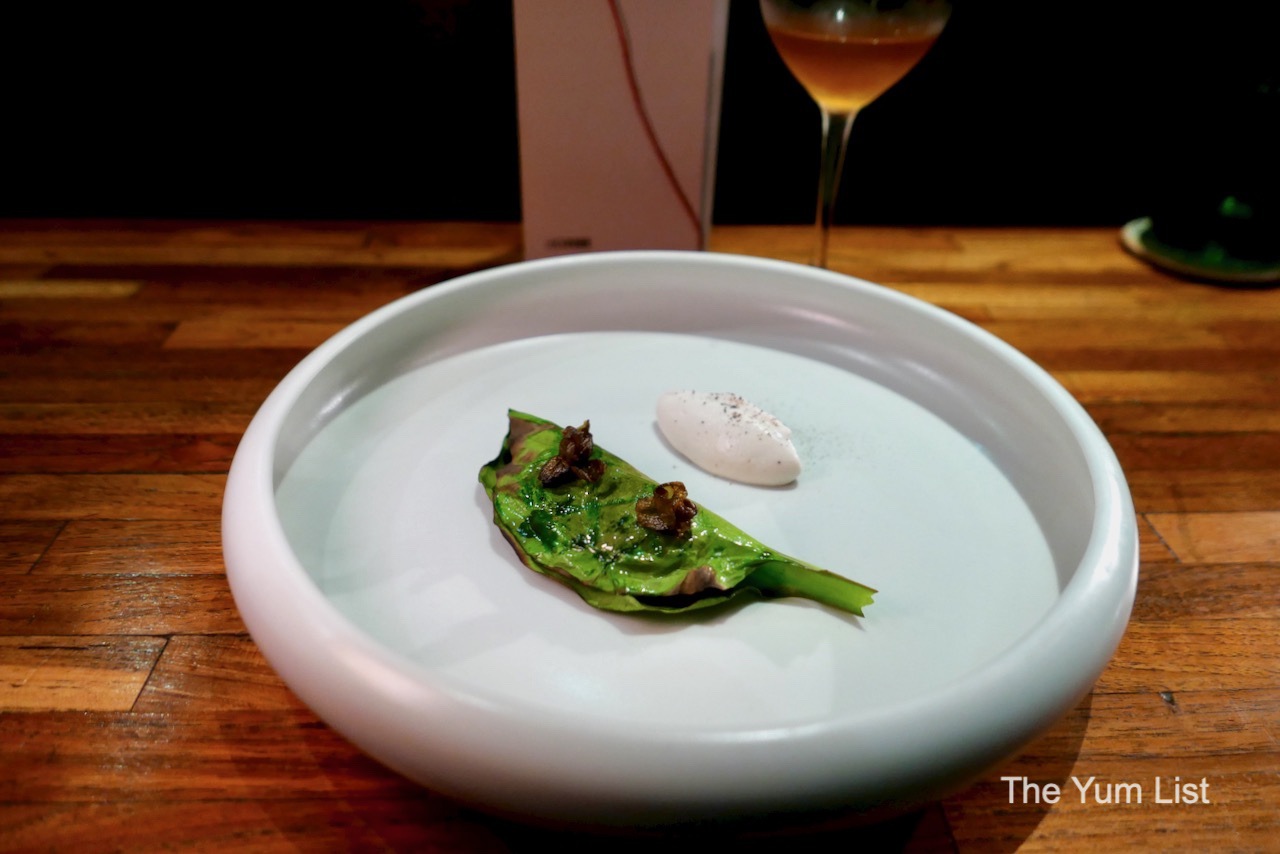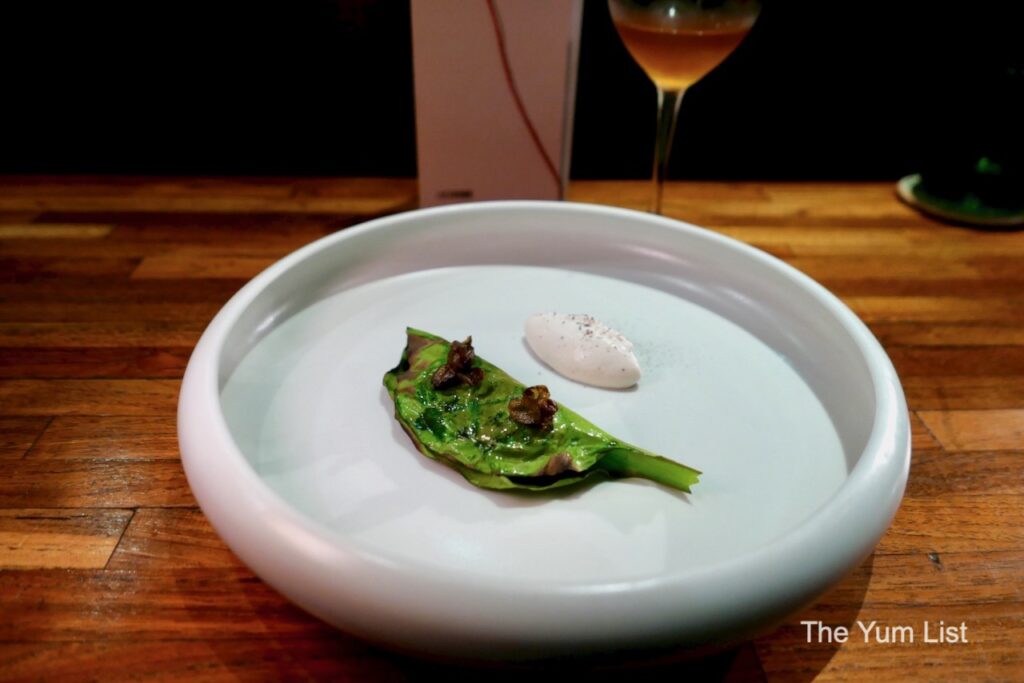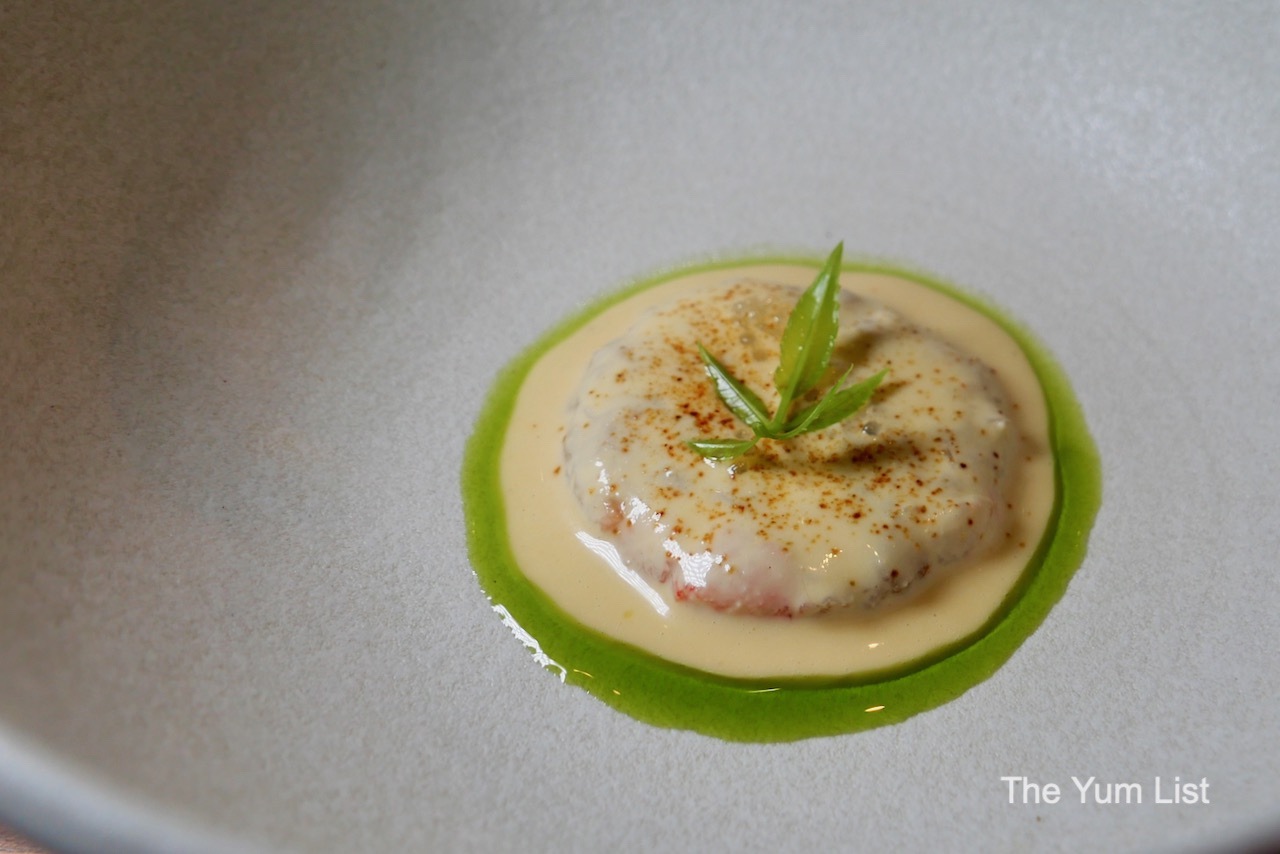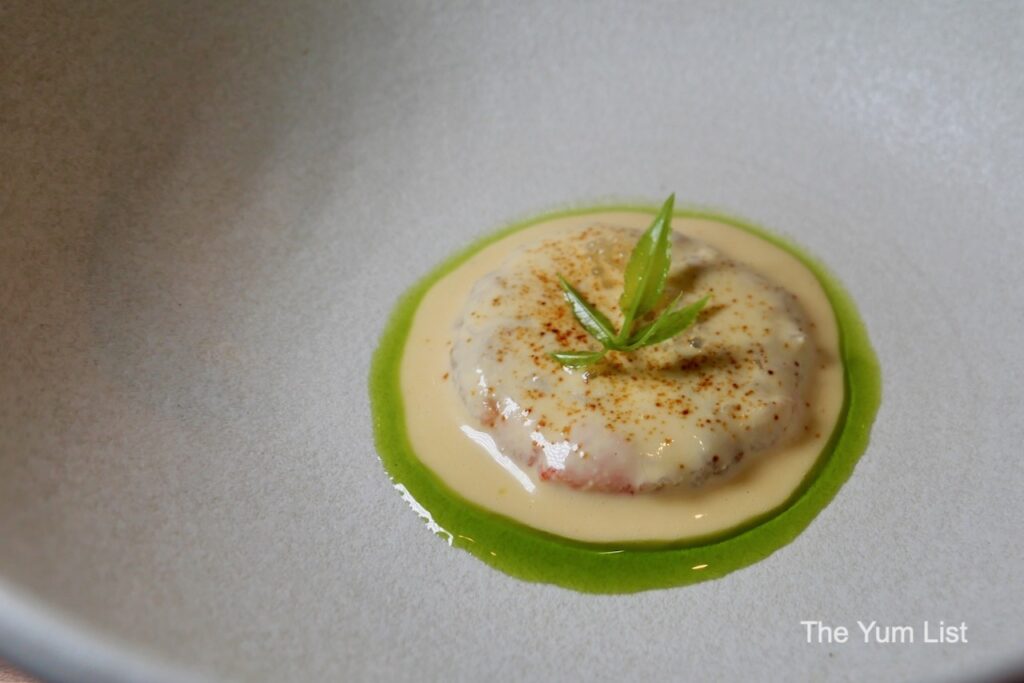 Exploration Three – Restaurant Locavore
Shaved pickled jicama blankets a kampung egg yolk and heritage Balinese rice in the entrance to Exploration Three. The rice is risotto-like in texture, and the yolk is neither hard nor runny. There's a familiar and highly enticing flavour, kulim – jungle garlic, popular in the hippest of restaurants in Malaysia. Smoked and blackened jicama (sweet turnip) is grated over the top just as you might do to risotto with parmesan. Joni's (bar manager) doburoku, unrefined sake, is a fantastic partner.
The following recipe deceptively looks like a giant fried chicken wing. The meatier part, though, has been deboned and stuffed with herbs and prawns. Koji-fried means it's gluten-free thanks to rice replacing wheat, and produces a thick, chewy crumb. Pick it up with your fingers and dip it in the candlenut emulsion with crispy chicken skin and shallots. The saltiness of the fried chicken is balanced by the sweetness of brem (a beverage made from fermented rice wine) infused with spices and topped with herbal soda.
Charred cabbage is rolled with long strips of wood ear mushroom, looking like a burnt white rose in the next course. Intensity is taken up a notch with both the broth and cocktail. The former is a compelling black rice vinaigrette, roasted vegetables and pandan broth and andaliman oil. At the same time, the cocktail says a hearty hello with Sichuan baijiu, tamarind, ginger and pandan soda.
The savoury courses crescendo with honey-spiced duck breast. Chef Ray recommends cutting it into smaller pieces to counteract its toughness (mighty cutting tool provided) and getting a piece of the skin, flesh and carrot passion fruit reduction all on one fork. On the side, the thinly sliced carrot is rolled in a thousand layers (maybe not quite), but with its charred edges, it looks like a roasted onion. Chilli-infused vodka addends a light thread of spice to the cocktail, but smoked carrot juice and banana vinegar soon smooth it over.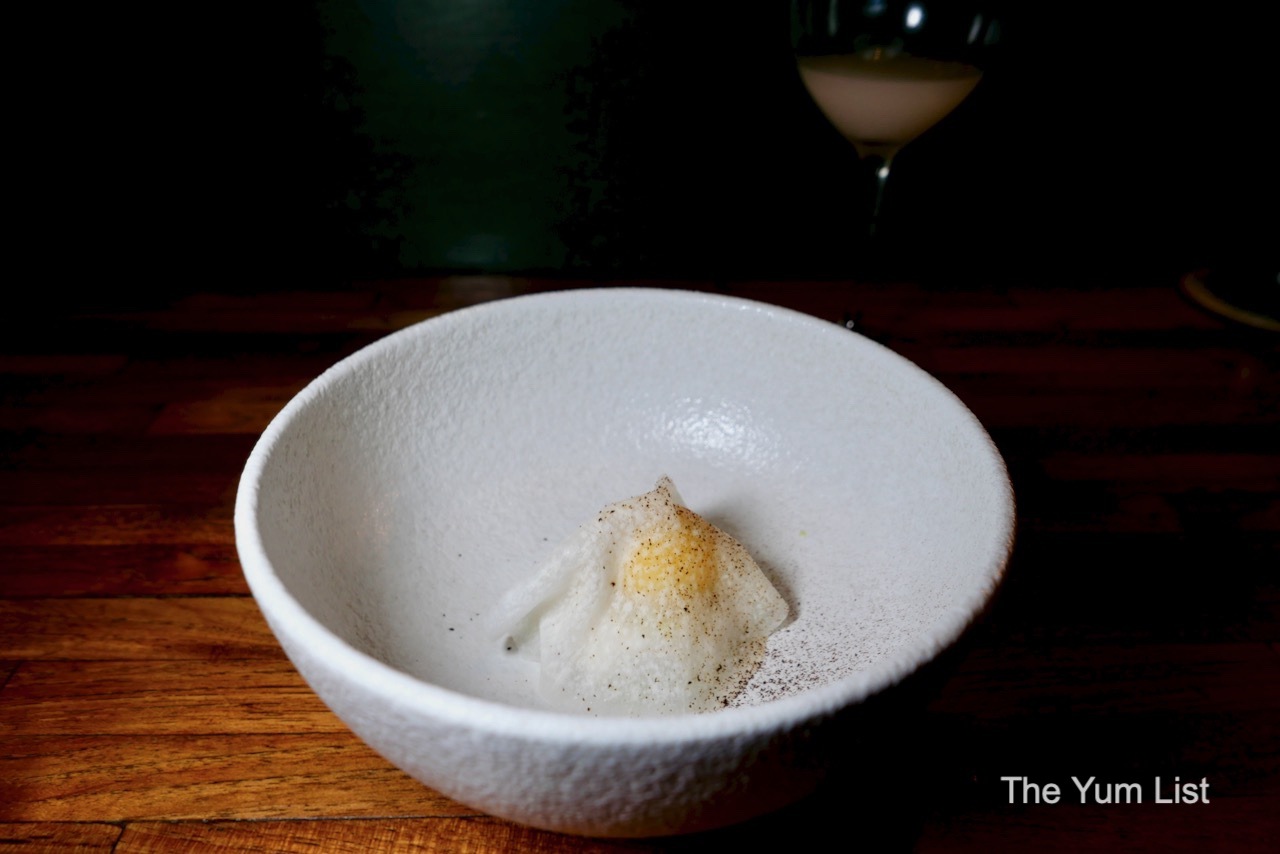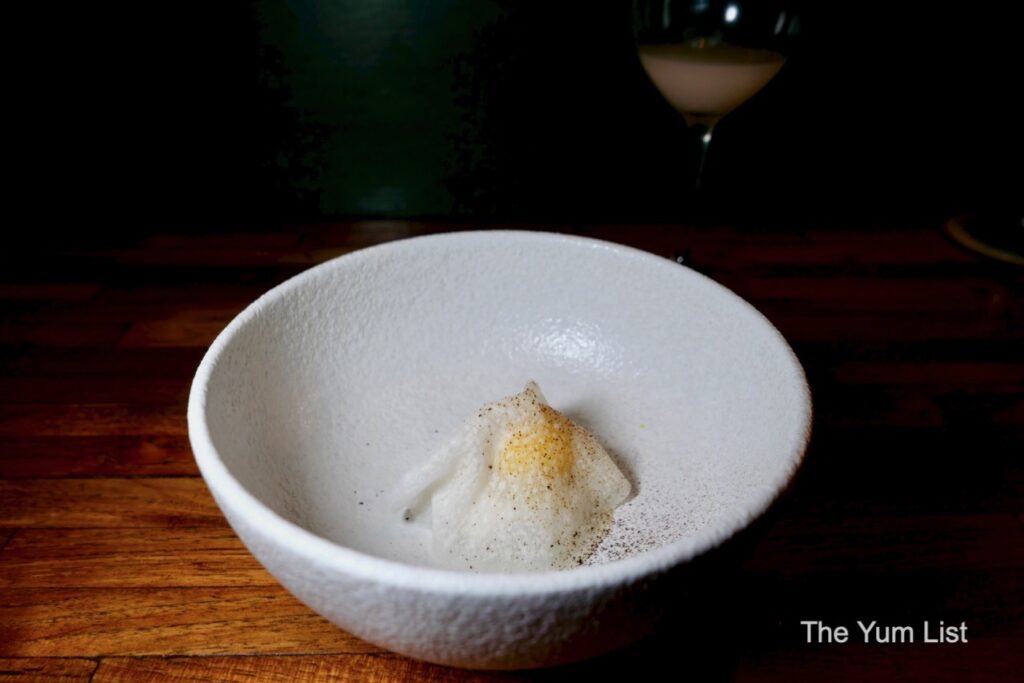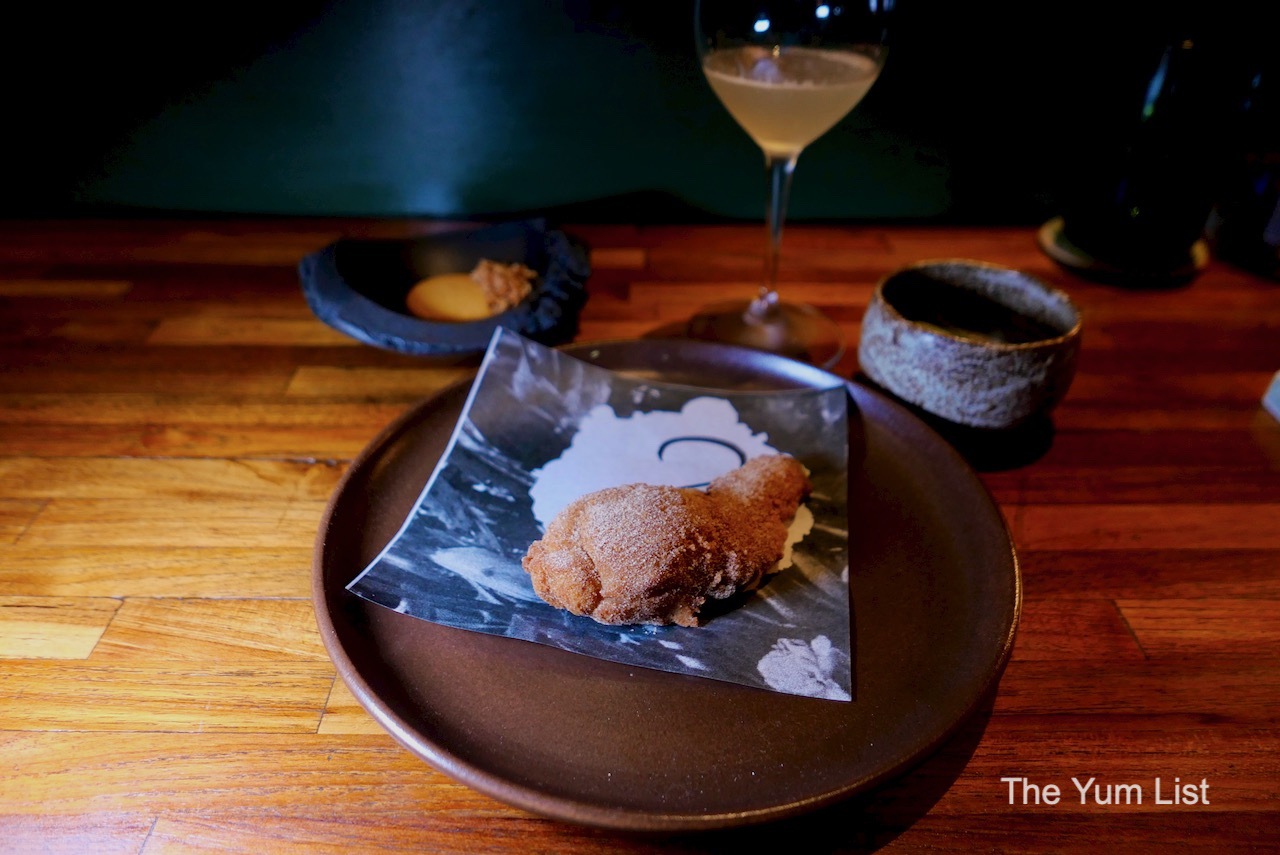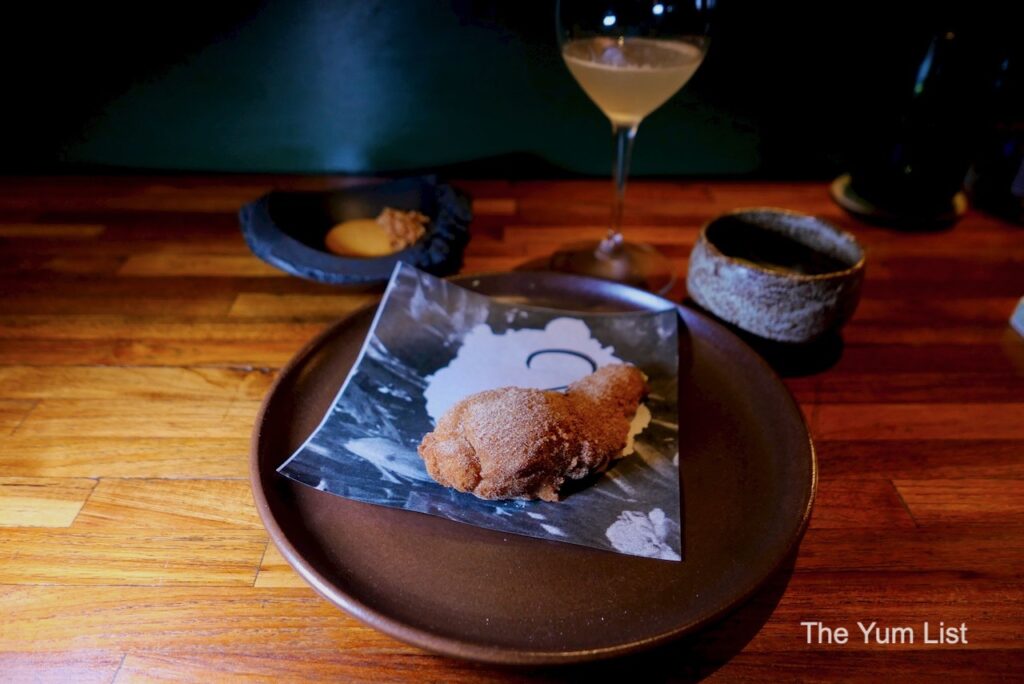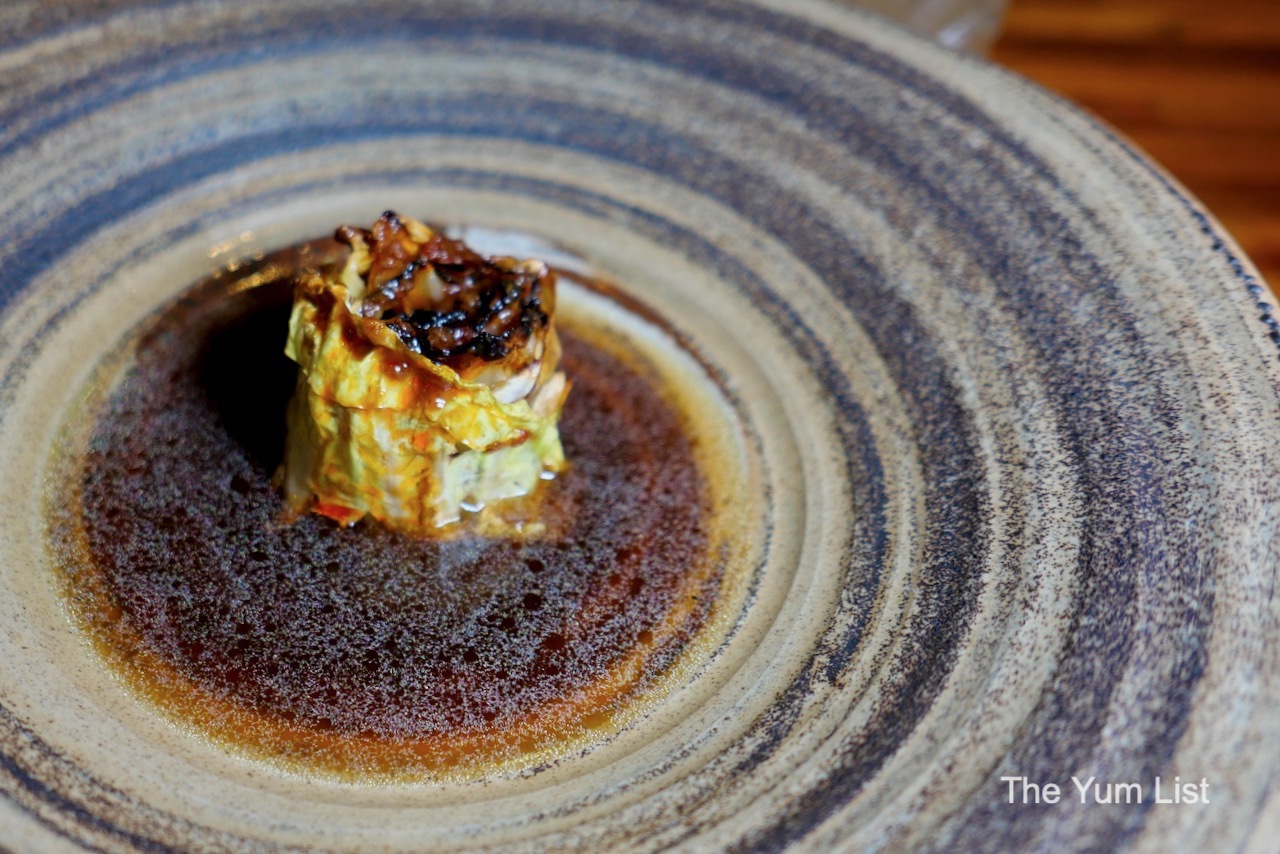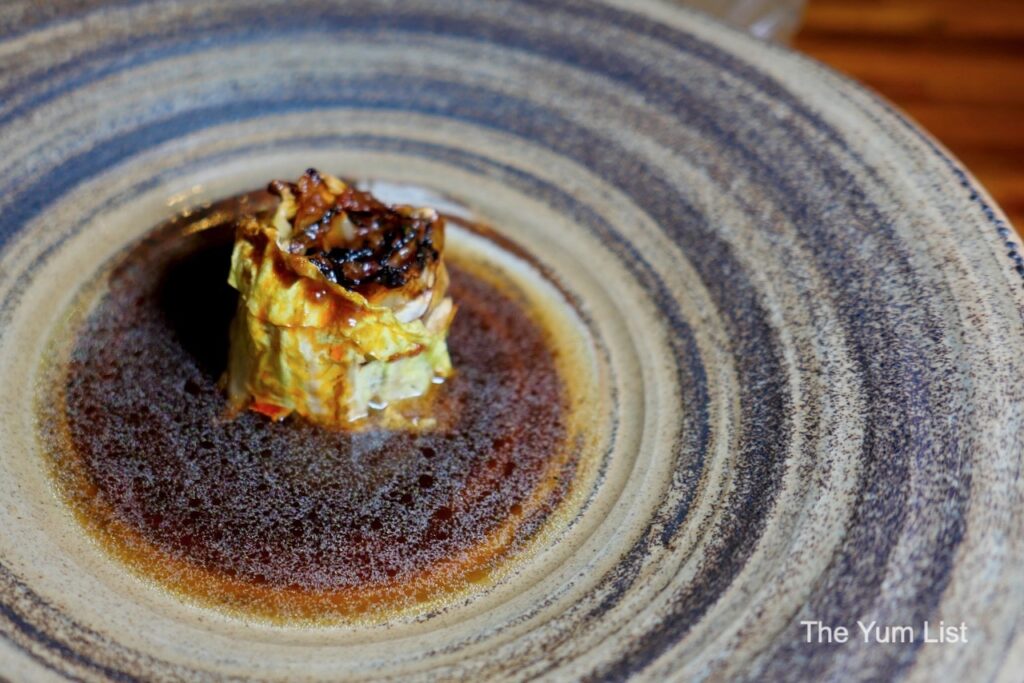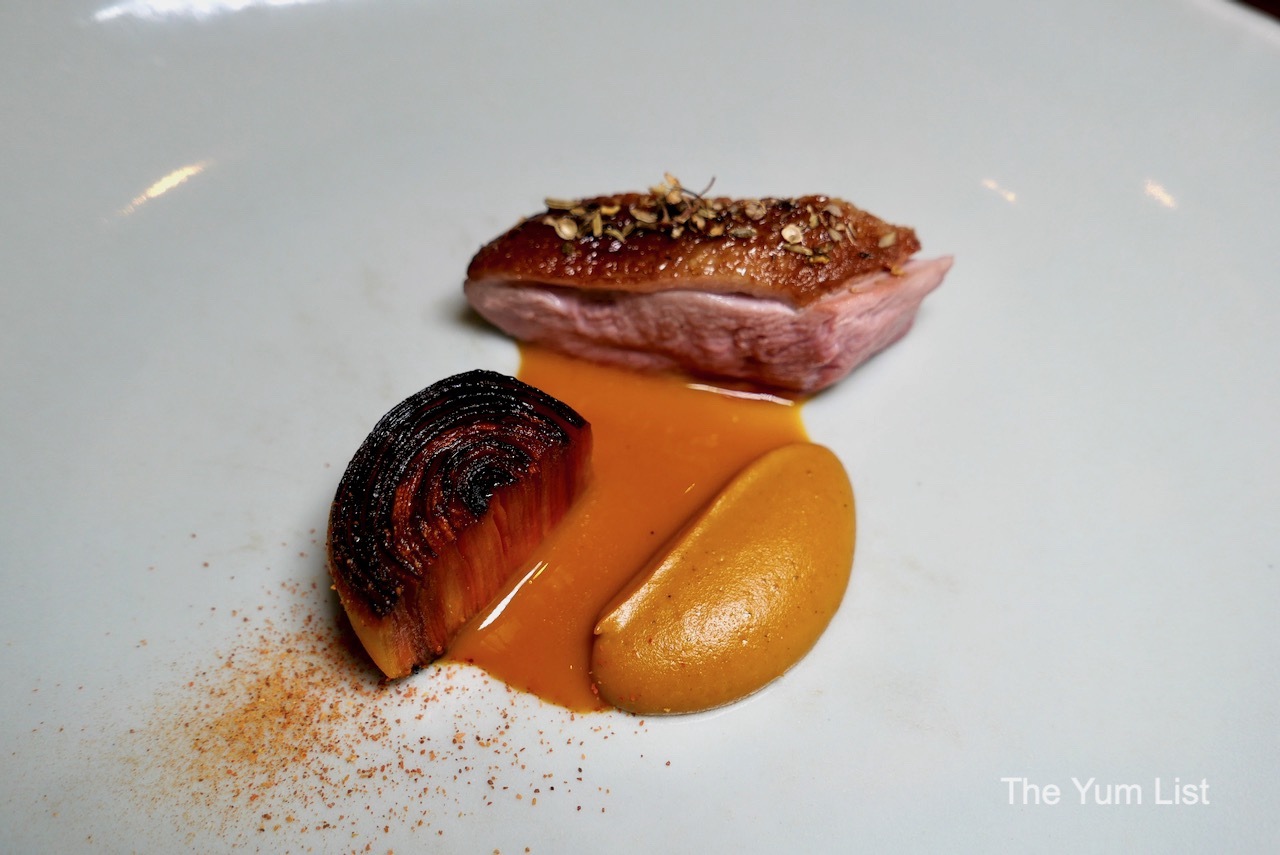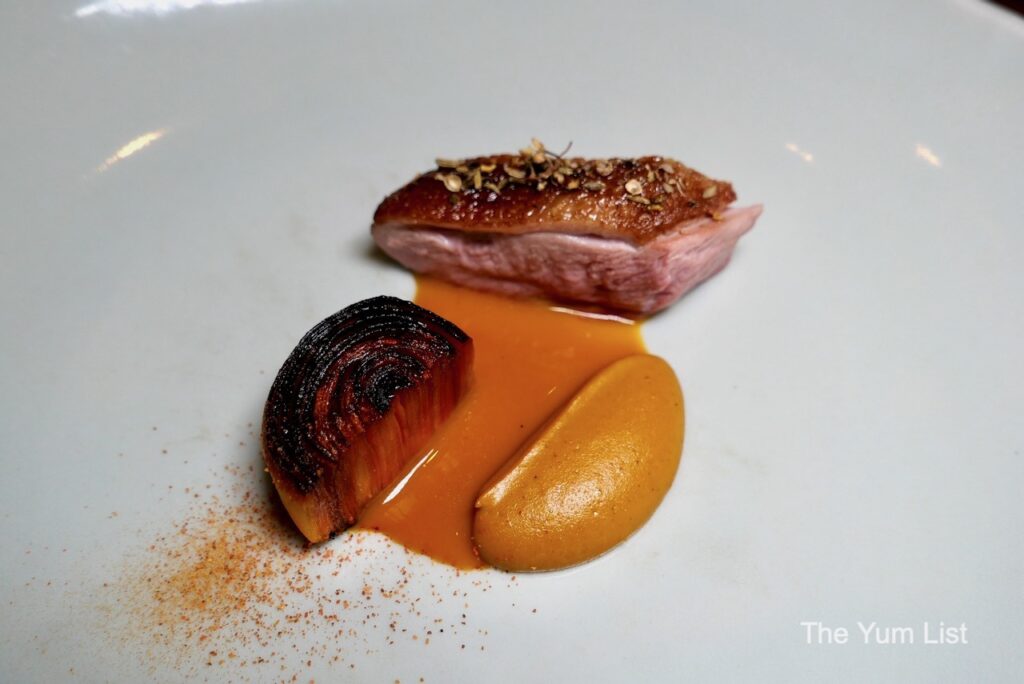 Exploration Four
Exploration Four brings The Unknown menu to a conclusion. The first sweet is a pretty contrast of deep reddish-purple with snow white thanks to black-rice brem dragon fruit sorbet and white-rice brem ice cream. A faint floral tang brightens the recipe in the asam cekala (torch ginger) reduction, and the dragon fruit leather is fun to chew. Black glutinous rice brem carries the flavours to every corner of the mouth.
Who would have thought black banana could be attractive? Restaurant Locavore's pastry chef Febriana is set to change minds with her ganache tart of the same name. White chocolate "Chantilly" (made with coconut), tamarind candied nutmeg and fresh nutmeg gelato put some wildly interesting but at the same time familiar flavours together. Slightly fermented nutmeg juice acts as a digestive.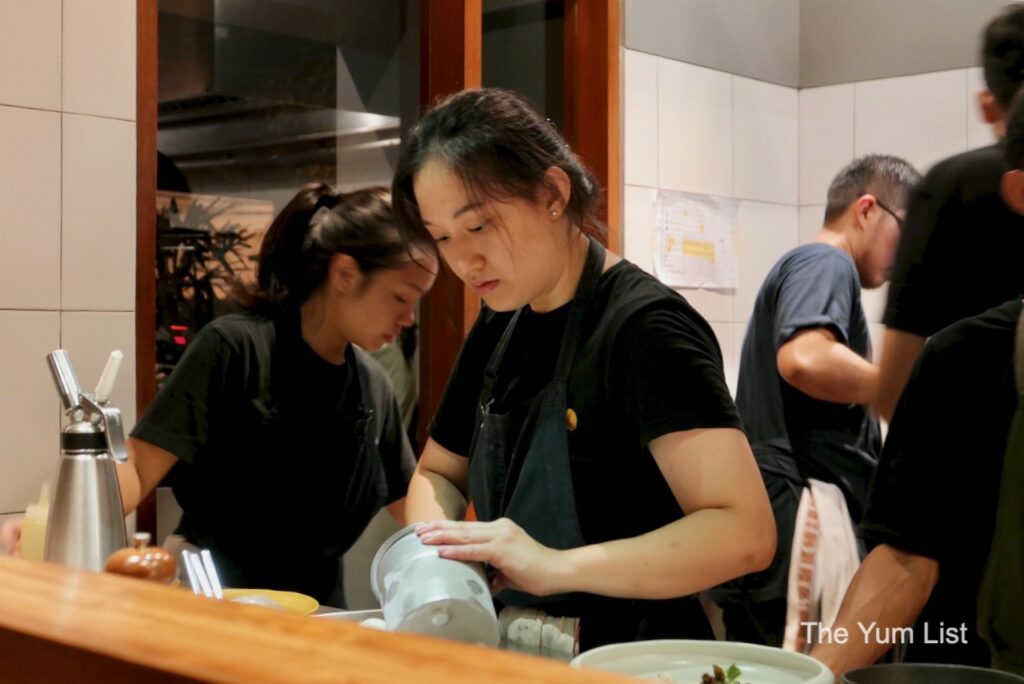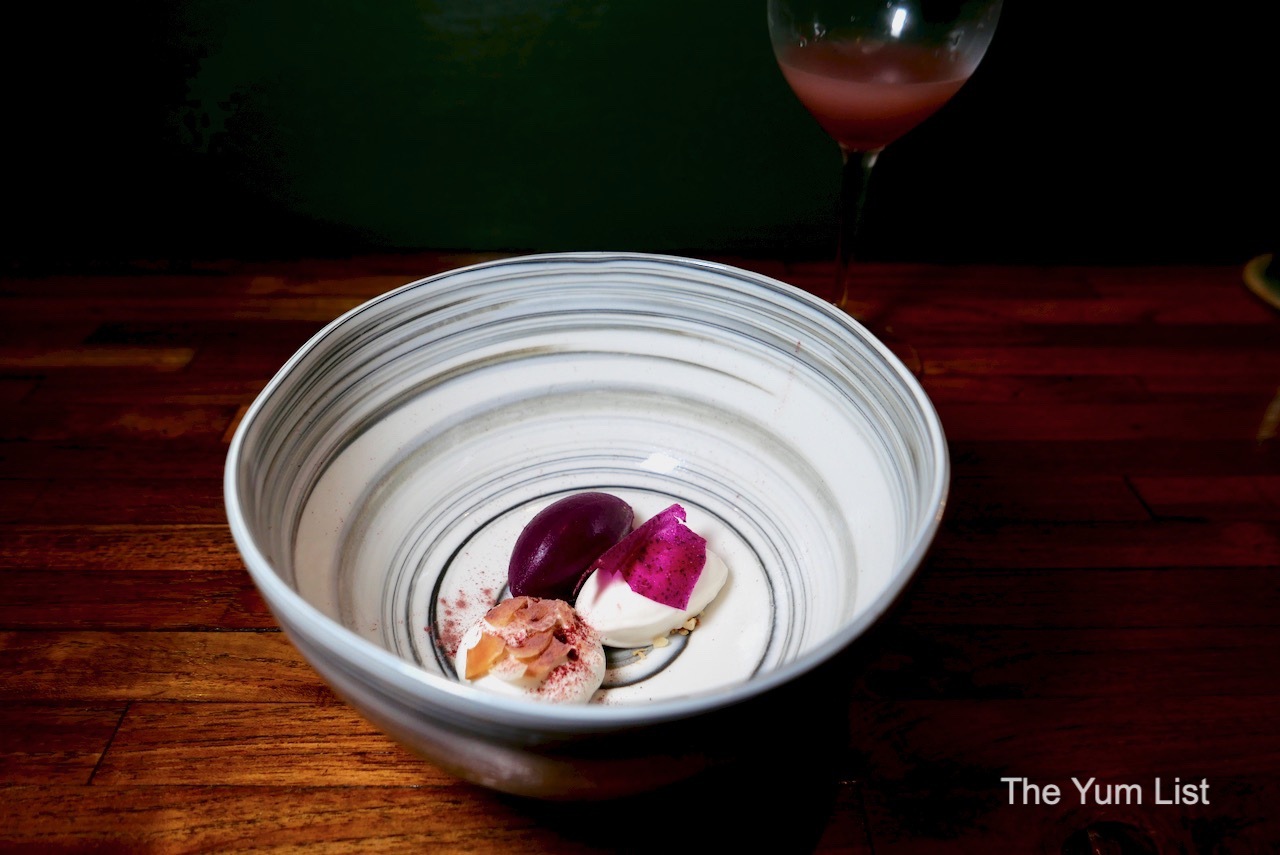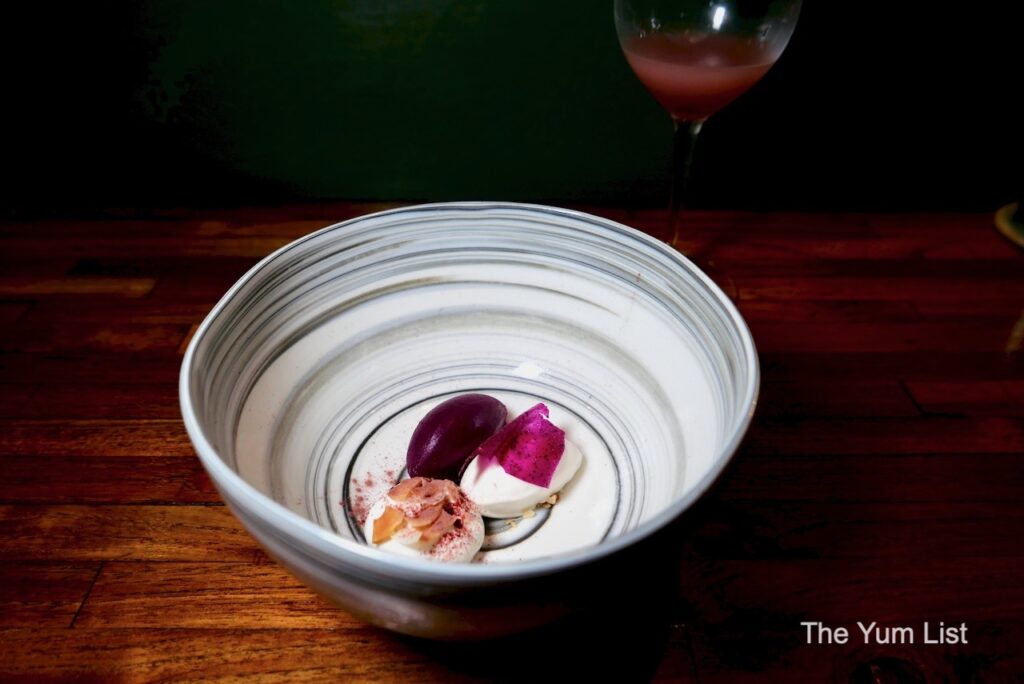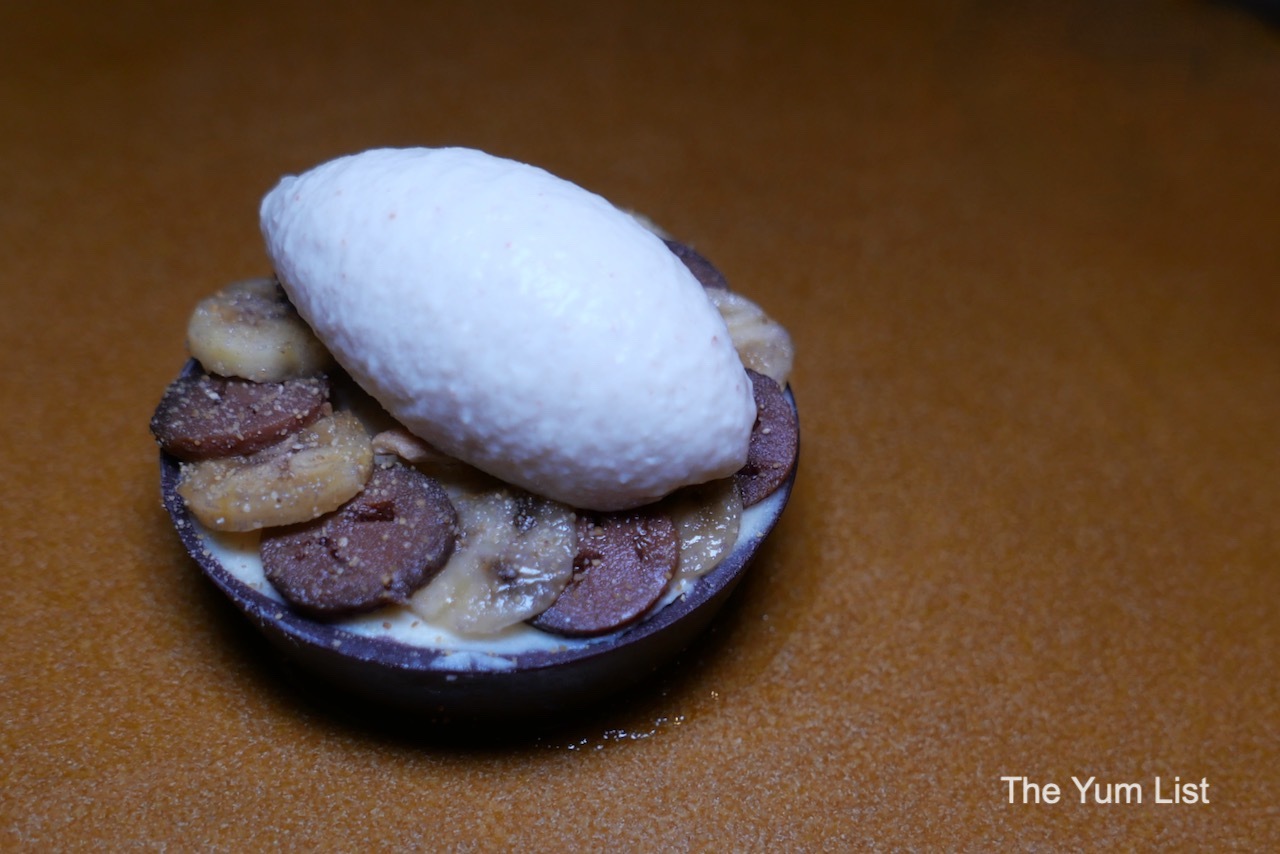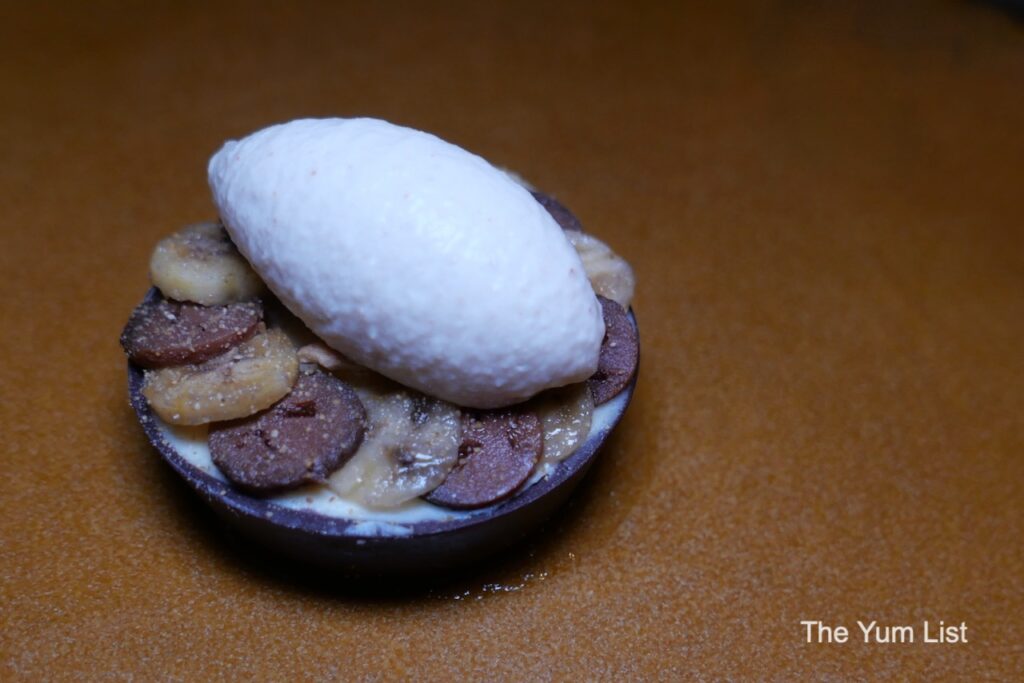 Just when you thought you'd championed the marathon to complete satisfaction, one last something you-didn't-know-you-needed-until-you-got-it arrives, passionfruit sorbet in a passionfruit shell. It's fresh, balanced, cooling and delicious.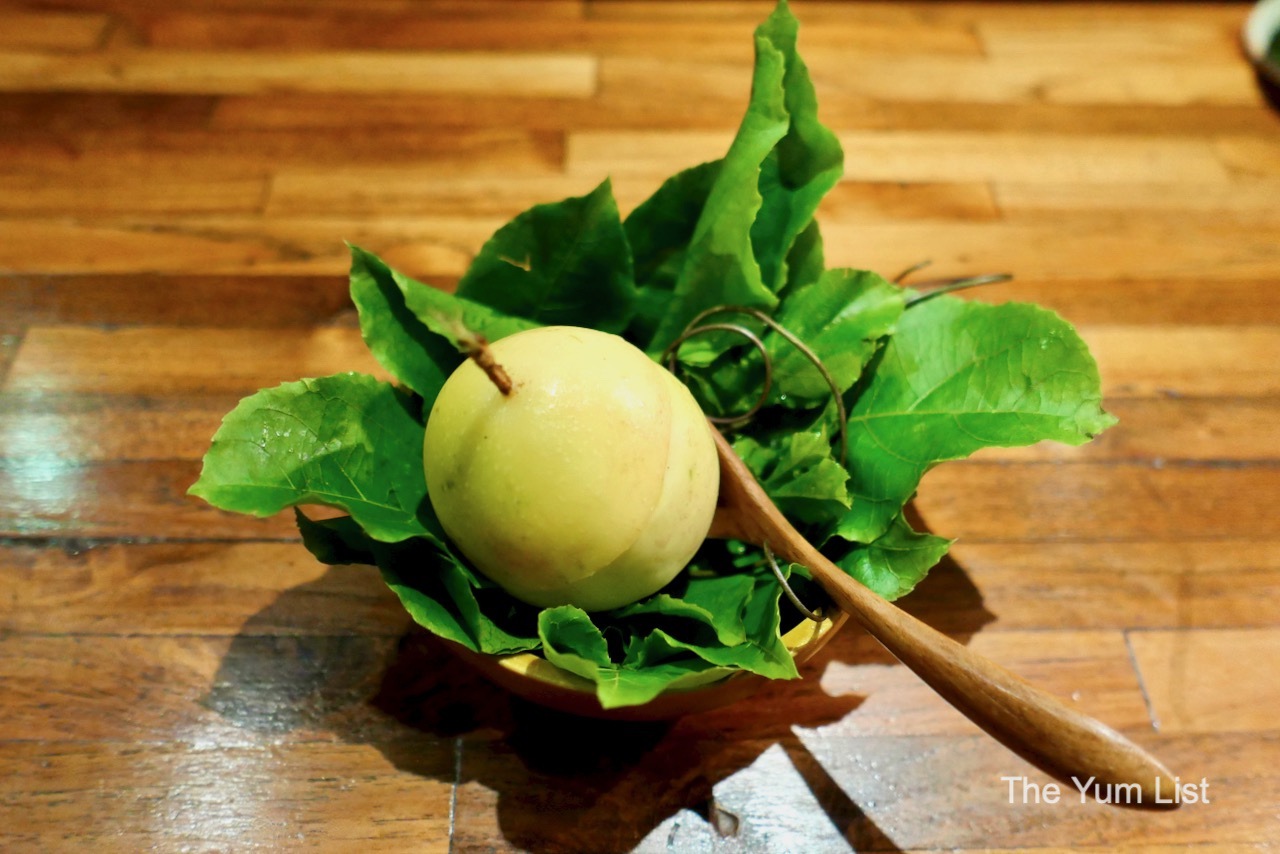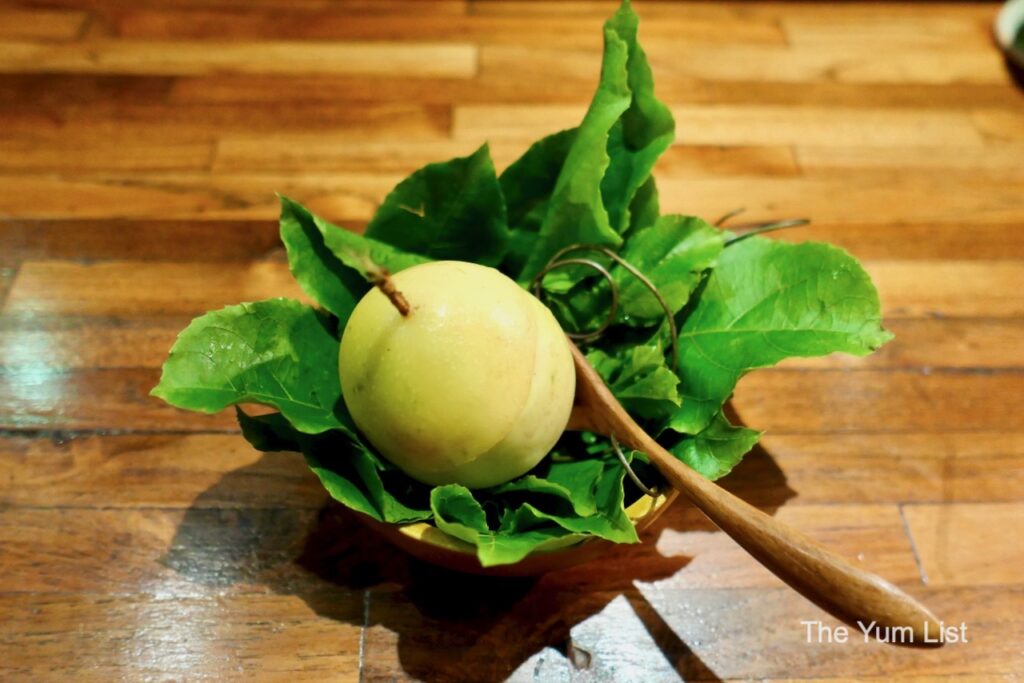 Reasons to visit Restaurant Locavore: an unwavering commitment to local, sustainable, no excuses, no compromises; surprising dishes; exciting but exceptionally well-balanced flavours and textures; you must include the drinks pairing – it makes something great, greater; book NOW before this chapter ends; stay tuned for what's coming NXT in the first quarter of 2023.
Restaurant Locavore
9C Jalan Dewi Sita, Ubud
Bali, Indonesia 80571
www.facebook.com/RestaurantLocavore/
Restaurant Locavore Opening Times
Monday: 6 – 10 pm
Tuesday to Saturday: 12 – 3pm & 6 -10 pm
Sunday: Closed
Find more gourmet travel recommendations for Bali here and stay up-to-date with our latest gourmet travel finds here and here.