Haba Restaurant & Bar
Words: Rebecca Cannon
Photos: Rich Callahan
'A place for drinkers by drinkers,' I was told as I walked into Haba Restaurant & Bar and met the team behind it. Paul Dass and Deepak Gill must know what they are doing because Haba will surely be their second success story after Locker & Loft. However, my traditional view of alcoholics did not match the fun, cozy décor and house music softly vibing through the speakers. Nor did the high-quality drinks and food.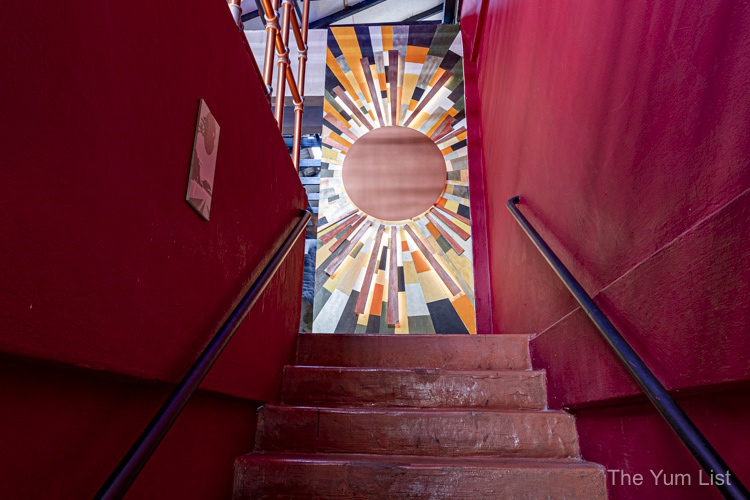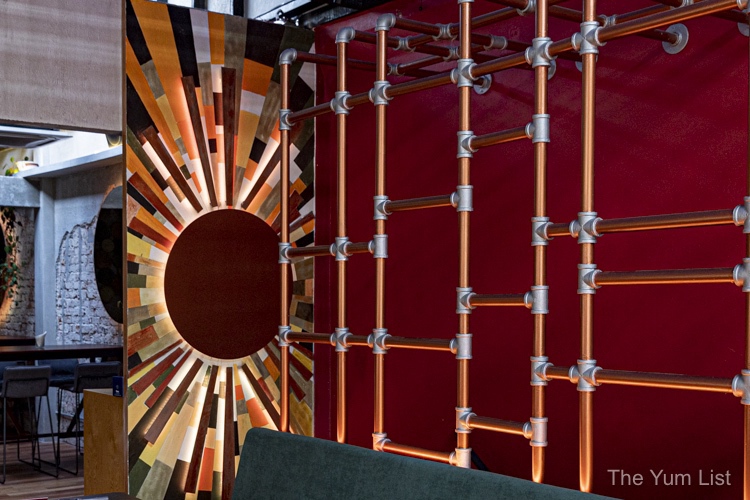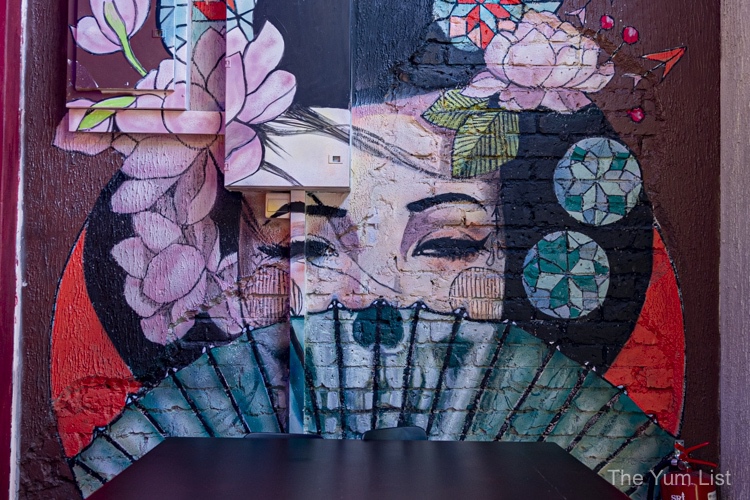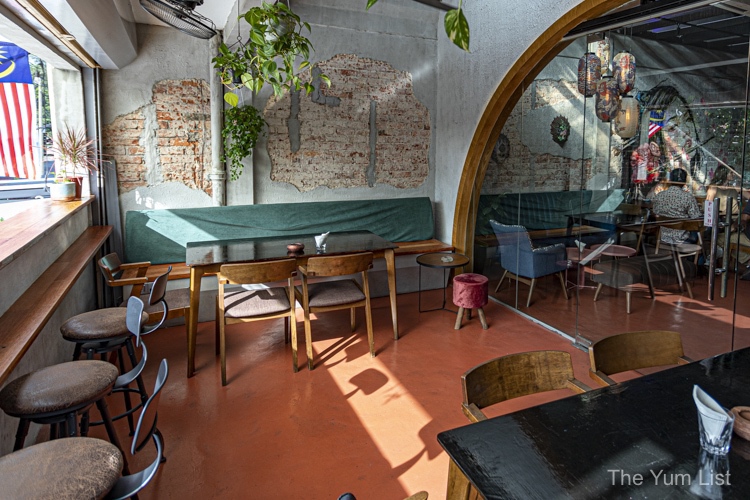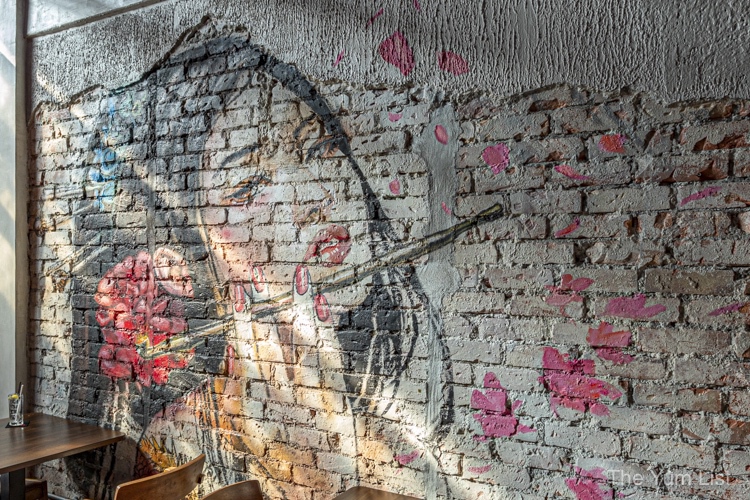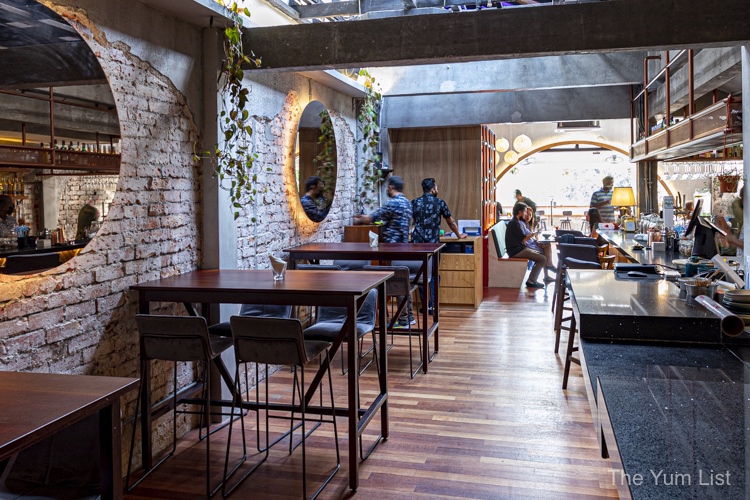 Haba Restaurant & Bar Drinks Menu
Haba means width in Japanese, and in line with the name, the drinks list is wide in its compilation. That is where we started our evening, and we did not want to stop once we started.
From the cocktail selection, we sampled the Saketini (RM25), Olivier (RM32), Rumput Lemon (RM38), Don Jawa (RM38), Sloe (RM35), Negrotu (RM35), and Teq As (RM37), which looks like a rising phoenix with its orange rind finish. Many of the cocktails were sweet but from natural ingredients that balanced the alcohol rather than overpowering it.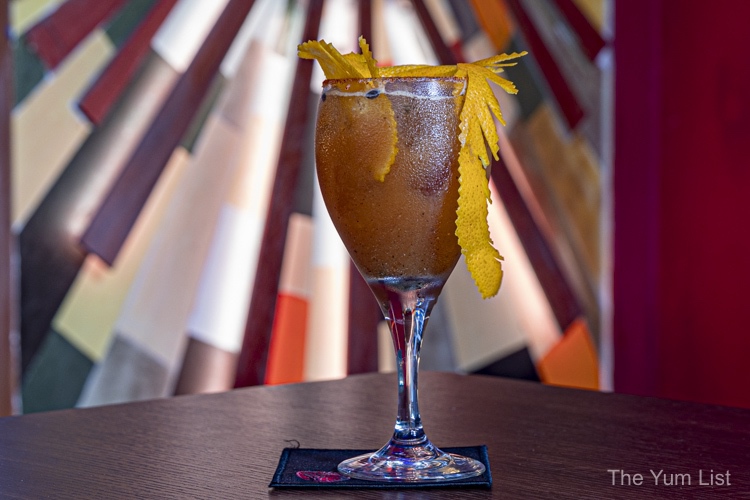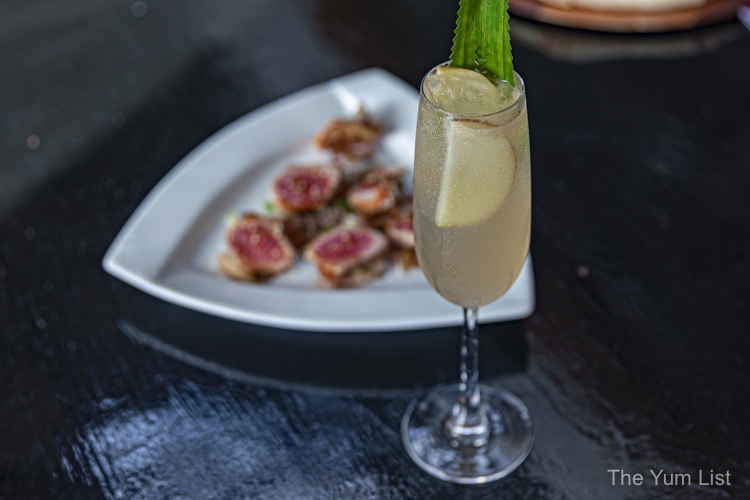 Everyone in our group found their favourite. Personally, mine was the Rumput Lemon with its fresh apple juice and fruit pieces. I found it the perfect way to refresh in the afternoon with the tropical heat without feeling knocked out by just one.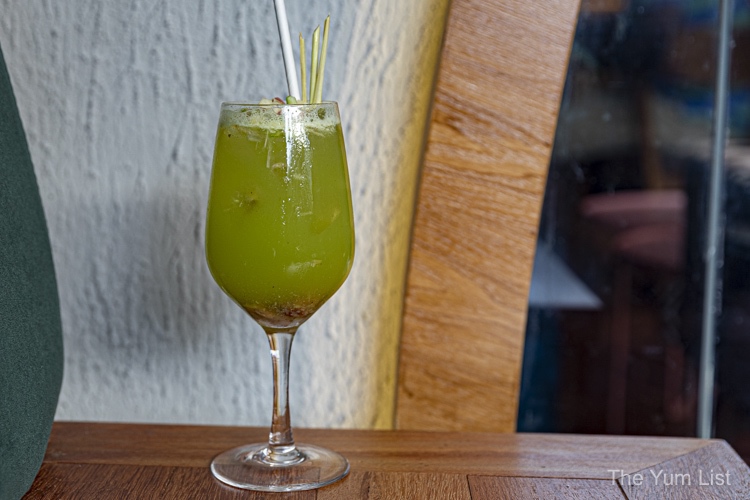 Speaking of refreshing, the Olivier had fresh basil with egg foam; it sounds like a meal but works in the drink, too! Mon's favourite was the Negrotu, Haba Restaurant & Bar's twist on a Negroni, which she wasn't willing to share such was its worth.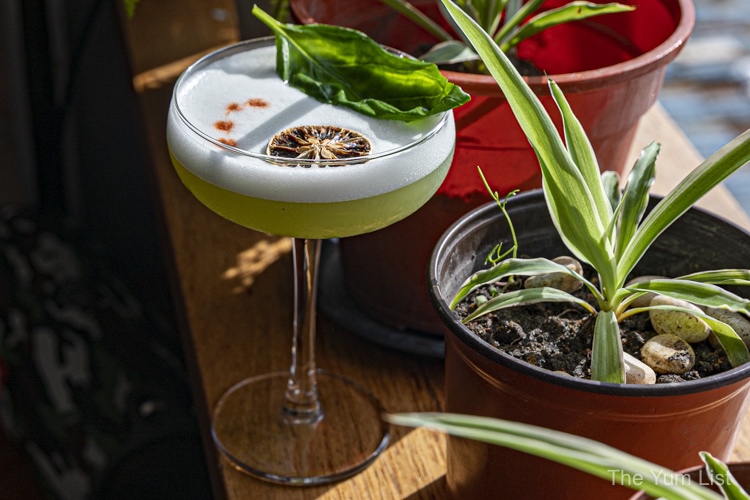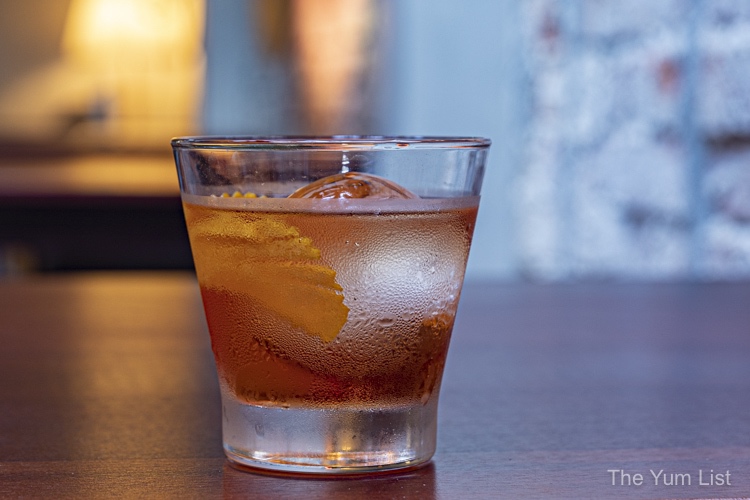 Others favoured the Don Jawa with its mix of tequila, capsicum, and asam jawa to intrigue the taste buds. The house cocktail, Saketini, served in a martini glass, is available by glass or pitcher. The sake, lychee liquor, and lime mix are light, sweet, and exotic. This one was so popular that a pitcher was ordered for takeaway.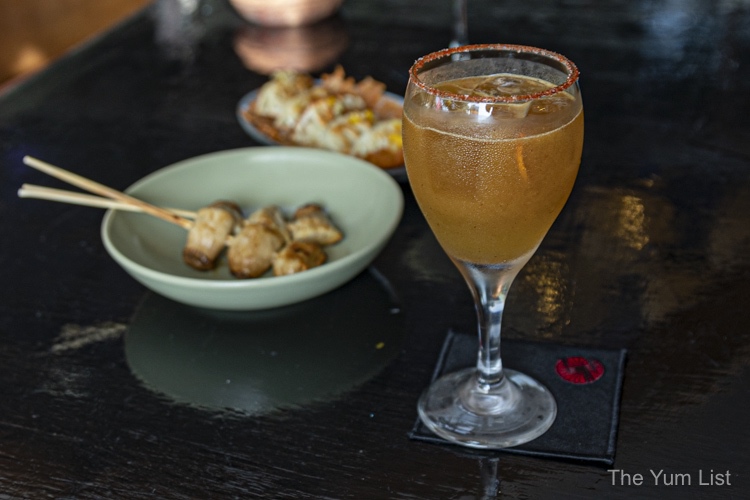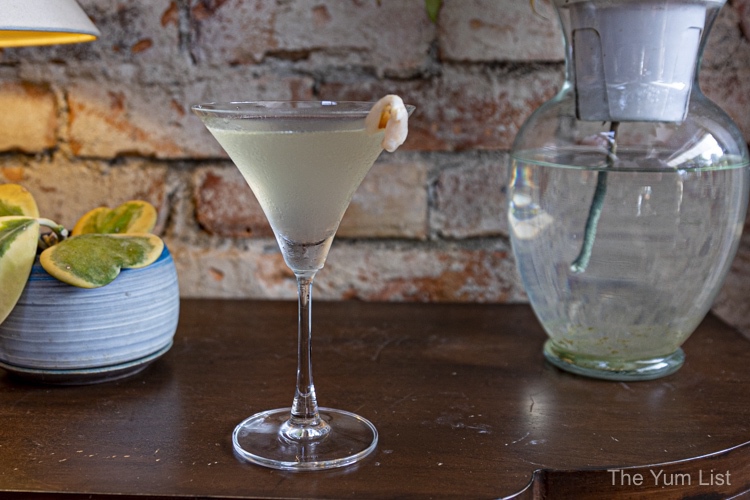 The owners are pretty partial to highballs, so a decent list of the basics and something a bit fancier graces the menu. Bacardi Guava (RM25) is one of the top picks, with a generous serving of 45ml of spirit in each glass.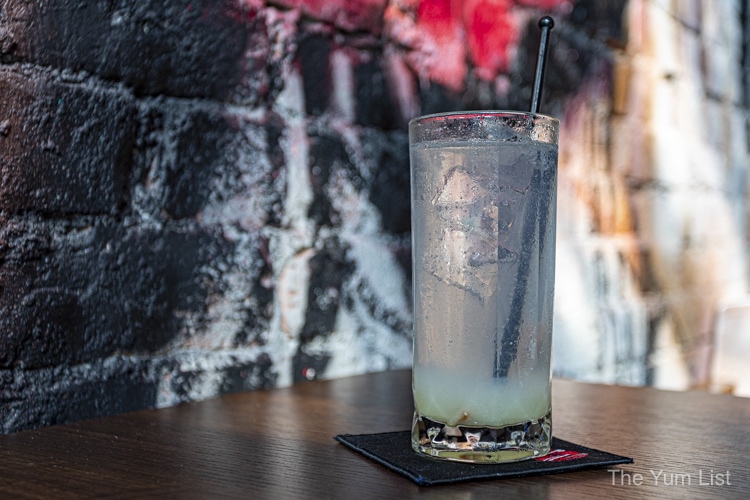 Even the non-drinkers in our crew discovered new jewels such as the Montana Mocktail (RM18), a mix of yuzu, honey and lemon with homemade beetroot puree, orange juice, and a dash of soda for fizz. Even plain old soda water is fabulous here! The team made their very own Japanese-style bubbly water machine, and I dare anyone to have a bubble-off with any commercially bottled or canned brand – Haba KL is guaranteed to outsparkle any competitor.
Tapas
Doesn't everyone want a little something, something to snack on whilst drinking? Nothing heavy, but often something a bit more substantial than peanuts. One of several advantages of Haba Restaurant & Bar being created by 'drinkers for drinkers' is that they already know and have prepared for the fact. Tapas are featured first on the food part of the menu, with mains listed later in case things get more serious. The owners have certainly hit the mark with simple recipes with a Japanese feel, making great companions to their liquid mates.
Yakitori, which are Japanese-style grilled skewers, are offered at reasonable prices. Many vegetarian options are brushed with a light peanut sauce, such as the Brocolli, Lady Fingers, and Shitake Mushrooms (RM6 each). Other delicious light bites include the crispy Salmon Roll (RM35) made with eggplant, salmon paste, and spices. The Chicken Gyoza (RM15) comes on a baked cheese blanket with mango salsa – we like it so much we get a second order. Finally, we think more restaurants should serve Maguro Tataki (RM32) with lotus – bright, delicious and goes down well with a highball.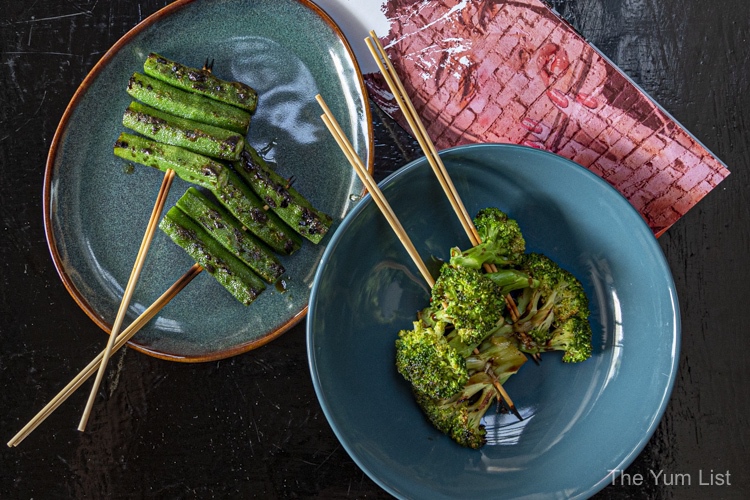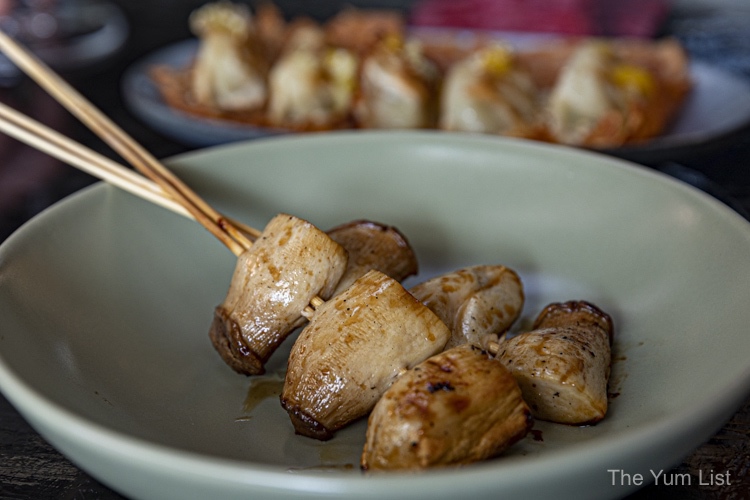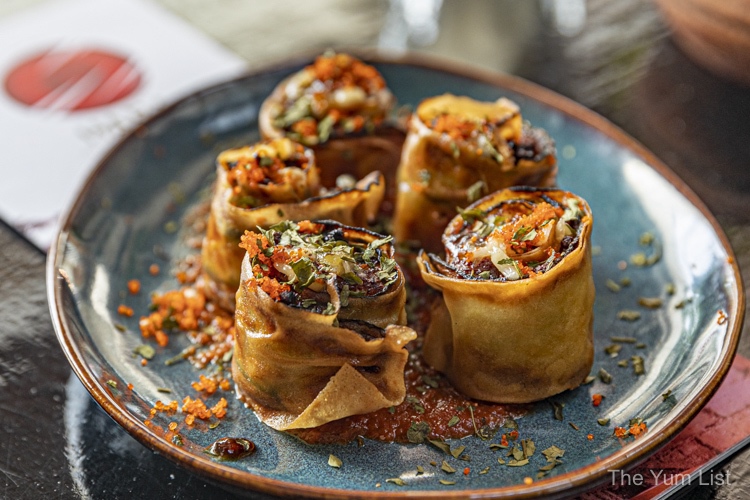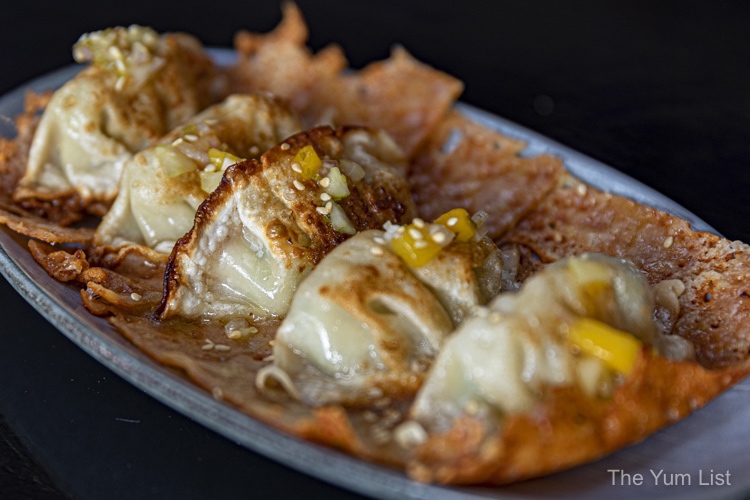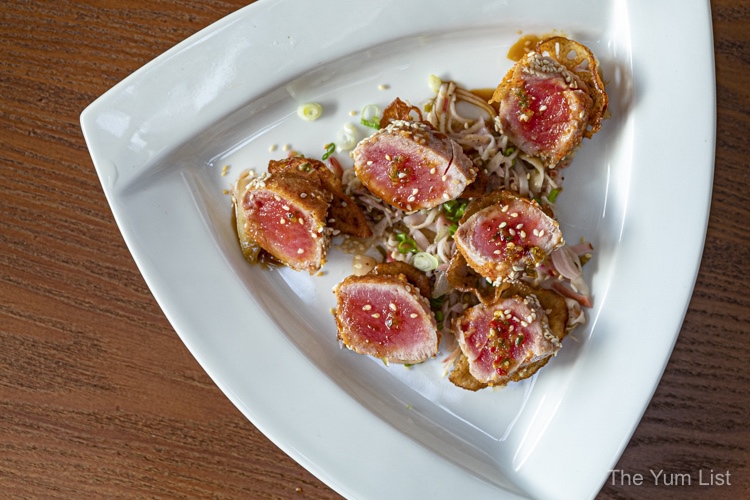 Haba Restaurant & Bar Menu
For those after a more substantial meal, mains and dessert are available, which we sampled once we realised our evening was turning into a night. The food ranges from pizza to fish and rice bowls. The Misobeef Pizza (RM38) foregoes a tomato sauce base and instead uses miso sauce. The beef is slow-cooked for at least 12 hours, then pulled, and a few chilli flakes are scattered on top.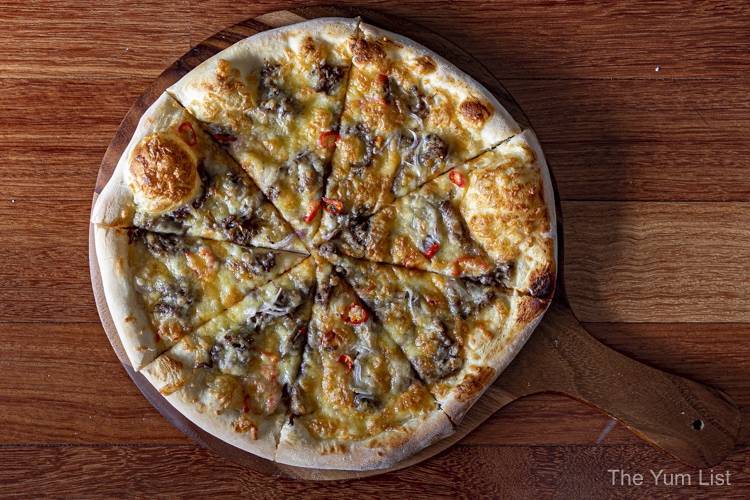 Those wanting to continue the Japanese trend will enjoy the Pan-seared Unagi Rice Bowl (RM25). The unagi is soft and sweet. Most in our group, though, thought of the Grilled Mackerel (RM28) as the winner. It featured flaky, delicate meat with sambal sauce on the side for those who like it spicy and trimmings on the top for those that want a mixture of flavours. It was a great dish to pick at and share with your friends while you drank and chatted.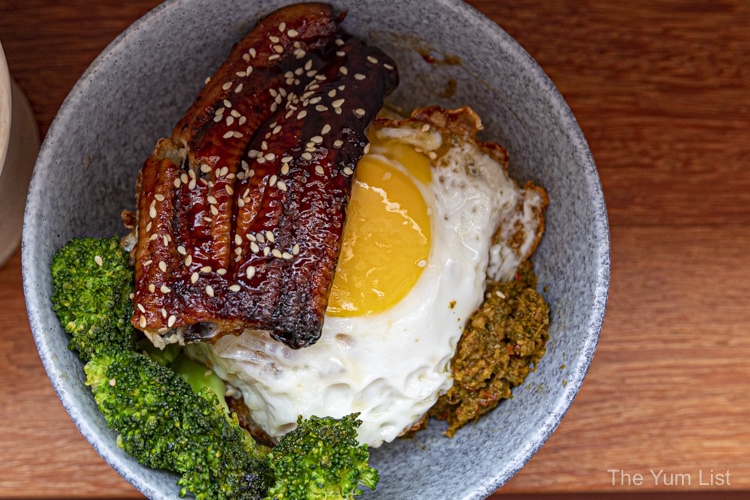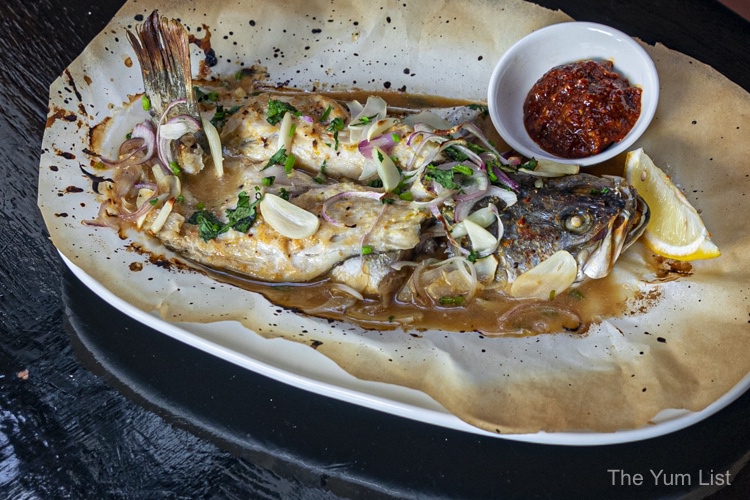 If you can't leave a restaurant without desserts, you have options, too! The Matcha Cheesecake (RM16) not only looked striking with its layers but provided dense, tummy-filling sweet satisfaction. We heard that there'll also be a few more choices on the menu soon.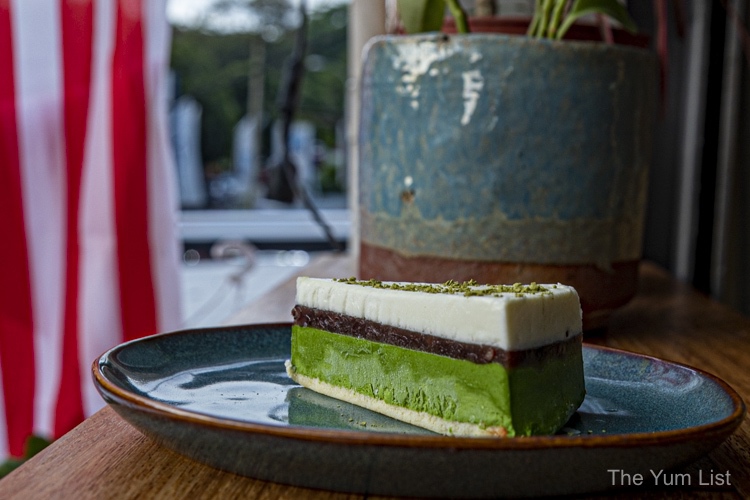 Reasons to visit Haba Restaurant & Bar: great location for a swift lunch (great deals) or after-work drinks that quickly turn into an evening out; a pleasant neighbourhood strip in Bangsar; three Hours of Happy (5-8 pm)! with selected wines and highballs at RM 15 per glass and draft beer from RM11; don't miss the Salmon Rolls and Chicken Gyoza, get a pitcher of Sakatini to share and give my fave Rumput Lemon a go on a hot afternoon.
Haba Restaurant & Bar
42A, Jalan Kemuja, Bangsar,
59000 Kuala Lumpur, Malaysia
+6011-1160 8842
http://habakl.com.my/
Haba KL Opening Hours
Tuesday to Thursday: 12 pm -12 am
Fridays 12 pm-1 am
Saturdays 5pm -1am
Sundays 5pm-12
Monday: Closed