Renaissance Bali Nusa Dua Resort
Words: Kirsten Durward
Photos: Monica Tindall
Situated in extensive lush landscaped grounds in the Southern Bali Peninsula, Renaissance Bali Nusa Dua Resort delights us on first impression. Inspired by Balinese theatre, the vast reception area is a modern mix of theatrical design and contemporary lifestyle elements. Funky, eclectic seating forms conversation areas. Bright tones are interspersed with natural textures, and the vibe is expansive and uplifting. Claiming to be the first lifestyle resort in Nusa Dua, this is an original hotel where the staff are neighbourhood navigators modelling indigenously influenced designer clothes.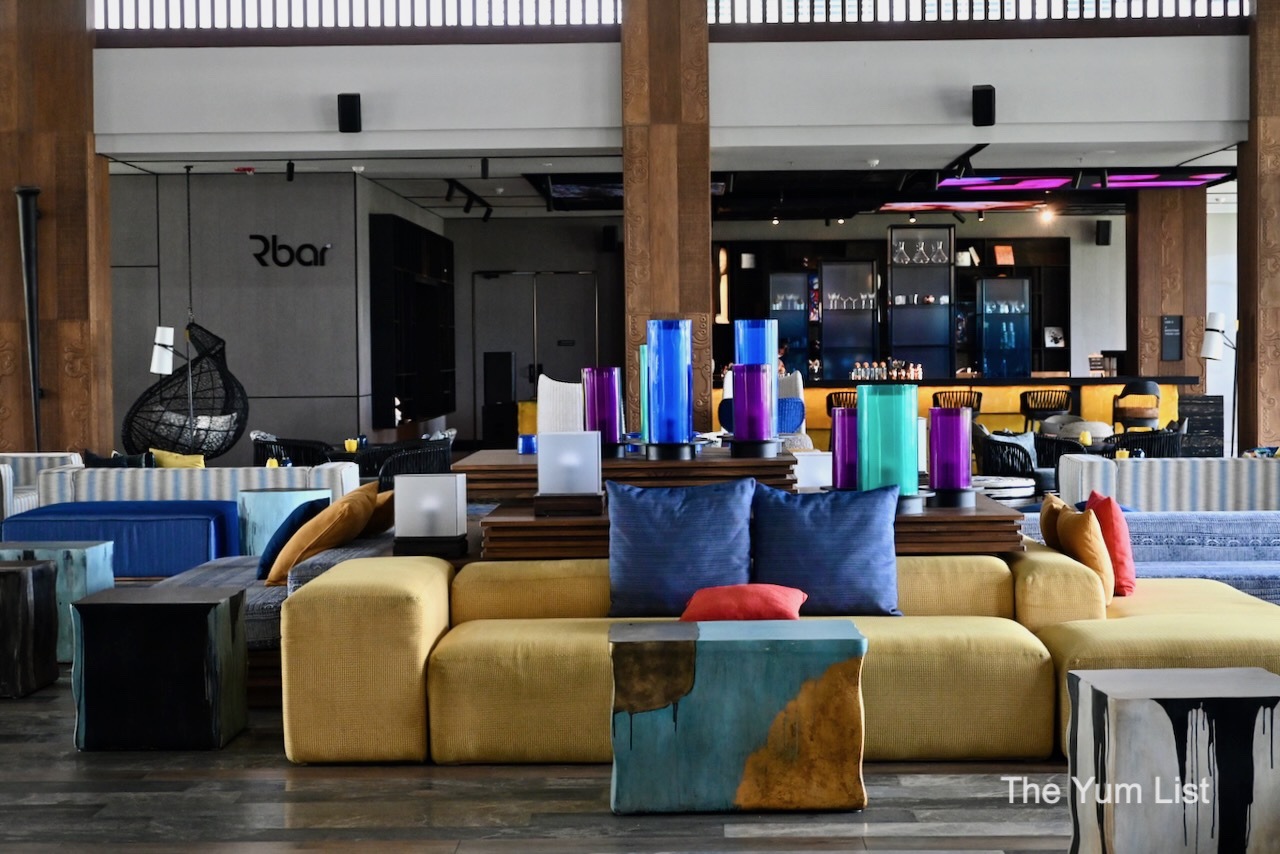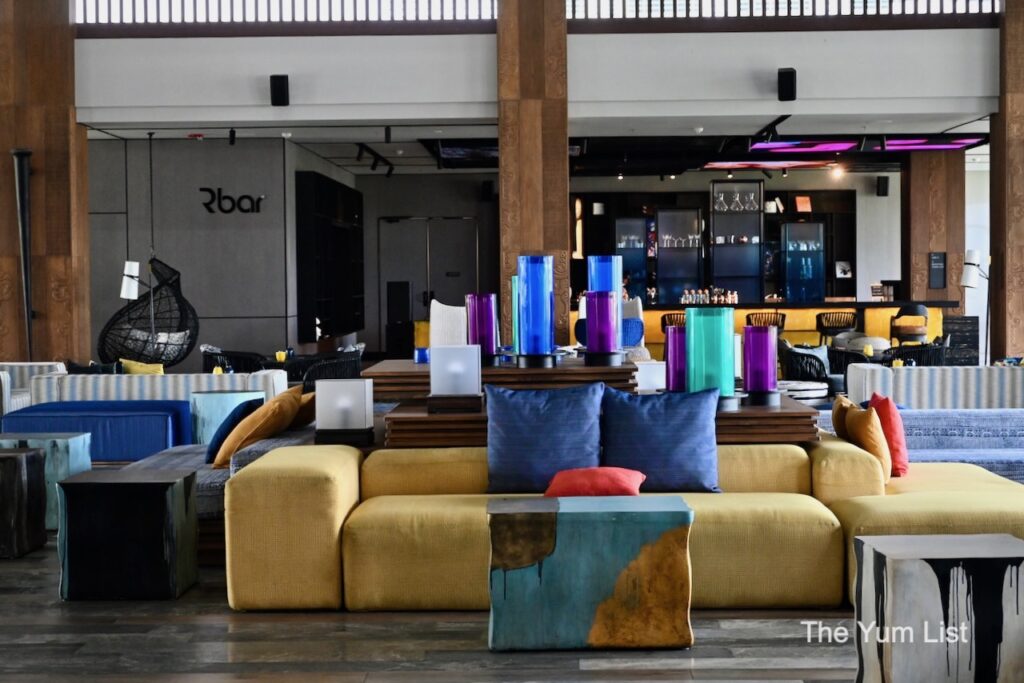 Renaissance Bali Nusa Dua Resort
Stylised Bali designs are threaded through the property. Dancing ladies subtly sketched in tones of grey, metal cutouts throwing shadows from spotlights and ceiling recesses, creating mysterious textures and shapes. Shadow puppet imagery is everywhere in black metalwork and tones of purple and blue. The outdoor spaces with cascading waterfall walls and oversized topiary add drama. At the same time, unique and comfortable furniture offers casual conversation areas throughout the property.
Renaissance Bali Nusa Dua Resort Rooms
The Renaissance Bali Nusa Dua Resort offers a wide range of spacious rooms, suites and pool access rooms with a signature contemporary design style. All rooms provide a private balcony, variously with sea view, garden view or pool access (soon to be open).
Our Deluxe Twin Sea View room embraces the theatrical concept with verve. The door opens to reveal a Balinese mask image spotlit on the floor. We feel like stylish superstars in the bathroom room area, complete with a deep-soaking bathtub. The sleeping and living area extends the understated drama with clever lighting effects and staged conversation pieces. One-off furniture pieces, rather than ubiquitous hotel bland, extend the lifestyle concept while fashion fun is introduced with elegant turquoise tassel walls. It's fresh and contemporary with modern room amenities such as the 55-inch LED TV interspersed with cheeky nods to the past like the old-style cellophane film reel which holds our welcome snack of salted caramel popcorn.
We are delighted to sink into oversized twin beds with soft, plump pillows. The generosity of the bedding gains a big thumbs up from both of us, as does the universal socket that actually works and the spacious in-room dining table, which doubles as a desk. Marriott brand is known for its high-quality products. We are treated to bath and body products from Argus by Margo. However, we are somewhat disappointed to find single-use plastic bottles after experiencing sustainability-orientated properties. Whether for work, play, or our favoured combination of both, the Renaissance Bali Nusa Dua Resort offers top-notch accommodation. Perfect for the digital nomad with a style addiction!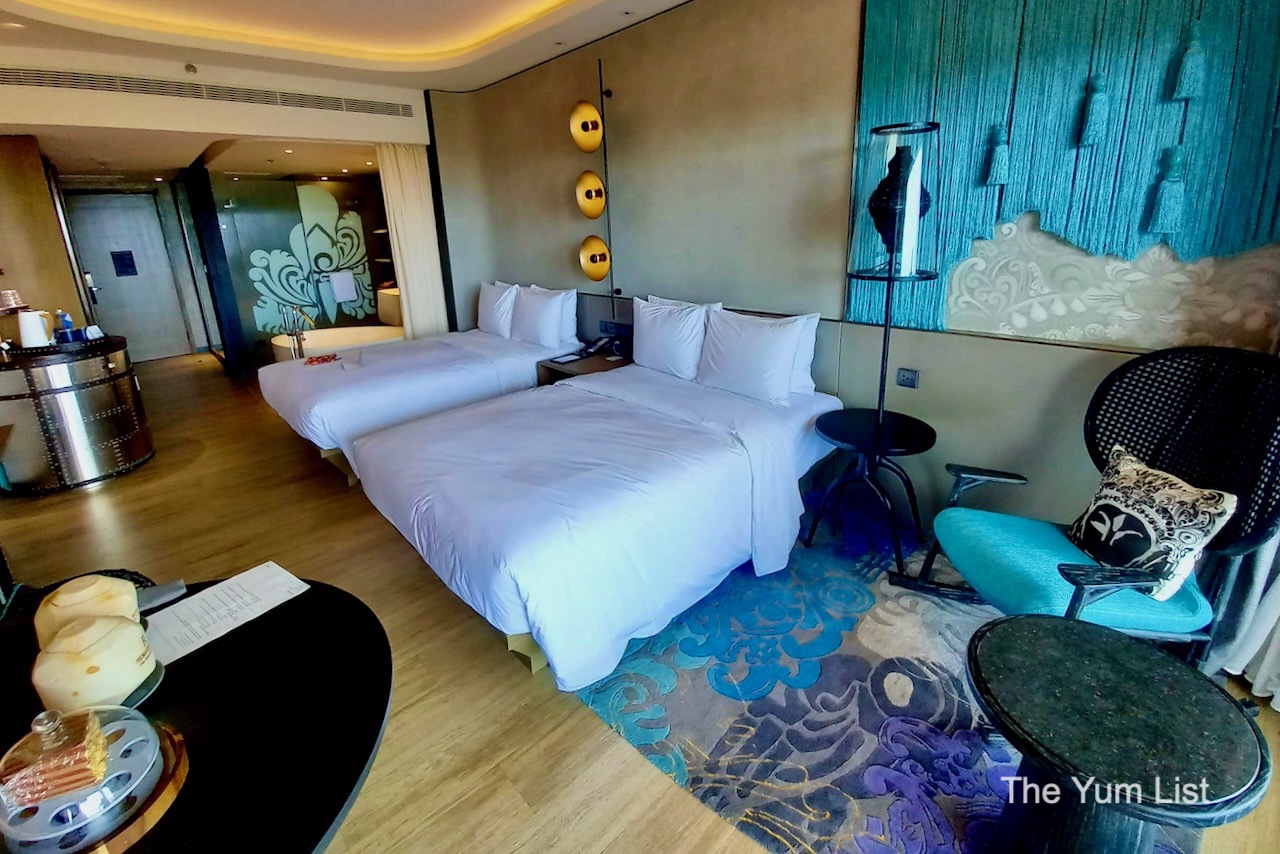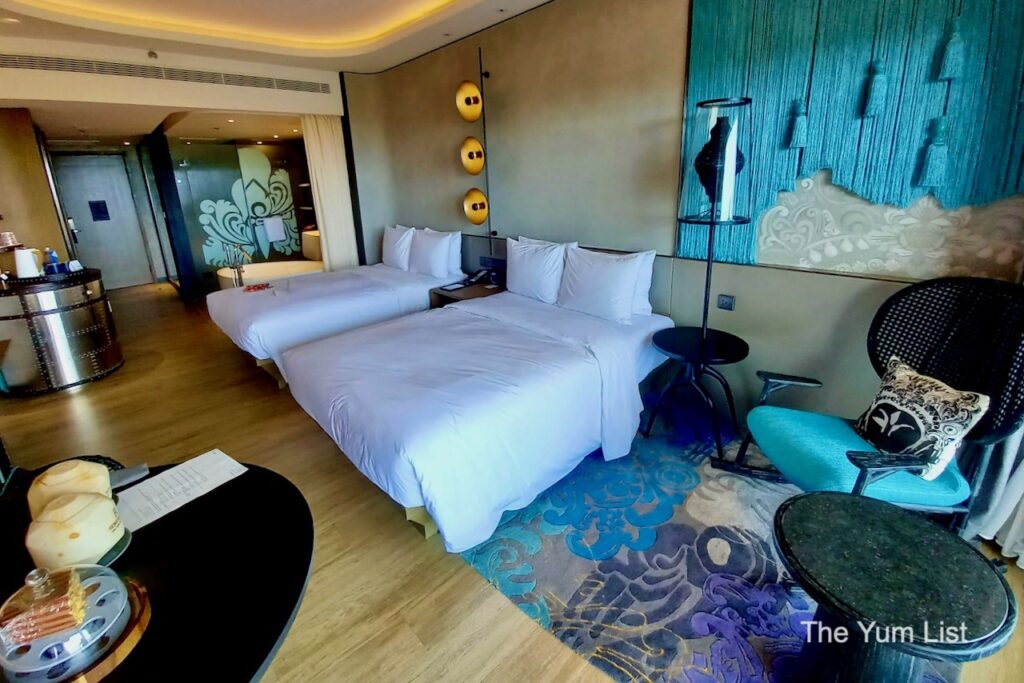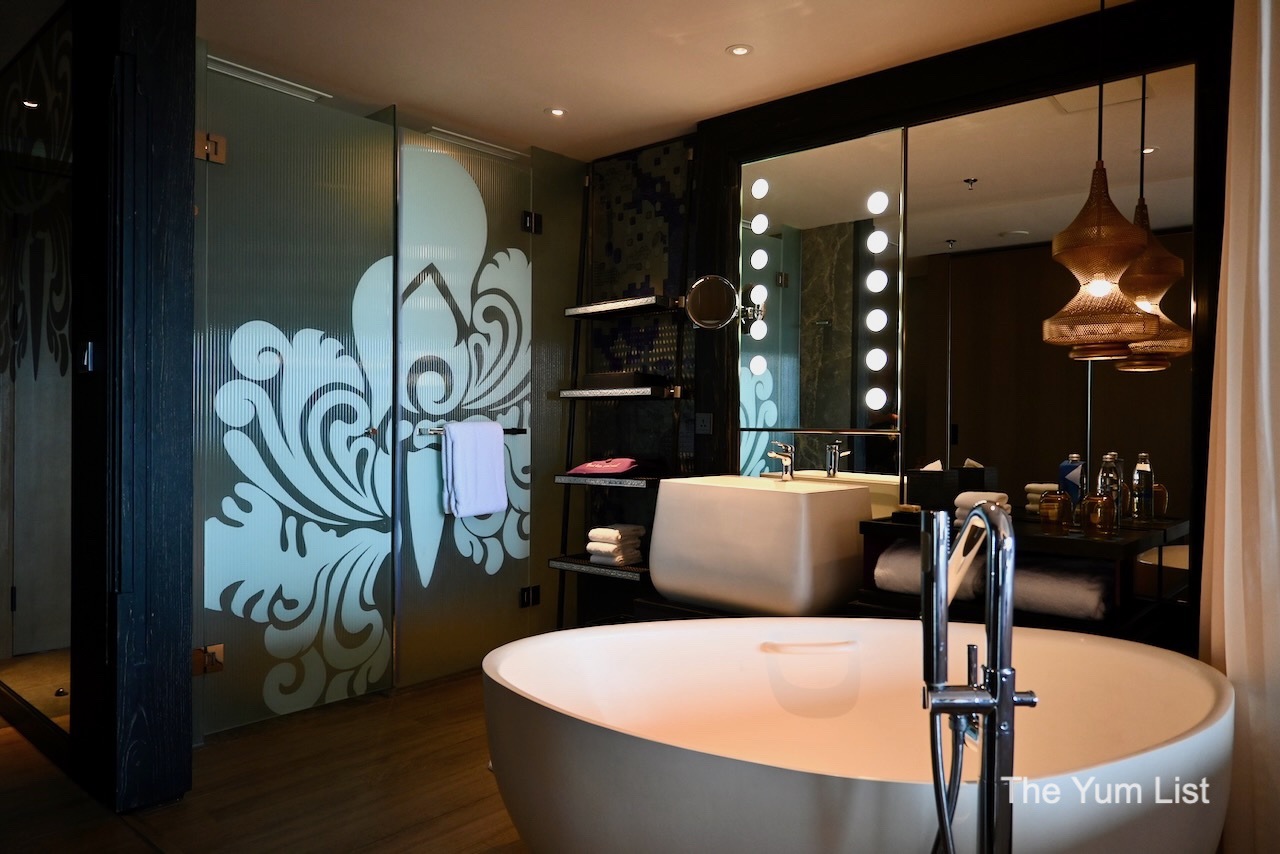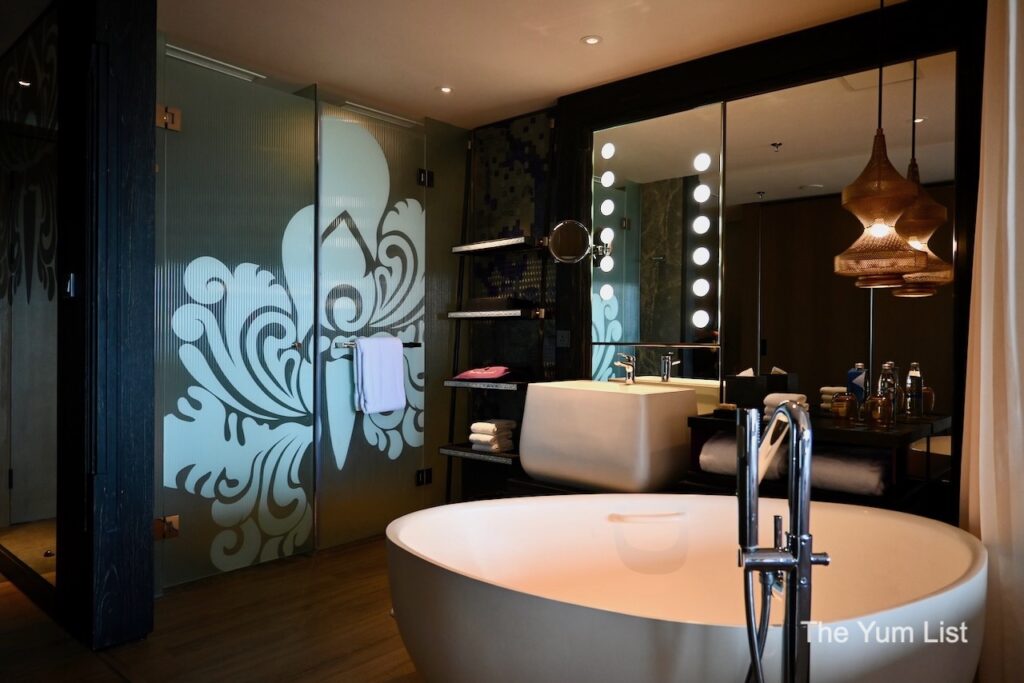 Food & Beverage
We sampled the range of F&B outlets available. We found tasty, freshly prepared food with some creative twirls served by friendly and happy REN Navigators. The resort's food and beverage offerings will soon be expanded with Lion-X for modern Cantonese cuisine, Tanah Liat for fresh, locally sourced produce, and Nusantara for authentic Bali flavours.
We look forward to the opening of these extended options, but in the meantime enjoyed a range of tasting choices during our stay.
Backstage Food Theatre
A contemporary all-day dining outlet with a modern industrial design and open kitchen cooking stations, Backstage Food Theatre serves classic and creative dishes with a few signature twists.
Breakfast offers a plethora of options from fresh juices, salads and fruits through a table groaning with baked goods to an array of cooked breakfast items at the Egg Factory, the Pork Station and (what I call in my mind) the Asian Stage, featuring Balinese, South East Asian and Indian delicacies.
I recommend the soft veggie dumplings and the craft-your-own juice station. Bread-eating carnivores should try the Backstage Bebek Betutu Benedict, an original take on a traditional dish with lightly spiced duck fronds on a charcoal bun forming the central element under the soft poached egg and creamy sauce. Find a full report on our Backstage experience here.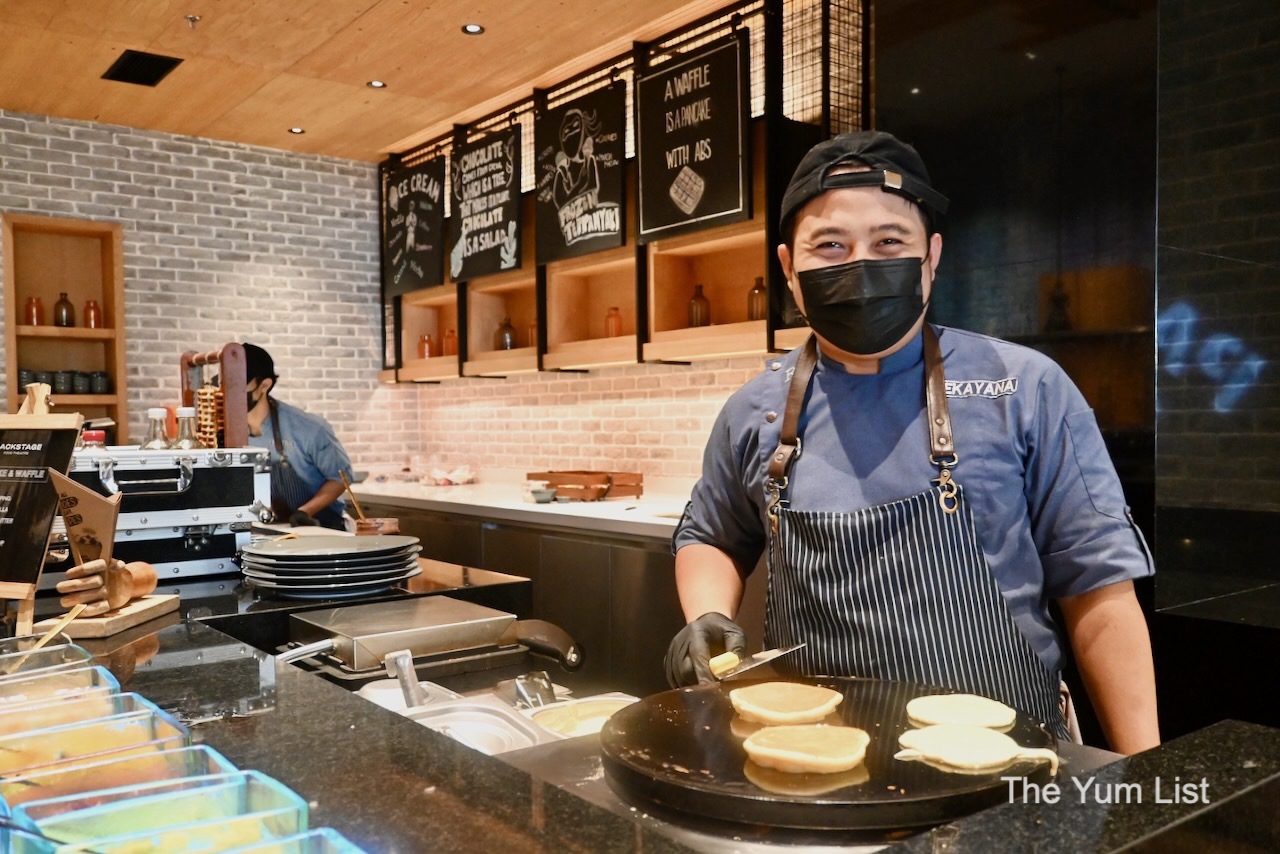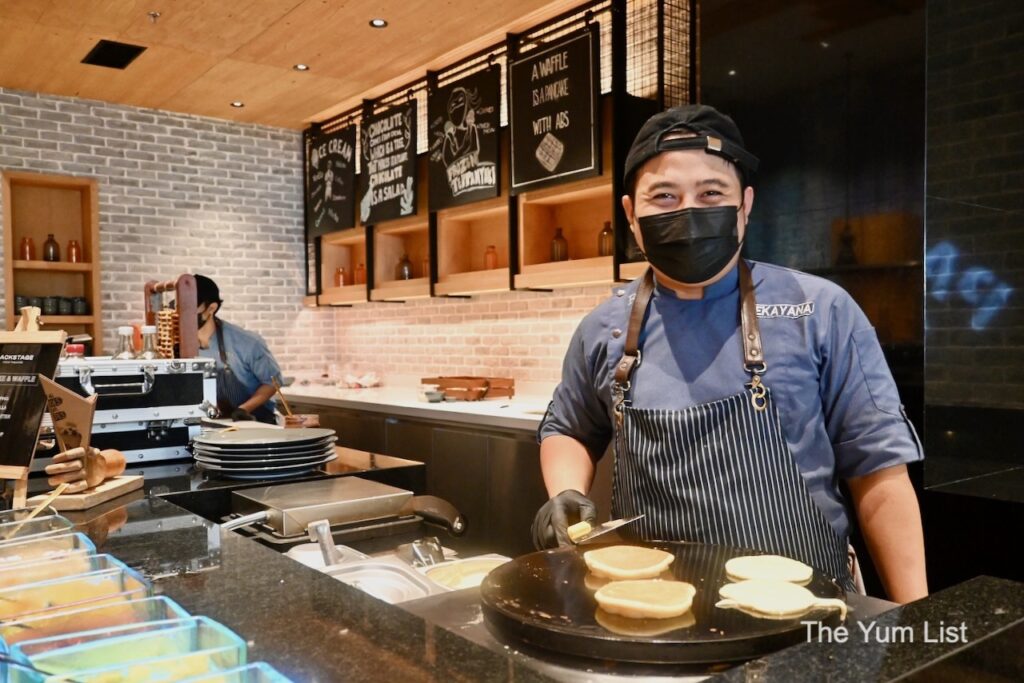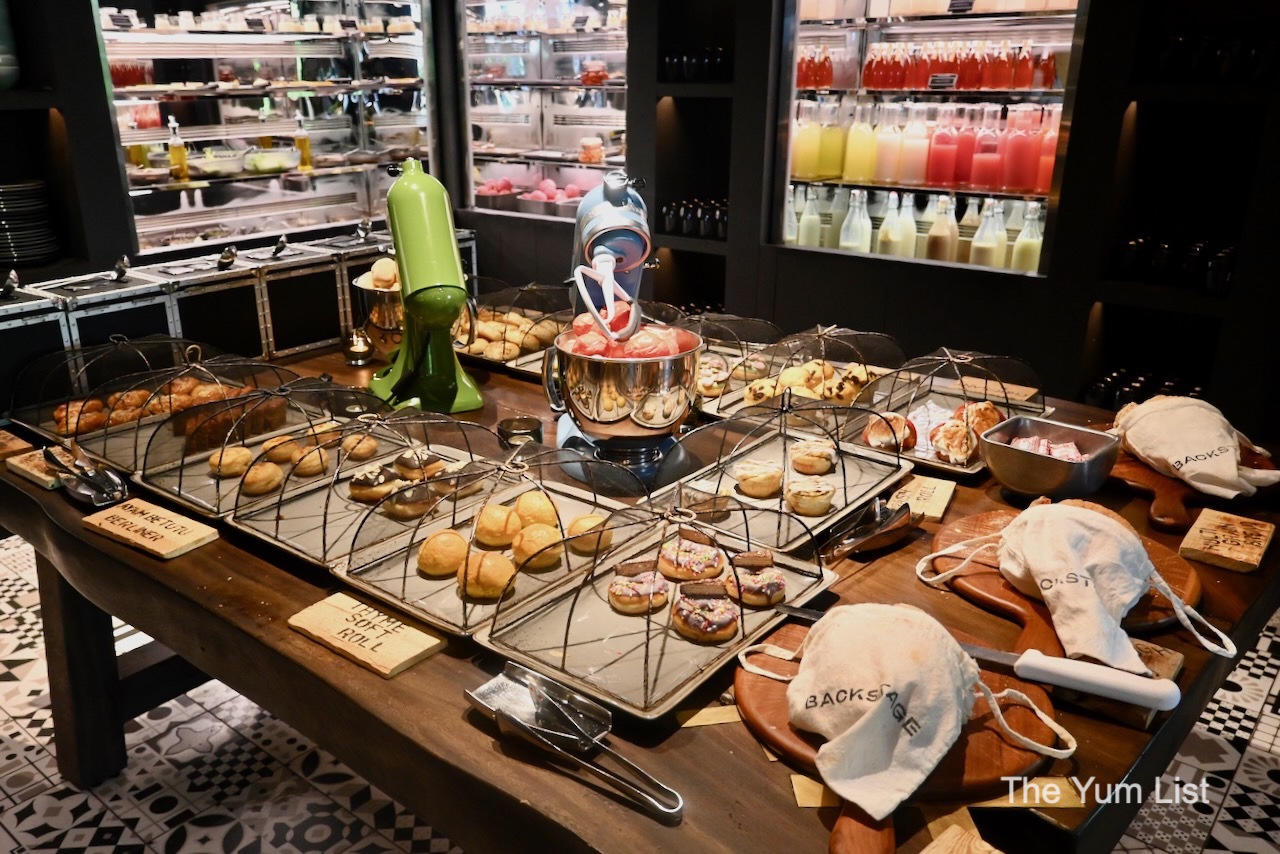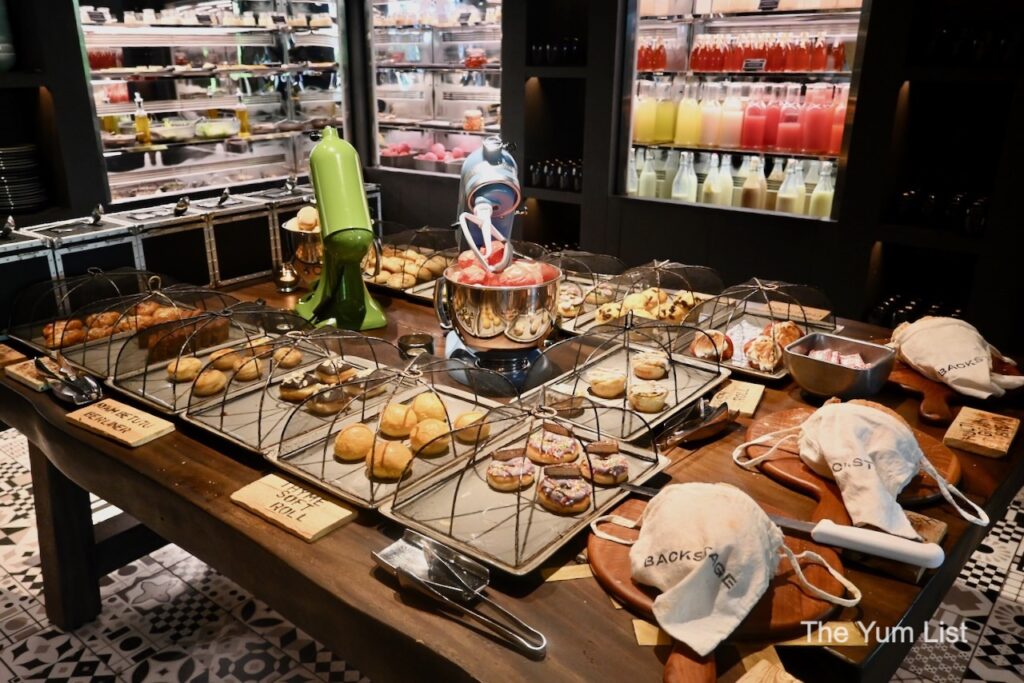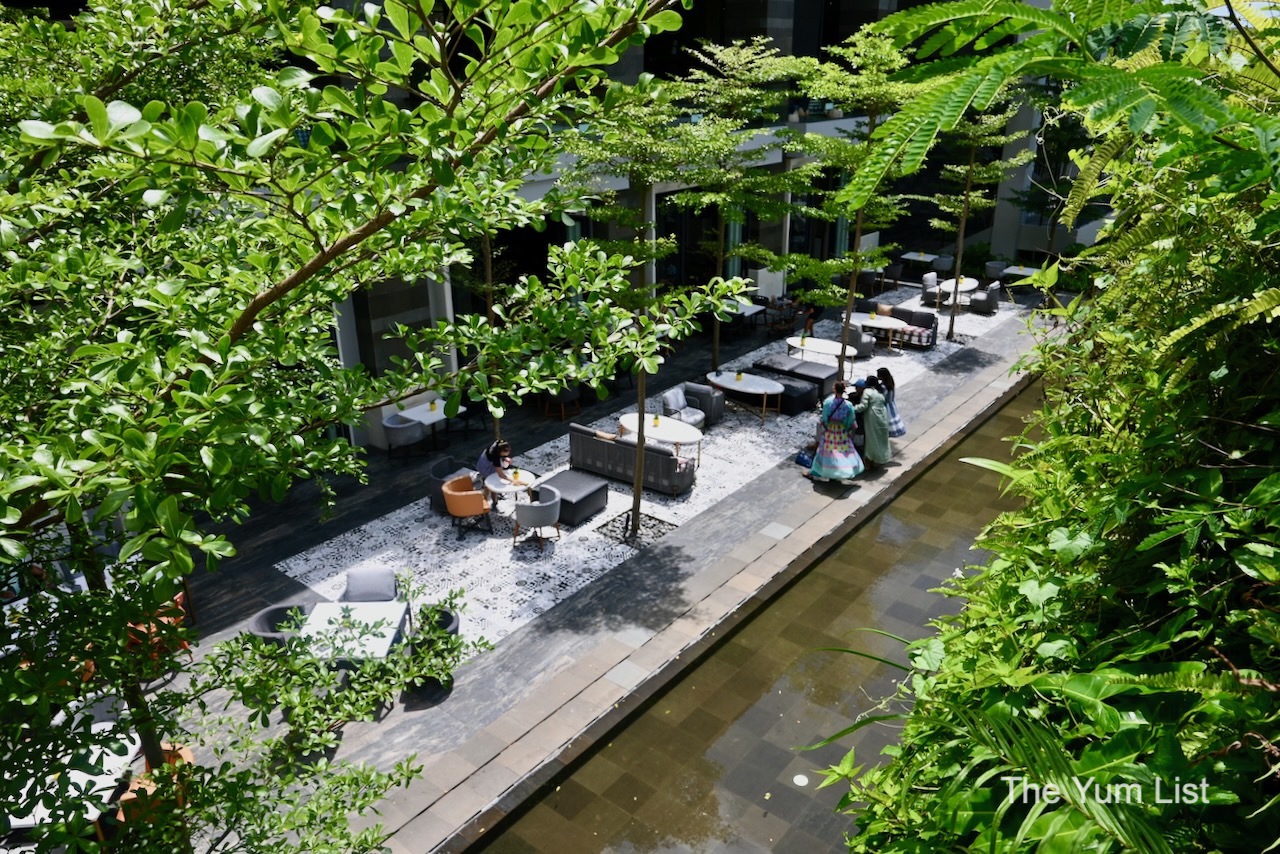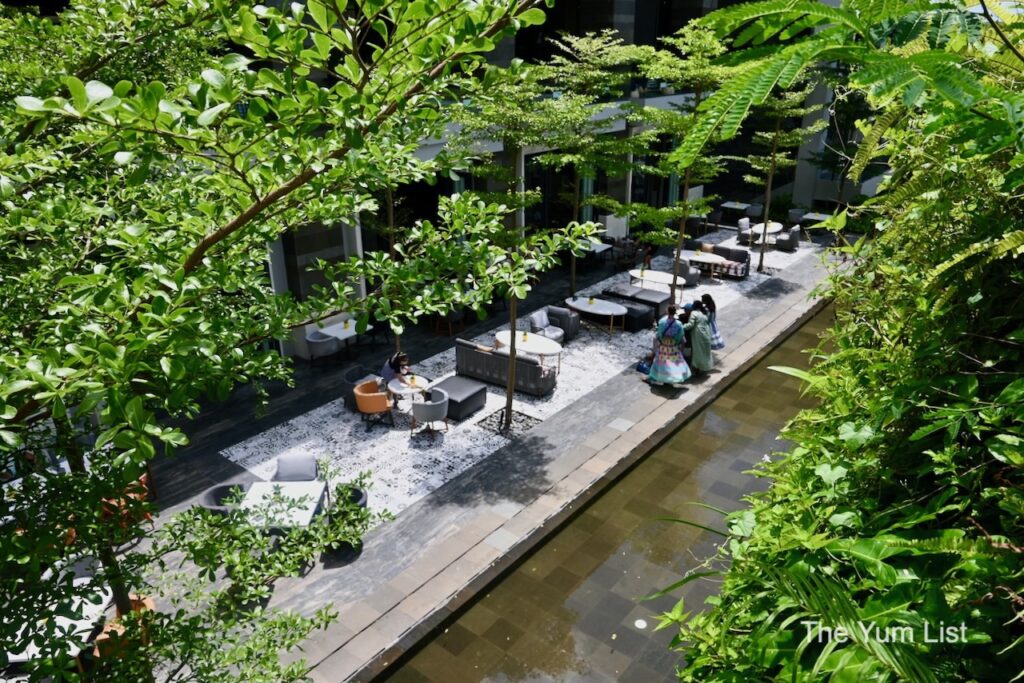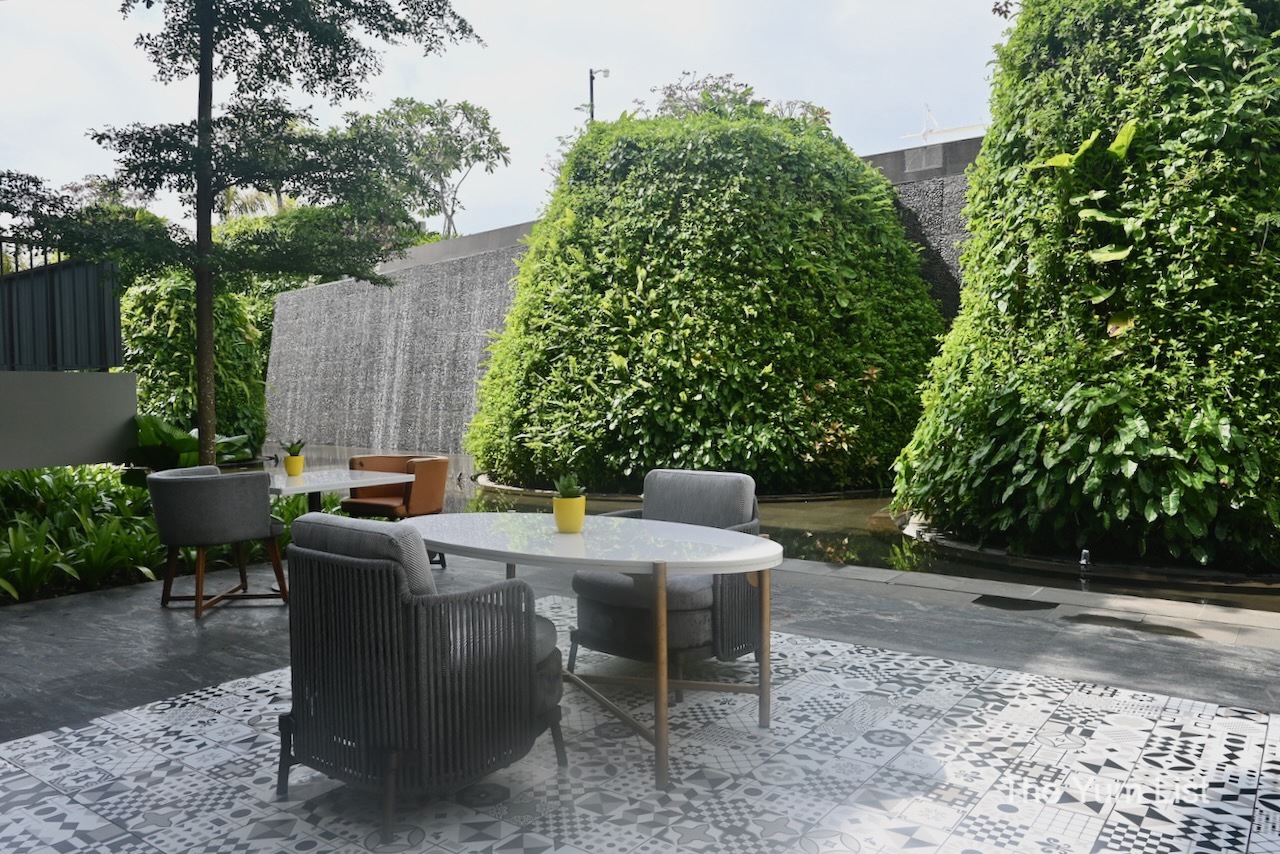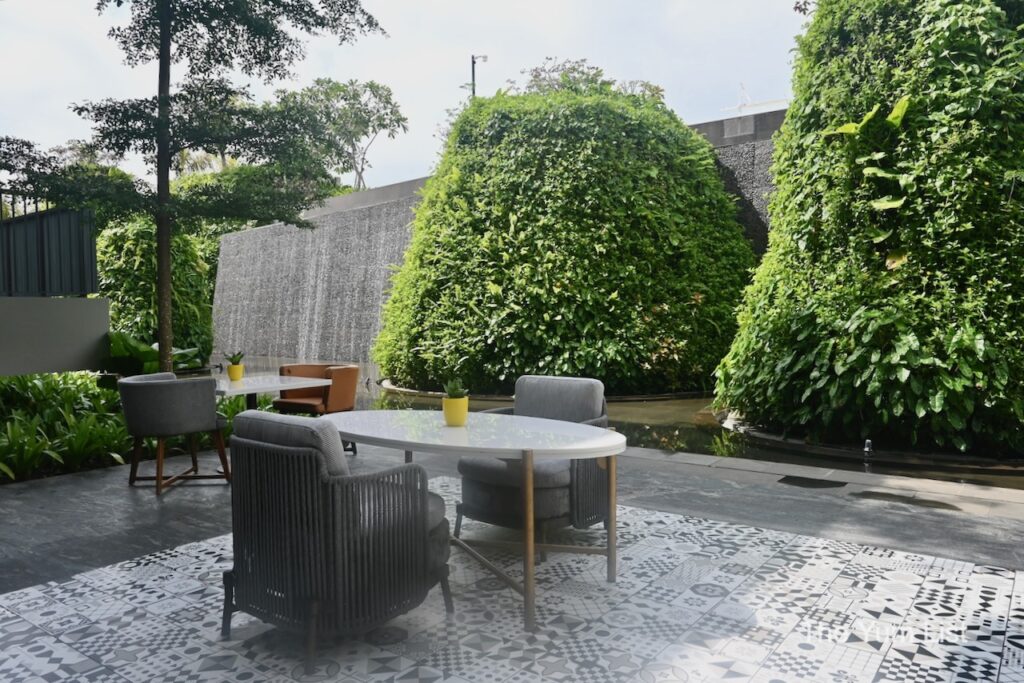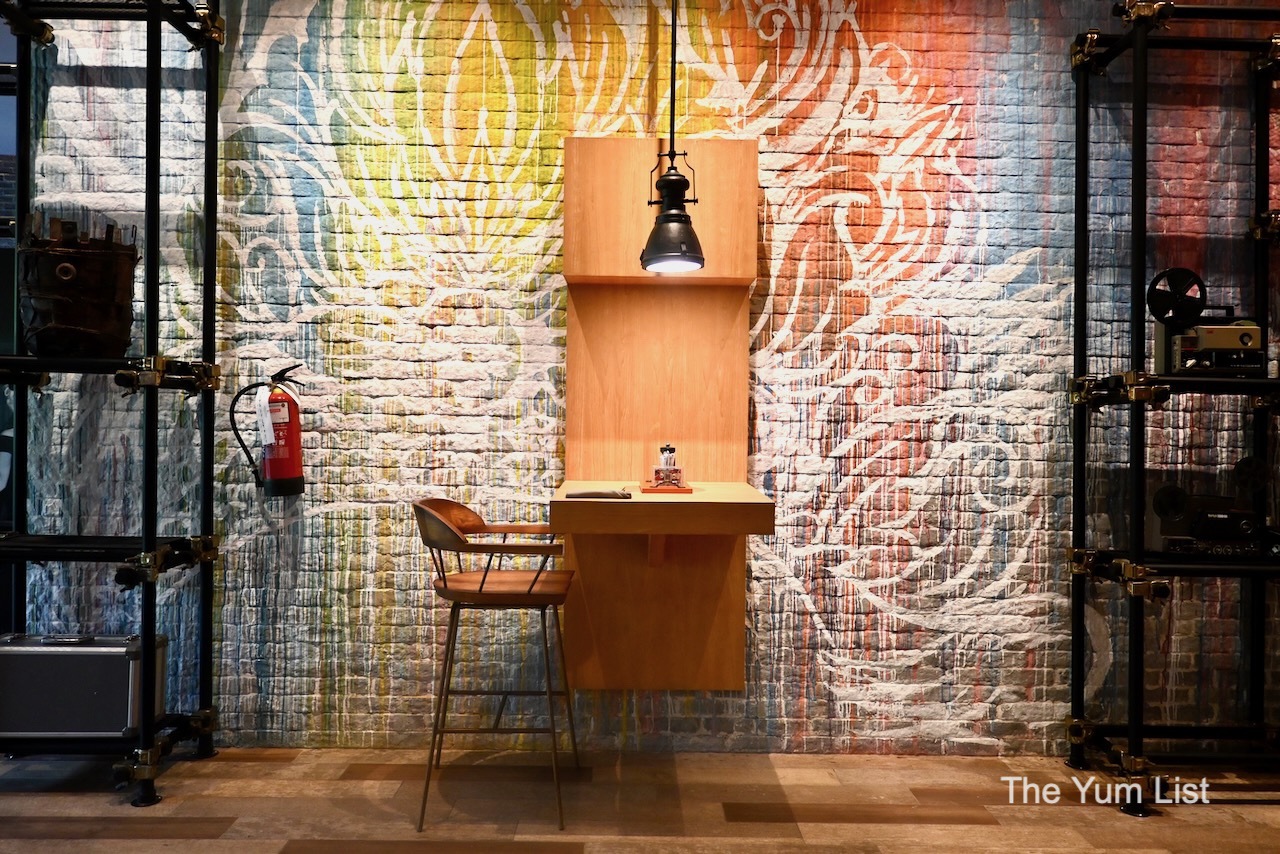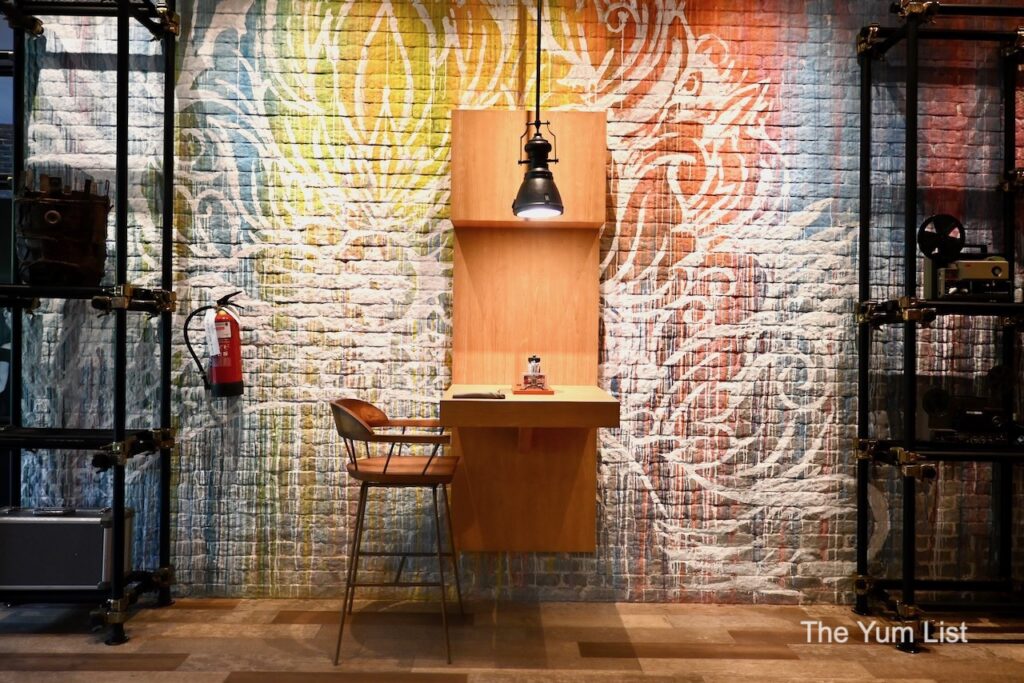 Atomic 17
A gelato station stands guard at the Atomic 17 entrance, expressing the laid-back nature of this modernistic tropical pool bar. Beaming barmen Bayu and Ewa greet guests from their 'stage' – a massive natural wooden bar. In a fresh and funky space, Atomic 17 serves juices, smoothies, classic cocktails and poolside plates throughout the day. We are here to catch the dinner vibe.
From the Halogen-free non-alcoholic beverage menu, we taste Electric Marmalade: chamomile tea, soursop and lemon with orange marmalade. It's delicious, though, in our expert opinion would benefit from a shot of rum or vodka! For food, we try the Spinach Gnocchi with cherry tomato, quinoa and rocket, The Slice of Edo featuring tuna, salmon, mango and avocado, Charred Sweet Corn with sambal mayonnaise, and a vegetable-packed Cauliflower Rice Bowl. The highlight of our poolside meal was the Ikan Bakar Nusa Dua, a perfectly cooked piece of grilled gindara with spiced grated coconut mixed vegetables, peanut crackers and aromatic shrimp chilli paste. It's a definite Yum for us!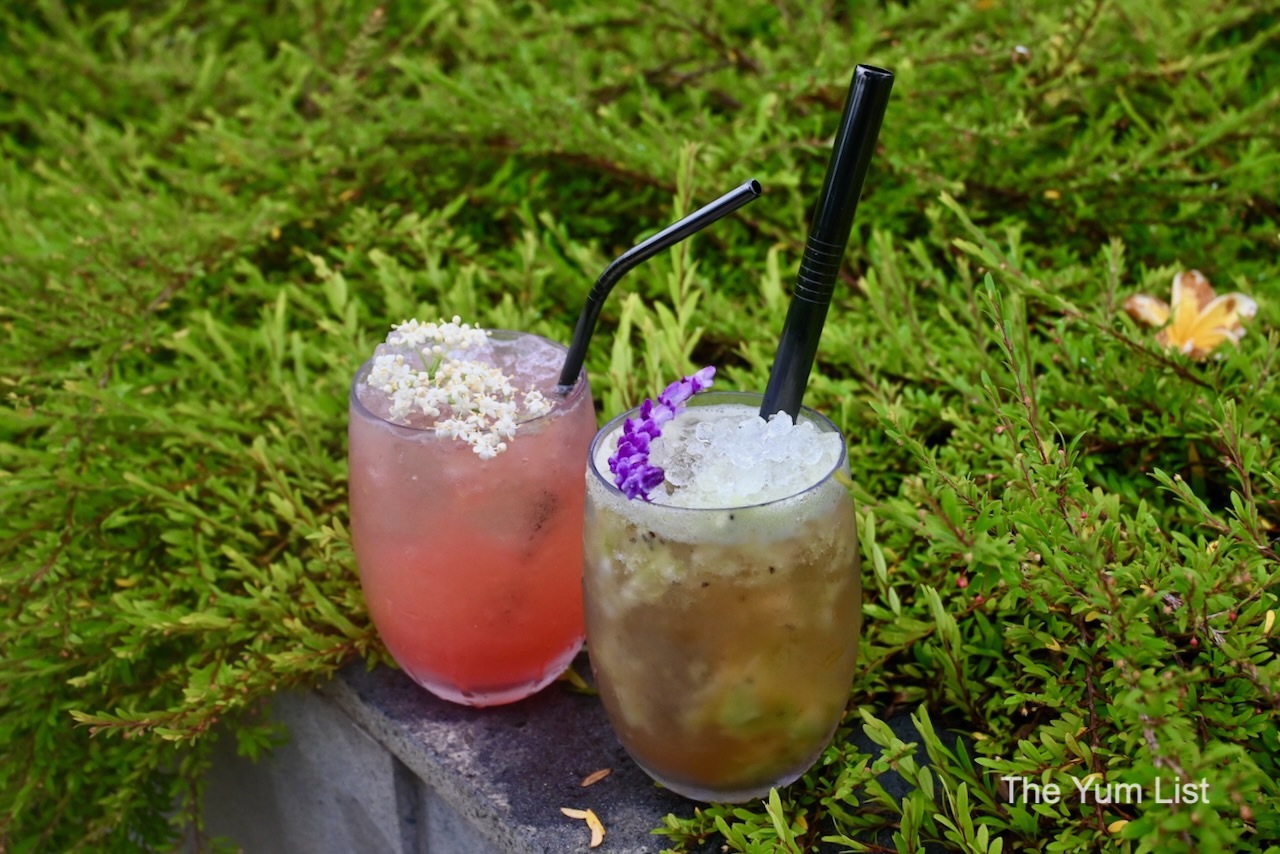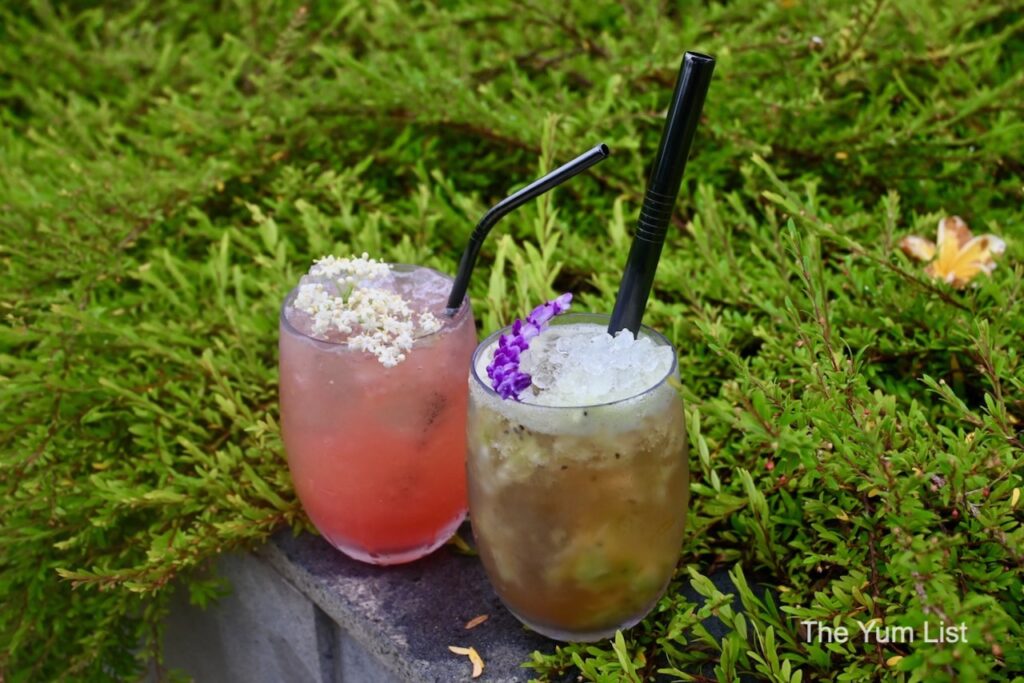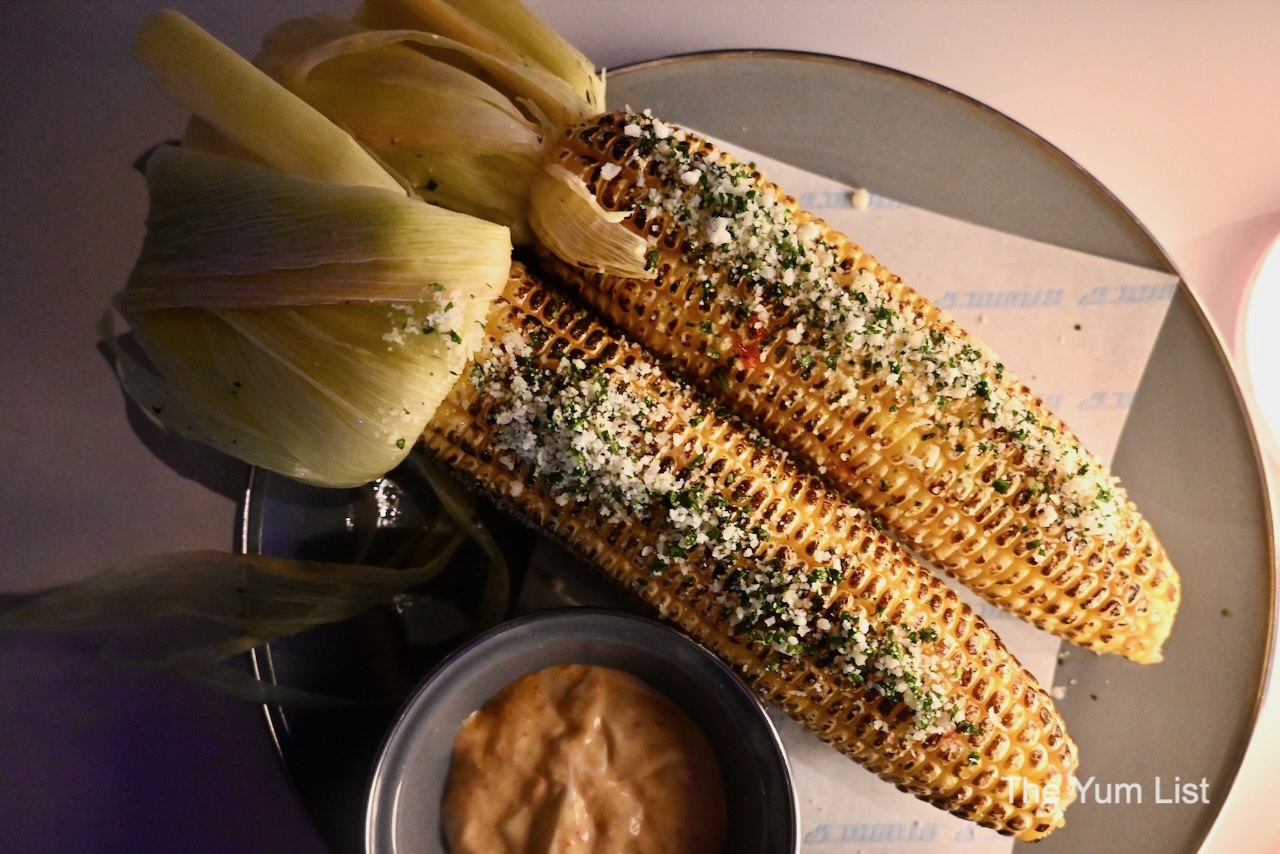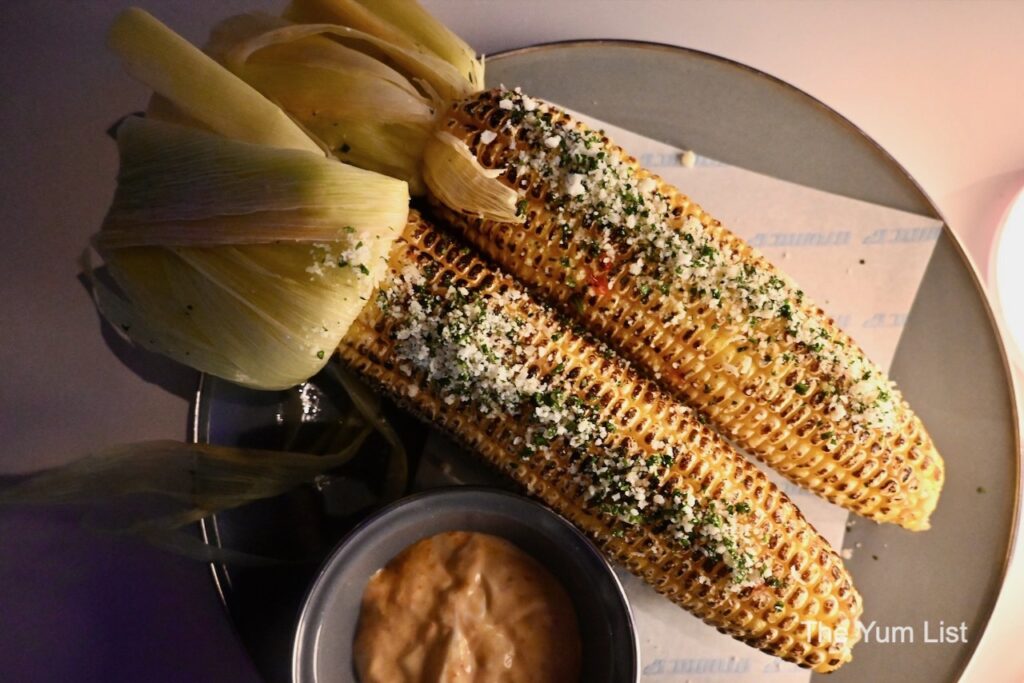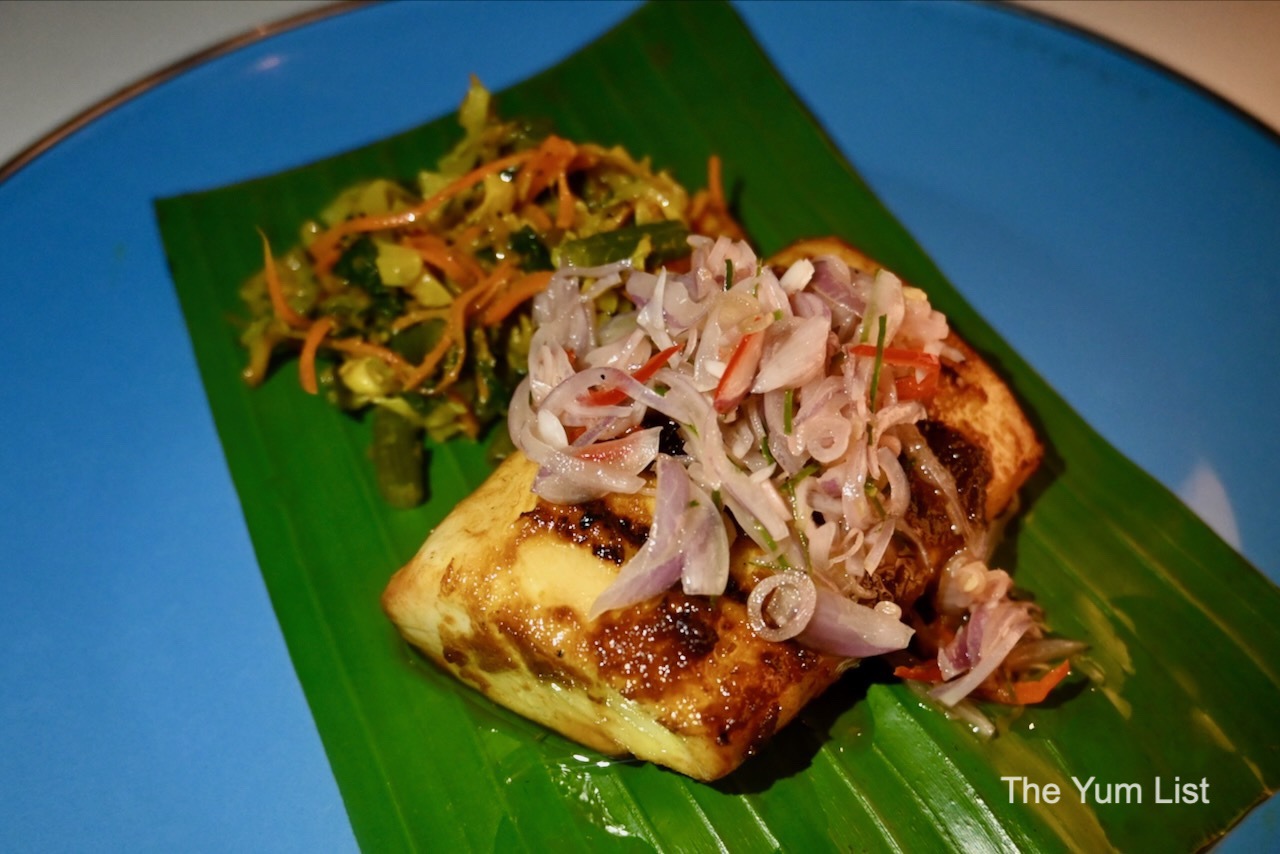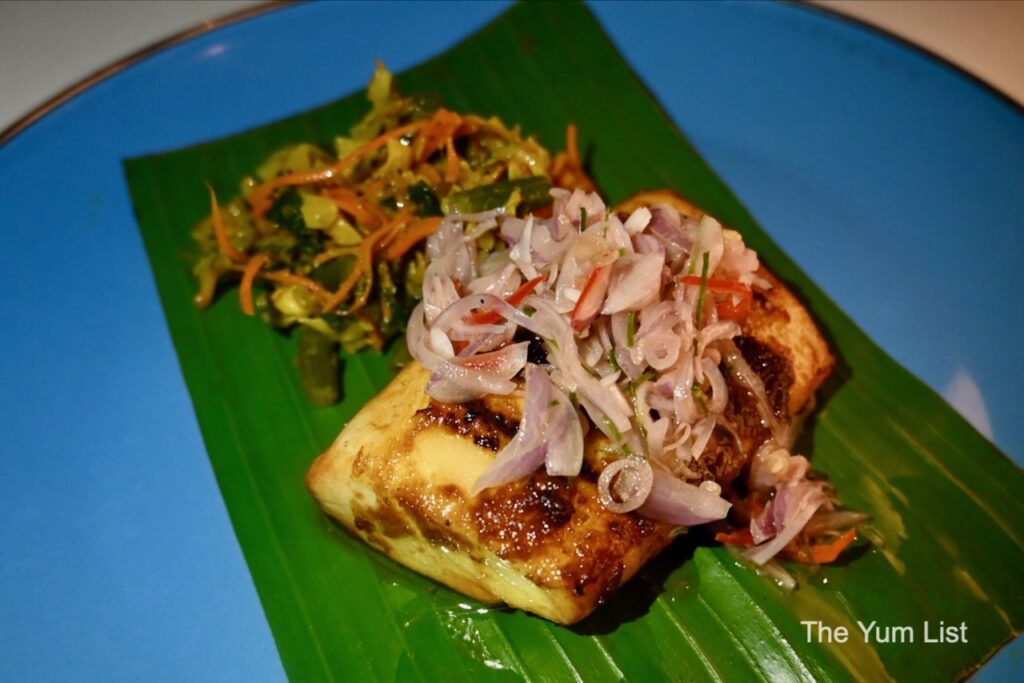 Afternoon Tea at R Bar
Situated in the simply spectacular reception area of Renaissance Bali Nusa Dua Resort, R Bar is a cool art-inspired outlet. Colourful projections subtly slink across the ceiling. Our REN Navigator, Rias, in flowing Paul Ropp designs, settles us on roomy sofas where we wait with anticipation to begin our 'Modernist Tea Party' (Rp 450,000 for two pax) enjoying the upbeat rhythmic music and cooling breeze which pervade the high-roofed space.
Rias enters stage right bearing a full-size make-up artist case, opening it with a flourish to announce an array of original delicacies prompting happy exclamations and delighted smiles from us both.
Starting with savouries, 'Bebek Betutu Taco' is a crunchy bite of lightly spiced duck. At the same time, the Goat's Cheese Berliner takes a cheeky squirt of an eye-dropper to infuse moist basil pesto.
From the sweet treats, our favourites are the Matcha Cheesecake with soft meringue and sesame crisp and the raspberry-infused Bai Cocoa & Tabia Panna Cotta. The slight chilli flavour adds a subtle mole-like aspect to that concoction. Sweets continue with a Caramelia Baked Doughnut, Bedugul Berry with sweet Pandan Gelee and Miniature S'mores.
The afternoon tea is completed with both natural and bamboo-charcoal stones accompanied by house-made jam and mascarpone cheese. It's a flirty take on afternoon tea with fun ideas and flavour combinations.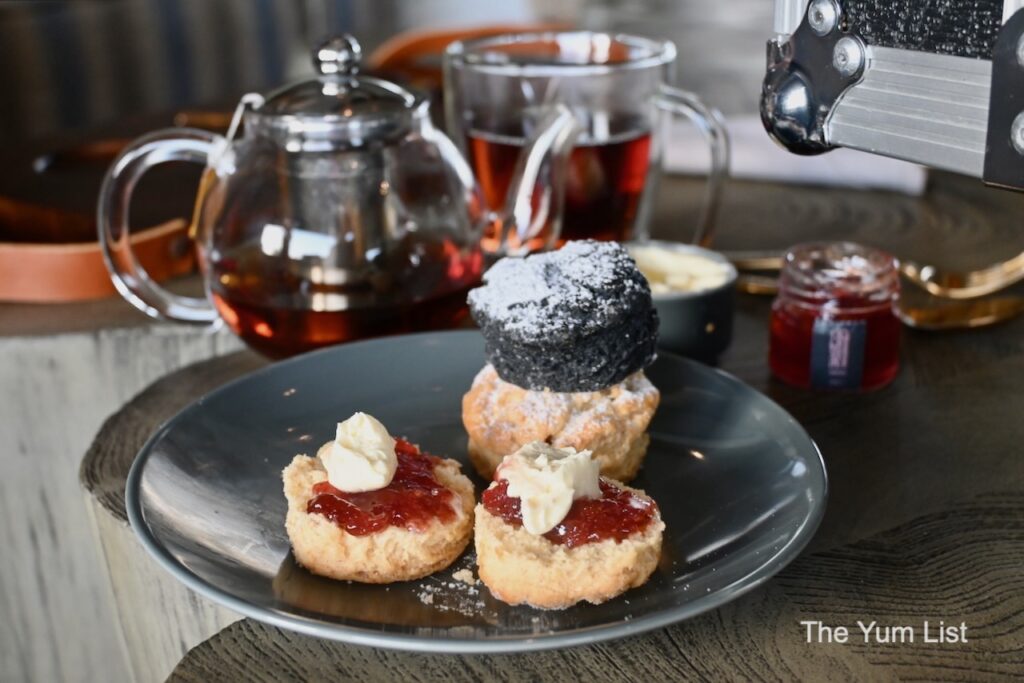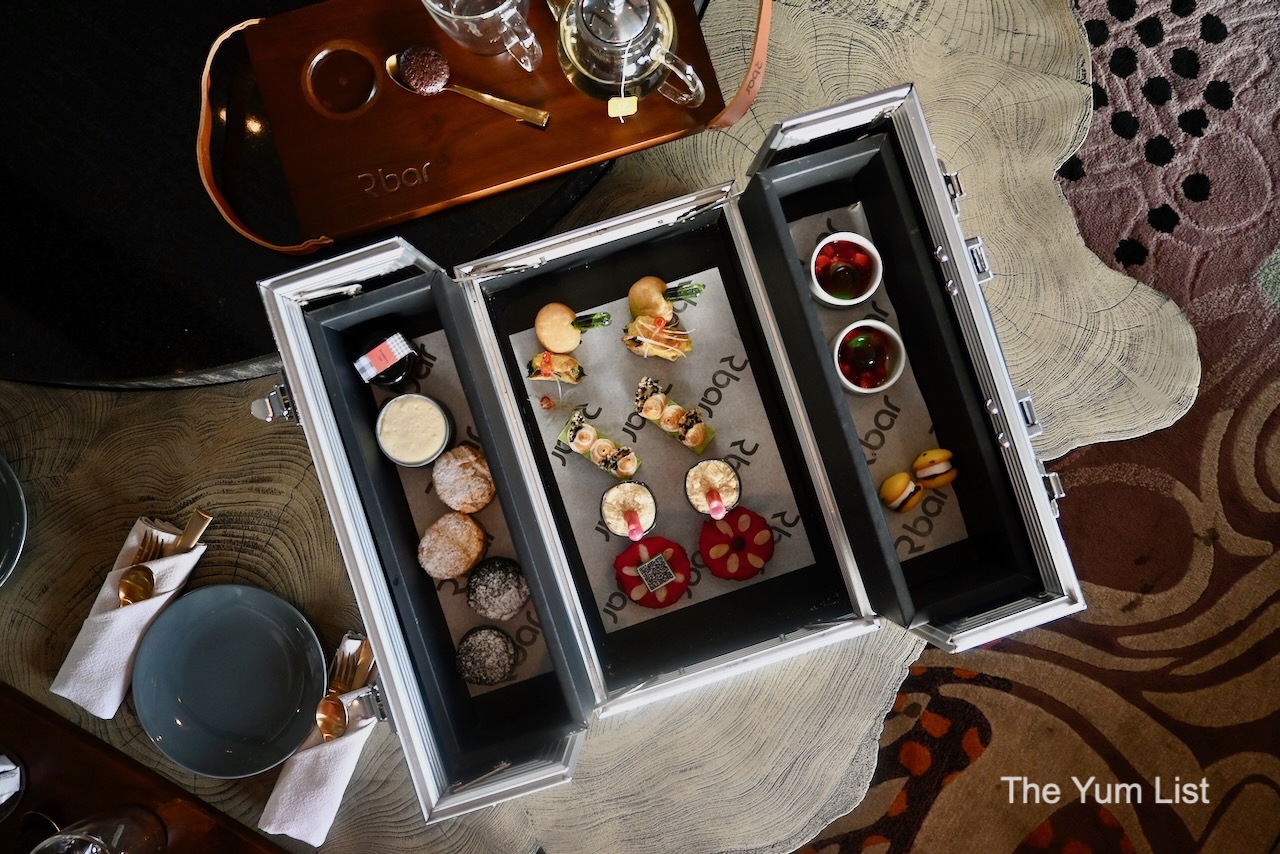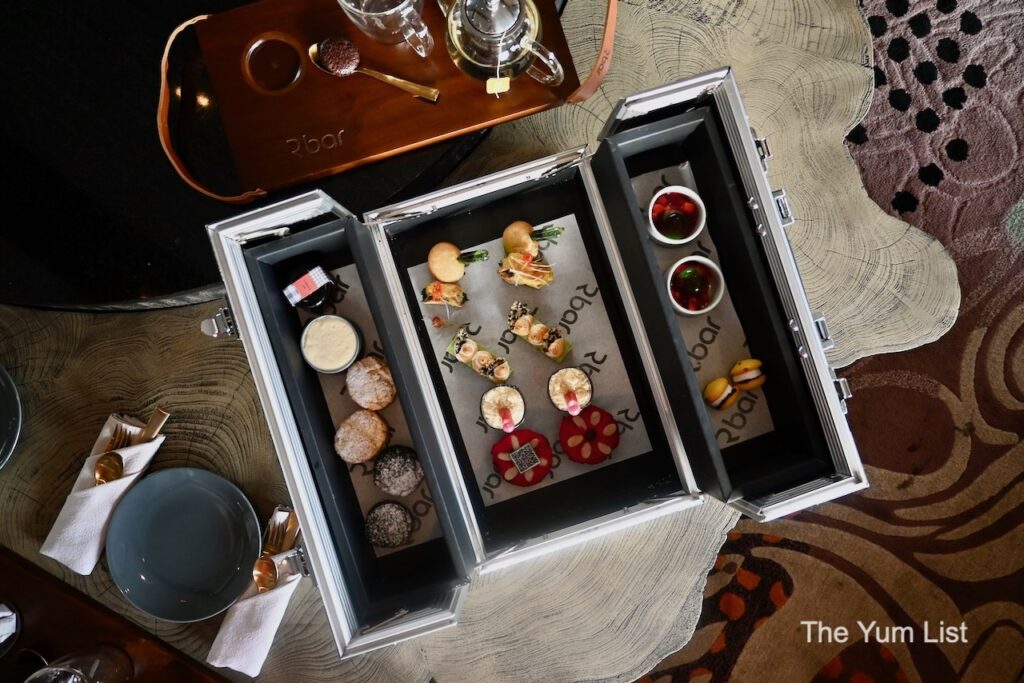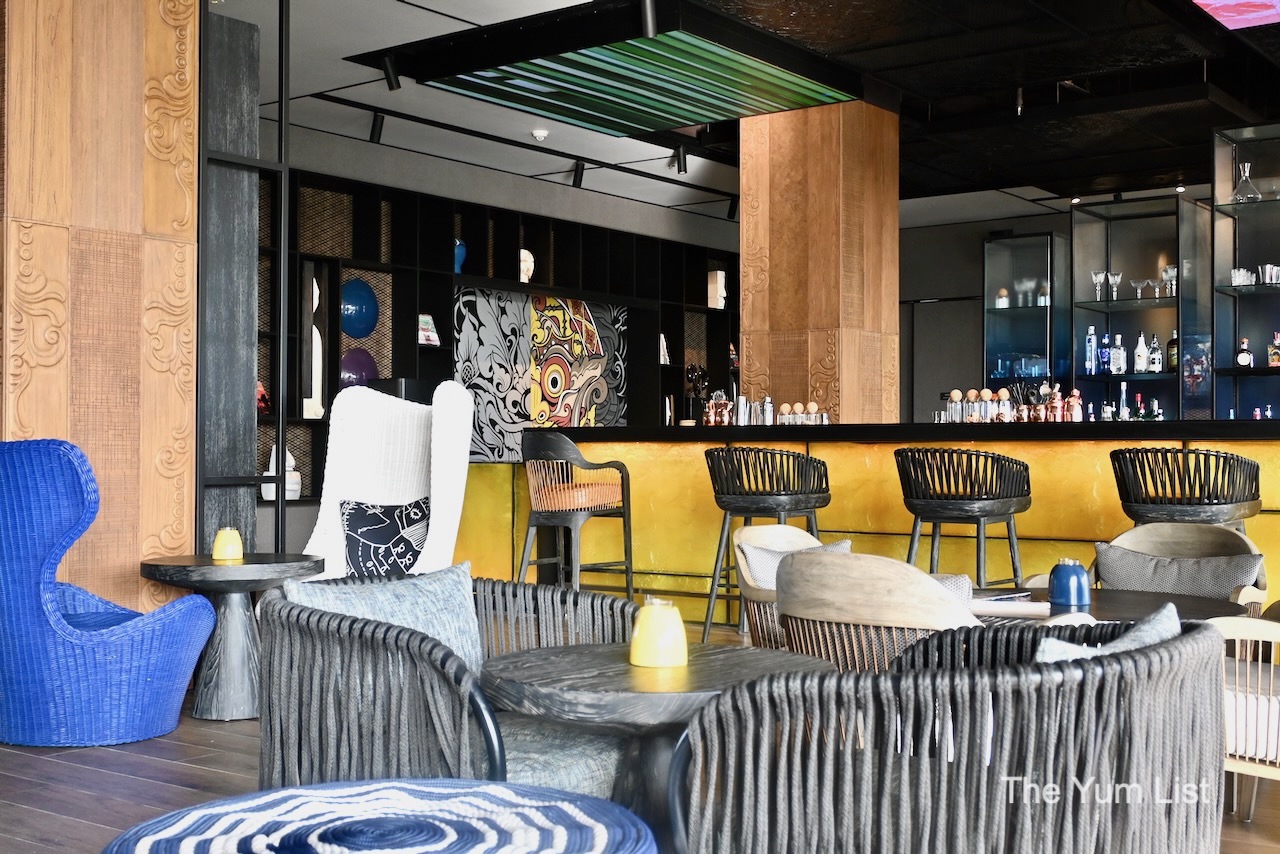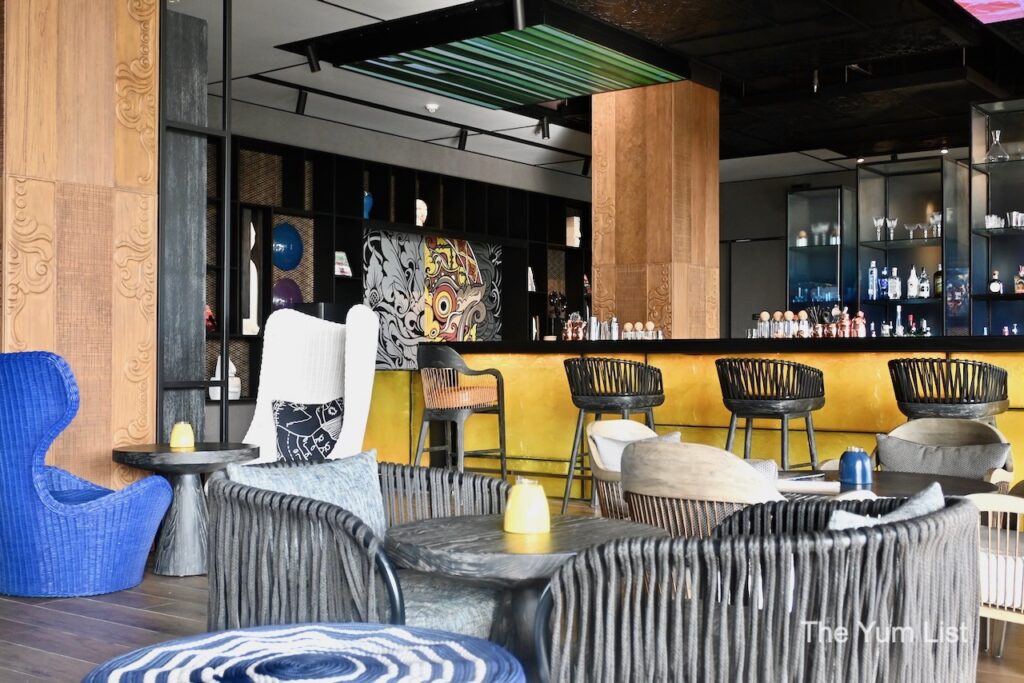 Renaissance Beach
A delightful short shuttle drive through landscaped grounds with sweeping tree-lined streets takes you to the Renaissance private beach area. It's a little like going through a vast country club. Beachside refreshments can be enjoyed while lounging on sun chairs with your panoramic personal view. Monica tastes a dragonfruit smoothie bowl while I nibble on corn chips with fresh guacamole and pico de gallo. They are light snacks but really, who wants more while sporting a bikini?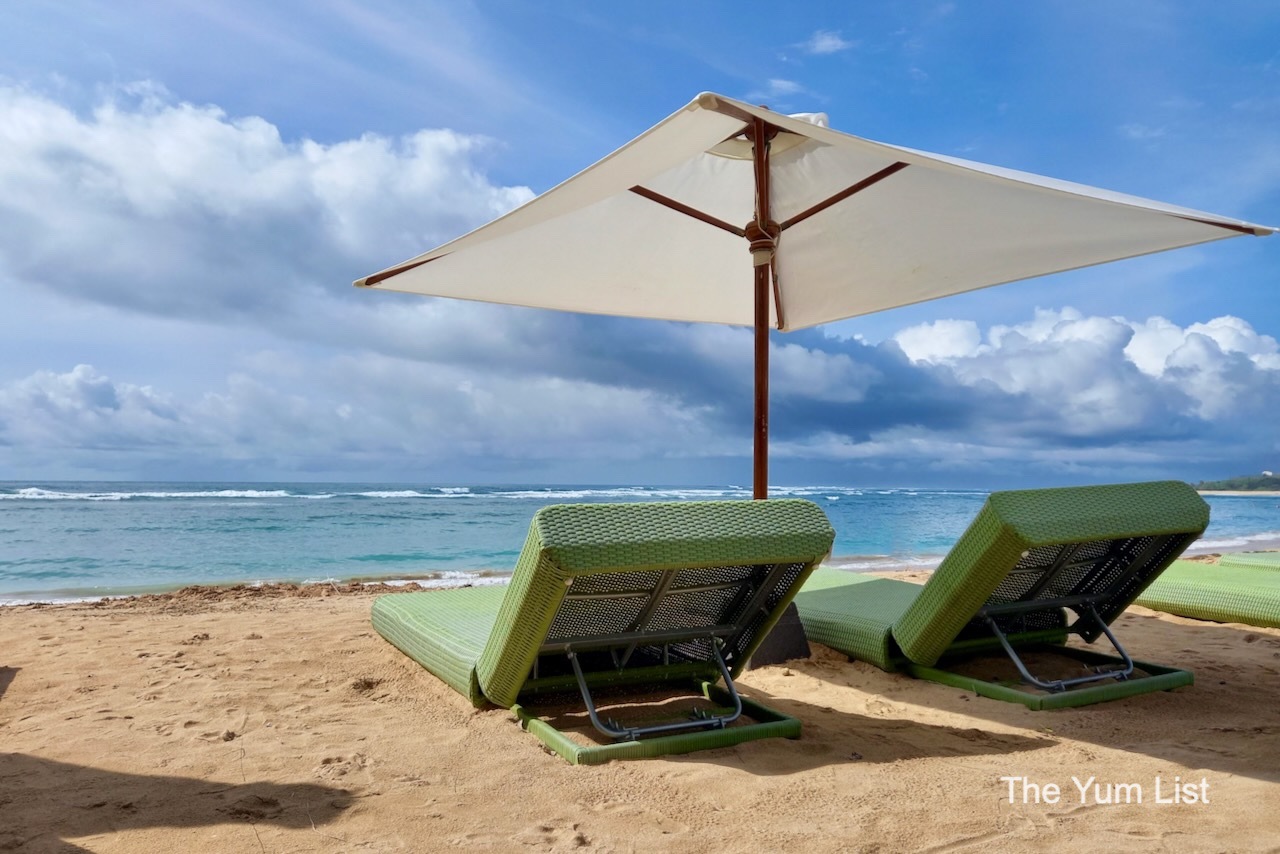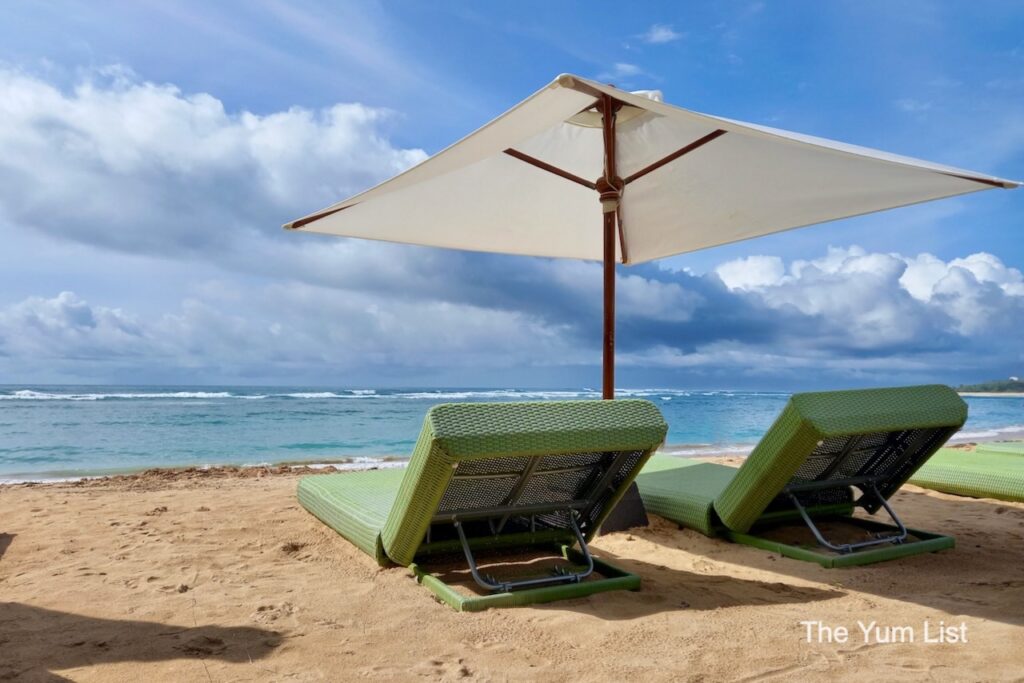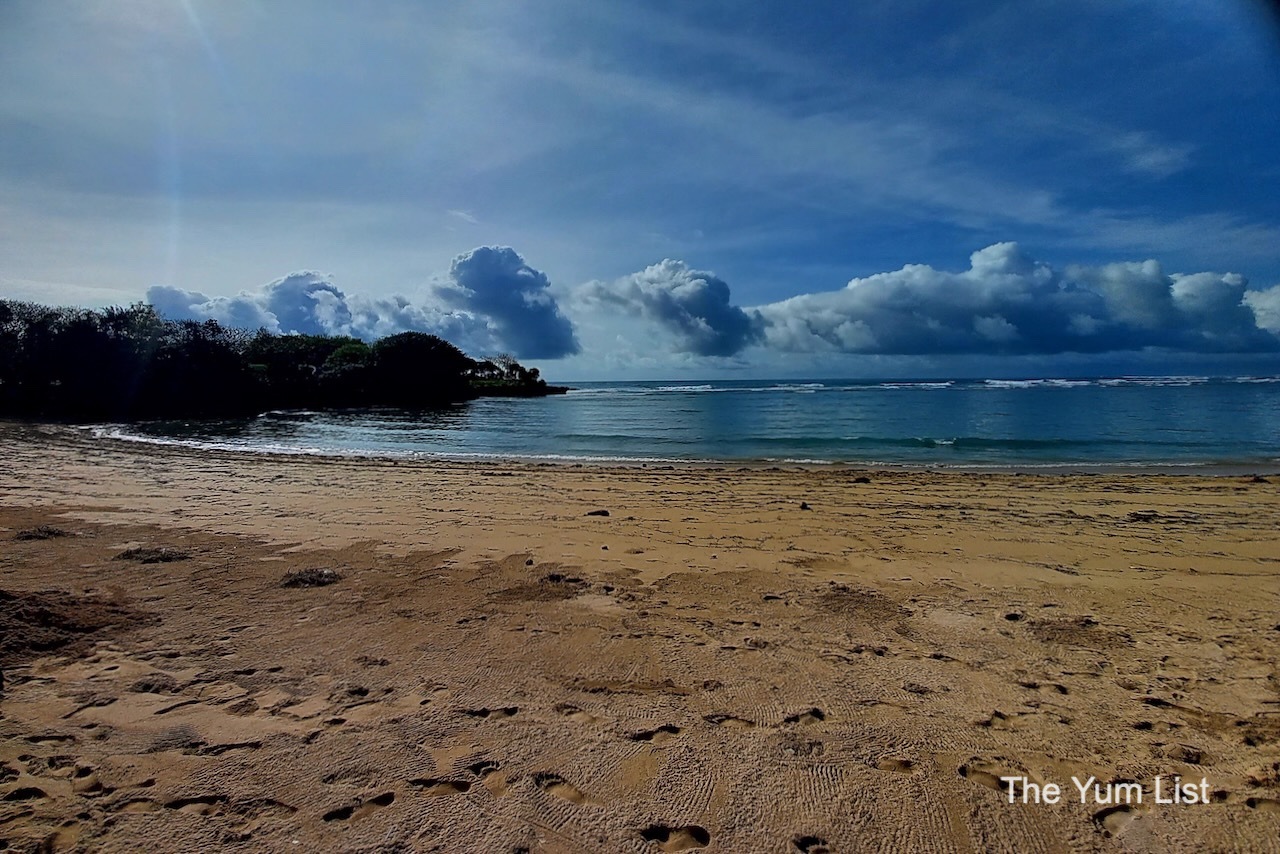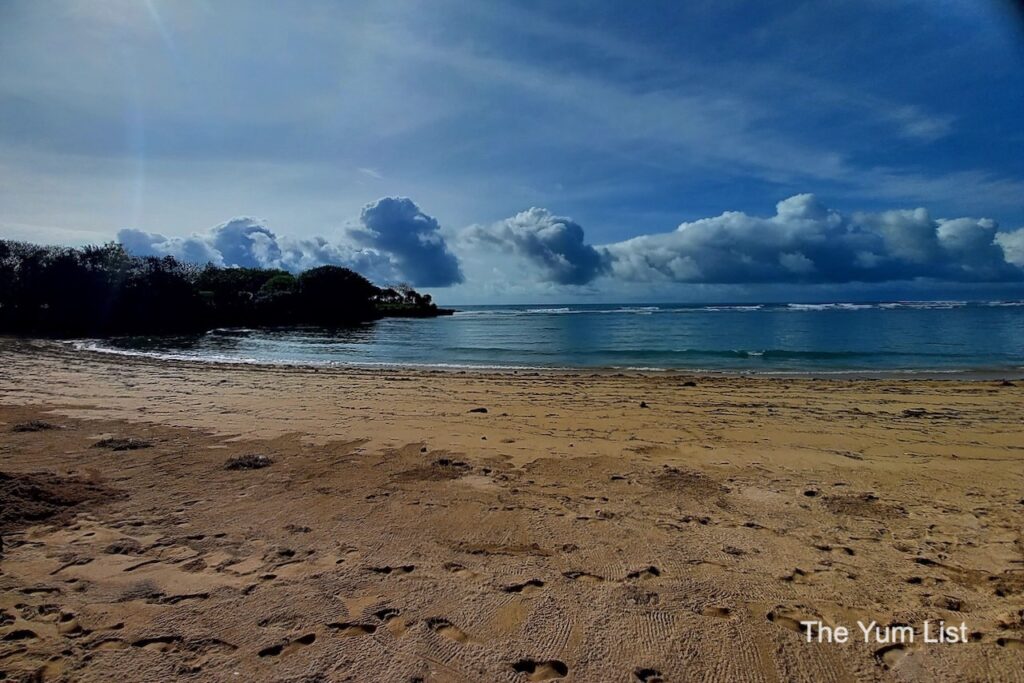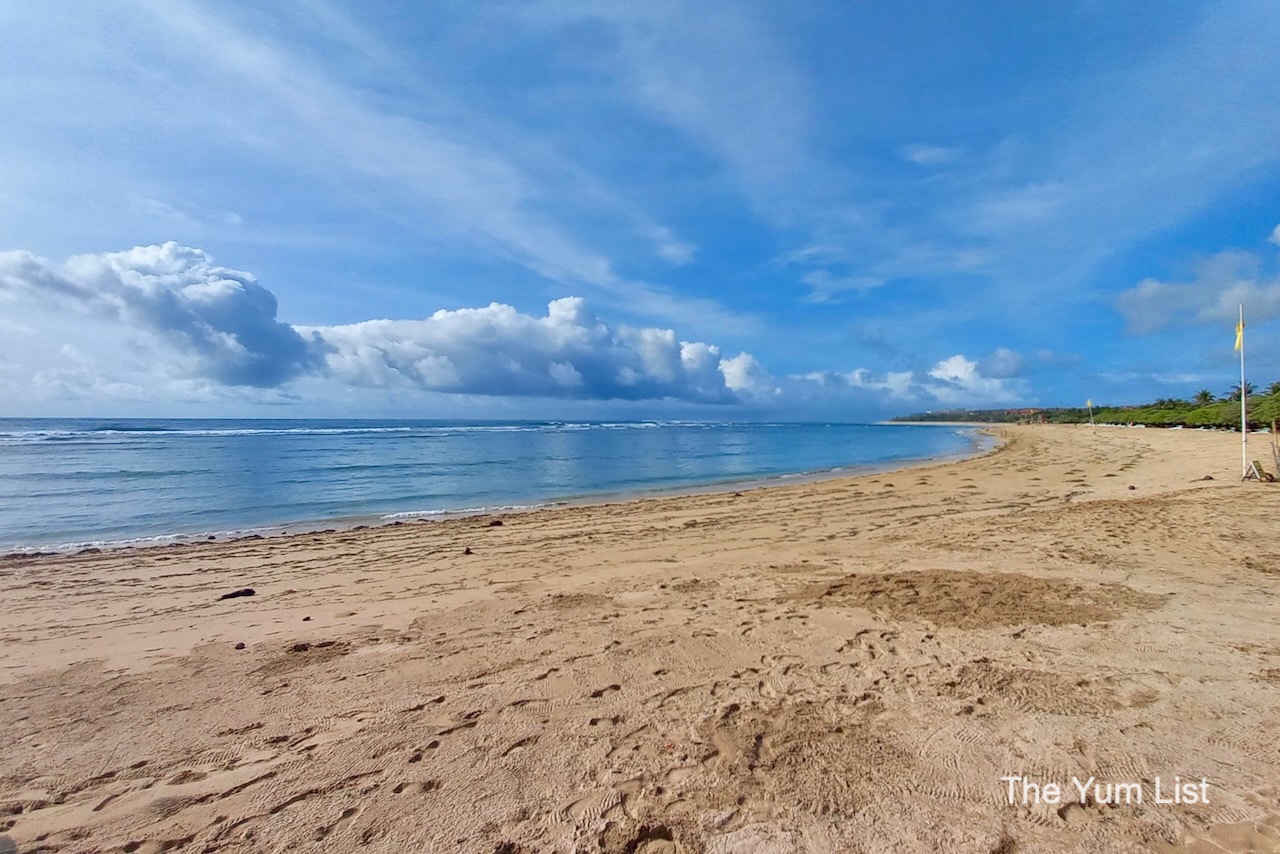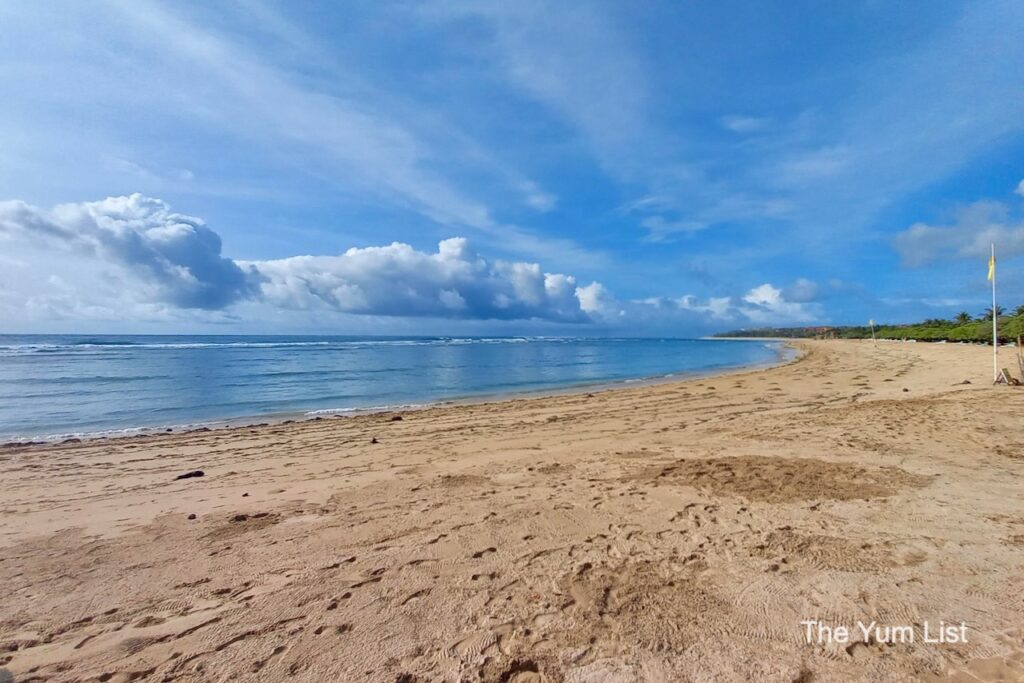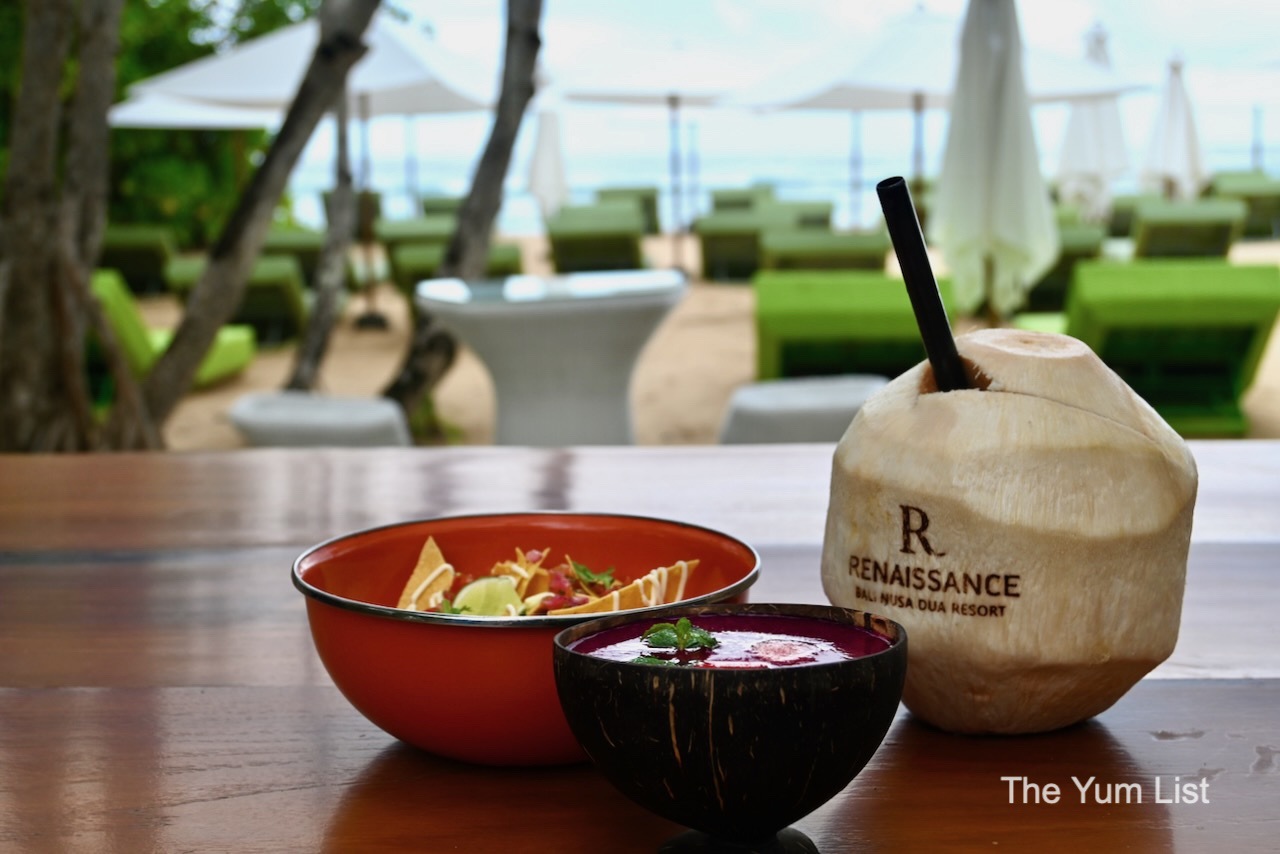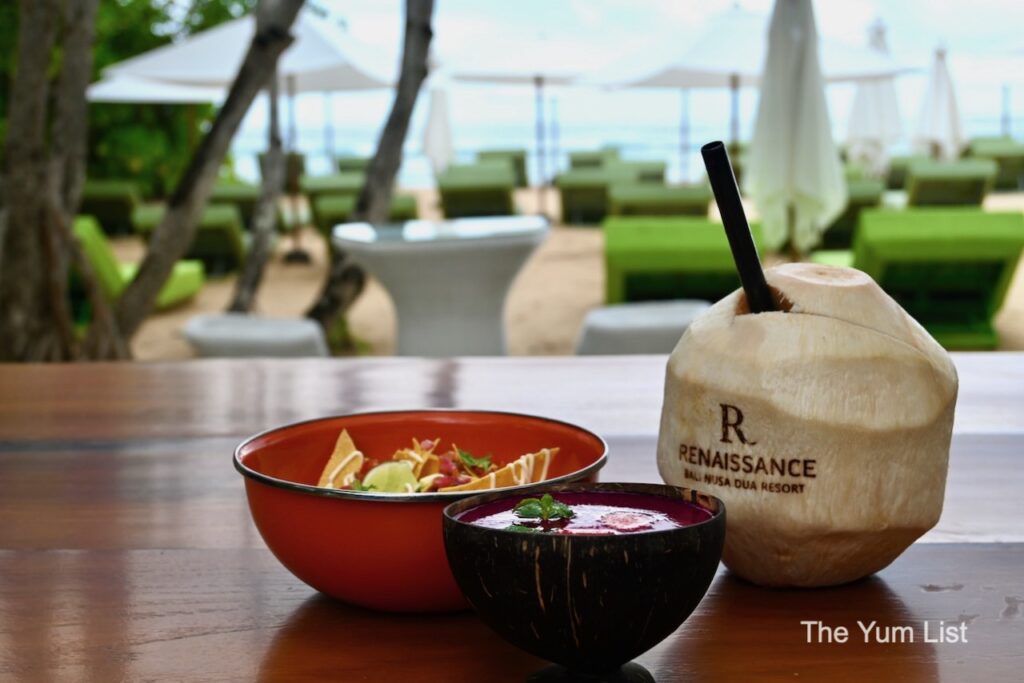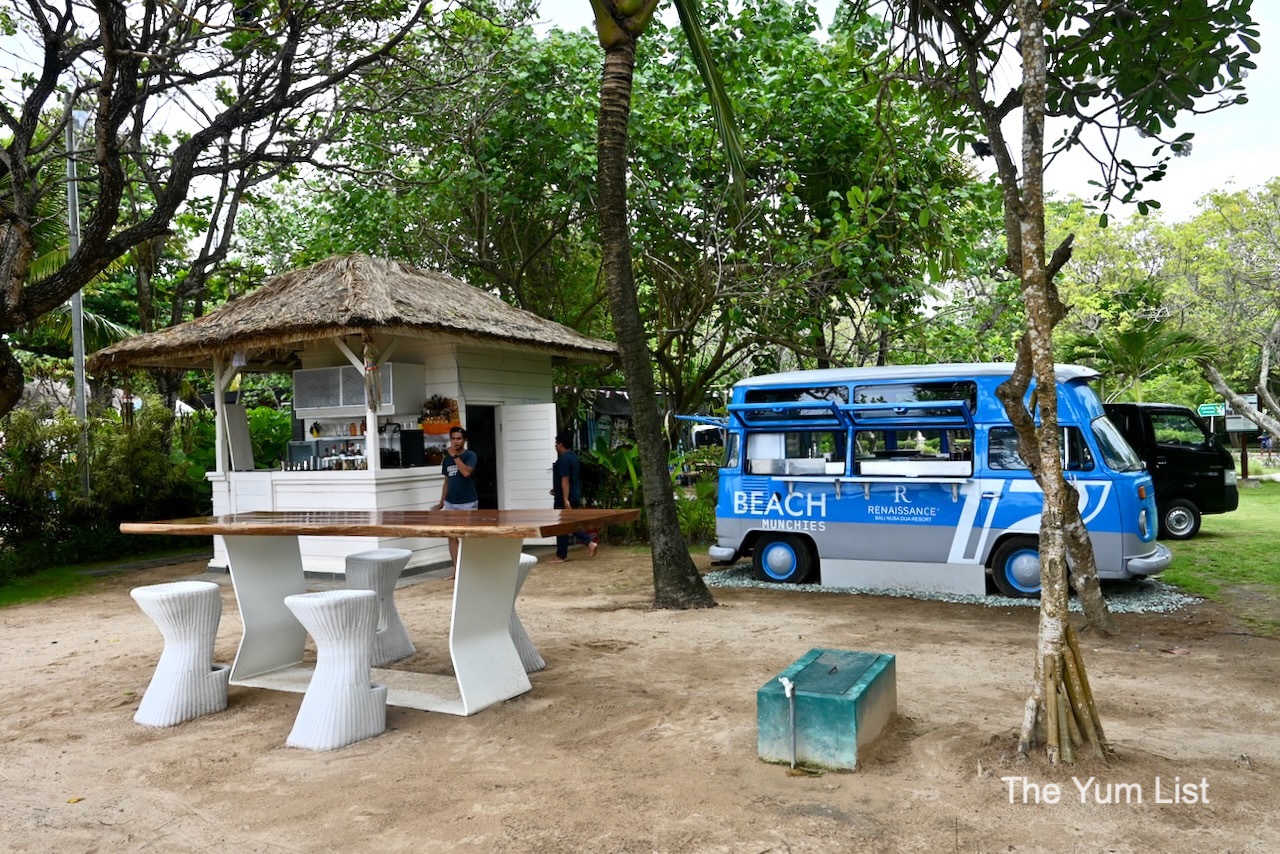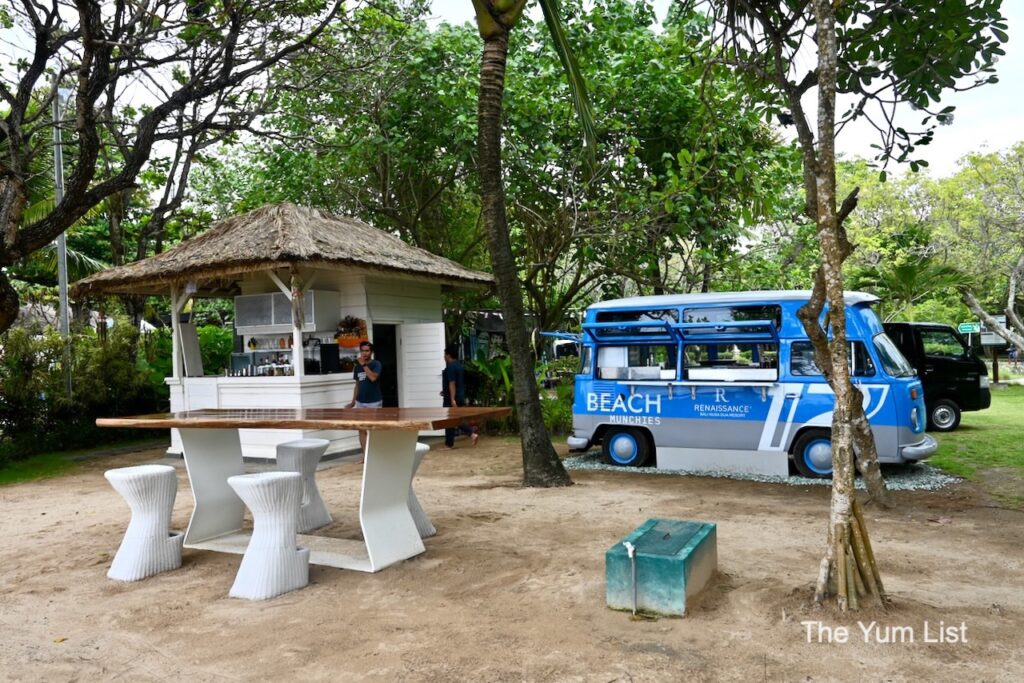 Renaissance Bali Nusa Dua Resort Amenities and Activities
From modern meeting rooms to an extravagant grand ballroom, the Renaissance Bali Nusa Dua Resort has spaces to meet all guest requirements. With four pools, the resort also has a water space to please everyone. The central pool beside Atomic 17 is for swimming, relaxing or a range of aqua-exercise classes. Lava Land Kids Club has an extensive shallow water child's play area, providing hours of fun while parents can look on from comfy day beds. The pool-access rooms (soon to be open) benefit from an extended narrow swimming area. However, the drama belongs to the water stage in the centre of a natural amphitheatrical lagoon-style water feature. It's an Instagrammers dream, ideal for a dramatic wedding or fashion shoot, with a striking resemblance to the wedding scene from the movie Crazy Rich Asians.
The health club building supports the contemporary lifestyle theme with a well-equipped modern gym, sauna, steam room and spa pool. Activities and exercise classes are scheduled throughout the resort across the day. Early bird Monica joins 8 am beach yoga while I enjoy mid-morning aqua stretch with lively trainer Kadak.
Of course, the star of the lifestyle stage for both of us is the high-quality treatments available at The SPA.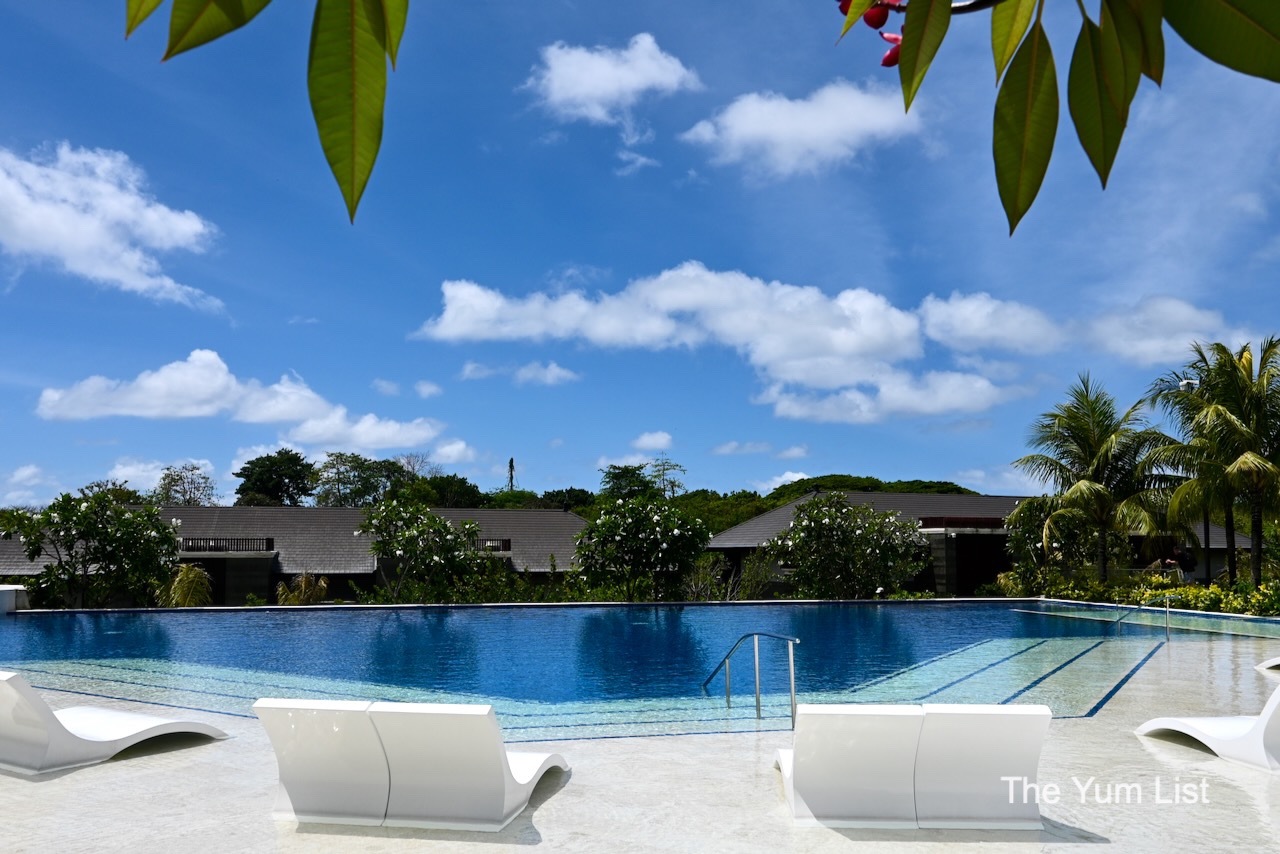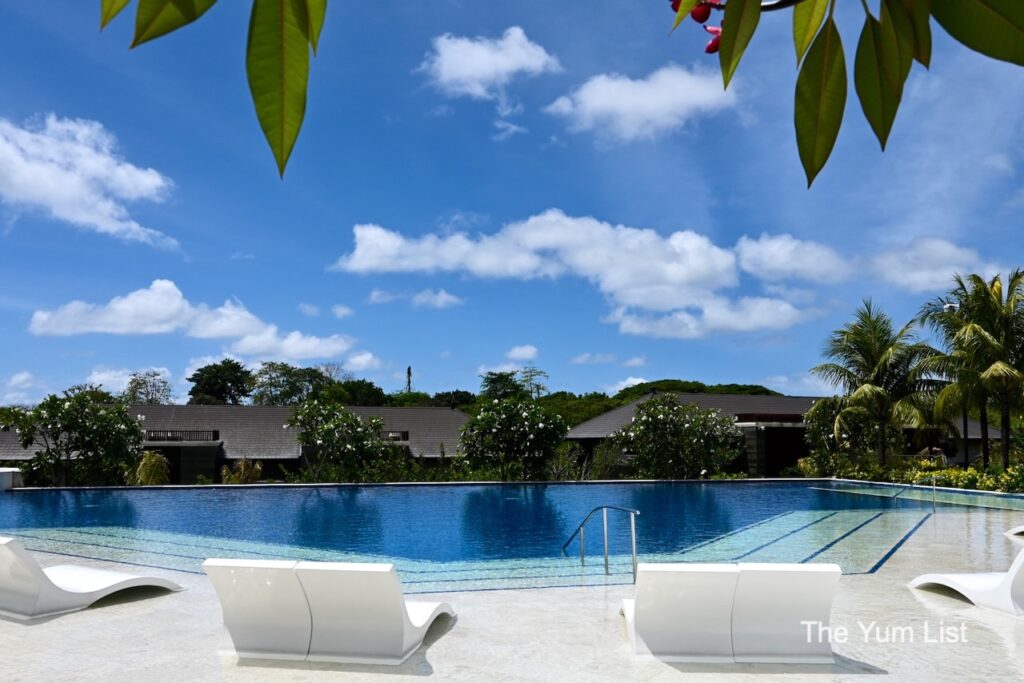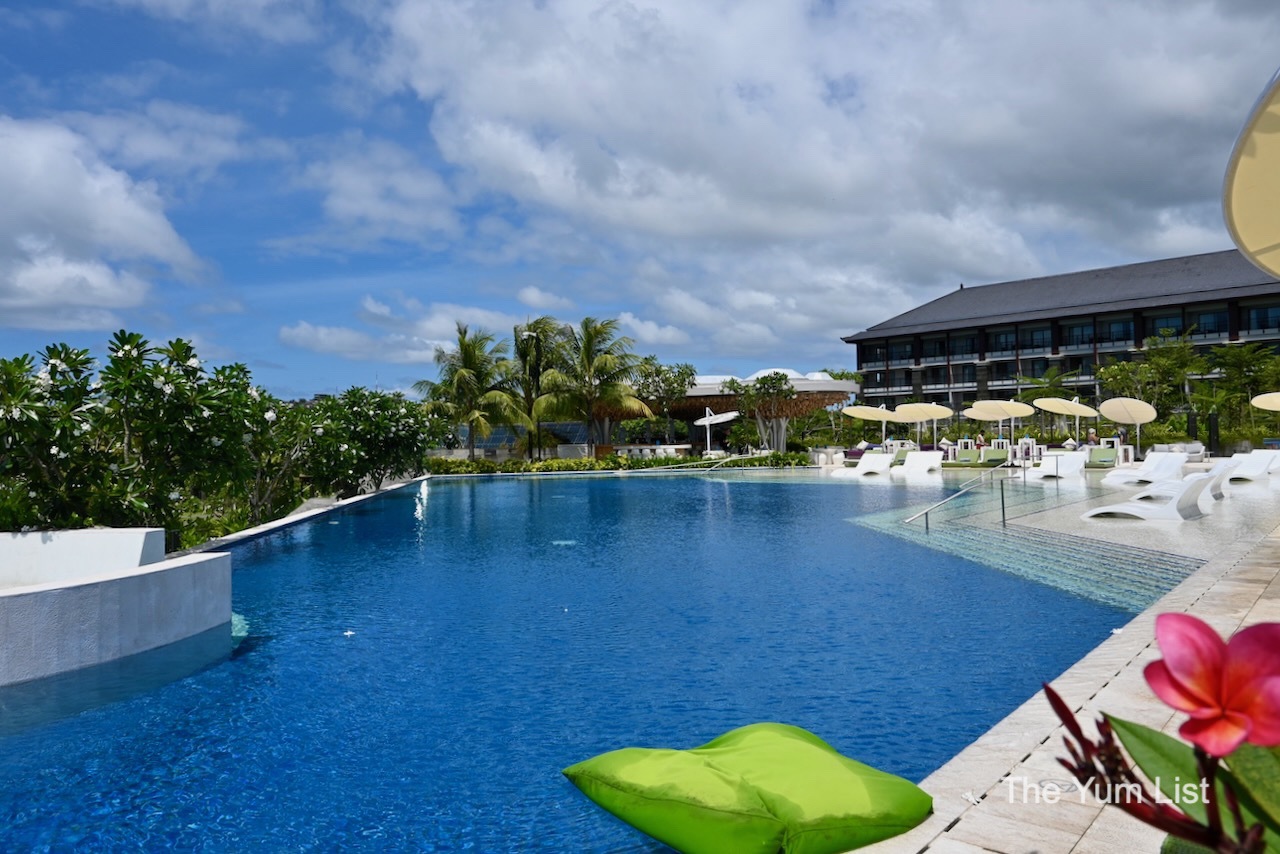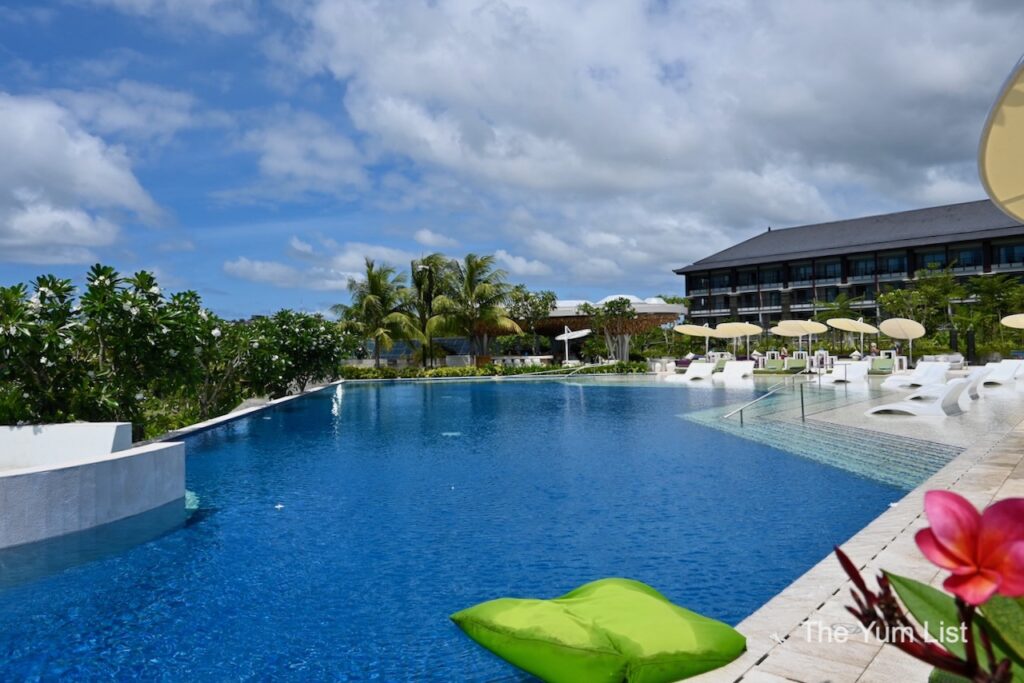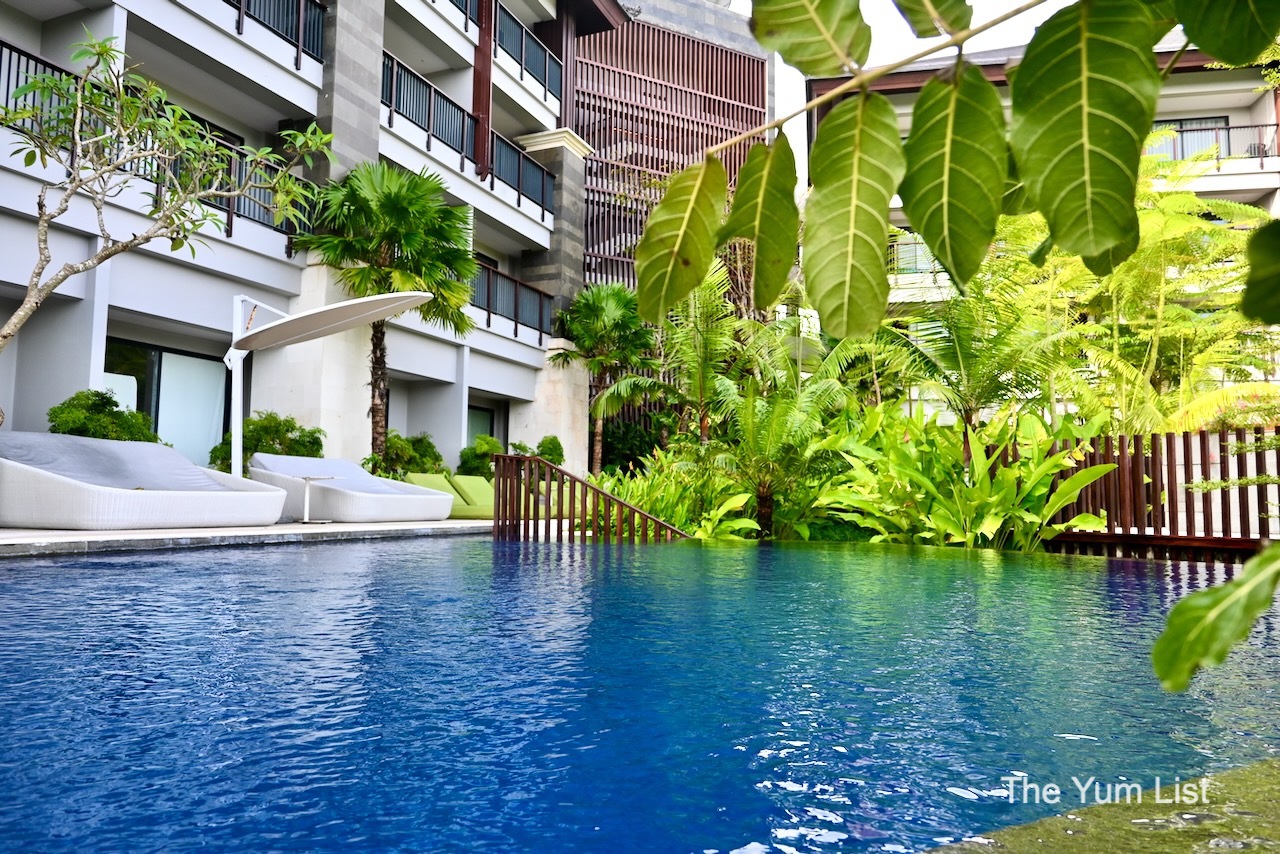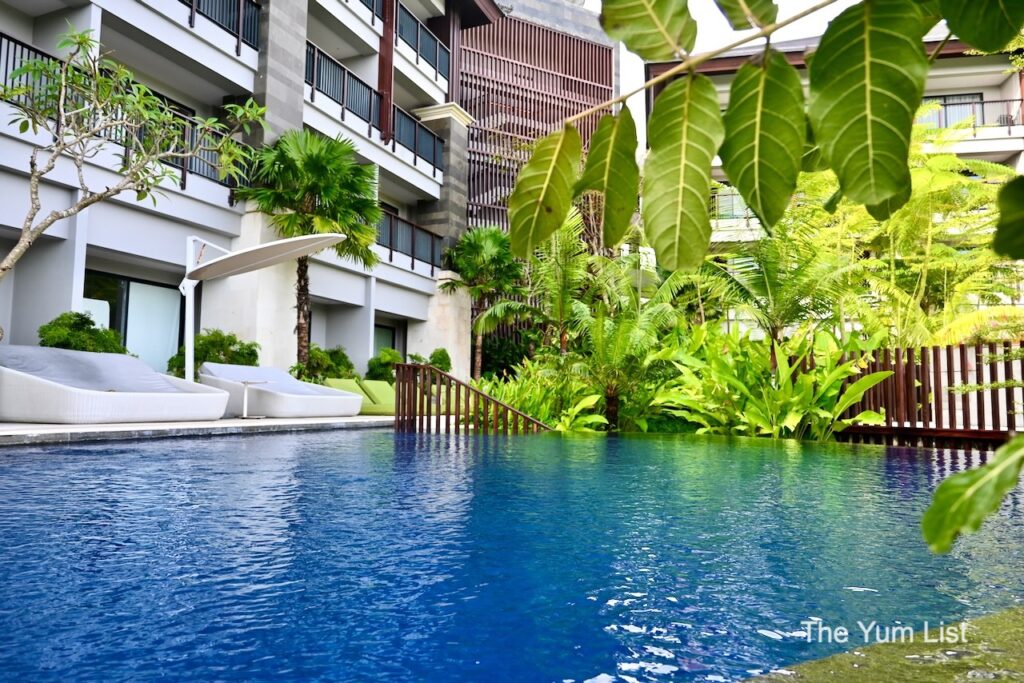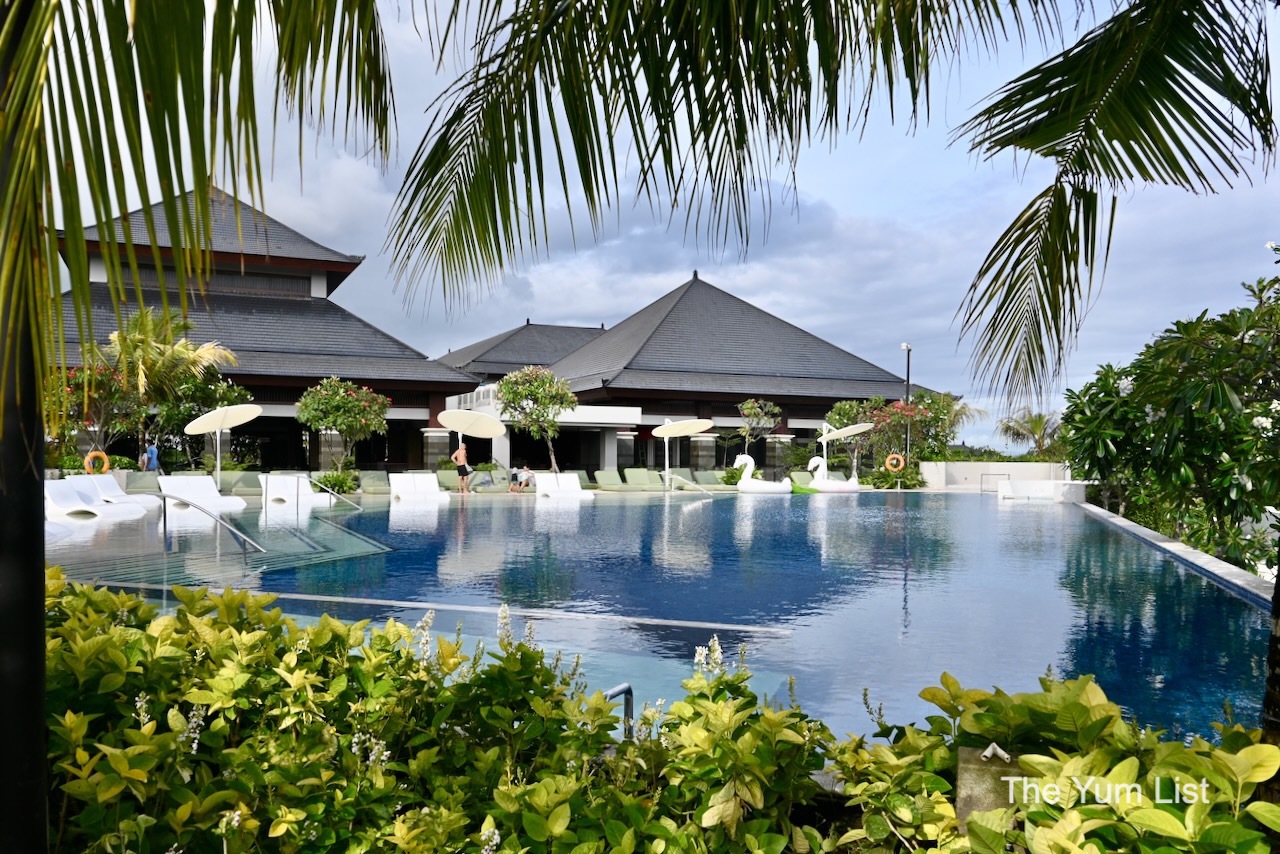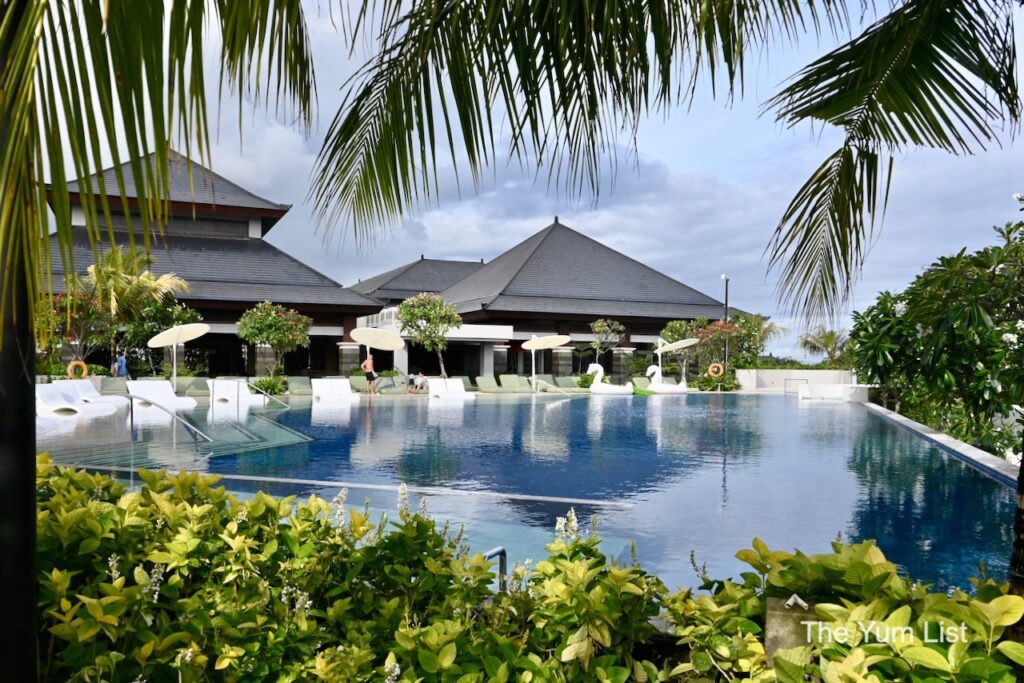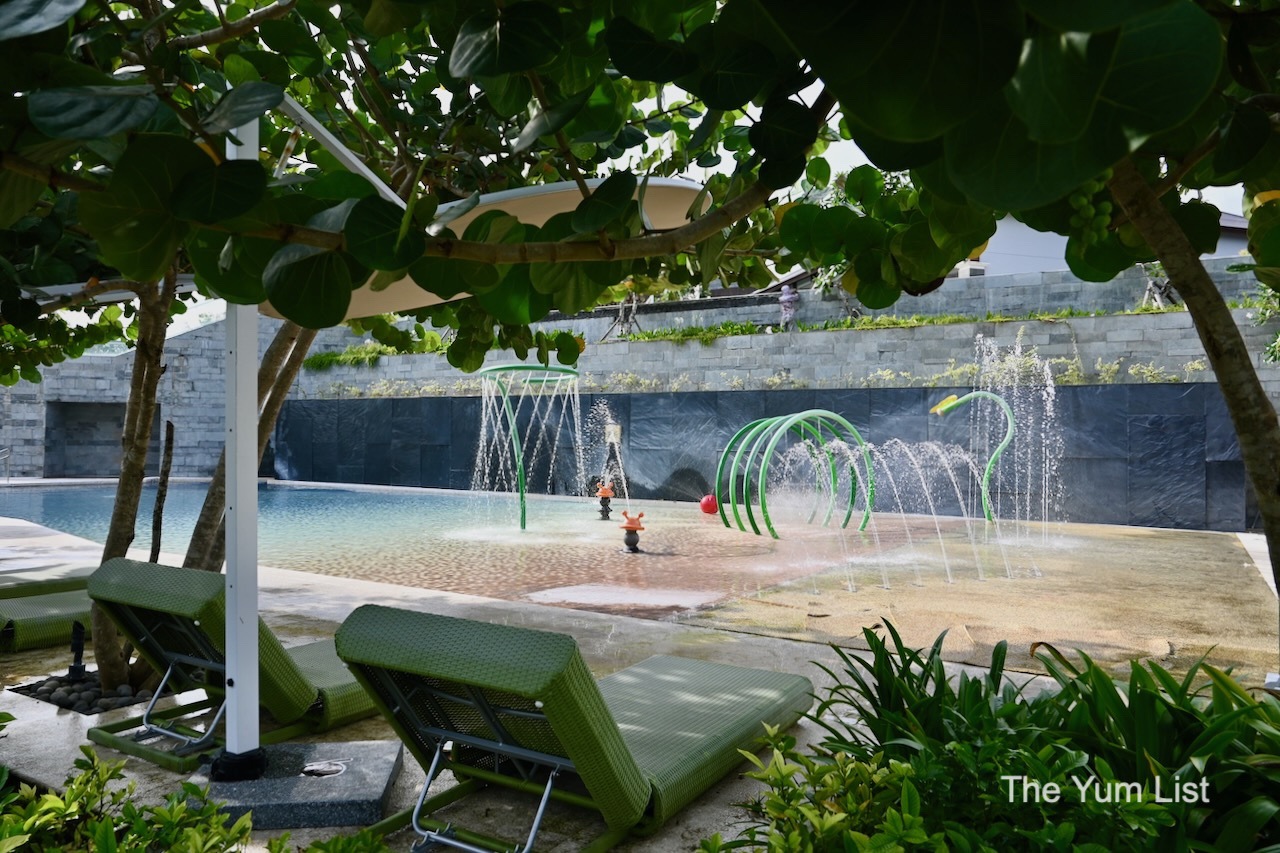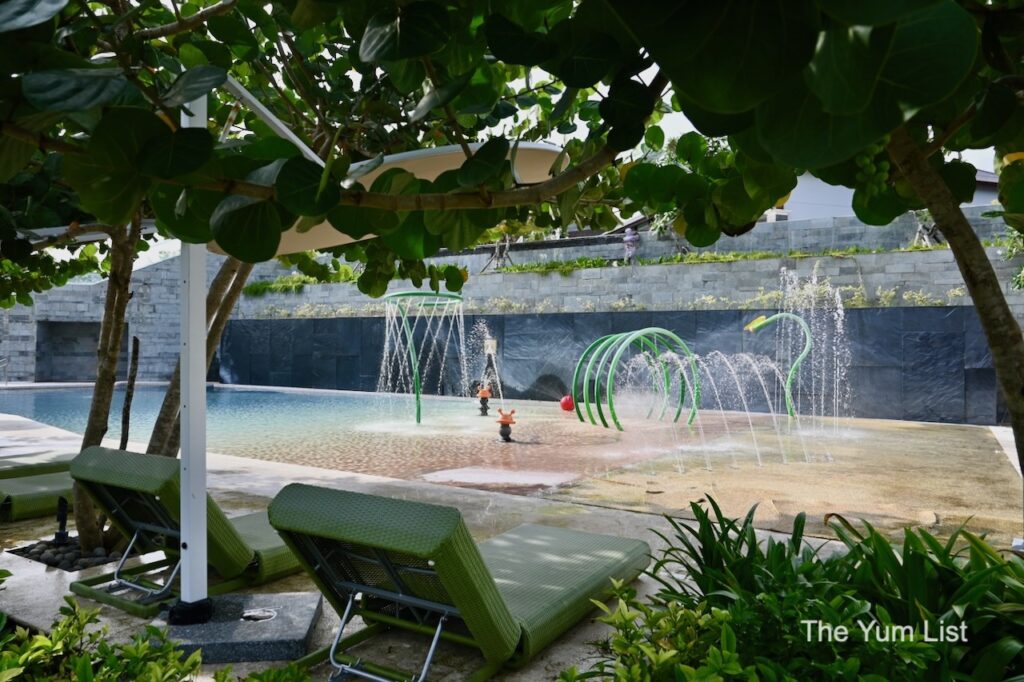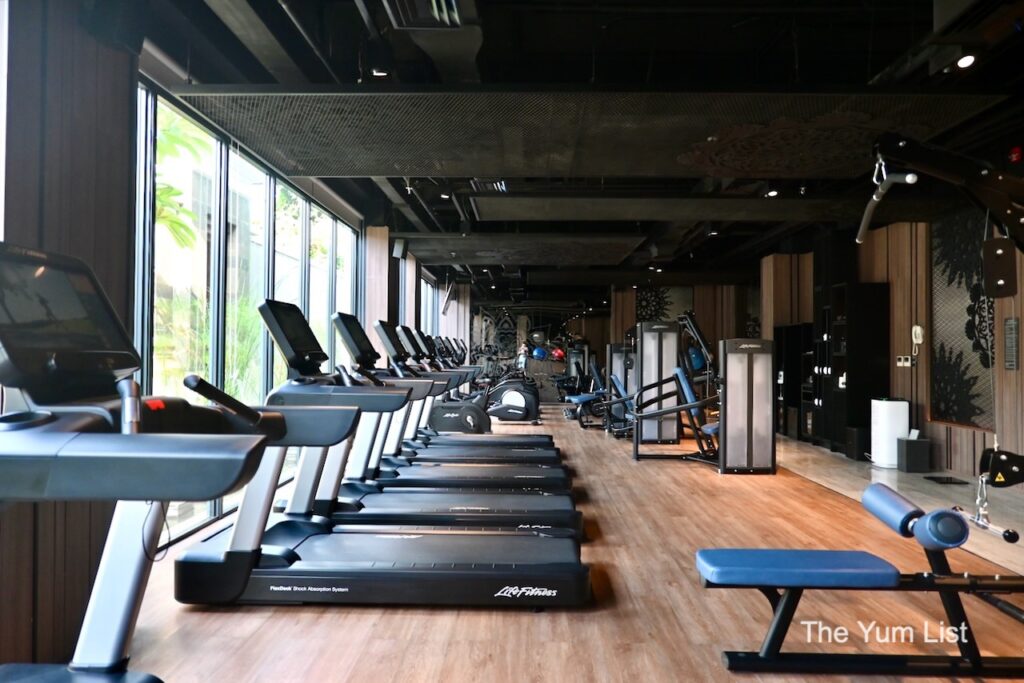 The SPA
The vibe at The SPA riffs off the funky, playful combination of traditional and modern, theatrical and relaxing, that permeates the Renaissance Bali Nusa Dua Resort. Pops of colour spark from oversized bamboo armchairs, softly textured sofas beckon for relaxation, and soothing water spouts from frangipani-inspired mandala features in the central courtyard. The SPA promotes the art of healing theatre, inspired by Balinese tradition. A signature feature is The Spa Mixologist Bar, where you can create a massage oil with your personal choice of three aroma scents.
Spa manager Wini, resplendent in iridescent robes, shows us around the facilities, including the restful salon where you can be beautified just like the superstar you are. The SPA menu features an impressive range of classic and traditional beauty and therapeutic treatments, and today we are here for the 90-minute Oxygenceuticals purifying facial. Our therapists, Sudi and Surya, lead us upstairs to a restful room in grey and purple tones with a small theatrically-inspired changing area. We delight in the foot bathing ritual, with pandan, lemongrass and ginger floating in the water and cleansing foot scrub, before relaxing on the beds ready for our facials.
It is a thorough experience, first cleansing with Oxygenceuticals gentle facial cleansing lotion, a pore mask with oxygenating bubbles, followed by a botanical enzyme peel. Already feeling refreshed, I am revived with a gentle mineral water spray before a hydrating oxygen formula spray is misted over my face. I can literally feel my cells perking up! This is followed by a toning gel mask to hydrate, balance, firm and address those pesky wrinkles. Following this is a simply divine face and shoulder massage from Sudi that I wish could go on for eternity. But it is time for the special oxygen treatment, which pumps cool oxygen into the pores. Once they are well oxygenated, a thick full, coverage mask packed with natural ocean extracts and more oxygen is applied. At the same time, a relaxing arm and hand massage are given to lift the experience to another level. My newly cleansed face is smoothed with caviar protein serum and aqua moisture serum before the final touches of contour-firming eye cream and 50 SPF sunscreen.
Looking at least seven years younger, I relax on The SPA terrace with a little fresh fruit and some hot ginger tea, reflecting that if I could do this every week, I'd be a whole different person.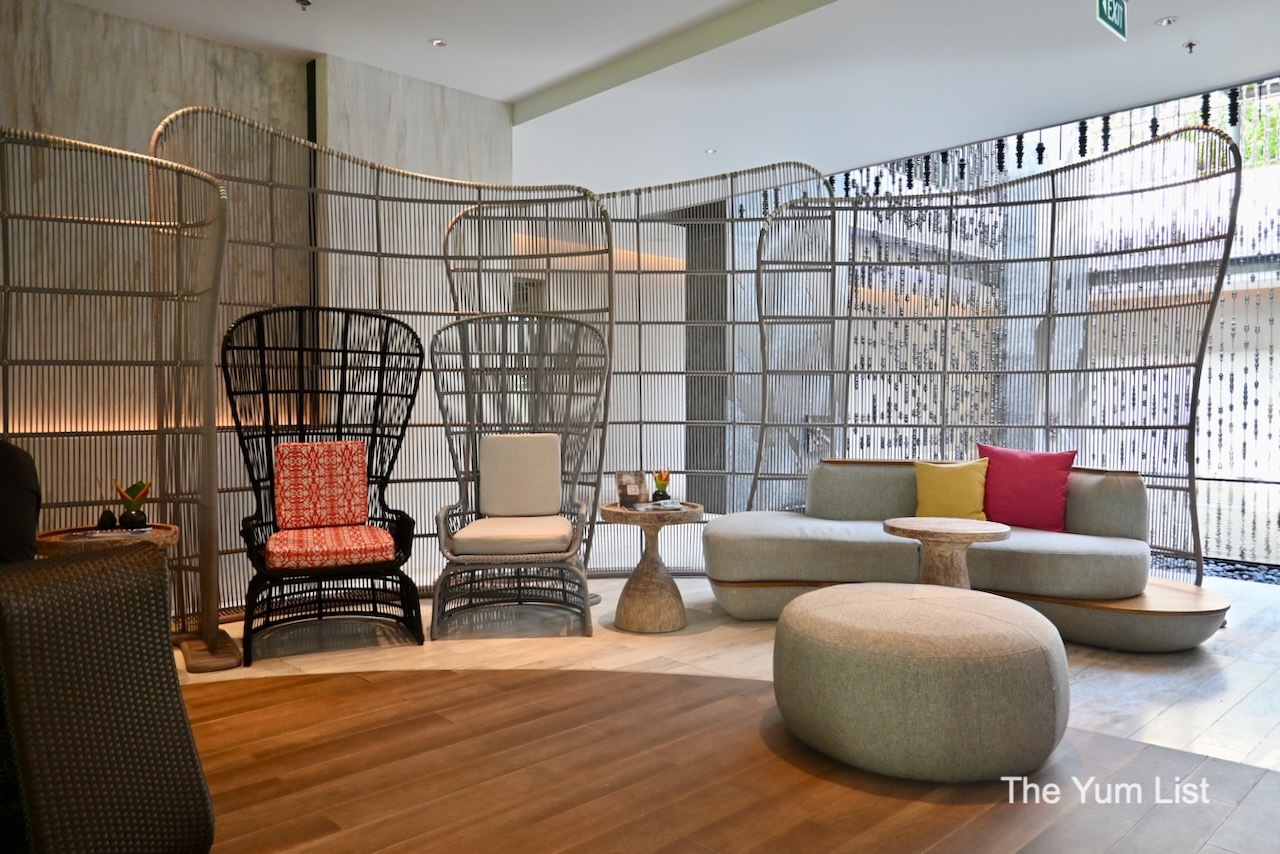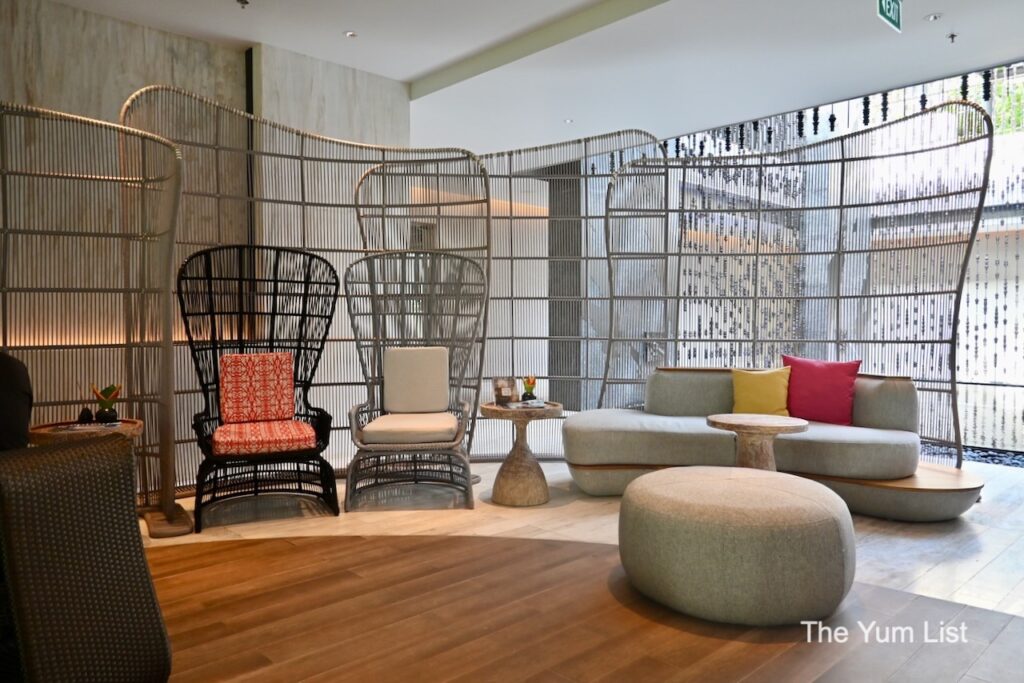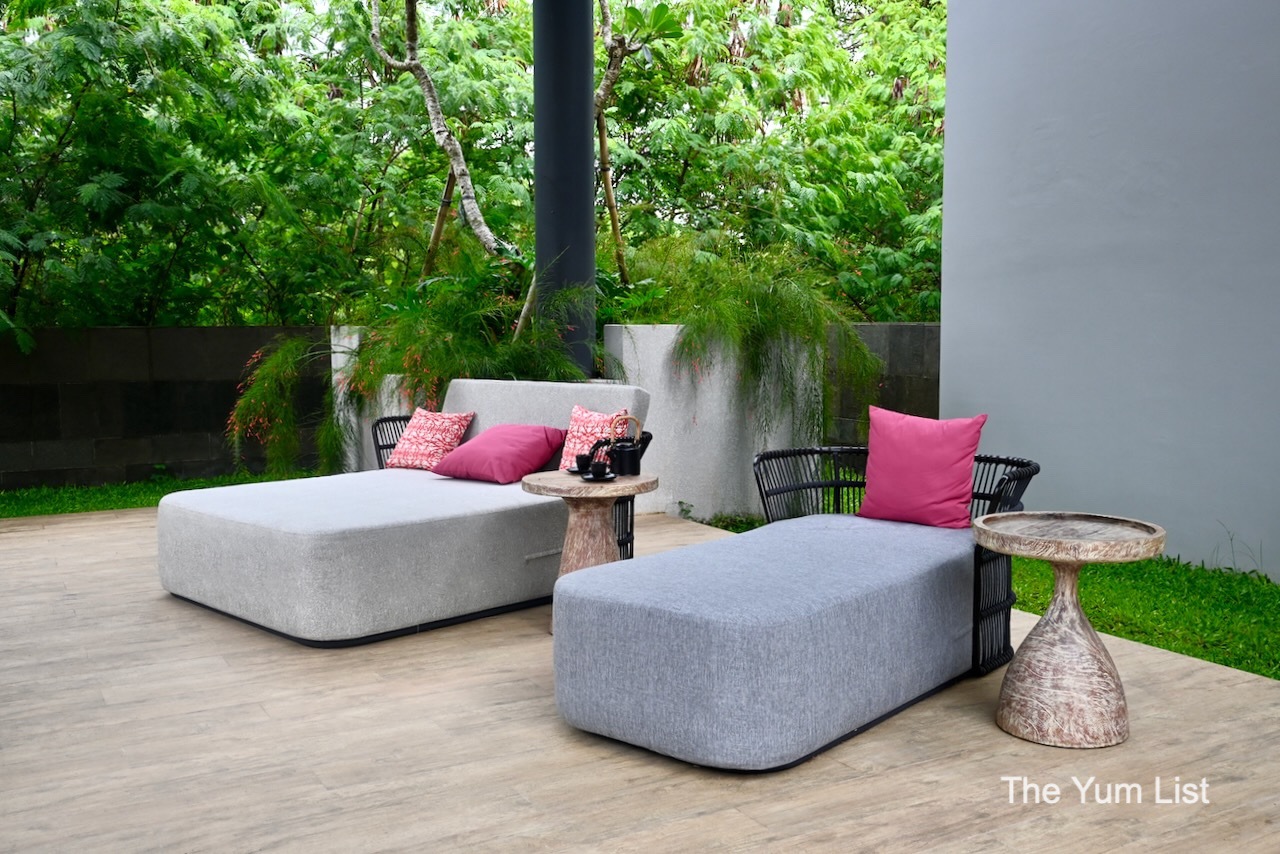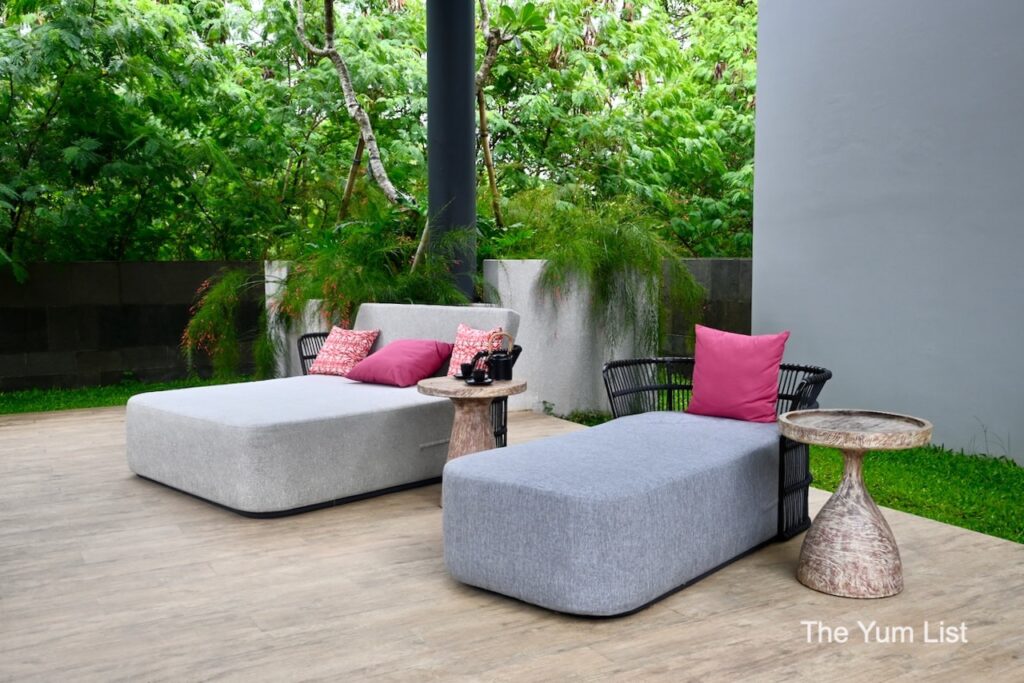 Renaissance Bali Nusa Dua Resort Review
We thoroughly enjoyed our stay at the Renaissance Bali Nusa Dua Resort. I'm personally not a fan of huge hotels, but the modern Balinese theatrical concept, airy design with eclectic seating areas and lifestyle feel sparked a relaxing and uplifting experience. The room design is fabulous, edgy yet welcoming, embracing culture and history with all the modern amenities a contemporary traveller needs. I would be overjoyed to return.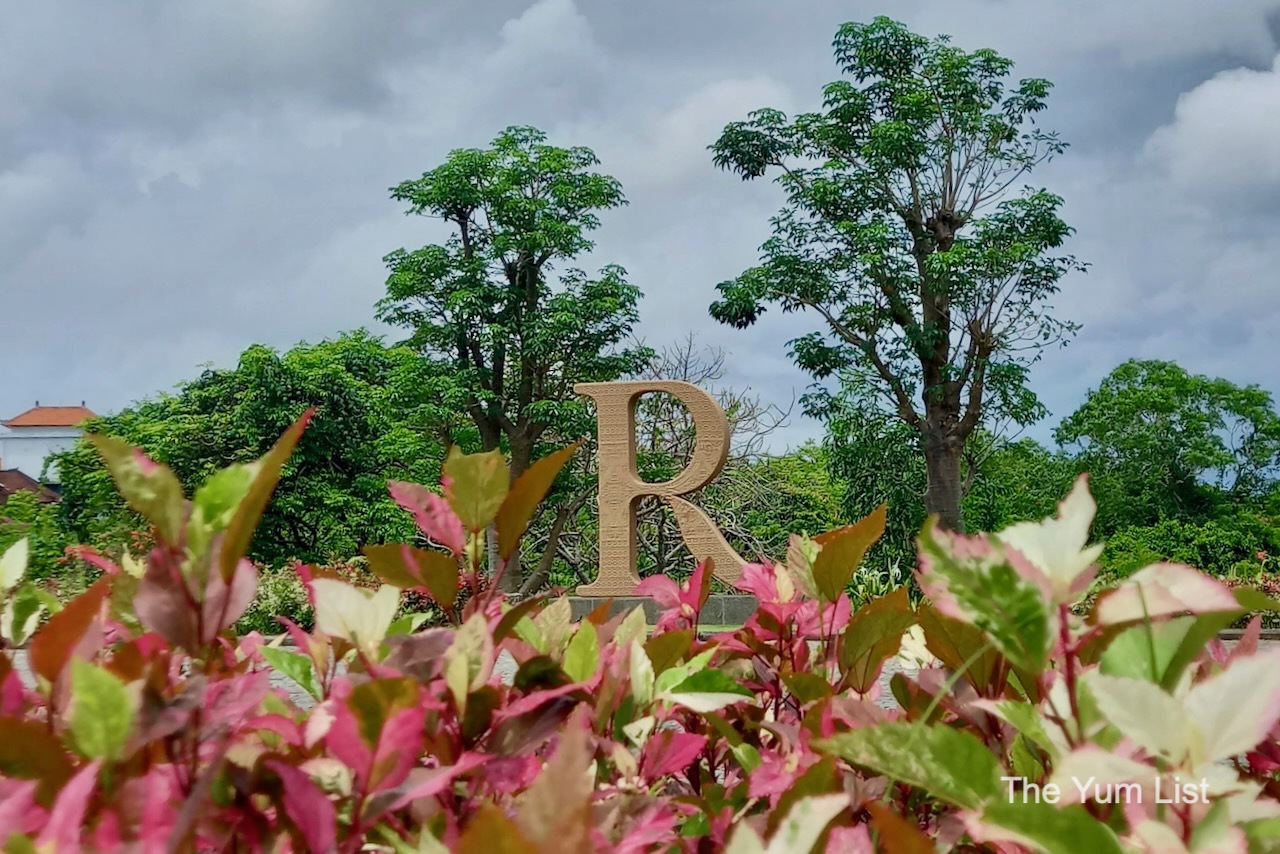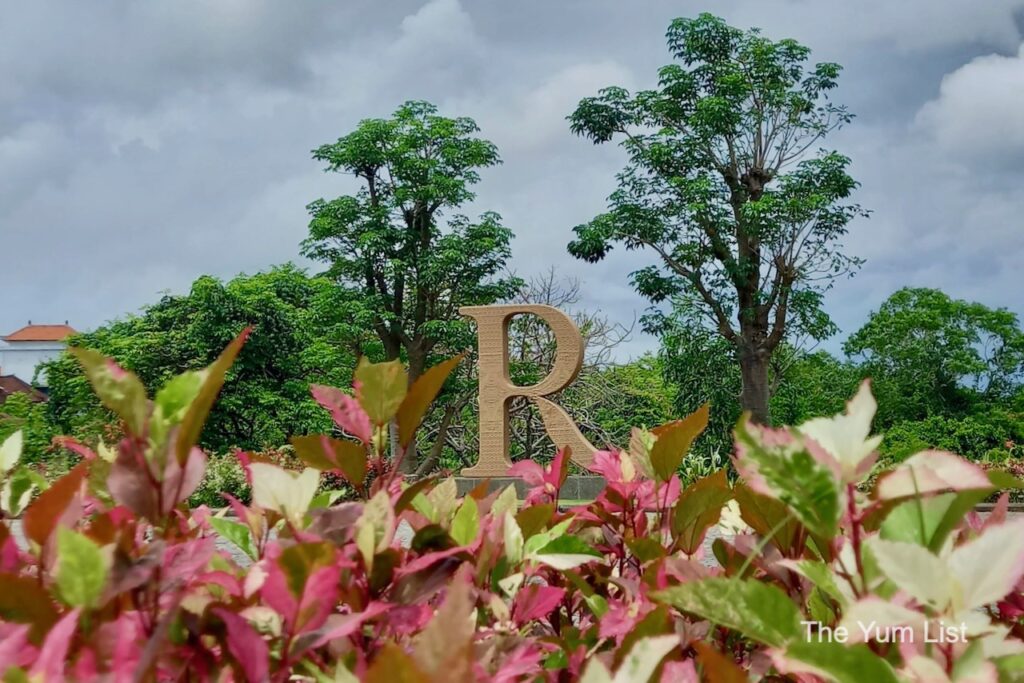 Reasons to stay at Renaissance Bali Nusa Dua Resort: Comfortable and airy rooms, fashion-forward, stylish property with plenty of amenities, fresh and flavourful dining options, and attentive and happy resort staff. Perfect for families, groups of friends, and digital nomads seeking flair and fun.
Renaissance Bali Nusa Dua Resort
Kawasan Pariwisata Lot SW 4 & 5,
Nusa Dua, Bali, 80363, Indonesia
renaissancenusadua.com-bali.com
+62 361 2092888
Find more travel recommendations for Bali here and stay up-to-date with our latest gourmet travel finds here and here.