Flat Earth Tacos
Words: Amanda Chin
Photos: Richard Callahan
If you're ever feeling cantankerous, be more than reassured that having tacos on any other day that's not Taco Tuesday is A-okay. When Monica asked me along to Flat Earth Tacos, my immediate reaction to the name of the place puzzled me but I said yes straight away anyways. Despite the controversial name, there is a true meaning behind it and I'll get to that below. So, for those who want to argue whether Earth is flat or round, please give it a rest because no argument is worth the time you could spend devouring the tacos instead!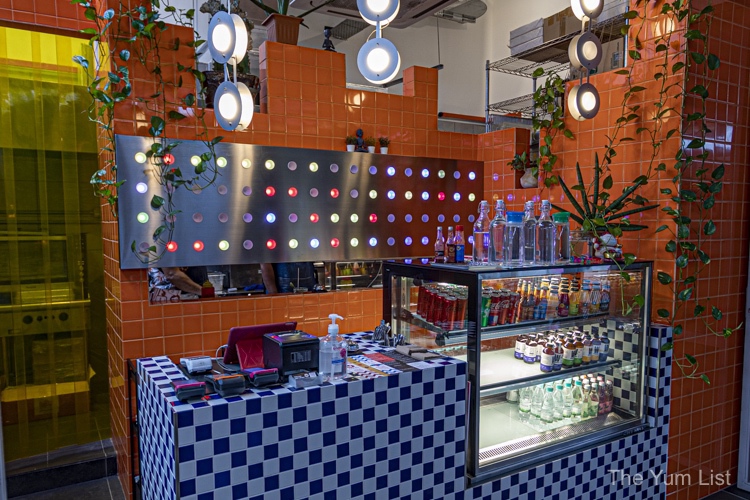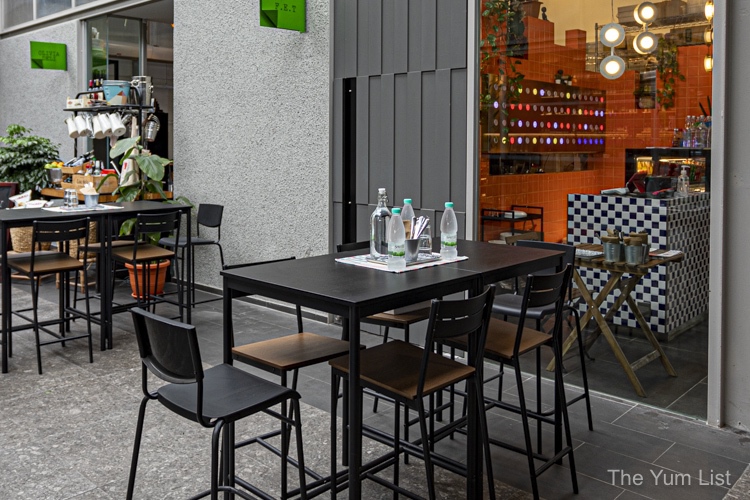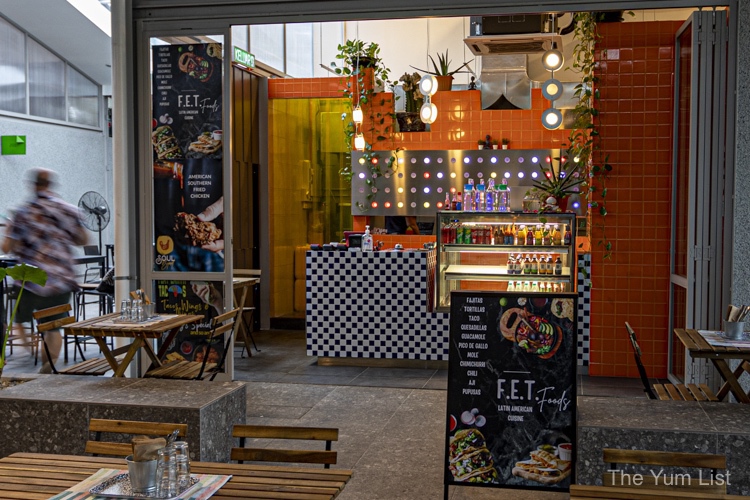 Flat Earth Tacos @ APW
APW in Bangsar is a little food and creative haven – a respite from the terrible traffic and stormy weather. You'll be glad to know there are many car parks around and valet service in APW itself – so having cash in hand is… handy! Otherwise, if you're truly looking for a green alternative, the train station is only a walk away if it's not raining!
In a delightfully bright orange booth between Olivia Deli and Unwind, you'll find Flat Earth Tacos, where Chef T. Jay is helming the tiny kitchen yet making an array of substantial delights. This comes in the form of Latin American cuisine and Southern fried chicken – the soul food it promises to be. To add to the vibes of life beyond planet Earth, there's a fun dashboard with blinking lights, lots of greenery for that good ong and a few aliens (if you can spot them).
Not to instigate the conspirator in you, but Chef T. Jay is simply a fan of aliens. So, my question to him was – why the name Flat Earth Tacos? His response: tortillas are made in every country but with different ingredients, so he chose Flat Earth Tacos because his tortillas range from corn to flour and can be categorised as flatbread but with a Latin twist – genius. For those who want to start claiming that they can prove the Earth is round, go ahead! His tacos certainly make the world go round.
Although the tortillas here are not prepared in the kitchen, it's still a challenge in itself to keep them tasting fresh, and Chef T. Jay certainly has a few tricks up his sleeve. Having said that, all of his hot sauces are made in the tiny kitchen and promise to be quite the fire blasters. So, without further dilly-dallying, we'll get to taco bout it below.
Flat Earth Tacos Food Menu
We began with Chicken Mole (RM30). I'm a huge sucker for mole, a Mexican sauce typically made with all sorts of herbs and chocolate – and it was delicious. The chicken was tender, and the tomato rice was perfect for scooping up the leftover sauce.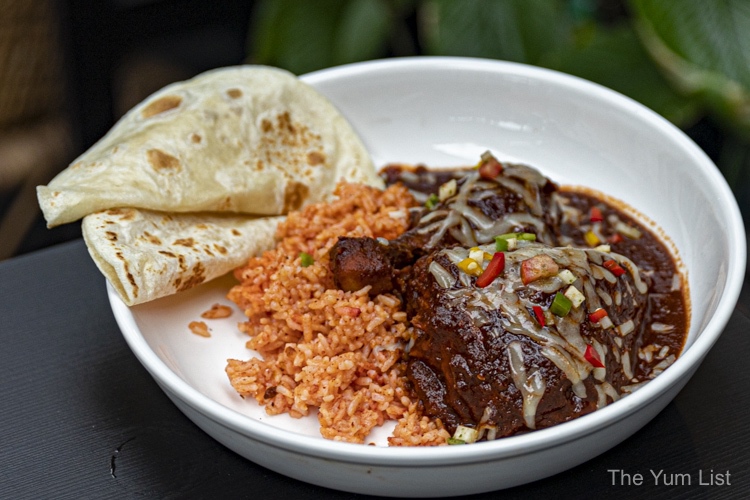 Next was the Baja Fish (RM 18) which definitely looked like a work of art. A big slice of battered fish on a bed of homemade cream with mango salsa and cabbage on top really paired well with each other for that flavour explosion. This, dipped in all the hot sauces, had me salivating for more.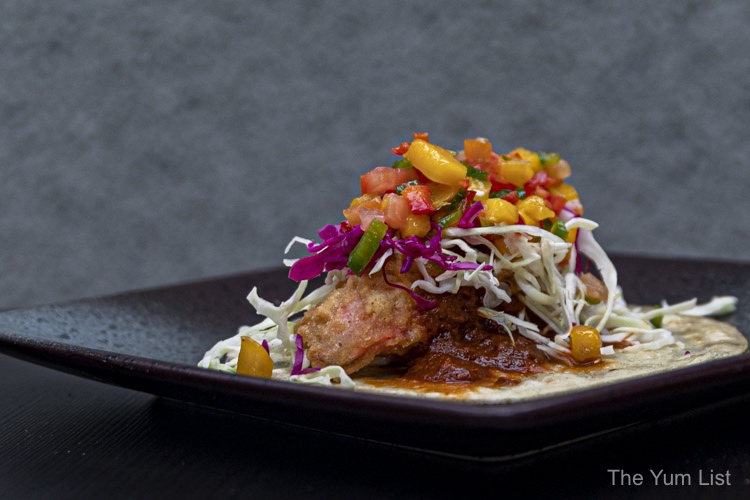 So, with that being said, it was as if Chef T. Jay read our minds and brought out the Chicken Chorizo (RM15), which was a stunner because of all the red cabbage on top. The chorizo is from the house-made Mexican sausage mixed with potatoes, a chile sauce for that extra kick and jalapeño relish. I think this had to win as my favourite flavour of the day; you'll have to try one to see what I mean.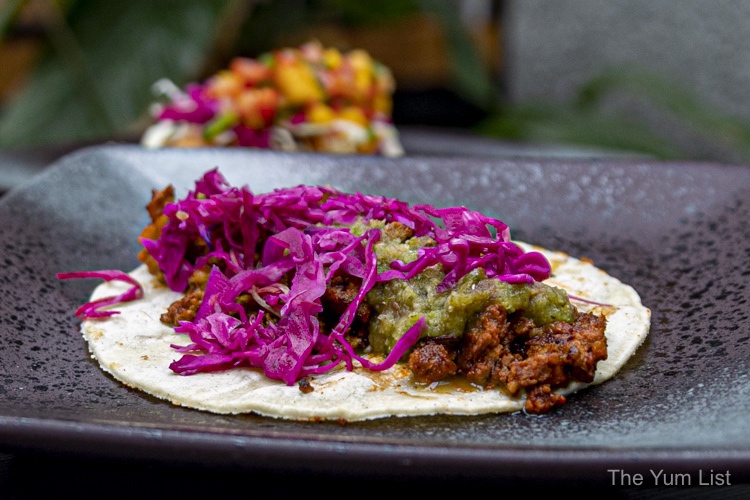 Before we even finished our last bite, the next taco dish was brought out, and it was the Cuban Beef Picadillo (RM20), which is basically minced beef (in Flat Earth Tacos' case – wagyu), mixed with raisins, salsa verde, cabbage and pico de gallo. It was a great combination of ingredients for sure, and an interesting fact is that the salsa verde is made with green apples instead of tomatillos (since tomatillos are impossible to get in Malaysia) and still has that authentic Latin flavour to it.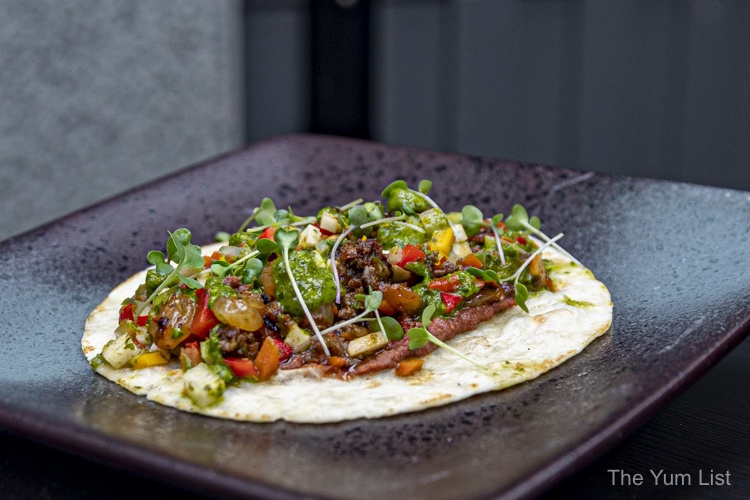 Blink twice if you need a breather! But don't pause for too long, as there is more to discover here. If you're vegetarian or vegan, you can request to get not one, but two tacos at RM22 and the fillings change depending on what vegetables are in season. Ours was a mix of beetroot, kailan and tomatoes – a scrumptious, healthy array of veggies wrapped in a corn tortilla.
'I Hate Tacos', said No Juan Ever
Again, I might be a bit biased since I grew up in the land of tacos, but Flat Earth Tacos managed to hit the right spot. I liked that you have the option to test out different sorts of tortillas with interesting flavour combinations. In Mexico, tacos are traditionally kept very simple and standard, but ingredients in Malaysia make it quite impossible to do this. So, playing around with ingredients is welcome, and when it's done right, it's appreciated.
To add to that, hot sauces are really a great thing to have on your menu, and Chef T. Jay has some bomb combos that will have you questioning your existence. I'd definitely head back to try his popular American Southern Fried Chicken!
Reasons to visit Flat Earth Tacos: a chef with humour, amazing tacos and mole dishes, fast service, and all-in-all, great ambience.
Flat Earth Tacos @ APW
Lot B-02, APW, Jalan Riong, Bangsar
59100 Kuala Lumpur, Malaysia
Instagram @flat.earth.tacos
· pork-free
Flat Earth Tacos Opening Hours
Tue & Wed: 3 – 10 p.m.
Thurs to Sat: 11:30 a.m. – 10 p.m.
Sun: 11:30 a.m. – 9 p.m.
Find more Latin American-inspired restaurants here and stay up to date with the latest happenings around Malaysia here and here.