Juliet Wine Bar – Bangsar
Photos: Rich Callahan
Words: Jacob Weber
Long day? Tough meeting? Or just looking for a nice glass of decent wine somewhere that doesn't feel stuffy and pretentious?
Time for a drink with Juliet.
Juliet Wine Bar is all about low-key vibes and high-quality wine in one of the most welcoming wine bars in Kuala Lumpur – a cosy, airy, second-floor space tucked away near the train station on Jalan Bangsar.
The inspiration behind Juliet Wine Bar comes from the founders Tiffany and Charlotte's experience in Australia, where they could enjoy a glass of quality wine in a bar that didn't feel like a pretentious private member's club.
Their own website sums it up with an impeccable rhyming flourish: "great grapes, tasty plates, good mates and chill dates".
There are three areas to enjoy a tipple and a bite at Juliet Wine Bar's: the 'living room', bar, and dining areas, each as chic and comfortable as the next. It's effortlessly elegant without being fancy or fussy; just the right balance of modern and cosy, minimalist and snug.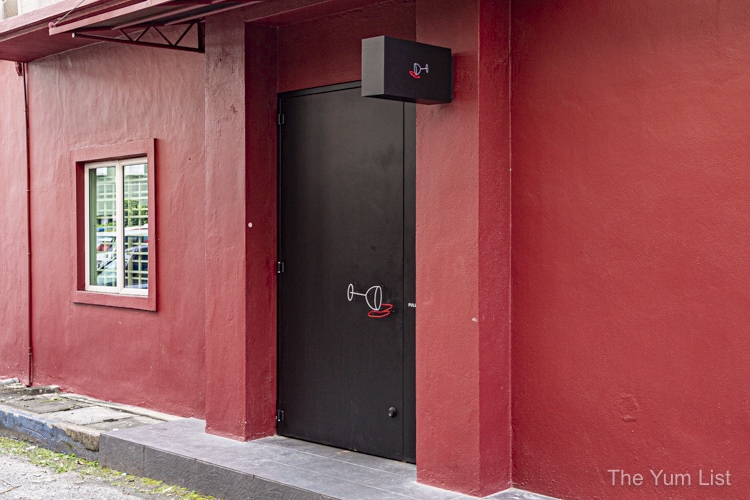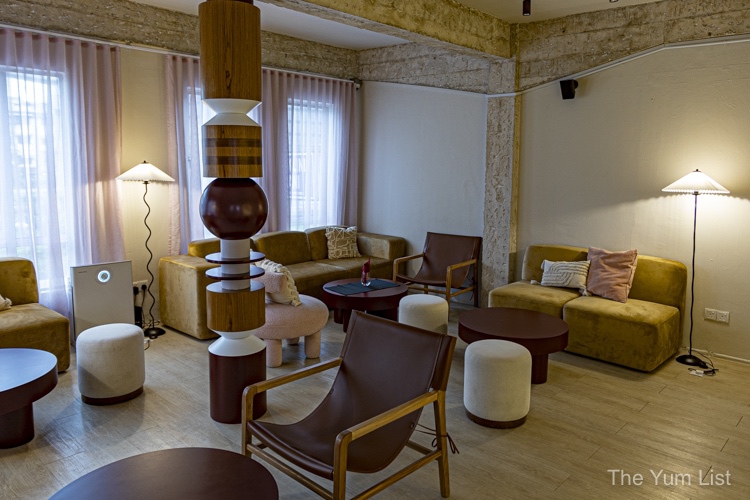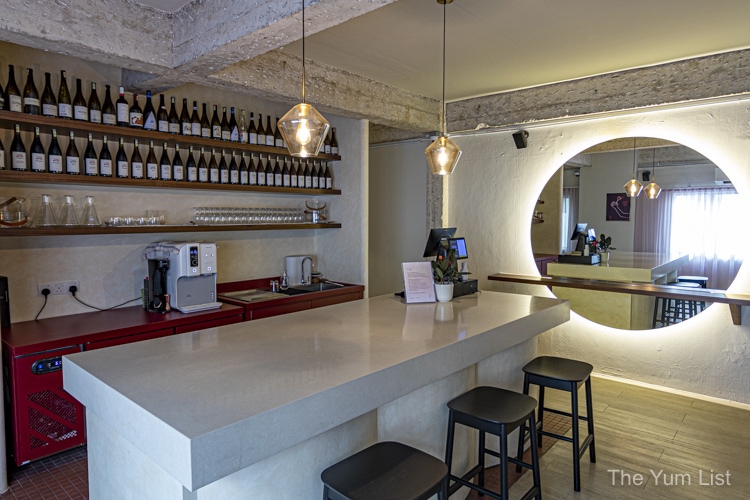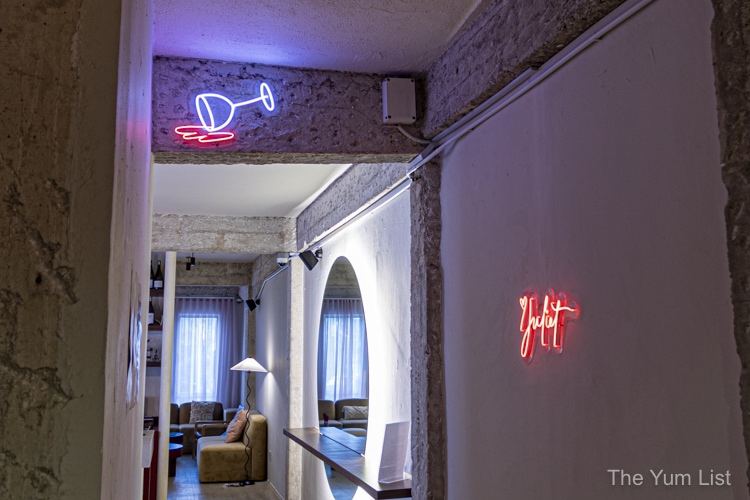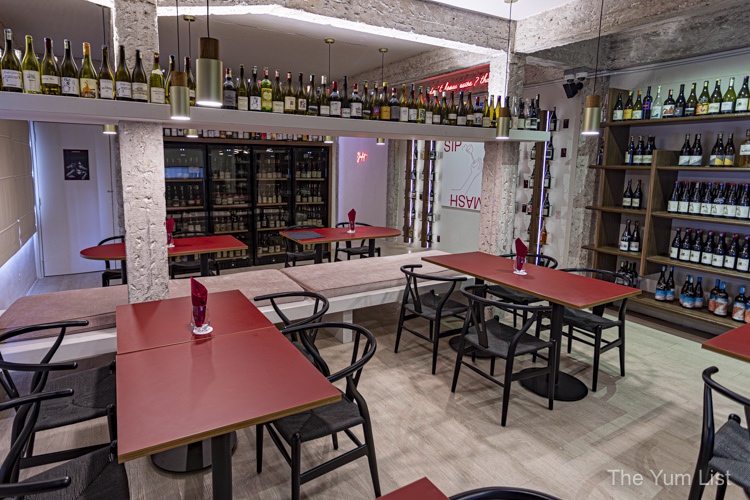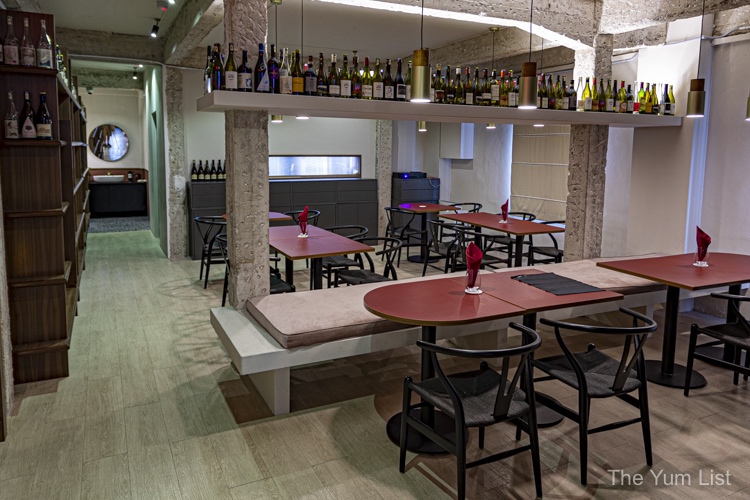 Juliet – Natural Wines, Bangsar
Juliet Wine Bar's fuss-free approach to imbibing is neatly summed up in their two wine categories. 'Sip' are heavier wines to savour slowly; 'Smash' are the varieties you'd polish off quickly after a long day at the office. We decide these should be the international standard for categorising wines. It's perfect.
The selection is mostly natural wines – Juliet Wine Bar prides itself on a unique wine menu with a by-the-glass offering that changes every two weeks and that you won't find at your local supermarket.
We start things off with a Baglio Antico, an Italian orange wine that falls under the 'Smash' category. And it's easy to see why because it goes down a treat; a lovely floral number with pears on the nose, notes of apricot and apple, shades of citrus, with an earthy finish. Bold, balanced, and brilliant.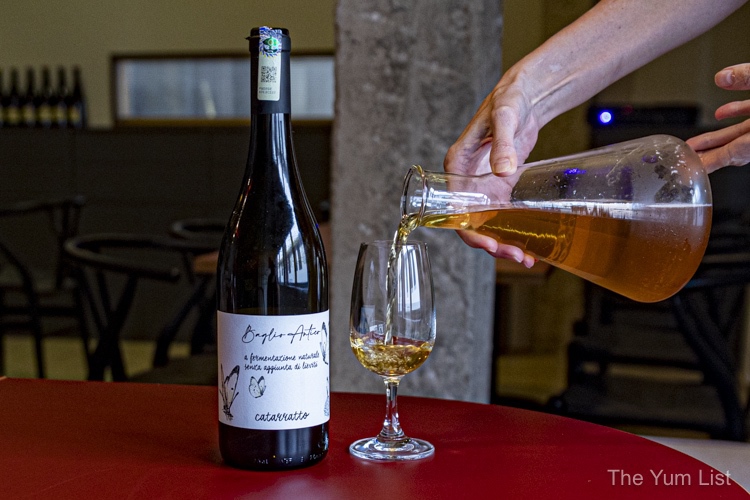 Oh, another thing we love about the wine at Juliet's – they serve full measures in tasting glasses. As Charlotte so insightfully puts it, tasting glasses are designed to bring out the very best in a small sample – so why not the real thing?
Food Menu
We need some sustenance to soak up the 'smash', so Chef Francis Klassen joins us at the table to explain the menu, which is deliberately designed to go well with the natural wine selection – no cookie-cutter culinary classics here.
Chef Francis' passion is clear to see, as is the trust and freedom that he enjoys in the kitchen. Charlotte is wonderful with the wine and certainly knows more than a thing or two about great food – but the culinary vision for Juliet's is glinting in the head chef's eyes. He brings some of his best experiences from Small Shifting Space, and his enthusiasm for his new project is palpable.
We start with Harissa Grilled Pineapple Tartelette (RM16), which sets the bar extremely high (spoiler alert: it stays there). It's a delicious mouthful of a medley of flavours that just keeps going – miso hummus cleans the palate before the pineapple dances all over it, while a subtle smoky essence keeps things moving along. It brings out the apricot notes in the wine beautifully. I almost insist on a second order, but we've only just begun.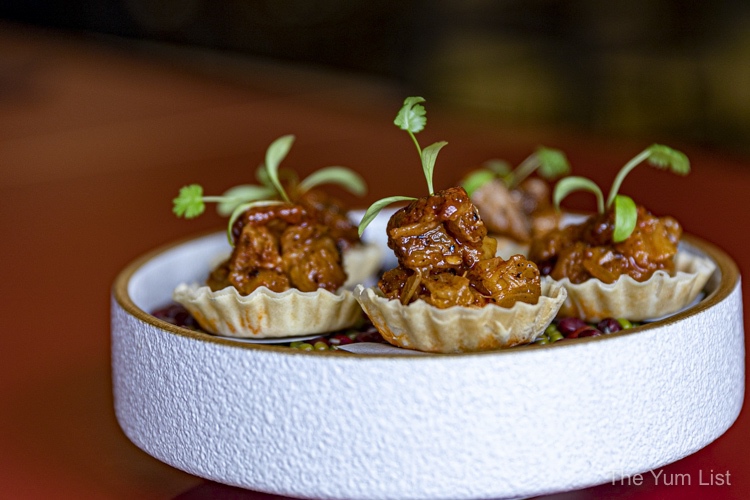 Corn Fritters (RM18) are up next, another fascinating sequence of spice and smokiness with lots to unpack. Charred onions and smoked paprika offer the smoky edge, while the chilli and lime relish – charred chilli, garlic and ginger with lime pickle – give it a spicy kick to balance things out. Zhoug relish adds a little extra colour and vibrancy. I really have to stop myself from ordering seconds this time.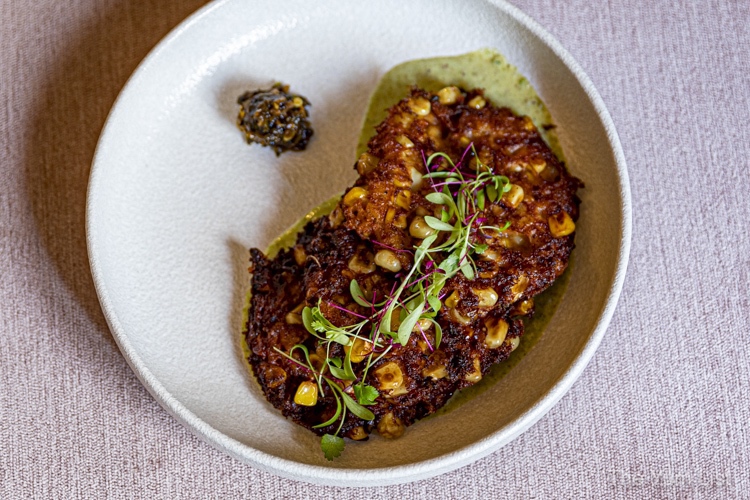 By the way, if you're picking up on a pattern – hint: grilled, charred, smoky, and so on – it's because Chef Francis has a shiny new Hibachi grill to play with, and he's very excited about it. And so should you be.
Eggplant Agebitashi (RM18) brings a more savoury touch to the table, with the signature smokiness still very much present. The eggplant is fried and soaked in soy mirin broth and finished with charcoal oil, fresh ginger and shaved radish for a hint of freshness, and topped with bonito flakes.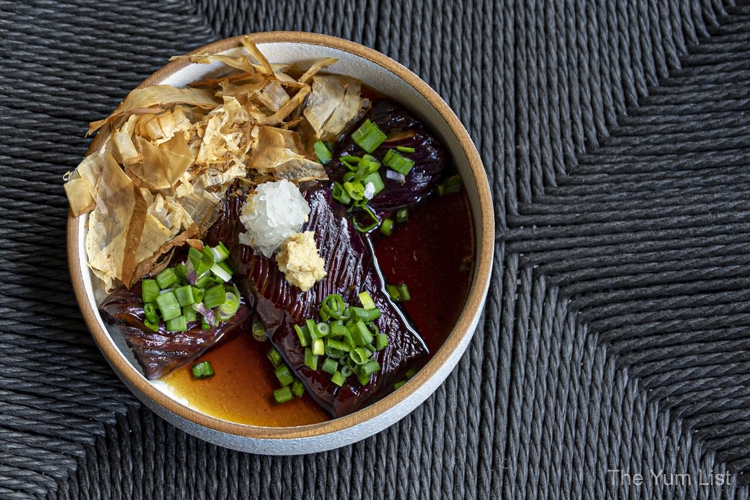 Crab Kino Miso (RM60) arrives next – now this is high-quality comfort food. The crab is fermented just like miso, giving the umami a lovely seafood edge. It's topped with crispy rice cakes and lots of butter, with some Kizami nori and spring onions for a fresh flourish. It's very indulgent and finished with charcoal oil for that little something extra.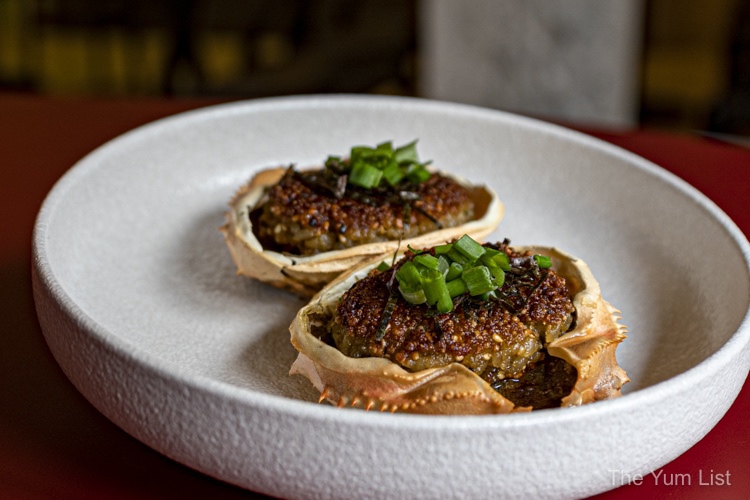 Time for our second wine, and we opt for another in the 'Smash' category – after all, we can sip wines anywhere, right? Out of Control is a natural red with heavy grape notes and more than a hint of kombucha about it. It definitely belongs in this category – I have two glasses before Charlotte's finished introducing it.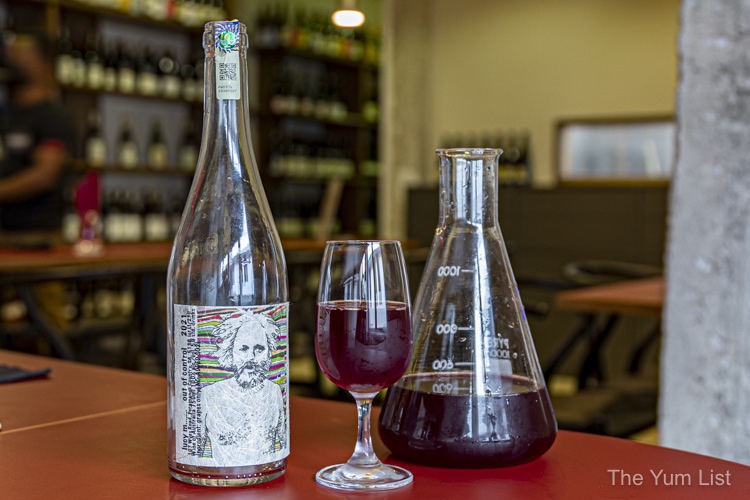 The Char Cabbage (RM20) helps soak up that second glass. The cabbage is slightly steamed and then grilled, served with murgh makhani (butter chicken) and a sauce of chillies, lemongrass and garlic. It's not a combination I could have dreamt of, but I'll be dreaming about it for a while now.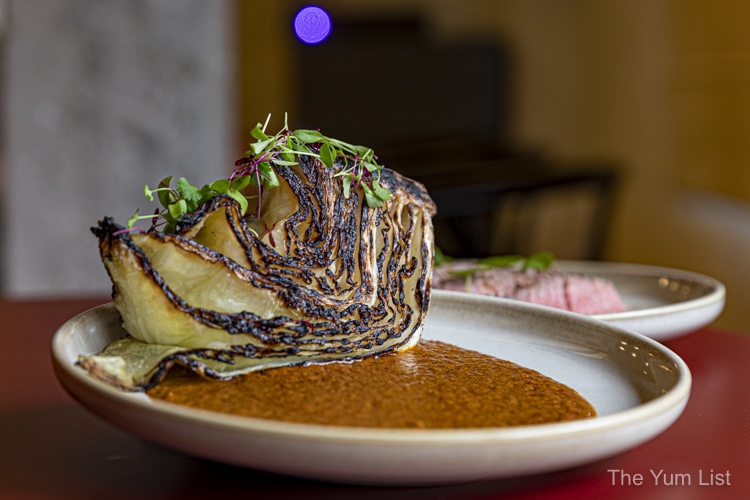 Chef Francis' smile is about as wide as it gets as he brings out the next course: the Hibachi Grilled Beef Tenderloin (RM49) with cashew cream and tamari butter. The steak is five-day aged local beef and perfectly cooked, served with just the right amount of sauce; enough to make a difference, not enough to distract from the main meaty experience. I think this is my favourite (but I'm a sucker for steak).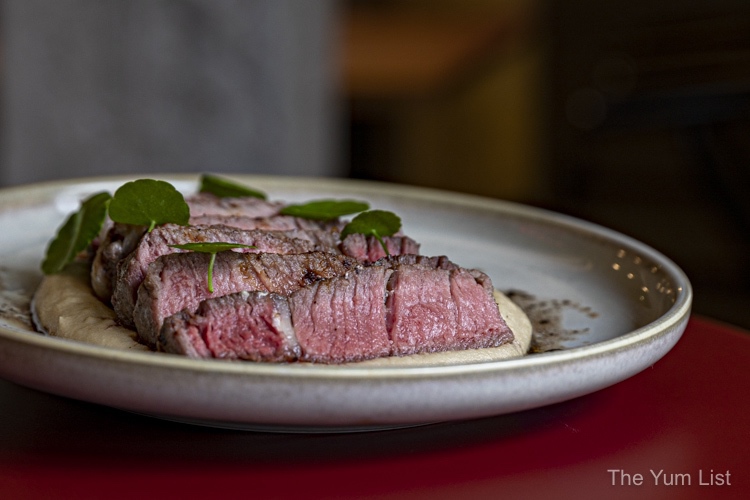 We smash one more glass of natural red – when in Rome, and all that – before dessert. Salted Toffee Banana Tart (RM16) is the only dessert choice on the current menu, but that's not a problem at all. Anything else would be surplus to requirements because this really is that good. Indulgent but not overly sweet, with the tart finished with a little salt to dial back the sickliness slightly.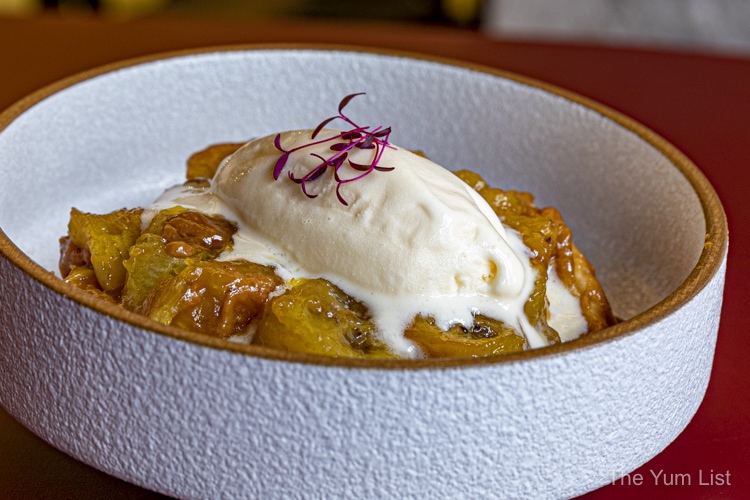 Juliet Wine Bar, Bangsar
Juliet Wine Bar has really accomplished what it set out to achieve. Food and drink are reasonably priced enough to encourage an easy-going, convivial atmosphere – it's the easiest thing in the world to settle down into a comfy chair and order bottle after bottle. It's the sweet spot between comfortable and classy, like inviting friends over to your place to hang out, and serving them the top-shelf stuff.
Good times, good people, good wine; that's a mission we can get behind.
Reasons to visit Juliet Wine Bar, Bangsar: incredible natural wine selection; amazing food; as good for a date as an evening with friends; welcoming atmosphere and excellent service; unique approach to serving and sharing wine for anyone to enjoy.
Juliet Wine Bar
Level 1, 18A, Jalan Bangsar,
Bangsar, 59100 Kuala Lumpur, Malaysia
Instagram: @drinkwithjuliet
Juliet Wine Bar Opening Hours
Wednesday to Monday: 5 pm – 1 am
Closed Tuesday
Find more KL bar recommendations here, and stay up-to-date on the latest gourmet and travel happenings around Malaysia here and here.